A review of Hilton Garden Inn Hotel T2. Other than at T4, there is not exactly a wide choice of hotels attached to the terminals at Heathrow, so I was pleased when I heard that a Hilton would be opening at T2. Sadly, it is a Hilton Garden Inn which is not at the same standard as a normal Hilton, but it is fine for an overnight stay at the airport.
Hilton Garden Inns are very similar to a Hampton Inn, although I would say they are marginally better in terms of facilities from my experiences. They don't offer free breakfast to everyone, unlike Hampton Inn, although the breakfast is definitely a step up. They also don't have Executive Lounges either, which is annoying if you are a Diamond member.
However, there is an interesting alternative for this hotel – see the section on food and drink.
Location of Hilton Garden Inn Hotel T2
The location is very convenient, as it is attached to Terminal 2 and via Terminal 3. This gives easy access to the Heathrow Express, the tube and Heathrow Central bus station.
To access the hotel you from Terminal 2, you need to head to Terminal 2 Arrivals and find the door opposite the Plaza Premium Arrivals Lounge.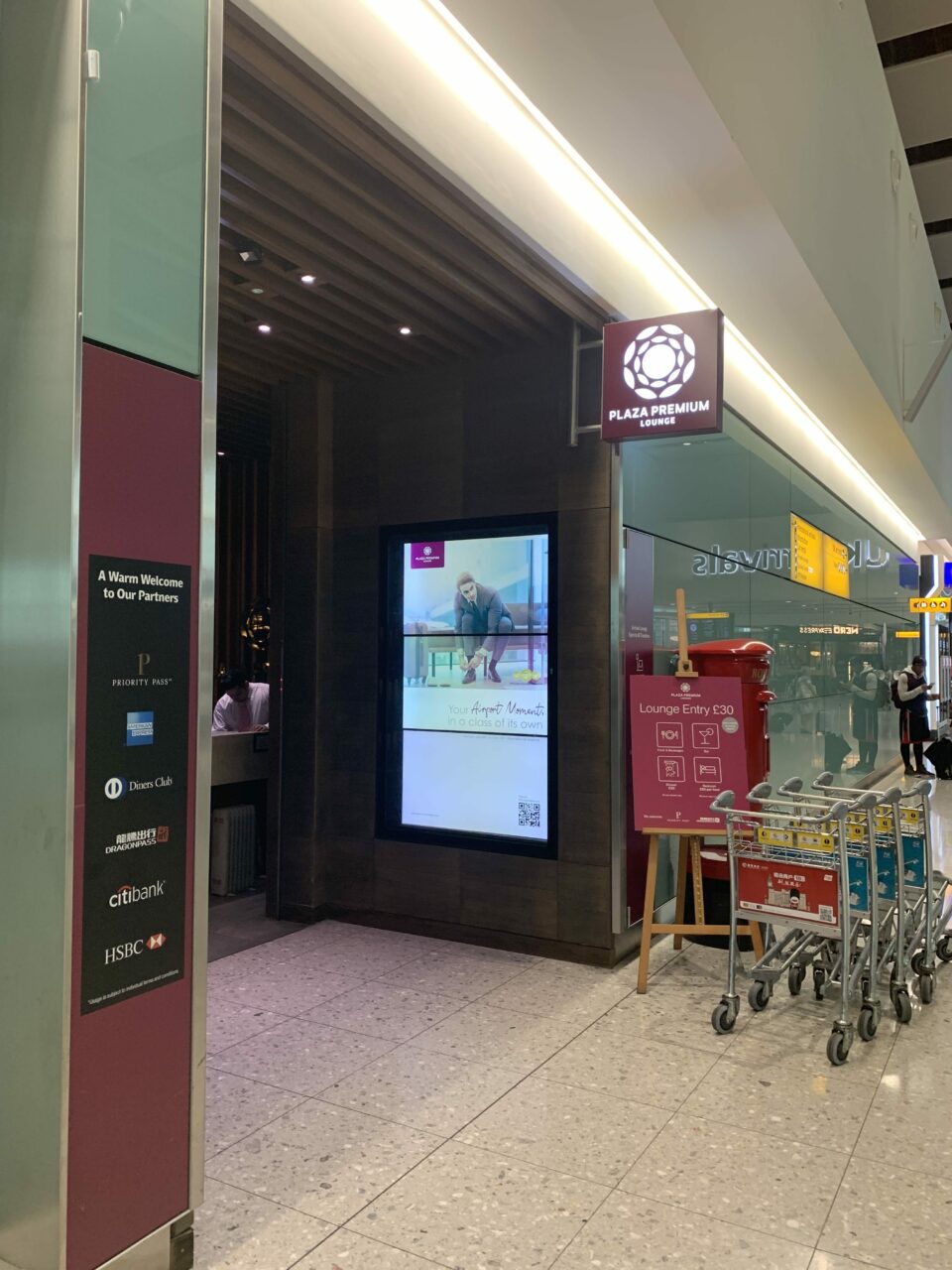 It was an easy walk from this point, even if you had luggage. You literally just walk in a straight line until you come to the hotel.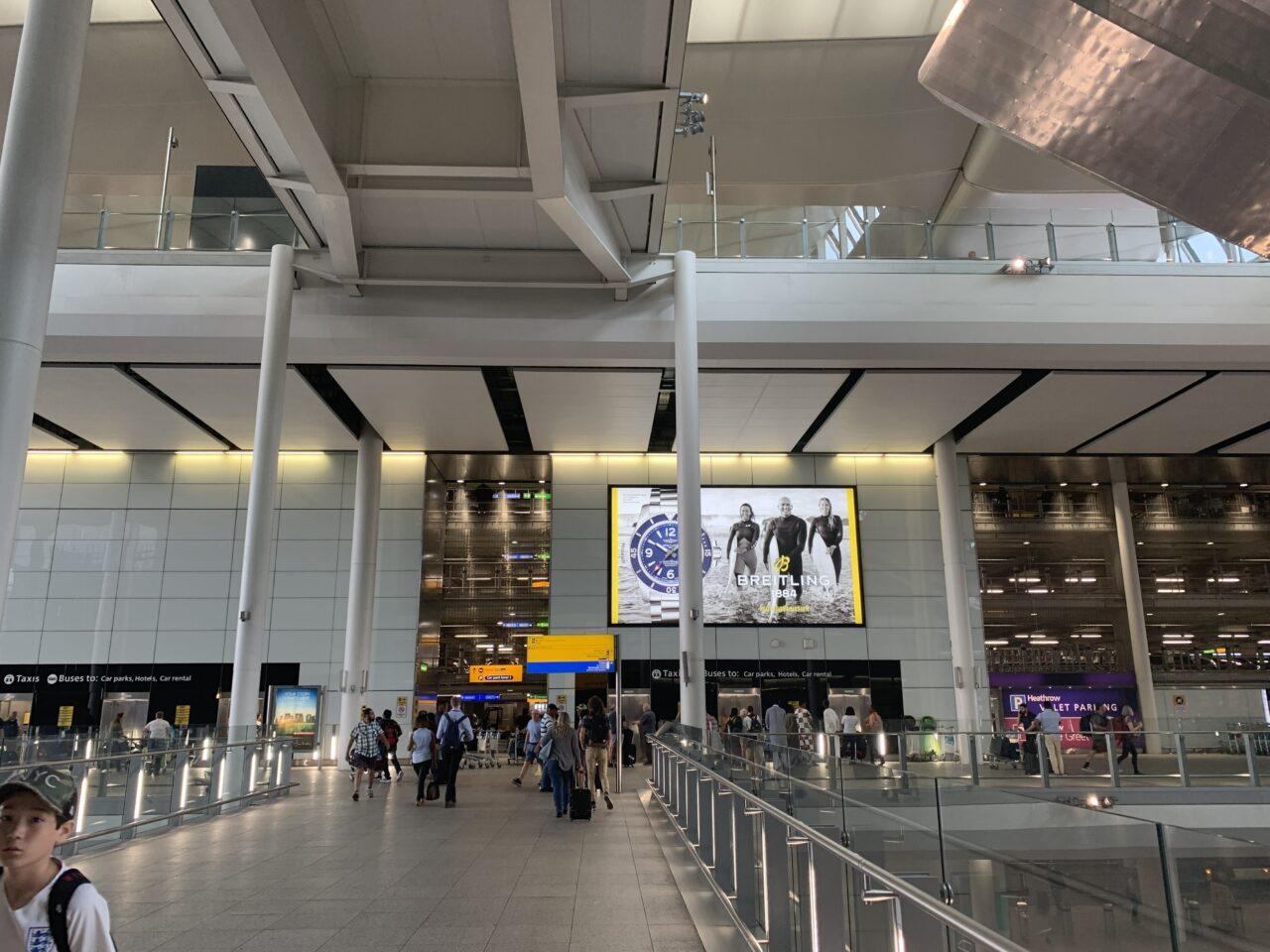 Once you get outside, walk towards the carpark and you will see the sign for the hotel. It is just on the other side of the car park.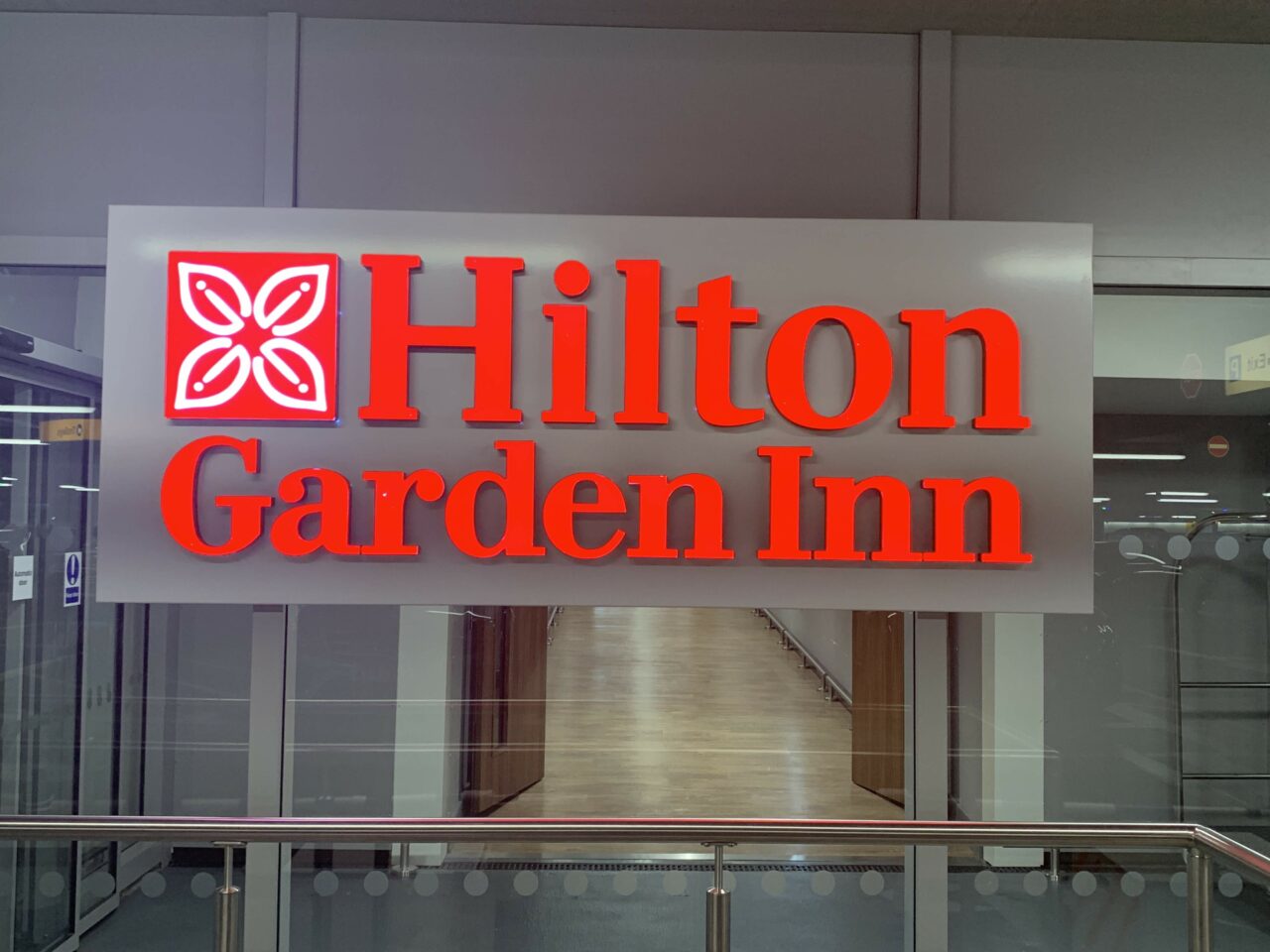 Check-in at Hilton Garden Inn Hotel T2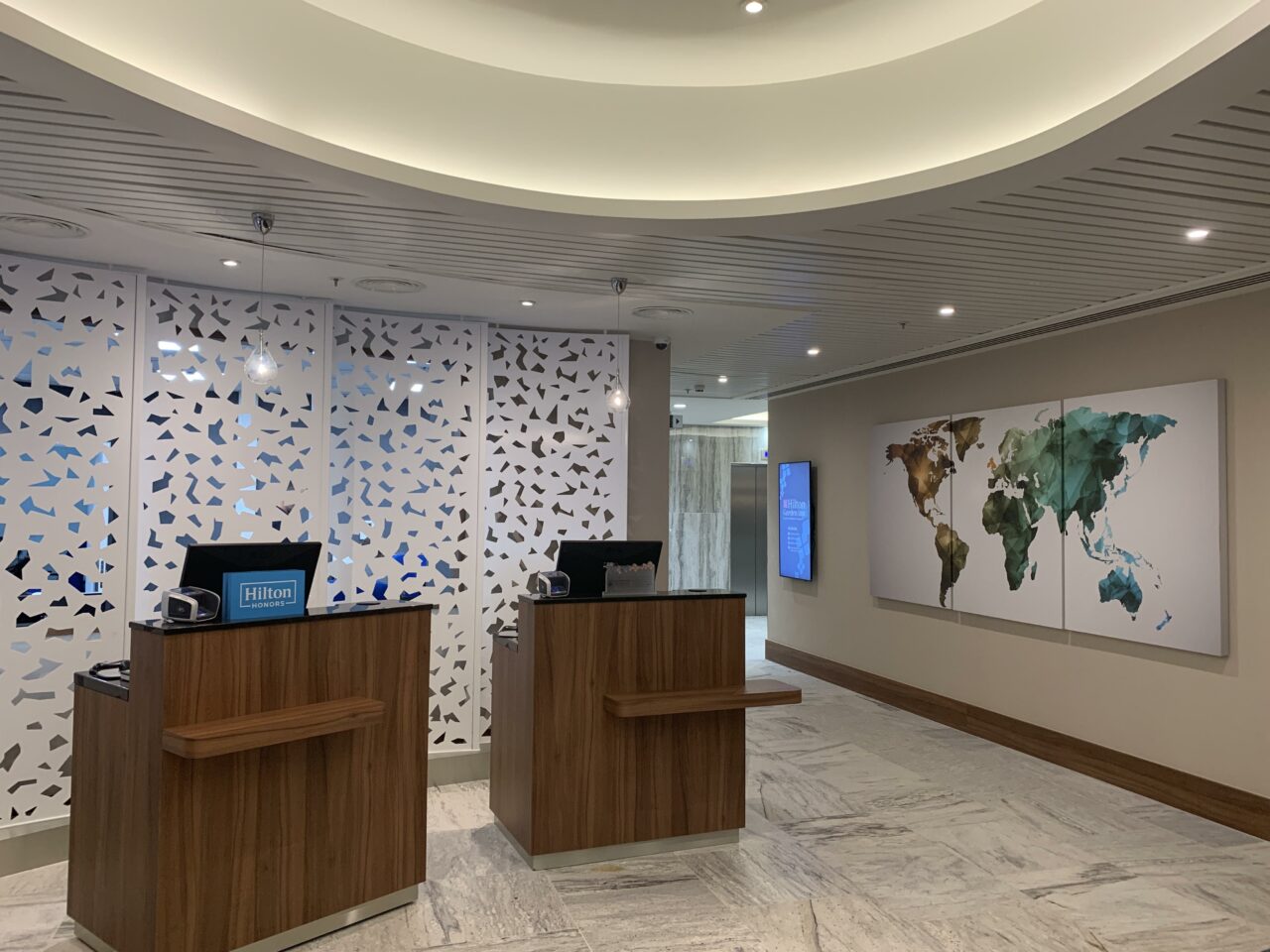 I was meant to be attending the arrival of the BA A350 at Heathrow but, since I had booked this hotel, at least my trip wasn't wasted. There were two desks manned at reception but one person was on the phone and the other was already serving a guest. Another guest tried to barge in and talk to the guy on the phone; however, my death ray stare made him think otherwise and he sloped off again.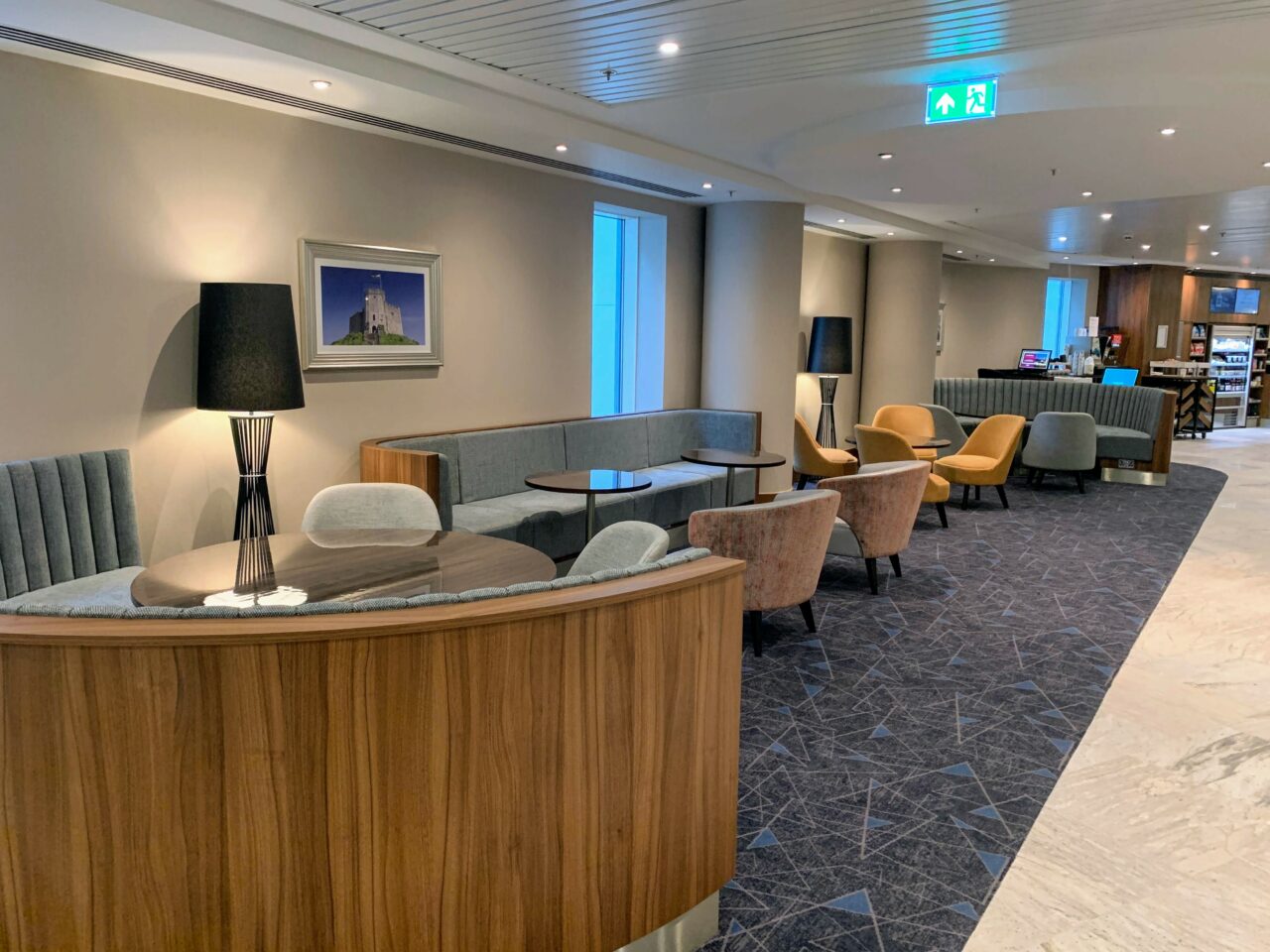 Shortly afterwards I was beckoned forward for check-in. The check-in agent acknowledged my Diamond membership but did not say anything about the benefits I was entitled to. She did take the time to talk about room service, the restaurant and the bar though. It was strange as I offered a different credit card to the one I had checked in online with, but that seemed to confuse her. I think it was because then she would have needed to authorise a second card instead of using the existing one. My room wasn't ready so she swapped it for one that was (I was about 30 minutes before check-in time).
Online check-in is useful as you can choose a particular room and at this hotel (as well as many others) you can use a digital key. This means that you don't actually need to go to the check-in desk as you use the Hilton app on your mobile to operate the room door and the lift.
Hilton Garden Inn Hotel T2 Room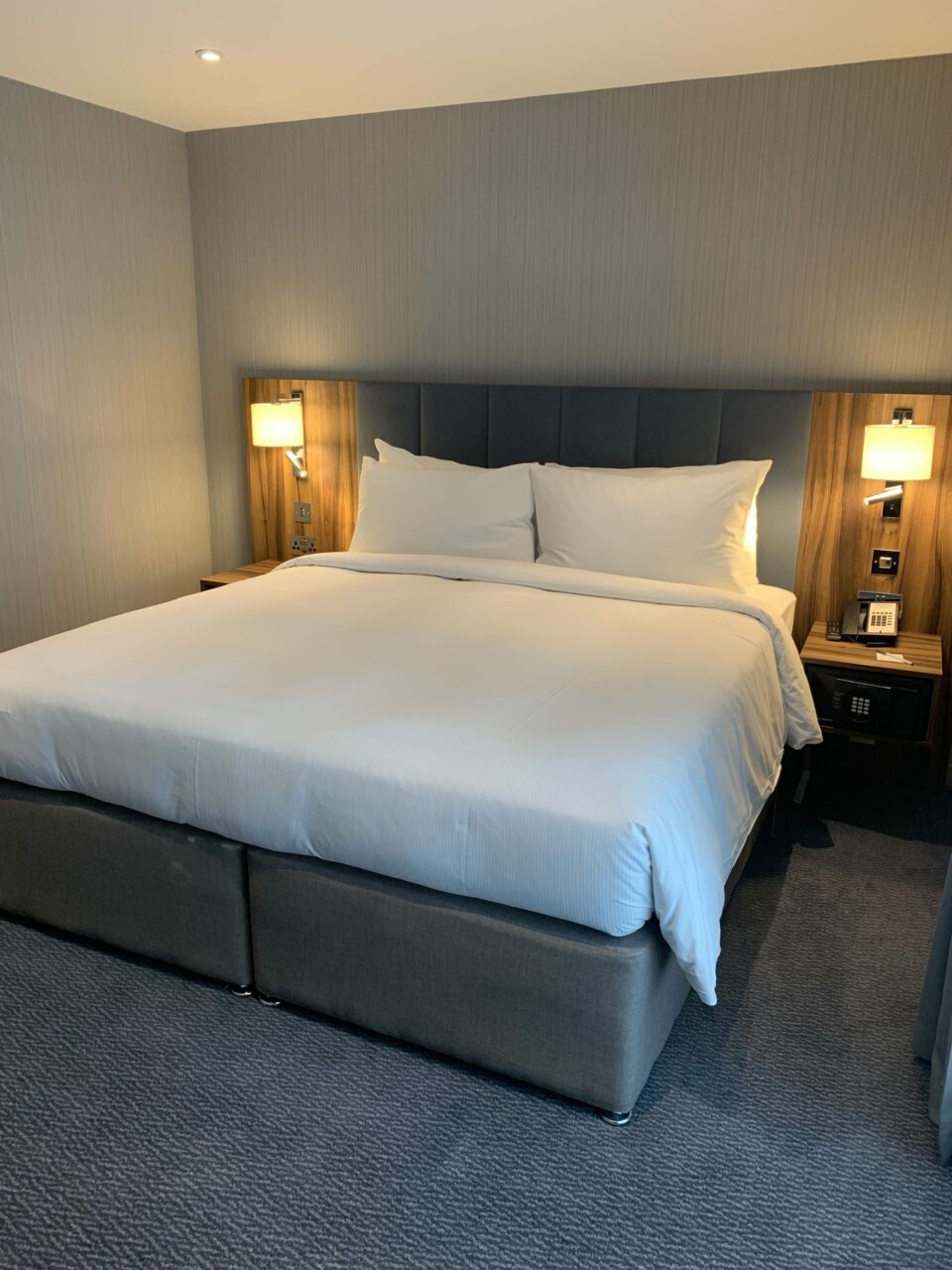 I was in a King Junior Suite which is available from around £150 a night. Standard rooms start from £80 a night versus the HGI at Hatton Cross which starts from £55.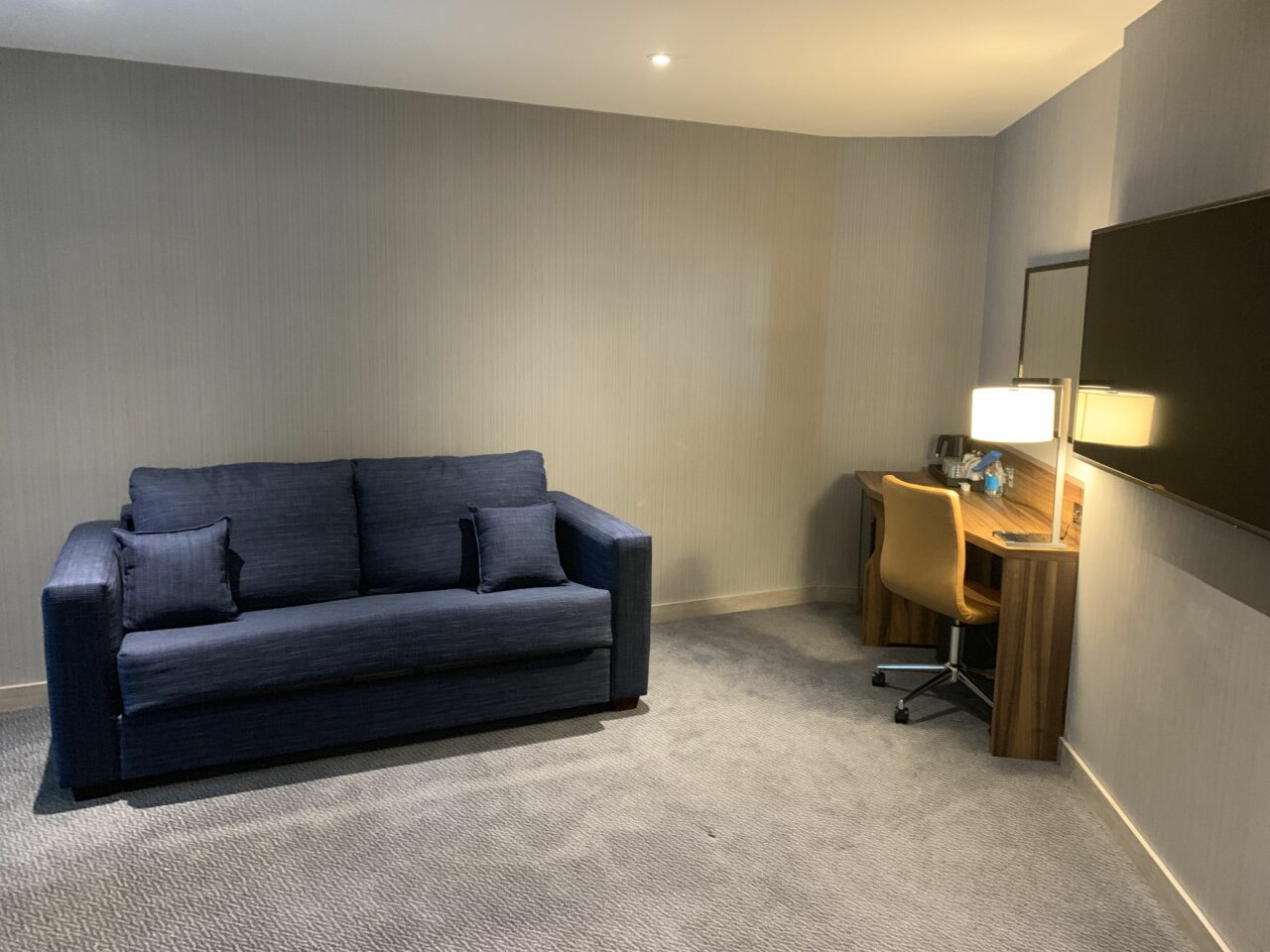 Well, the room was certainly big enough but it felt very empty! The main bedroom area was pretty much the same as the other rooms. They have not exactly put a lot of effort into jazzing up the décor as it was extremely dull – apparently, they could not even stretch to the odd picture! But when I am in bed hopefully the only thing I will be looking at is the inside of my eyelids, so it doesn't really matter.
There was a very large sitting area with not a huge amount in it but the sofa had been made up into a bed. As I didn't need a second bed I asked for them to clear the bedding away, which they did very promptly.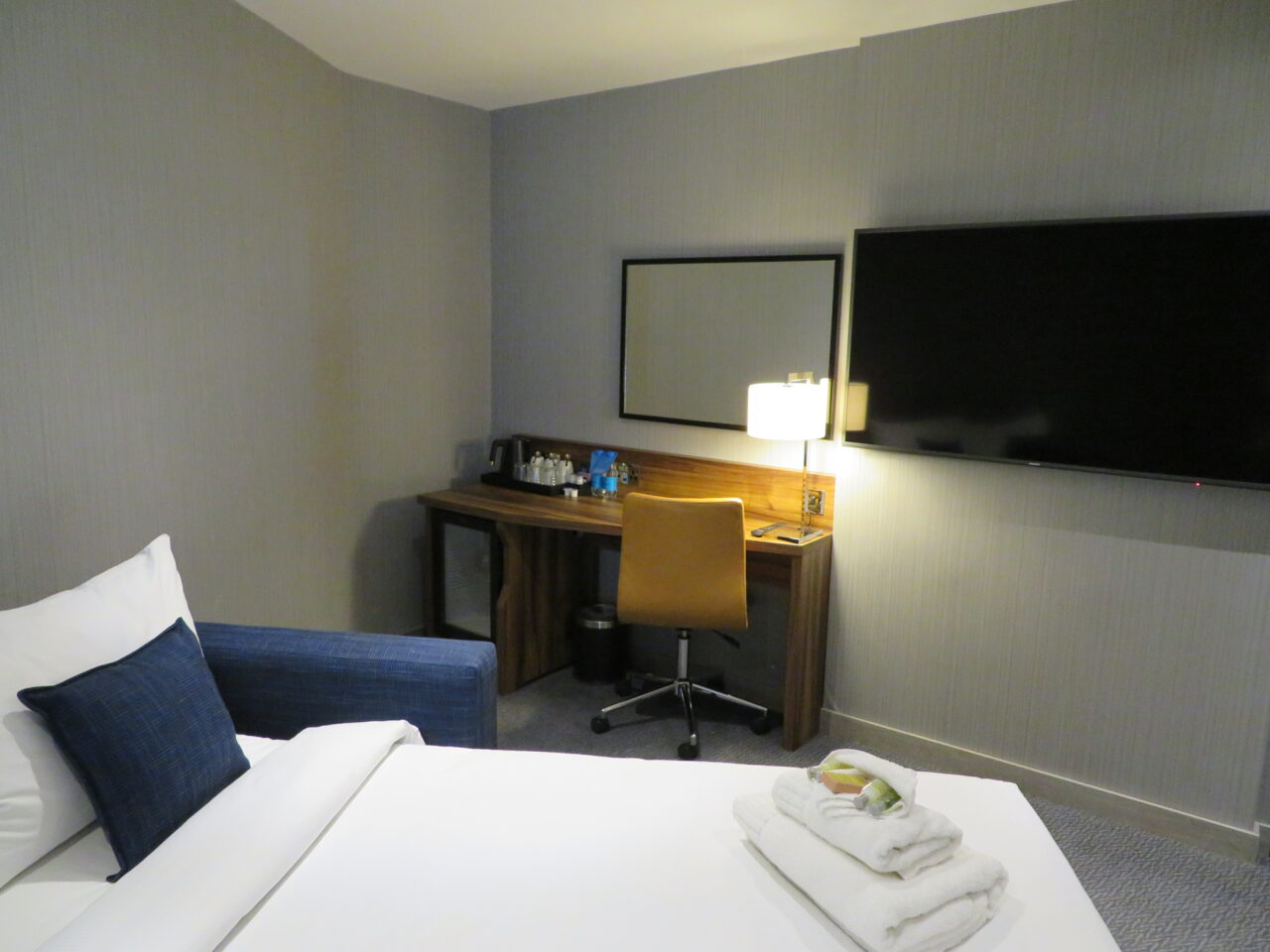 One of my biggest pet peeves with airport hotels (and particularly the Sofitel T5) is the lack of sockets next to the bed. There were no worries with that here though, as the bed had two sockets and a USB point on each side.
The light switches were simple, modern and intuitive; again, unlike the Sofitel which drives me crazy! There was a large fancy master switch as you went in that did not need a key card. Next to the bed was a reading light, a lamp with separate controls and one side a switch for the bedroom. There was no master switch to turn everything off.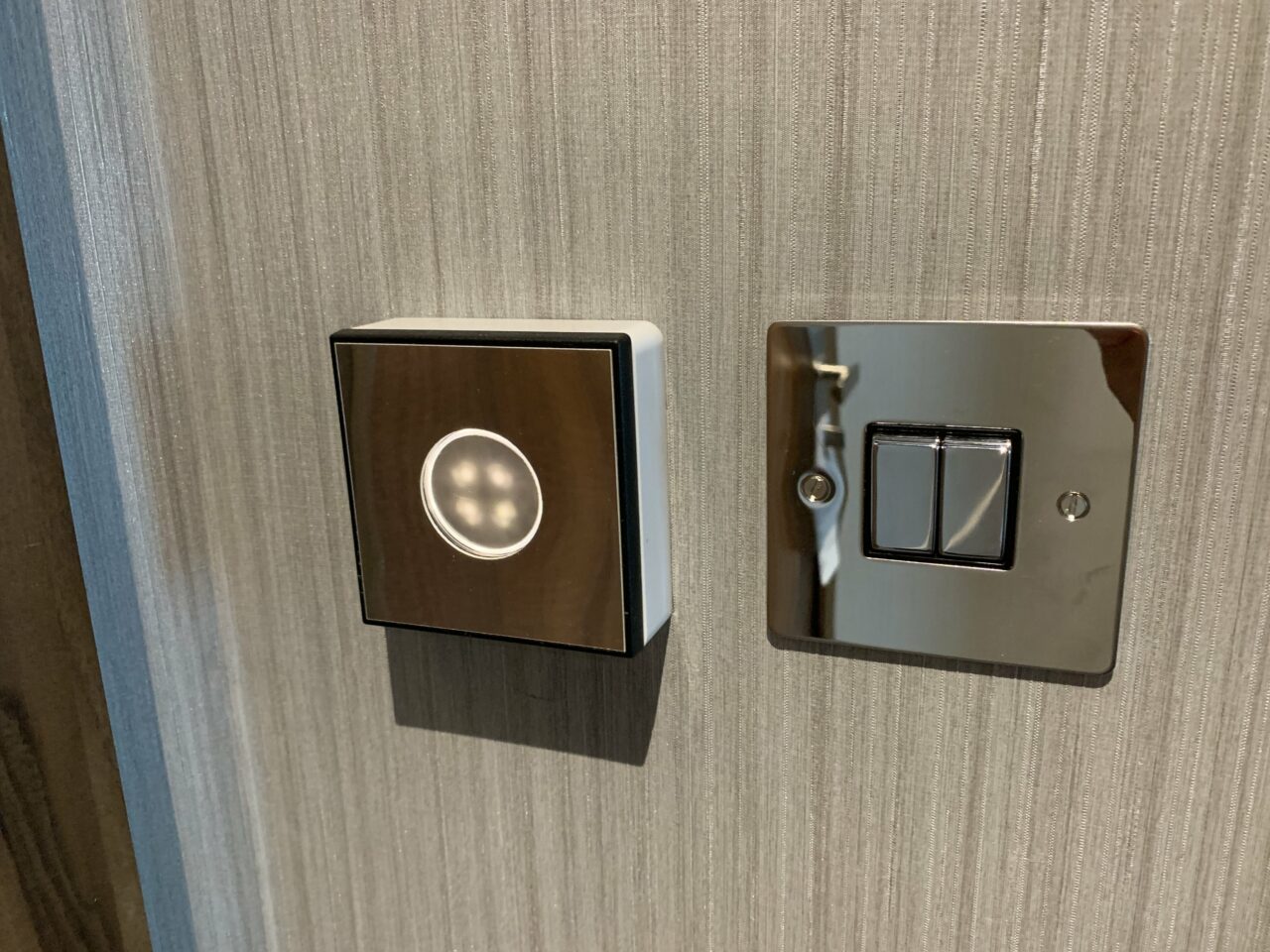 The air conditioning looked simple, but it wasn't overly obvious how to work it. You have to turn it on from a tiny unmarked button on top. It was hot in the room when I went in and when I got the aircon turned on, it switched itself off again after a few minutes. It then seemed to work OK when I switched it back on again and cooled the room fairly quickly. The display did have something stuck all over it, which I don't want to have a guess at what it was!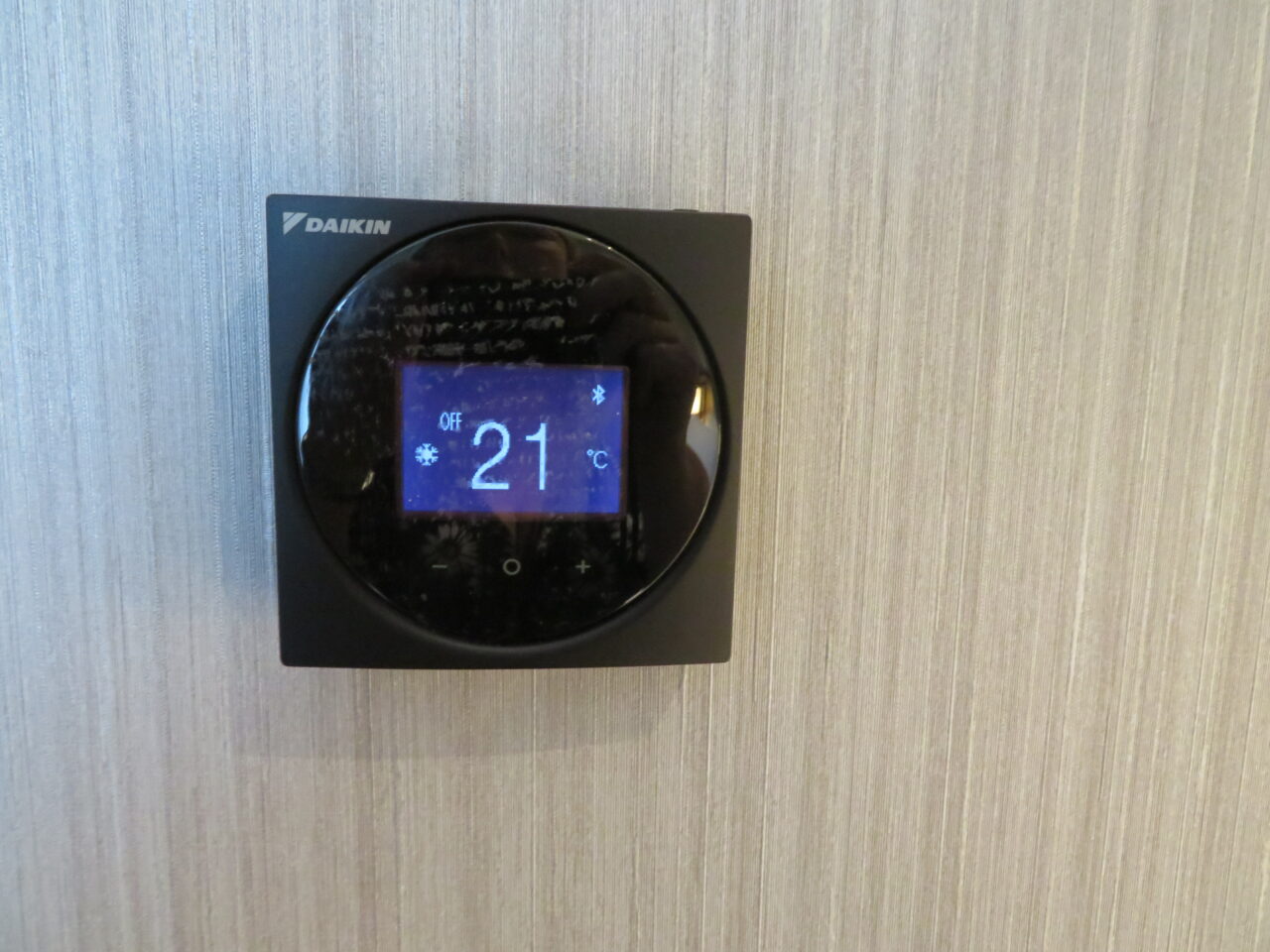 There was not really a wardrobe, but there was a small rail with an iron, ironing board and hairdryer by it.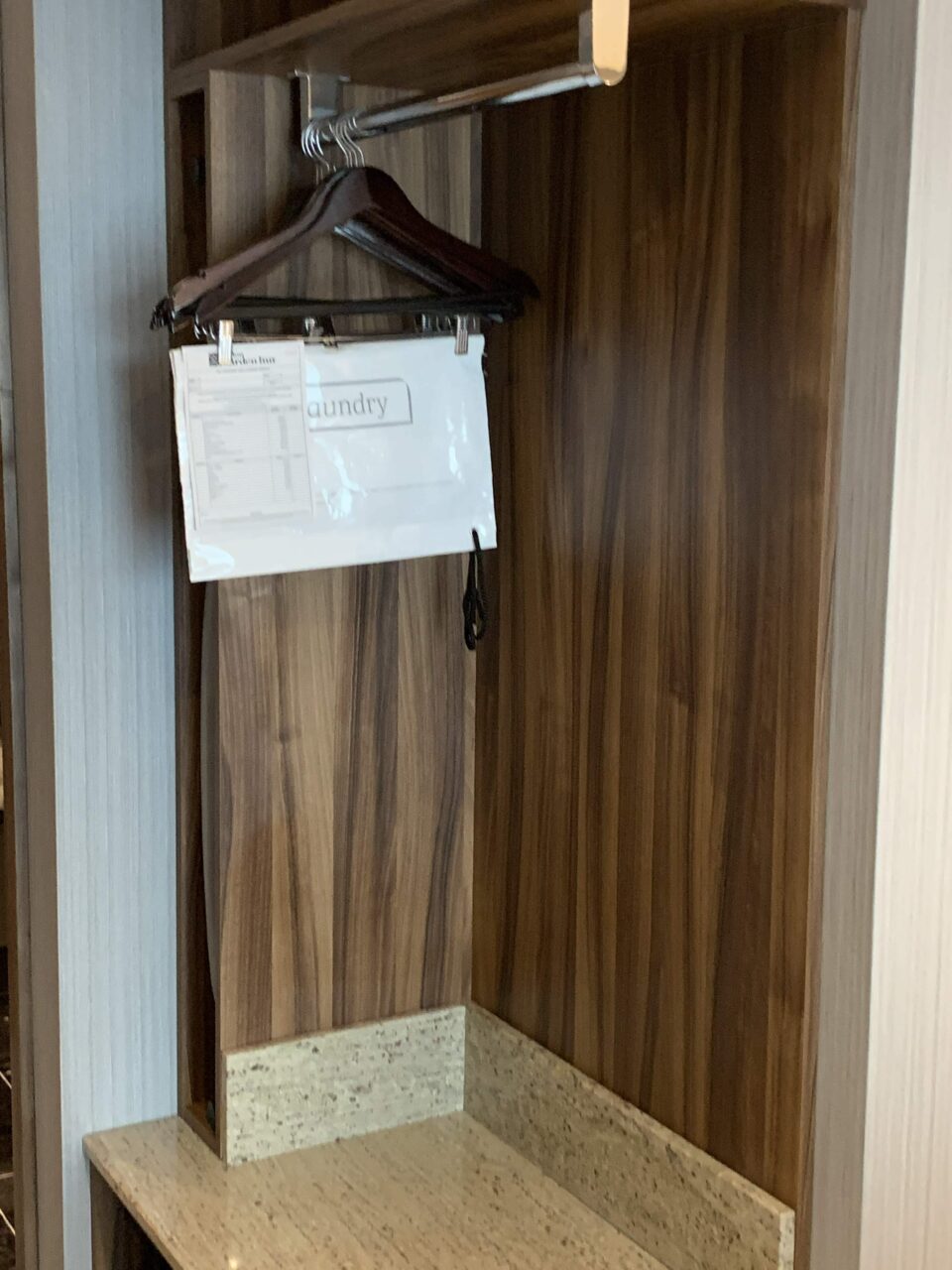 The work desk was in a very dark corner of the room. It did have a small lamp, but it still felt gloomy. It was handy for working and charging though, as it had 4 sockets and a USB port. With a large mirror by the sockets, it was also a handy place to do your hair. (though not makeup as I probably would have looked like a drag queen, trying to do my make-up in the gloom!).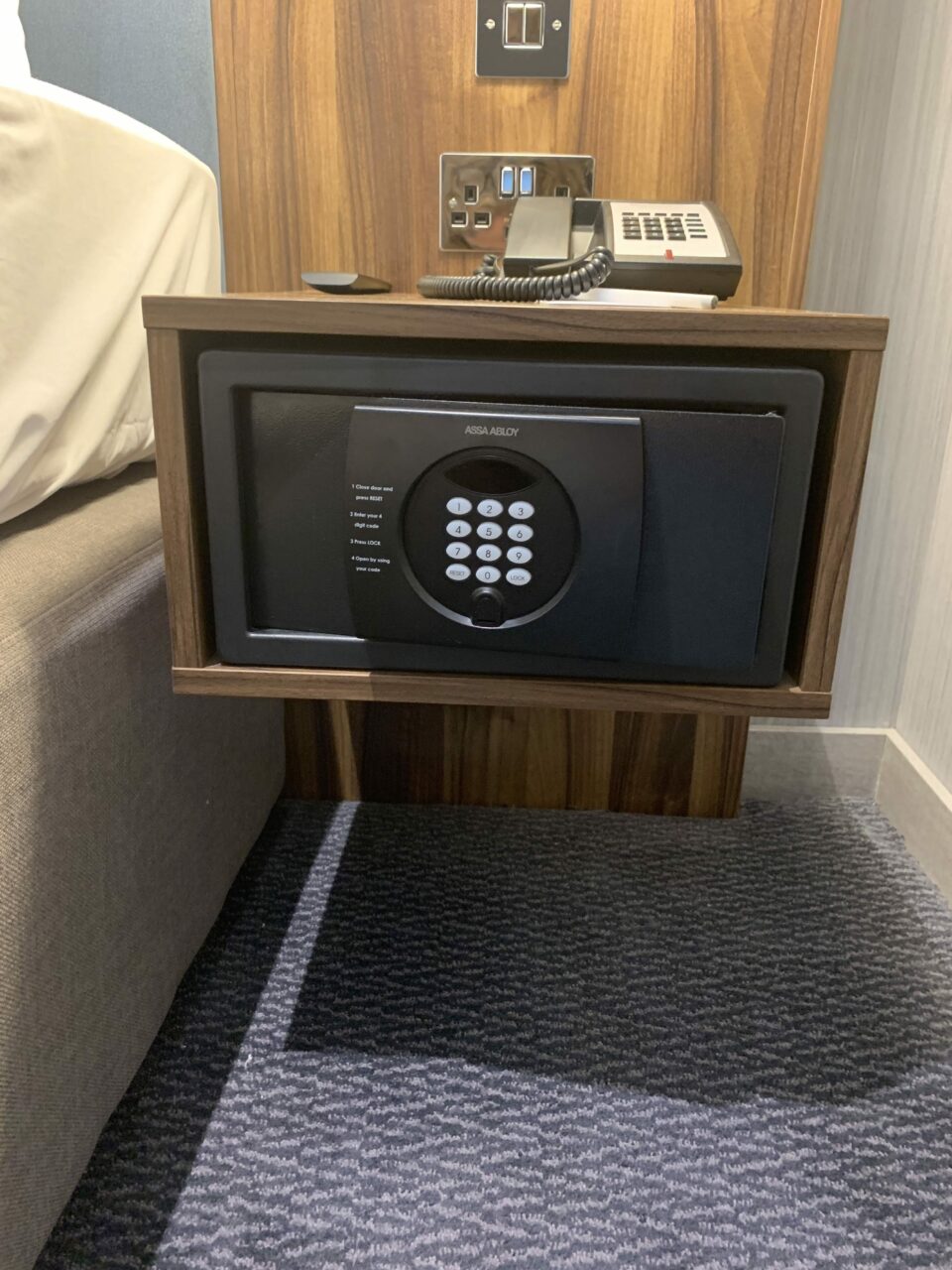 For some strange reason, the safe was next to the bed which is not something I have seen before.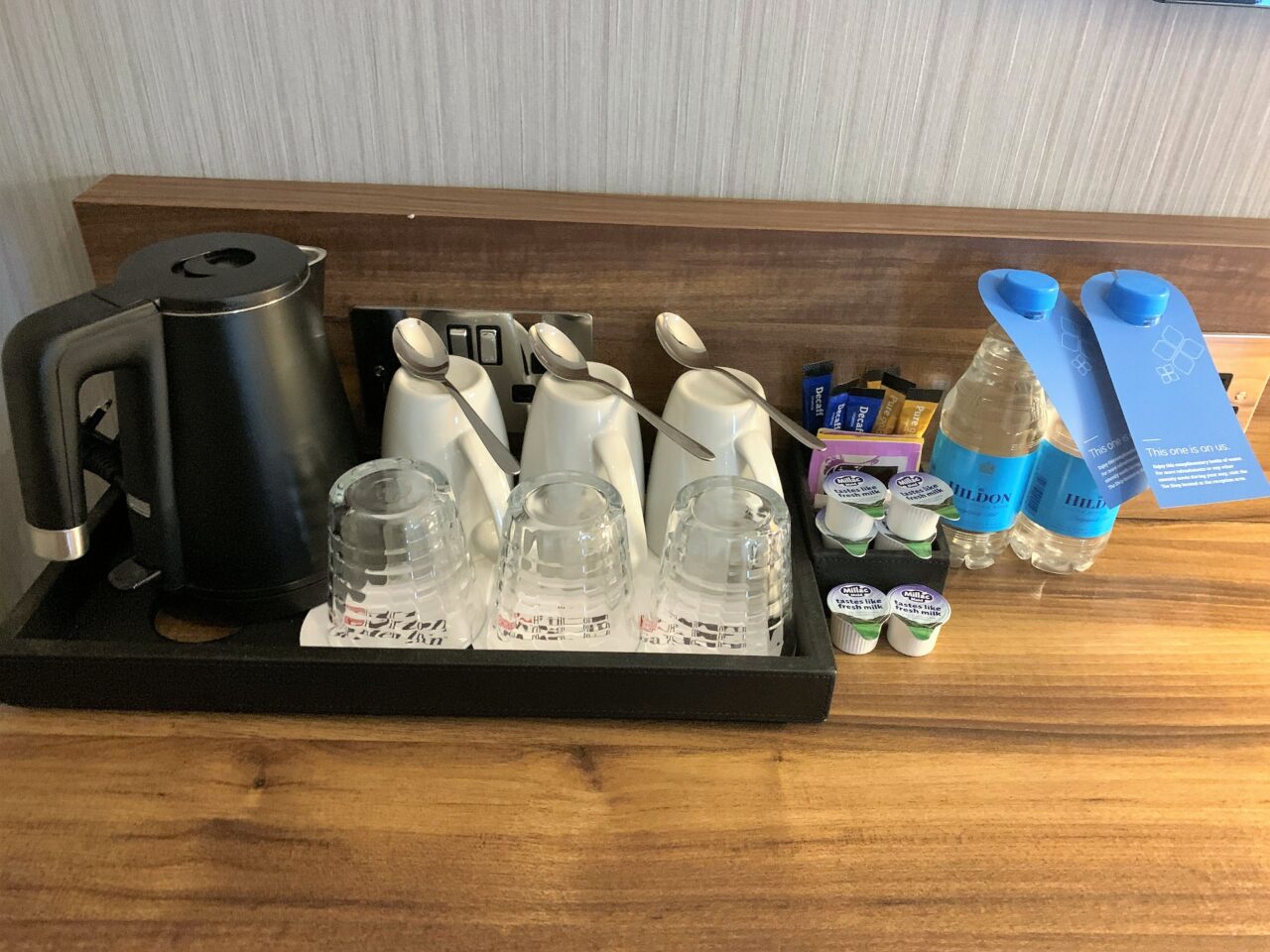 Next to the desk was an empty fridge, 2 bottles of still water and a kettle with coffee and tea making facilities. There were some nice big glasses there too which is always handy.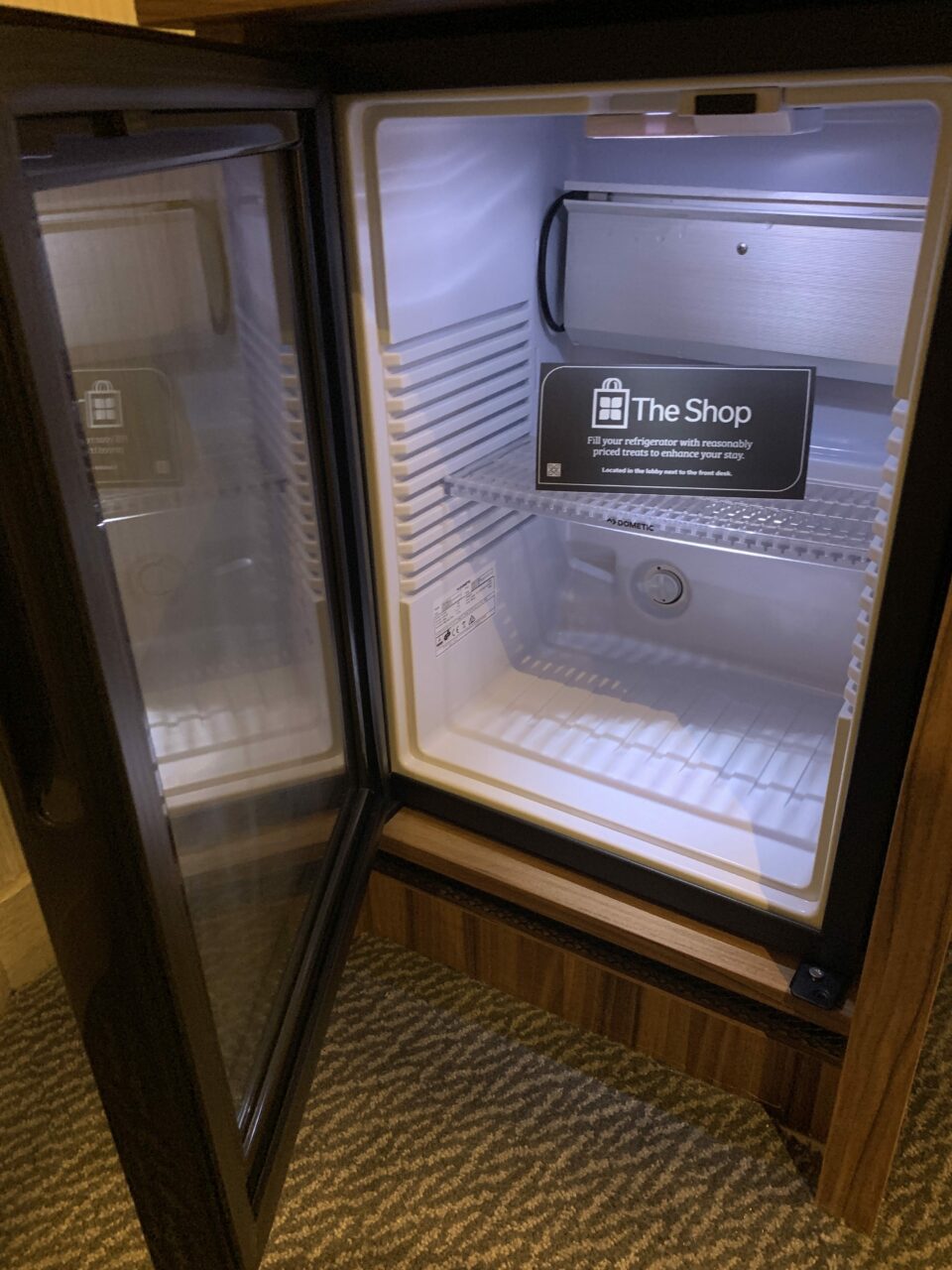 Also in the living area was a rather solitary table and chair. No expense spared here in the empty room!!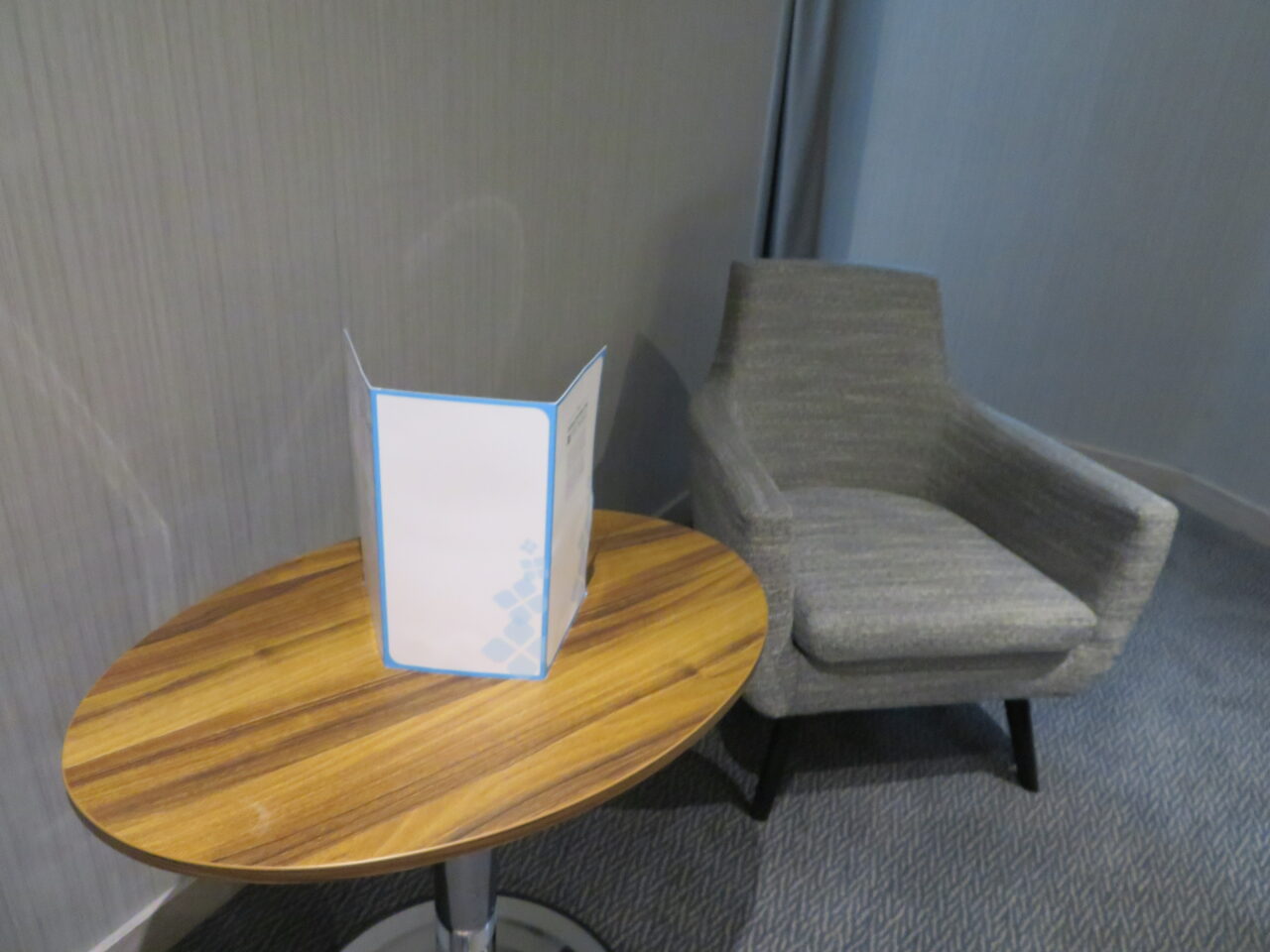 So what about the most important thing in an airport hotel? How did I sleep? I have to say I was very impressed. Considering that I had a runway view room of 27L I could not hear any noise from the airport, unlike the Renaissance Heathrow which has slightly better views but is too noisy for me. If you are an aviation geek I would stay here in a runway room rather than the Renaissance (review here) personally.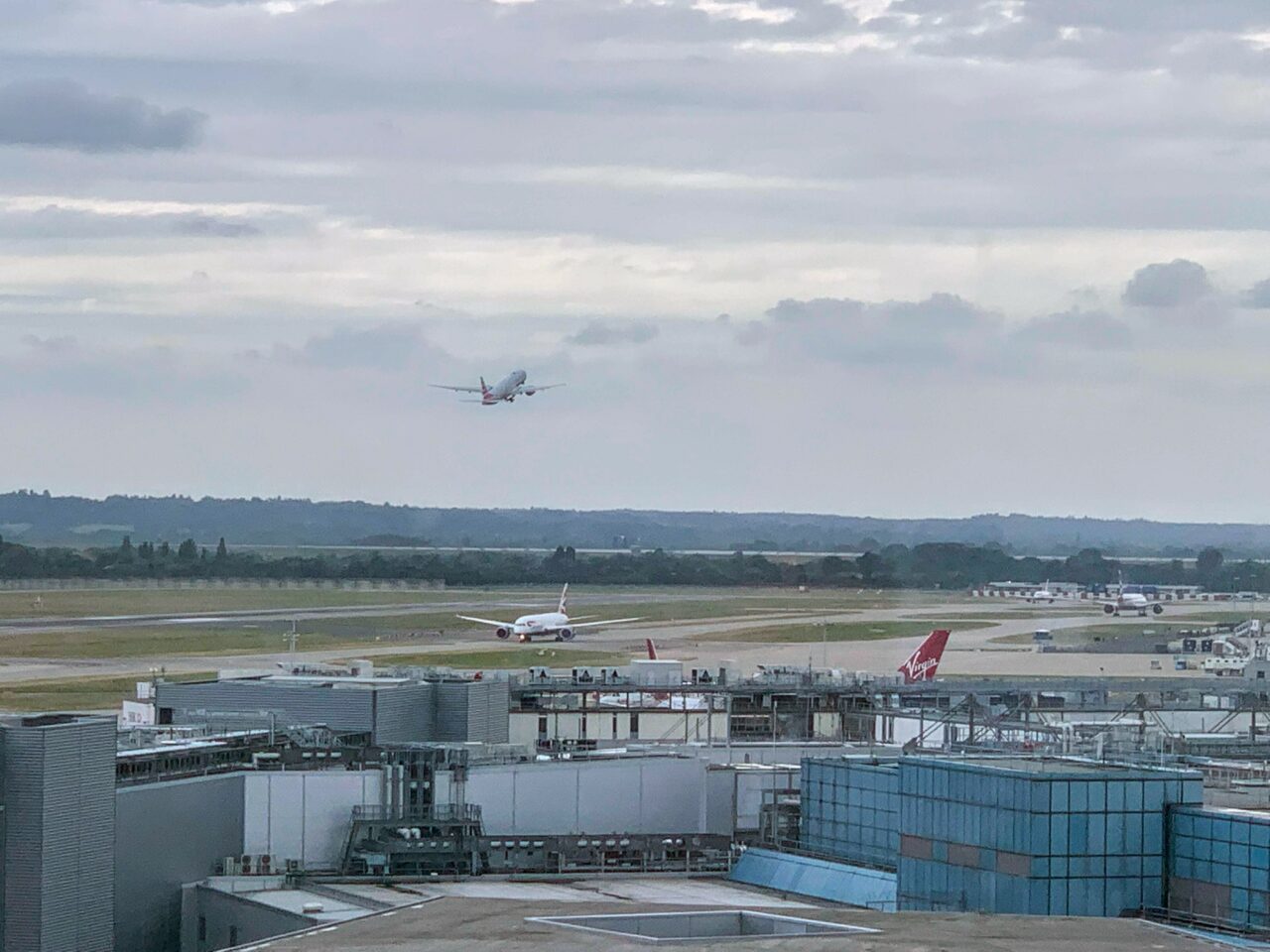 The room was very dark with the curtains drawn and there was little noise from the hotel either. The large bed was comfortable, but with only a very thin mattress topper it could have been a bit softer for my taste. It wouldn't stop me staying here again though.
Bathroom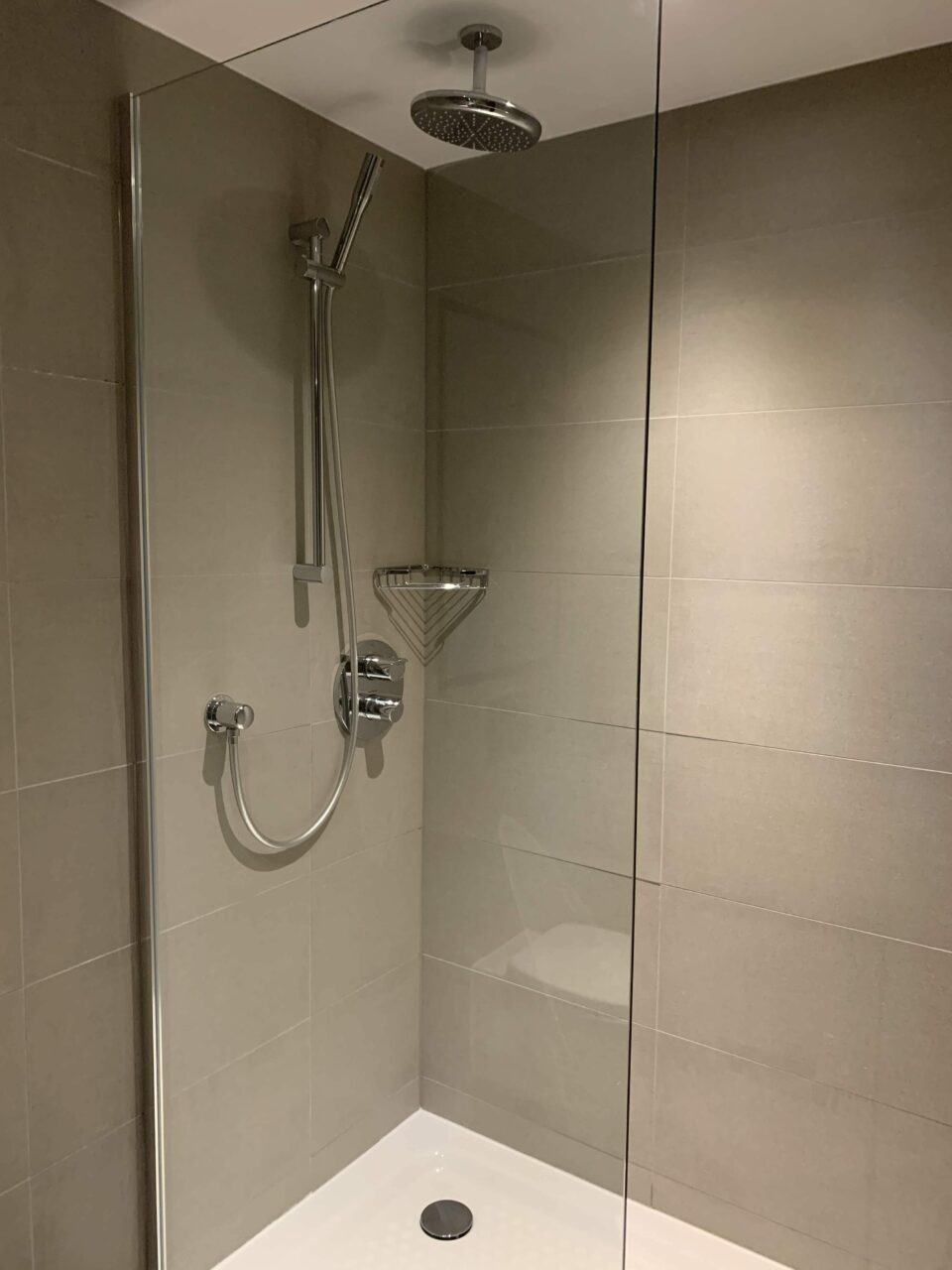 The bathroom was very similar to those at HGI Hatton Cross, although they did at least supply face cloths which the other one doesn't. You always just get a shower at the HGIs I have been too but the bathrooms are modern and well designed. The shower was large and with decent water pressure. The controls were simple which is more than some hotels, where it takes half an hour to work out how to get the water to go warm or even to turn the shower on!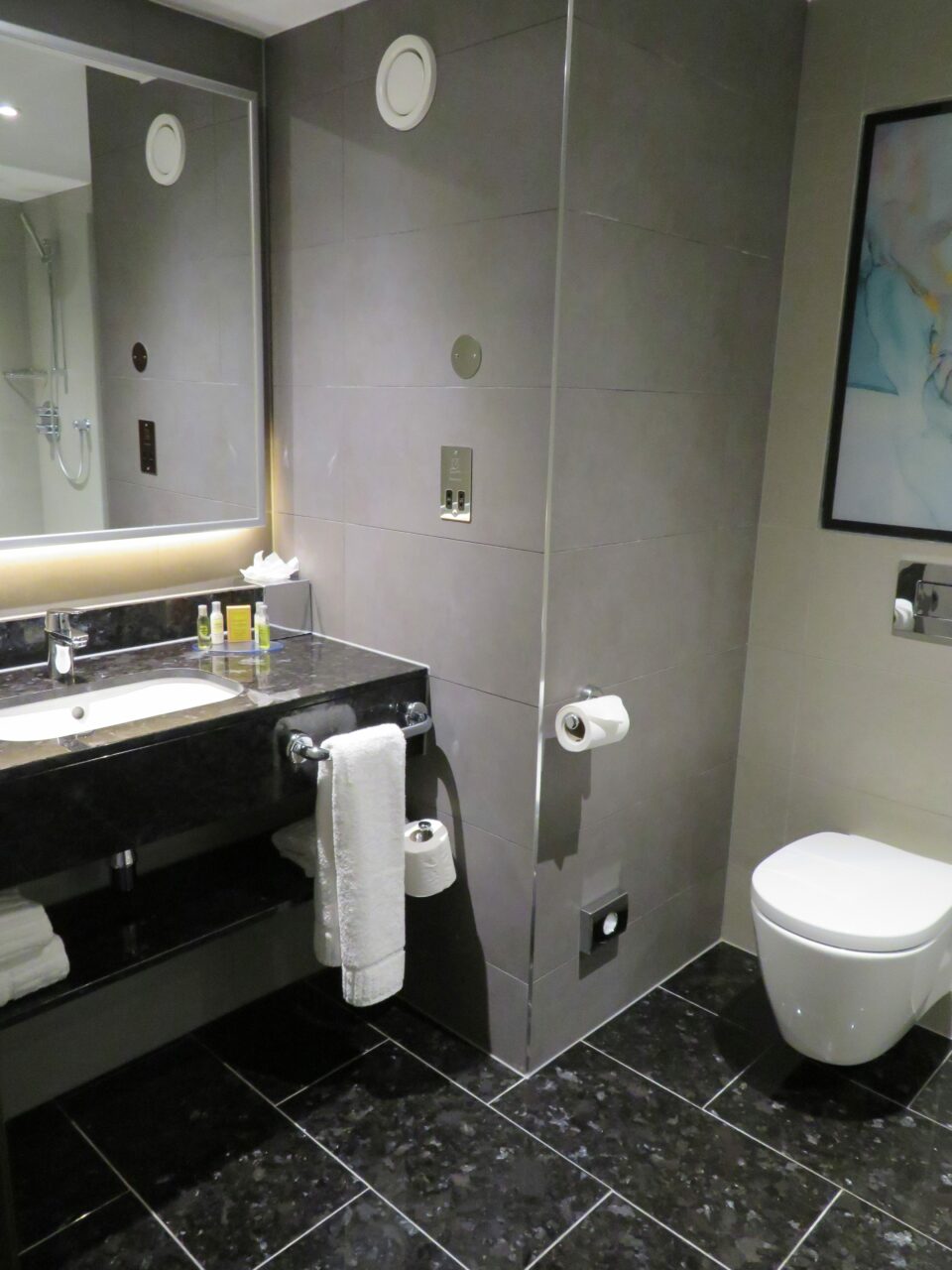 There was no shower cap provided and no magnifying/shaving mirror either, which always annoys me.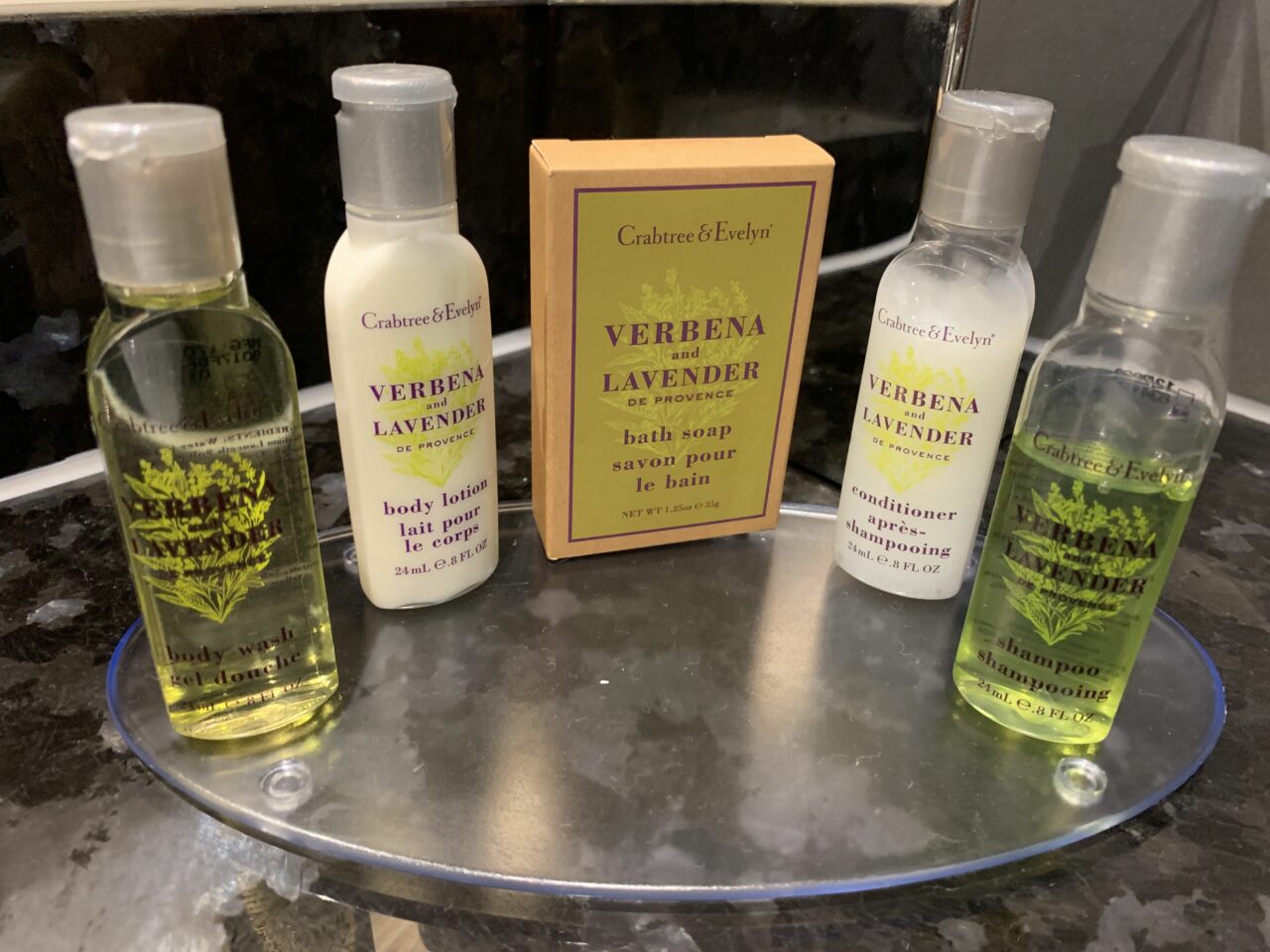 The toiletries were the standard Hilton brand, Crabtree & Evelyn Verbena Lavender which I used to quite like, but now have gone right off as I stay in so many Hiltons. I much preferred the previous Peter Thomas Rothe ones.
Other room categories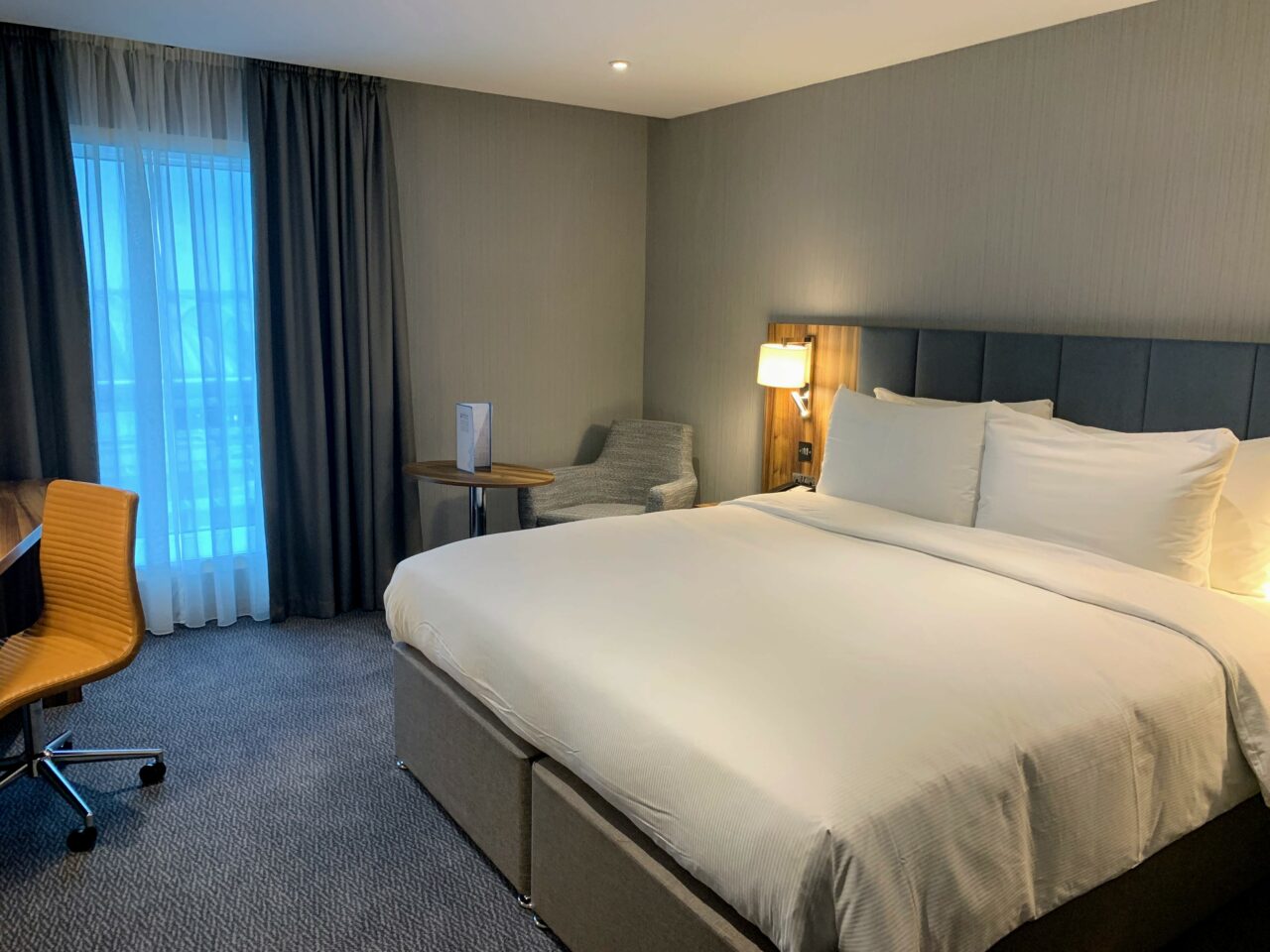 The entry-level room is the King or Twin room. If you want a runway view and a high floor then you can pay a little extra for the next category up which is the same, but with a view. Family rooms with a sofa bed are also available.
Hilton Garden Inn Hotel T2 Dining and bars
Room service has very limited hours, and is only available from 17:00 to 21:30. Given that people will be tired after long journeys and probably jet-lagged this seems a very strange choice for an airport hotel. There is no executive lounge, but if you hold a Priority Pass or an American Express Platinum there is an alternative.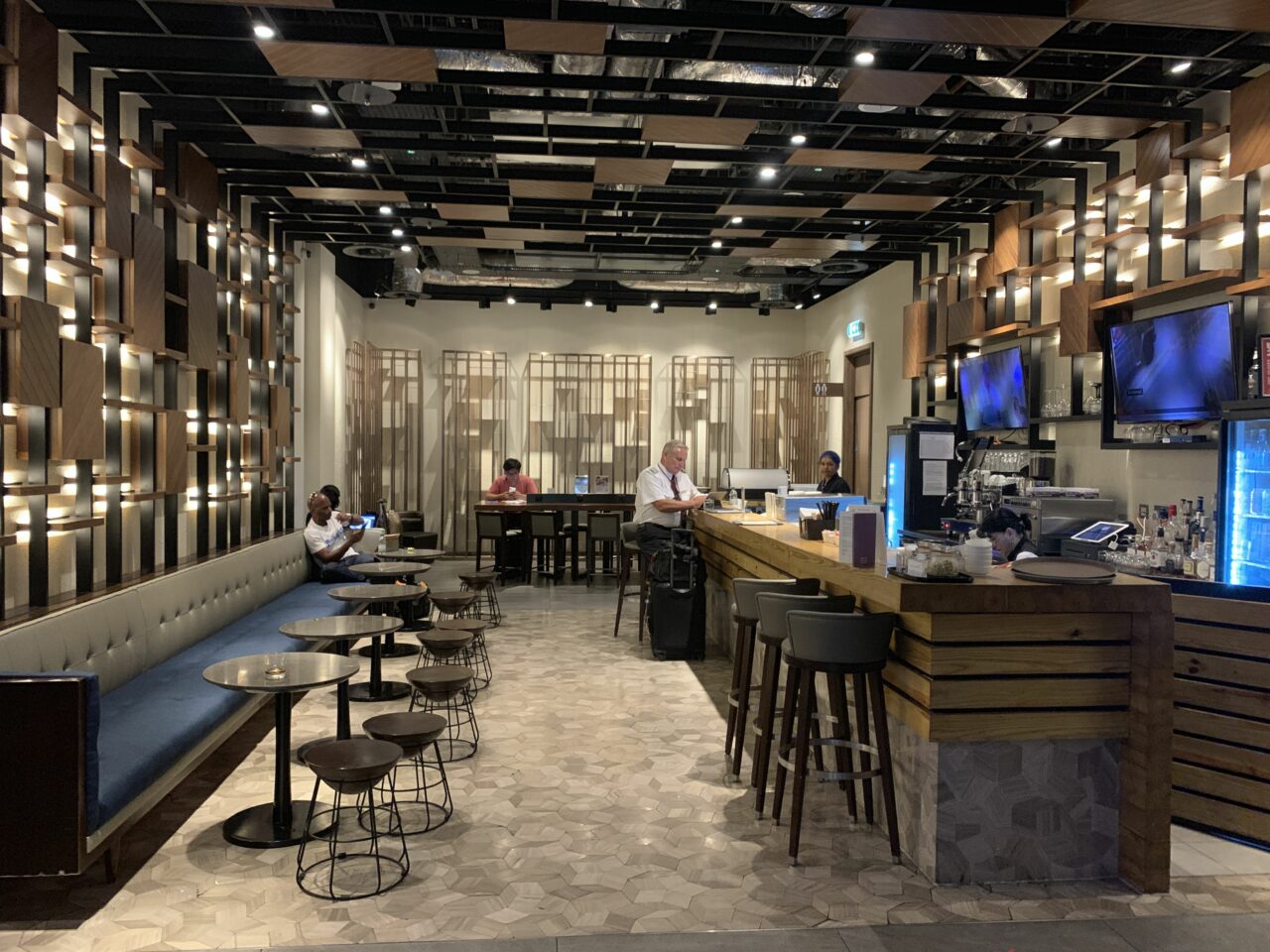 The Plaza Premium Arrivals lounge in T2 is open until 10 pm and allows PP and Amex Platinum holders free entry. There is a limited selection of free spirits, wine and beer as well as food to order (review available here).
Breakfast is served in 'The Apron' restaurant from 6 until 10.30am, and you can get lunch and dinner in both the Apron restaurant and bar. The bar is open until midnight. Sadly the new rooftop bar with runway views (called The Runway Bar) is not open yet and is due to open in August. I will pop in on my next trip and try to get some photos.
You can see my photos and review of The Runway Bar here!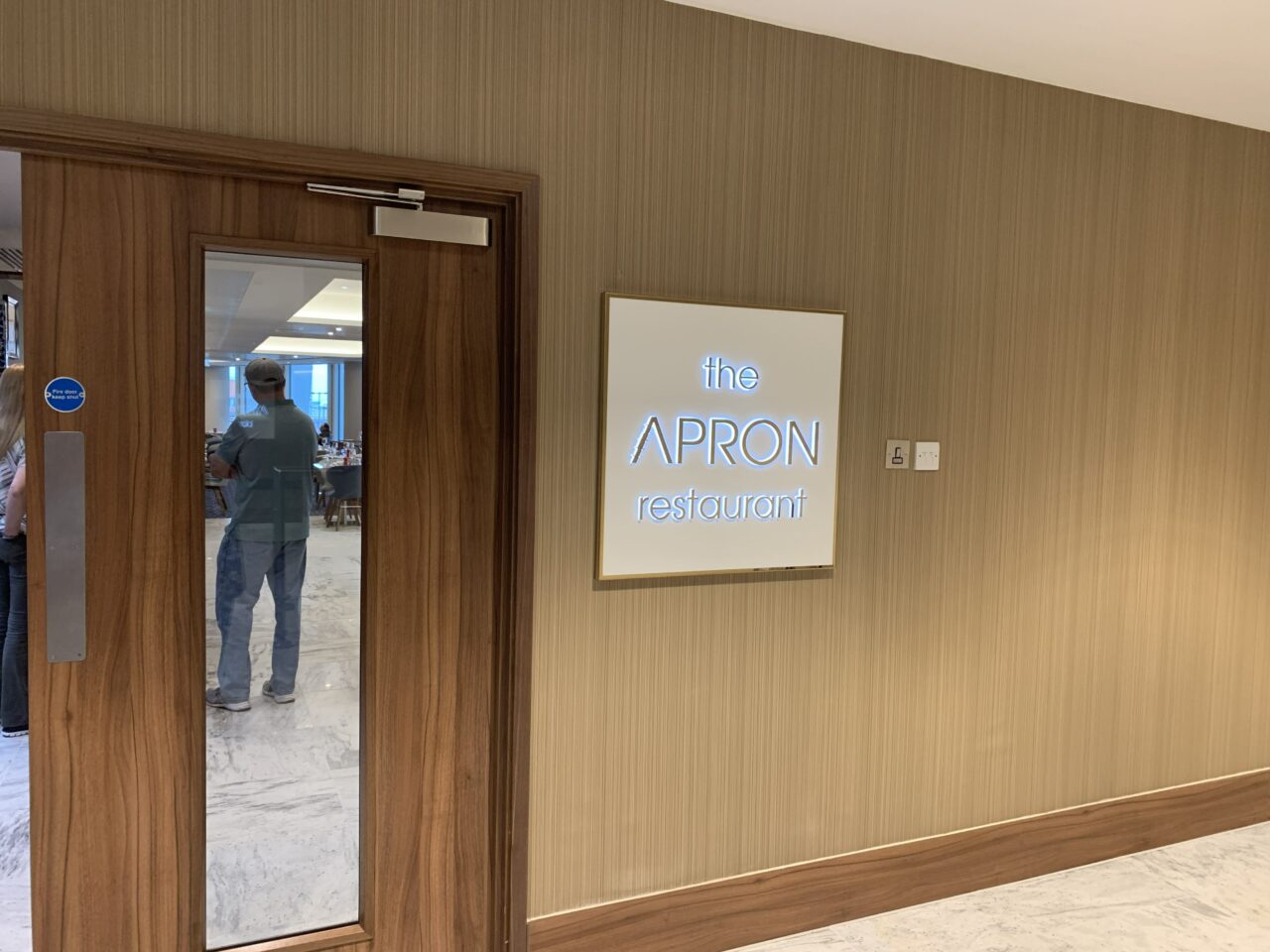 I went to the Apron bar for dinner. The waitress was very friendly and helpful, despite the fact they were rushed off their feet with all the passengers from cancelled flights. The drinks were a little slow to arrive but everything else was perfectly paced.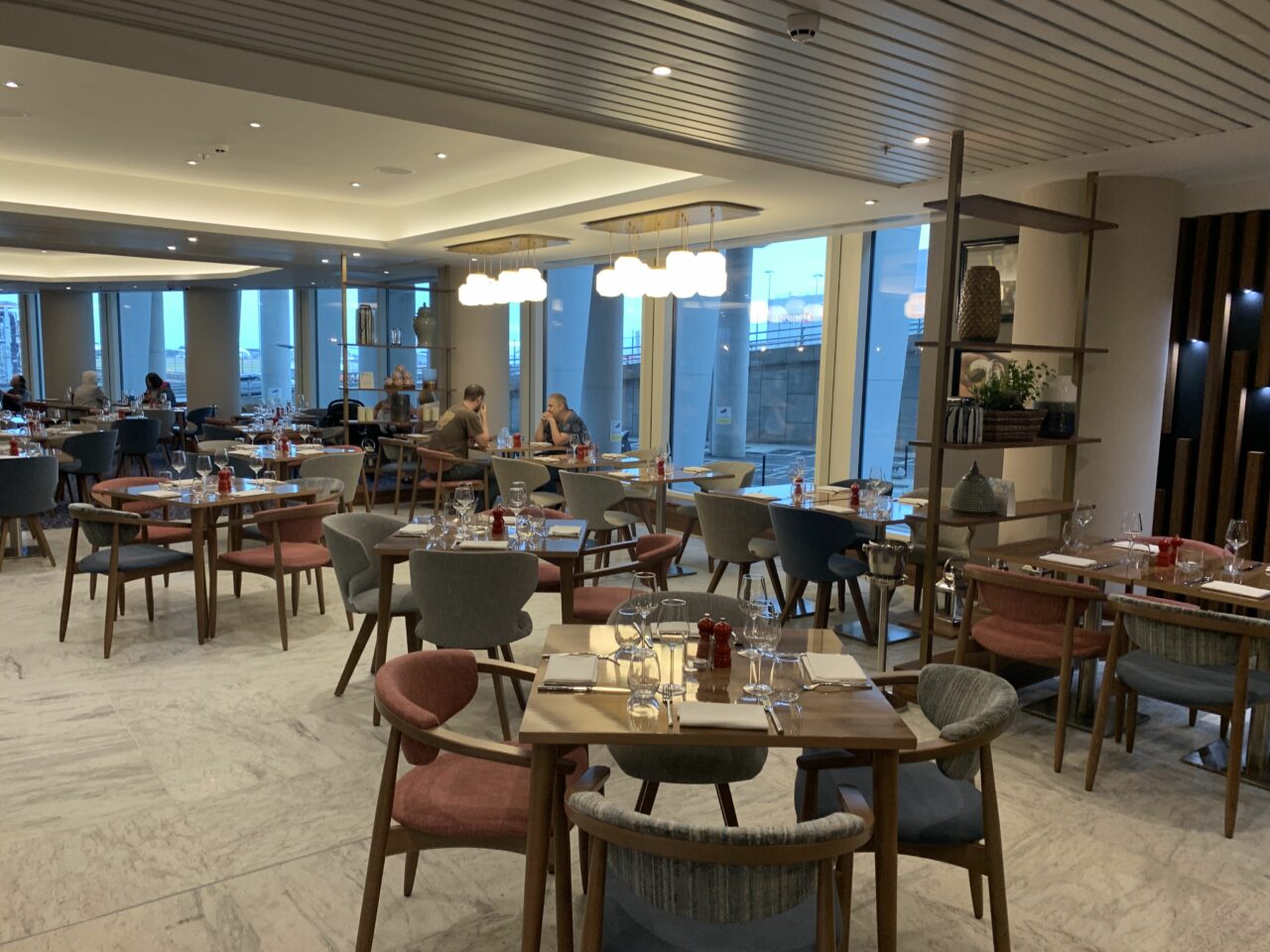 The menu is fairly limited, although there was a wide selection of drinks.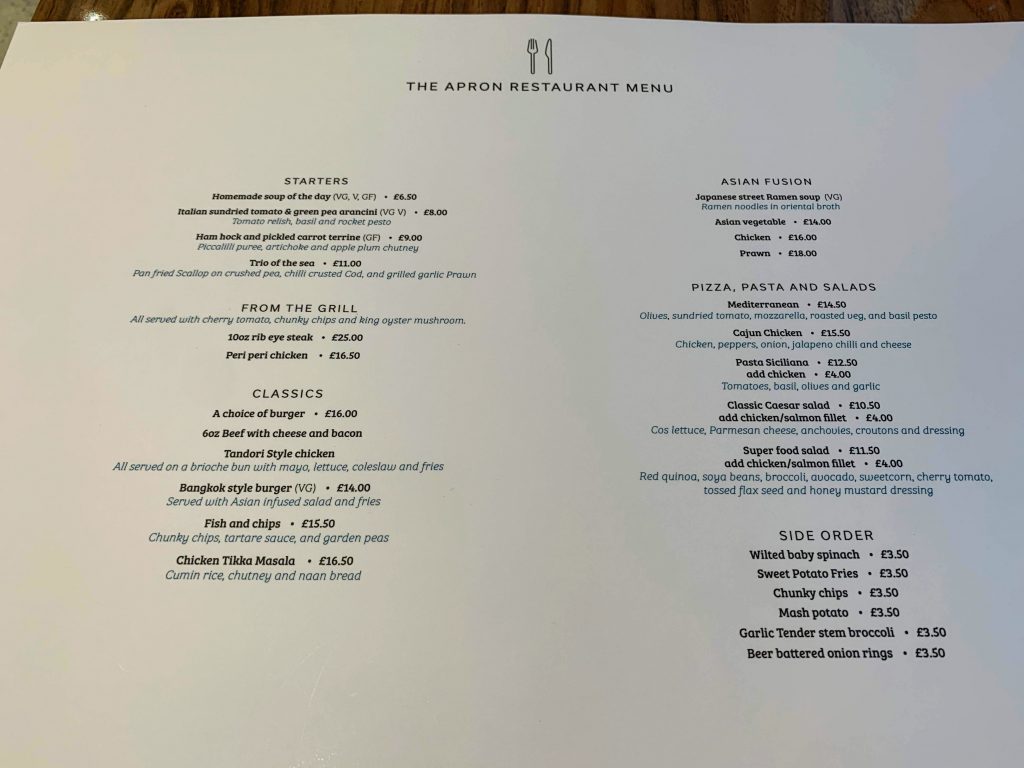 I went for the Piri Piri Chicken, and asked to change the chunky chips to sweet potato fries. Despite the fact that both were priced the same as side dishes they wanted 99p to swap, which I thought was a cheek!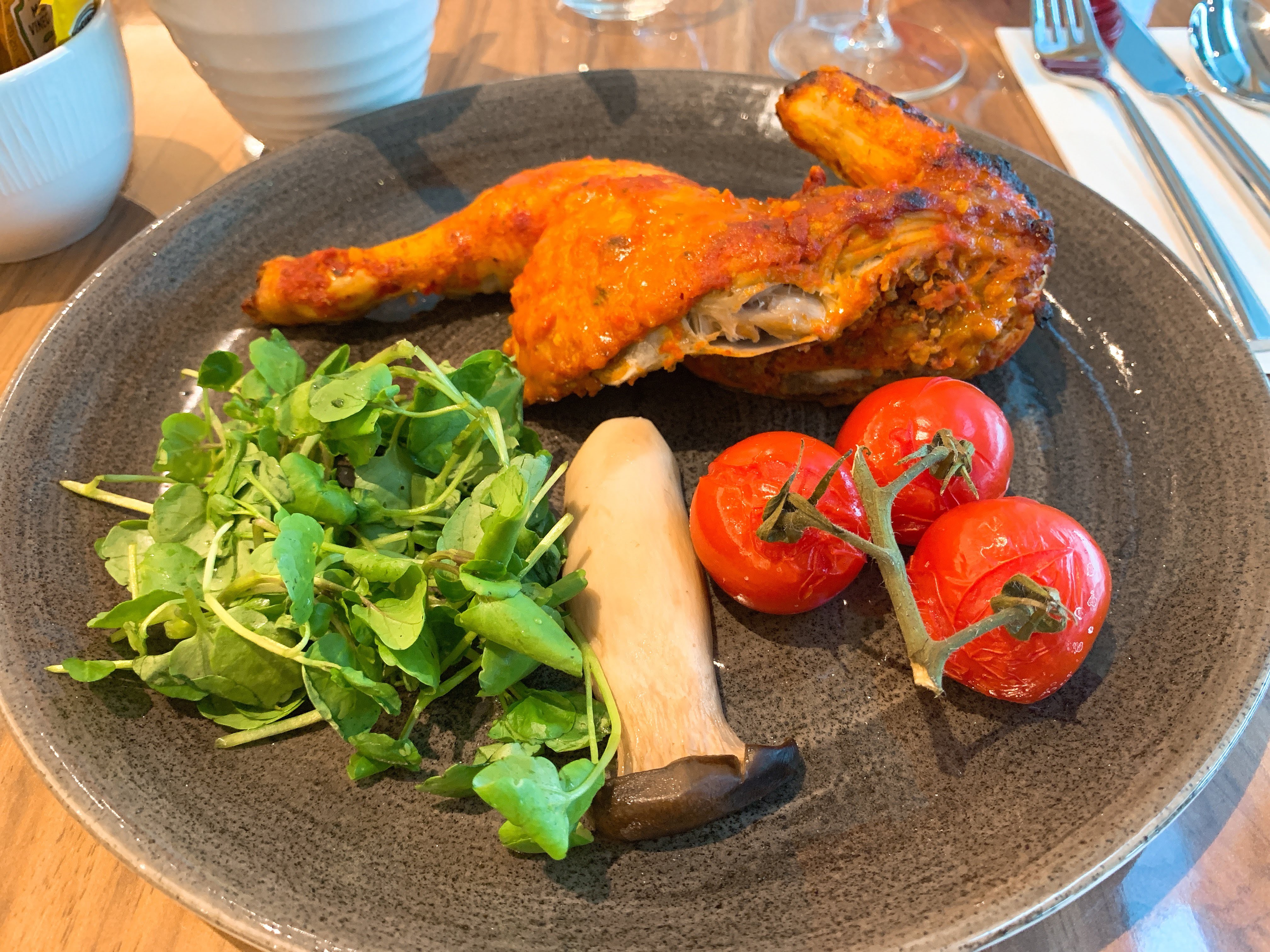 The chicken could have been a bit spicier and the skin crisper, but the chicken was still moist and the rest of the accompaniments were tasty too.
Breakfast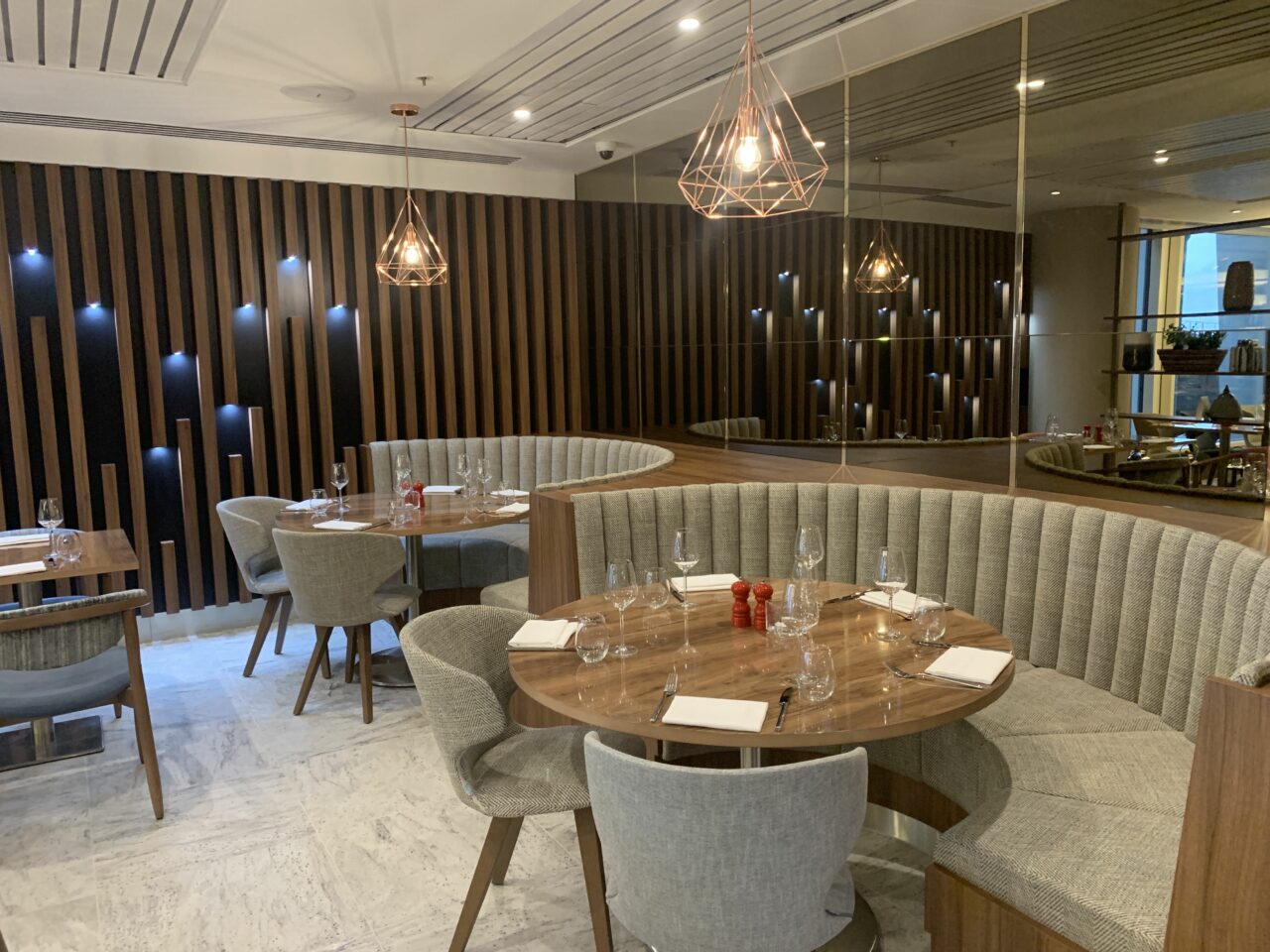 Being a Hilton Diamond member, I was entitled to a free breakfast. That being said, it is not meant to be automatic as the default is 750 points. Interestingly, although I had not changed my preference, I still got the free breakfast at the HGI Hatton Cross last time I stayed. You can change your preference in the Account>MyWay Hotel Benefits>Hilton Garden Inn.
There was no issue with getting a free breakfast. The breakfast is in the Apron Restuarant with free seating. There was a short wait for a table whilst they sorted out issues with people from delayed flights being charged for breakfast. Once at the table, they explained that you could order omelettes or eggs from the server but everything else was help yourself.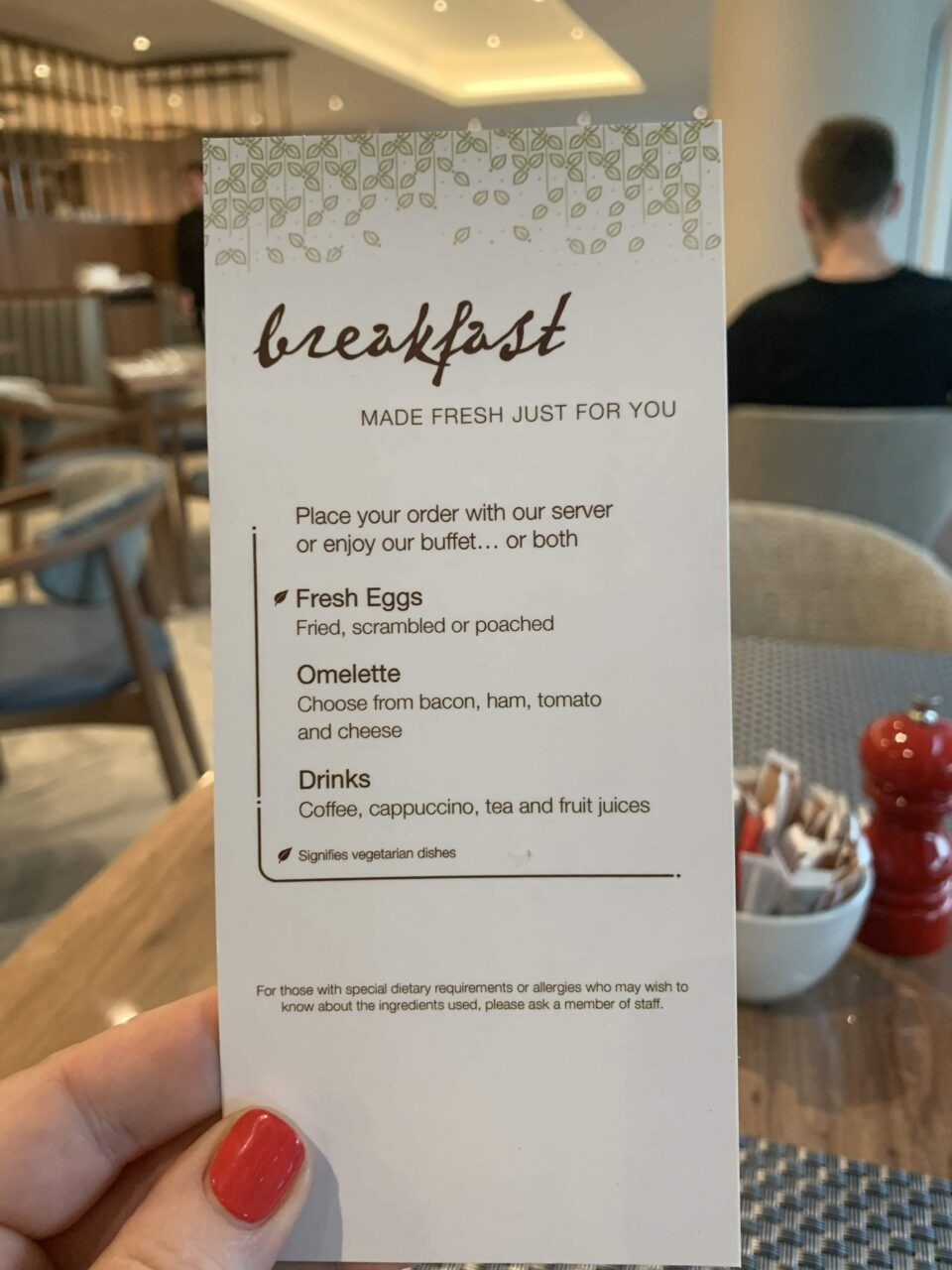 The food was presented well on the buffet and there was a decent choice for the price of the hotel. As well as a selection of English breakfast cooked items there was a waffle machine, fruit, yoghurt, pastries, sliced bread for toasting, cereal, cheese and meats.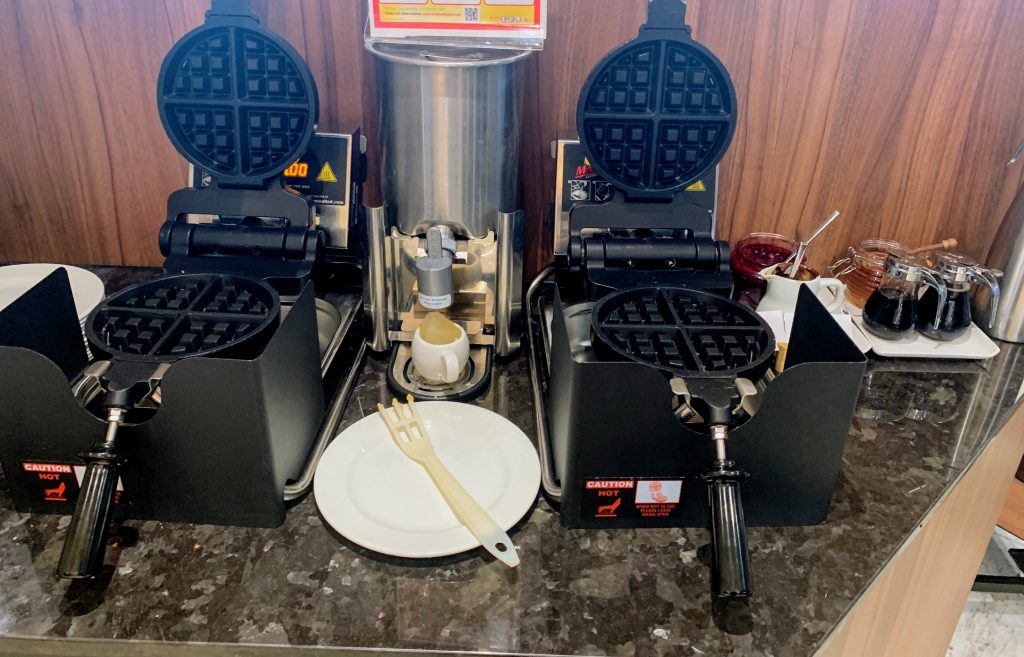 I ordered the omelette, which came quickly and was very good.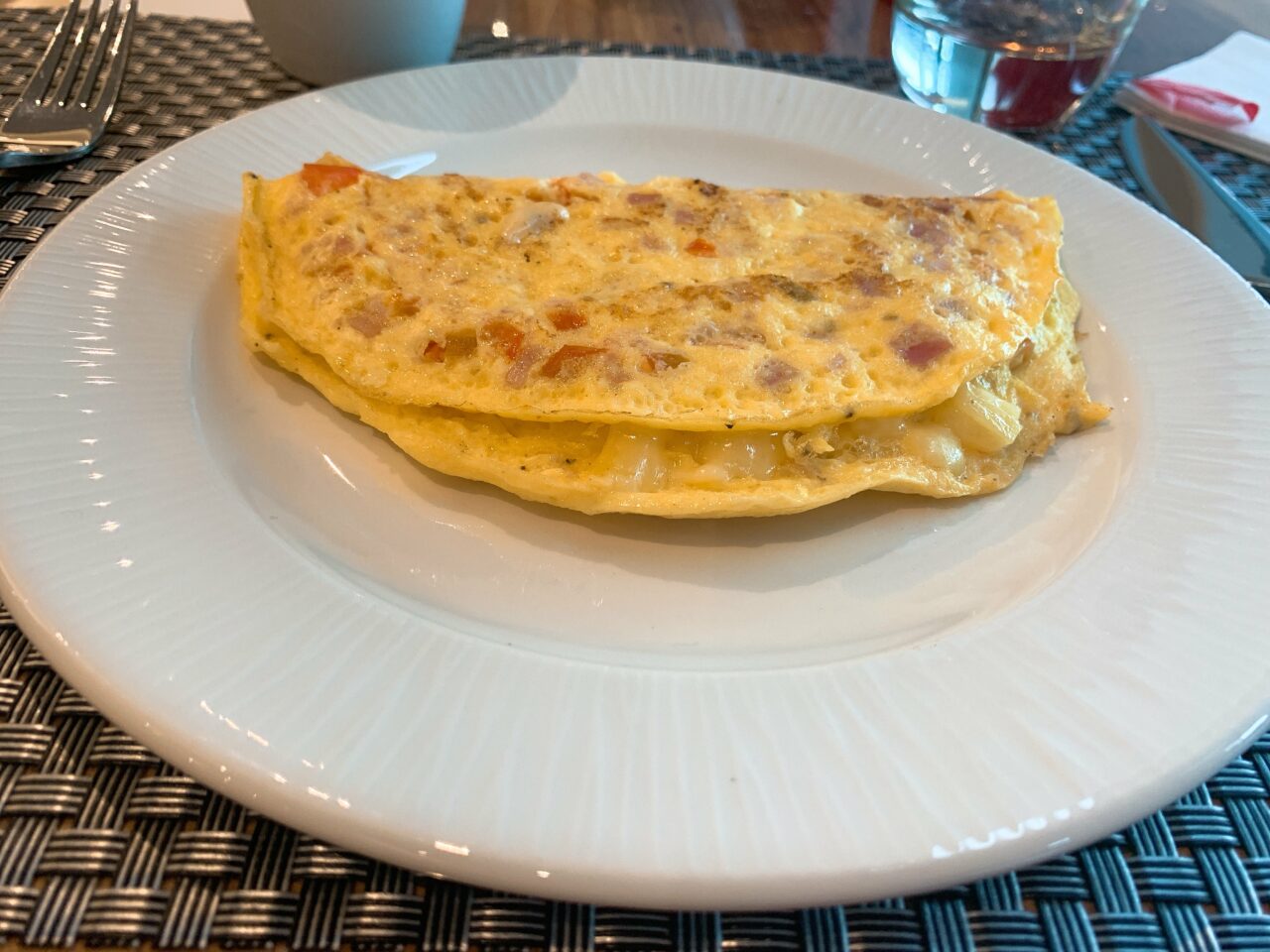 I also tried the fruit – melon and pineapple, both of which were excellent quality compared to the usually hard and sour fruit you get in many hotels. Coffee was from a machine which was a bean to cup variety. It was actually very good – even the flat white was passable, which is tricky from a machine.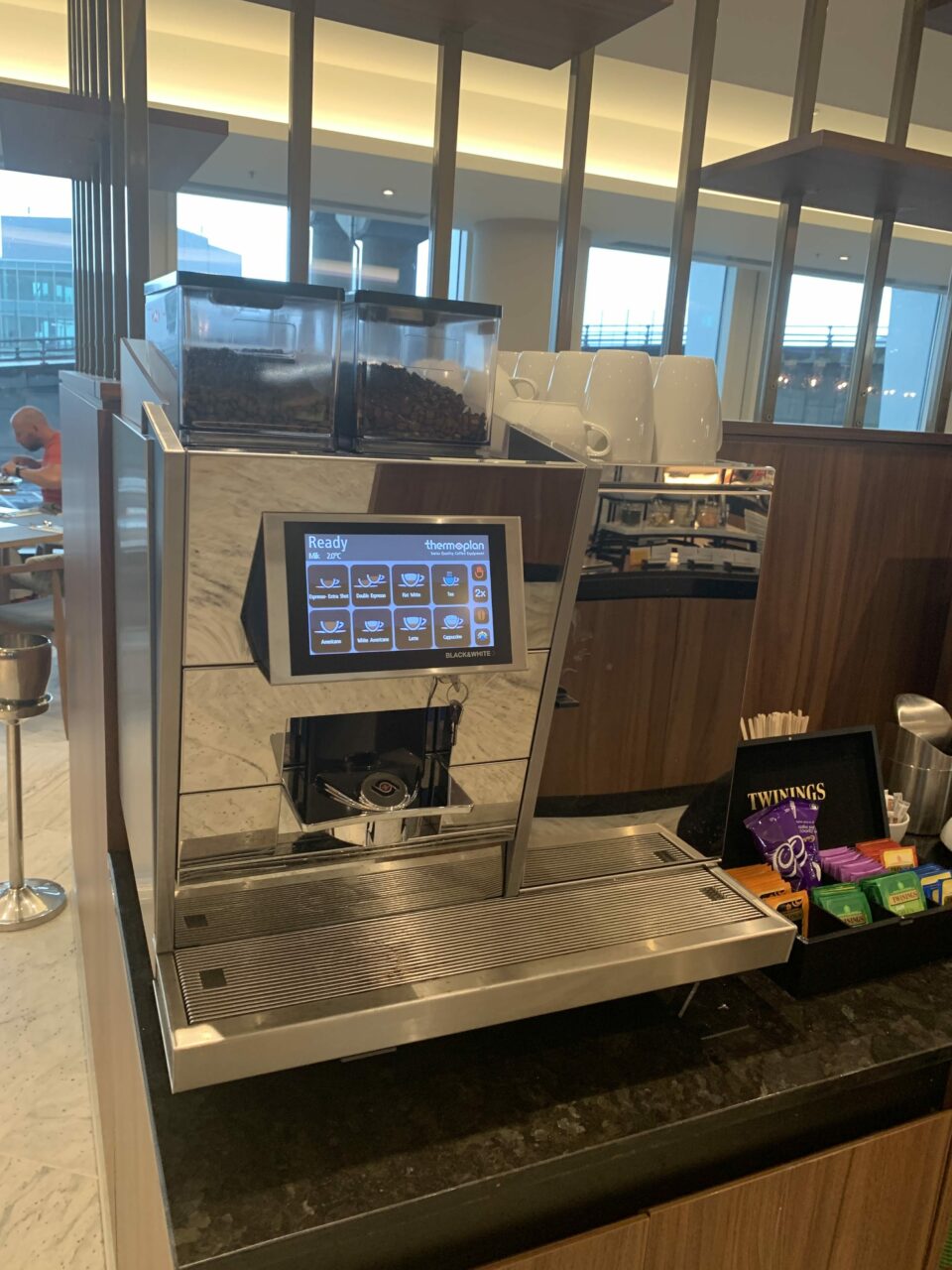 Overall I thought it was a good breakfast and I liked the way they had two stations for hot breakfast so that there was no overcrowding. Again, if you like looking at aircraft you can choose one of the window seats and get a glimpse of the runway and apron with your full English!
Hilton Garden Inn Hotel T2 Facilities
There are only a few facilities in the hotel:
Business Centre
Complimentary Printing Service
Meeting Rooms
Photo Copying Service
Printer
Coin Laundry
Cash point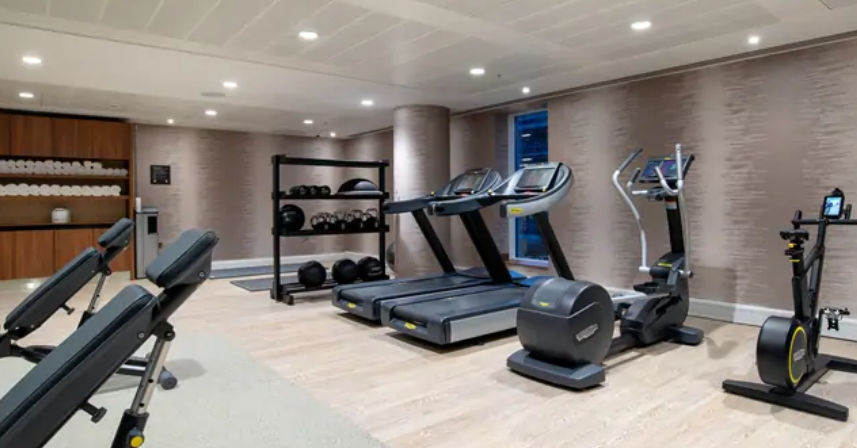 There is a fitness centre which is modern but quite small. There were a couple of treadmills and bikes as well as some weights.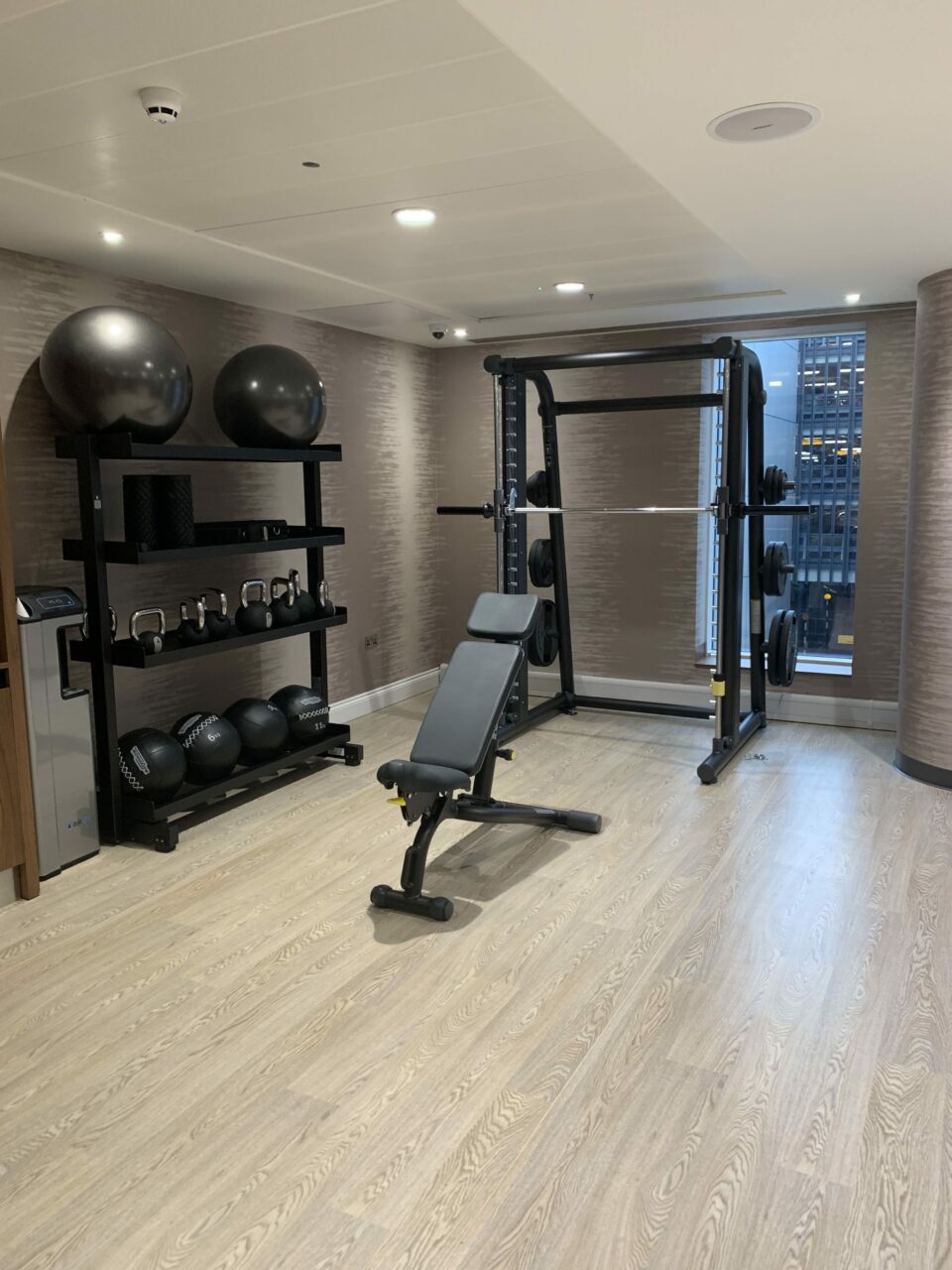 As the room does not have a minibar there is a small snack shop in the lobby. There are sandwiches, breakfast boxes, snacks, soft drinks and beer plus a coffee machine. You may be better off in the terminal though, with Marks & Spencers in Terminal 2 arrivals.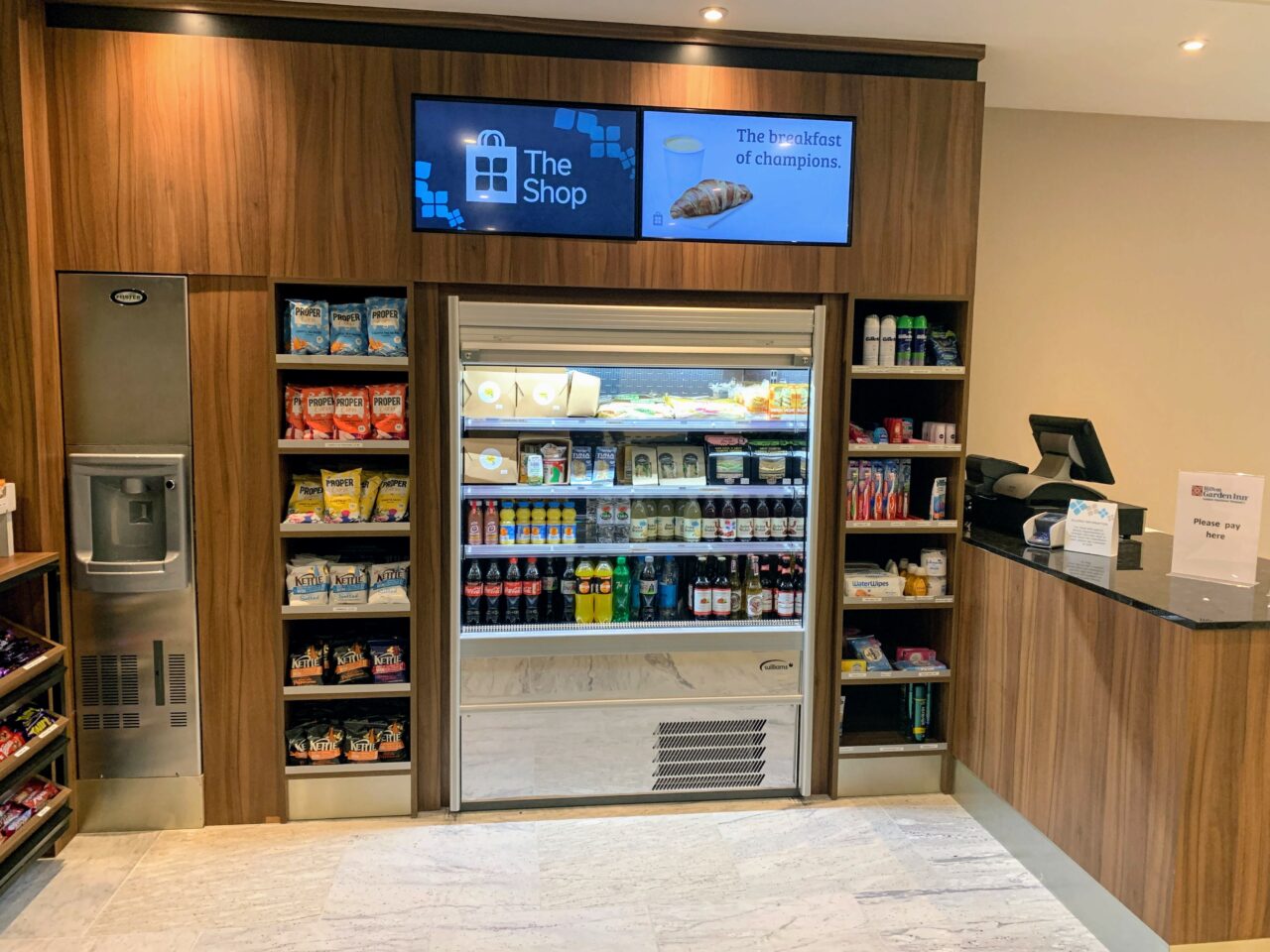 How to get it cheaper or maximise your points and miles
There are often sales, keep an eye on my page for the best deals. You could also book the hotel on points starting from 30,000 points per night – which is only 3000 more than HGI Hatton Cross.
I usually book my Hilton bookings through the BA E-store where previously you could get 8 Avios per £1 spent, though that offer isn't currently available. The link takes you through to the usual Hilton booking site, so you get all your status perks and Hilton points as usual.
Otherwise you can book directly through Hilton here.
Conclusion for Hilton Garden Inn Hotel T2
As well as being handy for T2/3, I would consider this hotel when flying from T5 as well. The Sofitel at T5, whilst being more luxurious, is often extremely expensive unless you can find it on lastminute.com where it can go for around £135. The HGI T2 is definitely better than the HGI Hatton Cross.
Being newer, the rooms are definitely better and it is much easier than the HGI Hatton for access. There it is about a 5 minute walk to the tube, which can be a pain with luggage as you either have to go across a footbridge with lots of steps or try and cross the road between the cars as there is no crossing.
You can find more information, availability and prices for the Hilton Garden Inn T2 here.