This was the return journey from my London City to JFK flight on BA1 which I reviewed in this article. I chose to come home on the B747, mainly as it is an easier journey from Heathrow to my home. Also, the B747 upper deck is my favourite version of BA Club World, despite being a bit long in the tooth.
How much did it cost?
I paid roughly £1350 (will depend on the exchange rate) for a return Club World flight from Dublin via London City, returning to Heathrow. I then had to pay around £220 for an economy return to Dublin, as it was booked fairly last minute. The overnight at the Hampton by Hilton near London City cost £80. Therefore the total cost was around £1650, a saving of £1330 on the full price of £2980. If I had booked the Dublin part earlier I probably could have saved another £100. The ticket was booked on American Airlines' Irish website. There is still a good offer on but the price has gone up to about £1500. You must stay a Saturday night to get the price. At the moment British Airways have their luxury sale on with prices to New York in Club starting from £1792.
Check in and Lounge
BA flights depart from Terminal 7 at New York. I was impressed with this terminal for ease of use, even though it is a bit dated. BA recently announced a major revamp of their JFK operation which you can see in this article. There is a separate area for Premium check in at one end of the terminal. As I am BA Gold, I used the First Class check in, but there was very little queue at Club check in either. The agent was friendly and quick. I was even surprised by the TSA security agent who was actually really helpful. The security process and check in took less than 5 minutes with no queue at either point.
There are 3 lounges, Galleries Club, First and the Concorde Room for First Class passengers.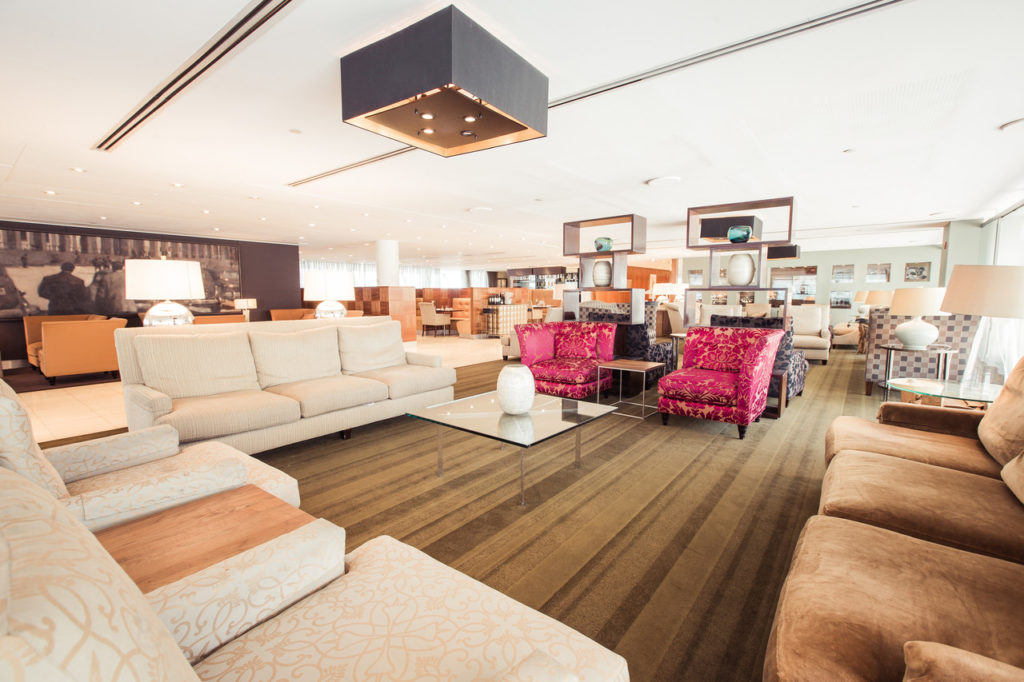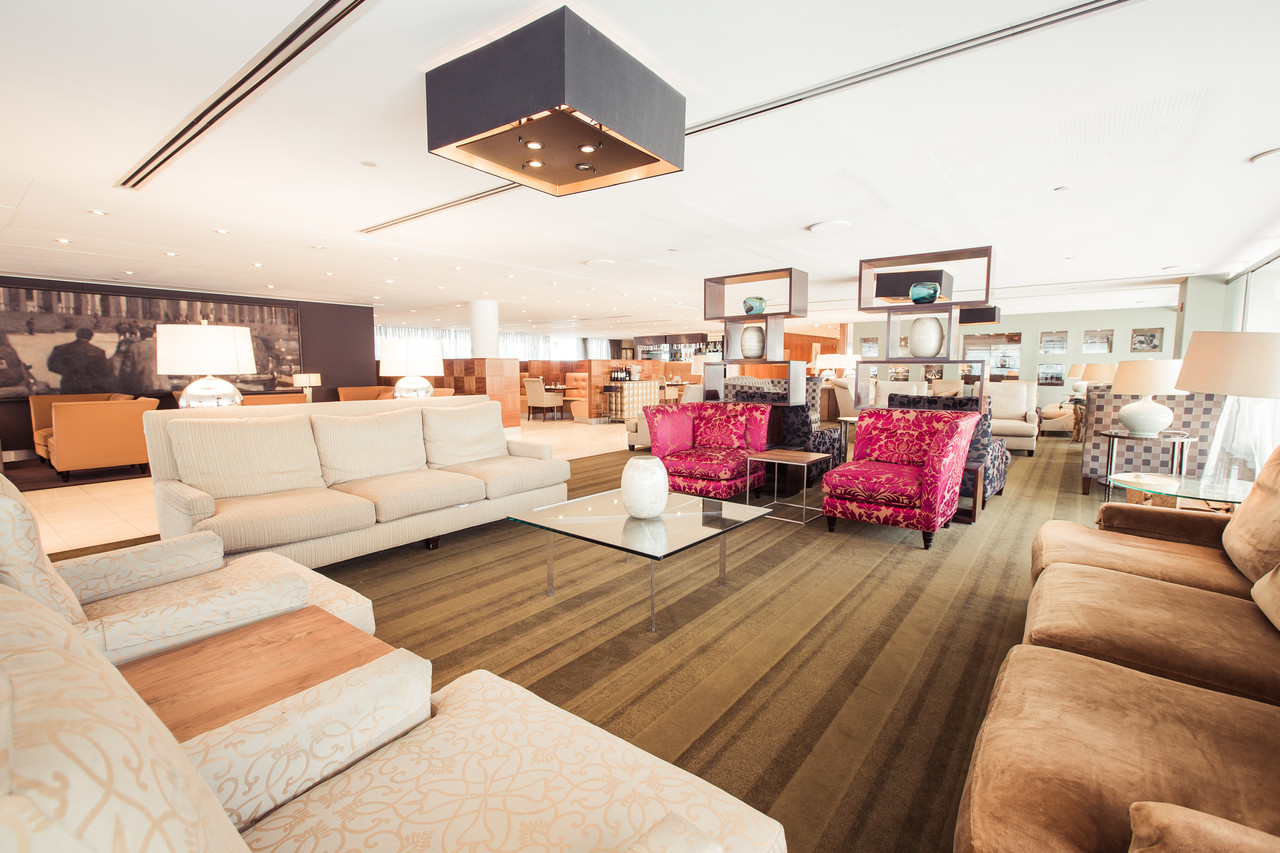 Spa
I went into the Club lounge first to see if I could get a Spa appointment. I was a little later than intended and arrived at the airport around 2 hours before departure. Unsurprisingly, there were no spa appointments left, so I went for the chair massage instead. I thought that the spa was an improvement on the Heathrow ones. The treatments are in proper rooms with spa music and very dim lighting so you can relax. They also have the range of Elemis products available to buy at 20% off. This included handy travel sizes which you could buy cheaper as a bundle offer. The prices seemed reasonable compared to those in the UK.
Club lounge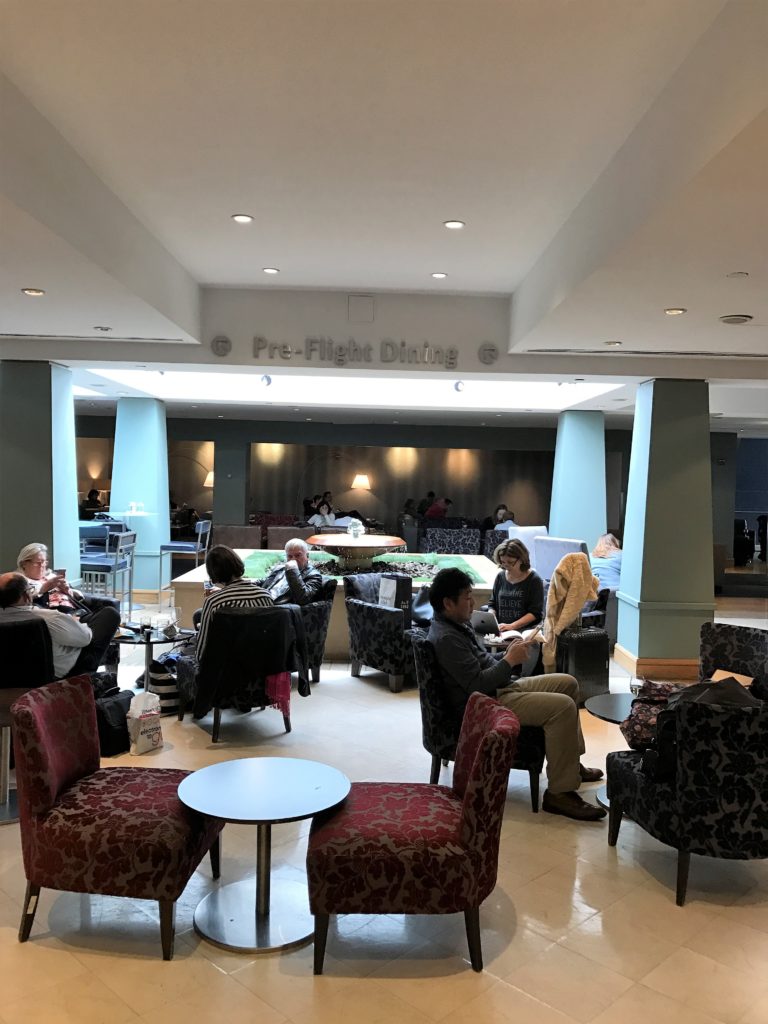 The Club lounge is enormous and didn't seem too crowded. It may have been because it was early on a Sunday evening before a Bank Holiday in the UK. Although the décor was a perhaps a little outdated, I actually thought it was a pleasant lounge. The food on offer was mainly sandwiches as they have a separate pre flight dining area. For this you must be travelling in Club World or First and they will ask to see your boarding pass. The pre-flight dining is a buffet with a good choice of hot and cold options including a Mexican station on the day I went.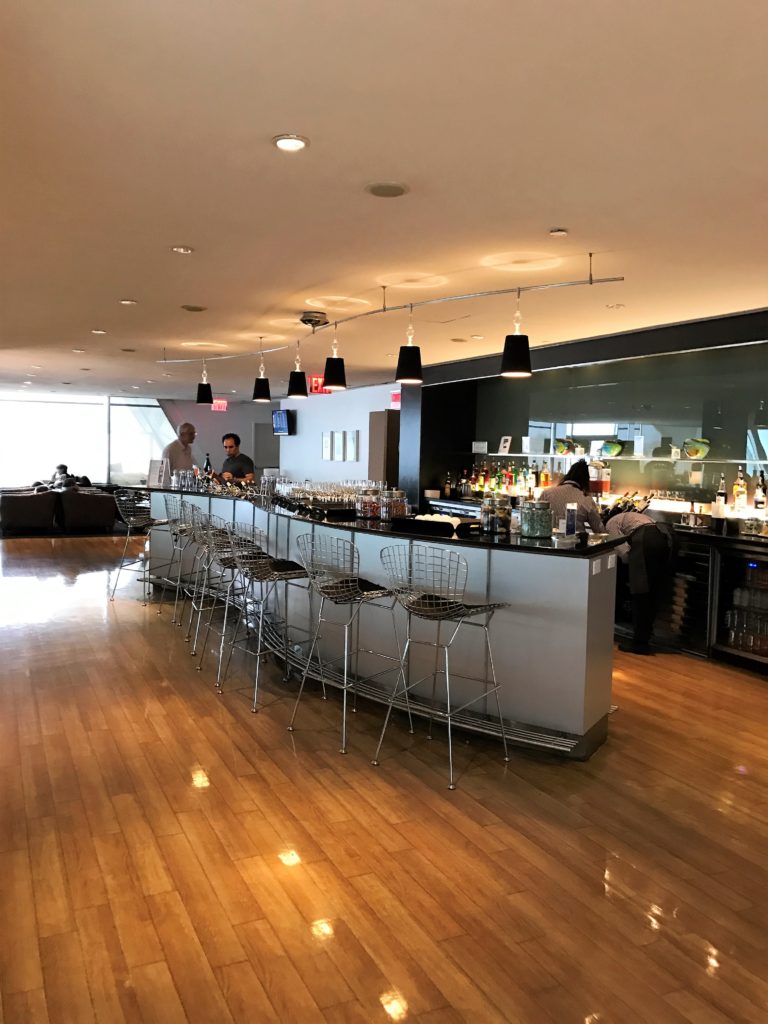 I liked the fact they had a 'pub' stand with various beers on tap, even though that it is not really my thing. There was no champagne available but instead a sparkling brut rose Pinot Noir called Suavium from Germany. There was a good selection of several white and red wines to choose from and even a rose. They had a Hahn Chardonnay and Pinot Noir, both of which I like as well as a Washington State Cabernet Sauvignon blend and a Bordeaux red.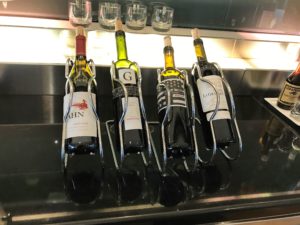 First class lounge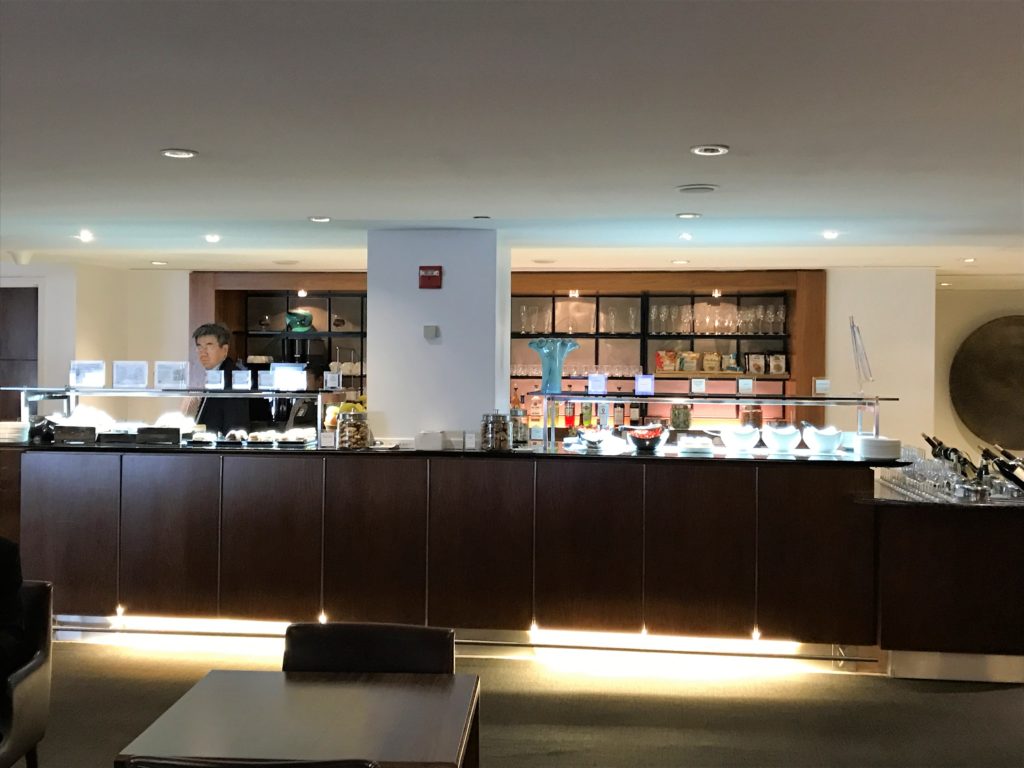 The First class lounge was not overly exciting but was more intimate than the cavernous Galleries Club Lounge. The wine and food selection were definitely better. There was Laurent Perrier Champagne on the self service bar along with some higher quality wines such as a Chablis premier cru which I enjoyed. The food selection was mainly sandwiches and salads which was fine by me. Obviously if you wanted something more substantial you could use the pre-flight dining.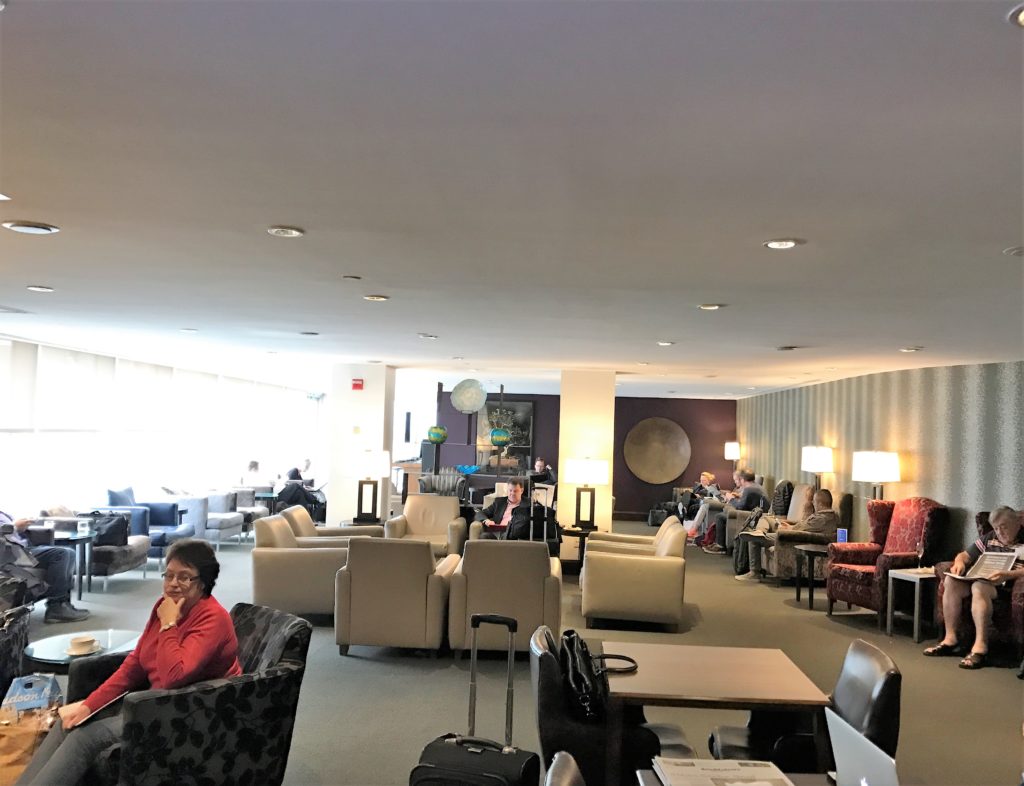 The seat and amenities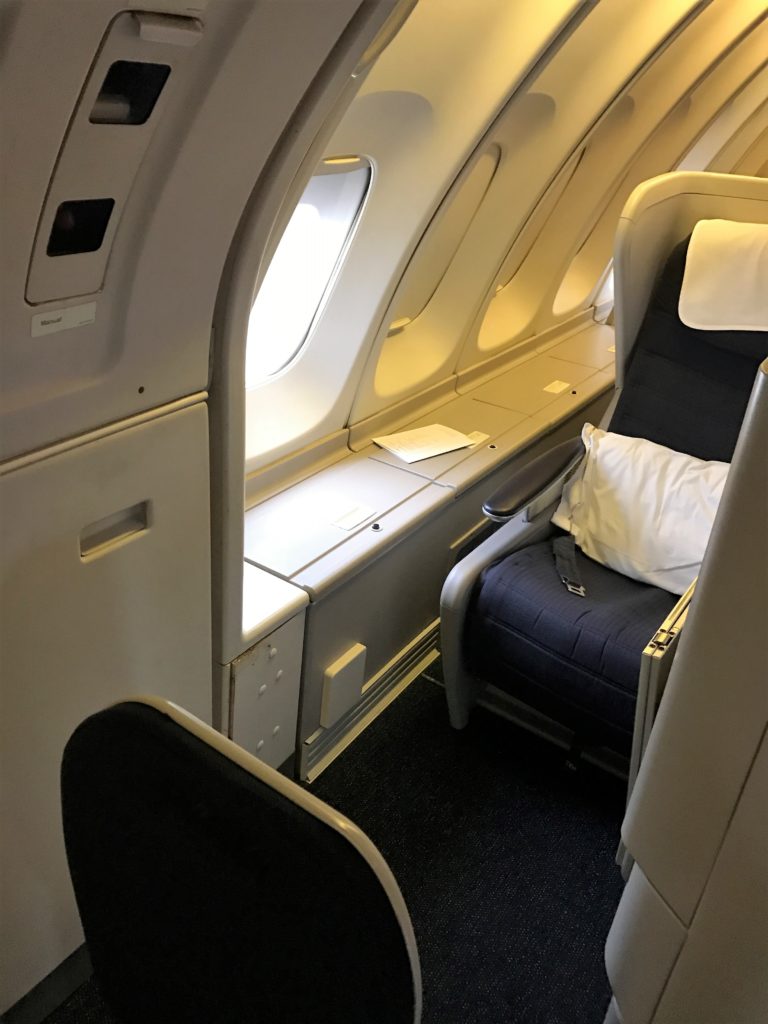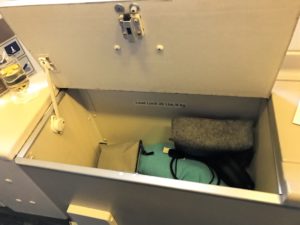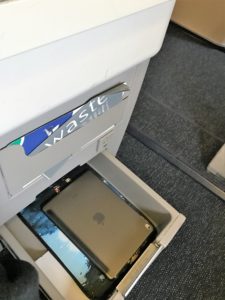 Unfortunately this was not one of the newly refurbished 'high j' B747s, which have 86 Club World seats.  However, I managed to get my favourite seat on the upper deck. One of the things I dislike most about BA Club World is the hurdling over people to get out of your window seat. 62A is an exit seat so it has a wide gap for the door and it is easy to get in or out. It also has the side bins which are great for storage on the upper deck as well as serving as an extra side table. Seat 62K is the same. My other choice would be 64K but this is backing onto the toilet and closer to the galley and stairs.
For those unfamiliar with BA Club World, the seat has a foot stool which flips down and meets with the rest of the seat to form a bed. I like the foot stools for when I am sitting, as I can comfortably reach it without having to recline my seat at all. I do find them a bit flimsy though and they could do with some more padding.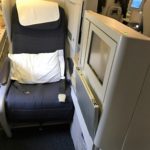 Having just flown the A318 BA1 service, I definitely found this seat less comfortable. It could be partly that it was an old seat, but it was definitely much less padded than BA1. I always find with the Club seats that it takes a while to get in the right position due to the various joins in the seat which I don't find with the cirrus seats on AA and Qatar. There was the usual blanket and pillow, although as I commented in my BA1 review, the pillow felt more plump than usual, so maybe they have started to upgrade them.
There was also the usual storage drawer at the side which is perfect for laptops or tablets. The toiletries were the normal drawstring bag of Elemis miniatures. Although I find the bags useful when travelling for things such as shoes, I am hoping that when they refresh the Club World service in October, we will get new ones. The bag has Elemis Pro-collagen marine cream ultra rich, Skin nourishing hand & body lotion, minty lip balm, ear plugs, socks, eyeshades, pen and a 20% off voucher for Elemis.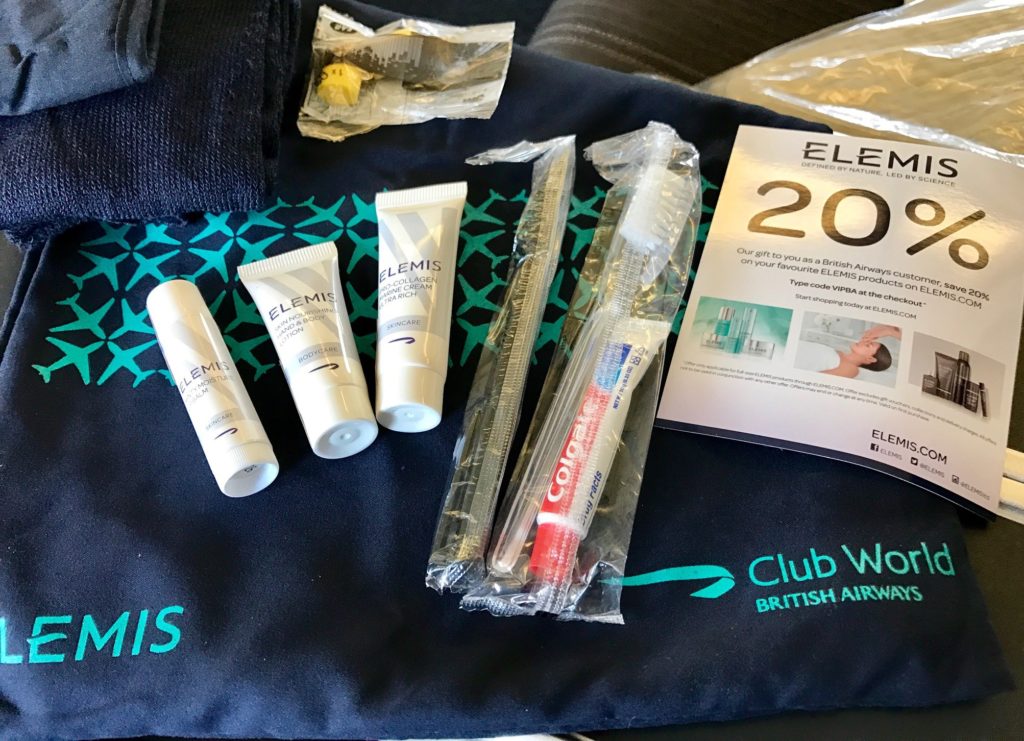 Connectivity and entertainment
Unfortunately as this was a unrefurbished B747, the screen quality was pretty poor. I didn't bother watching anything as my iPad had far superior screen quality. If you wanted to watch the High Life entertainment, there was a good selection of new releases and older films as well as a varied selection of TV, music and games to keep you entertained. There was also one socket for charging your devices which only took US plugs. I don't see this being a major problem on a US route but make sure you have your adaptor in your luggage!
There was no Wi-Fi or other connectivity on this aircraft but BA are due to launch the service this summer. On selected B747s, you will be able to use your smartphone, tablet or laptop to send and receive messages, listen to music online, stream videos, post pictures etc.
Food, drink and service
I was very impressed with the BA crew on my flight. They were how I would like all BA crew to be, friendly with a hint of humour and anticipating your needs before being asked. They were very generous with tops ups too, which is always welcome!
The service started with the usual pre-departure choice of champagne, water or juice. This was followed by menus and wash bags. Once we were airborne, a round of drinks with mixed nuts was offered before the main meal service.
The menu was:
Starter (no choice)
Salad of beetroot, Montrachet goat's cheese and sea lettuce with a mirin and onion seed dressing
Main
Pan fried fillet of salmon with creamed spinach, roasted fingerling potato and horseradish cream
Bacon spinach and tomato sandwich (goodnight express option)
Ricotta Tortellini with truffle cream sauce and prosciutto
Dessert
The menu said warm apple pie but it turned out to be a baked flourless chocolate espresso pudding.
Sleeper and Express Services
Flights from the east Coast of North America departing in the evening have a different meal service to normal. It also varies slightly with New York as they use a different caterer, Do & Co, so are generally slightly better.  On early evening flights you will usually be offered the option of a 'good night express' or 'express' choice, in addition to the main menu. This is something like a burger or sandwich which comes with a dessert but no starter, allowing you to get to sleep more quickly. It is also delivered first. The main menu will only have one starter and two main courses as well as the express option. The starter and dessert come already on the tray to save time.
The later evening flights offer the sleeper service. This assumes that most people have probably eaten in the lounge and has 2 mains but no starter. One of them will be a main course salad with a hot protein and one will be a vegetarian option. There will be a dessert, usually already on tray. Sleeper services are also offered on some shorter Middle East night flights.
If you want to find out whether your flight has the sleeper service you can find the full list on this page.
My meal
The tray came with the salad starter and dessert already on it. Warm bread was offered with the tray. The starter was interesting with the seaweed like sea lettuce and it had an unusual east/west fusion with the goats cheese and mirin. Overall it worked and was well balanced between the salty sea lettuce and goats cheese with the sweeter beetroot and mirin dressing.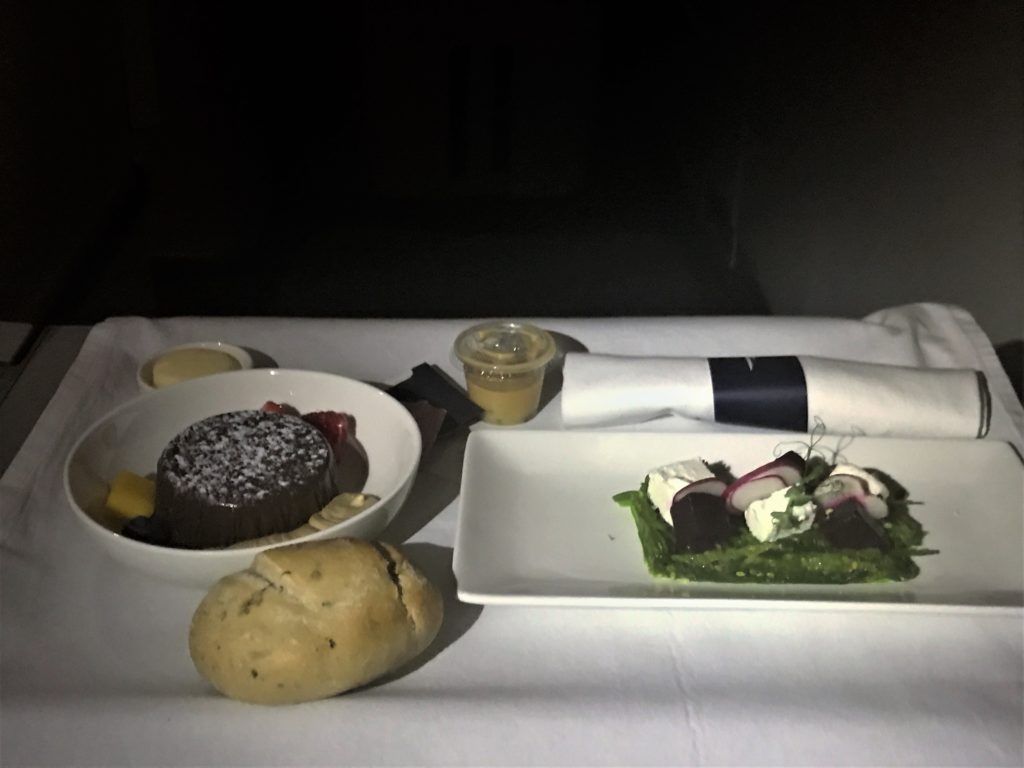 I then had the salmon. This was OK but overcooked, a bit dry and overall uninspiring. I couldn't taste the horseradish at all.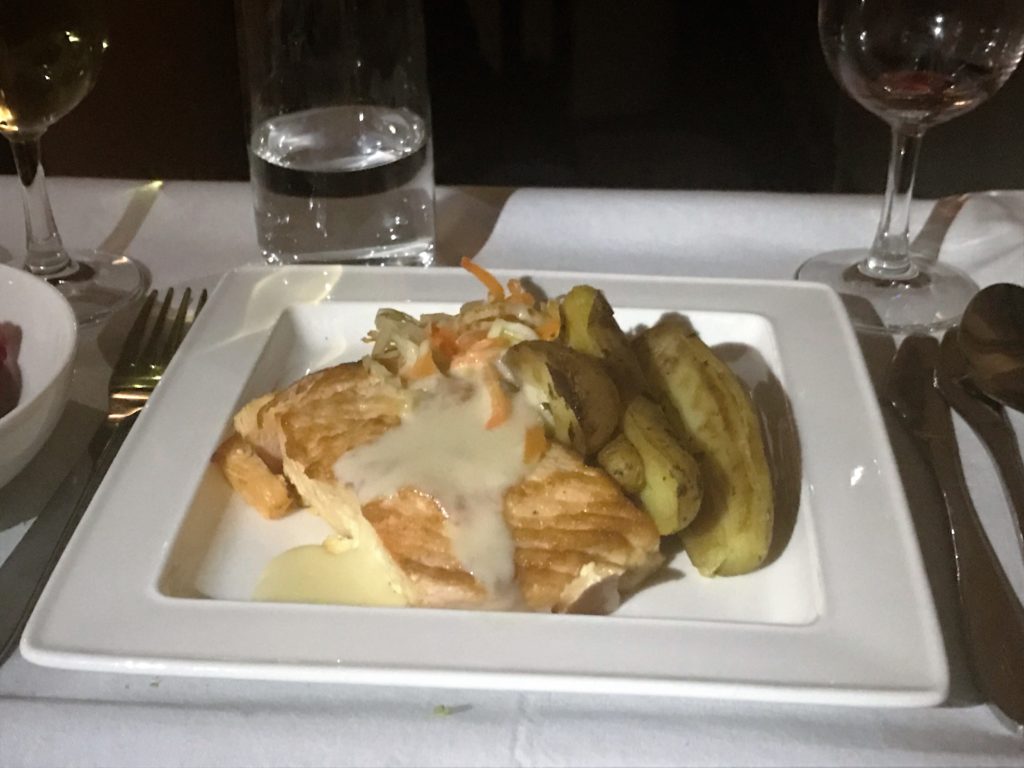 I enjoyed the chocolate dessert as it wasn't too sweet and the coffee helped offset the richness. Cheese, tea and coffee were offered before they cleared my tray. There was also a single wrapped chocolate on the tray which I took with me. This turned out to be a pink Himalayan salted caramel, which is well worth having if you like salted caramel.
Wines
There were 4 types of Champagne:
Henriot Brut Souverain, Castelnau Vintage 2004, Brut Reserve NV and Brut Rose  NV
White wines:
Albarino
Kendall Jackson Vintners reserve Chardonnay California
Red wines:
La Fou "El Sender" 2015 Cataluña
Ichanka Malbec/Bonarda Reserve 2015 Argentina
I had the Kendall Jackson Chardonnay which I have had before and retails at around £14. This is not the best chardonnay I have ever had but it is enjoyable, being not too heavily oaked like some Californian chardonnays. I also tried a glass of the La Fou, in the name of research of course! I really enjoyed this wine which is from the A.O Terra Alta region of Spain. The wine is a blend of 3 different grape varieties: Grenache, Syrah and Morenillo. This gave a wine that was not too heavy, slightly fruity but with a hint of spice.
Breakfast and arrival
Before take off I had been handed a breakfast card. As this was such a short flight I decided not to bother but the selection looked good, better than the usual bacon rolls.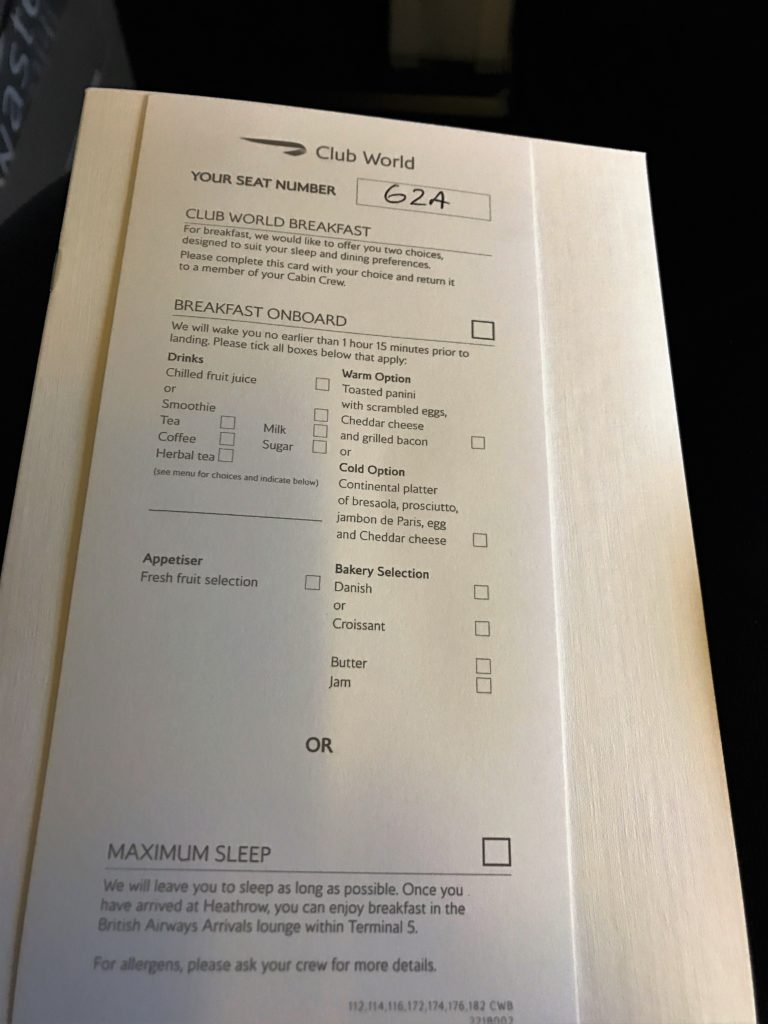 On arrival I was connecting to Dublin so I didn't bother going to the BA Arrivals lounge. The BA Galleries Arrivals lounge in Terminal 5 is available if you have travelled in First or Club World, or are a Gold Executive Club Member and are arriving on a British Airways long haul flight. The lounge is landside and is open daily from 05:00 to 14:00hrs, offering a full English breakfast until 12:30. You can also have a treatment in the Elemis spa or a shower.
Instead I had a quick shower in the Galleries South showers. This was the first time I had used these showers as I rarely connect through Heathrow. There was not wait at about 7am. They were a bit utilitarian but clean. The towels had seen better days but the shower had a choice of 3 different types of jets with body jets, overhead and hand held showers. Body wash and shampoo were supplied, along with body lotion and hand wash at the sink. There was an old fashioned wall hairdryer as well.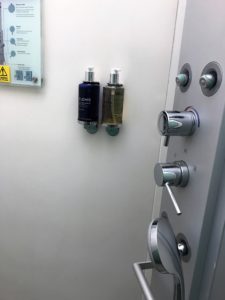 Conclusion
As I was typing this review, I couldn't help but compare the experience to my other flights on BA1 and other airlines. With the exception of the crew, washbag contents and wine, BA was definitely lacking in comparison in my view. The seats were old, not overly comfortable and if you didn't get one of the few choice seats, you would either be stepping over or be stepped over by other people. The IFE screen quality was quite frankly, terrible. The pillow, at least, was better than my last few Club World flights before this trip. Obviously some of the B747 have been refitted and there are newer aircraft in the fleet with the B787s. Given the choice I would go for BA1 in terms of comfort rather than other Club World flights, but it is not terribly convenient for me.
My usual transatlantic choice is AA nowadays from Heathrow. A few years ago it would have been unthinkable to say that AA are better than BA but for me now, the seats and IFE are far superior. My top priority on a long-haul flight is comfort, so even though the food and wine are not quite as good on AA generally, I would still choose them over BA. They also have a great range of fresh snacks if you want them. I will be travelling on the B777-300 and newly refurbished B777-200 with American in a couple of months, so look out for my reviews.