This is a review of Finnair new business class. I had flown out on the first day that Finnair introduced their new business class service and soft products as well as the new non-reclining AirLounge business class seat. I won't go into the full details of the seat in this review but I will compare the mini-cabin and bulkhead seat on this flight. You can read the full details of the seat in this review.
Check-in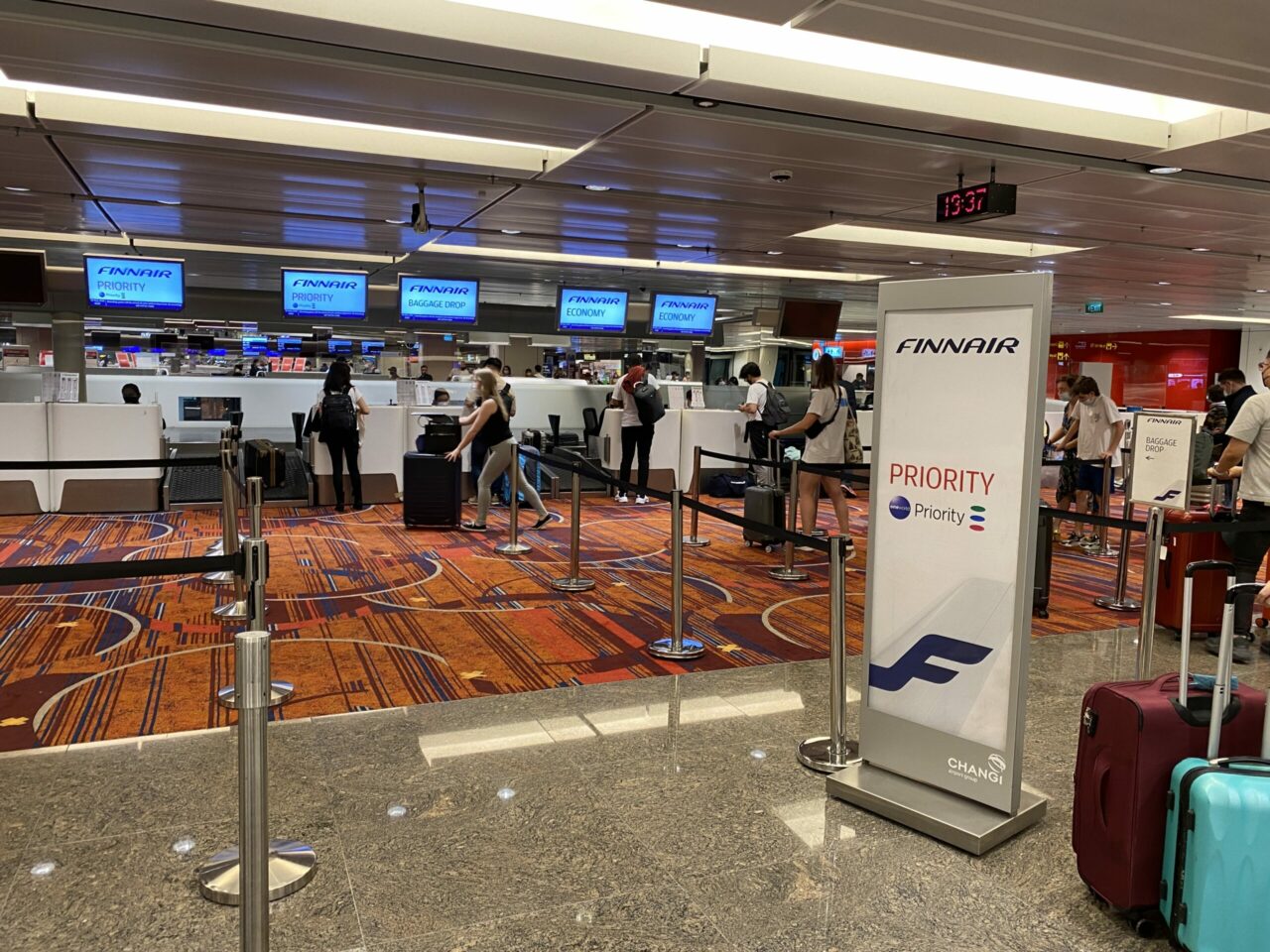 From Milan to Singapore I was able to fully check-in online by uploading my documents but for some reason, it would not let me do that for the return trip.
I arrived about 2.5 hours before departure and there were only a couple of people in front of me at the dedicated business class check-in. They seemed to take ages and as usual, I was standing there wondering how does it take some people so long to check-in? I've never taken more than 2 or 3 minutes for the whole process. Eventually, it was my turn. The check-in agent was pleasant and efficient explaining where the lounge was. They also stamp it on your boarding pass which is a good idea.
Lounge
Finnair use a third party lounge for some reason, the Marhaba Lounge. However, when travelling in business class with oneworld you can access any Oneworld business class lounge (with a few exceptions). Since the BA lounge had very recently reopened I decided to try out that and the Qantas lounge since they are next to each other.
The Marhaba lounge is actually quite pleasant with some hot food and barista-style coffee. However, the drinks selection is not anything special.
The Qantas lounge was virtually empty as it was due to close at 9pm. My flight departed at 9.50pm. The first lounge is still closed but it is due to open next month. The lounge is huge and has lots of different seating areas as well as showers.
There is a small buffet by the dining area but they also have some great local dishes to order. They had starters, a couple of hot mains and some desserts on display. They looked a lot nicer than they tasted! The food to order was laksa or prawn or vegetable dumplings.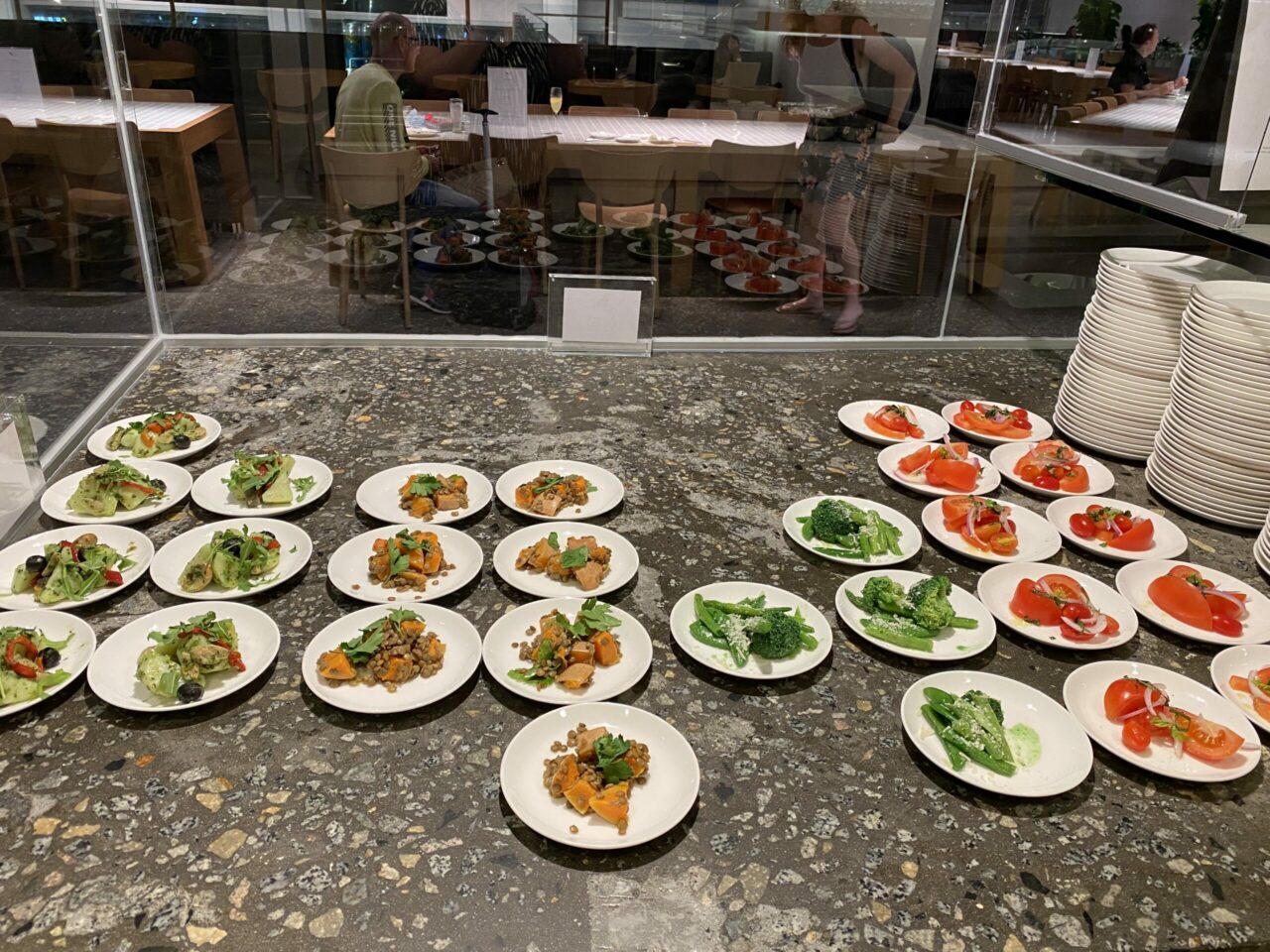 I went for the laksa which was great.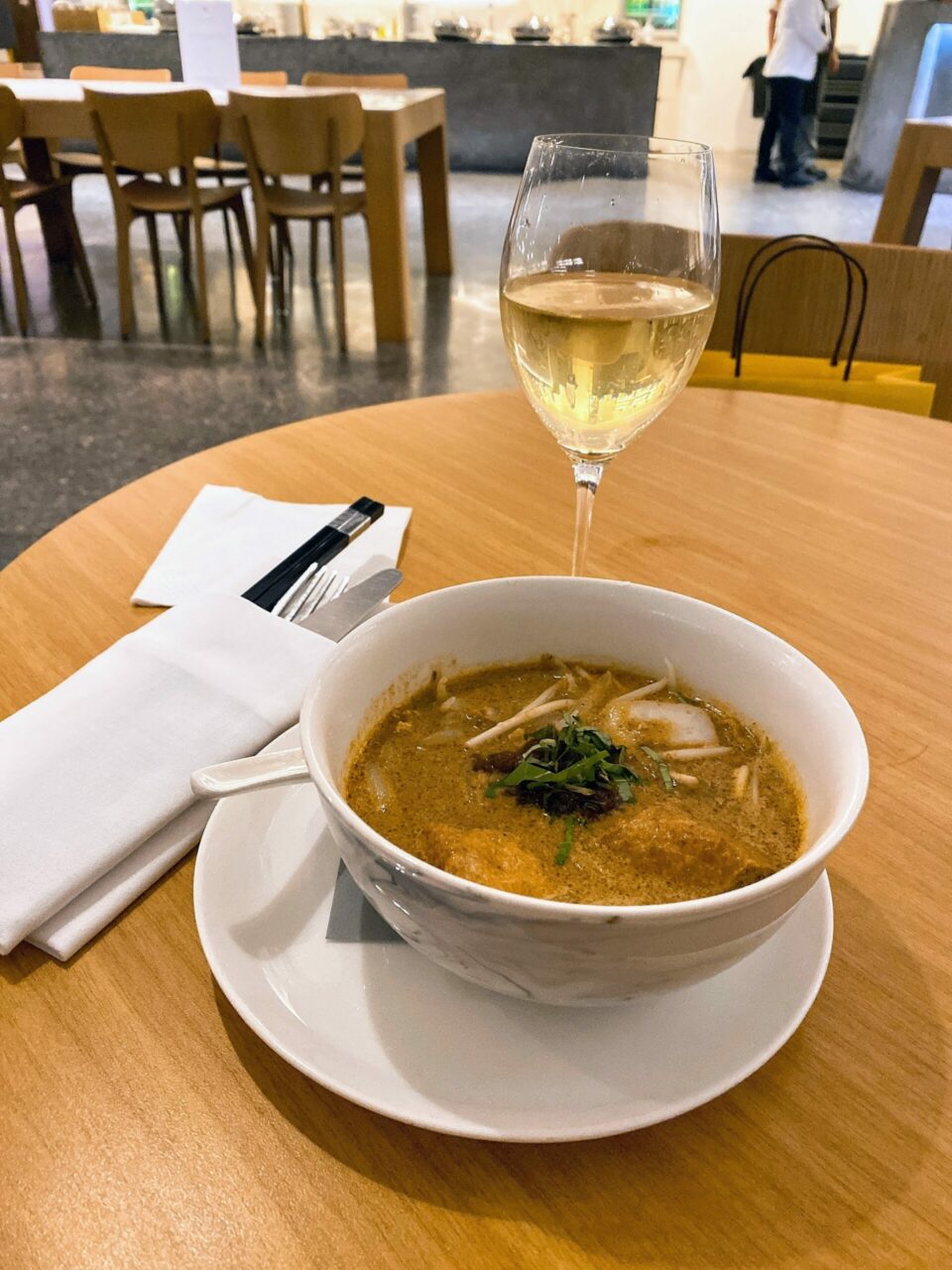 There is a bar to order mixed drinks and cocktails but they also have help yourself wine and sparkling wine.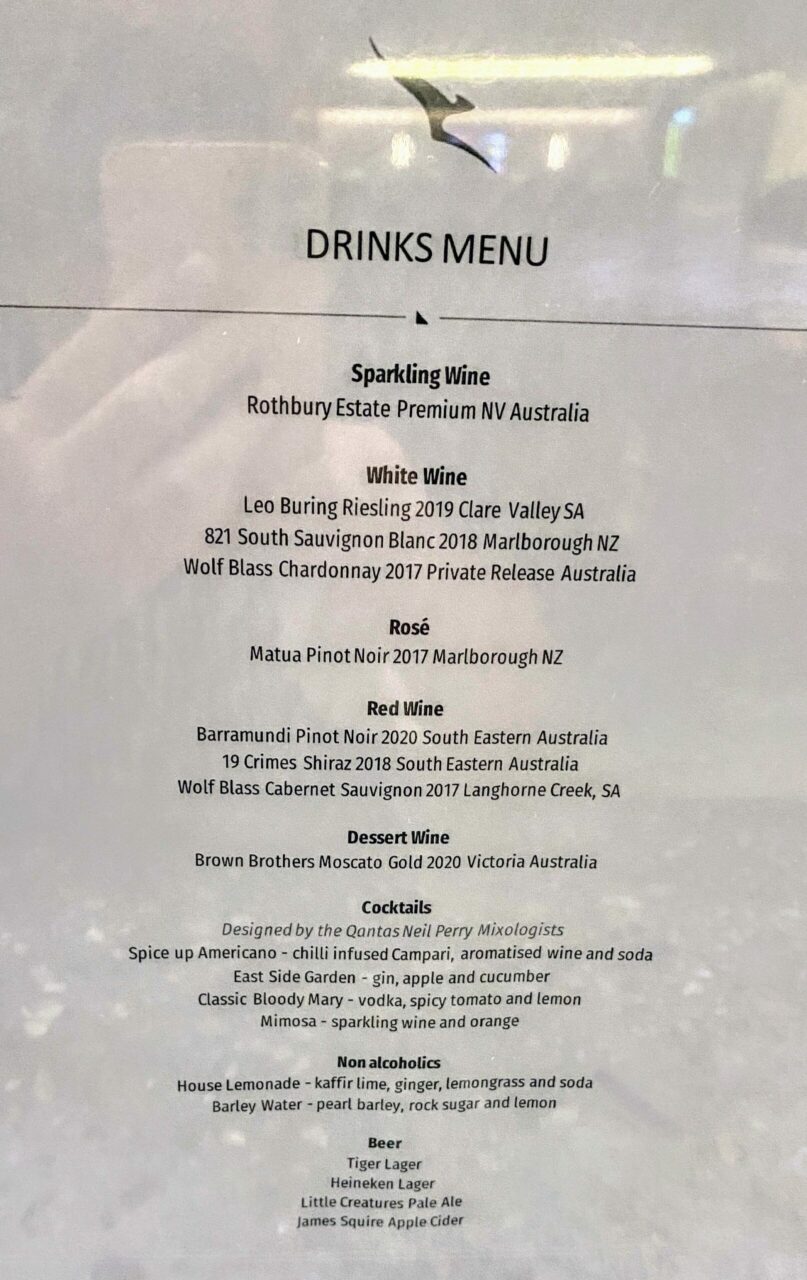 The sparkling was pretty average but I enjoyed an East side garden cocktail and the Clare Valley Riesling.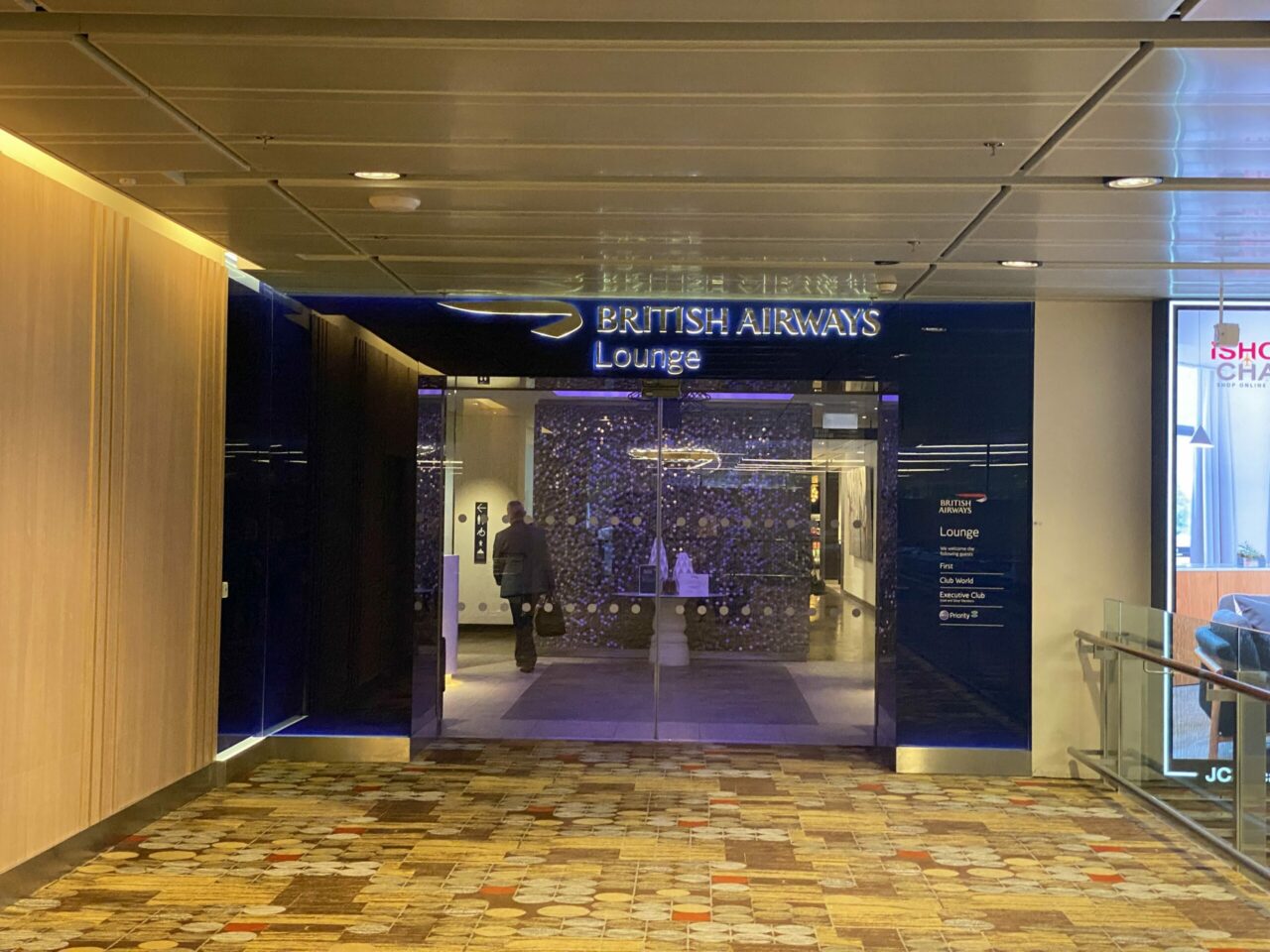 Over in the BA lounge, it was a little busier but still pretty quiet. The Concorde Bar which is for first class passengers appeared to be closed but it was hard to tell. (It's not anything to write home about as it's quite dark but it does have decent food and drink).
There was a reasonable selection of food on display including satay and you could also order hot food to order. Most drinks were help your self but champagne had to be ordered via the app.
It took all of 90 seconds from ordering for it to appear at my table. It was Joseph Perrier, the same as Finnair serve onboard which I quite enjoy.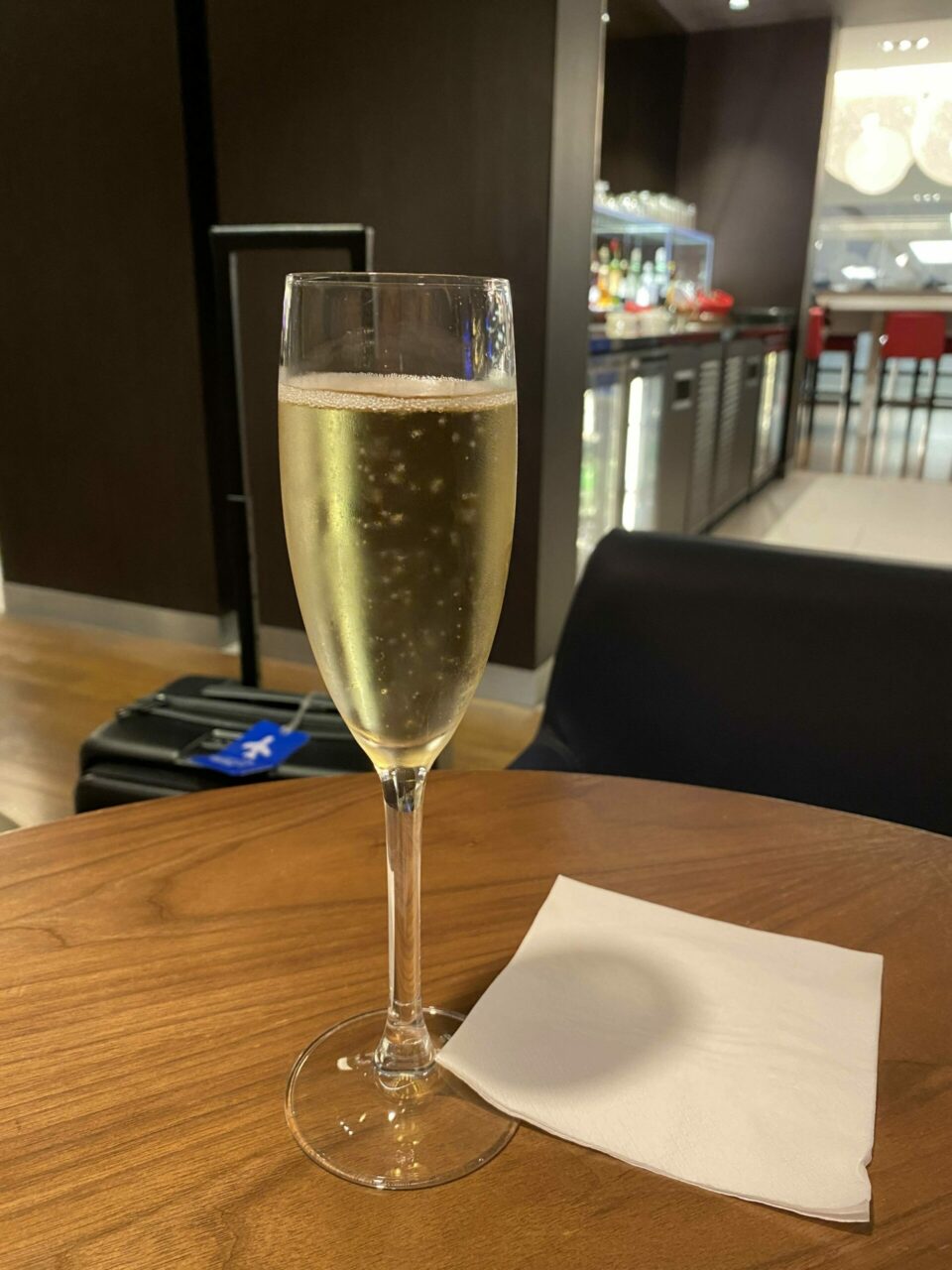 They also had a couple of cocktails you could order.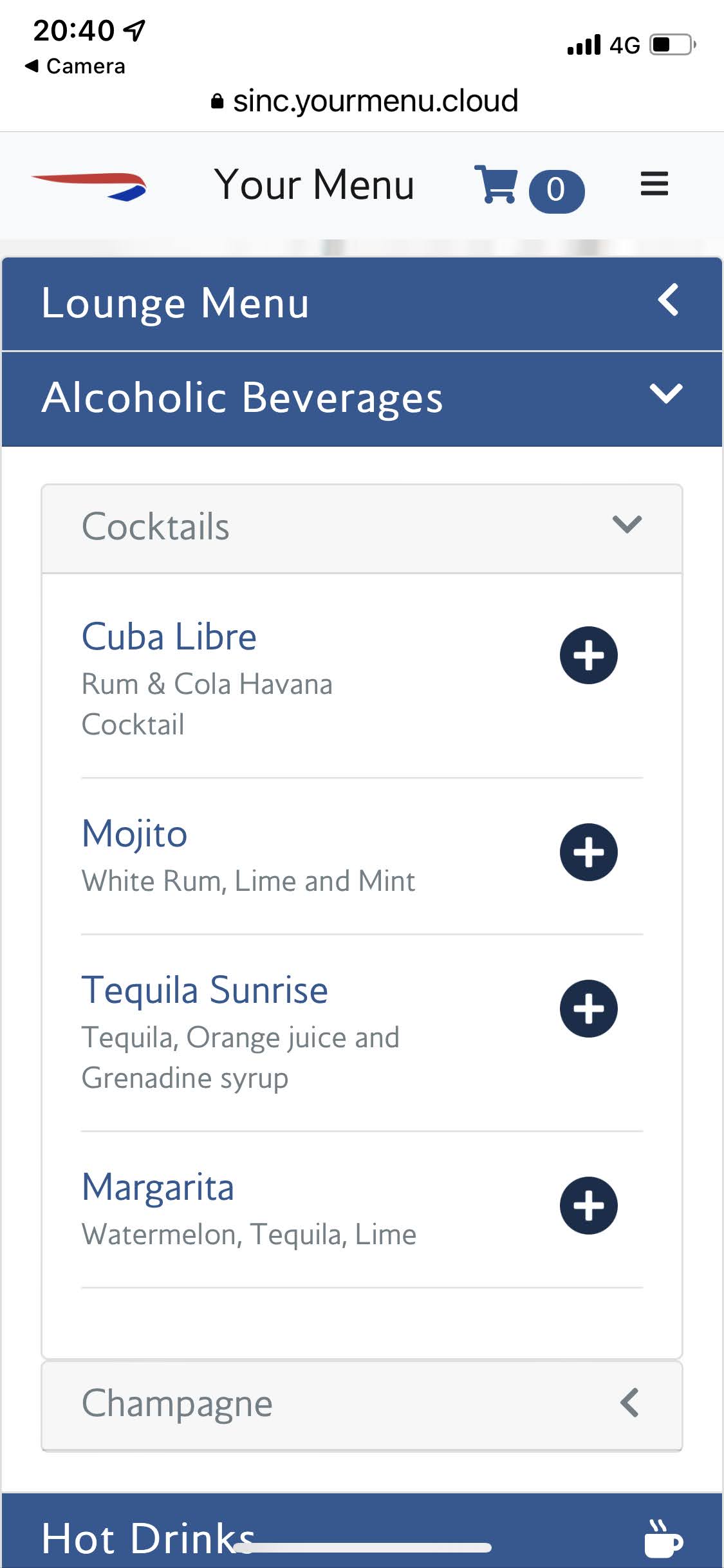 Boarding
In Singapore, you have to go through security at the gate which has always seemed very inefficient and also quite annoying. There was a "Premium" queue but it was still quite slow. Finnair also board by group number and I was in group 1. We started boarding a bit late at around 30 minutes to departure.
Once onboard I was offered a welcome drink and again went for the blueberry juice rather than the champagne. The same amenity kit was at my seat along with some water in the side bin.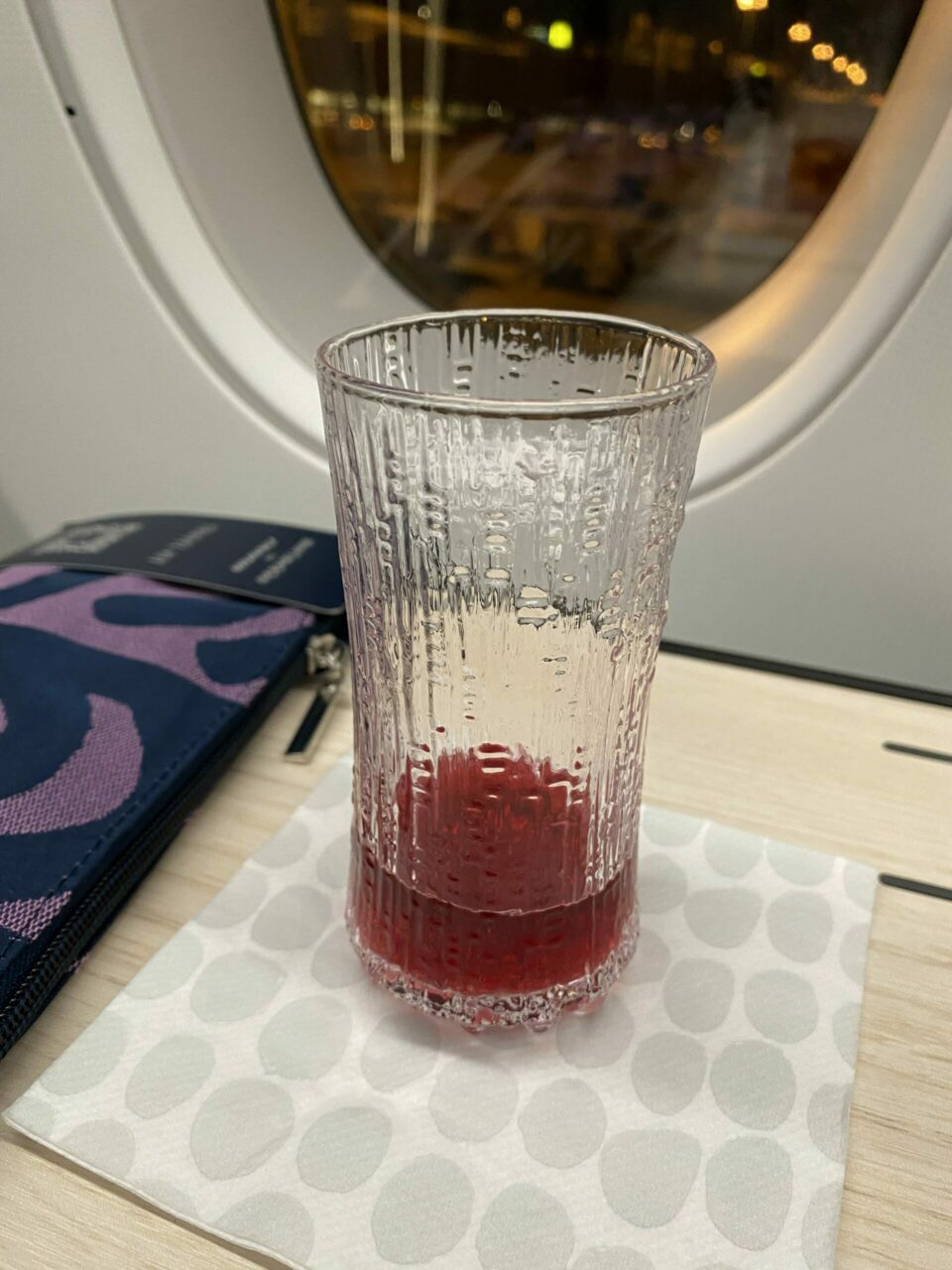 After this, it all started to go a bit wrong. I noticed that the cabin crew started to take orders for dinner and thought it was strange I had no menu. When she arrived to take my order she said they had no menus. The choices were "roast" beef (it wasn't roast), curry or ravioli. I asked what was in the ravioli and was told "vegetarian". I'm sorry but I don't think that's good enough. Finnair has made a big song and dance about their new business class dining experience. I think the cabin crew could at least have a vague inkling of what is in the food!
I went for the beef as the safe option rather than the "mystery" pasta. I asked for their gin cocktail before dinner. There appeared to be only a choice of two red wines but there had been three on the way out. I was told there was a French red or Portuguese. I had the French one which tasted like the Bordeaux that was listed on the outbound menu although she had described it as cabernet sauvignon.
Not long afterwards I was told they would not be doing drinks before dinner as it was too late. This seemed odd as the outbound flight went at 00.15 and they served them then. This flight was earlier and we had 13.5 hours to kill, so no one was in a hurry!
Food and drink
There was also no hot towel service on this flight. I'm not sure if they didn't have any or she forgot. Finnair serve hot twoels on both short and long haul flights currently. The cabin crew member serving me was either new or just not that great. I could see her in the galley from my seat and she seemed to spend most of the time drinking cans of coke while supposedly preparing the meals! She just gave the impression she wasn't bothered about any of it although she was reasonably freindly. Such as shame after the fantastic service on the way out.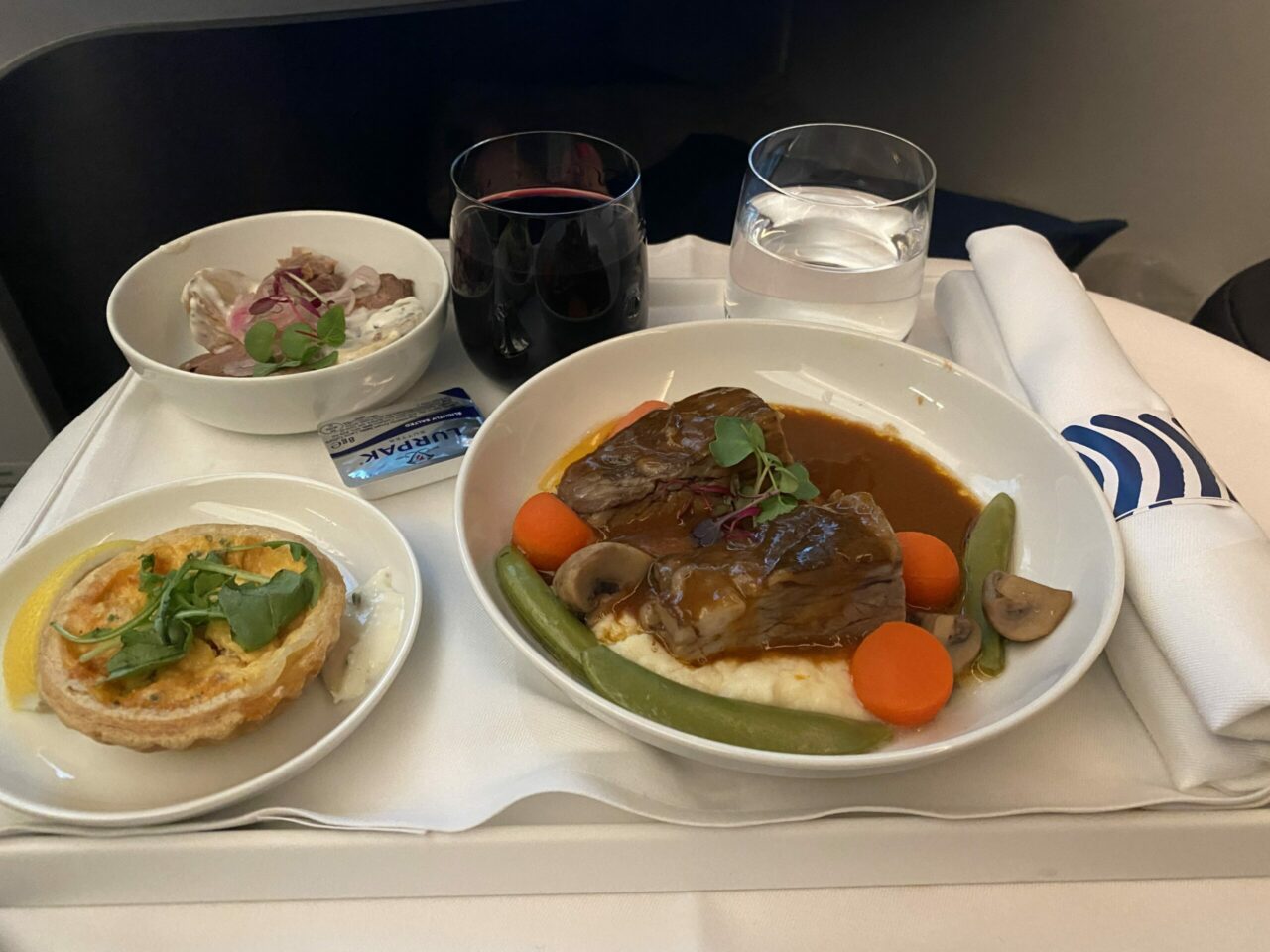 The starters were cold roast beef with potato salad (not ideal with a beef main) and a smoked salmon or trout quiche. Both were tasty. The beef looked like the beef cheeks from the way out rather than roast beef as it was described. It was pretty good, very tender with plenty of creamy mash and vegetables that were not overcooked. I also enjoyed the wine.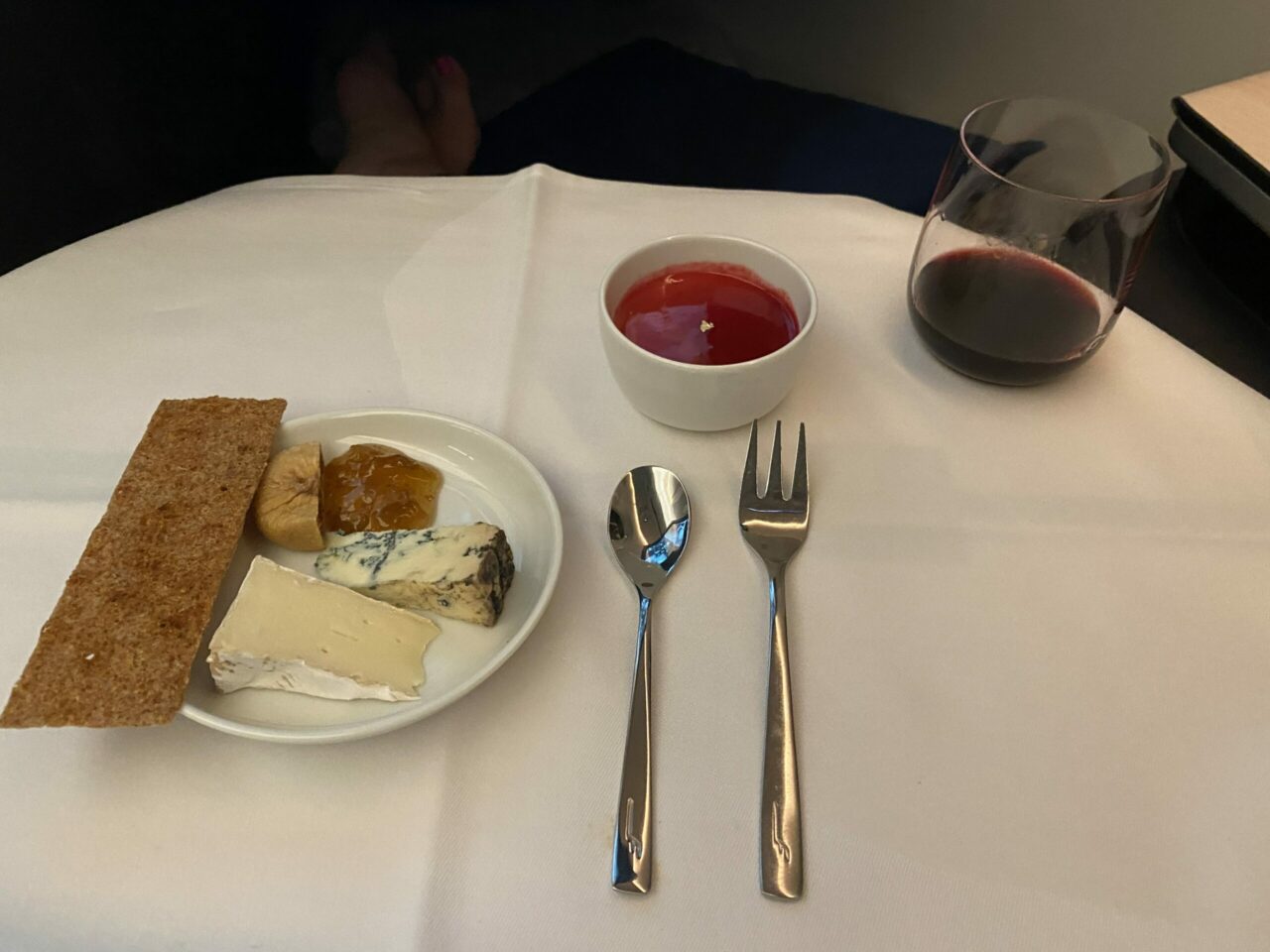 I thought I would try both the cheese and the dessert since the portions are tiny. I had the pannacotta which was very good and the cheese which was a nice selection and I particularly liked the cripsbreads with it. I wasn't keen on whatever the sweet stuff was with it. It was very bland and I think a proper chutney would have been better.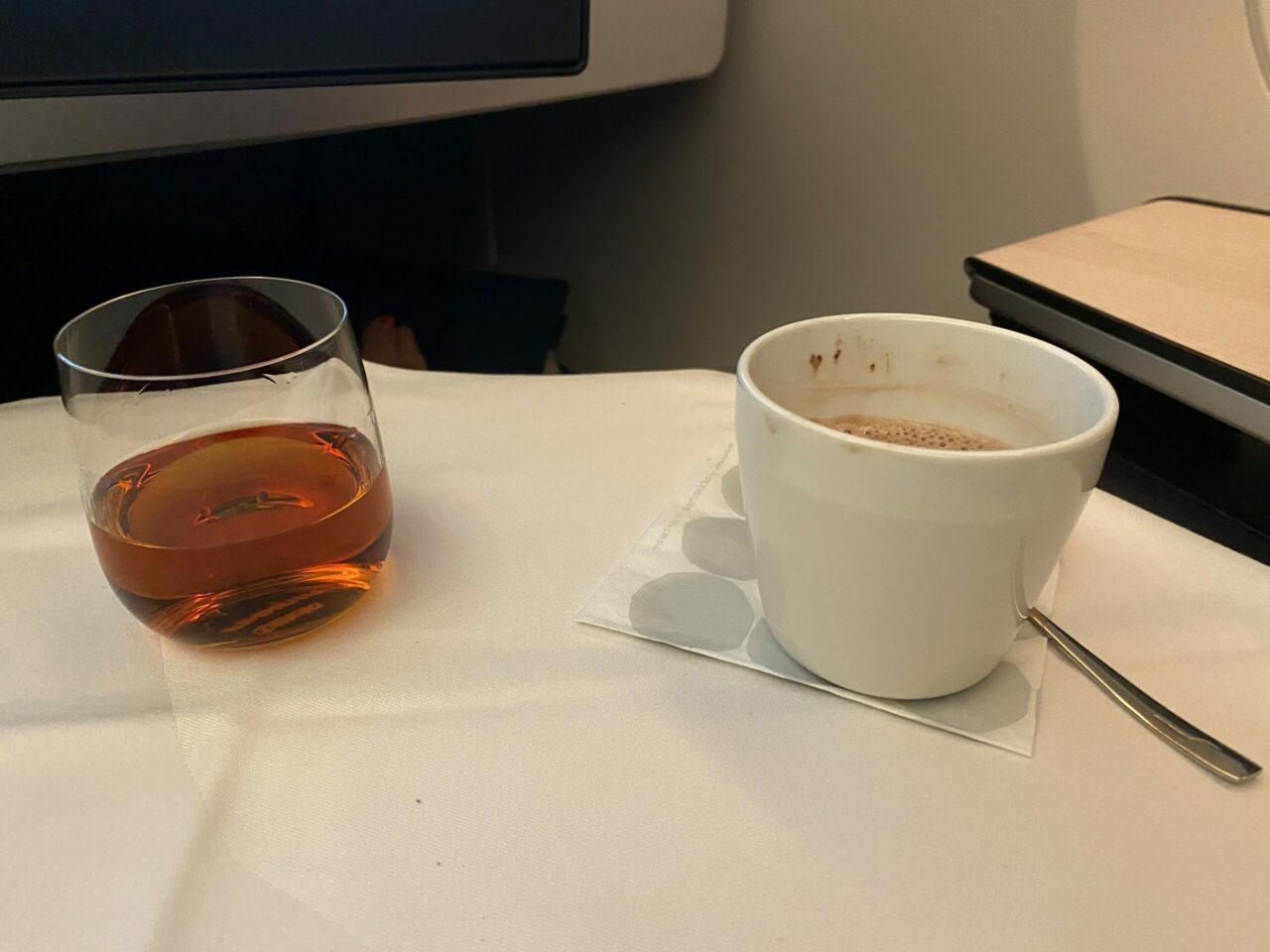 I had wanted to try the Finnish dessert wine on the way out but they had brought me Cognac on the first flight as both are called XO. This time when I asked I was told there was none. Sigh… So I had the cognac again.
One thing I can't fault was the pour size of the alcohol on this flight. I also had a hot chocolate again which came in an odd handleless mug which I was not keen on. It was hard to hold and you can end up burning your hands if you hold it in the wrong place.
The snacks were not laid out in an obvious place in the galley like last time but instead in a display cupboard by the toilet which you'd miss if you weren't looking for it. Again the selection was a couple of soft drinks, crisps, chocolate and cereal bars. Apparently, they do have noodles on request but there is no mention of this anywhere.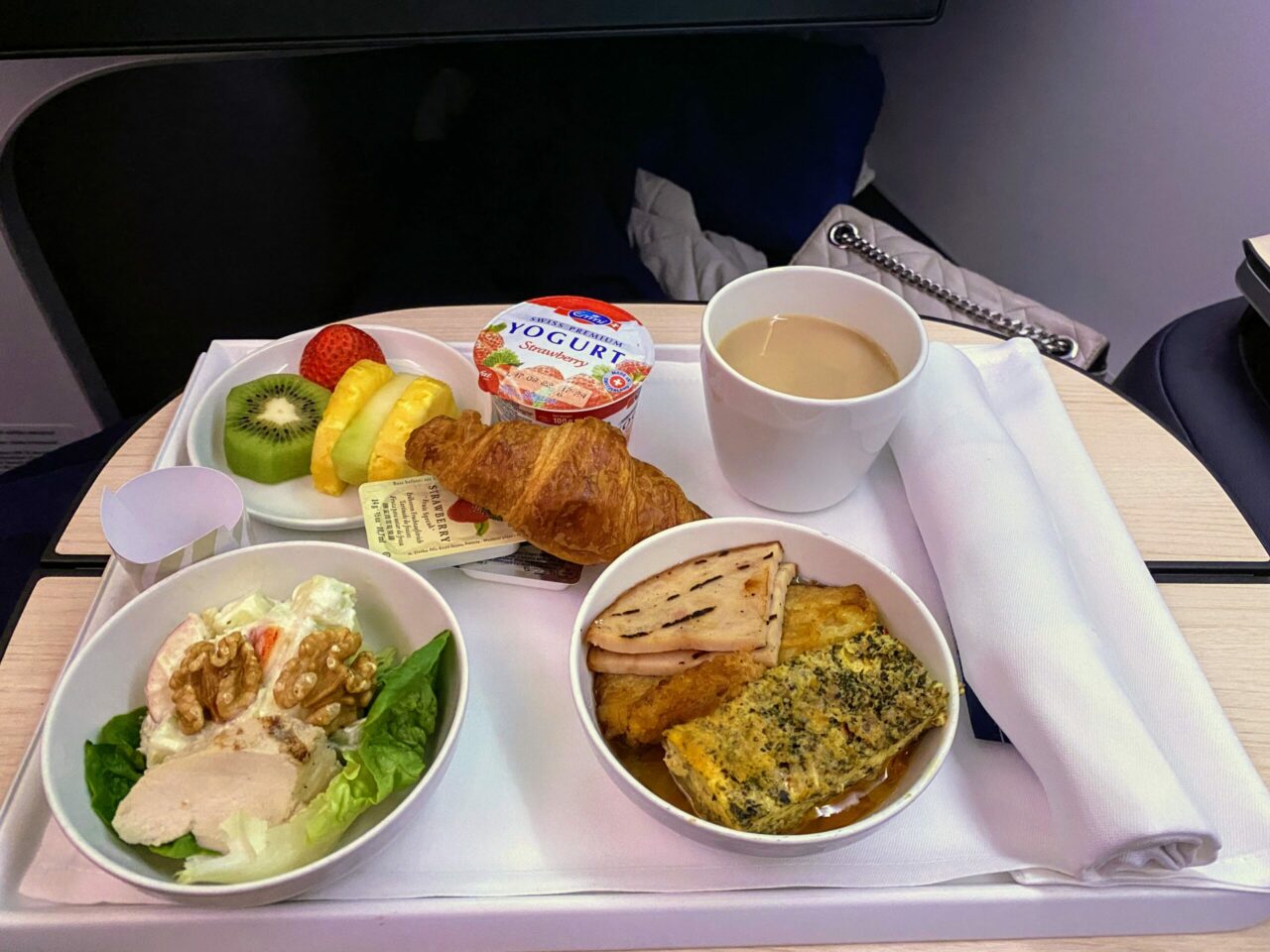 The second meal was breakfast and I am still none the wiser after eating it as to what it all was. There was some sort of Waldorf type chicken salad which is an odd choice for breakfast. Then there was a bowl with a soggy hashbrowns sitting in some sort of water, some sort of frittata which I didn't like as it was grainy and what I may guess as turkey ham?? The fruit, croissant and fruit were all OK. It was served around 2 hours before landing. I thought it was a generous size second meal with something to suit most palates.
One thing I did like was that there was some champagne leftover so rather than throwing it away, the crew came round with a bottle and those lovely glasses after breakfast to see if anyone wanted it. I'm all in favour of reducing waste where possible, so I helped them out by having a glass. Forced it down obviously… I also bought some of the glasses on pre-order from Finnair using the 10% Finnair plus discount. This process worked well.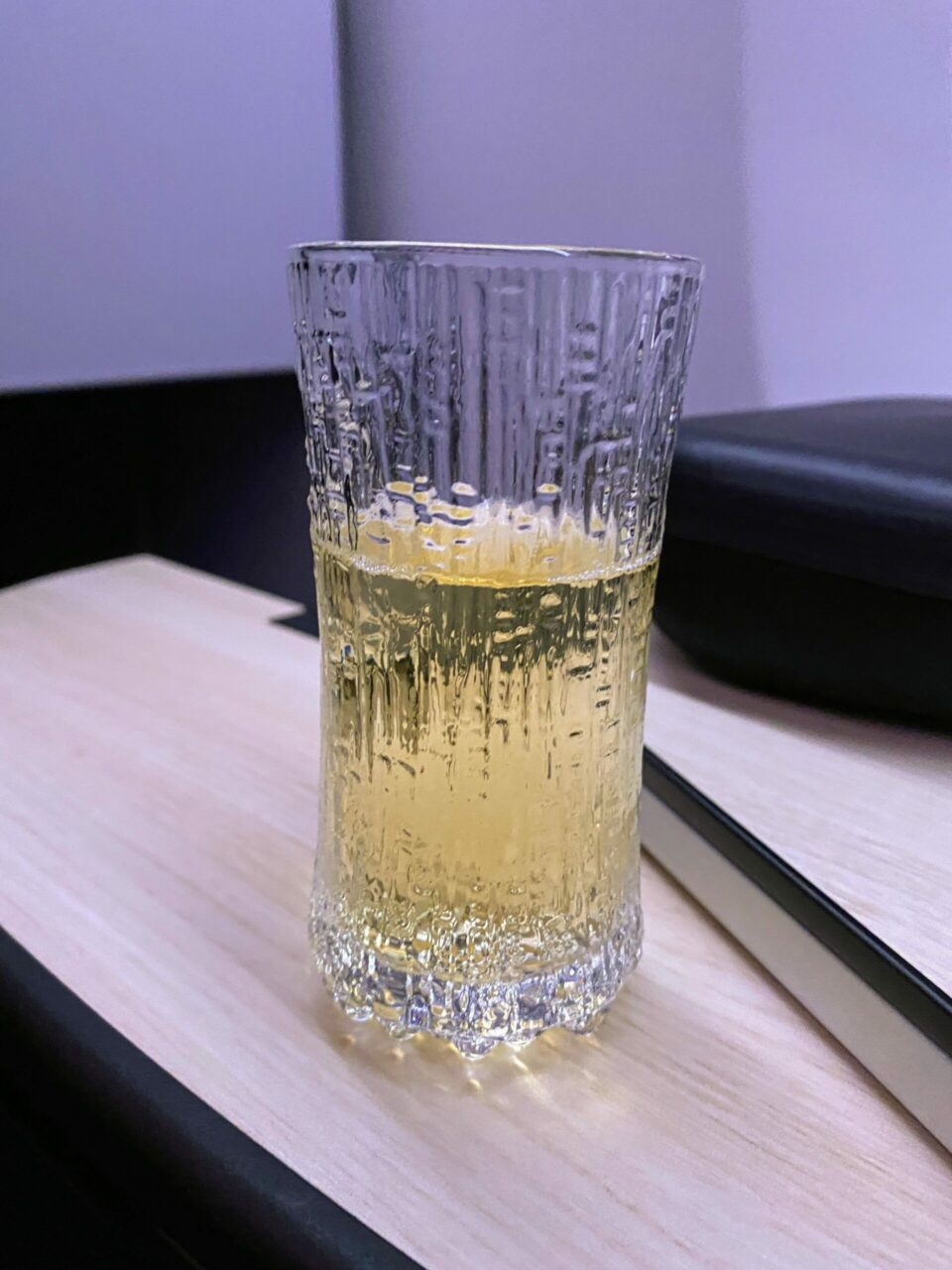 Finnair new business class Cabin and seat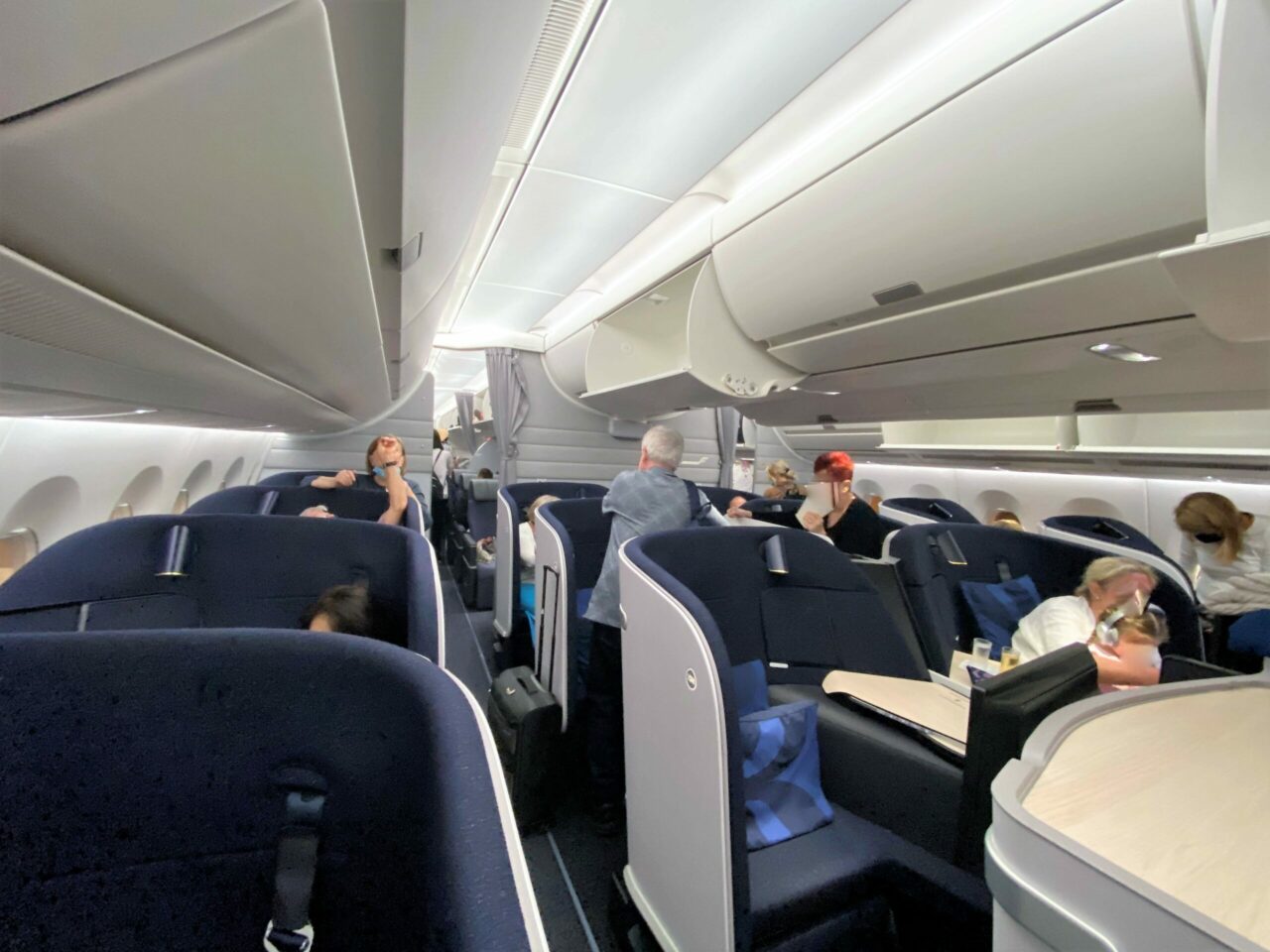 On the A350 there are two cabins. This time I had chosen a seat in the mini-cabin. Service was the same speed as from the front pretty much as you are served from a separate galley.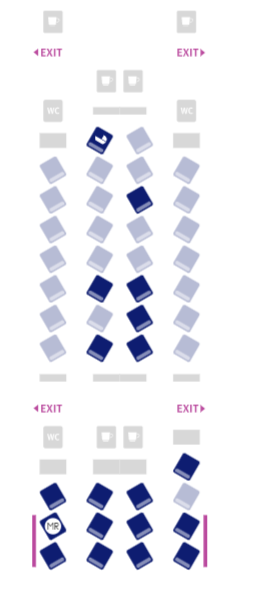 The seat was the new non-reclining AirLounge. This one was slightly different as I ended up in the bulkhead after agreeing to swap with a couple that were separated (never said thank you which I thought was rude). I ended up in 9L which sits on its own in front of the other rows.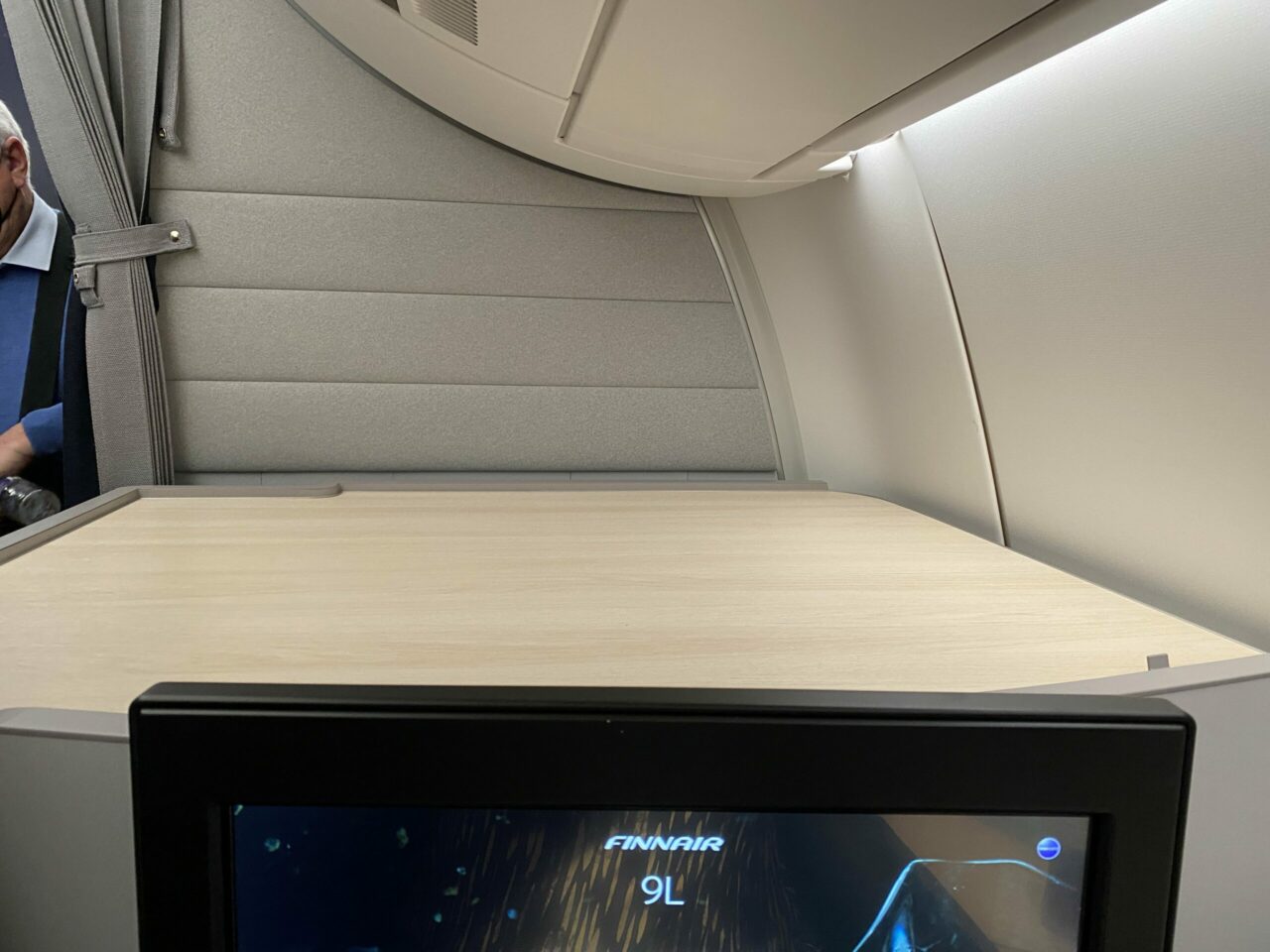 The bad points of the seat are that it is by the galley and the crew cupboard so there was a lot of banging of the cupboard door at certain times and noise from the galley during service.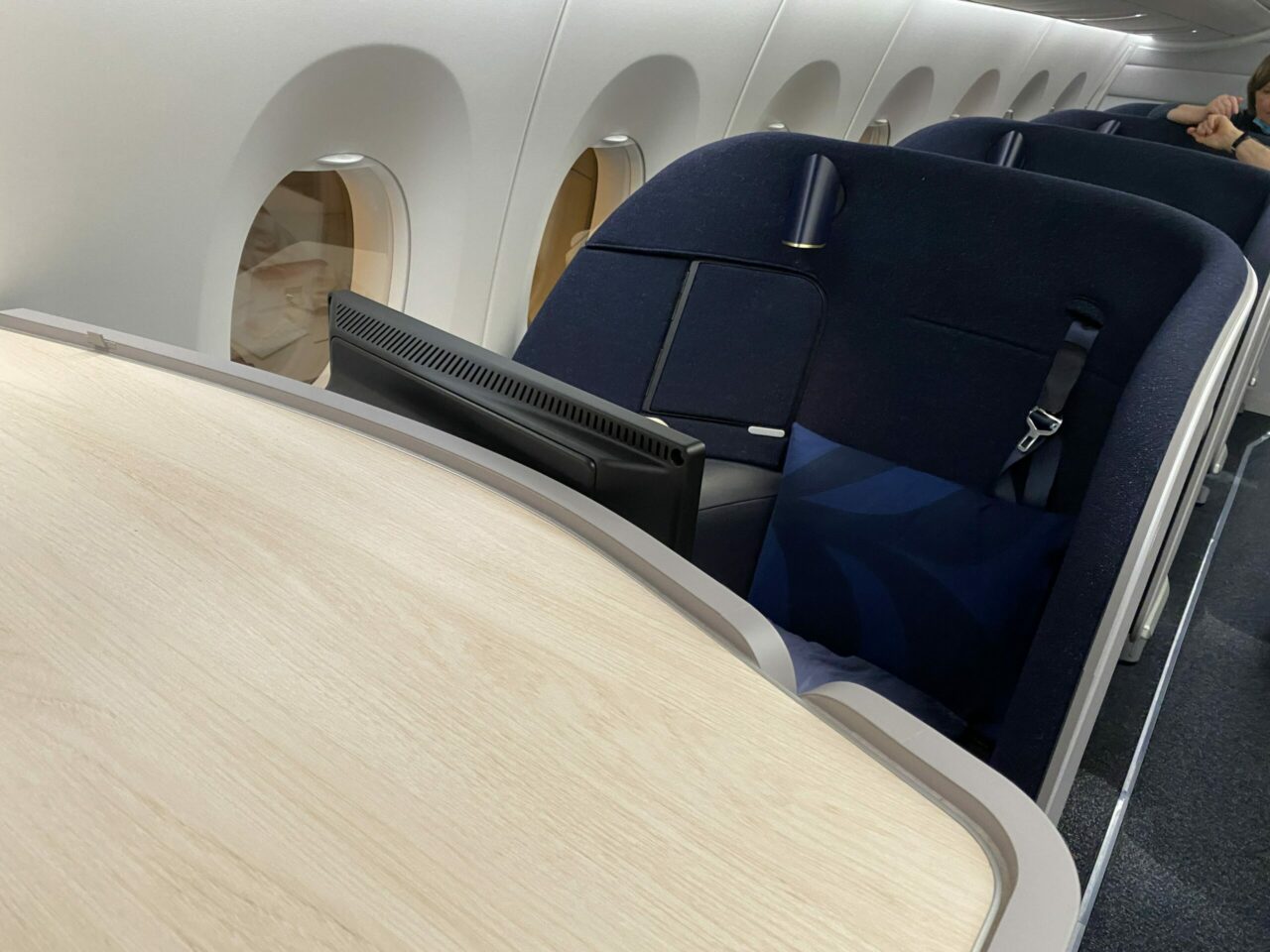 There were some good points though. You have a big "shelf" to put your case on while unpacking which is less far to lift the case up and down to the locker as well from that position. Also, some seats have a metal bar in the footwell but this did not and felt more spacious.
I managed to find an extra pillow so with slightly more legroom thanks to the lack of pole, I did sleep a bit better on this flight. It was definitely still a bit hard though.
Finnair new business class Entertainment and Wi-Fi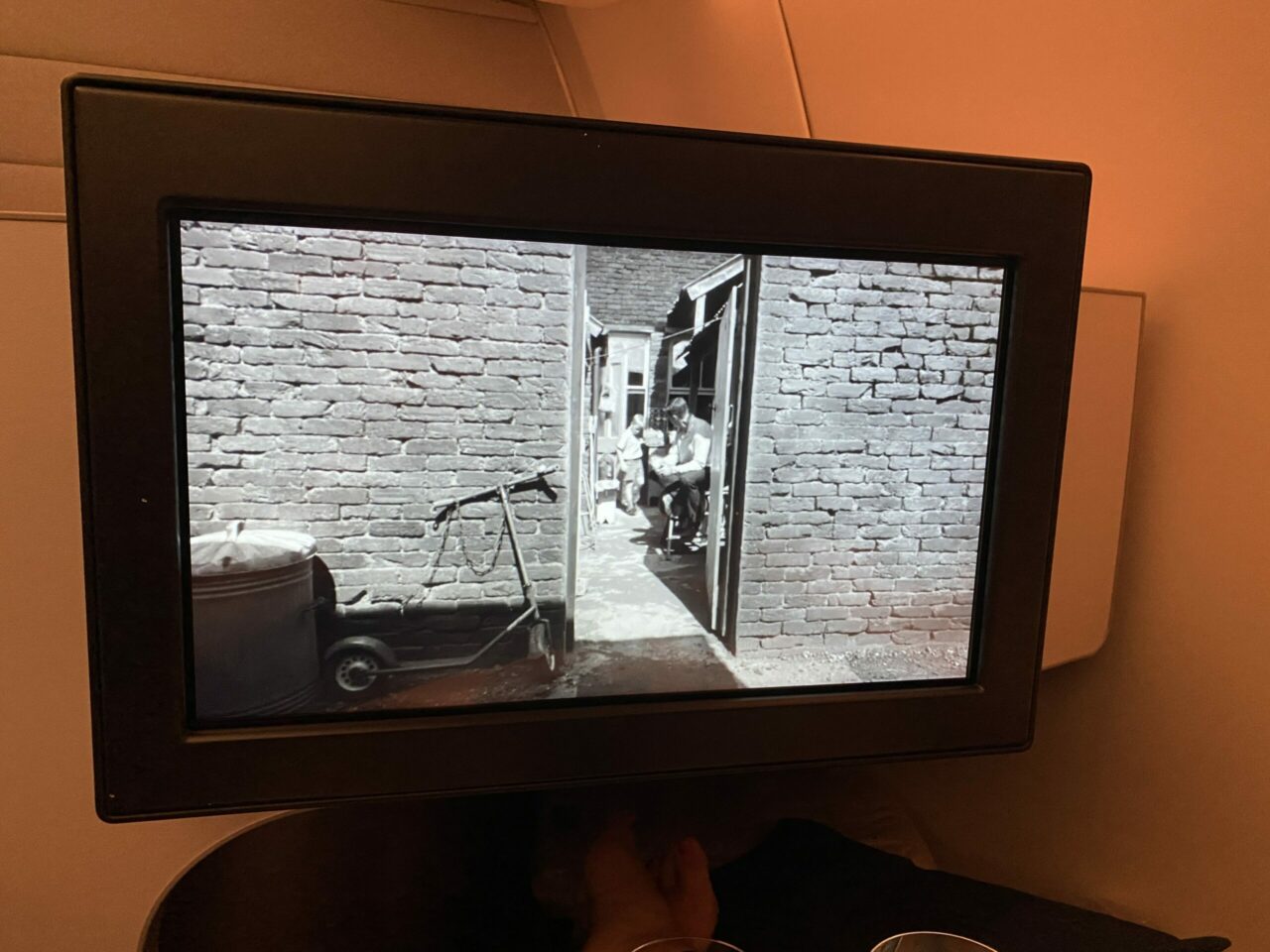 I didn't bother with buying a whole flight's worth of Wi-Fi this time as you get an hour for free.
Being a bit earlier than the outbound flight I did watch a couple of films as they had a good selection of some very recent films. I watched Belfast and King Richard both of which I recommend. Particularly King Richard about Serena and Venus Williams father. Even if you don't like sport or tennis, it was a fascinating film. The screen is large and has great definition with simple controls either by touch screen or remote.
I did actually use the Bose noise cancelling headphone for around 40 minutes on the flight as we came into land. I found them surprisingly comfortable compared to many airline headsets that pinch.
I liked the fact that the Finnair new business class screen would update you on the next meal to expect and when. It would even remind you to out "do not disturb" on if you didn't want it.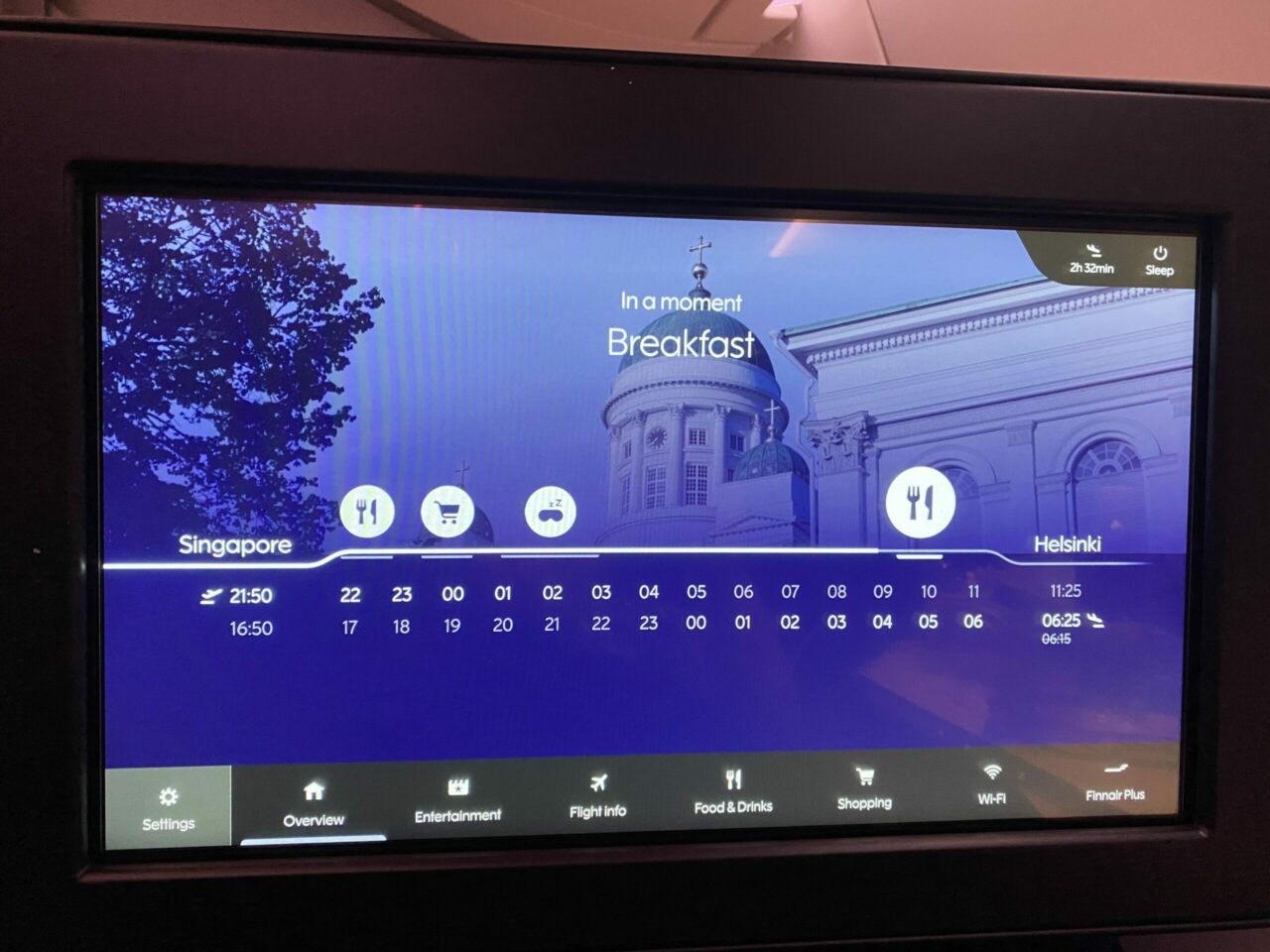 Conclusion for Finnair new business class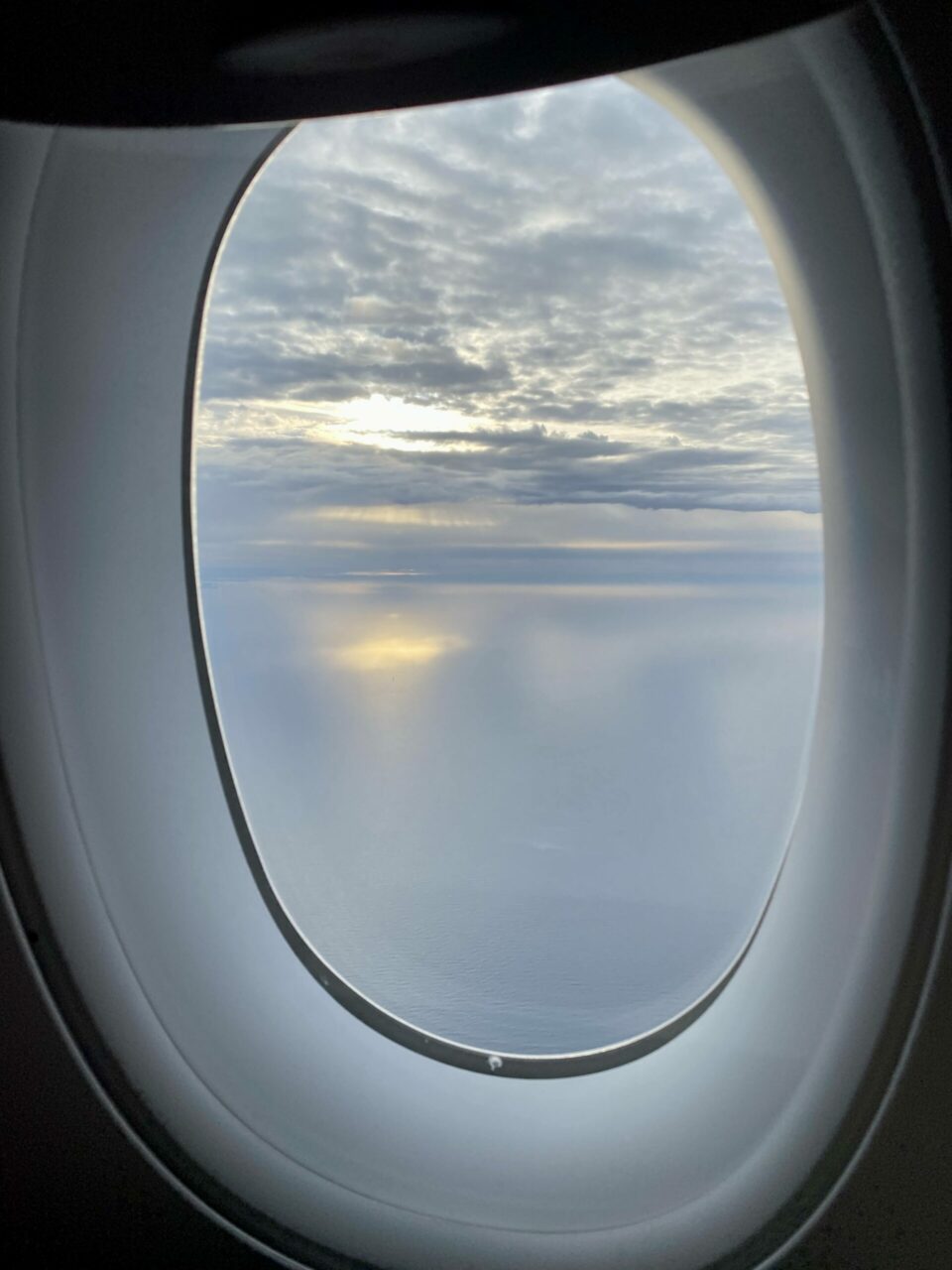 We had some beautiful views of the sunrise over Helsinki as we came in to land.
Sadly this flight was nowhere near as good as the first one. I still think that Finnair has developed a great product and the seat is surprisingly comfortable for 13 hours. However, the lack of menus, hot towels, no pre-dinner drink, missing wines and general attitude of the cabin crew serving me definitely detracted from the product which is a shame.
I would still fly with Finnair again as I think for the prices you pay you can't fault it. And when you compare to some other airlines it is still streets ahead. Hopefully, this was just a one-off.
Like our Finnair new business class review? You can read more flight reviews here.
You might like other Finnair blogs such as A350 Business class short haul and Finnair New A350 Non Reclining Long Haul Business Class Seats.