Runway bar opens at Heathrow T2 Hilton Garden Inn
Last month I reviewed my stay at the Hilton Garden Inn at Heathrow Terminal 2. You can read my review here. Since then I have stayed twice more. Despite a few issues with my room this time, it still remains my go-to hotel at Heathrow for on-site access. I travelled from my room to T5 check-in in under 20 minutes despite quite a long walk to the Heathrow Express platform.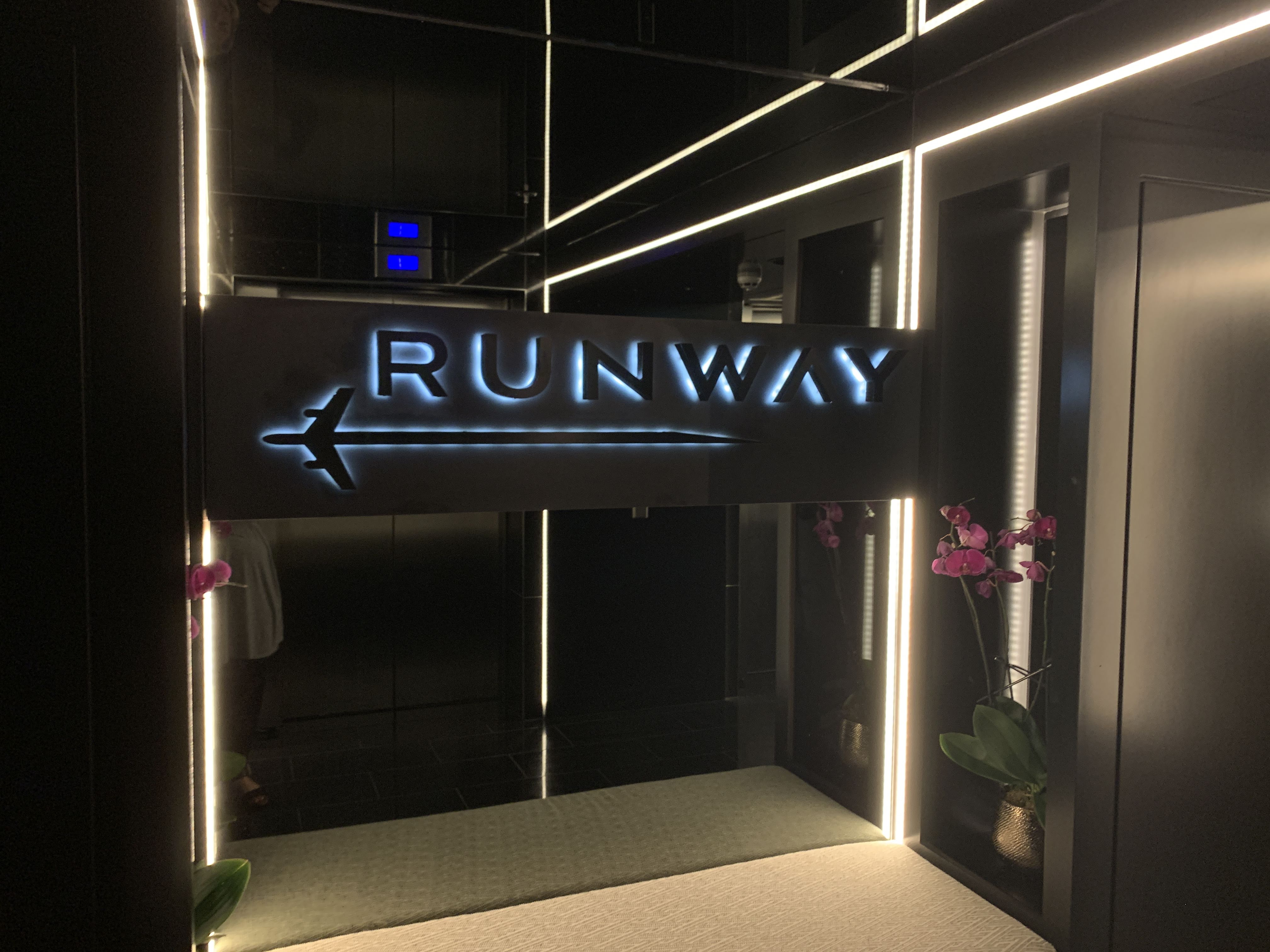 Hilton Garden Inn's are probably slightly below Hilton's in terms of quality although a lot depends on location. HGIs tend to be newer than many Hiltons and therefore can be better properties. The HGI T2 is pretty swanky in the public areas and I finally got to try the new Runway bar which was not open when I did my review.
The entrance was impressive with a Pegasus jet engine from a British Aerospace Seaharrier. The design of the bar felt luxurious and elegant with several booths and a line of seats overlooking the floor to ceiling windows with the airport view. There was an outdoor area but it felt a bit sad as there was no furniture on it. This could be because it is a bit late in the season for outdoor drinks, or just that it is not designed as a seating area.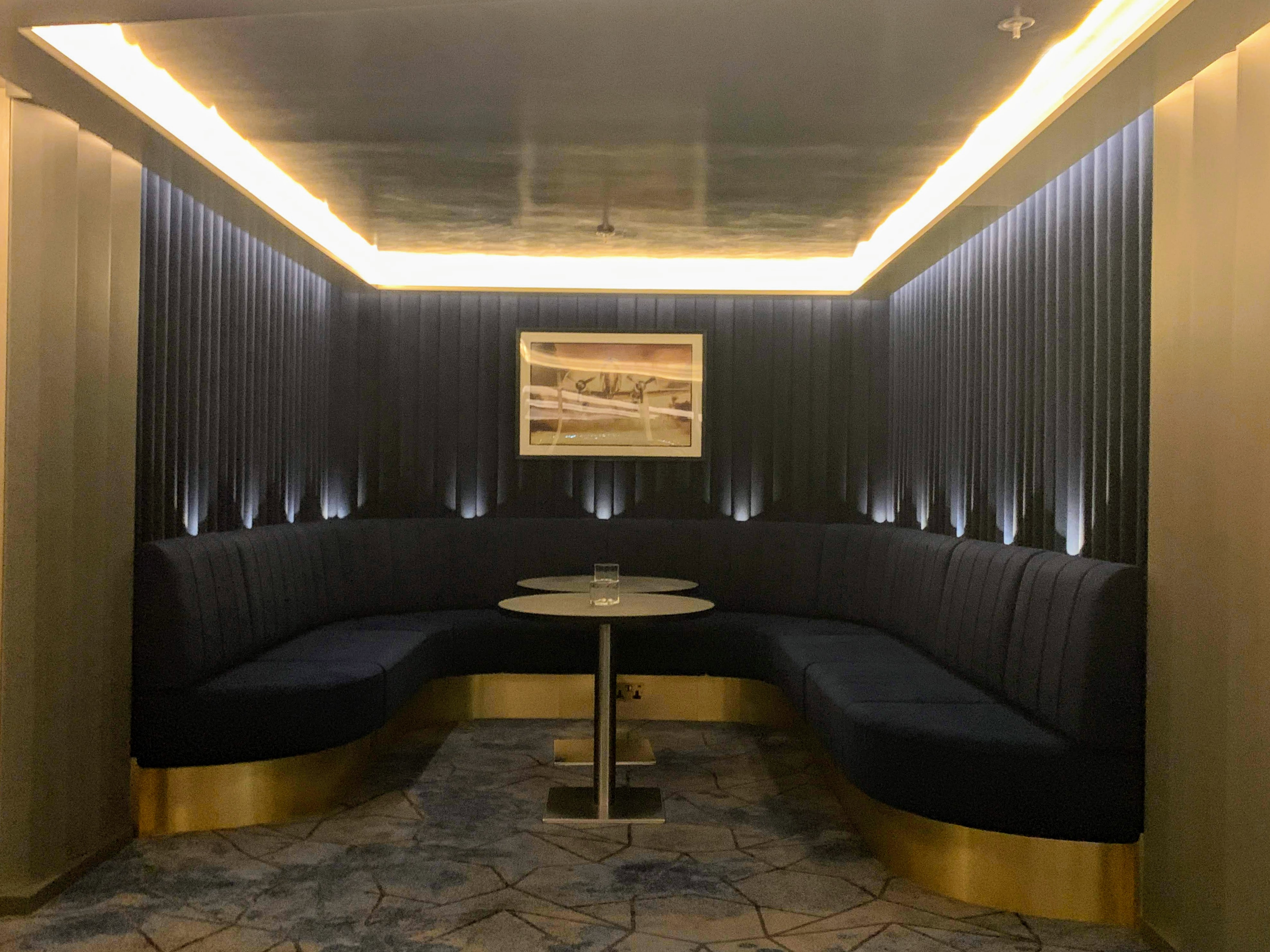 The bar does not do food but it does have table service. The staff were very helpful and attentive. Despite the fact that non-hotel guests can't actually get to the bar, it is open to non-residents. The issue is that the lifts need a key to operate and the floor to access the bar has not been designated as a public floor. If you wanted to visit, I am sure if you asked at reception you could get them to help you access the lift.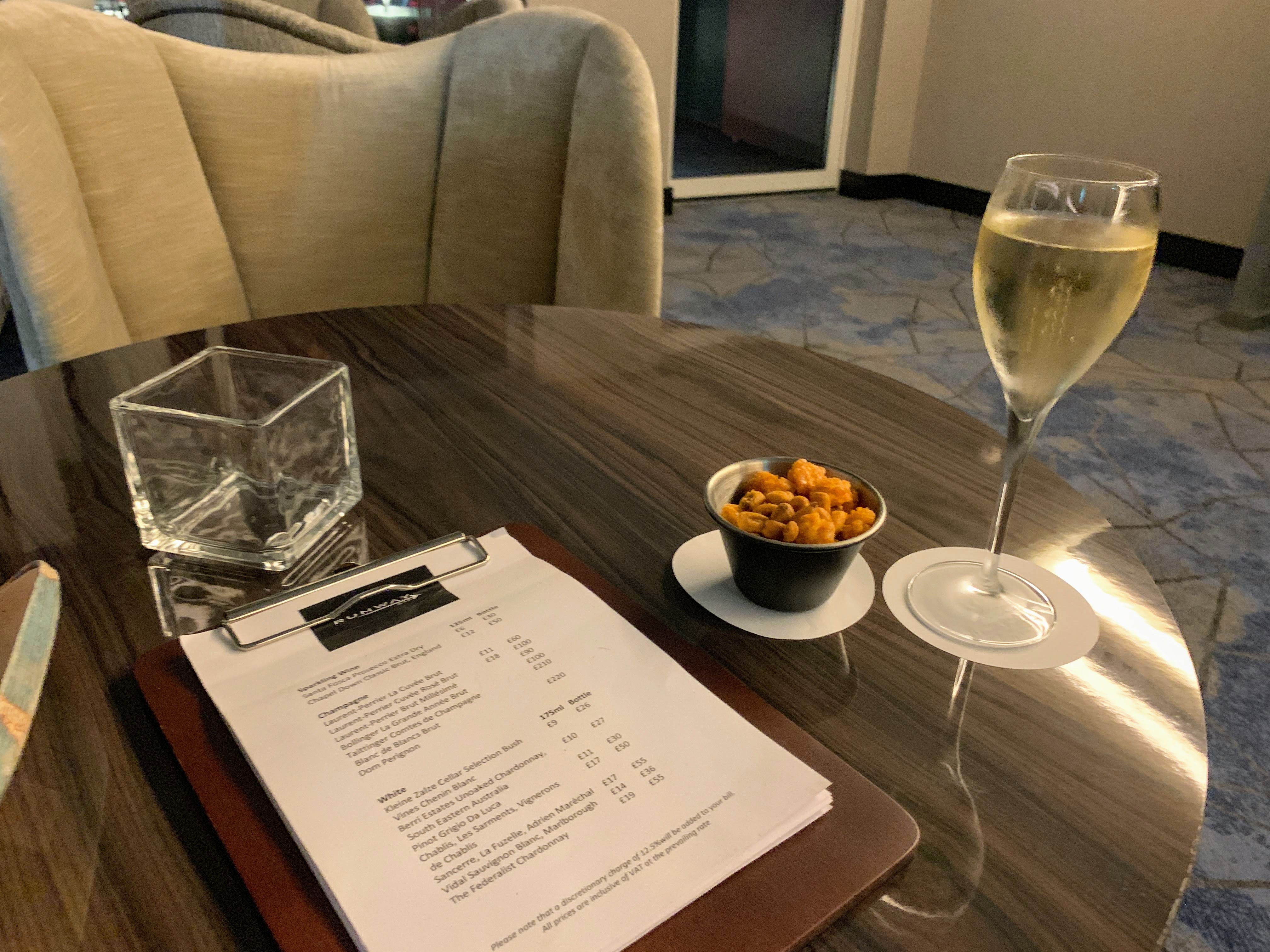 The menu had a good selection of drinks with Laurent Perrier Champagne from a reasonable £11 a glass. If you think that seems expensive, a large glass of Pinot Grigio cost as much as that and I know which I would rather have! I thought some of the cocktails were a little pricey at £13 and they could have been a little more exciting. The cocktails were nearly all classics rather than anything more modern. No food is served in the bar which is a bit of a shame, but I am guessing it is probably due to the lack of kitchen facilities on the 14th floor.
Overall this is probably the nicest bar at Heathrow if you want a good view in elegant surroundings.
You can find more information on the Hilton Garden Inn Heathrow website here.
Concorde Room improvements – a day in the CCR
Paul and I are flying out to Singapore on BA in First and due to a last-minute hiccup, ended up with rather more time in the Concorde Room than anticipated. This allowed us to explore all the improvements that have happened in the last few months as well as samples September's new menu.
I started the day with a quick bite of breakfast at the bar – a bacon roll. There is also a full menu available with the traditional English, eggs benedict and more which are better suited to the restaurant. The roll was tasty but I always find the hashbrowns a bit disappointing – a bit dry due to their thickness I reckon.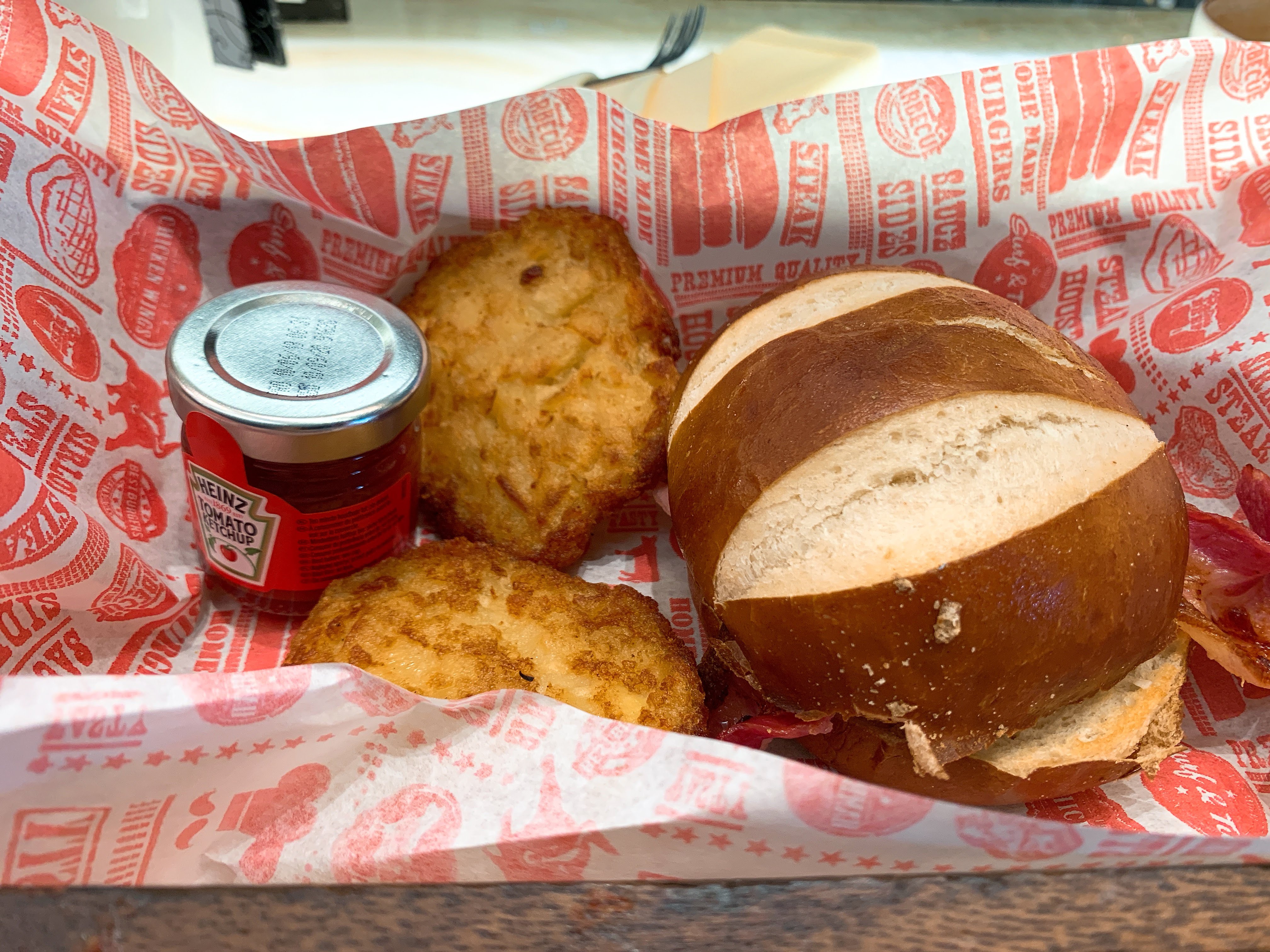 I also tried the Hattingly English Sparkling wine which is branded with BA 100 for their centenary.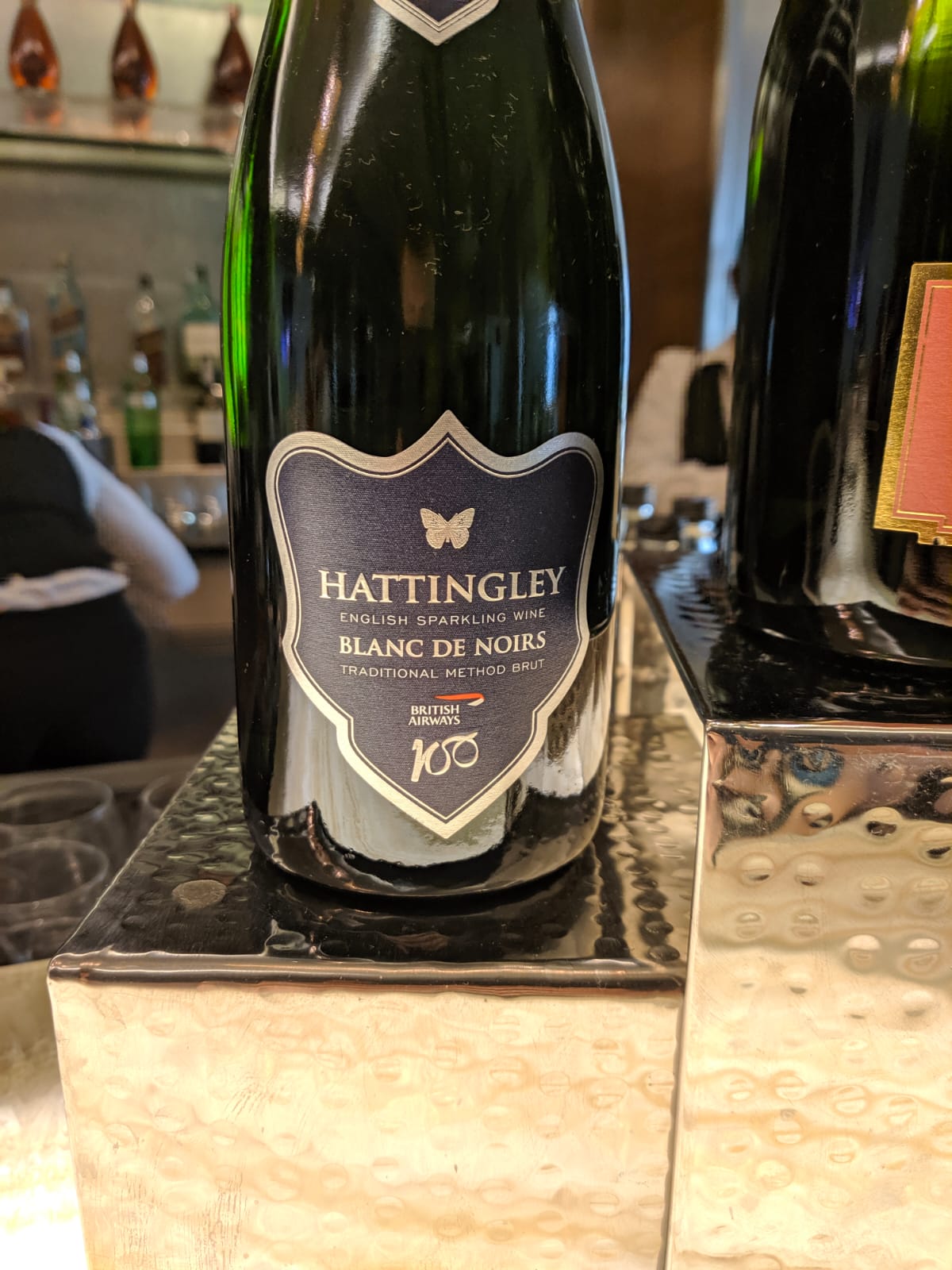 This is probably the best English sparkling wine I have tasted with BA – in my eye far superior to the Bolney. It was a lovely soft and well rounded Blanc de Noirs sparkling wine to start the day with, rather than the more complex Laurent Perrier Grand Siecle which would normally be my choice.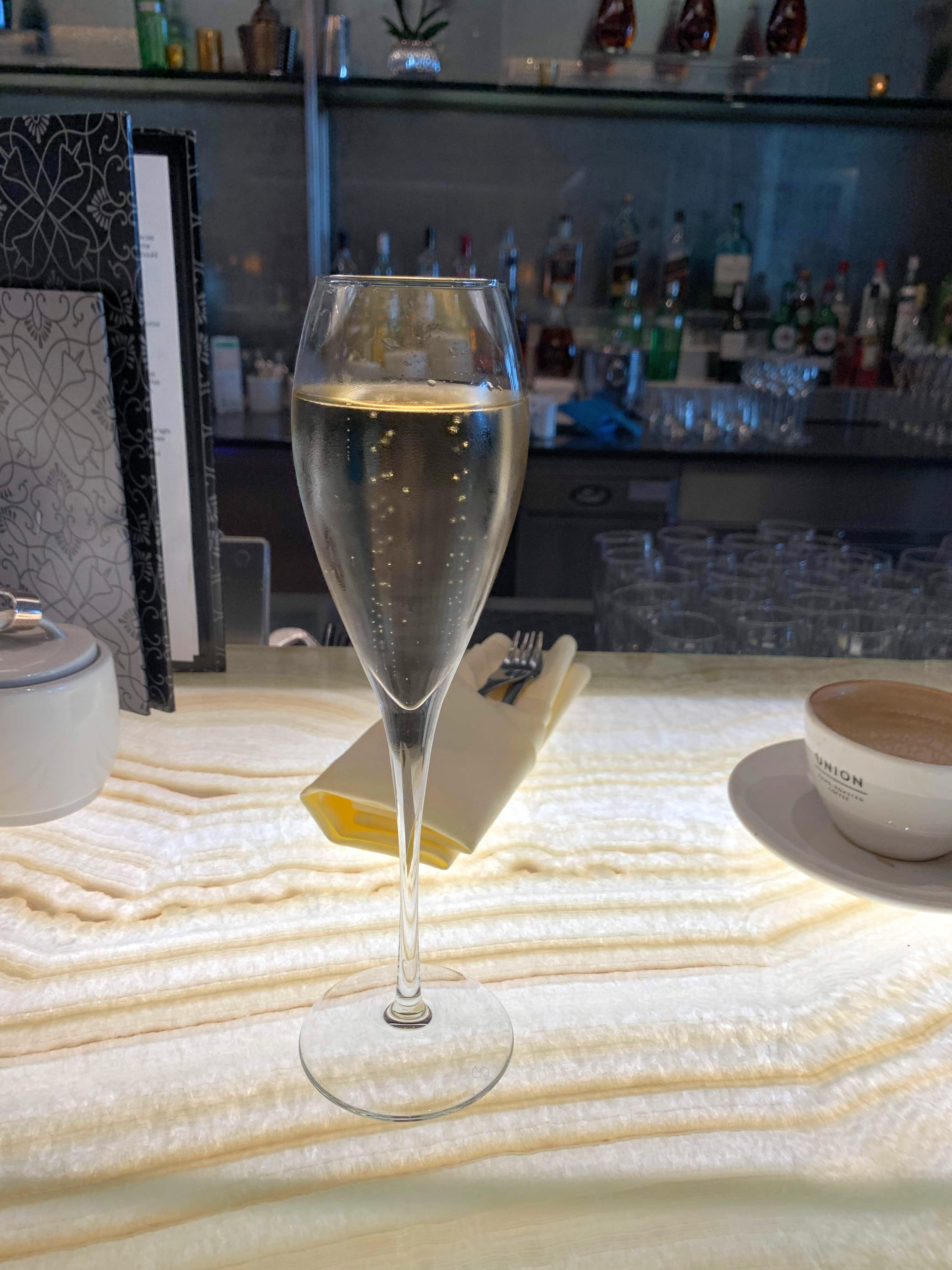 A classy touch was the new canapes that were being handed around the seating area. We tried both the smoked salmon and the sundried tomato tart and which were delicious. We were even given our own little plate of them after they had done the rounds. Trays of champagne were also being passed around.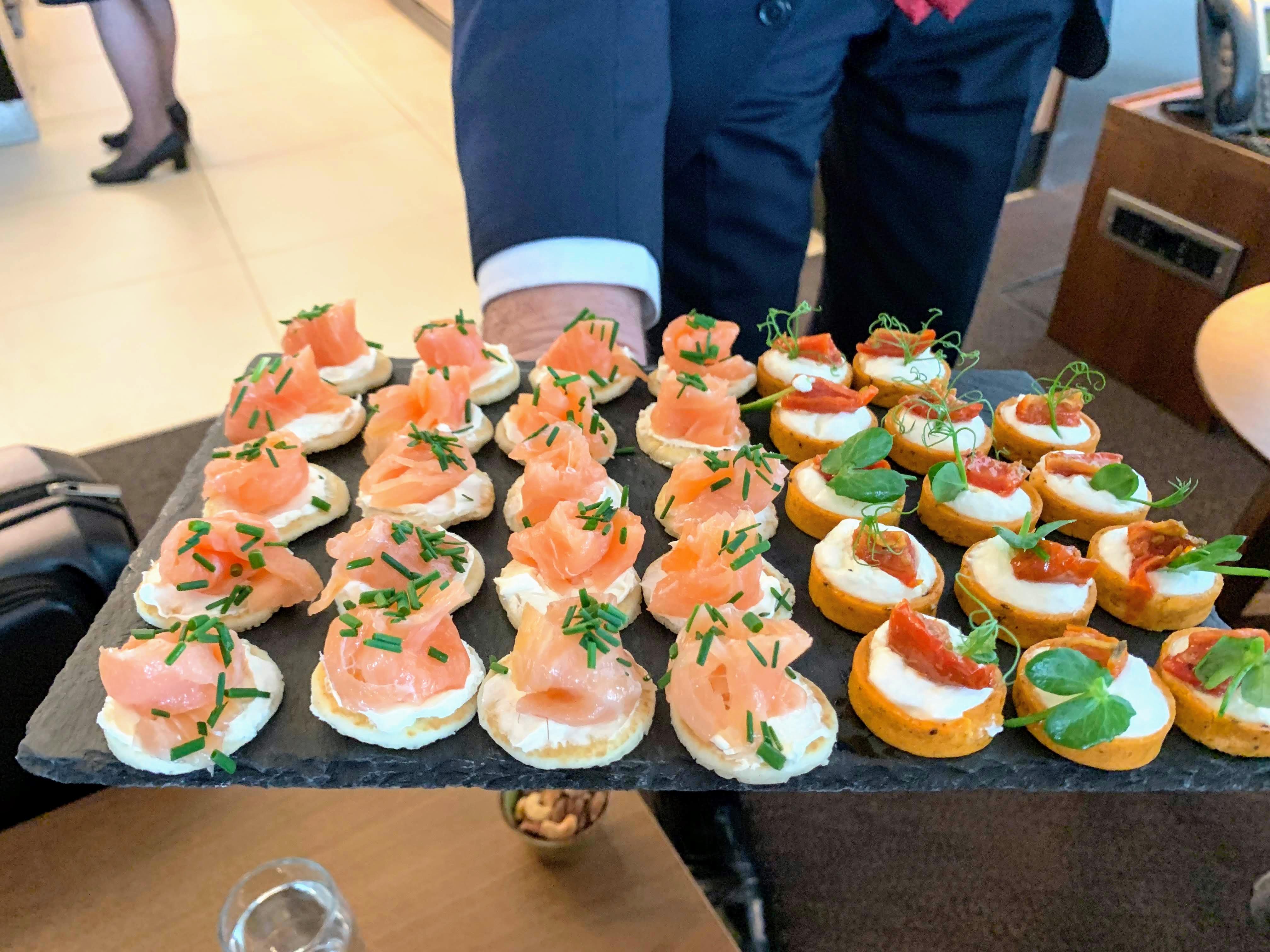 The truffle coated nuts were also very moreish!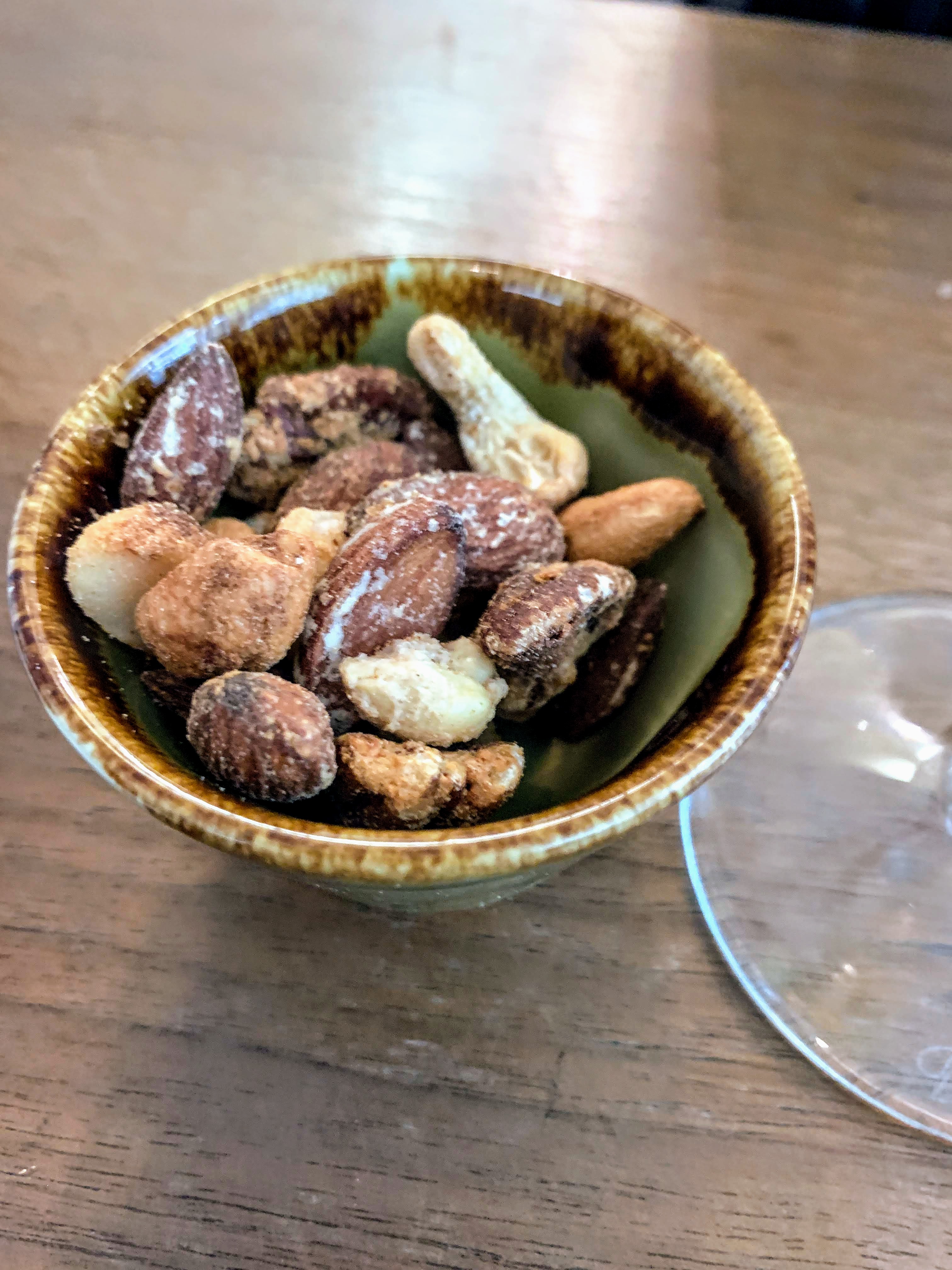 All too soon it was time for lunch. Here is the current restaurant menu:
And the wine list:
There is also a more casual lounge menu which is the same as the Galleries First menu.
Paul went the full monty as he had not had breakfast. He started with the spinach, lentil and cauliflower soup which was similar to dahl in style.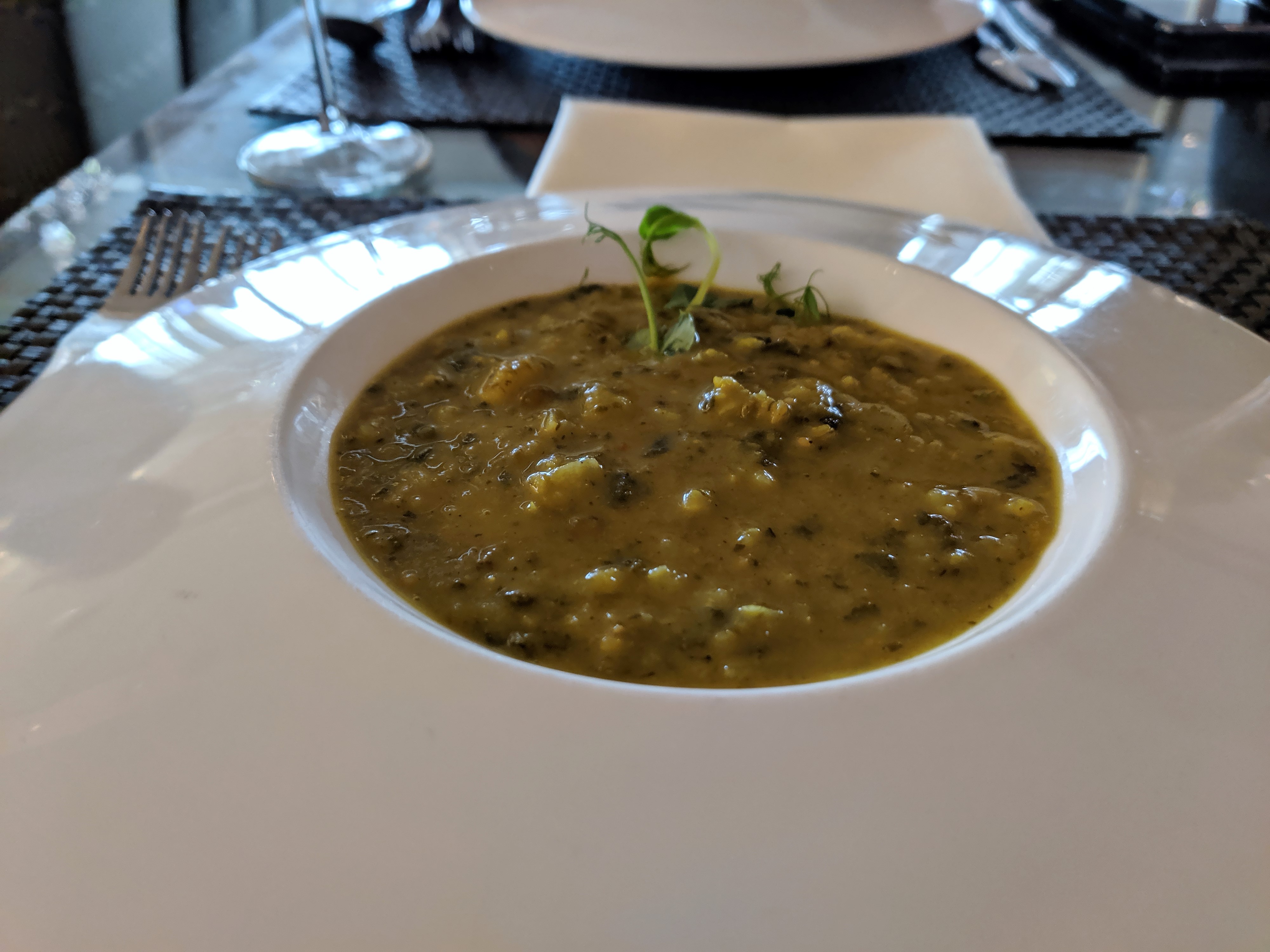 Next, we both had the scallop. Notice the singular form – it was literally just one scallop which seemed very stingy. This meant it was somewhat overpowered by the amount of the black pudding. The pea veloute was poured on the dish at the table – this was a bit tepid and more slopped into the bowl than poured! It was a very tasty dish though and just needs the proportions adjusting.
The confit duck leg followed for Paul which was delicious with a rich sauce.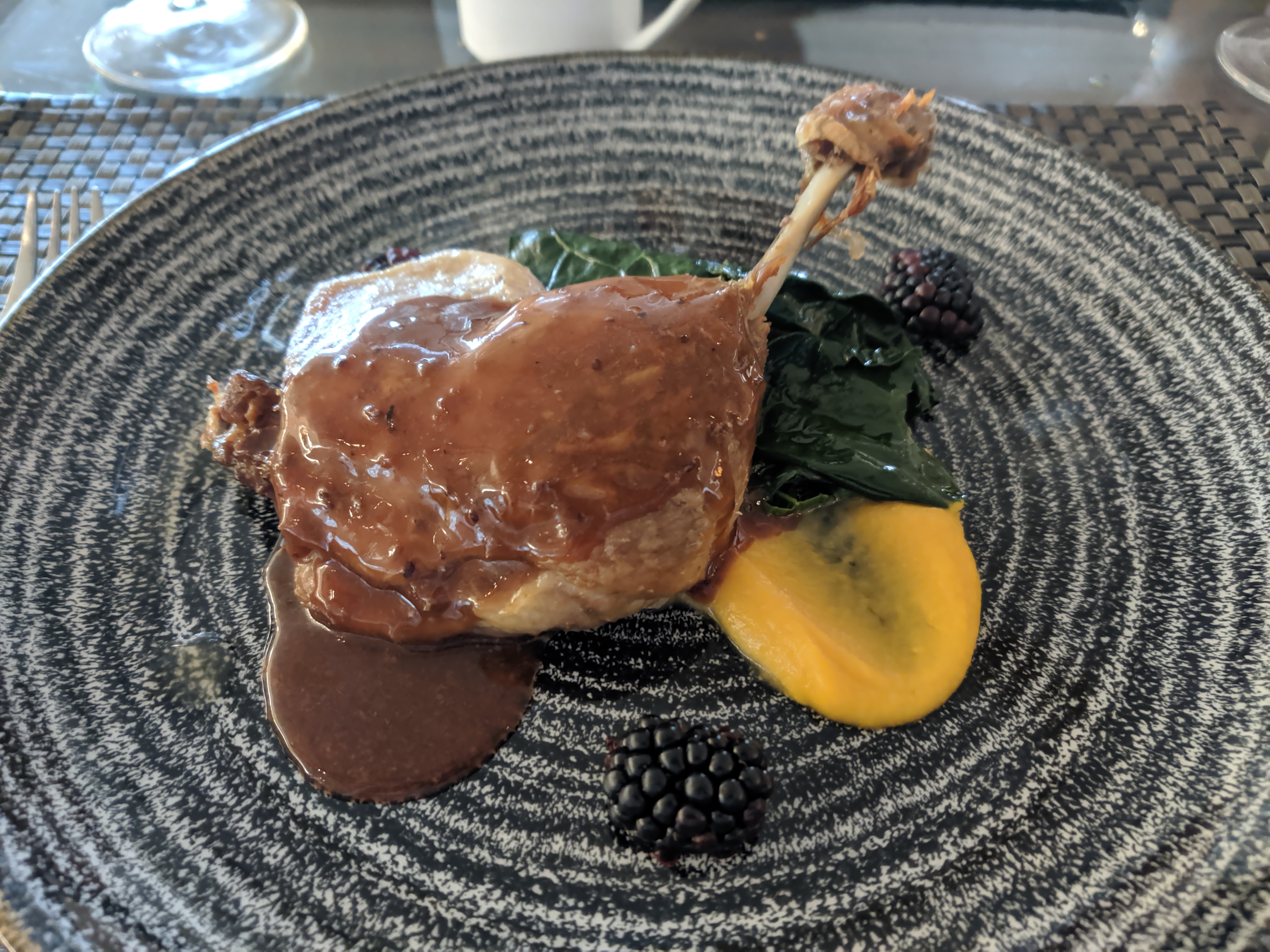 Paul decided he was still a bit peckish and went for both desserts – the jaffa cake and the coconut pannacotta. I also had the pannacotta which had a lovely flavour, but a rather strange marshmallow-like texture. Pannacotta should wobble, not bounce!!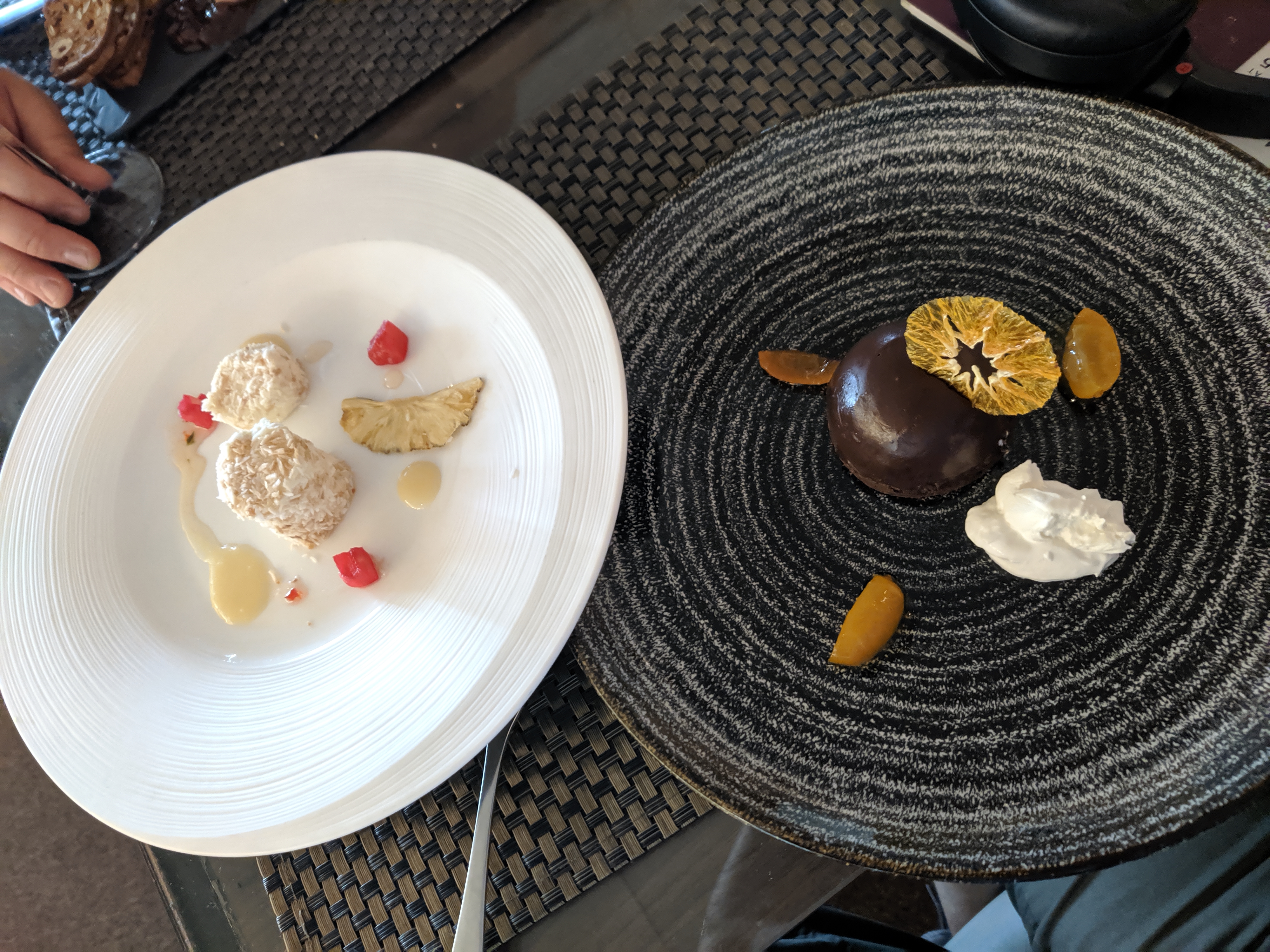 TLFL model of the day, our friend Deano, went for the cheese selection with a small red wine….
Another recent improvement is the cheese selection at the end of the bar you can help yourself to: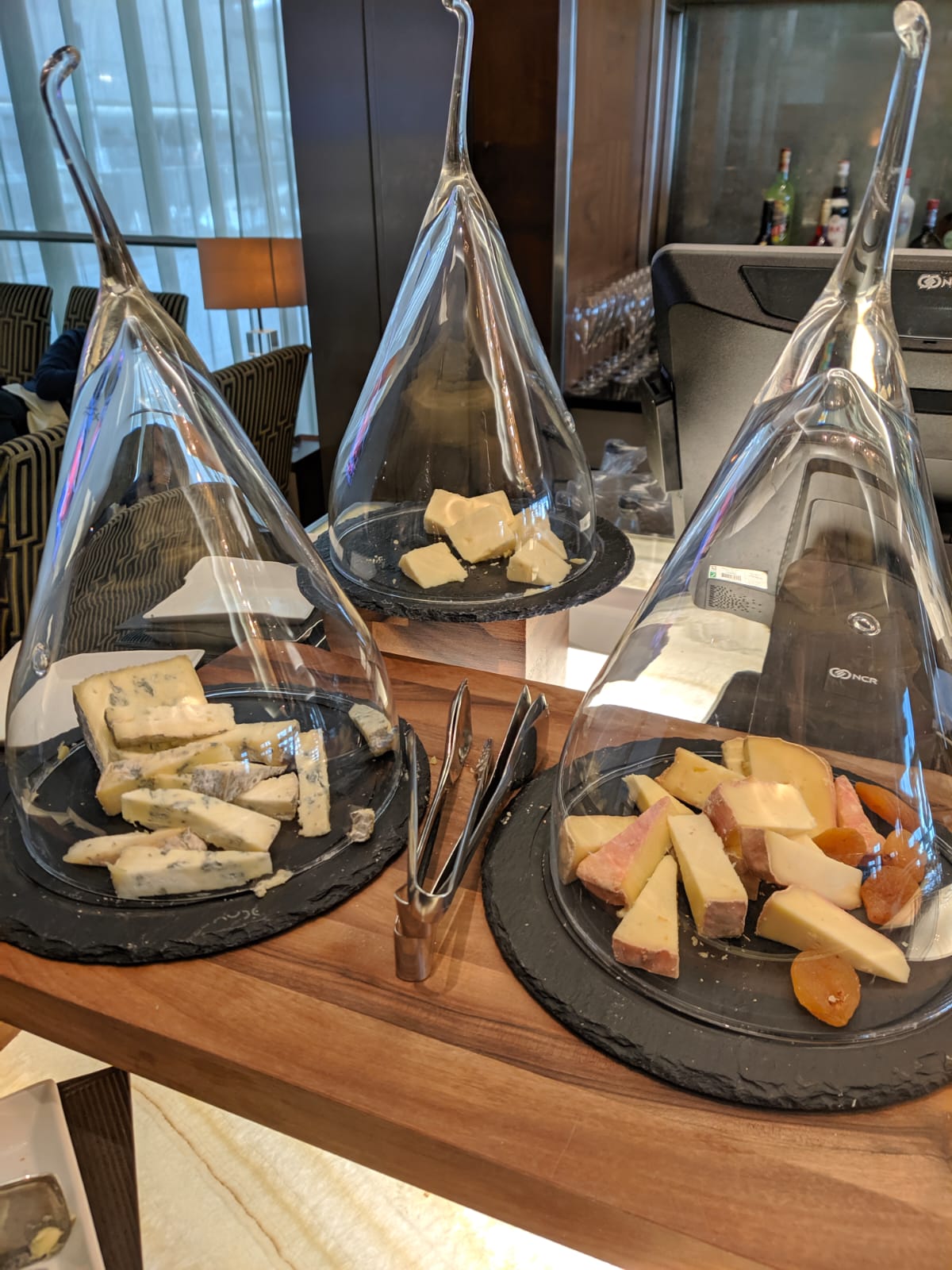 As well as a really beautiful looking afternoon tea selection on the terrace with bottles of champagne to help yourself to: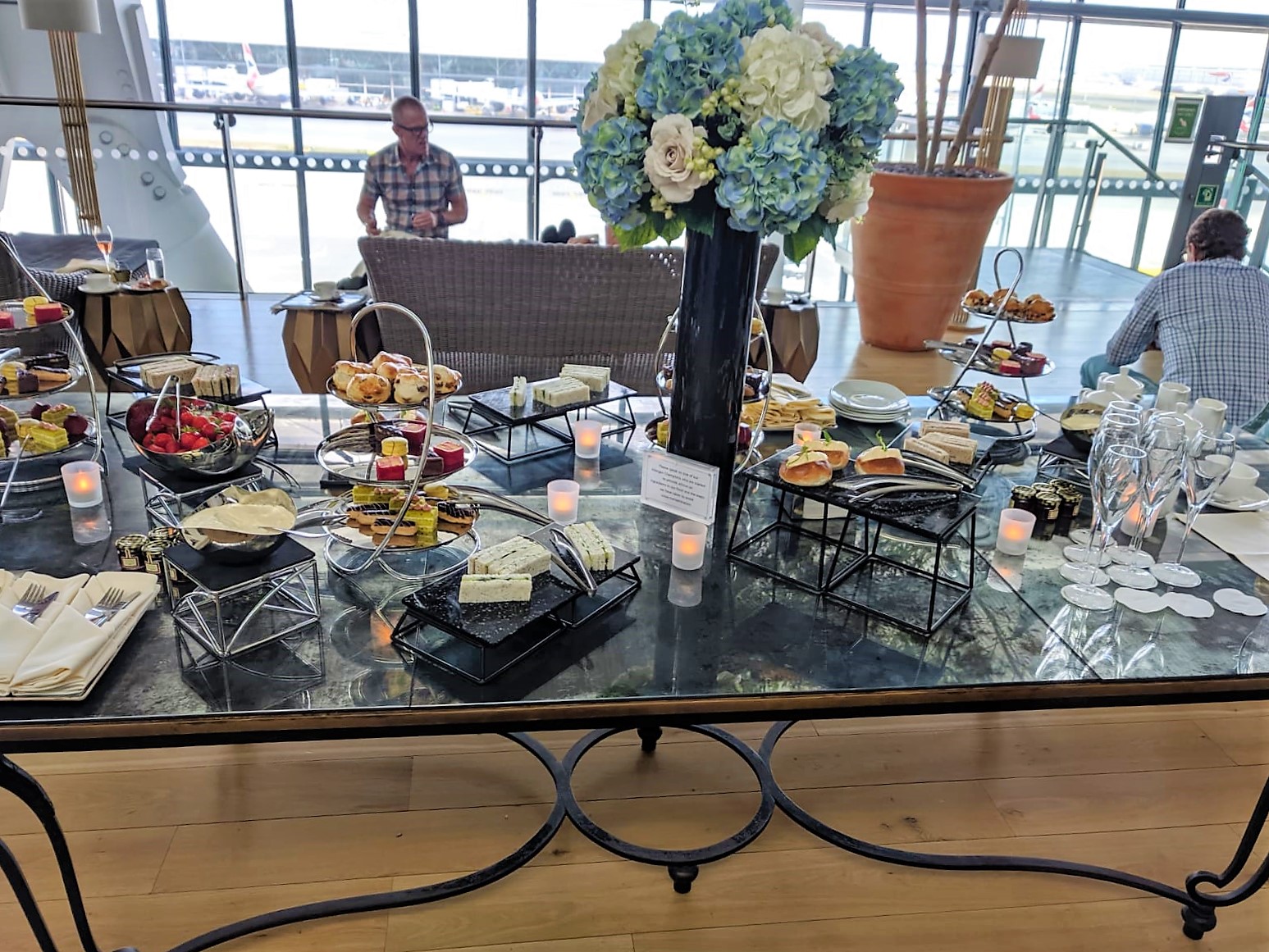 We did not bother with a cabana as frankly they are a bit past their best, but aparently they are due for refurbishment soon.
Finally, as I was there in plenty of time I managed to get a spa appointment to try the new Leg and Foot Reviver which is only available if you are travelling in First class. The spa manager and therapist were both lovely. The treatment was on a proper bed and started with a foot cleanse and essential oils inhalation. This was followed by a massage with hot and cold stones. As usual, I was offered a glass of water and some Elemis samples when it ended. I enjoyed the treatment although it could have been a bit firmer. You can read my full review of the newly revamped spa for business and first passengers with a full list of the treatments.
In conclusion, I was impressed with the improvements in the Concorde room since my last visit. They are all small touches in isolation but together they add up to a very premium experience. I have visited a lot of First Class lounges and not seen many of these touches elsewhere. The service was excellent throughout our visit too.