As I had a very early start for my BA new Club World JFK flight, I decided to stay the night at Heathrow near Terminal 5. I had already stayed in the Sofitel T5 which you can read about here. This time I decided to go back to the Hilton Heathrow T5 which I hadn't stayed in since just after it opened 6 years ago.
Check in and location
The Hilton T5 is off airport near J14 of the M25 but easily accessible via the Hoppa bus to and from Terminal 5. I used the Hoppa in the morning and it only made one stop en route, taking around 10-15 minutes to the airport. The H57 service runs up to every 15 minutes at peak times to Terminal 5. You can pay on the bus for £5 each way/£9 return or buy in advance for £4.50 one way/£8 return.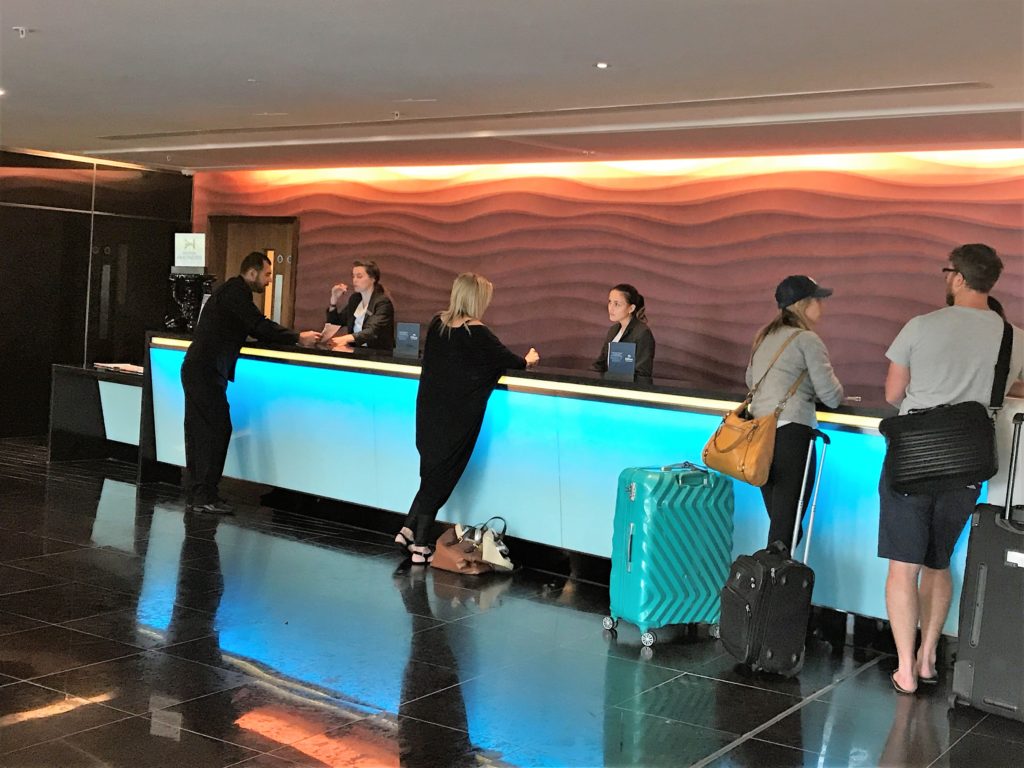 I arrived early at around 09.30am but I had booked a treatment at the hotel spa in case my room wasn't ready. The receptionist was excellent, very welcoming and friendly. Later I had to go back down to reception and experienced her being exactly the same with other guests. She treated each guest like they were a really valued customer and called them by name. If only all hotels could do this as it creates such a good first impression.
The receptionist said that she could check me in straight away. She explained that if I wanted to have the upgrade for a Hilton Honors Diamond member to a Club room, then it would have to be twin beds or I could have a king in my original booked category. There was a large wedding going on that night and if I had one of the Executive King rooms, I would be close to the wedding and might experience some noise. I thought this was great that she was so honest and they had actually considered this. I took the twin room as the beds were larger than a single.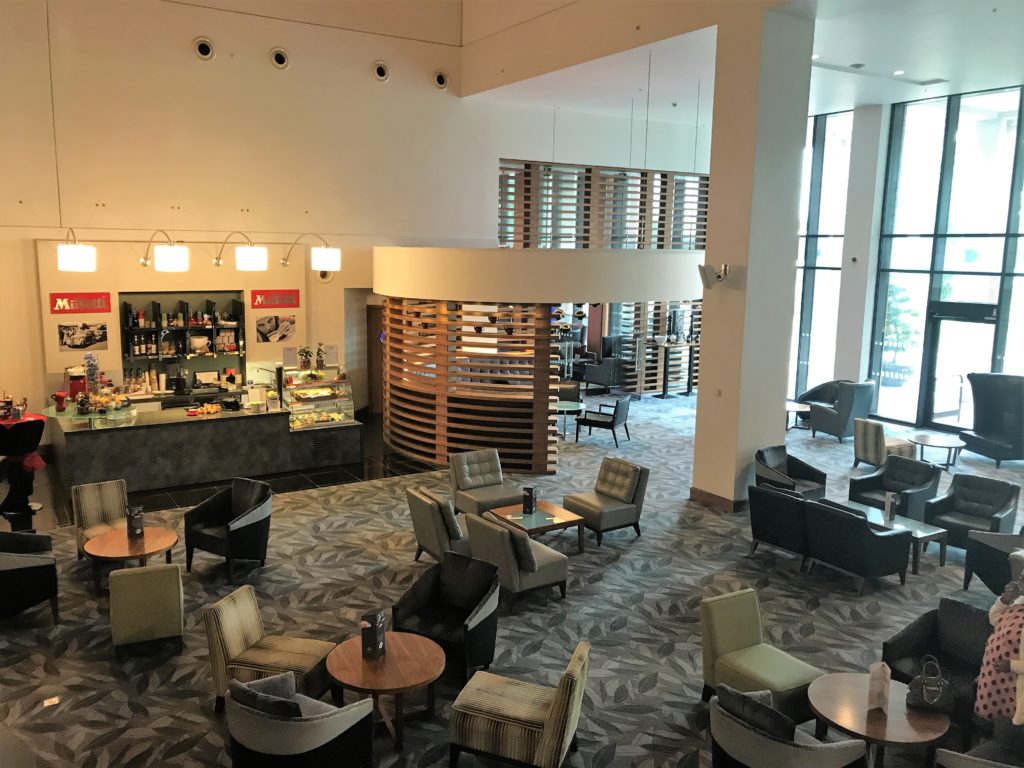 Room
The room was about as far away from the wedding as it could be, in a quiet location at the side of the hotel. Although the decor was not the most exciting Hilton I have seen, it looked smart and modern. There were 2 largeish beds, an enormous desk with a large LG HD TV. However, the fridge had mini bar items with sensors which I hate! The TV had a large choice of Freeview channels and a clever system where you could connect your own device wirelessly to watch your own content on the TV. I tried it out but couldn't get it to work. There were also more traditional ways of connecting your device via a media hub with all the usual connections such as HDMI, VGA and USB.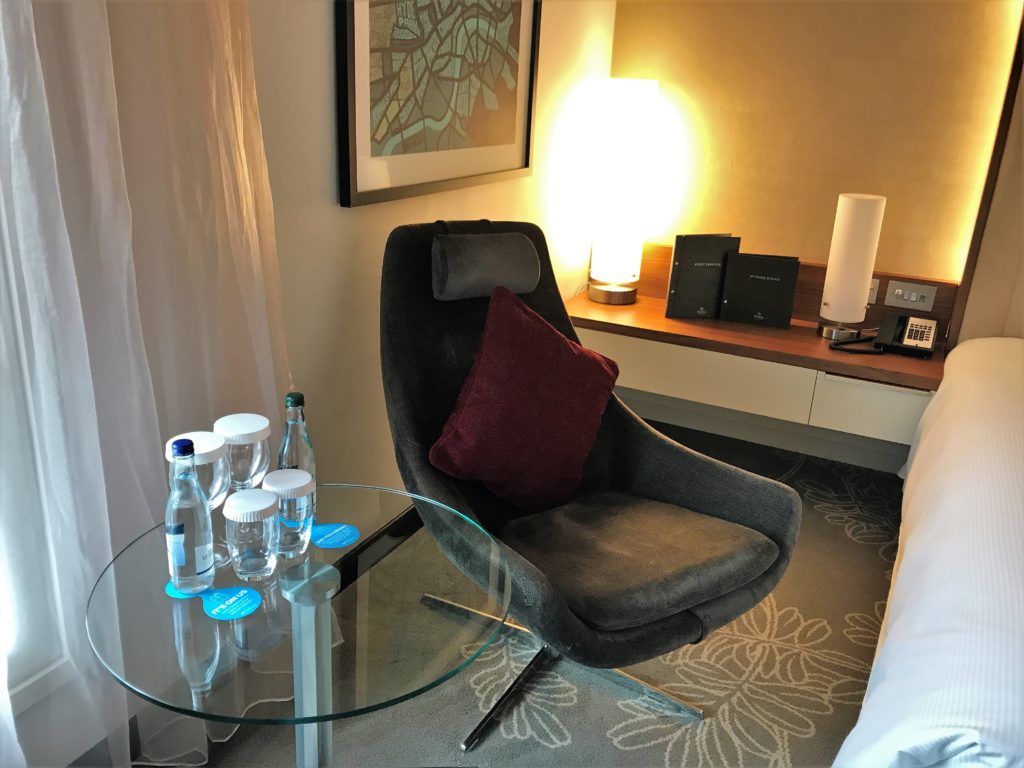 In the wardrobe was a safe, iron and ironing board and even a set of scales – which I really don't want to see when I am away from home! In this Executive Club room you also get a bathrobe and slippers which you don't get in the standard room. The tea tray was pretty standard, although you did get biscuits as well. The Executive rooms also get 2 bottles of mineral water, but you would also get this as a Hilton Honors member if you are silver or above.
That afternoon, there was a knock at the door and a welcome gift was delivered. It is rare to receive a welcome gift as a Hilton Diamond member but this one was very welcome. It consisted of a bar of Montezuma's Treacle Tart chocolate and a half bottle of red wine. That was my evening sorted! You may wish to read about how to get Hilton Honors and a free night in any Hilton group hotel in this article.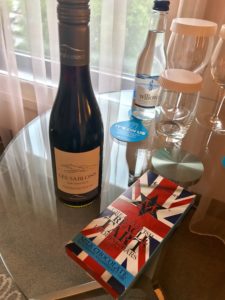 The only thing I could fault with the room was the fact there was only one chair apart from the desk chair, so if there were 2 of you, you would have to fight over it!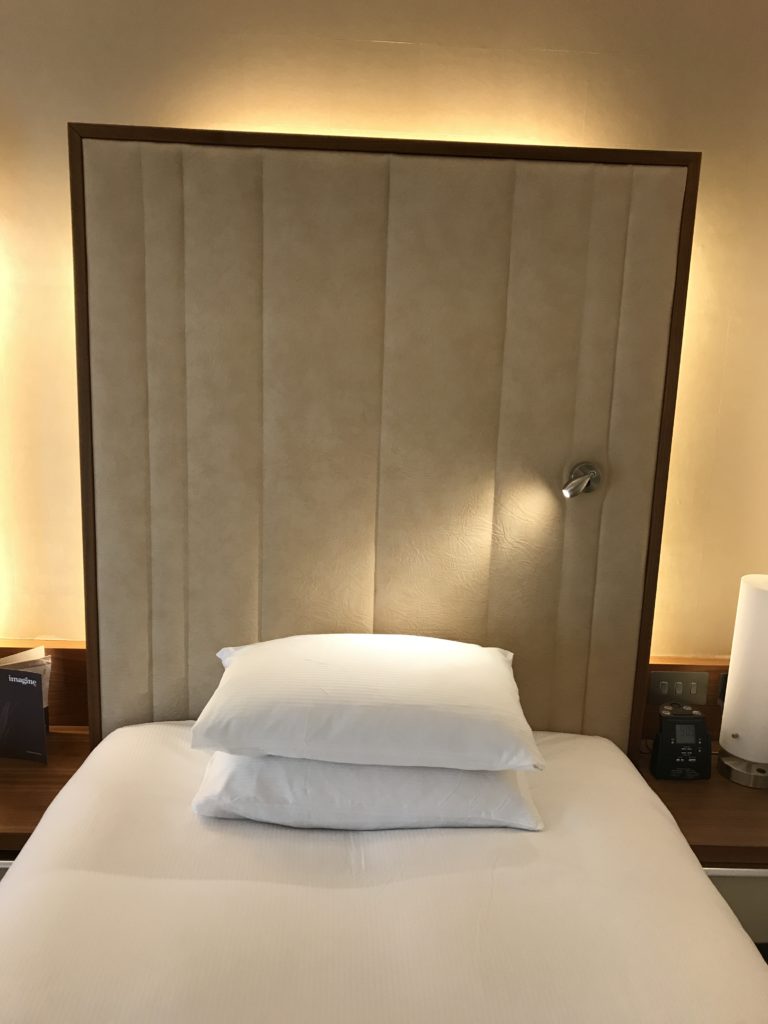 Despite the fact that I had noticed outside that there were aircraft roaring overhead (good if you are a spotter) I did not hear any noise from my room. The bed was the new Hilton Serenity bed which is a great improvement over the older hard Hilton bed, though still not as good as some of the other chain's beds. I was pleased to see that there was a power socket on one side of the bed, the other side had one with the clock plugged in which you could have moved. I also liked the smart padded headboard if you wanted to sit in bed and there were plenty of lights within easy reach.
Bathroom
In this category of room, you get a separate bath and shower, whereas the basic room only has a bath over the shower. I found the bathroom pretty impressive for an airport Hilton. The bathroom was spotlessly clean and very well maintained. There was a lovely deep double ended bath for a soak and a large walk in shower. I particularly liked the lighting which gave it a very modern feel and could be dimmed from outside.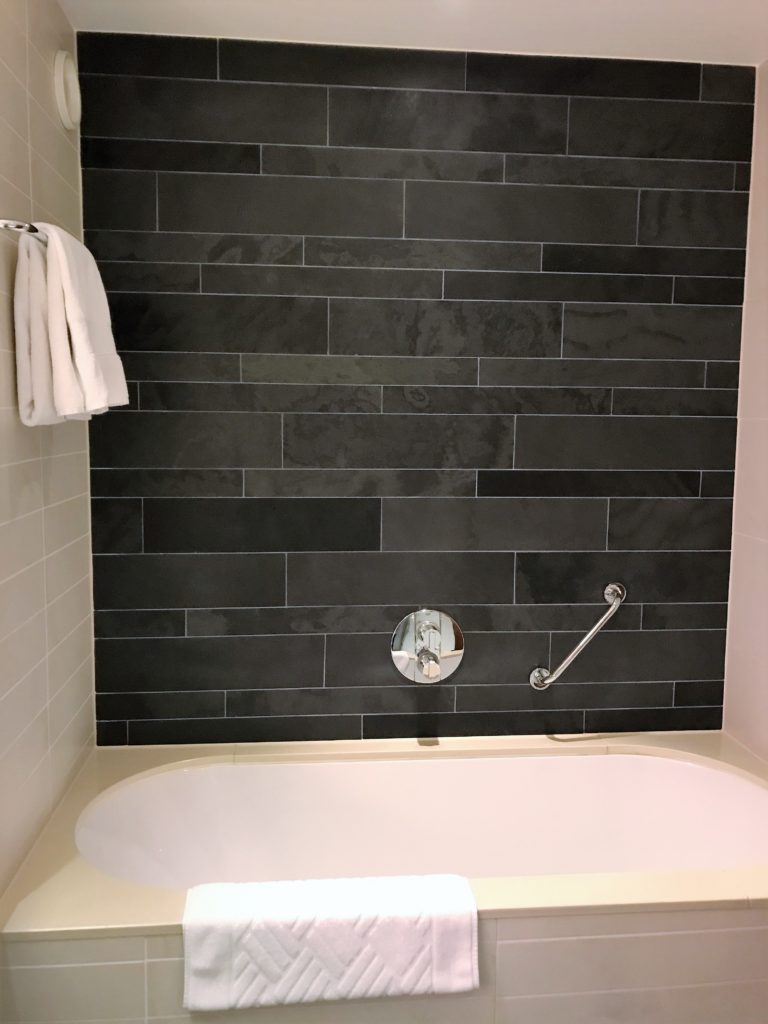 There was a magnifying mirror too but I couldn't see the point of the blue light around it as it didn't actually seem to achieve giving out any light! The toiletries were the usual Hilton Peter Thomas Roth toiletries. If you need a hairdryer, there is one in the wardrobe which can be plugged in close to the mirrored wardrobe so that you can see to dry your hair. I would have liked a bit more space around the basin as it would be a bit squeezed if there were two of you and you each had as many toiletries as me!
King room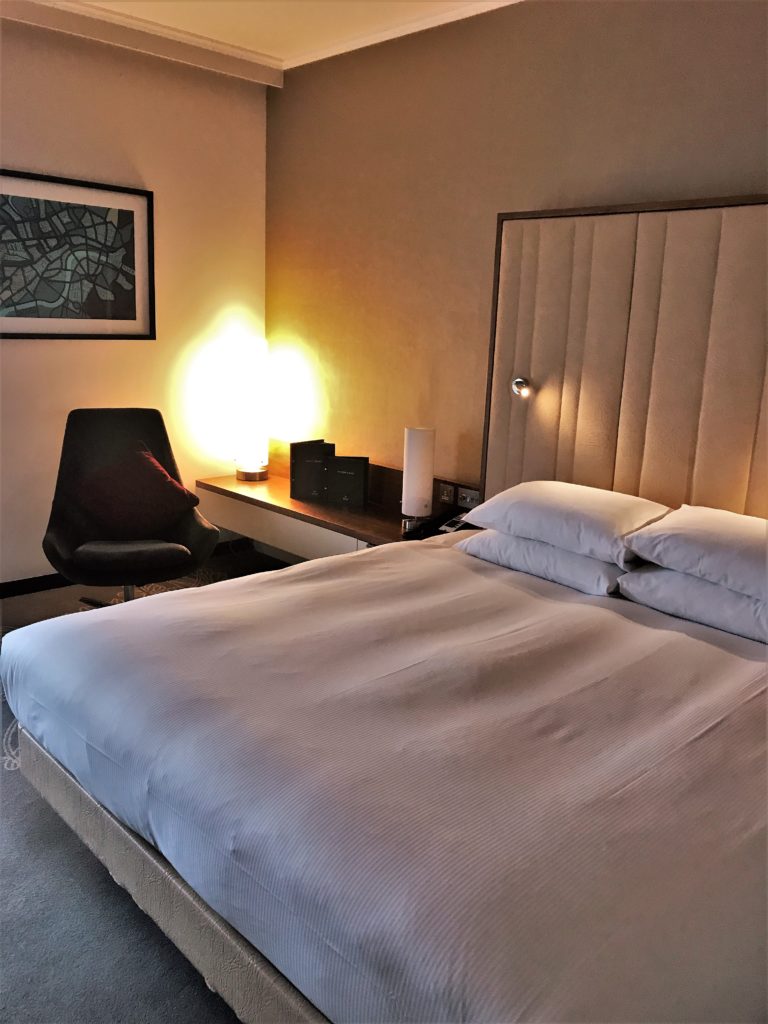 The standard entry level room is very similar and if you don't think you would use the lounge, I would just go for that unless you are bothered about a separate bath and shower. They don't have the bathrobe, slippers or complimentary mineral water either, but again it's something that probably not that many people are fussed about.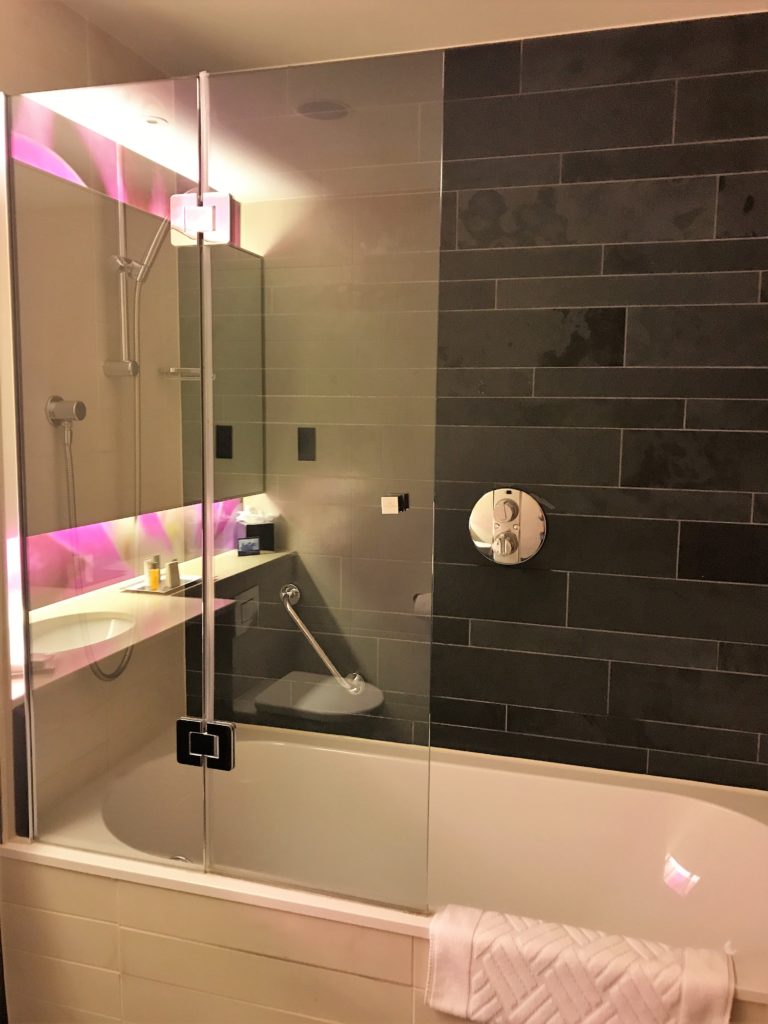 Executive Club lounge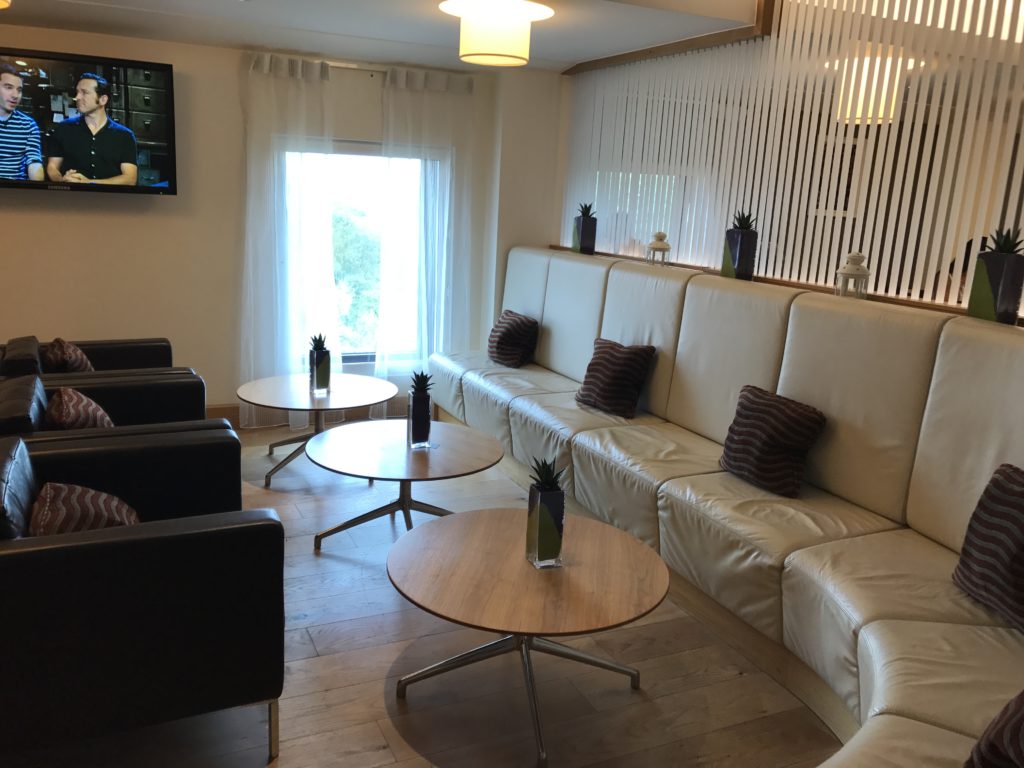 Compared with the Hilton at Gatwick, this lounge was pretty impressive. The lounge is open from 6am until 11pm and has soft drinks available all day. They also serve breakfast, afternoon tea (cakes only) and evening drinks and canapes.
You can either have breakfast in the main restaurant or in the lounge. A lot of executive lounge breakfasts are a bit sparse but that wasn't the case here. There was an excellent variety of hot and cold items and the tables were laid up properly for breakfast. For the hot food, you could pretty much have a full English with bacon, sausage, scrambled eggs, mushrooms, and tomatoes.
The cold buffet had some good quality smoked salmon, cheese meats, yoghurts, and fruit. Everything I tasted was fresh and decent quality. There was also a toaster with plenty of breads and pastries to choose from. I tried a cappuccino from the machine and it was fine for a machine coffee.
I popped back in the afternoon and was a bit disappointed by what I found. There were 3 different, rather sad looking cakes and that was it, but better than nothing.
In the evening the food was much better. After meeting Roving Reporter in the lobby for a quick G&T, I went back to the lounge for some food. There wasn't a huge choice but it was tasty and fairly substantial for a light evening meal. There were no labels which was a bit annoying but I would guess that there were Thai green curry chicken skewers, vegetable nuggets, prawn sandwiches plus a few other varieties, vegetable crudites and dips, plus some decent looking cheeses. Although I could have done without the man who decided to help himself to all the food using his fingers instead of the utensil provided!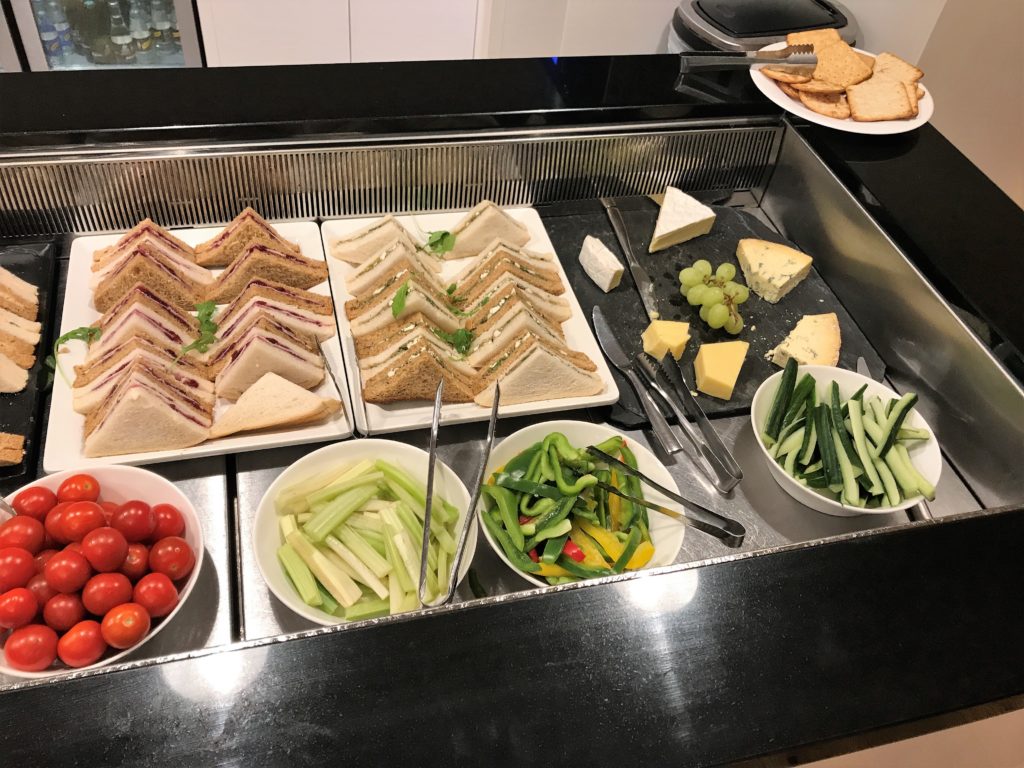 The wine selection was very dull with just one red and white. I tried the red wine which was cheap but pretty inoffensive. For spirits, there was a full range of mid-level brands such as Gordon's gin, Absolut, Barcadi and even a Port to go with the cheese. There were 2 beers – Becks and Budweiser. The lounge was overall very quiet in the evening which made a nice change from most airport hotels, but it may have been because it was a Sunday night.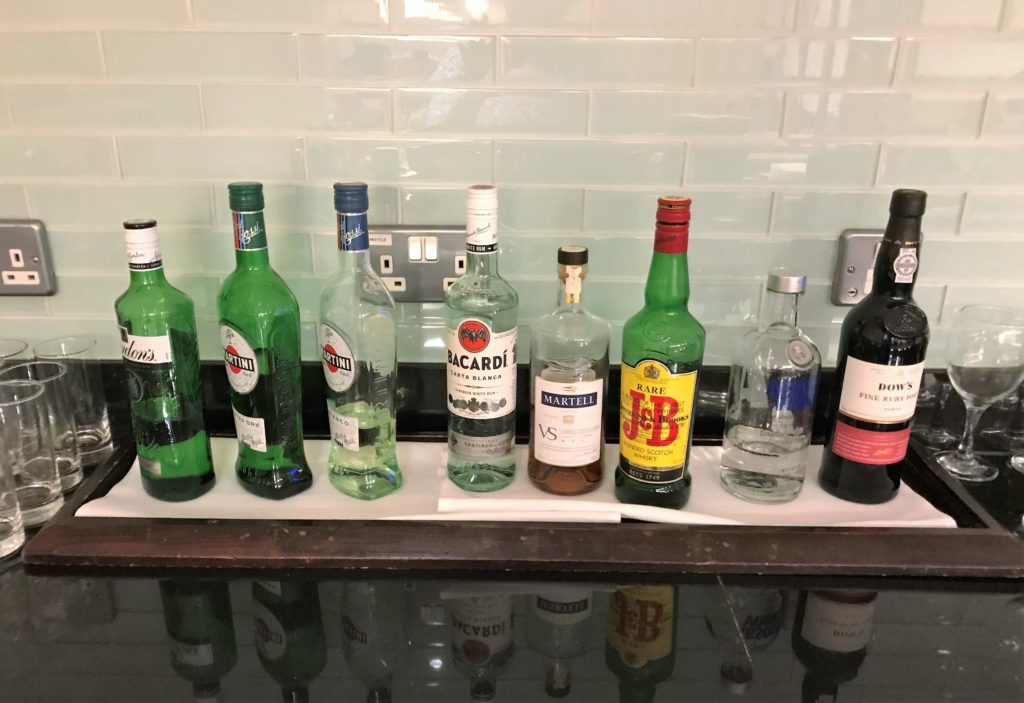 Spa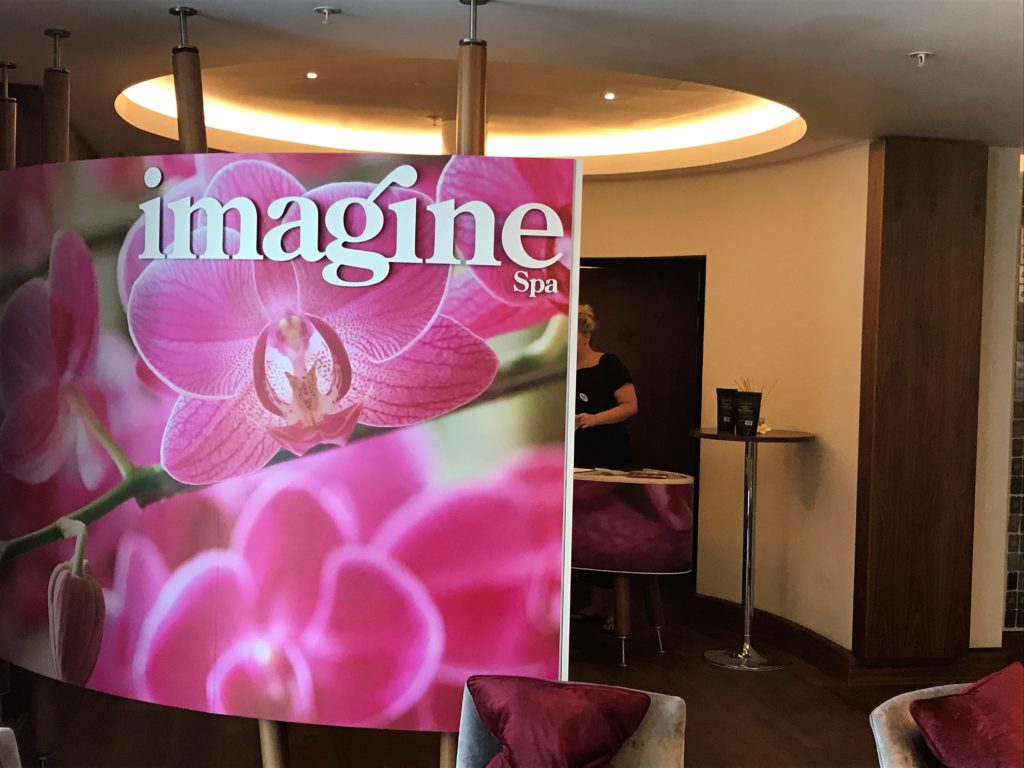 Booking a spa appointment for more than a 30 minute treatment proved tricky even several weeks in advance. The main feature of the spa treatment menu seems to be short treatments of around 15-30 minutes. However, they do offer longer ones if you can get an appointment. The prices were fairly standard for a Heathrow hotel. However, if you go to the spa's own website you can sign up for their newsletter and get a 25% discount on your first treatment.
The spa had great facilities but they haven't really mastered the customer experience here for hotel guests. All guests have access to the spa which is a bonus. However, when you arrive you get given 1 towel (or not in my case as they forgot!) and that's it. the lockers only take £1 coins which meant I had to take my bag into the pool area with me or leave it with the receptionist. Why they can't have combination lockers I don't know. I would have also liked some extra towels available as you don't really want to be using it to sit on in the sauna or steam room and then using it to dry yourself.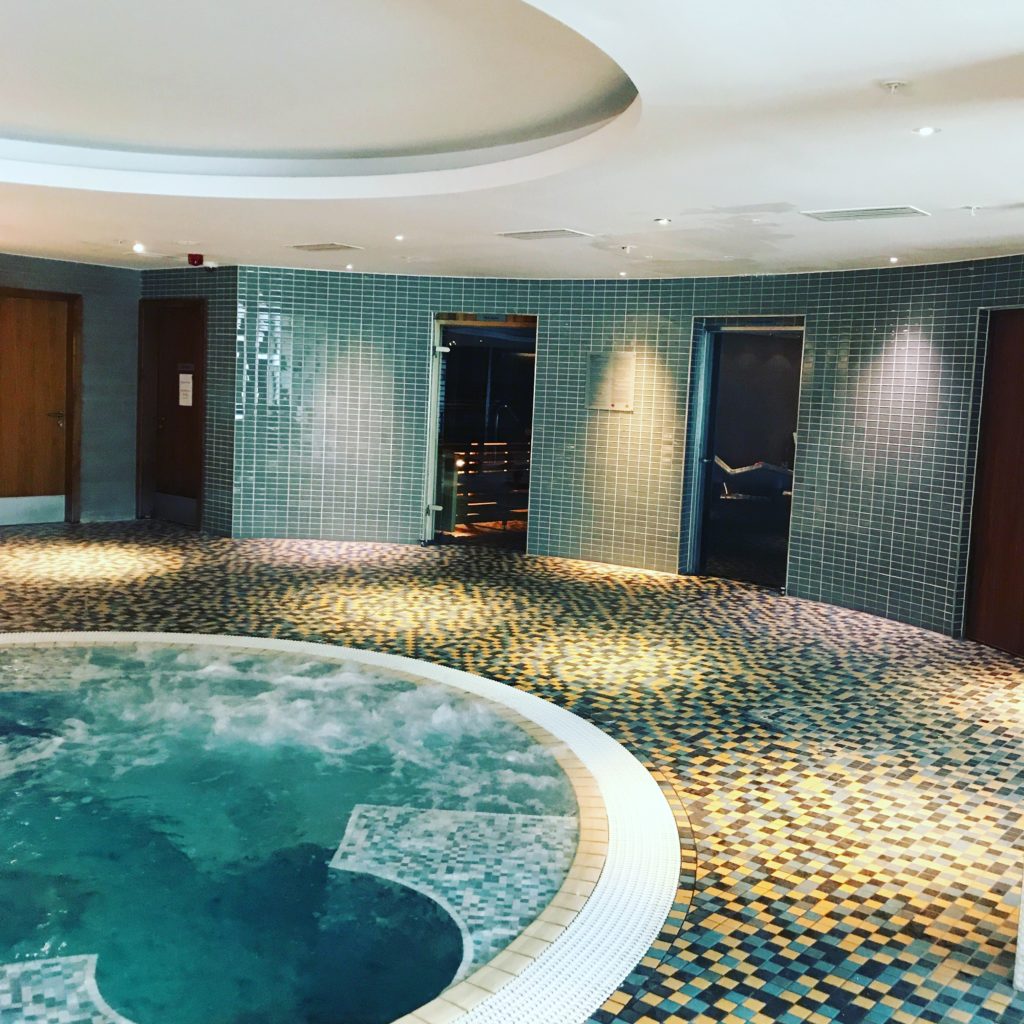 Inside the main spa area was a hydrotherapy pool, sauna, steam and mineral grotto. The area was well maintained although it felt a bit gloomy. I still don't know what the 2 hi-tec loungers that were plugged in were meant to do. I tried switching one on but nothing seemed to happen! This was a good range of facilities for an airport hotel and it would be a nice way to relax before or after a long flight.
My treatments were a 30 minute lava shell massage and a 15 minute scalp massage. The treatments were pretty average and the therapist wasn't the best to be honest. She used huge amounts of oil for the massage and didn't really bother to try and get it off leaving me with something of an oil slick. In the second treatment, I am sure the therapist was texting or looking at her phone at one point. She only had one hand on my head and wasn't doing much whilst I pretty sure she was swiping something on her phone with the other hand!
Food and drink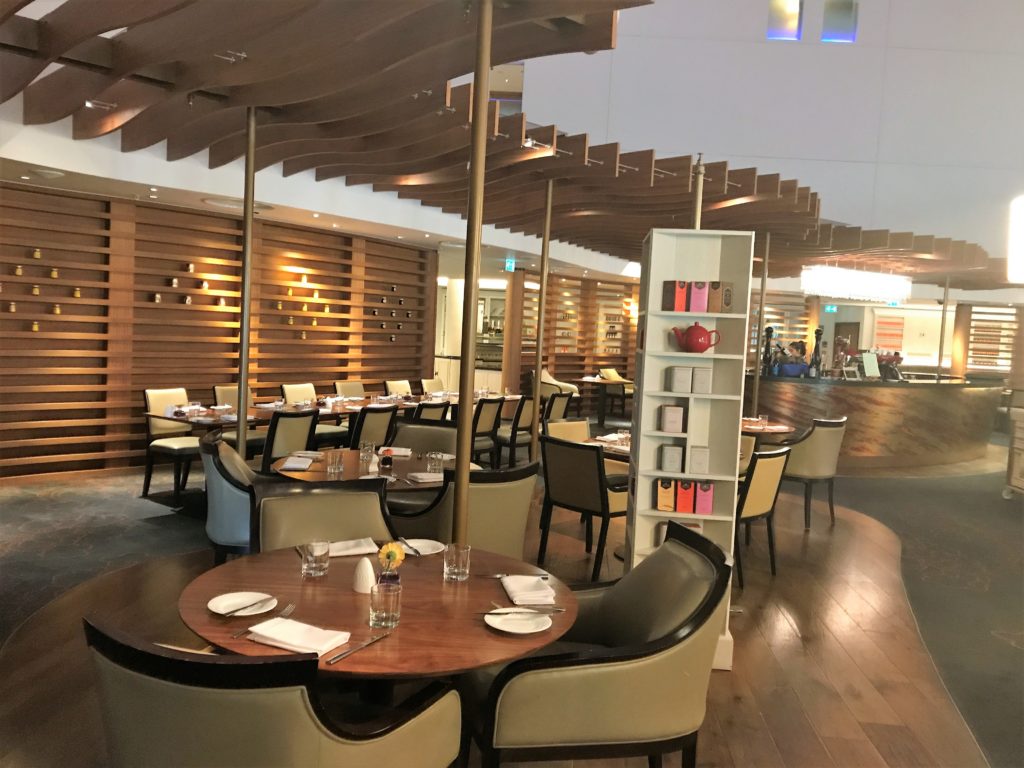 There is a choice of several places to eat and drink in the hotel, although you can walk across the road to Subway if you just want a cheap snack. The main restaurant is called the Gallery and also has a bar attached which was closed when I was there. The Gallery restaurant only serves breakfast and dinner.
Mr Todiwala's Kitchen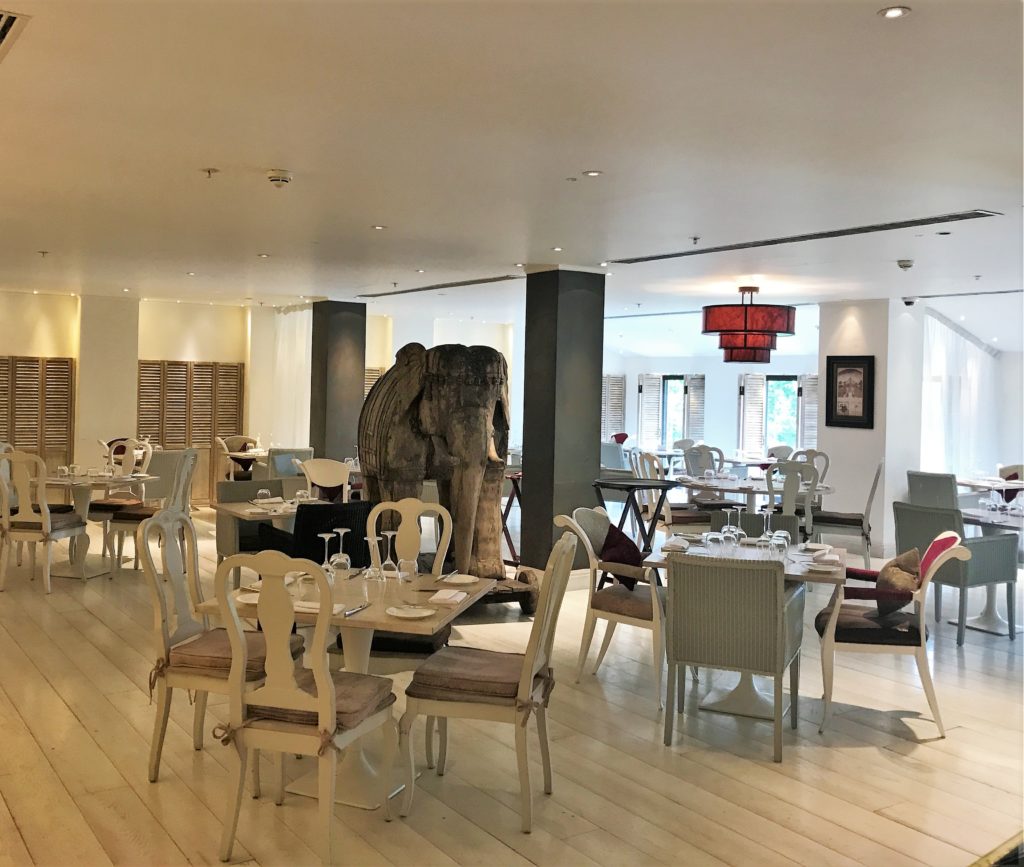 I had eaten at Mr Todiwala's Kitchen on my previous stay but unfortunately, it was closed on Sundays, so I didn't get to go back. It serves modern Indian and is run by Cyrus Todiwala who co-hosted the BBC program 'The Spice Men'. I was very impressed the last time. They have done a great job with the decor and the food and service were all up to my high standards for a fine dining restaurant. TripAdvisor seems to agree with a score of 4.5/5.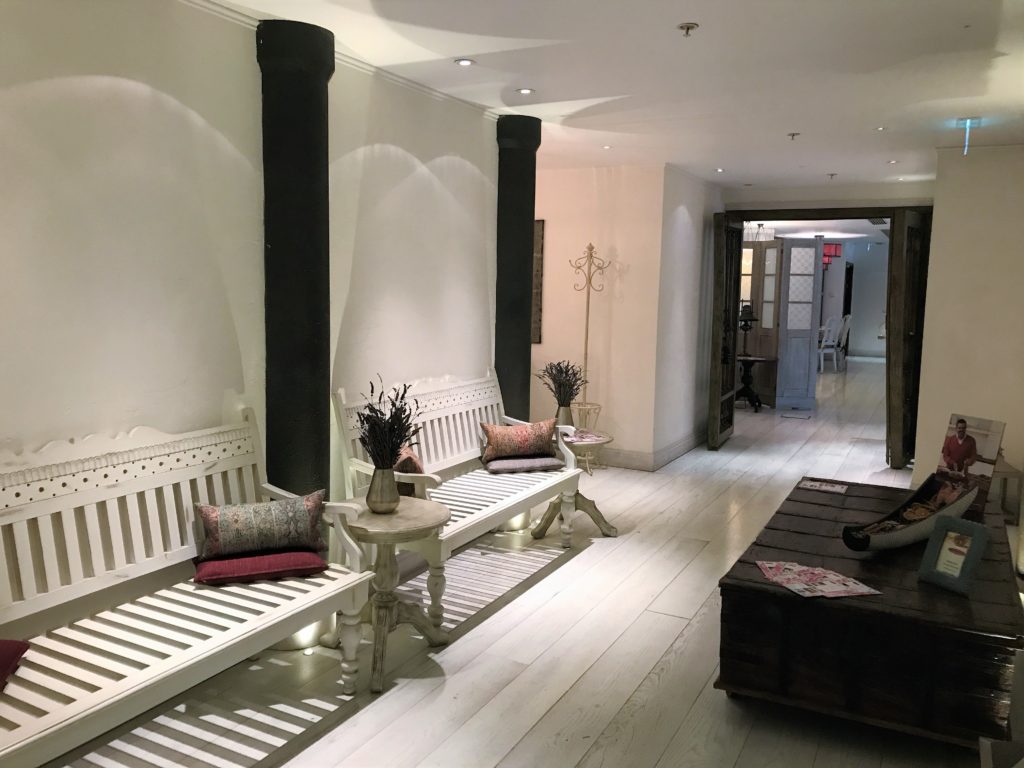 There is a small cafe downstairs by reception called Musettis's which does a few snack and coffees. The River Bar is situated next to it. I popped into the bar to meet my Roving Reporter on his way to the Renaissance at Heathrow (review to follow).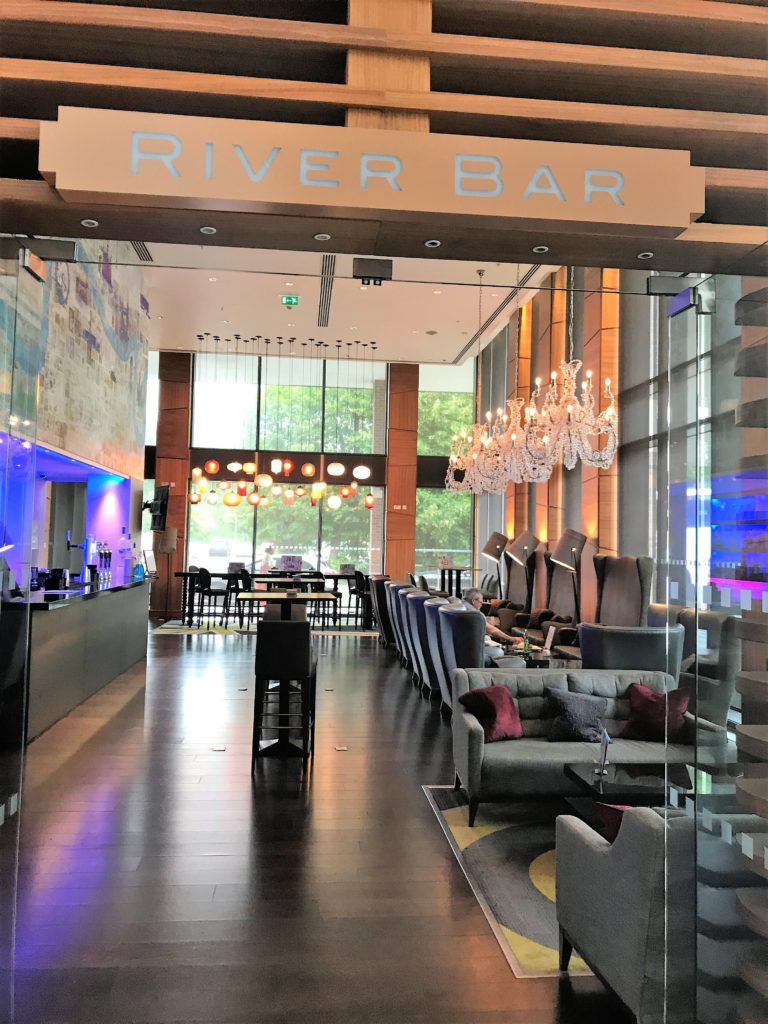 The service was frankly very slow but there was a good selection of gins and it was a pleasant enough place for a drink.
Conclusion and how to get it for less
Overall if you didn't want to pay the Sofitel's high prices and wanted more than the Premier Inn T5 has, then this would be my next choice. It is not as convenient as the Sofitel but actually in terms of facilities and comfort there is not much to choose between them.
If you are booking the Hilton you could consider taking out a Barclaycard Hilton credit card which comes with a free weekend night at a Hilton but you would be better spending the free night on something like a Conrad.
If you join Hilton Honors you would get a slightly reduced rate and you would still be able to book through the Avios eStore portal to get extra Avios on your stay. There are currently up to 6 Avios per £1 spent. The cashback sites don't offer Hilton unless you book through a 3rd party such as Expedia but obviously you wouldn't get your Hilton Honors perks. I would also consider waiting for a Hilton sale if you have plenty of time as these are very regular.
You can find more information on the Hilton Heathrow T5 here.