This was my second trip to Malta. On my previous trip I had stayed at the Westin Dragonara which has recently had a new wing of very swanky ocean front suites added that I will soon be covering. I also stayed at the Hyatt Regency as well which is one of the best value for money luxury hotels with a great central location.
This time I decided to try the Intercontinental Hotel Malta as on paper it seemed like everything you could want – great central location, its own sandy beach area and two pools including a roof top infinity pool.
Booking
I had booked through our partners GTC which gives you:
Guaranteed late check-out
$100 hotel amenity
Complimentary breakfast for 2
You also can earn points and status nights with your IHG One account. I paid £689 for 2 nights with the third night free, but this promotion has now ended. It was particularly expensive that week due to the conference but I think at £230 a night for a club room it's not bad with the offer. However, the extra credit can make a big difference on a short stay if you are likely to spend that anyway.
I got my IHG Platinum membership through this status challenge as my previous membership had lapsed through Covid. The challenge is open until 31 July 22 so there is still time to join.
You could also consider whether joining the Ambassador program is cost-effective if you are staying at a weekend as that gives you a free night when you stay one paid night at a weekend and also gives you Platinum membership as well as the Ambassador program benefits.
Location
If you want to be central to everything, then the Intercontinental is probably one of the best-located hotels. However, it is not as quiet as staying at the Westin or the Hyatt due to all the surrounding bars that you can hear faintly at night. It's around a 20-minute taxi ride from the airport to St Juliens which costs €20.
Check-in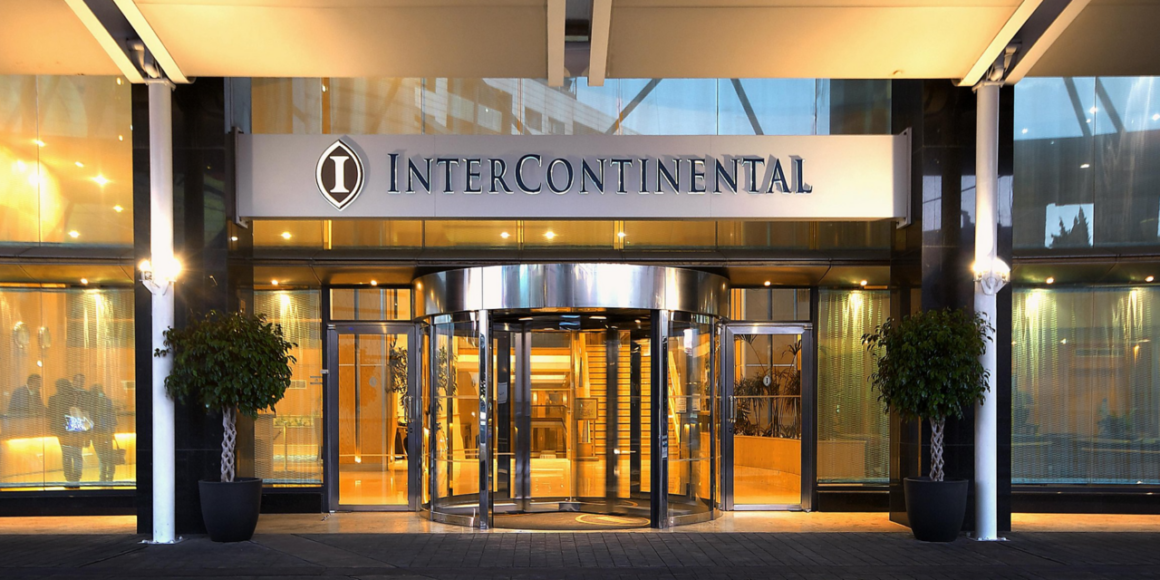 I arrived at around 9pm and had to wait a bit for a receptionist which was surprising. However, there was a big conference on while I was there and people were checking in for that. It's definitely quite a business-orientated hotel.
Unfortunately, the receptionist was new (well she'd been there three weeks according to her) and quite possibly the slowest trainee have seen in my life. Surely after 3 weeks they should be able to simple check-ins without constantly waiting to ask someone? She also hadn't got any better by the time I checked out either. She did at least apologise for being slow, but it was fairly simple stuff that I could have actually done quicker myself!
I was offered a choice of a welcome drink or points. I chose the welcome drink that entitled me to a house wine or beer in the Waterbiscuit bar.
As I was in a Club room, I could have checked in at the Club lounge but it was closed by the time I arrived. Eventually, I was given a key and she had worked out that I did get breakfast as I was in a Club room and that I would definitely have access. (really they should have trained her in this kind of basic stuff after 3 weeks).
I was on a fairly high floor, one floor below the Club lounge.
The room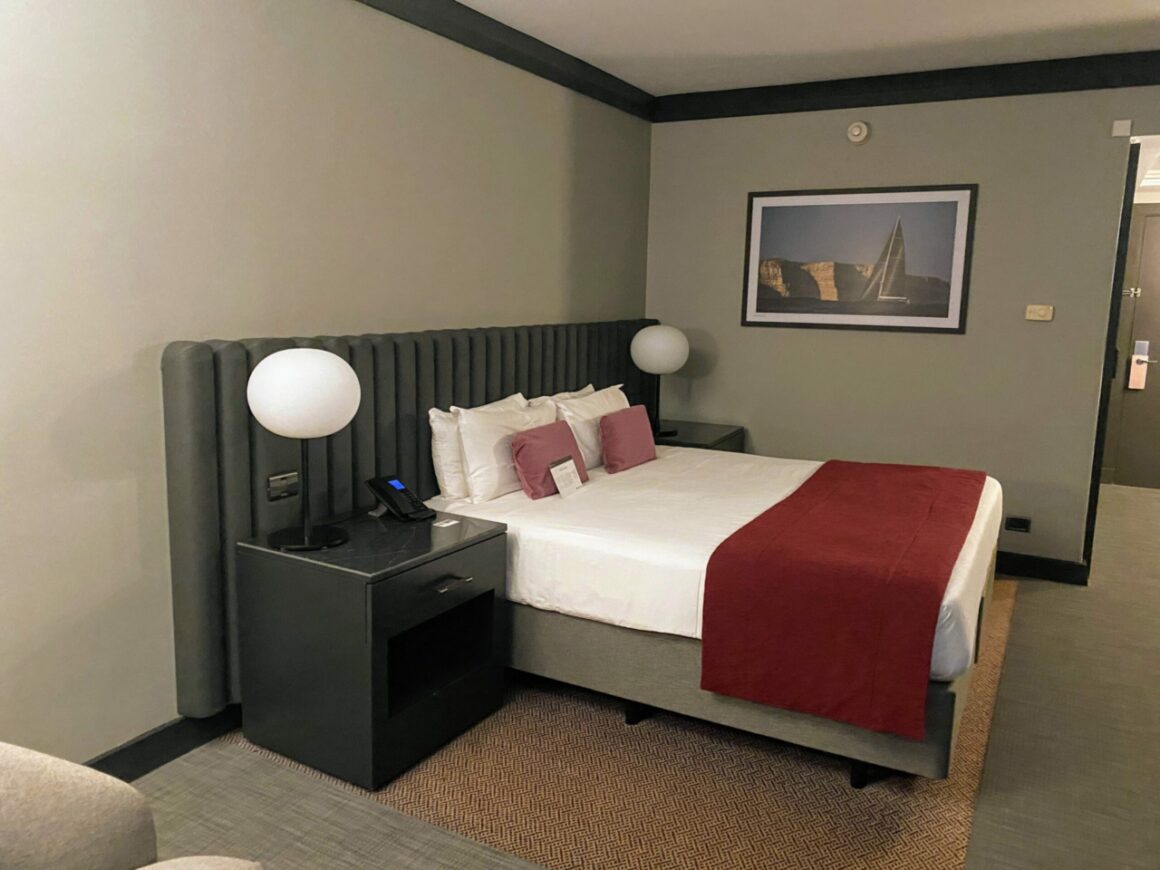 I found the room quite a disappointment as it was very masculine and a bit of a 90s at Argos vibe with all the black furniture. Let's start with the positives. It was a decent size room, and the bed was also large.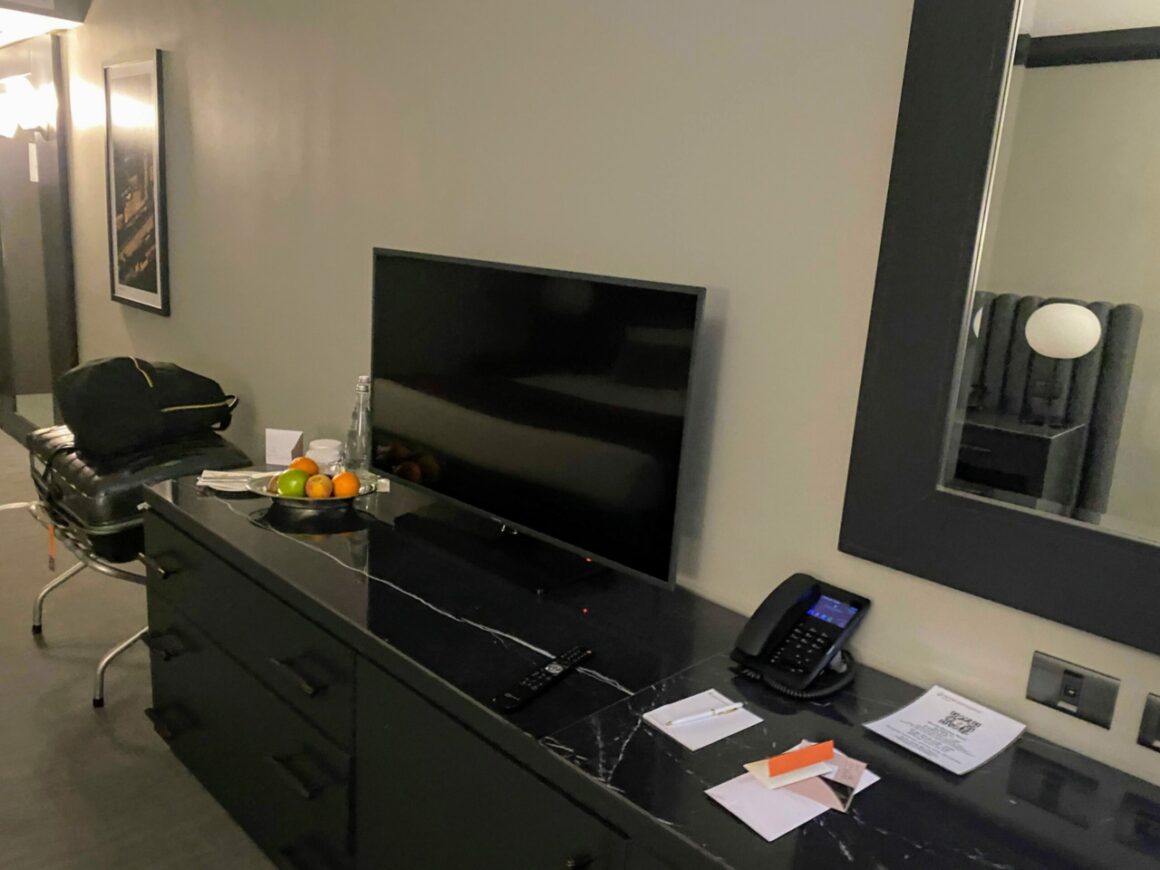 It was good if you wanted to work as there was a large desk with sockets right by it. The Club amenities were great with a large bottle of still and sparkling water and a bowl of fruit all replenished daily. As you'd expect there was a Nespresso machine and a decent bathrobe and slippers. Water was also given out daily in plastic bottles as well.
The bathroom was large but seemed to have a lot of empty space.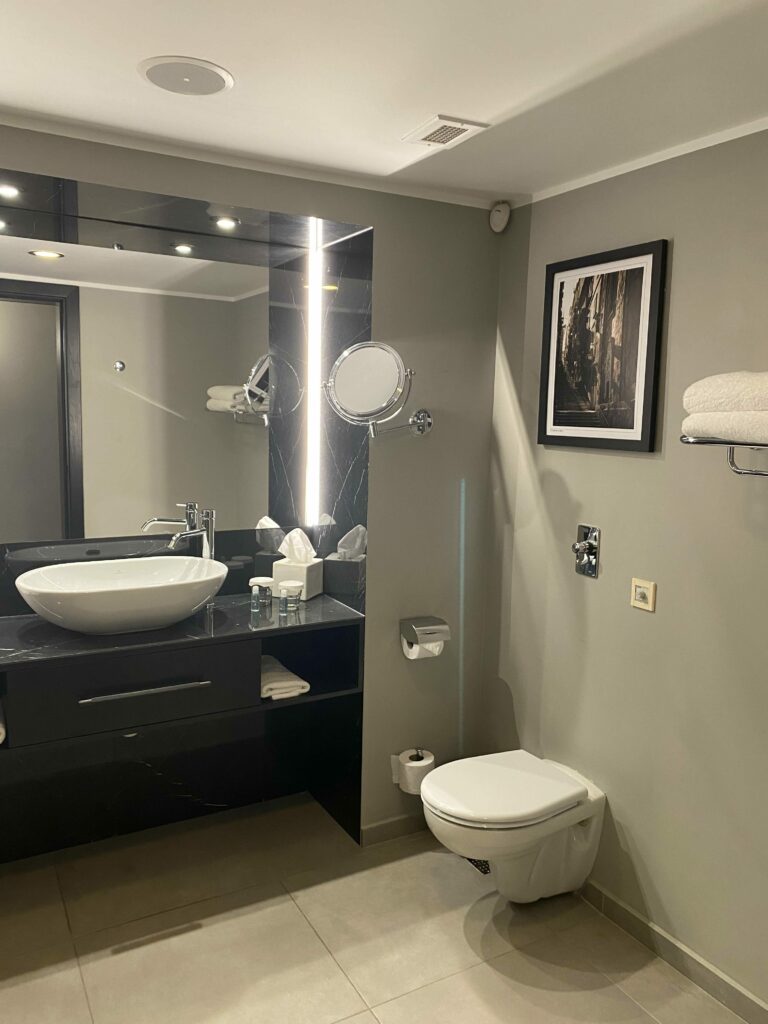 It gave the impression that there was once a bath there, but they took it out when they refurbished the bathroom. The shower area looked pretty new and was huge.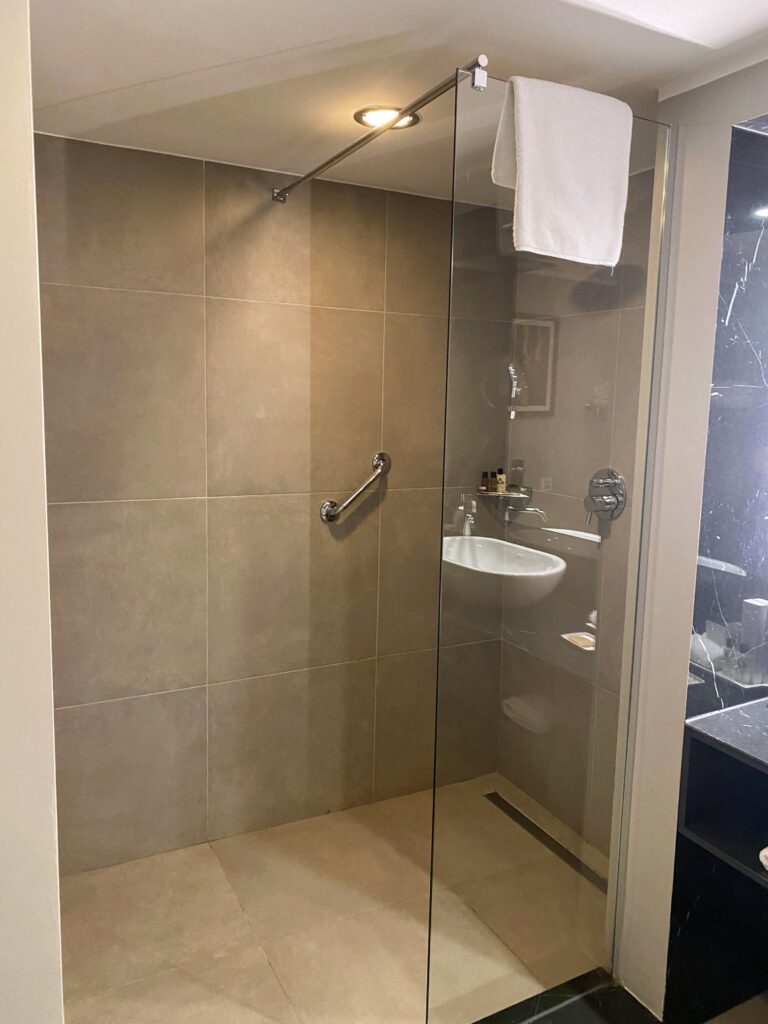 Toiletries were a bit of a mishmash of brands with most of them being the usual Agraria Lemon Verbena brand which I like the fresh scent of. The different brands are probably due to the fact that they will soon be doing away with individual toiletries and using large-size Byredo branded pumps instead.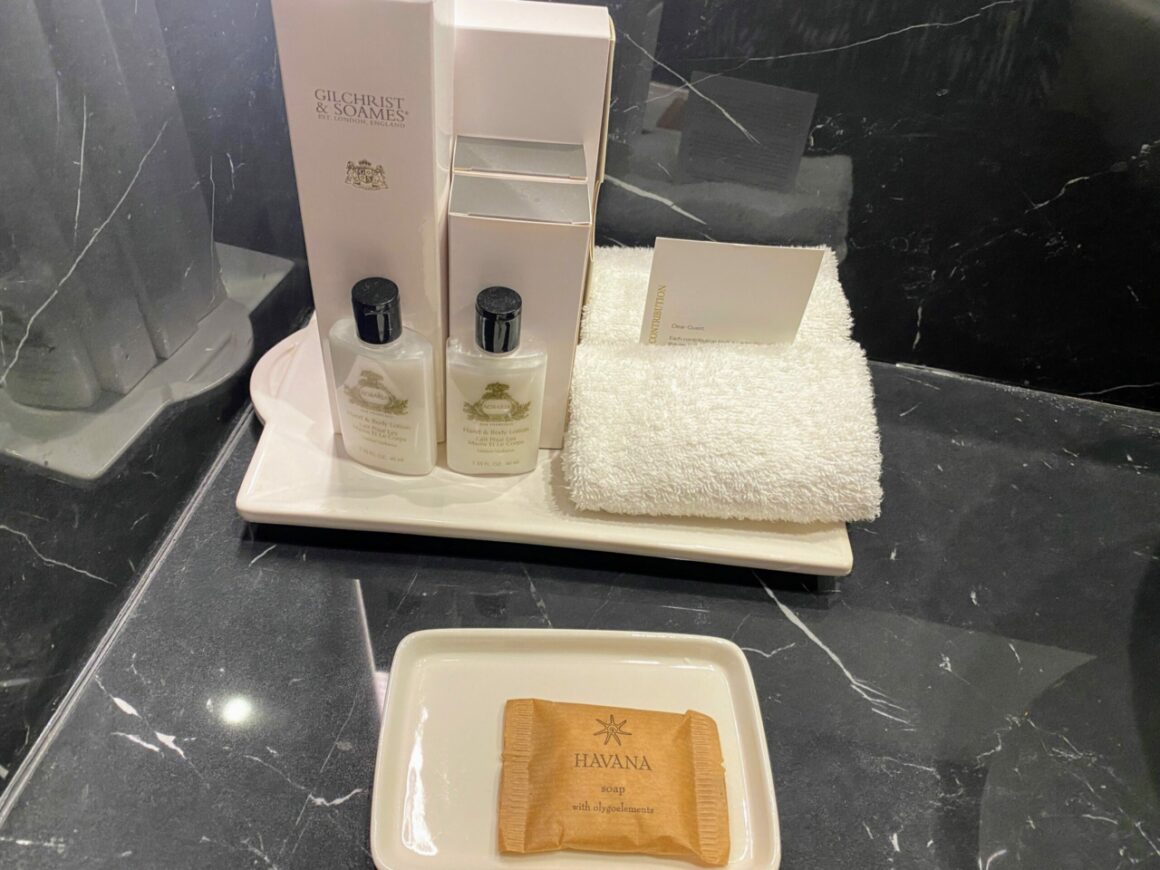 The balcony had a table and chairs and overlooked the gardens and main pool.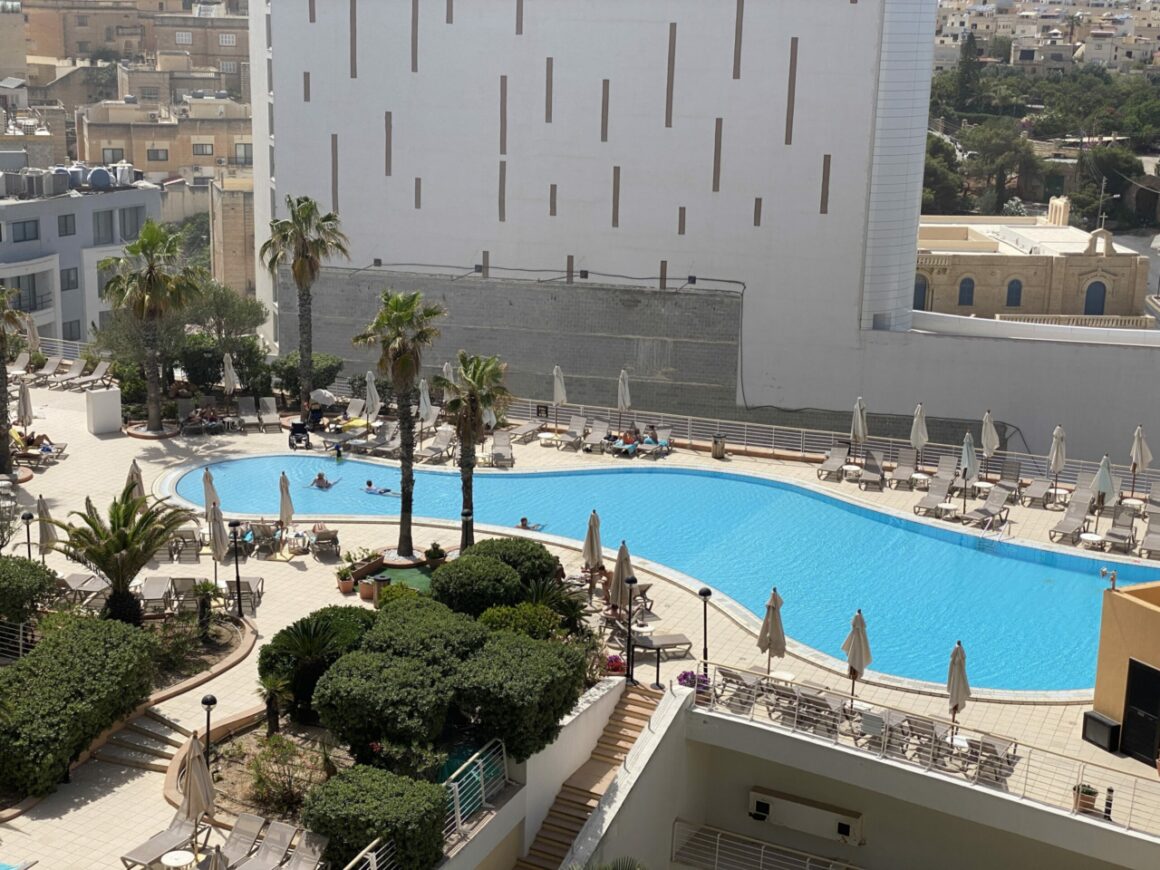 On the downside, the bed was one of the most uncomfortable beds I have ever slept on. It was like sleeping on concrete! When I looked, there was no mattress topper at all, not even a mattress protector. Seeing the sheet just straight on top of the mattress was very odd. I asked for a matress topper as it was so uncomfortable and all they had was what looked like a child's one which covered part of the bed. After trying to make myself understood that this was to go under the sheet to the non-English speaking housekeeper, we eventually got a bed that I could sleep in. I know I like a soft bed, but this was truly, very very hard!
I also did not receive any housekeeping on the first day but fortunately, I didn't really need it.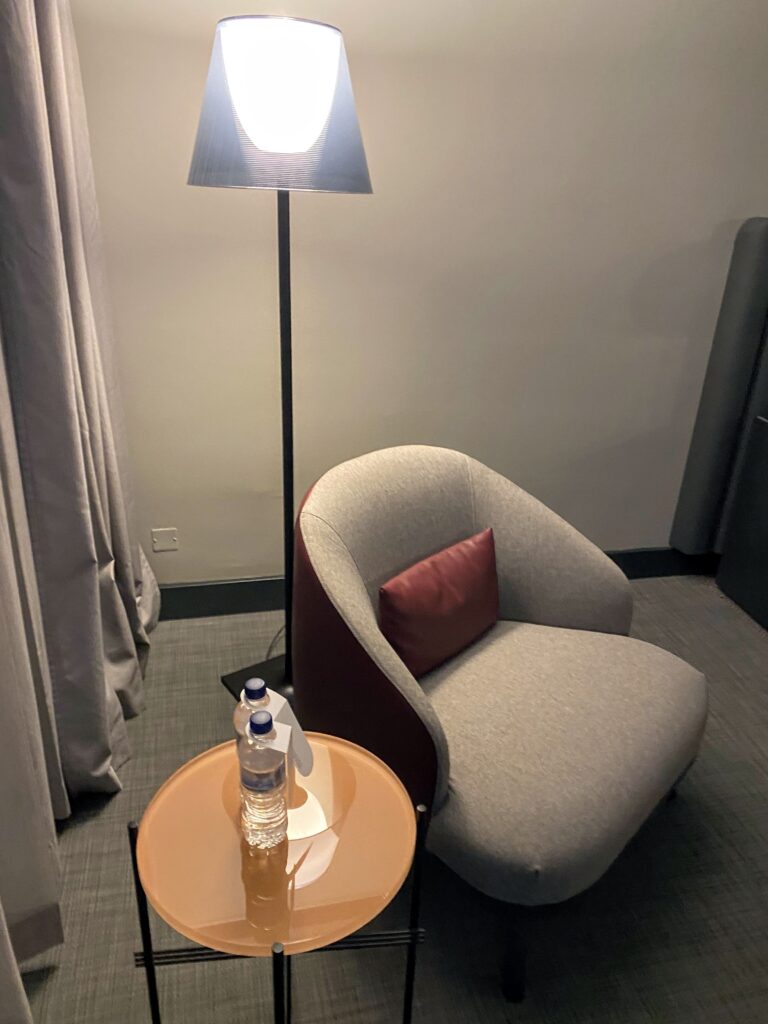 The other annoyance that I think is inexcusable in the current age, is that there were no sockets near the bed. So you either had to leave your phone on the desk or the floor to charge. Given how cheaply you could add a clock radio with a USB charging port or a USB bank, I think it's pretty poor.
I had issues with air conditioning that made a banging noise during the night. The next day I asked the front desk to send an engineer, but he wouldn't do anything as it wasn't doing it at the time he arrived as it was intermittent. Typically shortly afterwards, it started again. So back he came and "fixed" it. Again soon after it started making such a racket that I could hear it down the corridor by the lift! People on the phone could barely hear me over the noise! Eventually, later that day, after the third visit they fixed it properly.
The Club lounge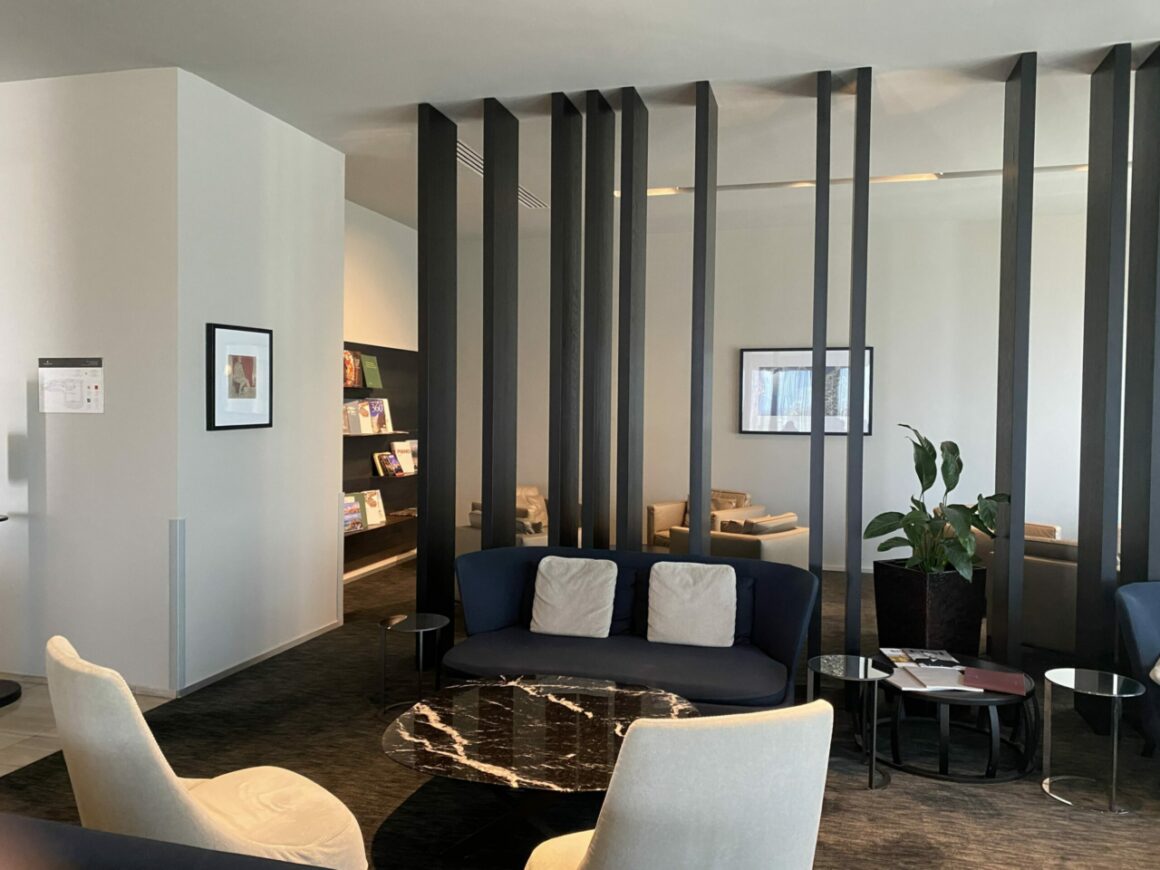 This was a huge highlight of the hotel and one of the best European ones I have been in. The staff were all lovely and could not do enough for you. The lounge was open for breakfast, afternoon tea and evening drinks and canapés.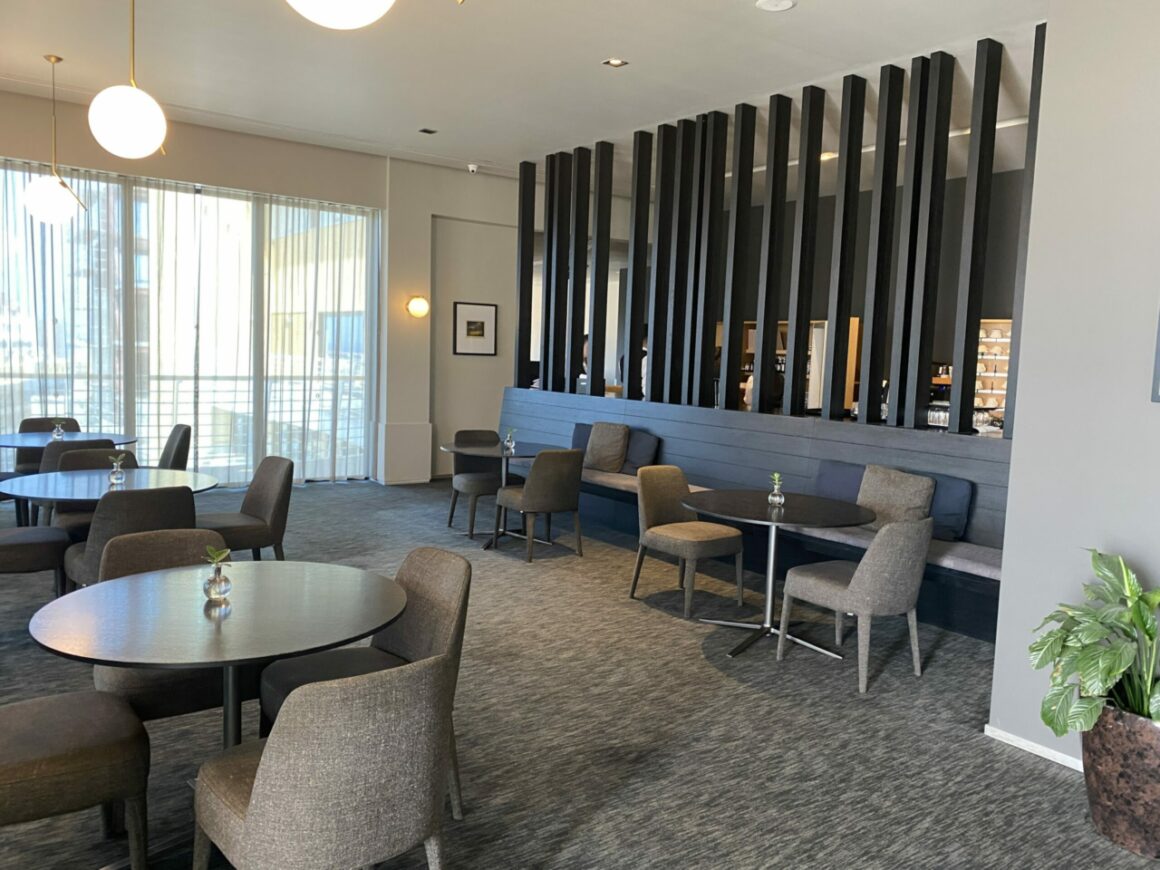 There was a large lounge with comfy sofas and tables and chairs. I particularly liked having the outdoor area as well. It's always a treat to have breakfast outside when you are abroad!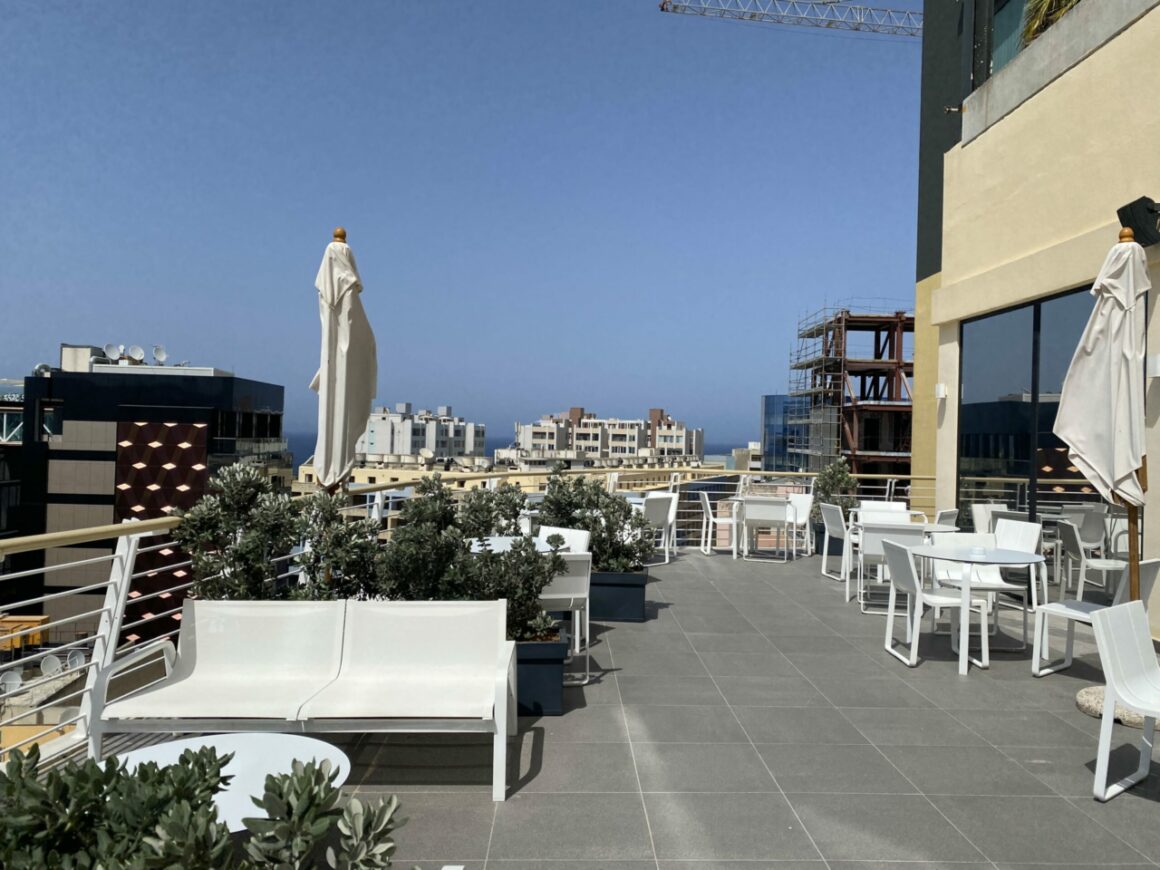 The breakfast was particularly good with a decent buffet selection and a full a la carte menu.
If you were in a hurry there were some hot items on the buffet, but if not, there were lots of choices on the menu. The buffet had cereals, pastries, fresh fruit, charcuterie, cheese, bread and salad.
I had the Eggs Benedict which were perfectly cooked and nicely presented. The coffees were also particularly good.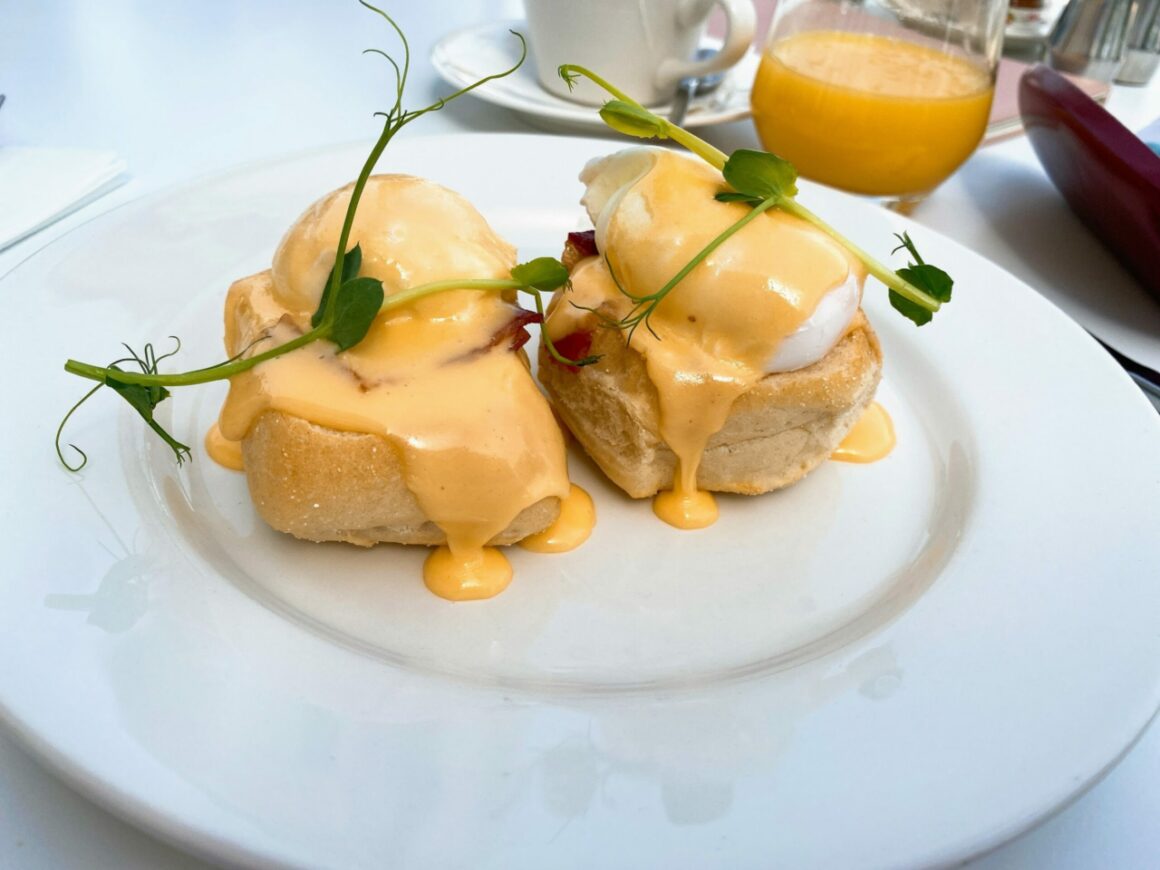 On the first day, I tried the afternoon tea which had a great selection of mini sandwiches and wraps, cakes and scones. My only complaint is very common in most countries outside the UK – sweetened whipped cream instead of clotted for the scones! Someone needs to tell chefs it's simple to make clotted cream! (you just bake it in the oven).
It was all beautifully presented too.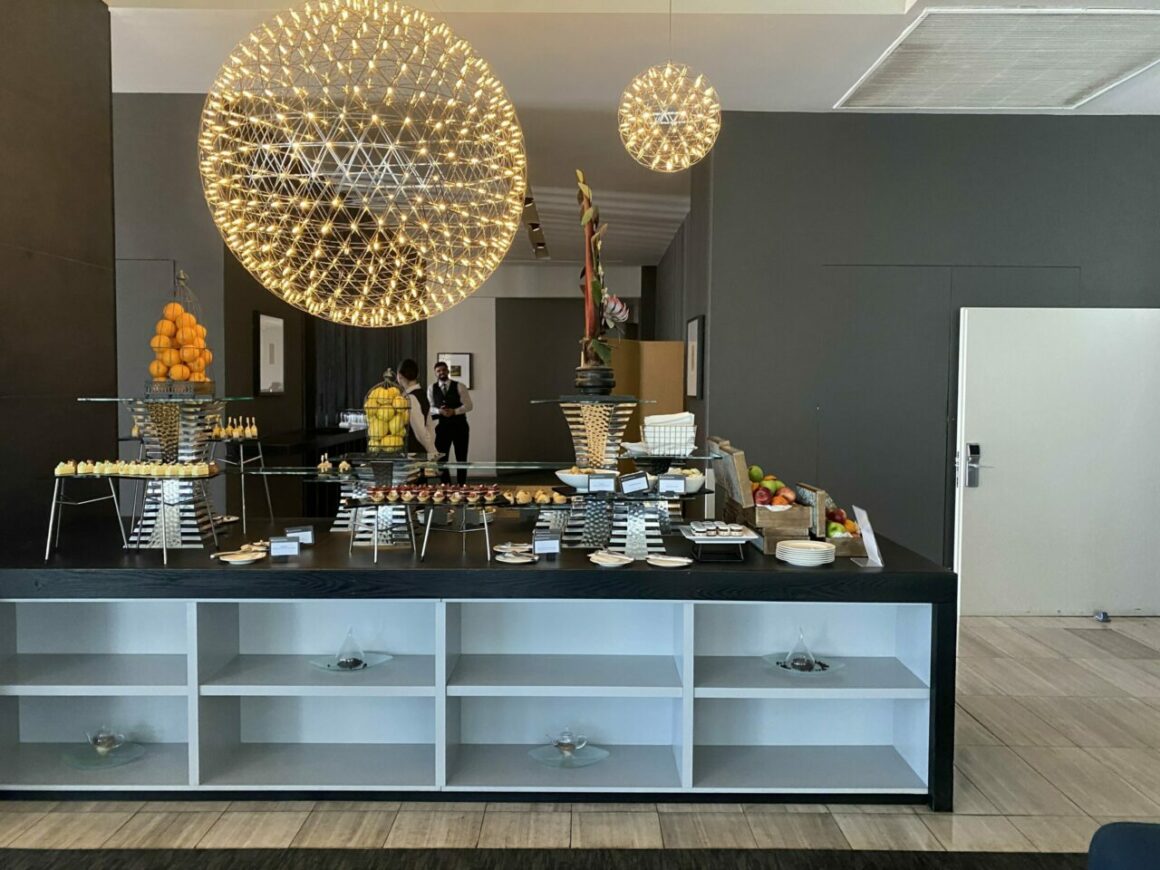 The buffet area reminded me a bit of a BA lounge with the lights! Drinks were offered at the table, which was nicer than making it yourself. The service was always very professional and friendly with plenty of top-ups offered and plates cleared promptly.
The food in the evening changed every night, but they were mainly variations on a theme. The hot food was usually something on skewers with a marinade, but it was generally very tasty.
There was a very good choice of drinks including a selection of red, white and rose wine, Prosecco or Heidsieck Monopole Champagne. There was even a moscato sweet wine. Here is the cocktail menu: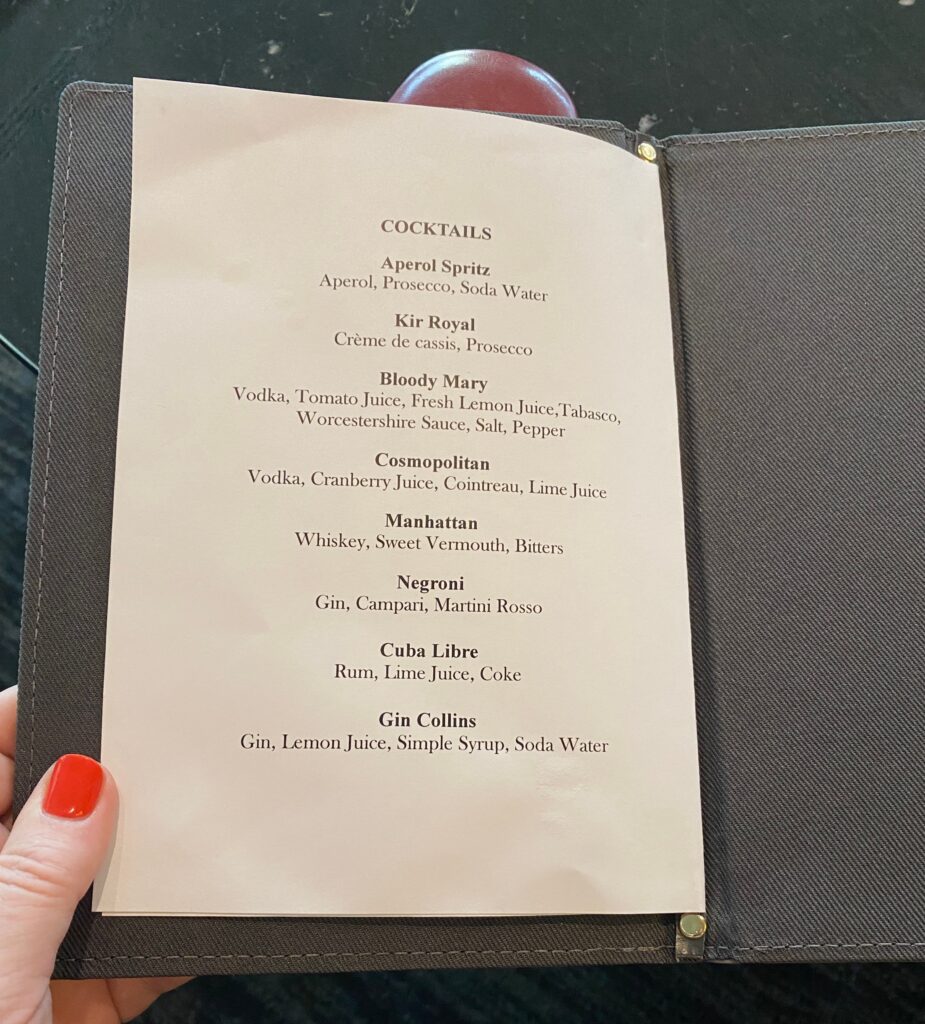 The staff were generally attentive at topping up your drinks and would come round at last orders for one last top up.
Dining and bars
The hotel has a wide variety of bars and restaurants including at the two pools, as well as the Waterbiscuit bar and restaurant and The Brass Bar in reception which was more of a cocktail bar. They also have facilities by the beach with the casual Beach Club as well as the Italian restaurant Paranga.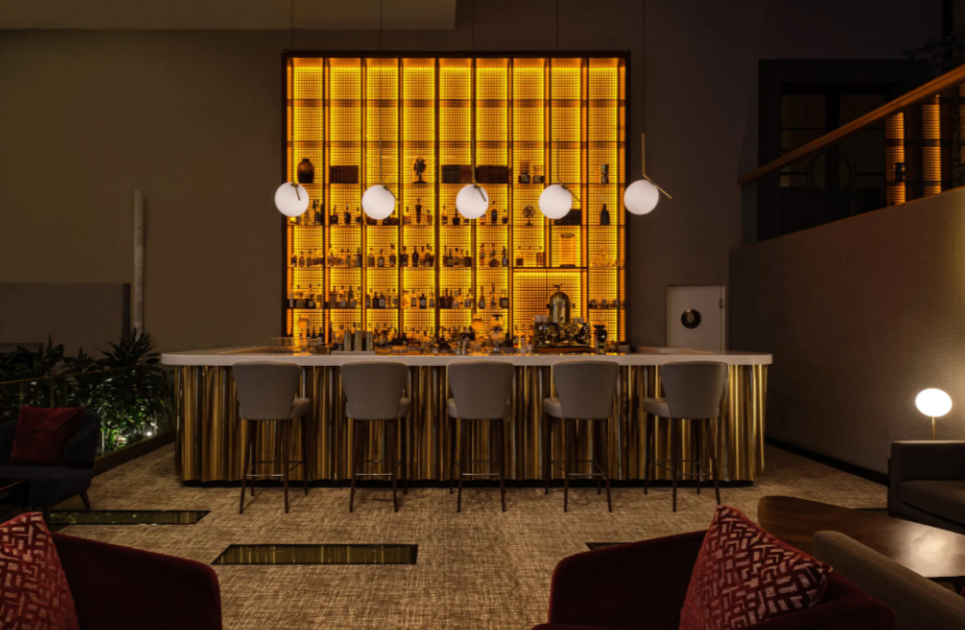 I ate at Paranga and really enjoyed it although the service was a little slow. It's a lovely setting if you get an outdoor table that are separated by greenery in their own booth-like area, so great for a romantic meal. The deck juts out by the water, so you can hear the waves lapping as you dine. There was a good variety of dishes from pasta to freshly caught fish.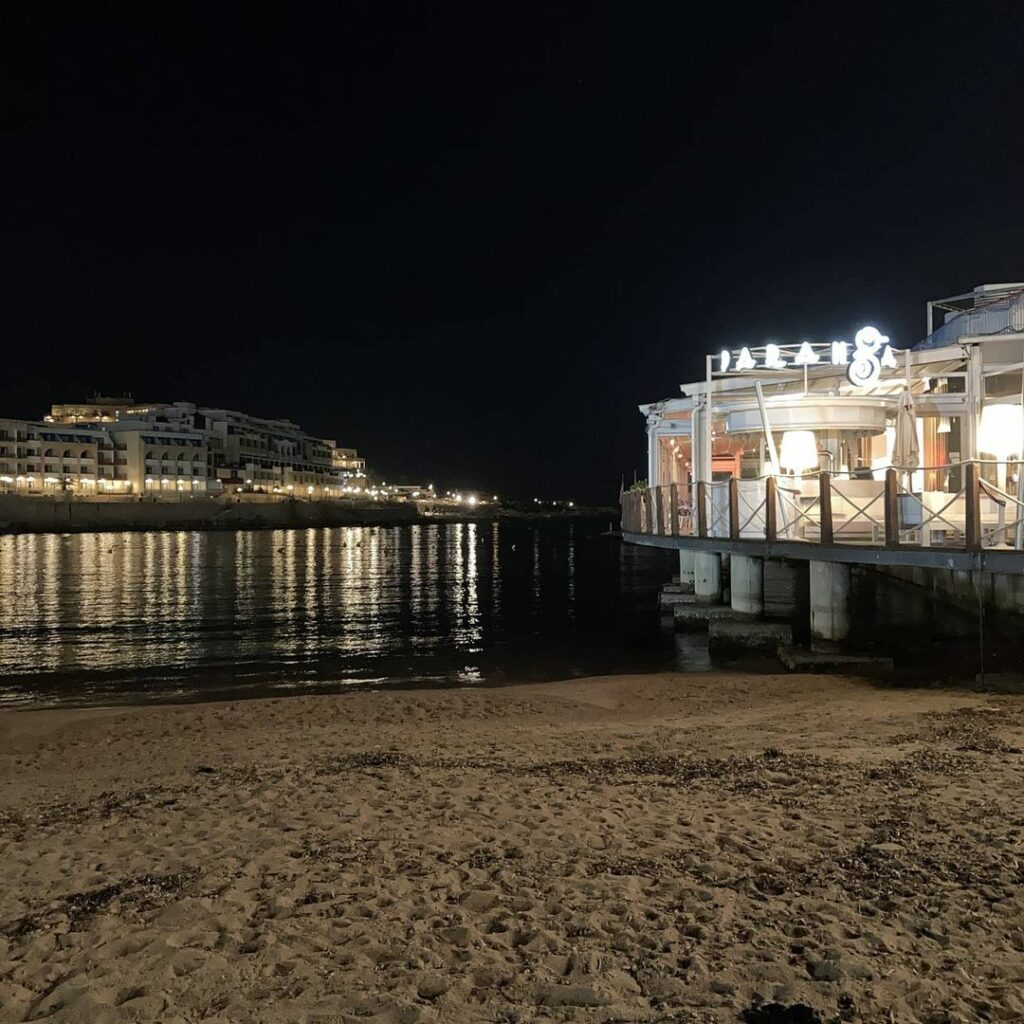 Facilities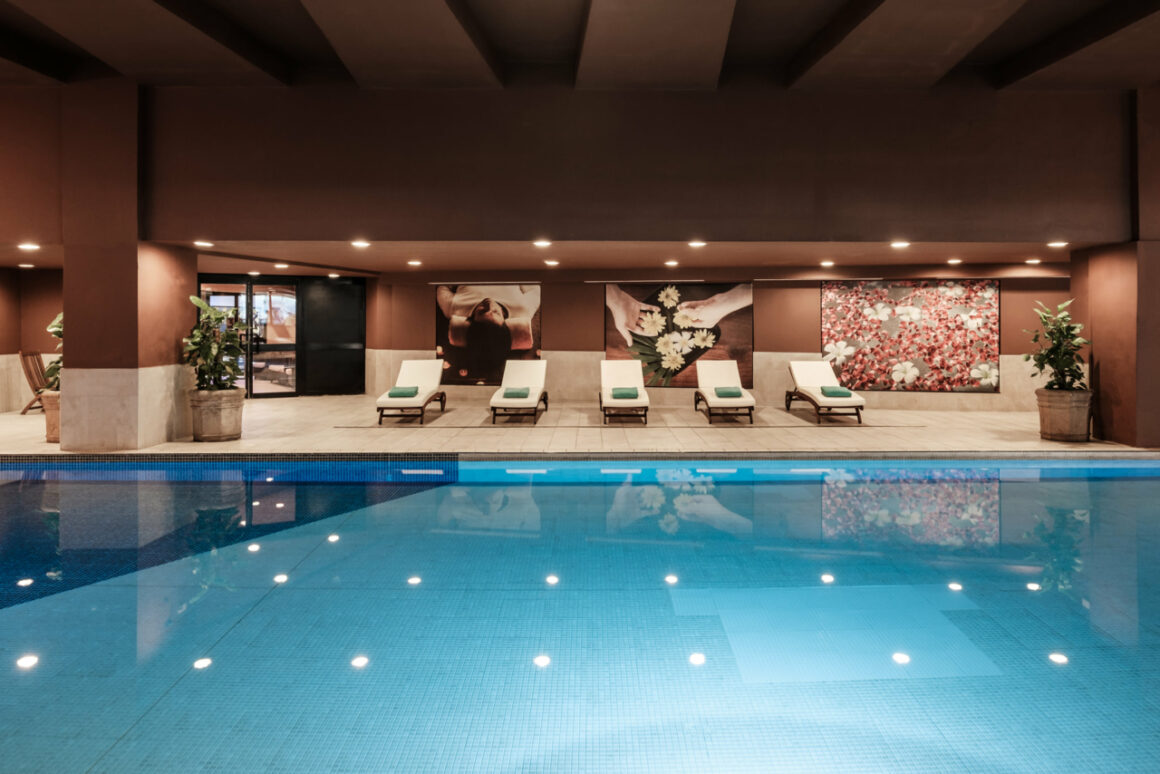 One thing the hotel is not short of is facilities. It may look quite small on the outside, but the hotel covers a wide area. There are three pools, two outdoor and one indoor.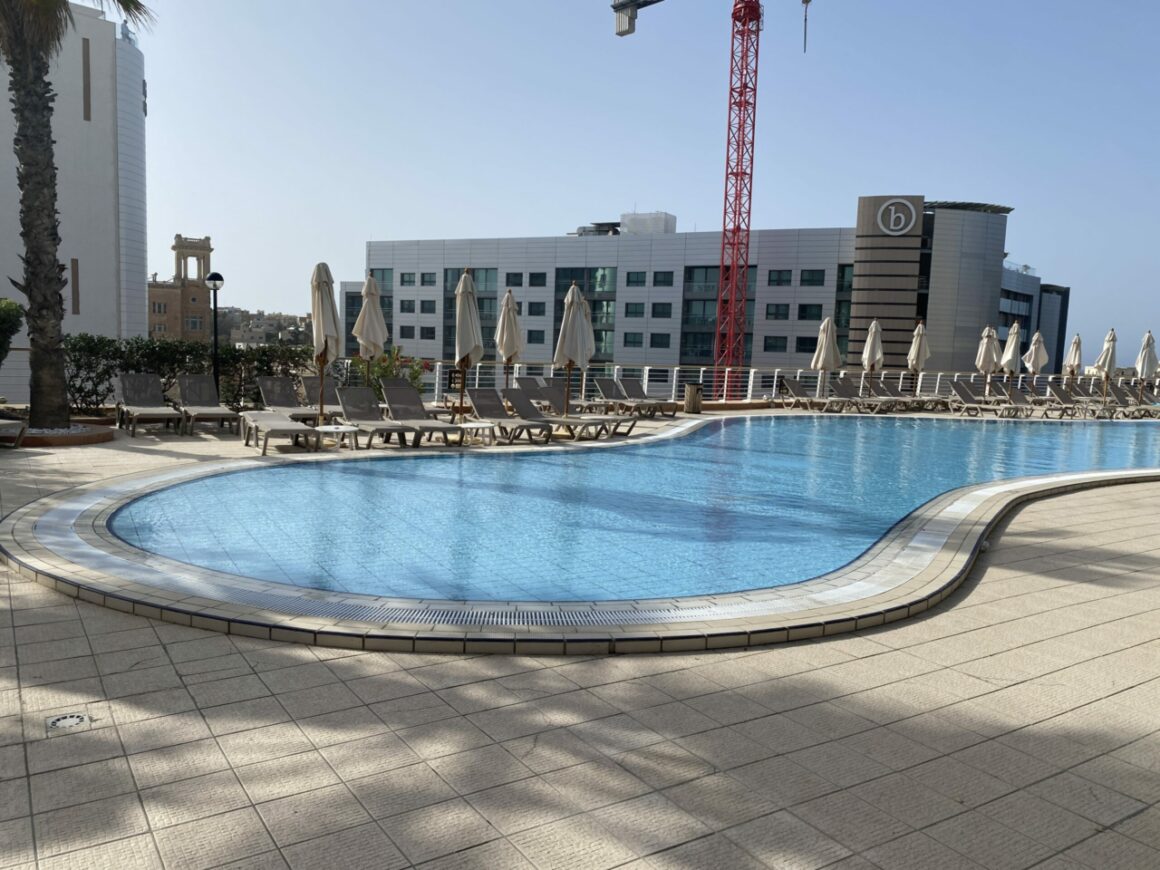 The main pool is open to everyone and operates on a towel card basis. I really don't think it's appropriate to work like this in a 5* hotel. Do they really think people want to steal their old towels? There was service around the pool for drinks and food, and it was fairly easy to get someone's attention, although they were not at all proactive. The pool felt warmer than the rooftop one which may be because it was very shallow in areas. You may notice the crane in the background – this is pretty much constant around St Julian's, but it didn't seem noisy.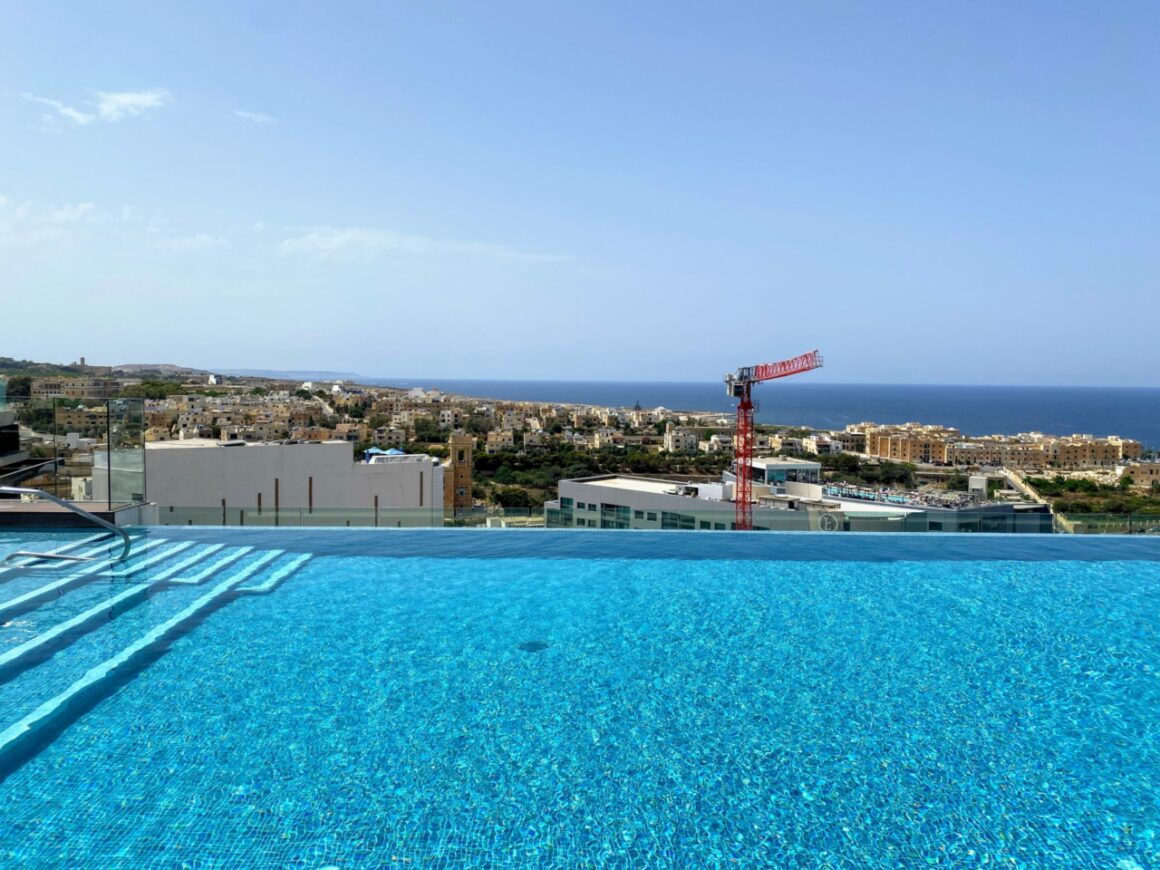 The other pool is on the rooftop and has more of a club vibe being named SKYBEACH. You can access this if you have a Club room or a suite for free. Otherwise, there is a minimum spend to visit. No towel cards are needed here!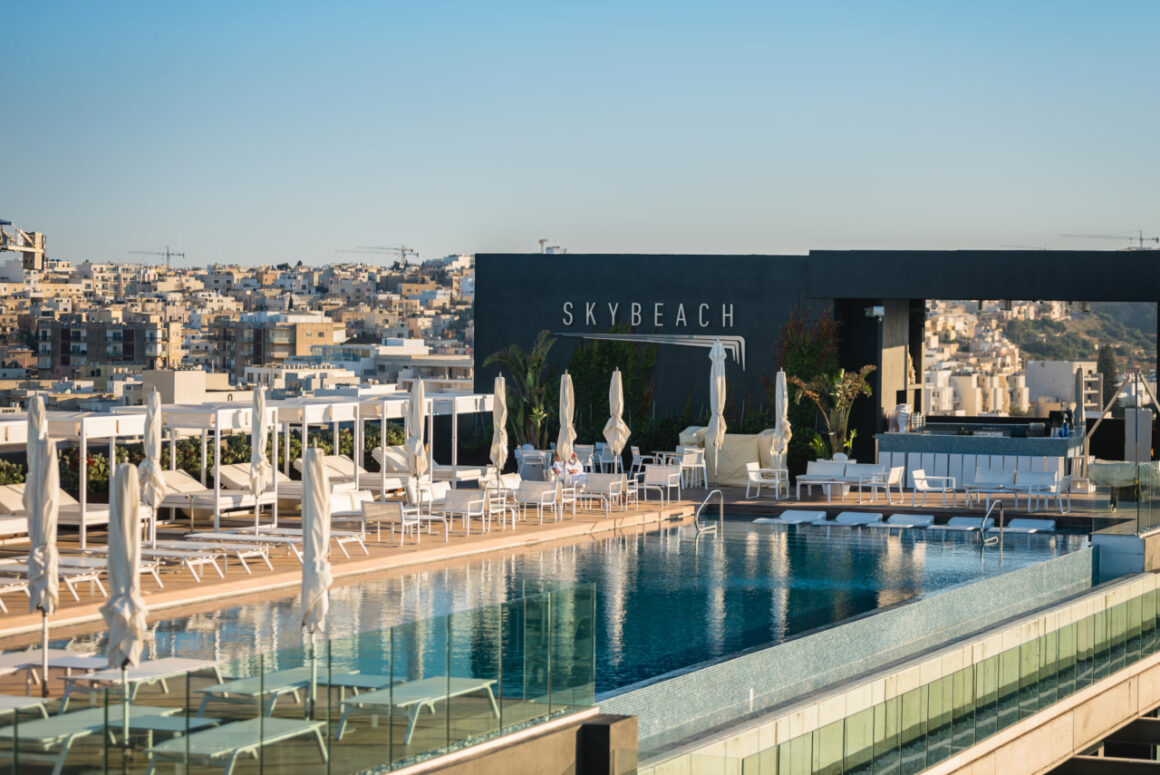 They were a bit sneaky as I ordered a prawn dish which they had run out of and they asked to substitute another prawn dish that was €45 which they failed to mention at the time! Luckily I had my hotel credit to spend, so it didn't really matter. I found the service quite slow, and it was hard to get someone's attention here.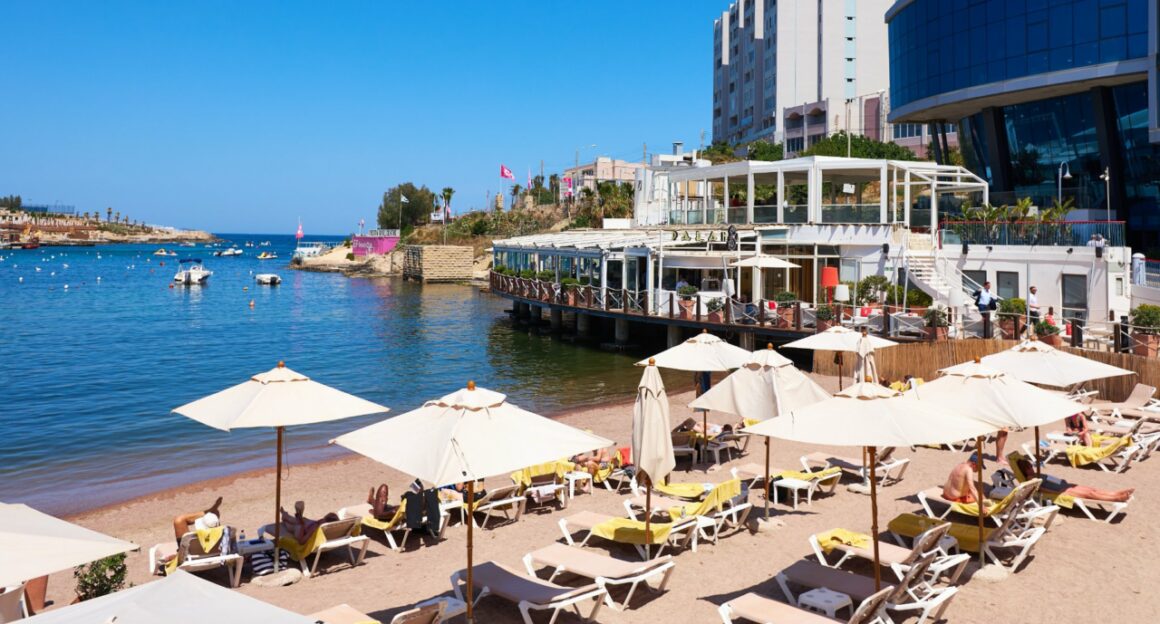 As well as the pools there is also a private beach club a few minutes walk away with a decent sandy beach and clear water. You can have food and drink service here too.
In terms of wellness, there is a very large well-equipped gym. If pampering is more your thing, the spa has a Hamman experience as well as a variety of treatments.
Finally, if you are on a family holiday there is also a kids club.
Conclusion
The Intercontinental is a real mixed bag with the rooms being the main downside for me. The location is great and there are lots of facilities on site including two decent outdoor pools. The thing that made it for me was the Club lounge and its staff. If it wasn't for that, I would not recommend staying there. But if you don't mind a firm bed or a bit of black and grey decor, then it could be the hotel for you if you want a central location, a proper sandy beach and a great club experience.
You can find more details and pricing here or ask GTC how to get the extra benefits on your booking here.
Like our Intercontinental Hotel Malta by IHG review? You can find more hotel reviews here.