I booked a variety of hotels for my Barbados trip. Partly to get reviews and also because I love trying out different hotels. Each one is like a new holiday! I'll be honest and say I was not that bothered about the Coral Reef Club before I went. It looked a little old fashioned to me. I had really wanted to stay at The Sandpiper. However, BA Holidays had a great deal for Coral Reef for a single room with half board so I went for that instead. So what did I think when I was actually there?
Location of The Coral Reef Club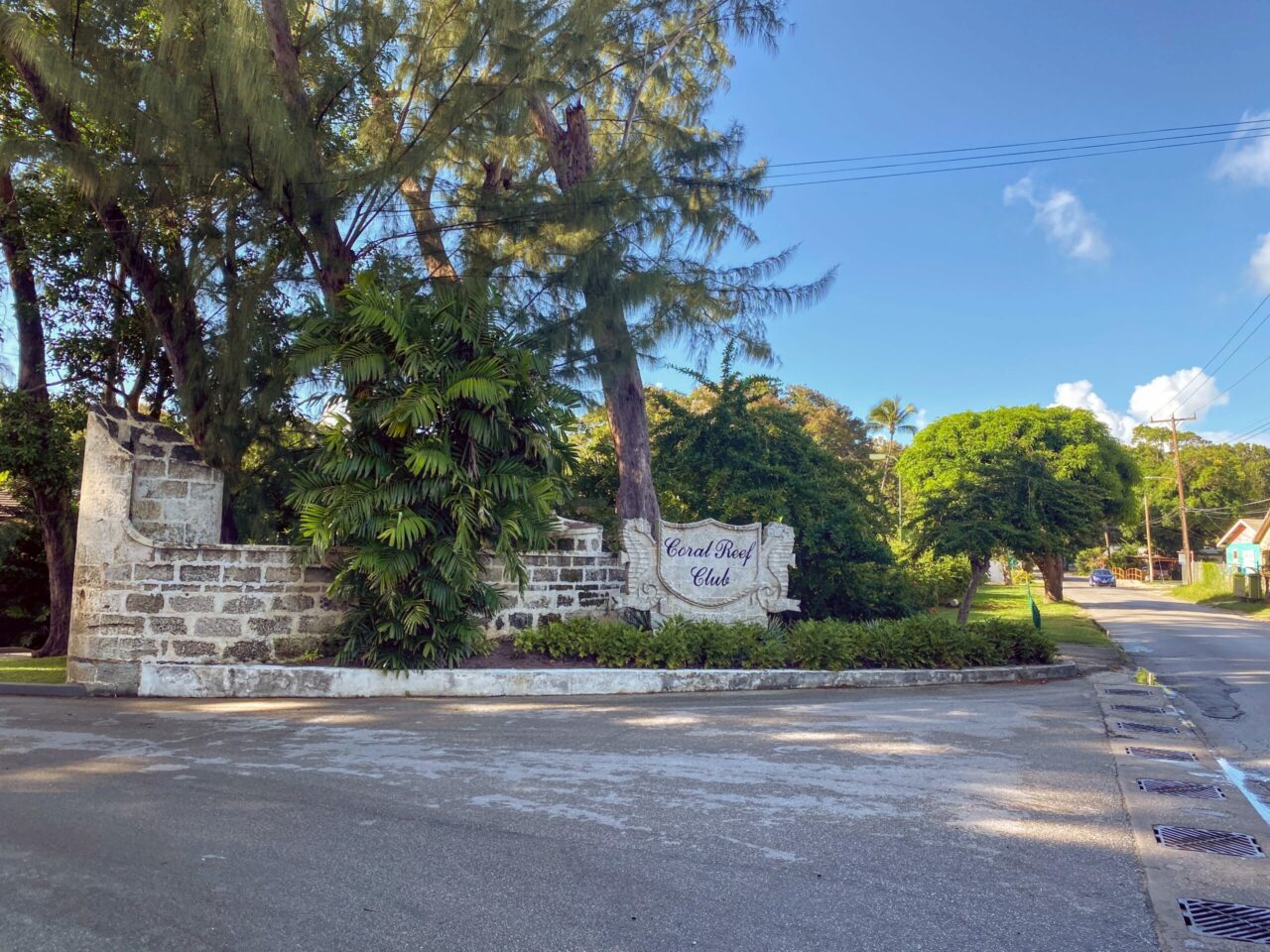 The location is great in terms of being near to plenty of other hotels if you weren't on half board or wanted to pop out for lunch. It's close to Holetown and next door to the Colony Club and about an 8 minute walk along the coastal pathway between the two sister hotels. It's also walking distance to The Tides, a great restaurant with amazing service.
Check-in at Coral Reef Club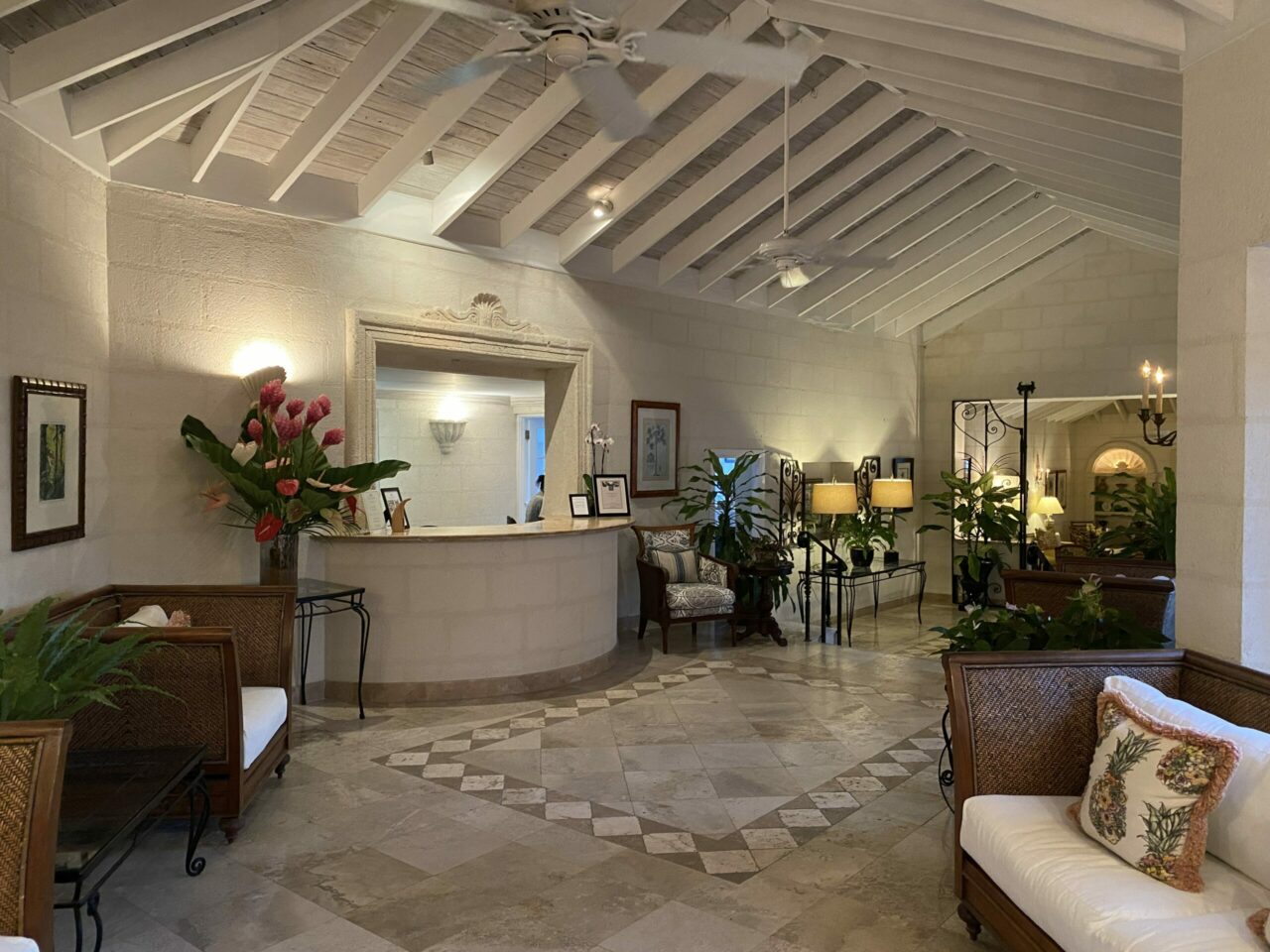 The Coral Reef Club is set on fairly large grounds with a tennis court and a separate spa building and a covered car park area. I drove up to the entrance to drop my bags off and after a short wait they were taken from the car. Unlike the Colony Club, they even parked my car for me. From the start, this felt like a true luxury hotel. At check-in an order was taken for my drink and I was immediately taken to my room without having to fill in any paperwork. I love hotels that do this! I could fill out the details in my room and then hand it in when I was next passing reception. I was also asked what sort of housekeeping service I wanted, so I went for the full Monty!
I was given a quick tour of the room and its facilities and then left to enjoy my rum punch! Throughout my stay, the reception staff were amazing and very friendly. They always remembered who I was when I went to ask anything.
The room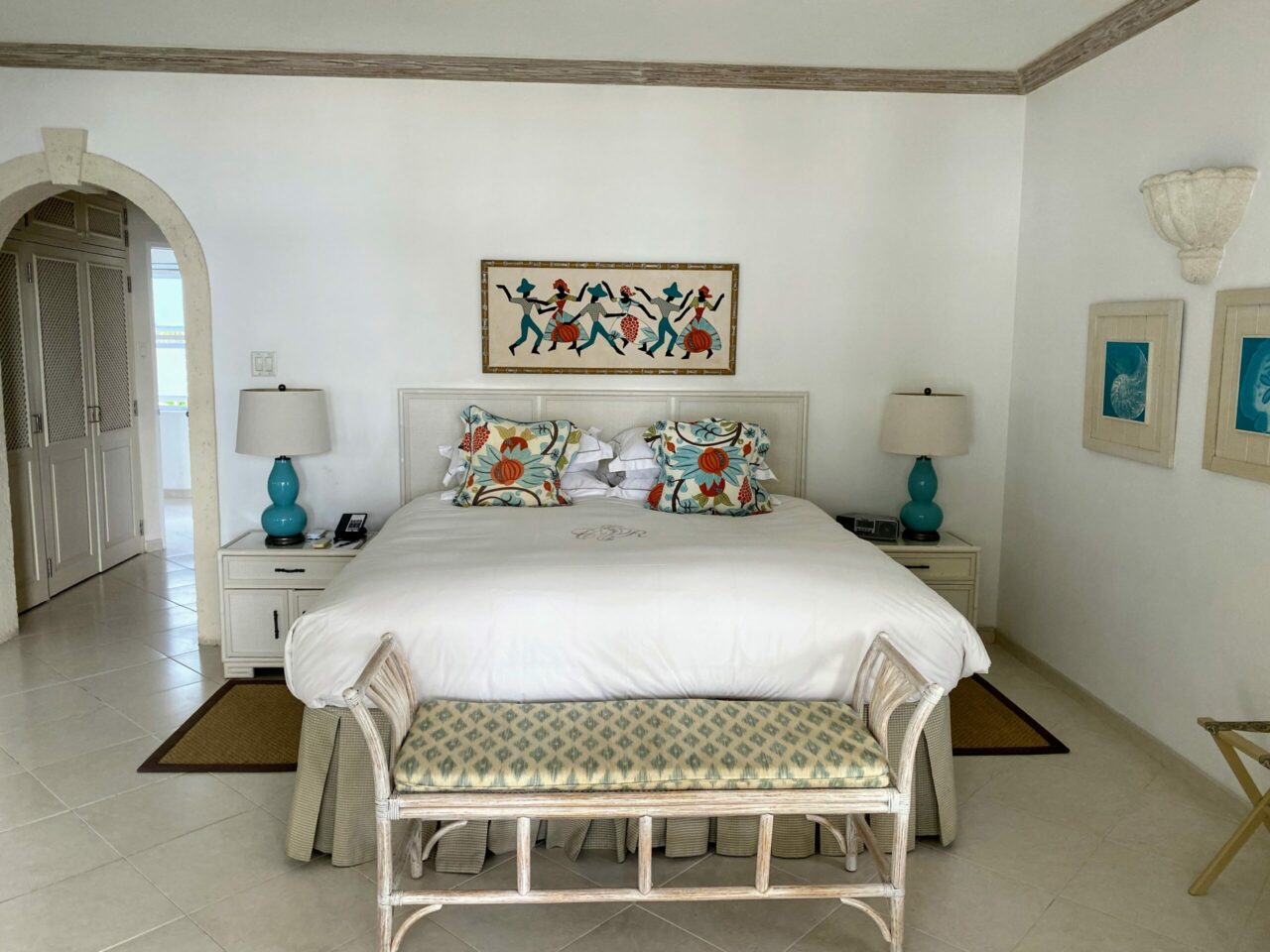 I was given an upgrade from the room I originally booked. The basic rooms are called a Garden room/cottage. I was upgraded to a Superior / Luxury Junior Suite with a sea view, though many of these only have a pool view. They also do larger suites and rooms or villas from 2 to 4 bedrooms.
The facilities in the rooms are quite different from most luxury hotels. There is no TV and no tea or coffee making either which is slightly odd. However, you can ask for them if you wish. As you enter there is plenty of wardrobe space and cupboards for storage. There was a large empty fridge and an isolated jug of water that is refilled twice a day. All the usual amenities were provided like robes, slippers, safe etc
I would describe the rooms as having a casual Caribbean elegance. Compared to the Fairmont's newly refurbished rooms, they did not feel as luxurious, but they did feel more like you were in the Caribbean. The bed was a bit on the hard side for my liking but the bed linen was very high quality and I loved the monogram on them.
There was a desk and a small seating area too, but I can't see why you would ever want to sit in your room (apart from maybe to cool off!).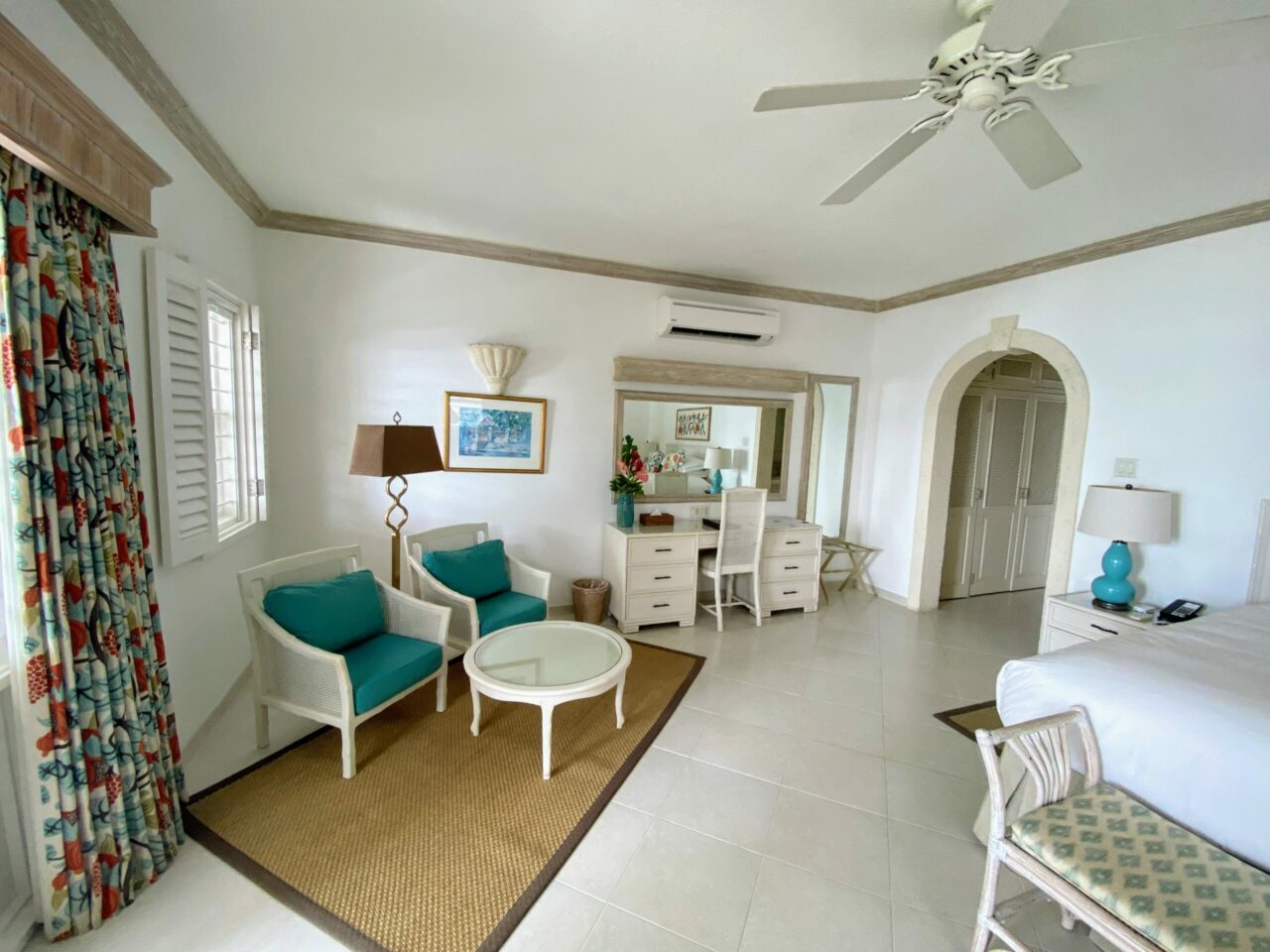 I was pleased to receive a turndown service when I returned from dinner. Let's face it most of the time it's a bit pointless, but it was nice to feel like I was back to the old luxury travel of pre-COVID! In this case, they topped up the water and swapped towels, so it was worth it.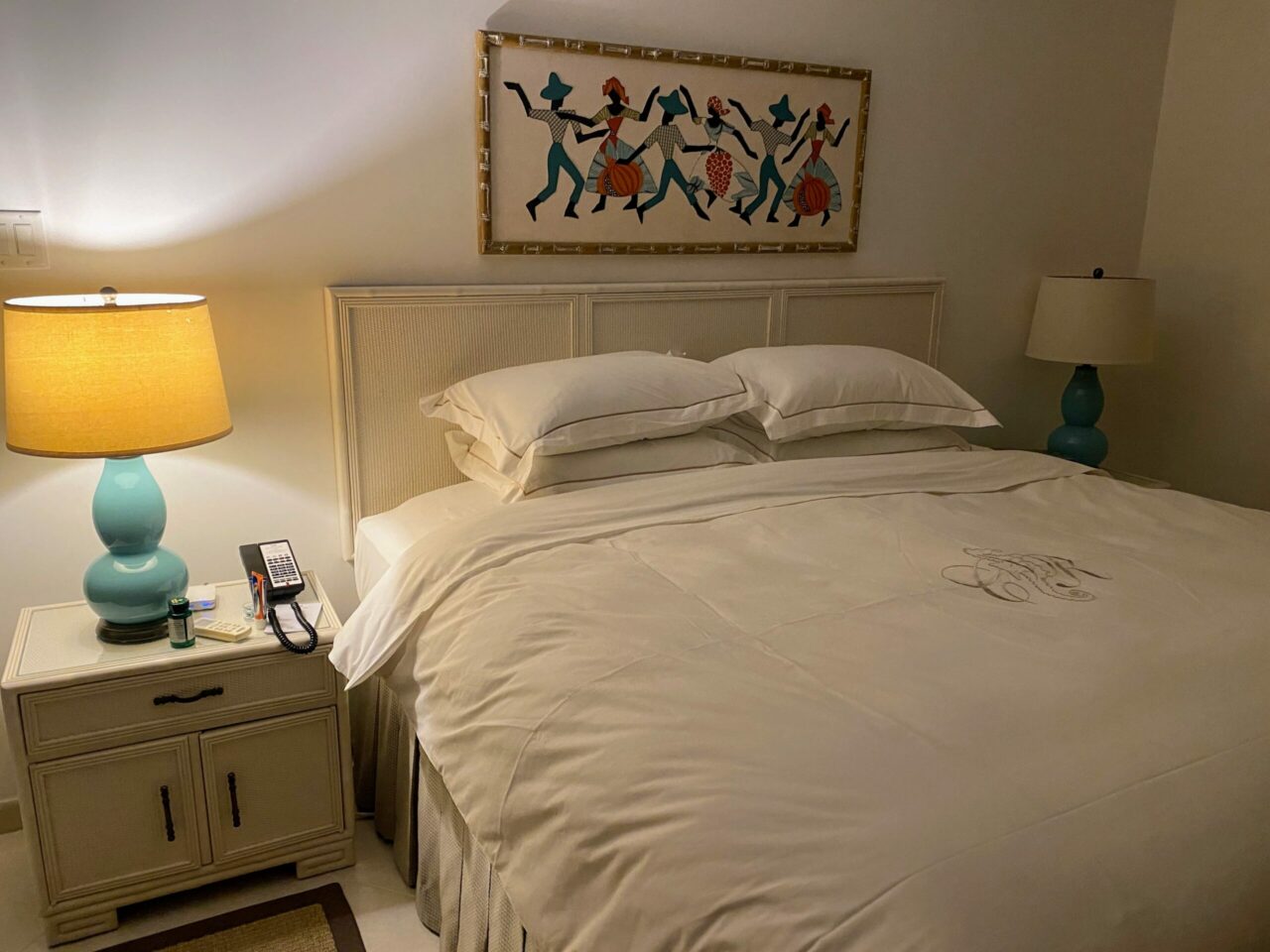 The bathroom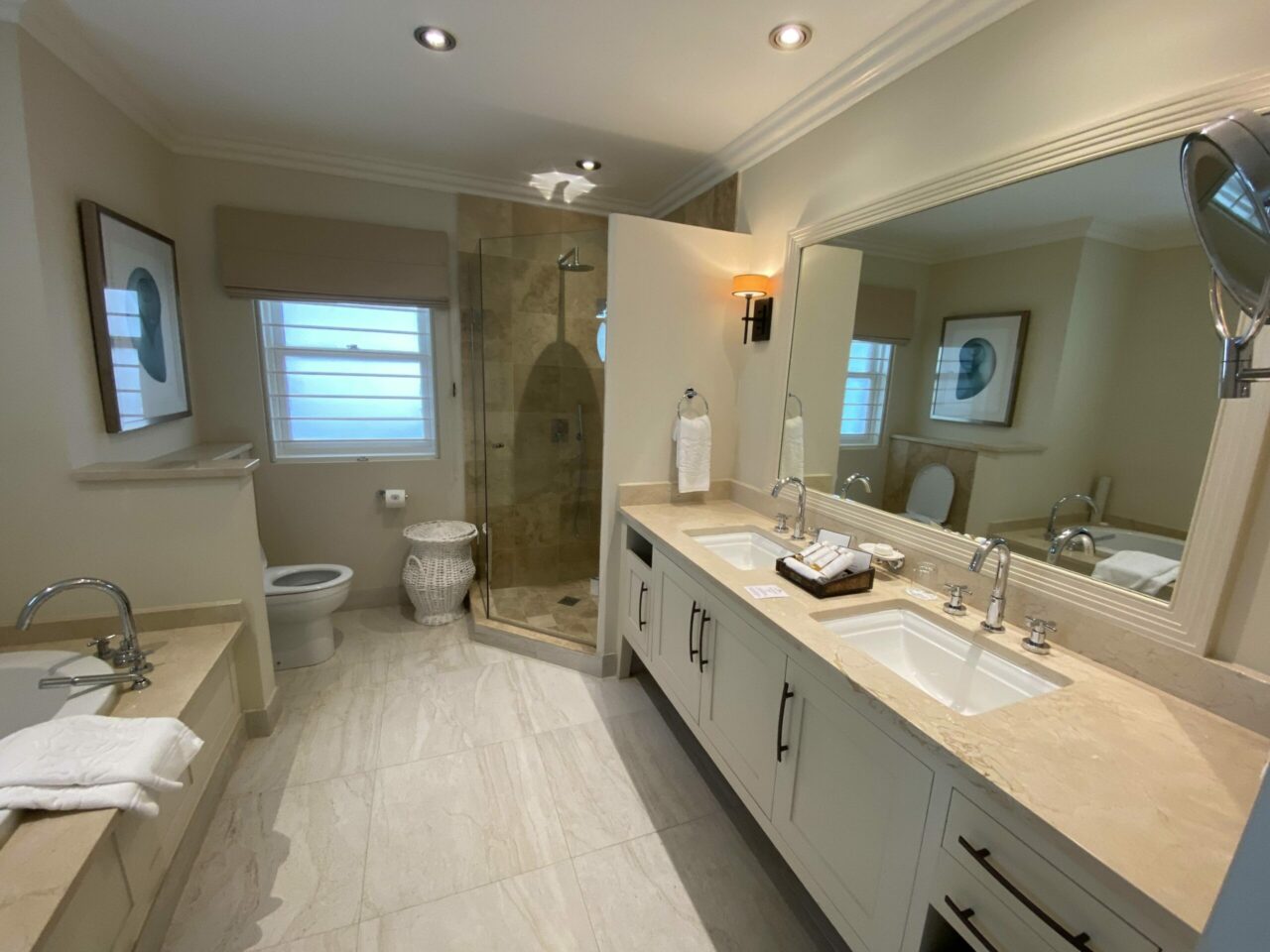 I was pleased to see a proper bath, the only other place I had seen one was the Fairmont. This was the perfect size for a decent soak, sometimes I find larger baths so big I keep slipping down in the water!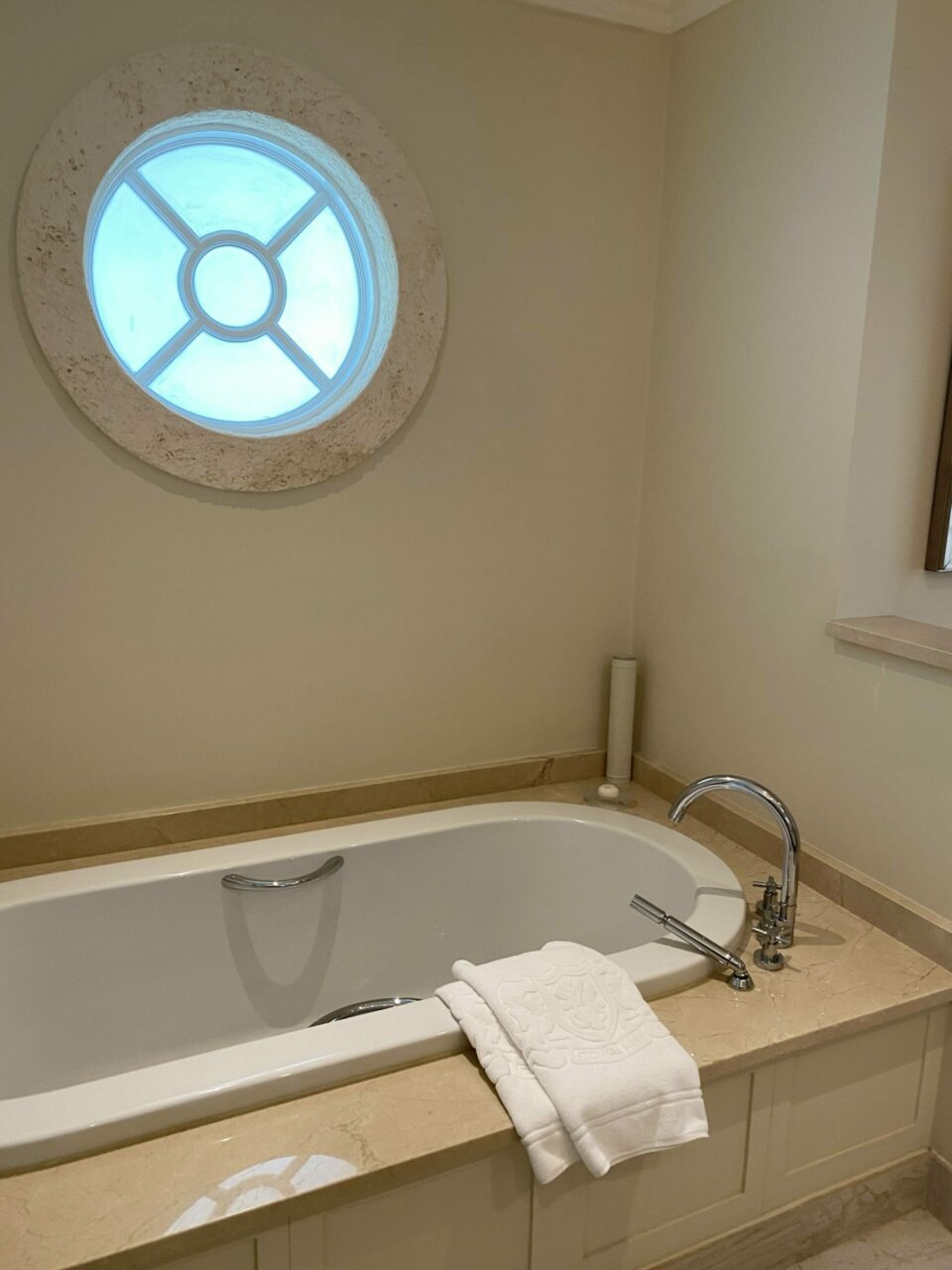 I liked the starfish in the shower as a decorative touch. The shower had good pressure and a handheld and rainfall showerhead. It was good that there was a large space to put your toiletries which is something hotels always seem to struggle with.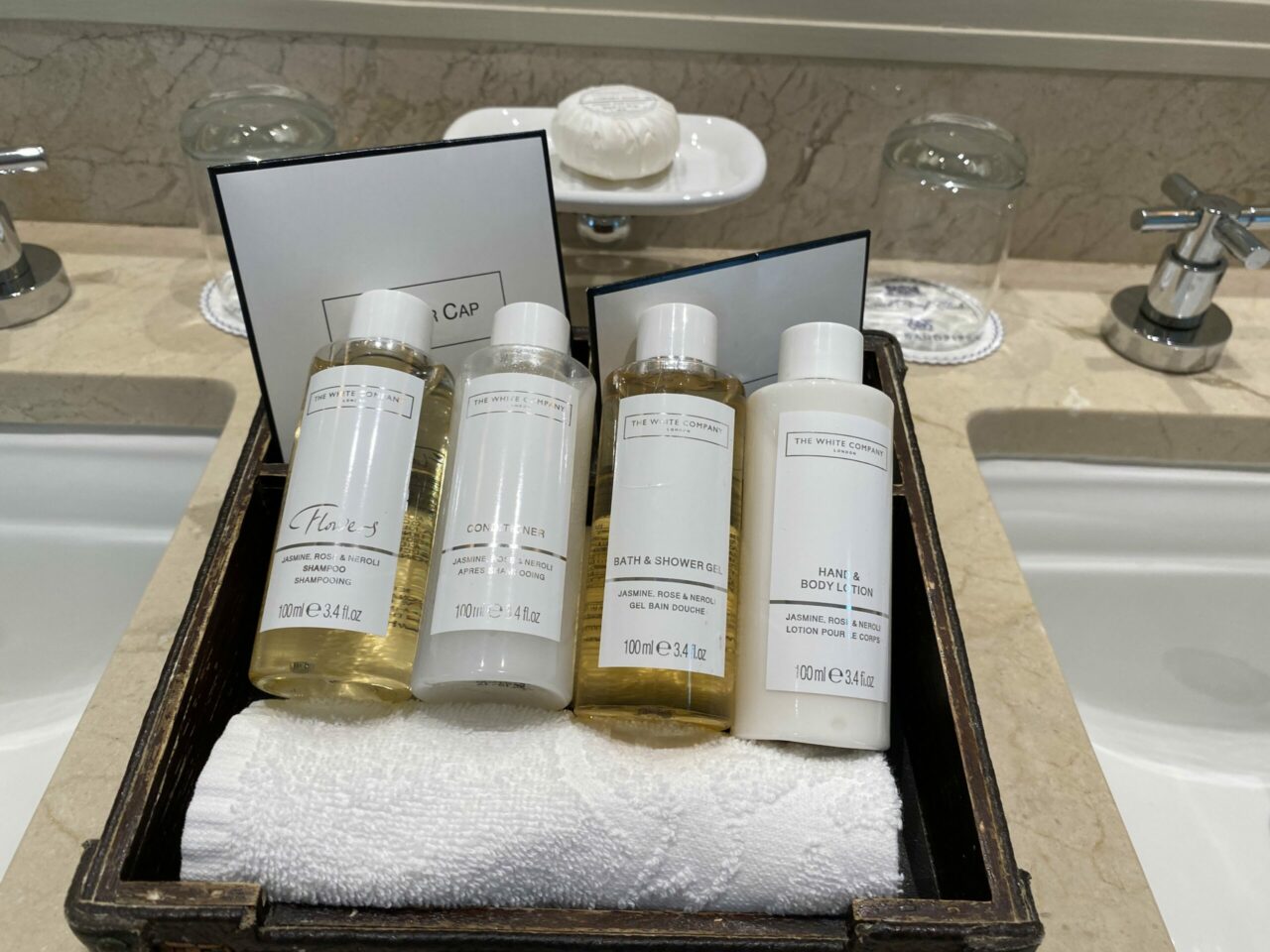 In fact, there was oodles of storage room in this bathroom. Even I couldn't use all the space up with my toiletries. I liked the fact that they had large size toiletries which I think is a good compromise on having the fixed dispensers that some hotels have started with. At the moment, I would prefer something that the previous guest has not been touching. These were enough to last around 5-7 days I would guess.
Food and drink at Coral Reef Club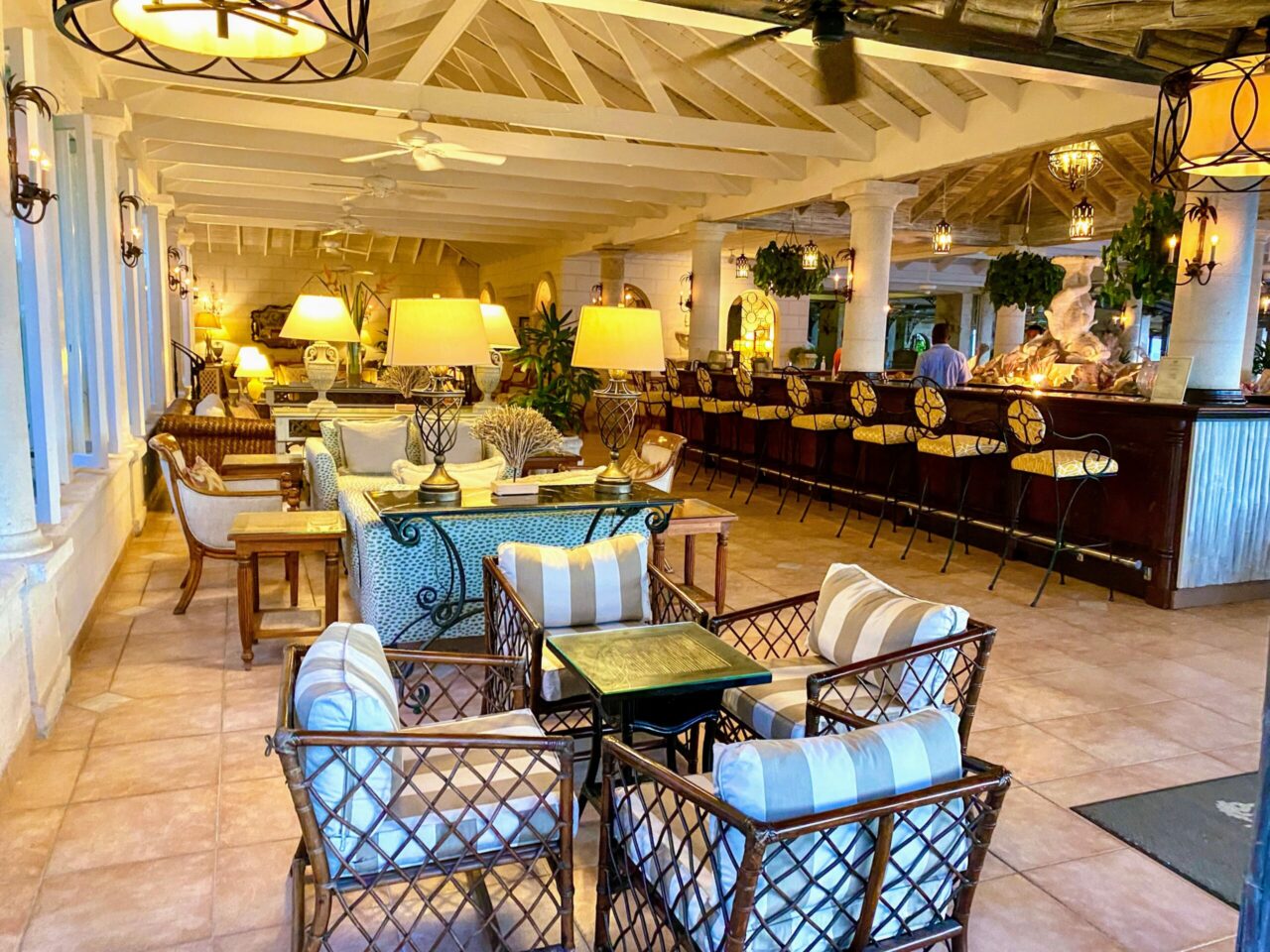 I loved the look of the restaurant and bar areas. It had a very colonial, elegant ambiance but still felt tropical. You walk through a courtyard with a lily filled pond to get there.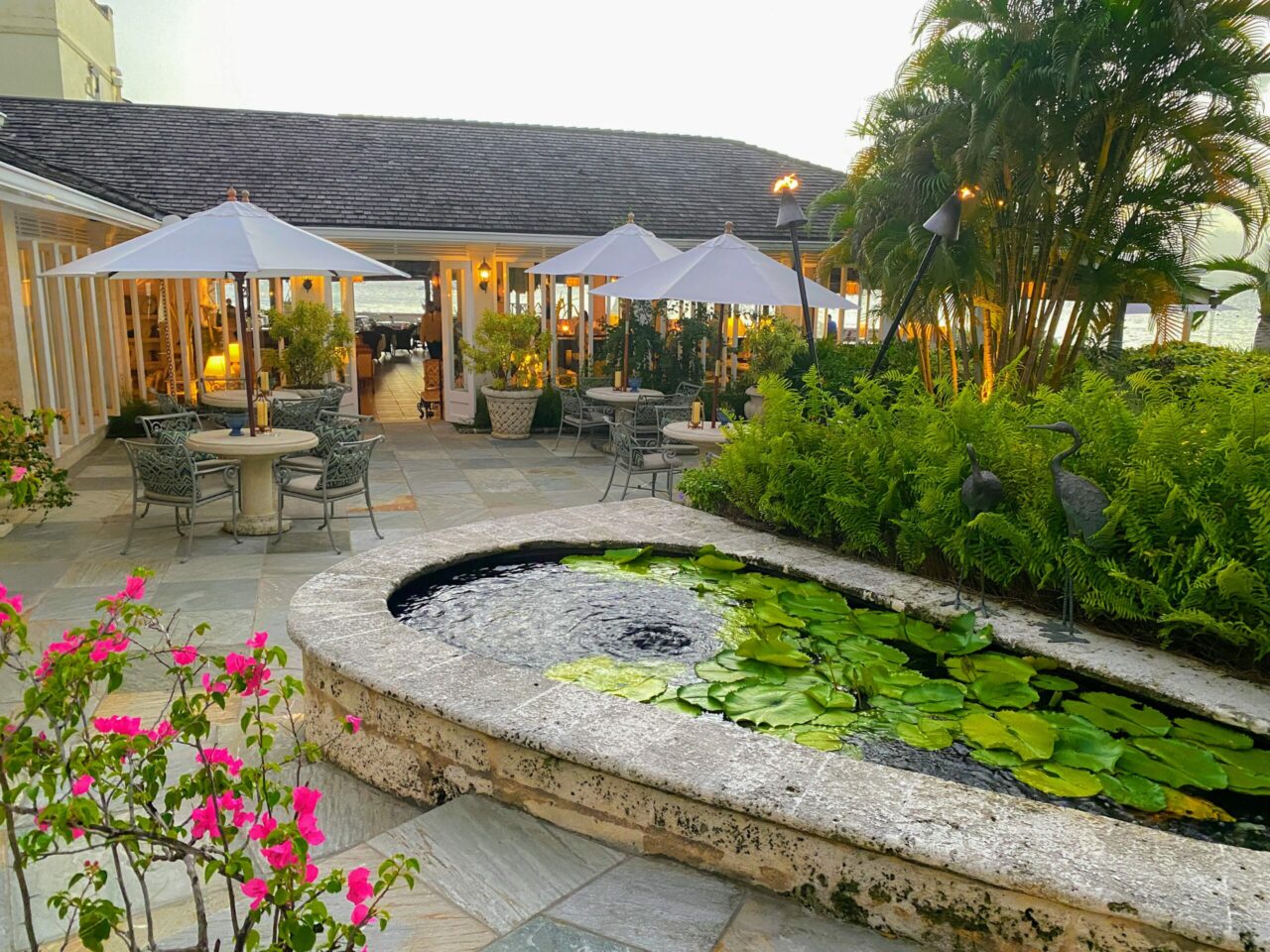 Breakfast
There was an extensive a la carte breakfast menu. It was nice to see coconut water available as an alternative to juice.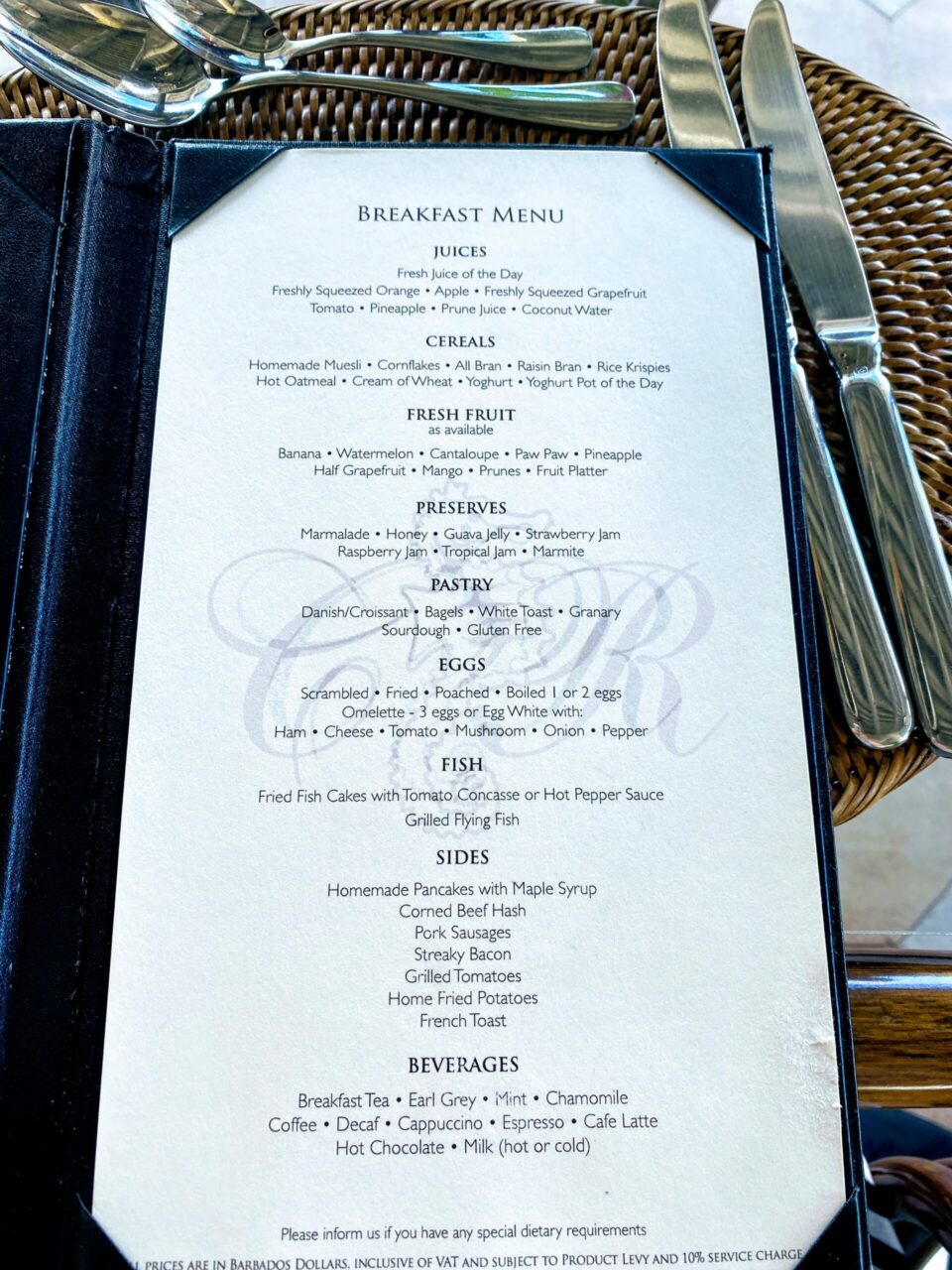 I also liked you could "pick n mix" your fruit. I ordered mango and got an enormous portion.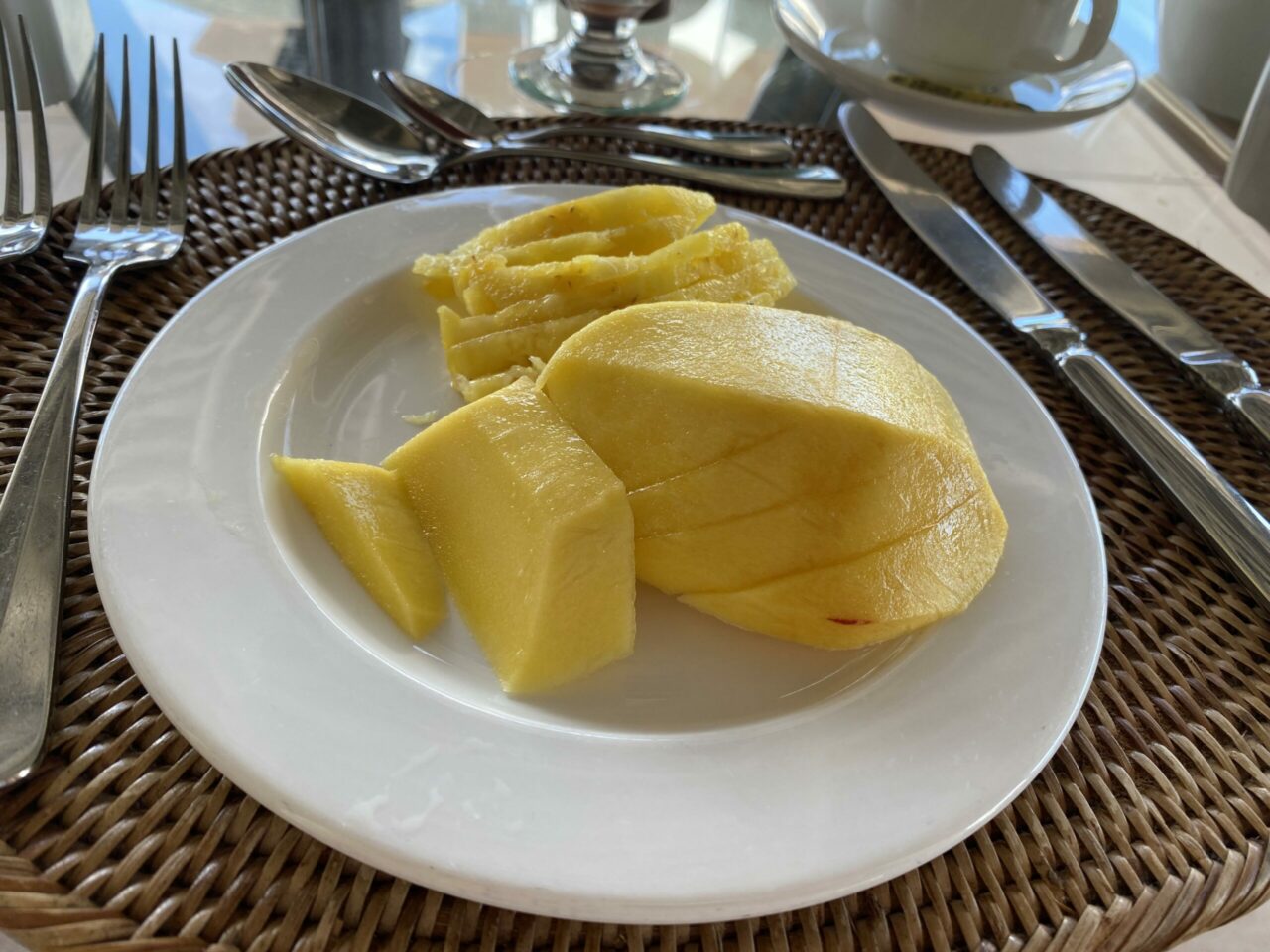 The corned beef hash was a little unusual being like fritters! I also loved the fact that they had two of my favourite things – sourdough toast and Marmite!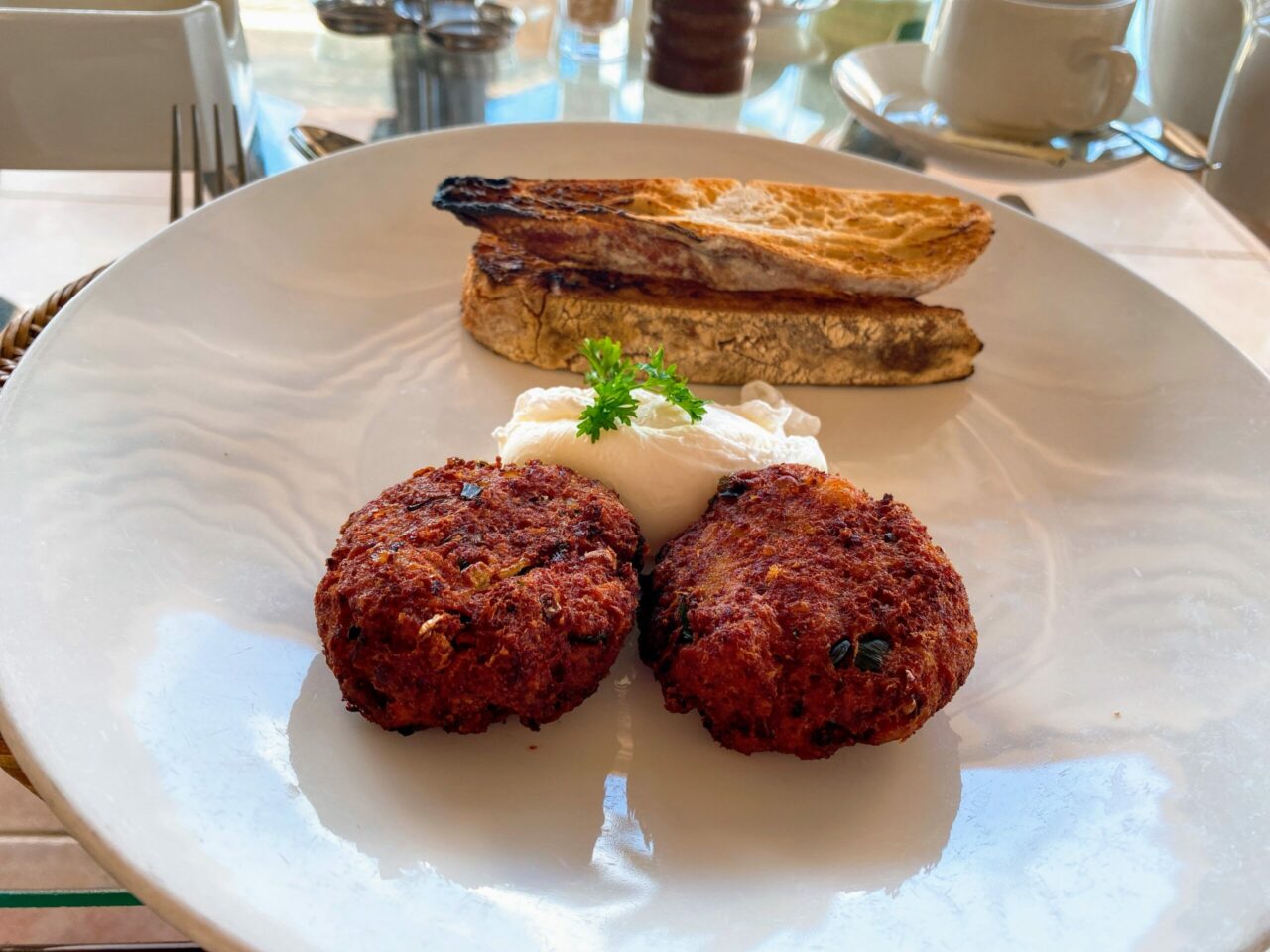 Lunch
During the day there was plenty of choices from a lighter snack to a more substantial meal (no scotch eggs though!)
I just went for one of the starters, but it was enough for a light lunch.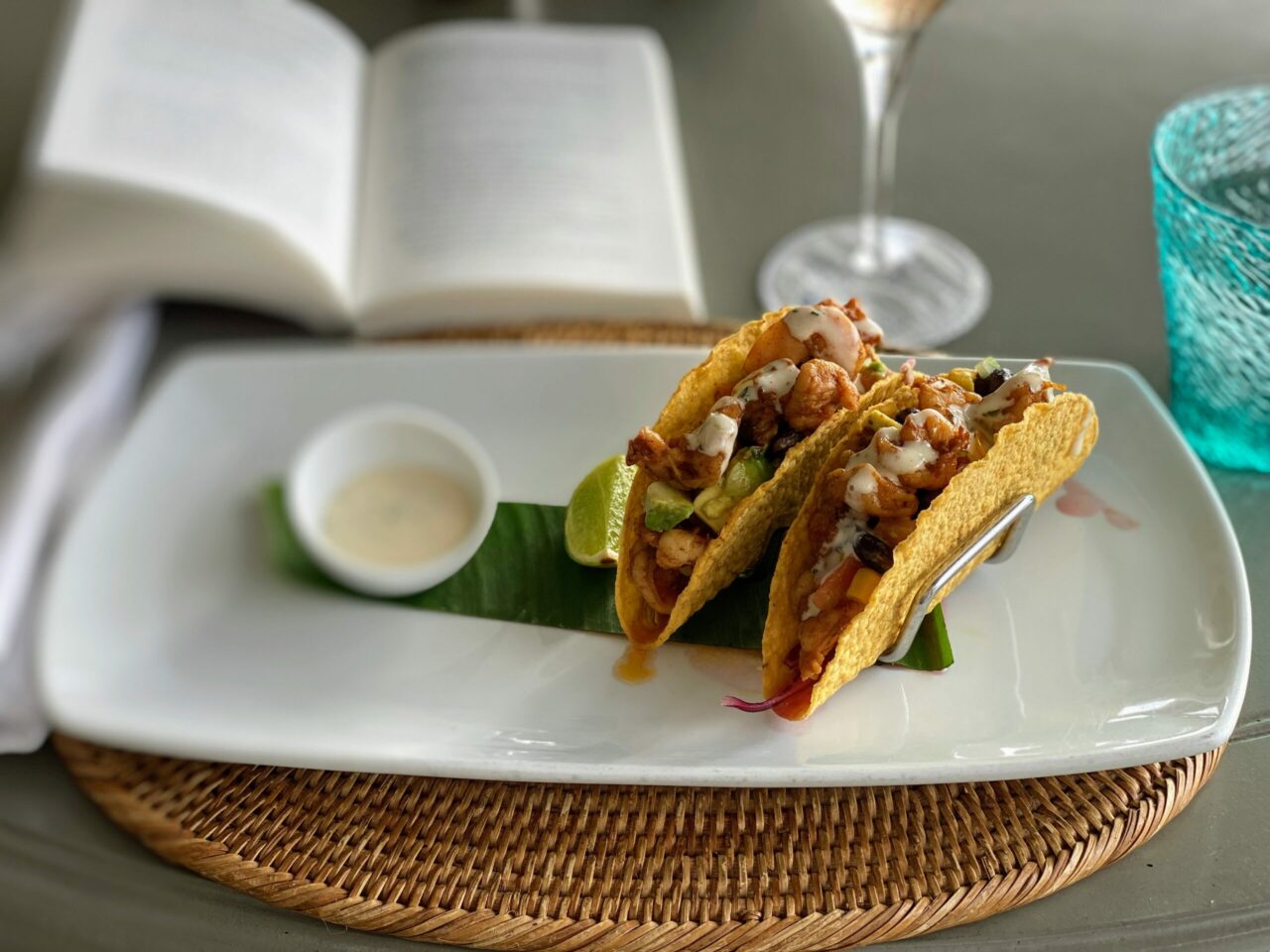 The staff were quite formal in the restaurant, and although they were polite and efficient, they were a little "stiff" for a holiday hotel. The exception was Damian who was fantastic and always had a little quip when he served me. After my second glass of wine he joked that I should have just ordered the bottle – he obviously got the gist of me very quickly!!
Dinner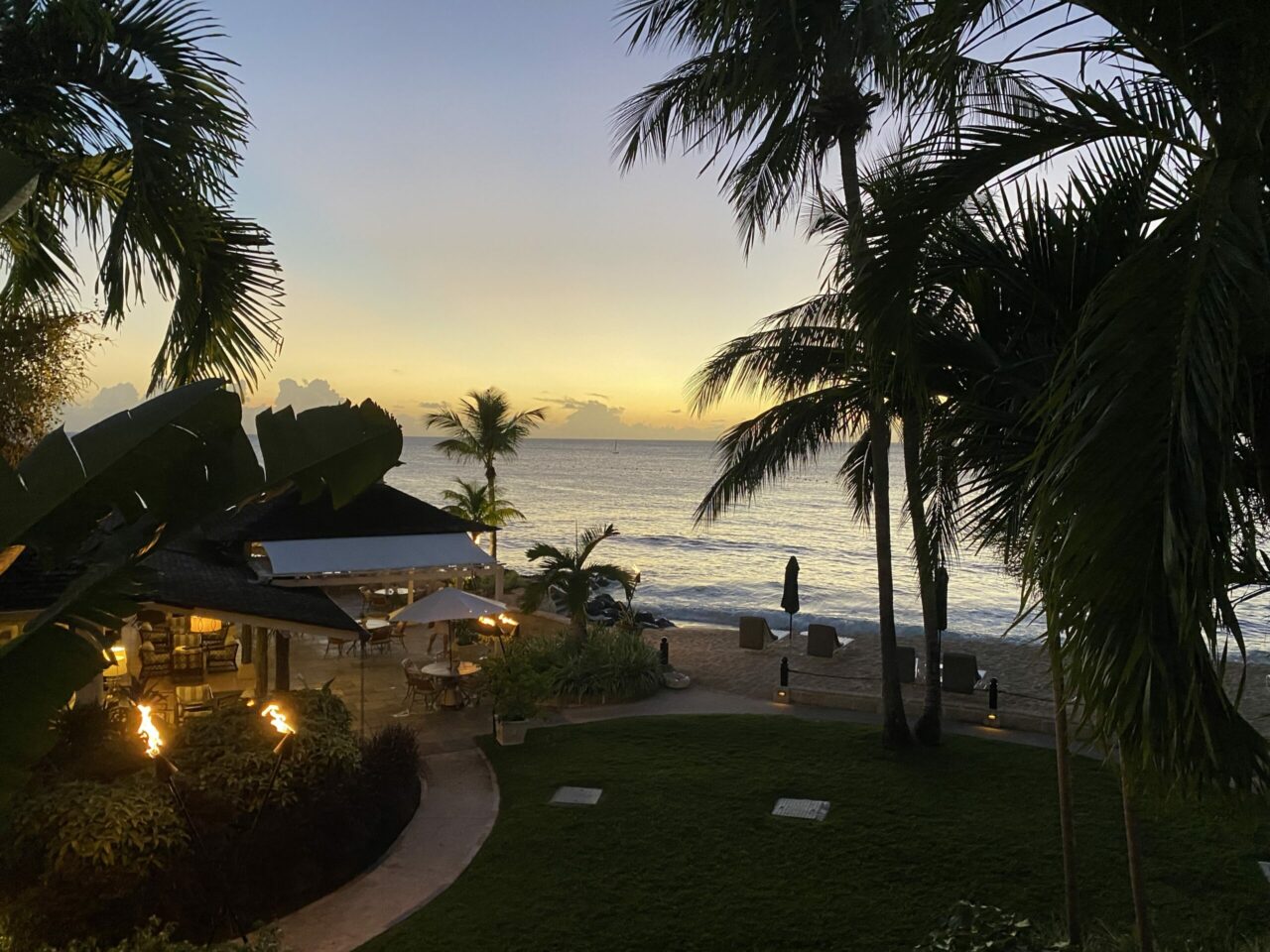 In the evening, the restaurant has a romantic feel with torches lit outside.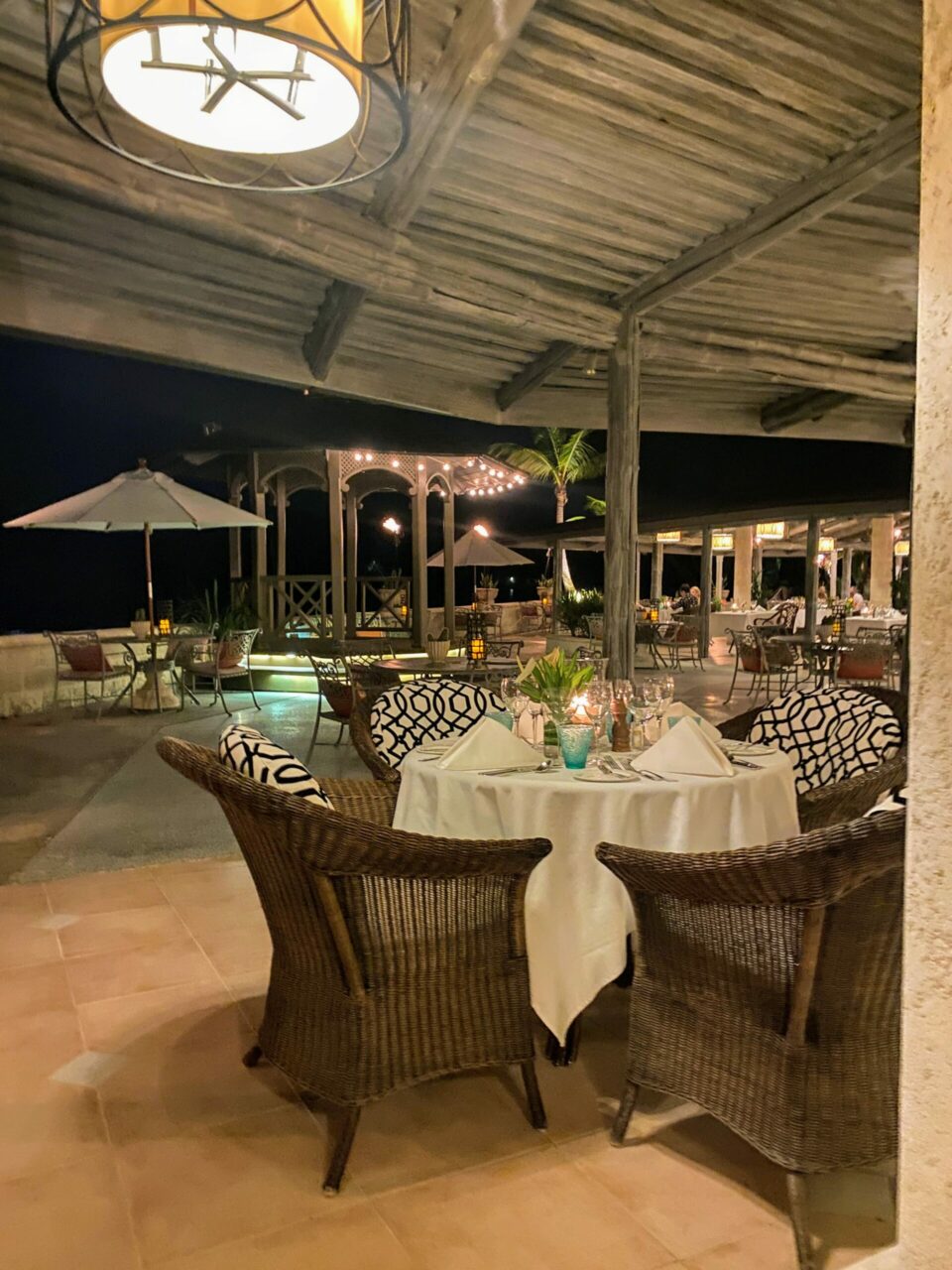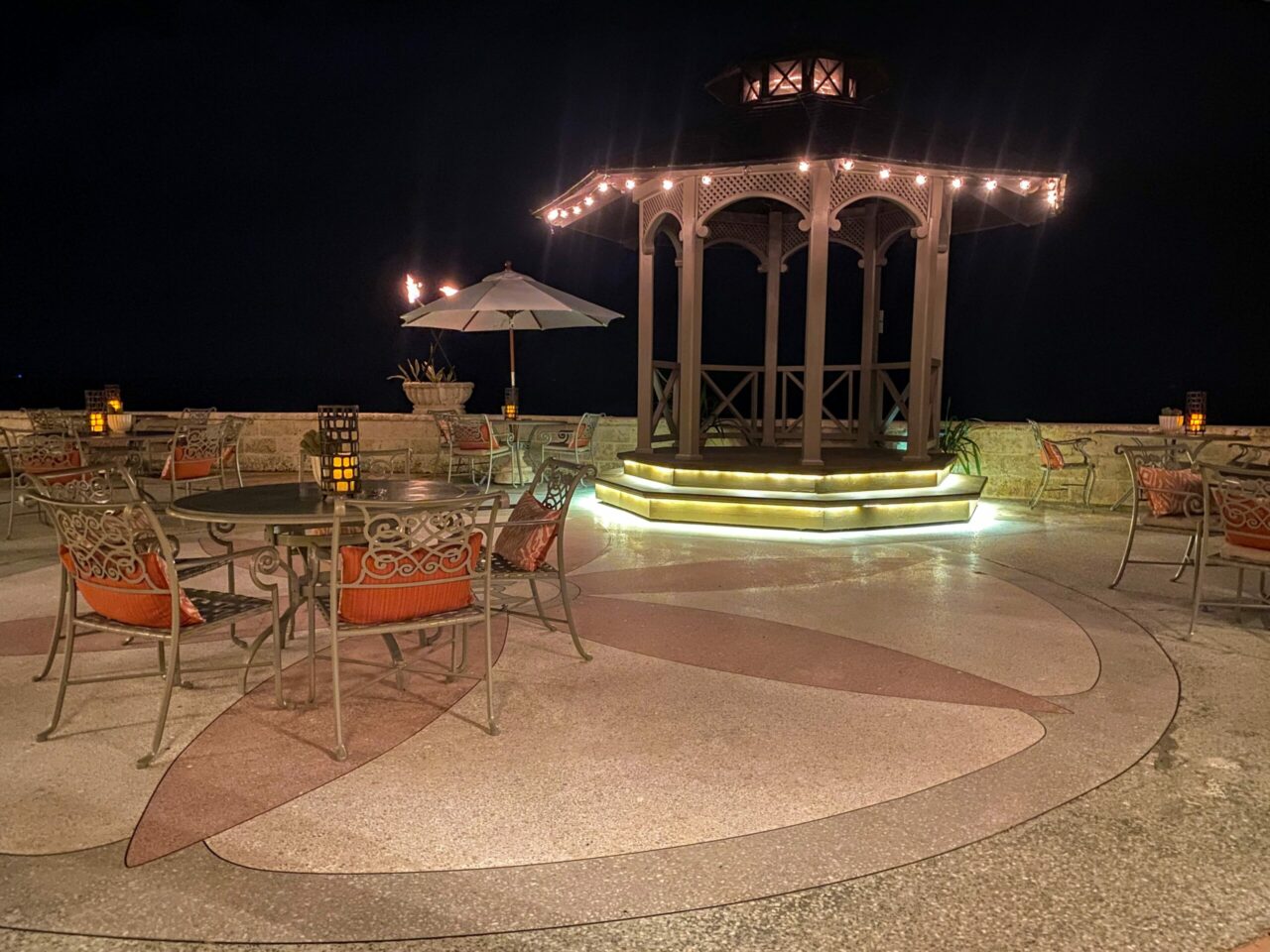 I thought the half board was amazing value as it felt like a normal a la carte menu, rather than the usual half-board where they try to give you the cheap stuff!
Once shown to the table, you were brought warm bread which was served with a flavoured butter. I loved the water glasses and was disappointed they did not sell them in the hotel shop! (Should have brought a bigger handbag to dinner!). Unlike some other hotels, the entertainment was a piano player which gave a lovely ambiance to the restaurant.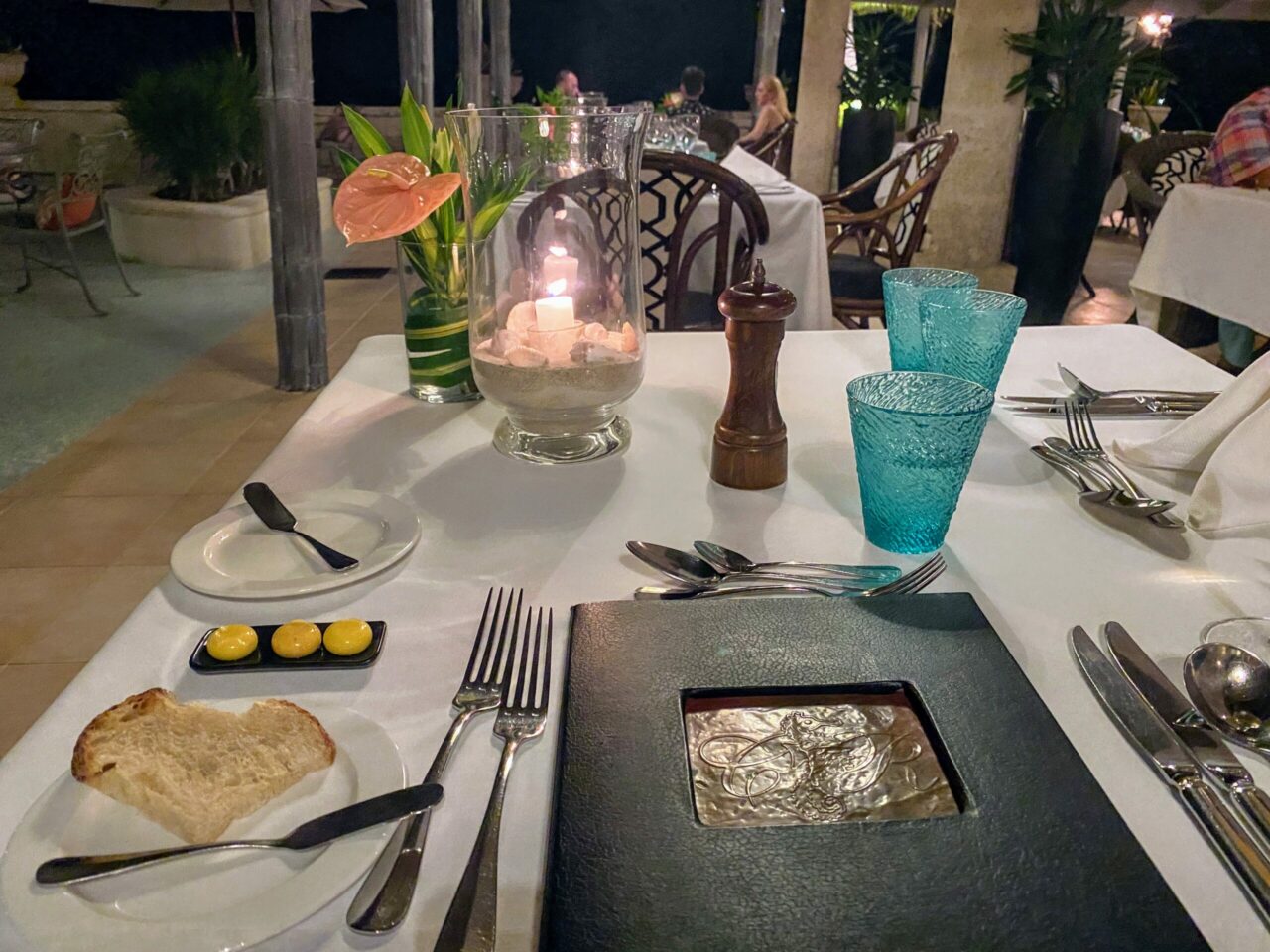 One night I started with the scallop ceviche. I wasn't a huge fan, more of scallop ceviche than of the way it was cooked, though I did feel that the scallops were more "raw" than ceviche. It needed some more "cooking" in the lemon/lime juice in my opinion.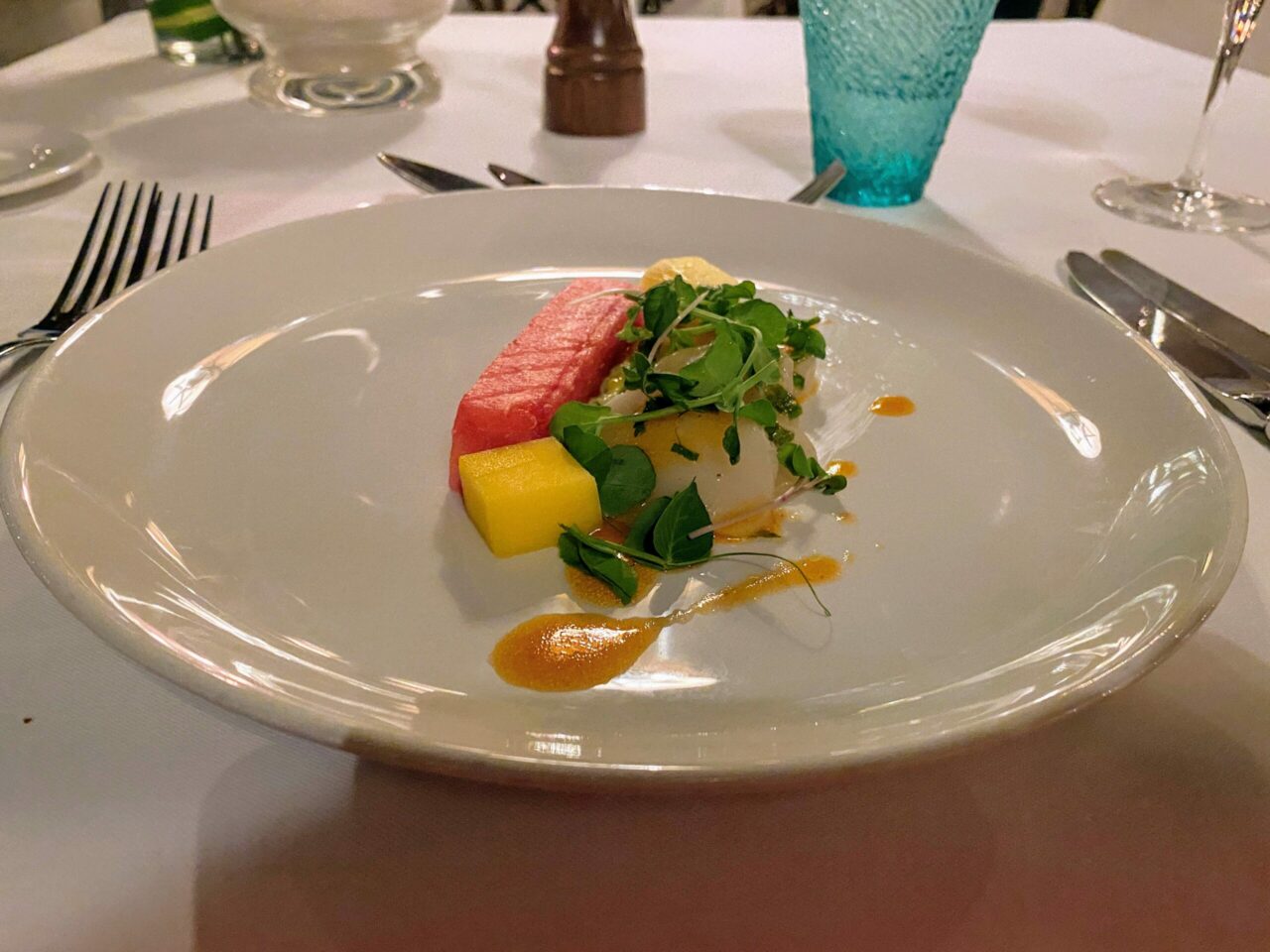 The following night I had the soft shell crab which was delicious!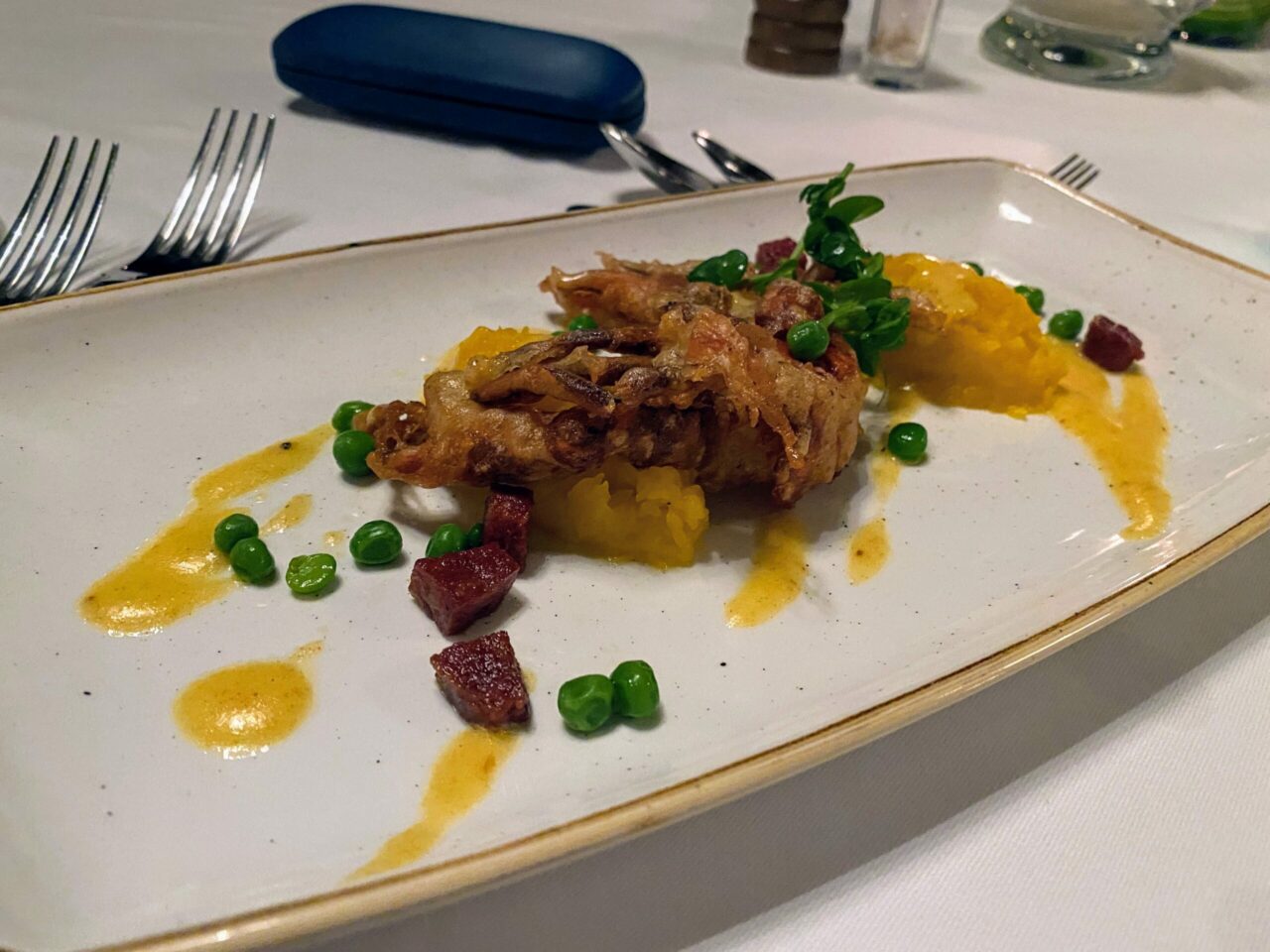 Both the main courses were excellent and my mouth is watering looking at the photos! I loved that with the grill section you could select your own side dishes and sauces. This meant of you fancied the fish two days running you could change up all the bits that went with it to give a bit more variety.
I tried the treacle tart one evening for dessert and it was very good – it had a nice lemony tang to cut through the sweetness of the treacle. I could have drunk a pint glass of the rum creme Anglaise!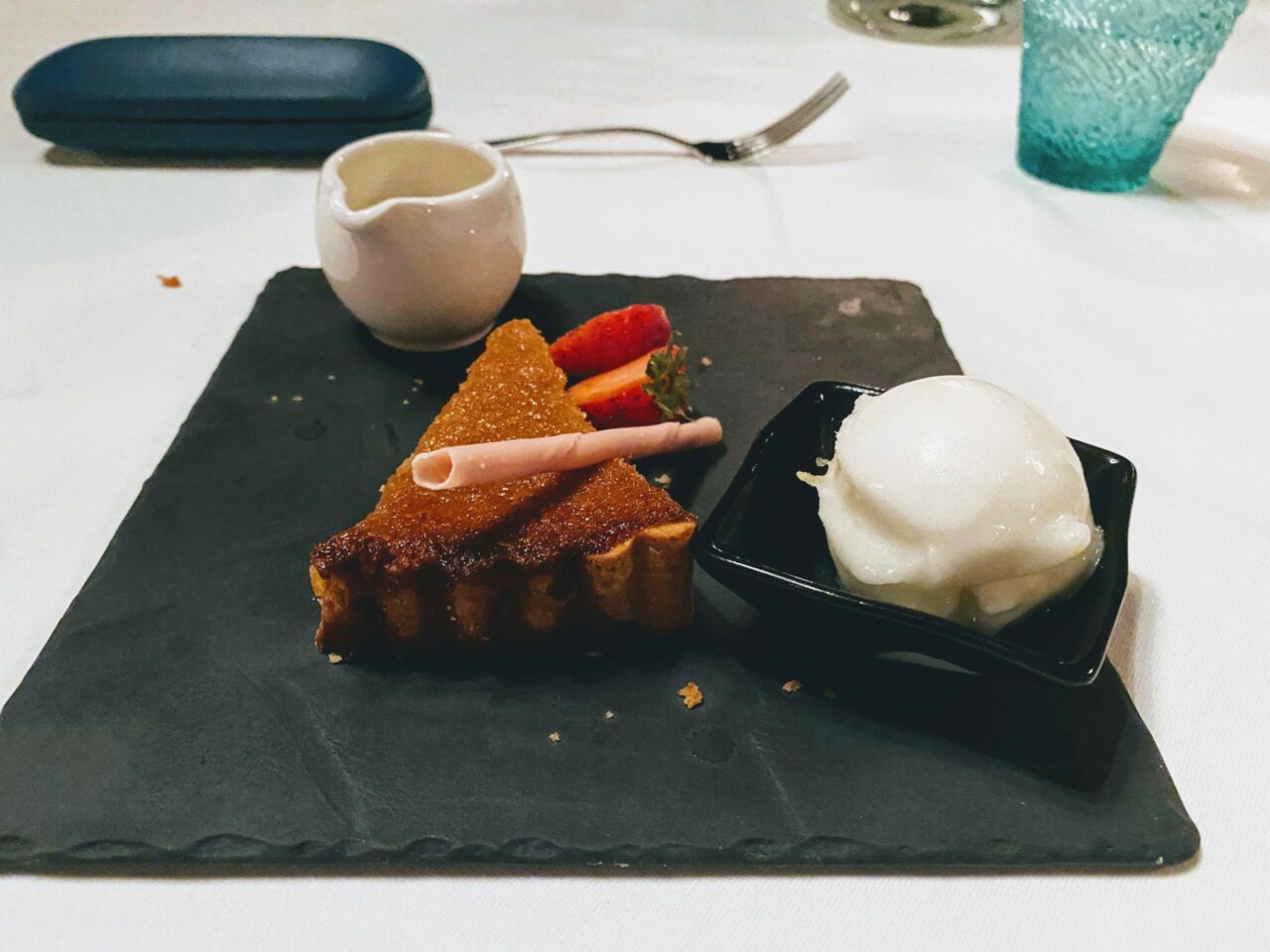 Coral Reef Club Facilities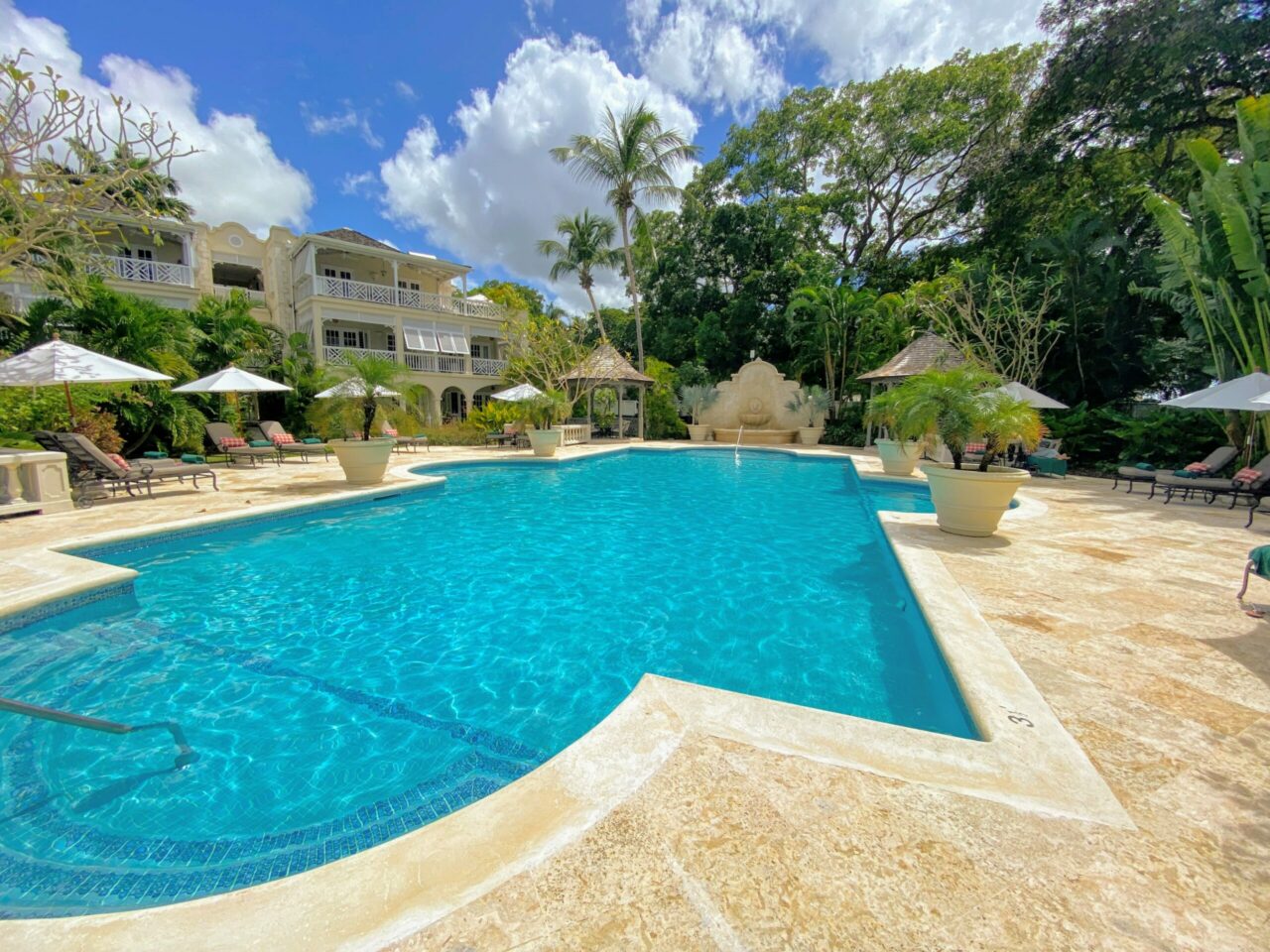 The hotel has two large pools, one of which is currently being used for quarantine guests. The guy serving around the pool was also fantastic (have forgotten his name!). He was very attentive to bring drinks and friendly with lots of useful information. The loungers were deeply padded and super comfortable with plenty of shade if you needed it. Plantation Suites and Luxury Cottage/Suites have their own private plunge pools.
The beach at the Coral Reef Club is quite small and a little stony in places due to the reef. The beach service was good and they would make up one of the comfortable sunbeds for you. The water here is calm and clear.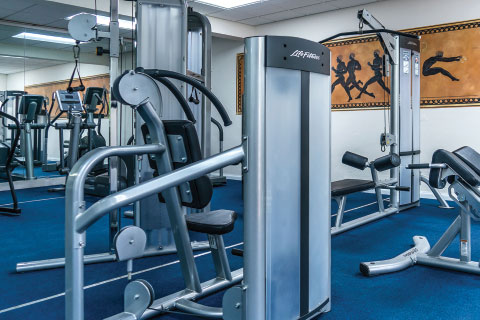 There is a gym is equipped with Life Fitness machines: elliptical trainers, cross trainers, tread mills, leg extension, chest press, stair master, upright bike, recumbent bike, abdominal crunch bench, ab and back trainer, dual adjustable pulley, benches and free weights.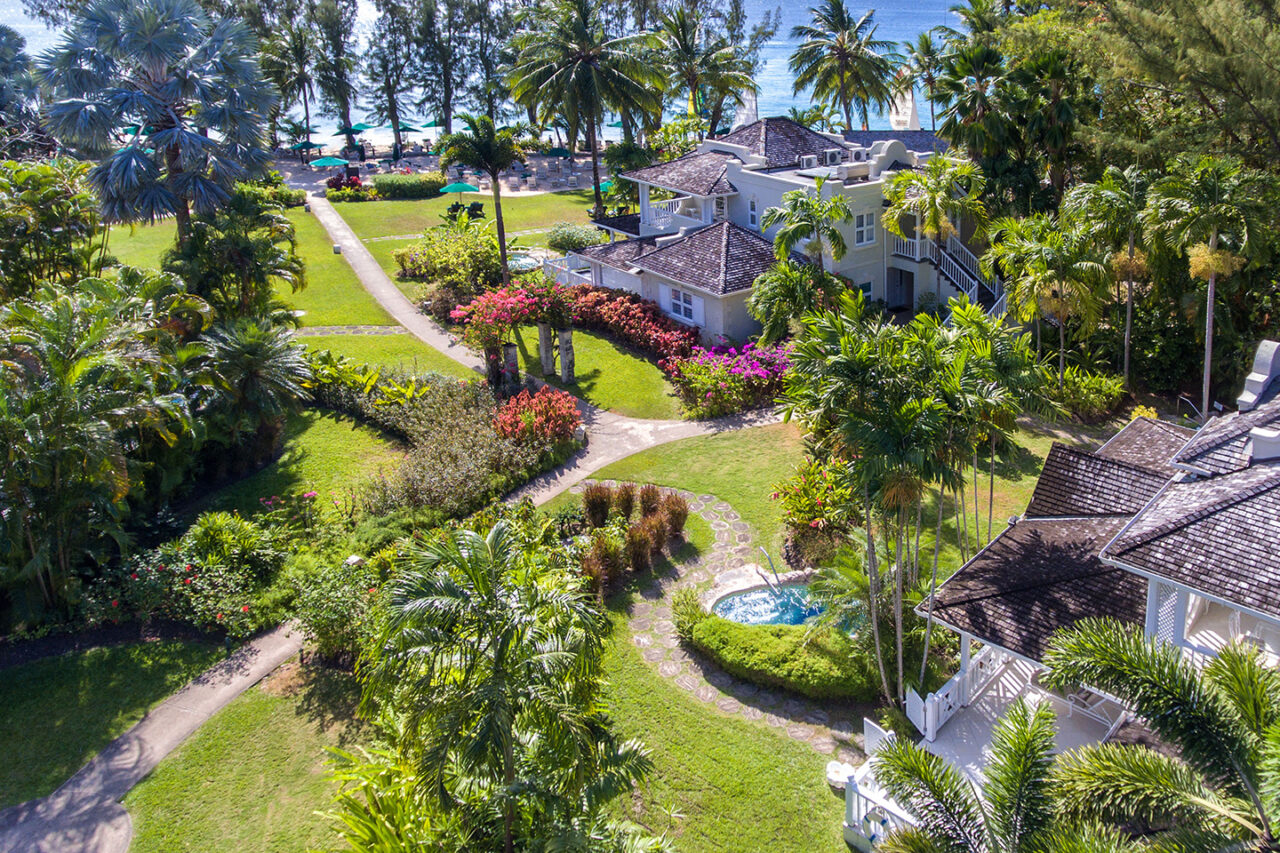 There are beautiful gardens around the hotel which you can do a guided tour of.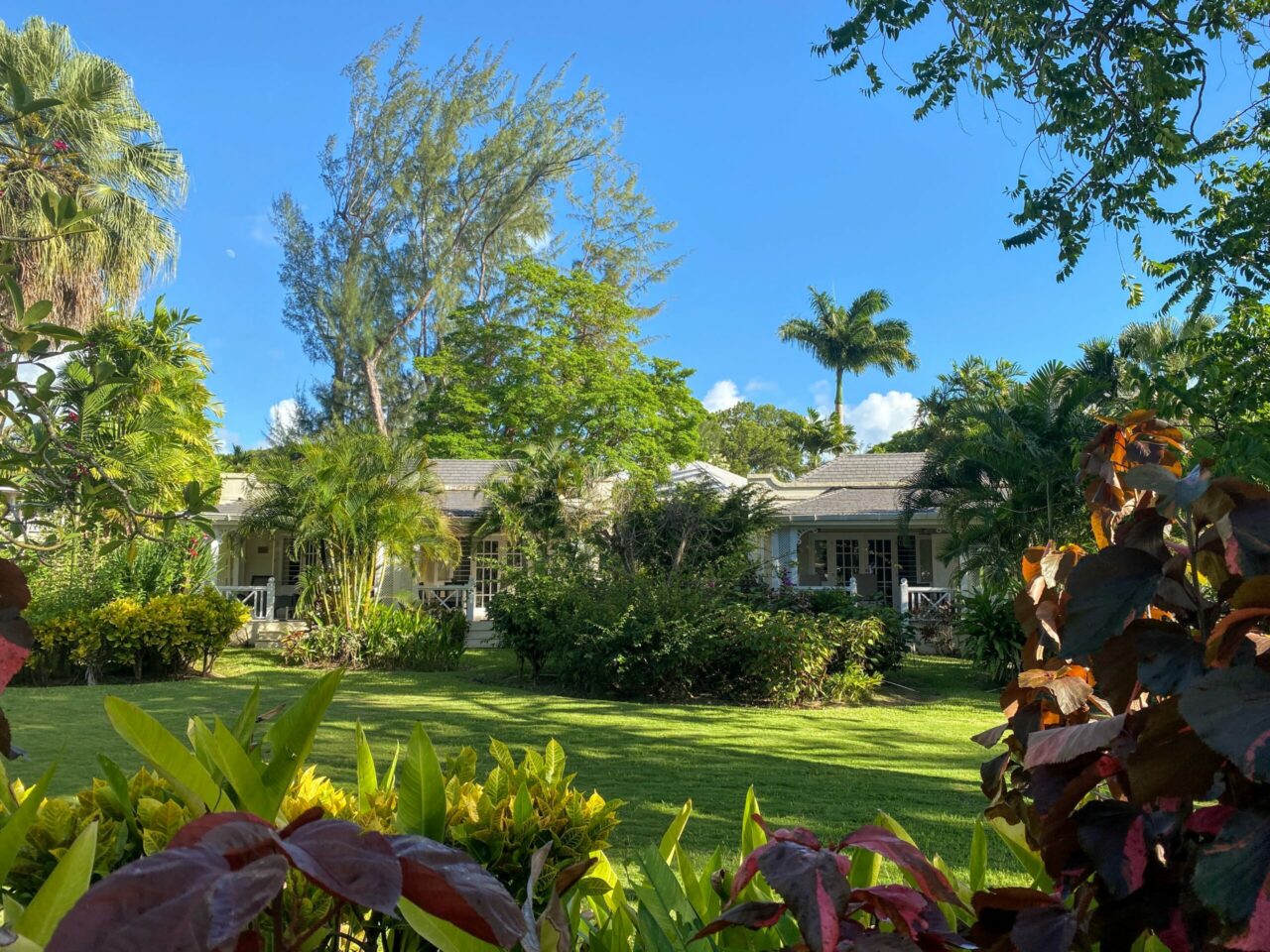 The hotel caters for families and there were quite a few when I was there. However, if you would rather be childfree, children are not accommodated between 20 January and 28 February.
You get complimentary non-motorised watersports such as Hobie Cat and Laser sailing, Kayaking, Paddle Boarding and Snorkelling. There is a reef just offshore by the restaurant if you want to snorkel from the beach. There are also subsidised speedboat activities including waterskiing, wakeboarding and inflatable doughnut riding. If you are interested in turtles and conservation you can participate in the highly respected Barbados Sea Turtle Project, right next door to the hotel.
They have two tennis courts which are lit for night play and complimentary tennis coaching with the resident pro from 4.00 p.m. to 6.00 p.m. daily.
Coral Reef Club Spa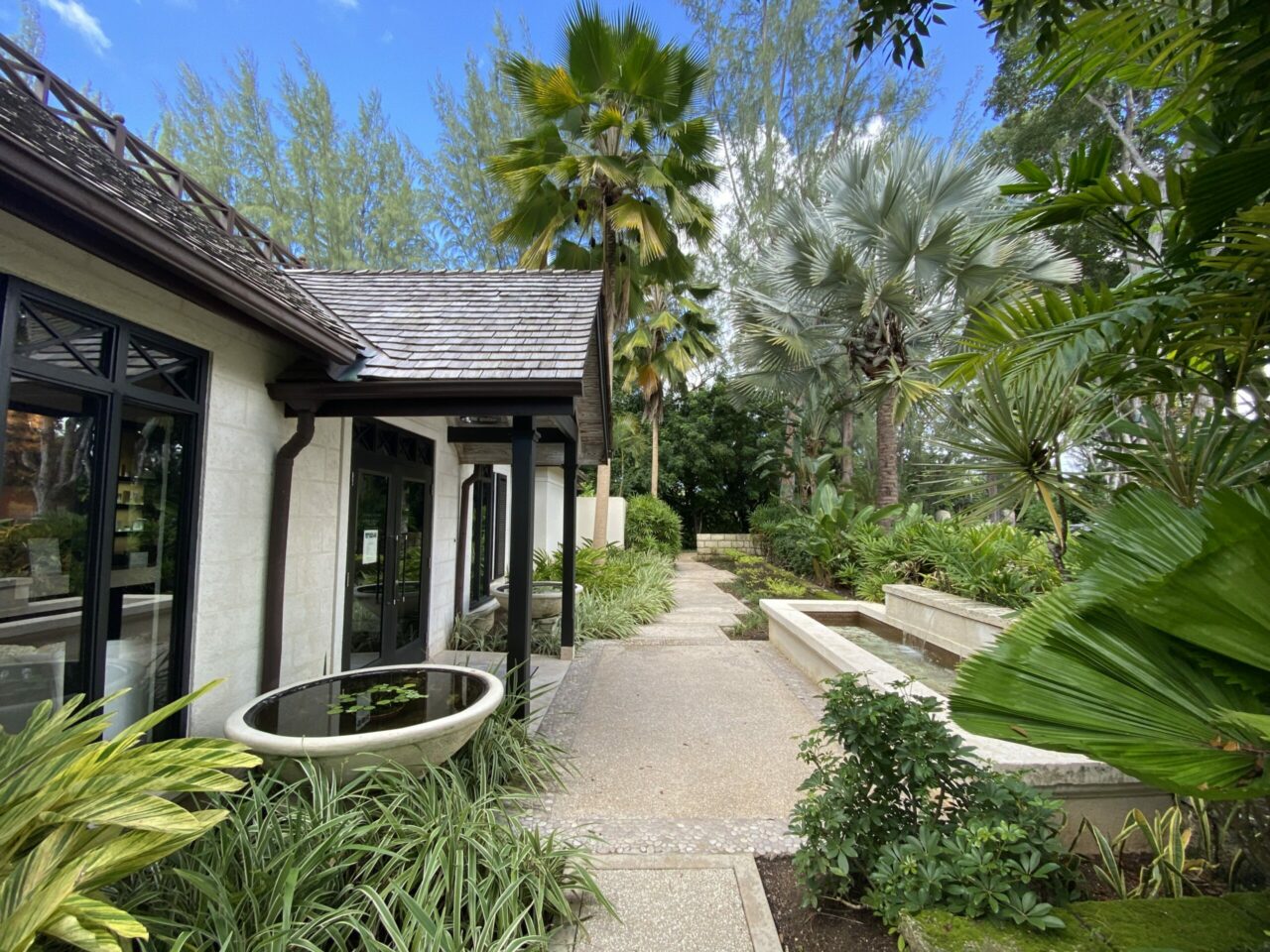 Even if I hadn't stayed here I would have visited the spa as it looked amazing. And it was! I loved the decor which felt very tropical.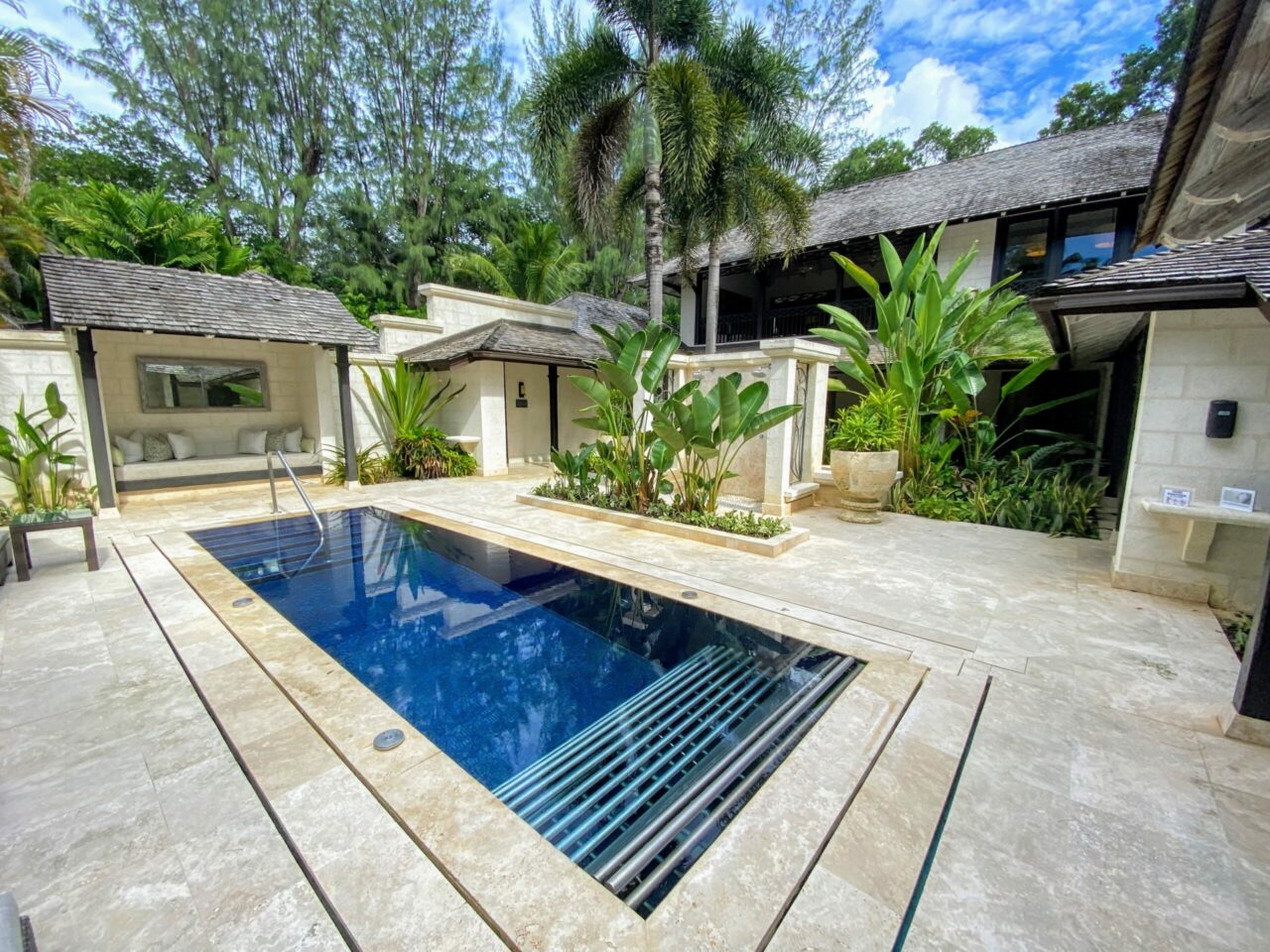 There were a few loungers by the hydro-pool which gave me a bit of a shock when I got in as it was pretty warm! I wasn't expecting that when it was 30c outside. It was a lovely way to relax before the treatment.
As well as the pool there is a sauna, stream room and experience showers.
The relaxation area was also lovely. I had a classic massage. I liked that they took the mask situation seriously but you did not have to wear it lying face down. At another spa I did and it was not very pleasant. I was happy to wear it when I was face up. The massage was very good and the therapist was lovely although a bit chatty!
The Sandpiper

While staying at either of the hotels, you can use the facilities of the other. There were a few hiccups over the COVID protocols of moving between the two, but hopefully that has been fixed now. You either walk along the road, or there is a path that goes along the beach most of the way although you do have to walk on the sand for the last bit.
I think the beach here is slightly nicer.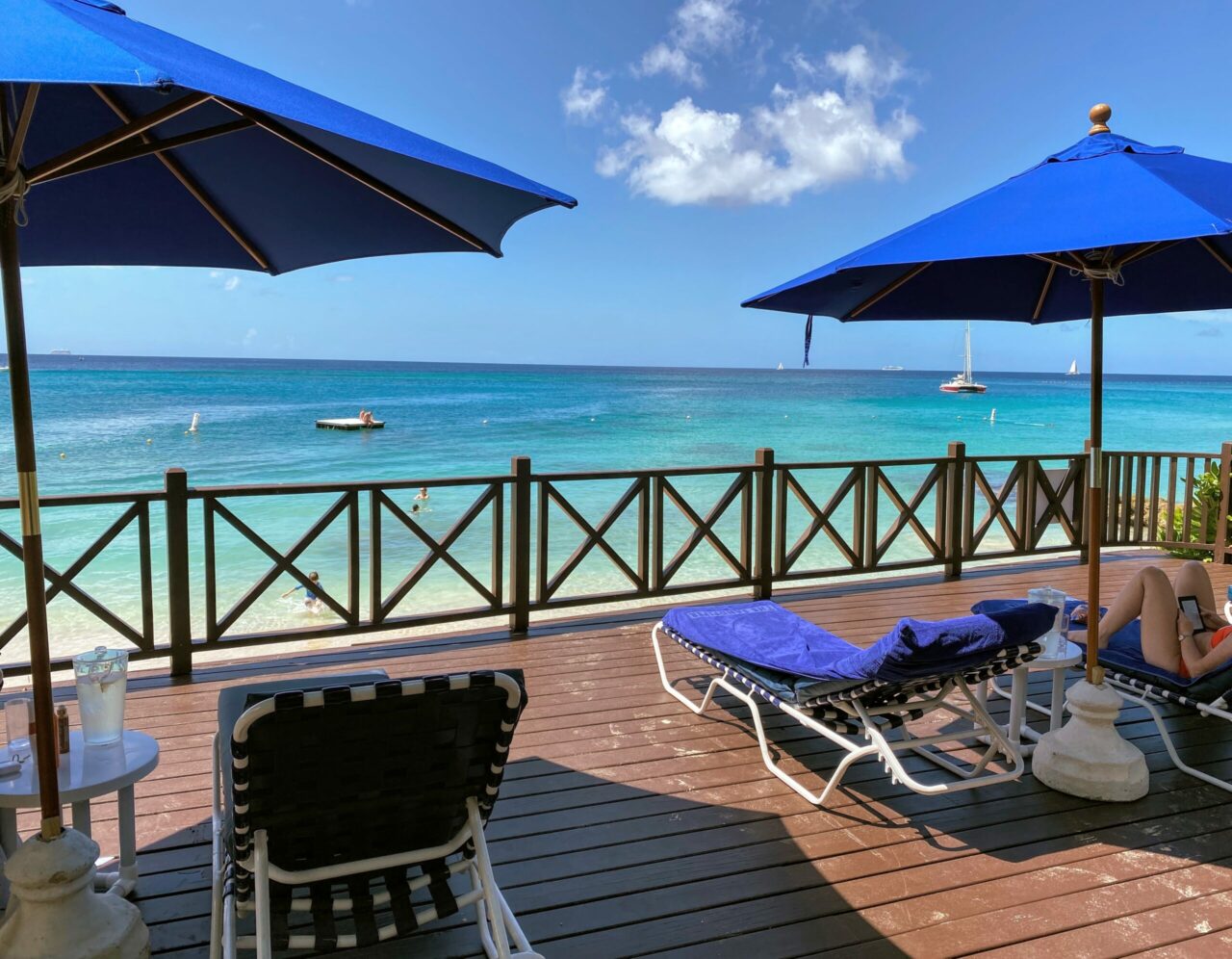 I popped over for a look around and the friendly General Manager who has been there for many years kindly showed me a couple of rooms. The new House Suites look amazing!

When joined together these make up a two-bedroomed suite. The standard garden room is the same as the bedroom/bathroom part of these rooms.
There are also two pools here but they are much smaller than the Coral Reef.
There is one just for people are quarantining.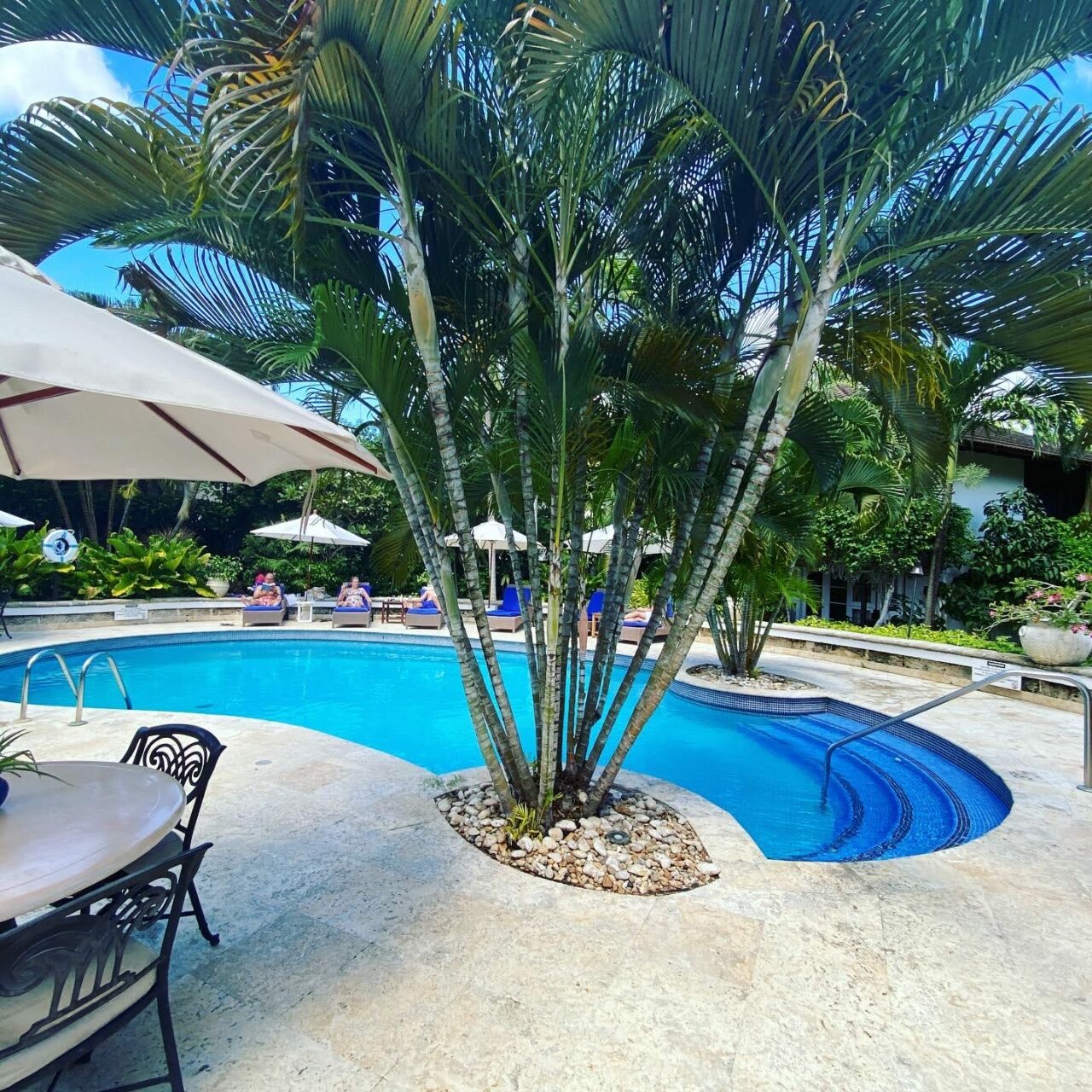 Then the main pool with loungers in the water. The pool felt pretty busy compared to the Coral Reef Club.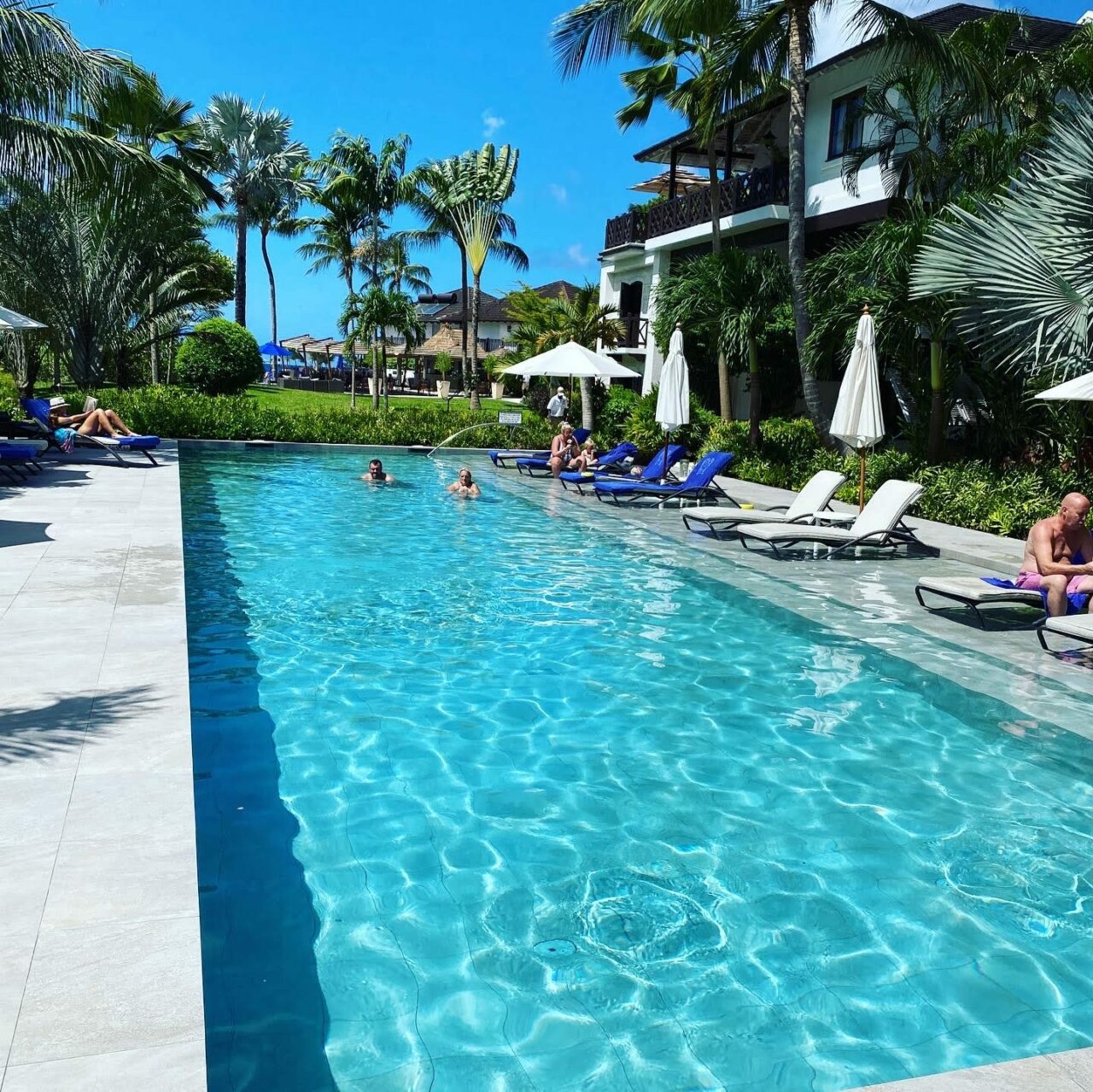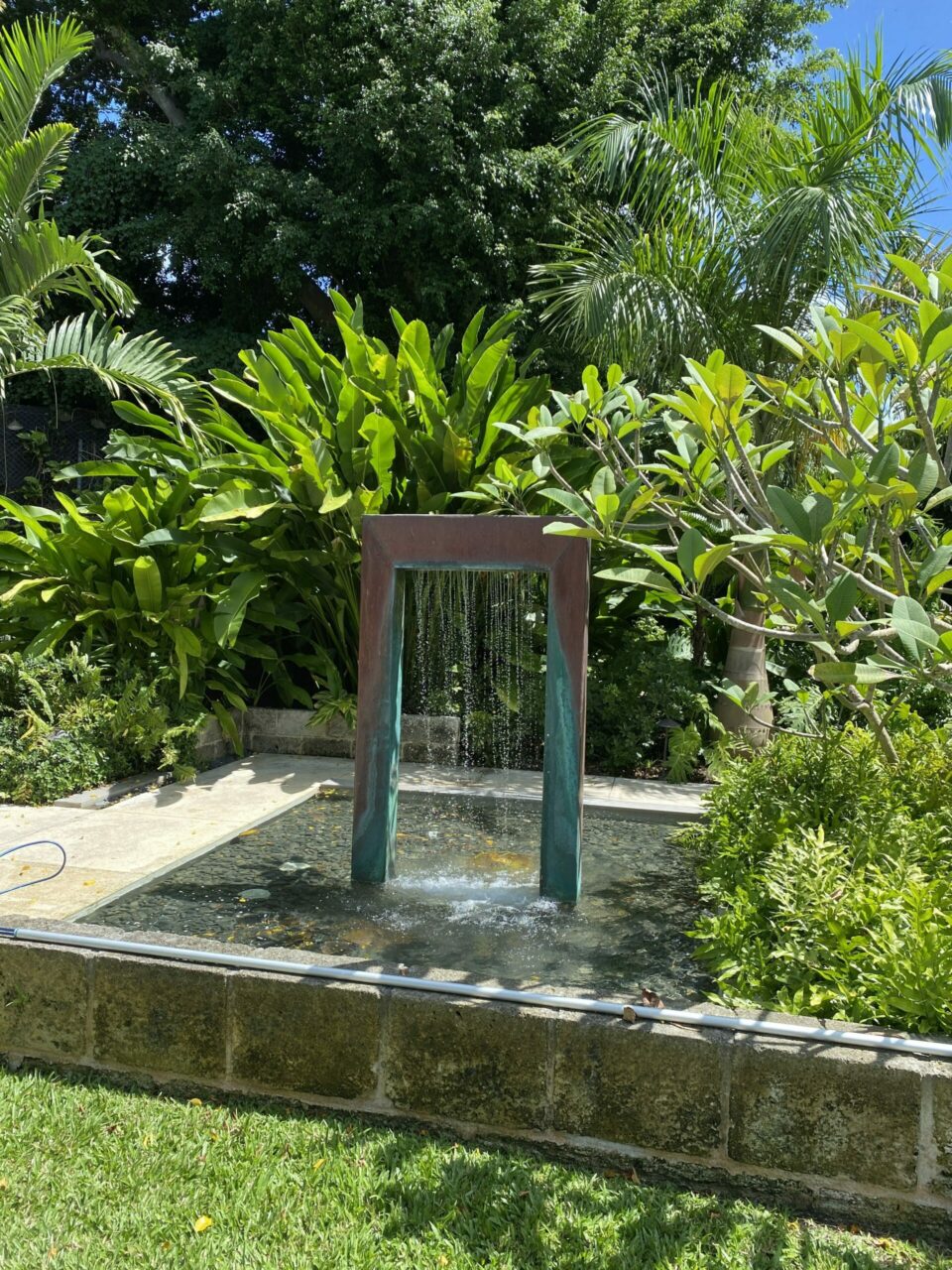 I tried one of their signature drinks by the pool which had strawberry, banana and rum. It was like an alcoholic smoothie! Delish! I just loved the coasters that went over the base of the glass. This sums up these two resorts and to me also what I consider makes a luxury hotel – attention to detail. Normally you pick up the glass and the coaster sticks to it and then falls off. No such issues with these.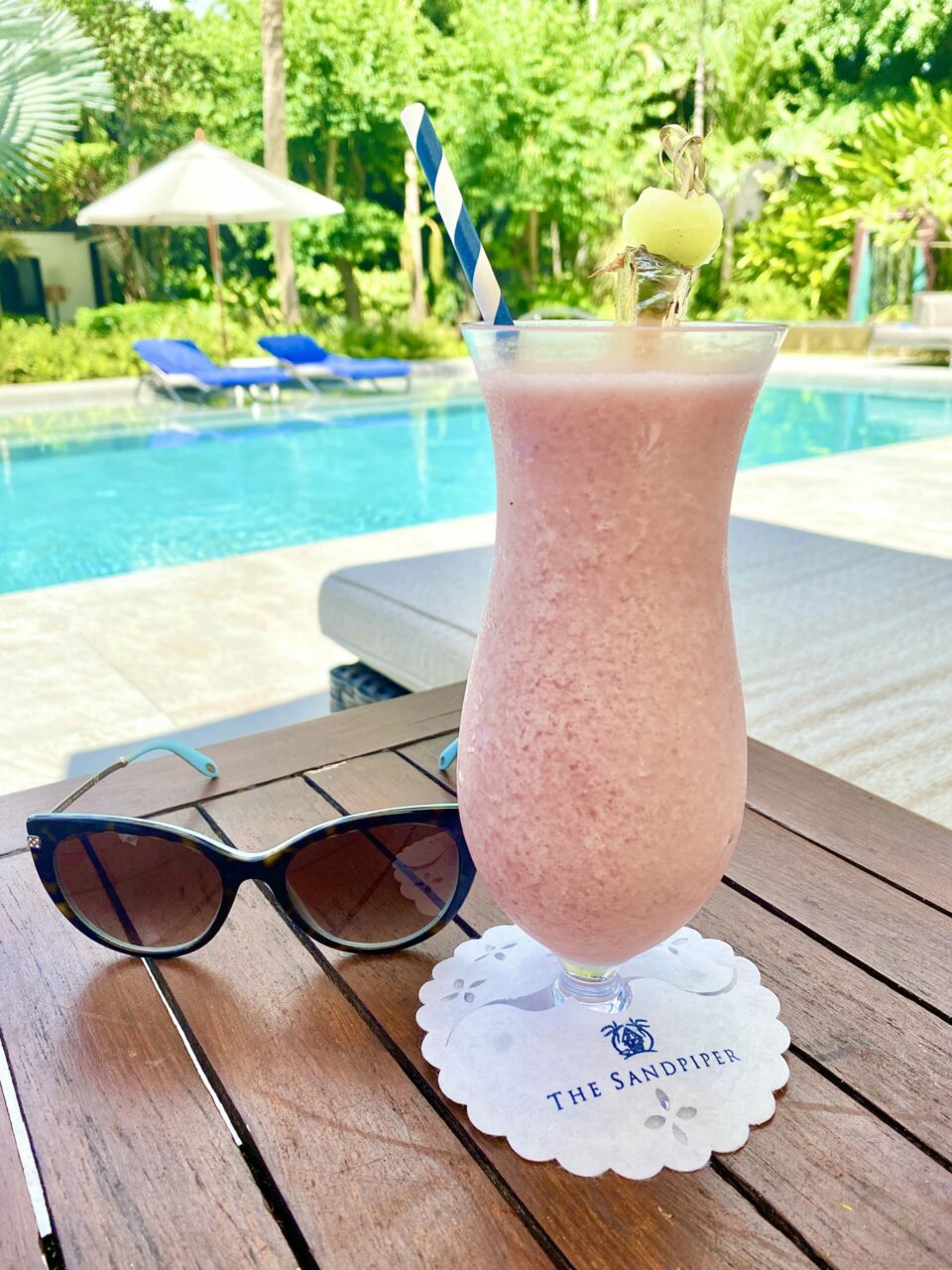 There is a formal restaurant next to a pretty water feature.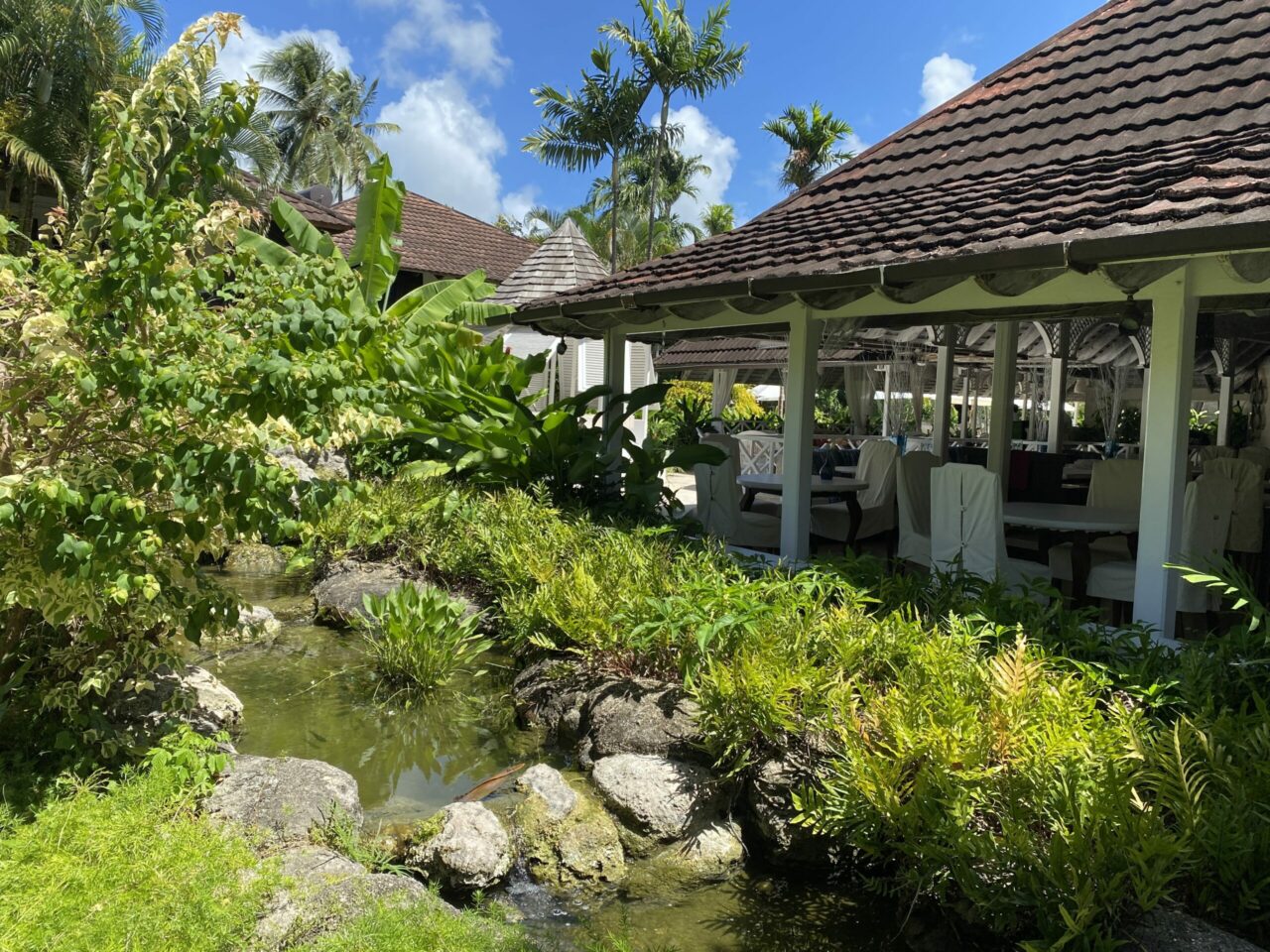 And then the beach bar/casual restaurant.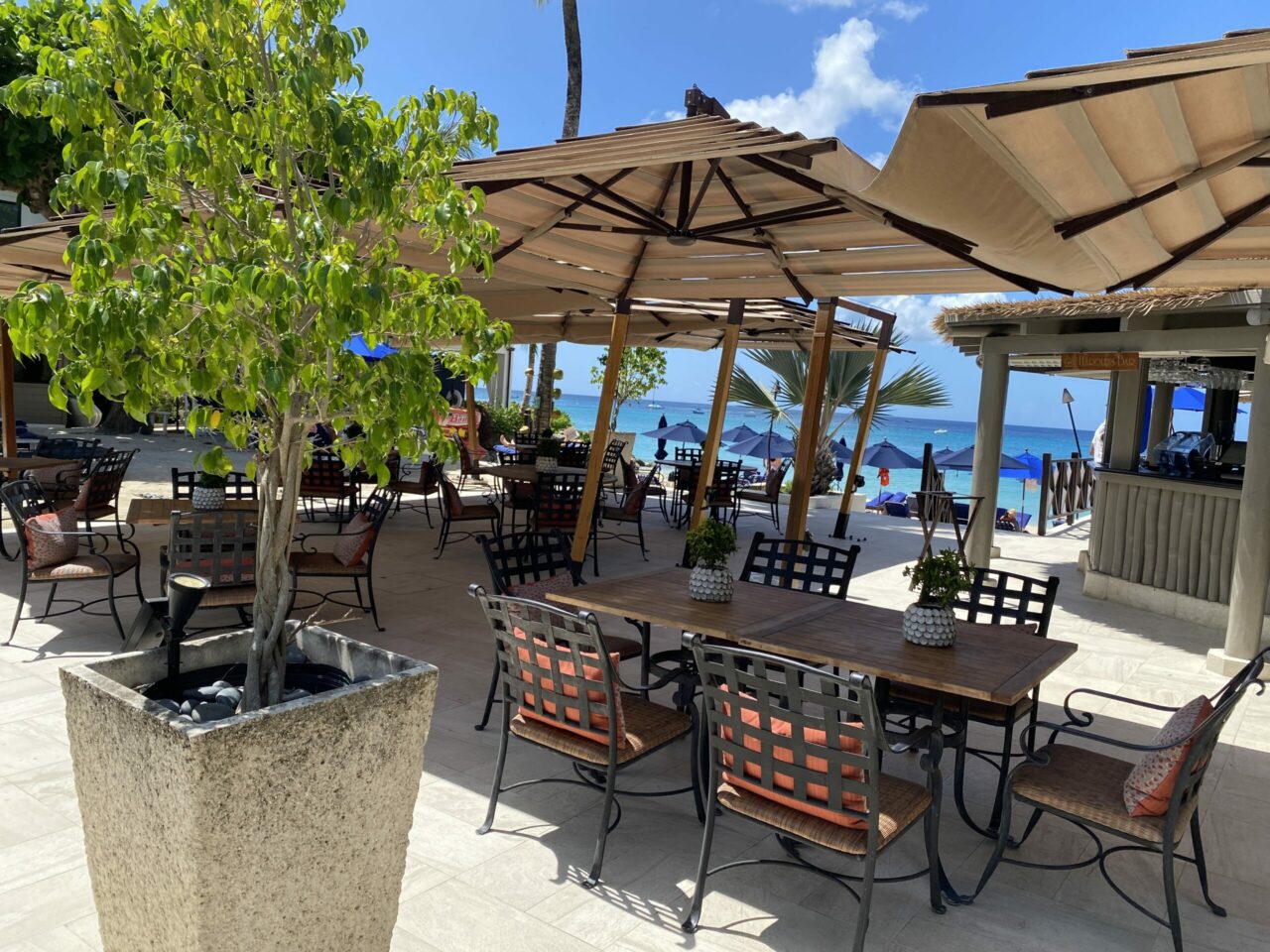 I sampled a couple of starters from their menu for lunch. The portions were very generous and again it was very tasty.
Overall the Sandpiper felt more modern and relaxed. But actually, despite my initial thoughts, I much preferred the Coral Reef Club that felt more elegant and special.
Small Luxury hotels – get a free upgrade & $50 voucher
Both hotels are members of SLH. If you book SLH Hotels through a specialist agents such as our partners Debonair you get lots of extra benefits at no extra cost. Rates are flexible and don't usually require pre-payment.
You get:
Voucher for minimum $50 per room for F&B or Spa
Complimentary breakfast for 2
Room category upgrade, based on availability at time of check in
Early check-in/late check-out, subject to availability
Conclusion

I went not expecting that much and ended up falling in love with the hotel. I really did not want to leave. If I returned to Barbados and wanted to splash out on a luxury hotel, it would be a toss-up between here and the Fairmont. The beach is definitely better at the Fairmont, but I did love the intimate feel of the hotel here. I also thought the half board was incredible value. The room had a wonderful view but the bed was more comfortable at the Fairmont. This hotel is slightly more formal than others, but I quite liked the rather exclusive feel to it.
I am heading back to Barbados in January, so I have a tough decision on which hotel to pick!
You can see more in my Youtube video review:
If you want to read more about my Caribbean trip:
Planning a trip – entry requirements, arrival and quarantine/2nd test at The Crane
Fairmont Royal Pavillion review
Sea Breeze Beach House all-inclusive hotel review