I visited Portugal while it was still on the green list. Hopefully, it will be back on again at some point this summer. I have now visited three of the top luxury hotels around the Algarve, The Conrad, Anantara and now the Pine Cliffs. Each offers something different. Conrad feels more intimate and has a Michelin star restaurant. Anantara is half way between the two types being a larger resort with plenty of restaurants to chose from and a great beach club and restaurant on the beach. It is often better value than the Conrad. The Pine Cliffs is a huge resort has the most stunning location being right on the coast. So let's look at what else it has going for it.
Booking and price
I booked through our luxury travel agent partners GTC, to get all the free perks. As I'm a Marriott Platinum member I could also get my perks and points with the booking.
The Debonair perks were: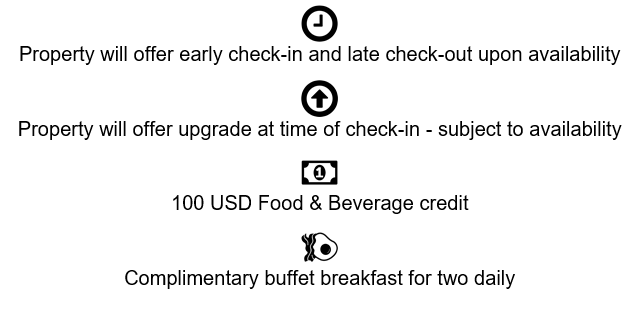 I paid €400 for 2 nights which came with no deposit and free cancellation. I originally booked a resort view room.
Location
The Pine Cliffs comprise several resorts in one, spread over a large area of 72-hectares. I stayed in the hotel but there is also the Ocean Suites which are newer and the Residences as well as some other new apartments and villas. The hotel is situated around halfway between Vilamoura and Albufeira around 35-45 minutes from the airport.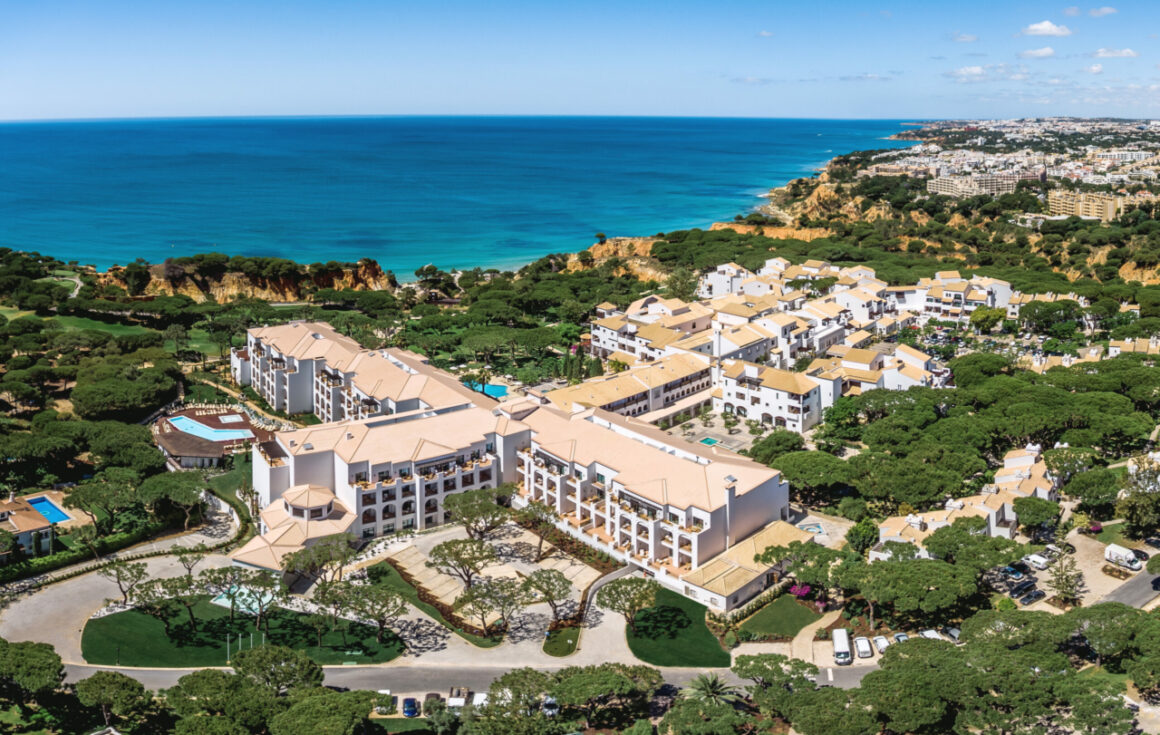 The property is situated right on the sea on stunning orange sandstone cliffs overlooking the beach.
Check-in at Pine Cliffs Resort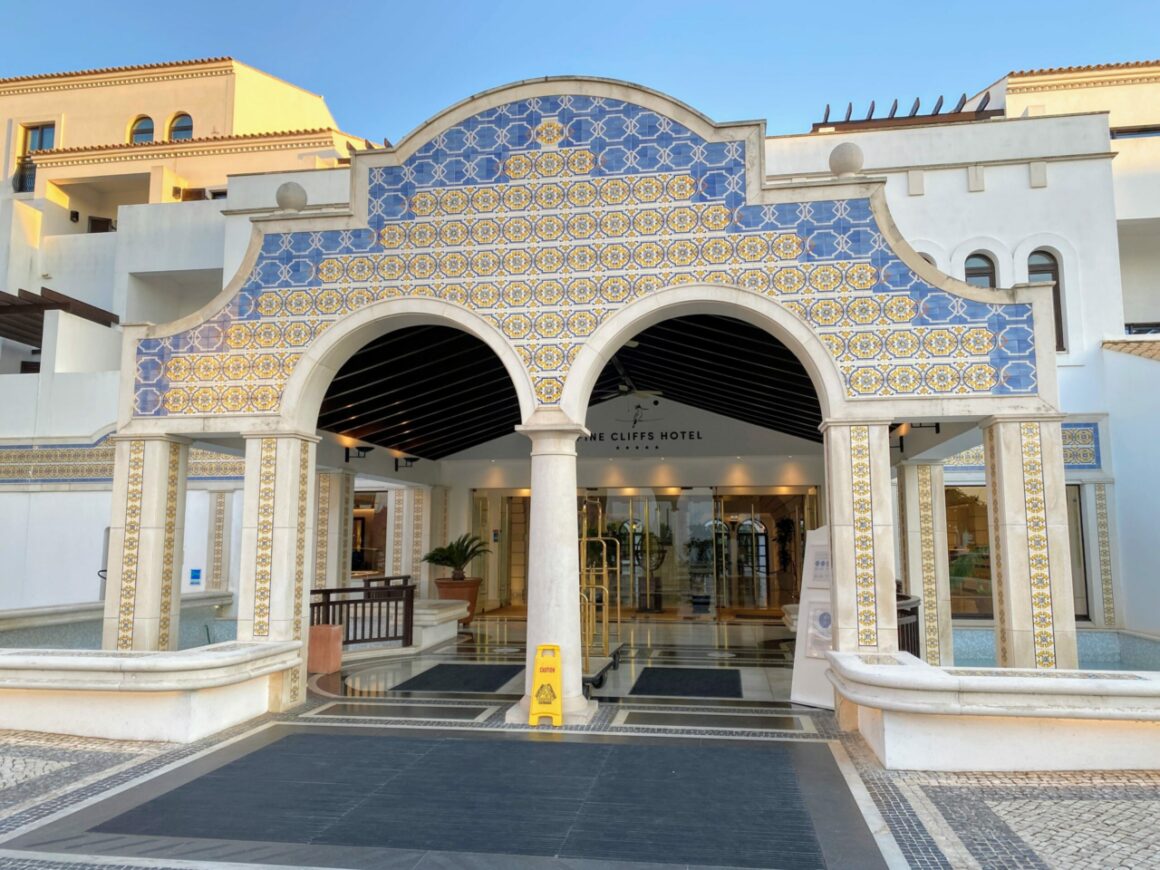 The first thing you notice as you enter the resort is the sheer scale of it and also the traditional Portuguese feel with its cobbled streets and orange and lemon trees. A porter came out to my Uber and assisted with my luggage immediately and welcomed me to the hotel. The reception area overlooks a central traditional courtyard but was well organised for Covid with screens and one-way systems.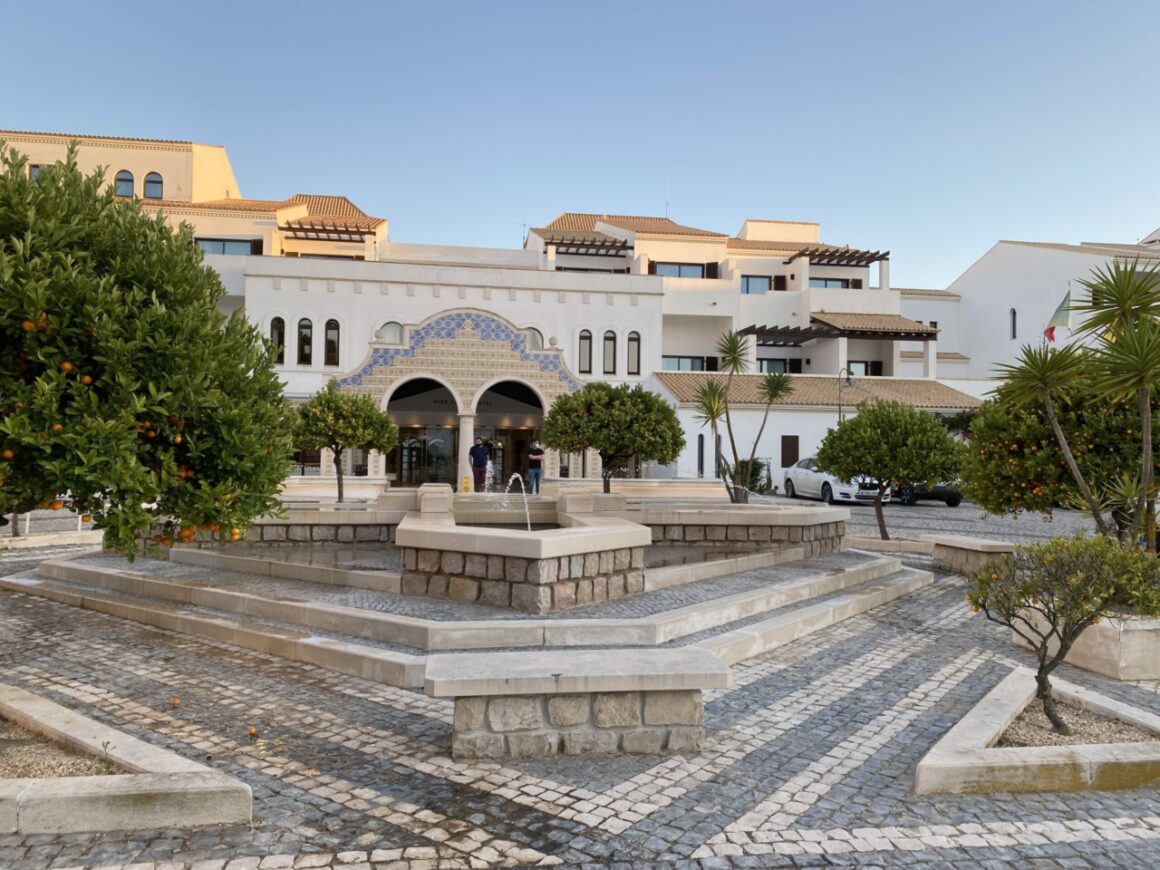 The check-in agent was charming and friendly. She explained what was open and the timings of everything as well as introducing me to one of my all-time pet hates in luxury hotels – the towel card. More about that later… Then I was shown to my room and the features of the room explained as well as where everything in the resort was by the bellman.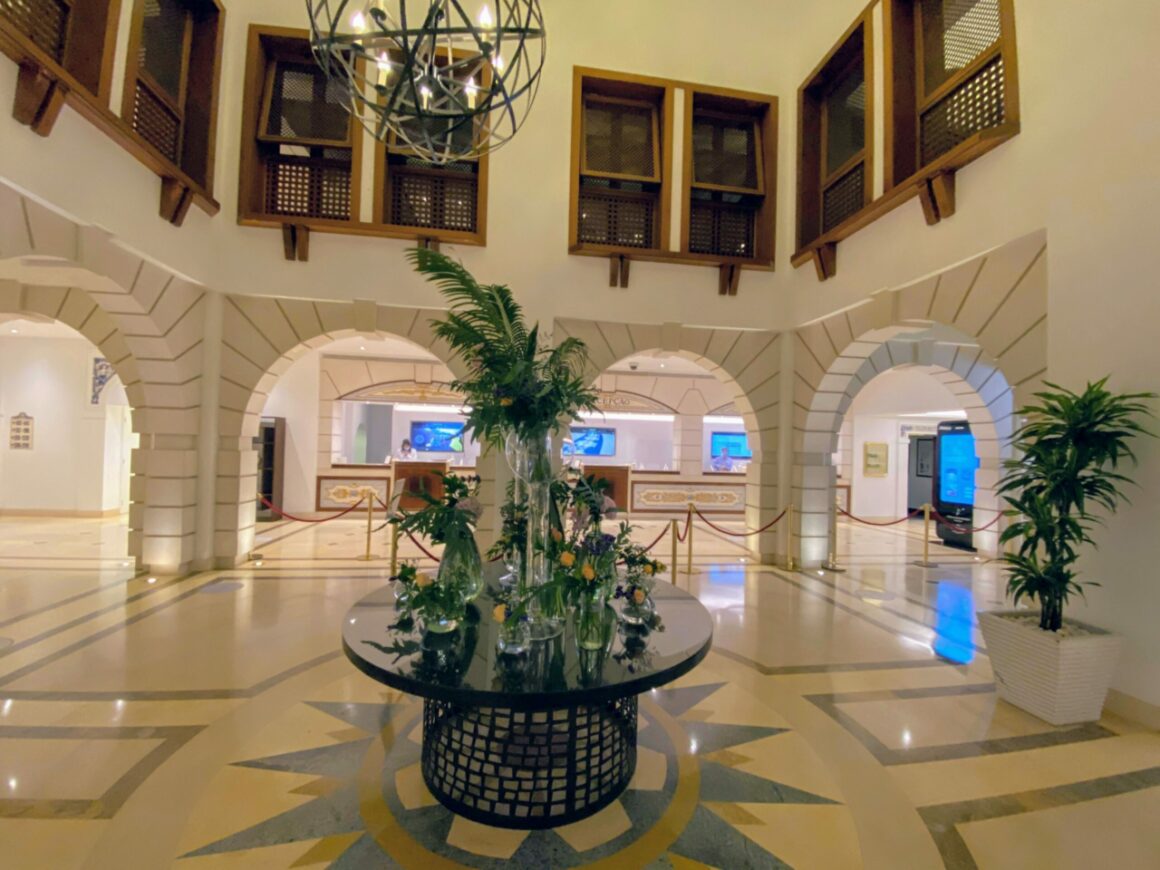 Overall it was pretty much a faultless start to the trip.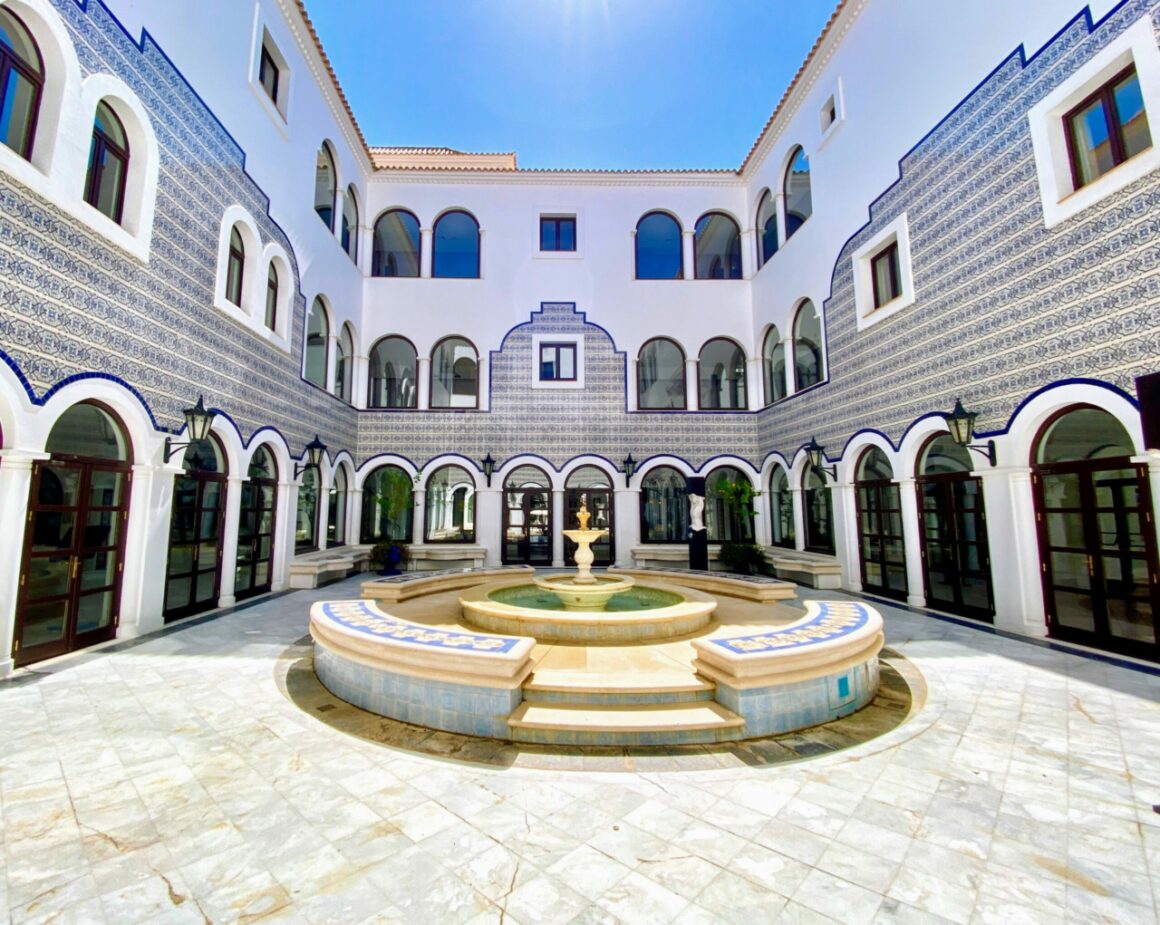 One thing worth noting is that the resort has a lot of steps everywhere in the part I stayed in so probably would not be ideal for those with reduced mobility.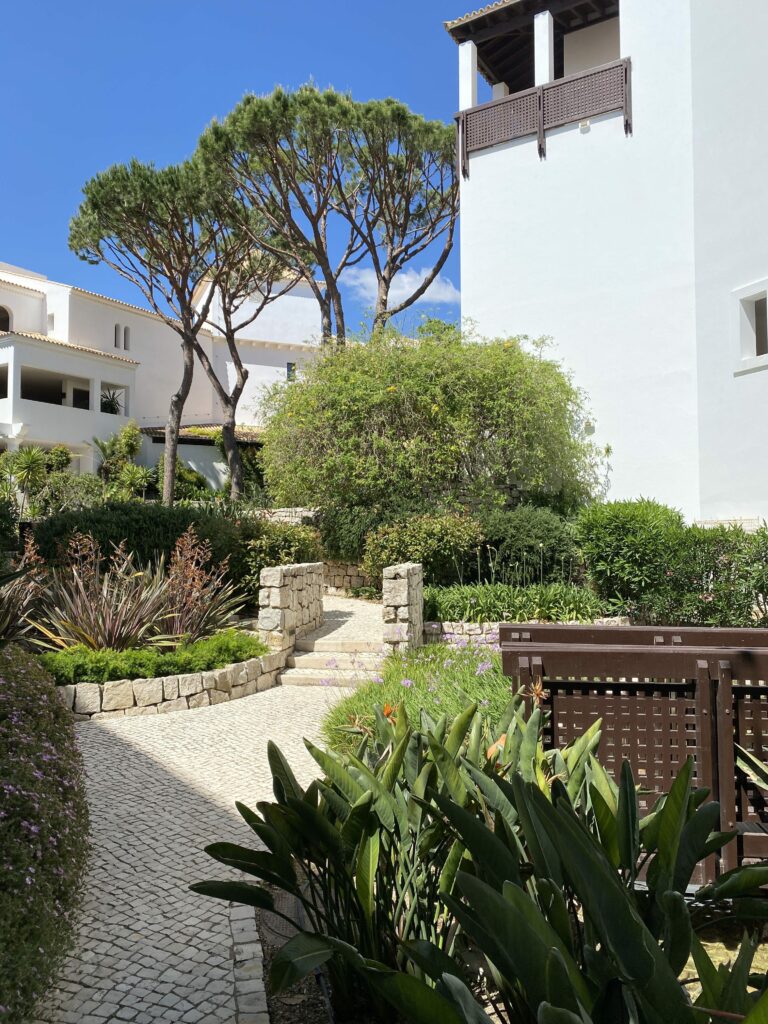 Pine Cliffs Resort room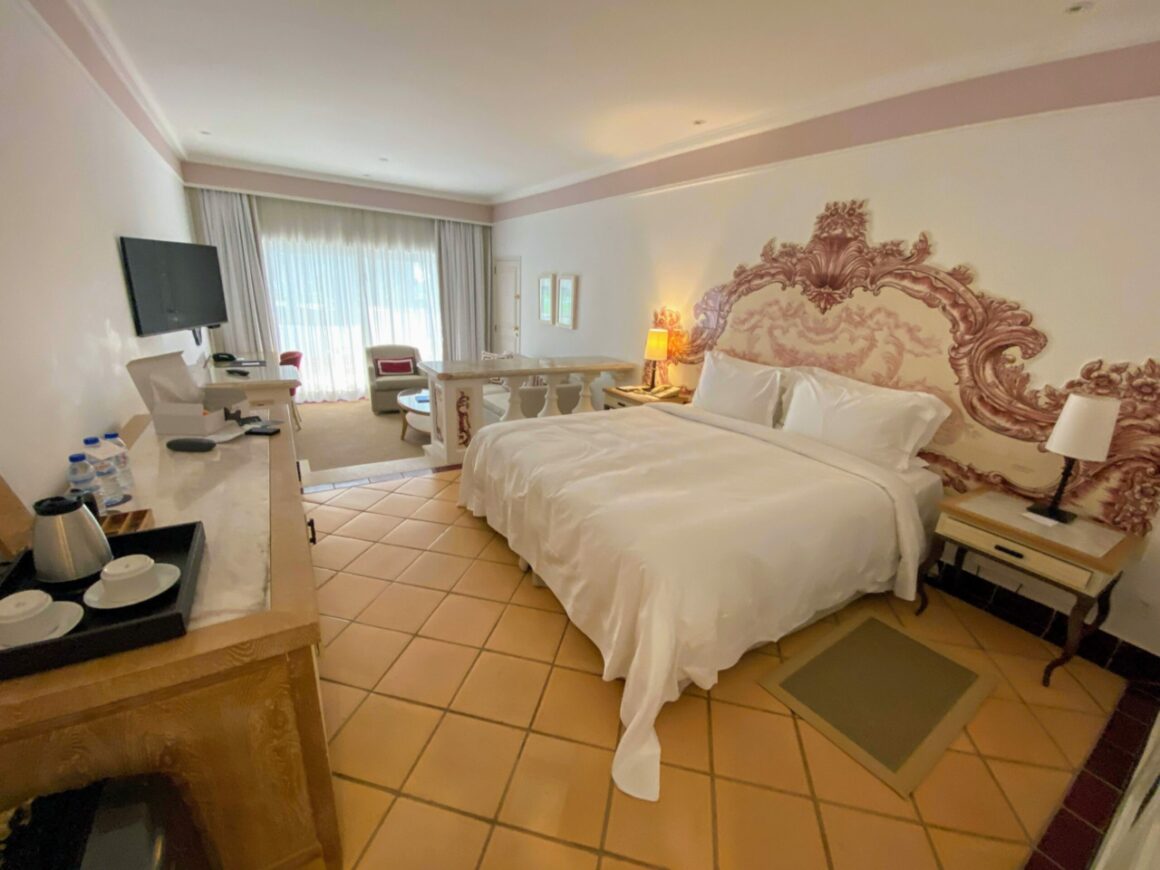 I had been upgraded to a Grand Deluxe Resort view which came with a lovely large terrace. Some have a balcony instead. Mine overlooked the grounds and would be great when it was really hot as the terrace had shade for part of the day. It was a nice quiet place to relax.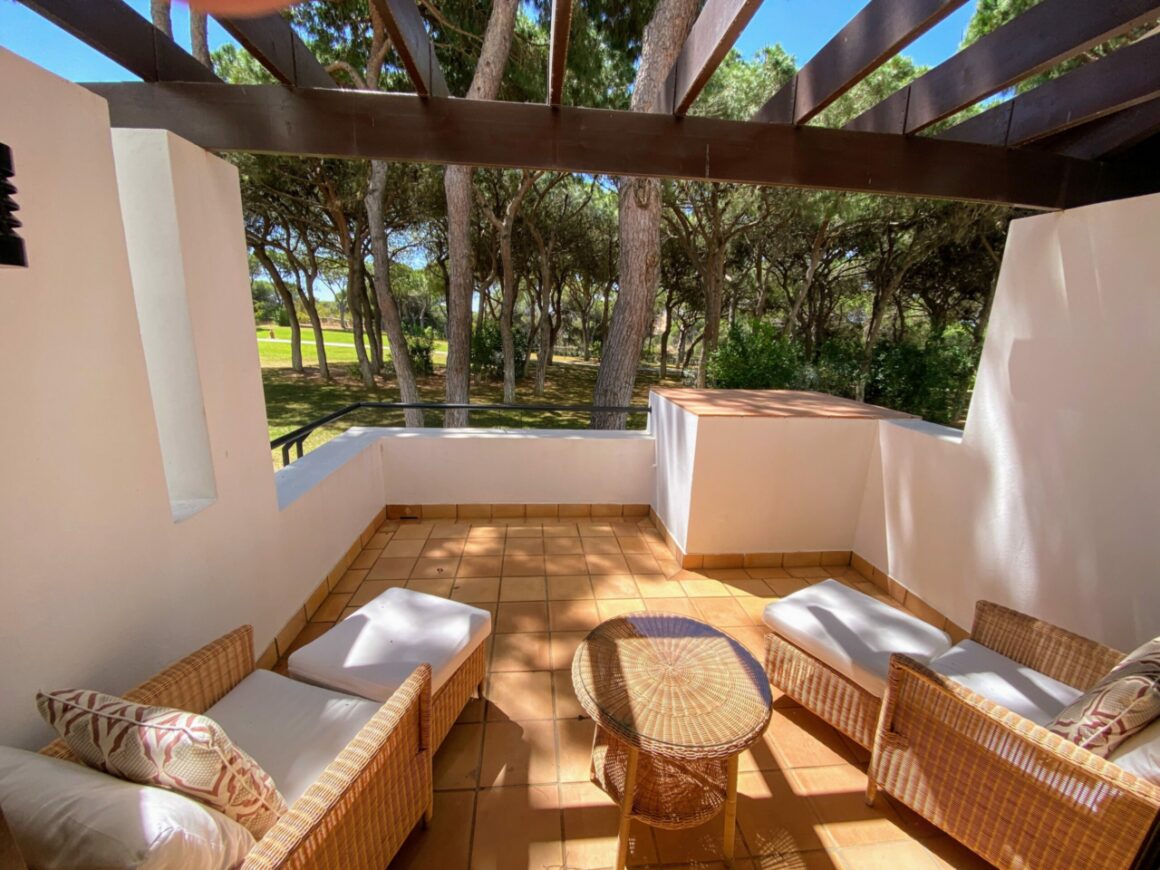 The room itself felt very large with a separate seating down a step. I would really call this a junior suite rather than a room. The style was very traditional but the rooms have been modernised recently. The tiled headboards are all hand-painted and give an authentic feel to the rooms. Many hotel rooms feel as if you could be anywhere in the world, but there is no mistaking that you are in Portugal in most parts of the hotel.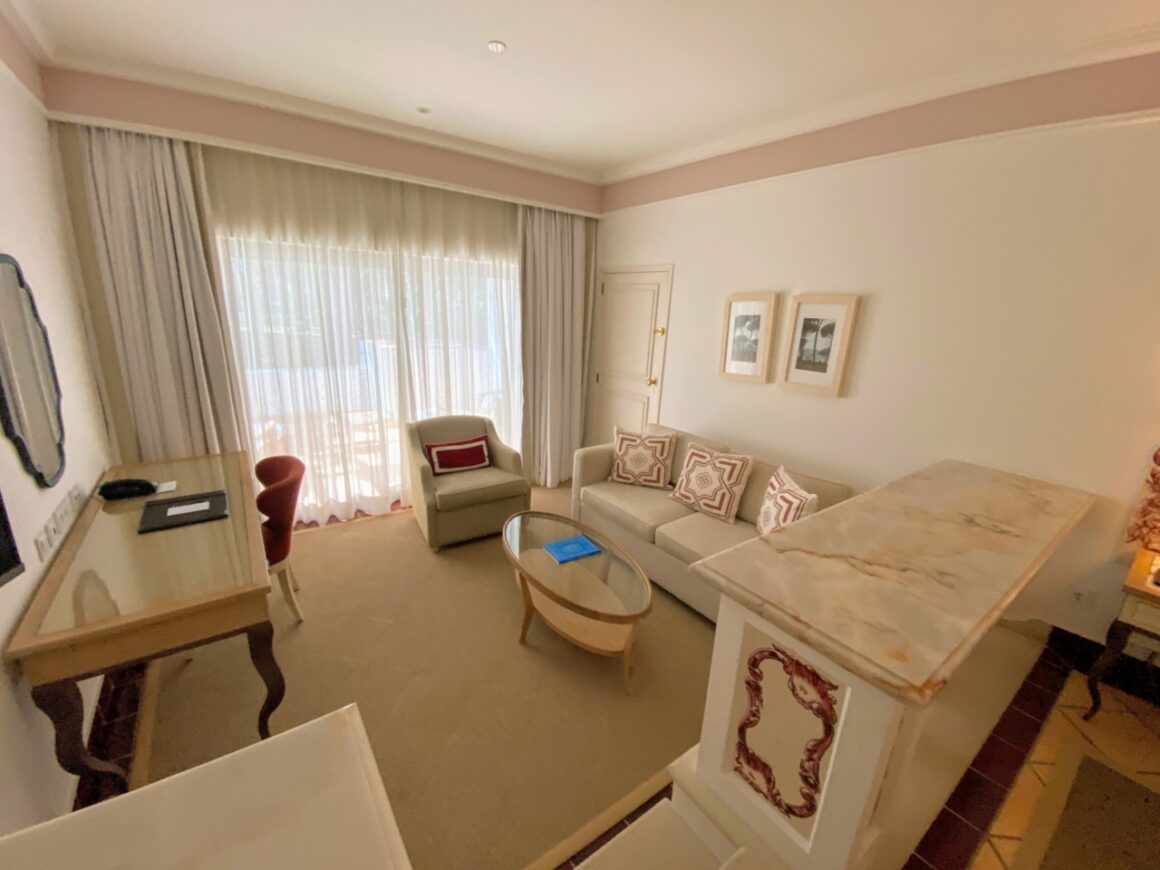 There was a large king-size bed which was very comfortable, although I think the Anantara just had the edge overall on bed comfort. The bedside tables had a handy QR code so that you could find everything easily and there is an app which you can download – it has a map which you need given the size of the resort!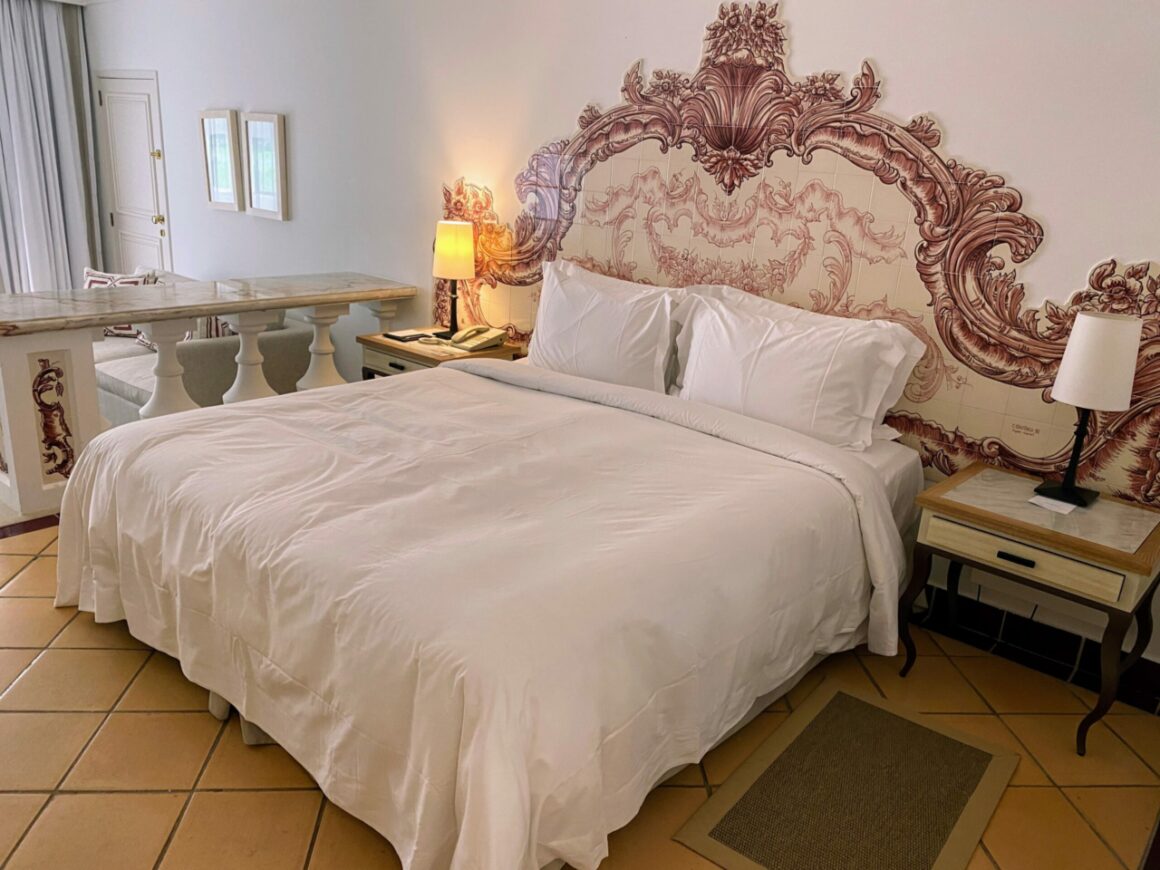 The room had everything you would expect in a luxury hotel except maybe an espresso maker but it did have tea and coffee plus bottled water which were replenished daily. As per the Anantara only "creme" was provided which is not ideal for tea. There was also a welcome gift of some snacks as well as an ice bucket and two types of glasses.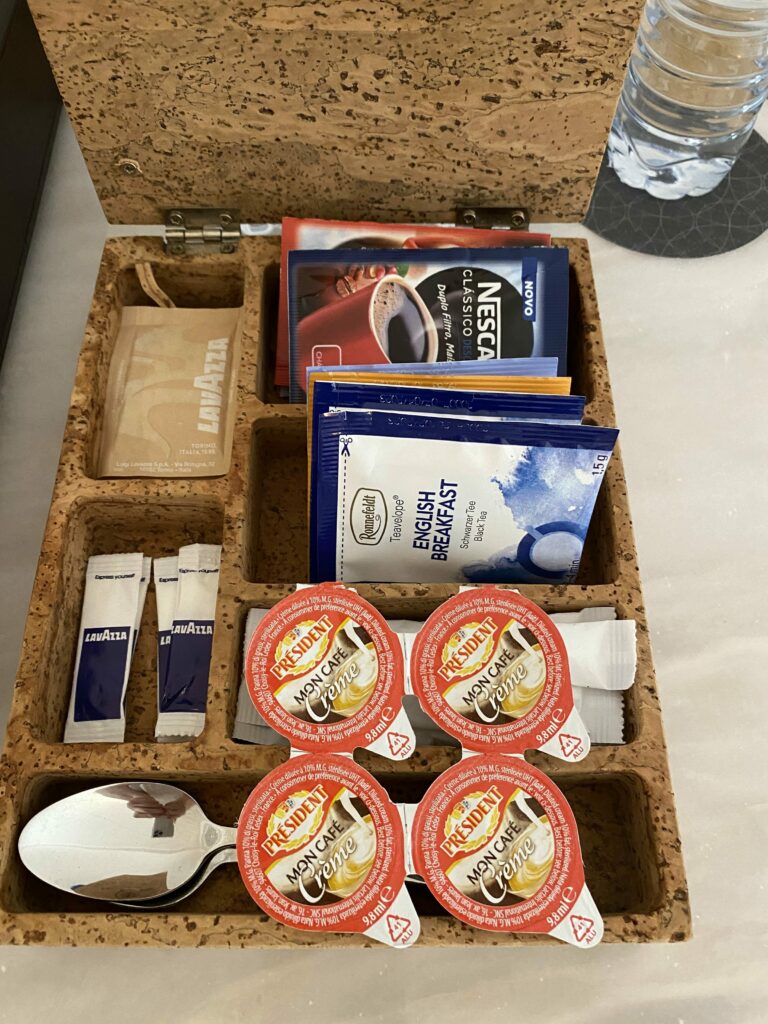 I liked that there was a good size seating area and the desk was large enough to be able to work easily with plenty of sockets around the room. The only thing that was missing was a socket at bedside table level although there were some lower down behind the table.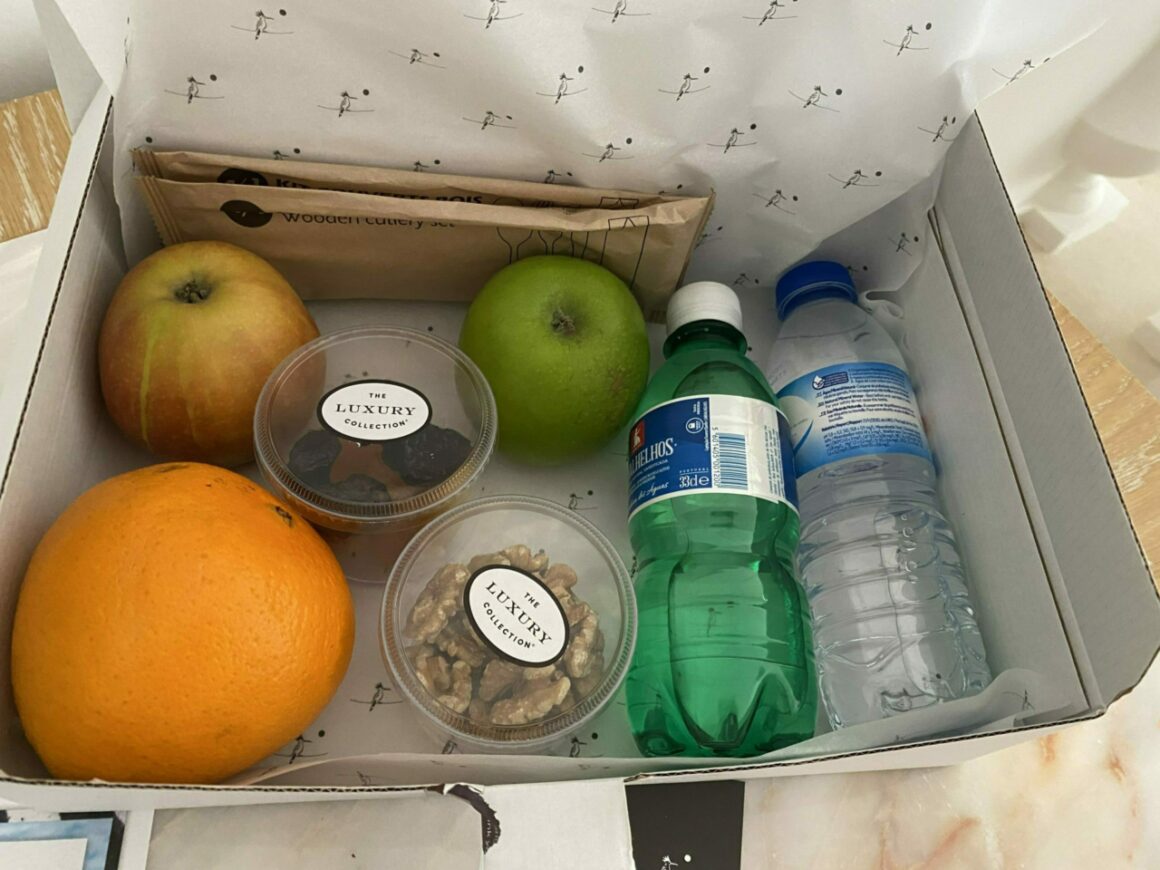 The room was serviced every day which I would expect at this standard of hotel, but sadly is not always given at the moment.
Pine Cliffs Resort Bathroom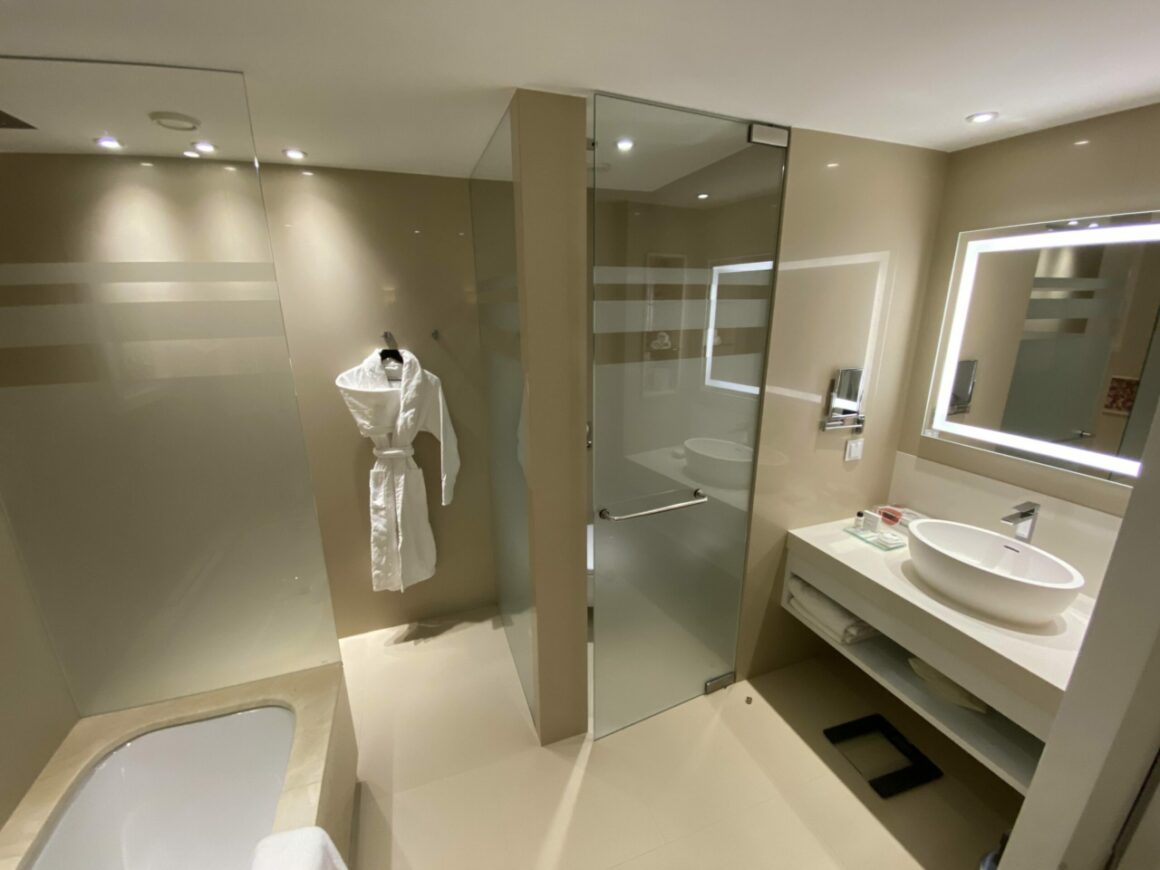 I really liked the spacious bathroom which was very modern with a luxurious feel. As well as the generous bath, there was a huge walk-in shower and a decent-sized vanity area around the well-lit sink. The magnifying mirror was at a good height and could be adjusted easily.
Byredo toiletries are provided which are one of my favorite brands and also used for Emirates First Class flights. The fragrance is unisex and fresh with notes of tangerine, Calabrian bergamot, Florence orris, Violets, Cypress and White Cedarwood. The scent is exclusive to The Luxury Collection hotels. Even using the shower gel in the bath it felt as though it was moisturising my skin! Byredo is one of the few brands of hotel toiletries I would actually use on my hair, as I'm super fussy normally!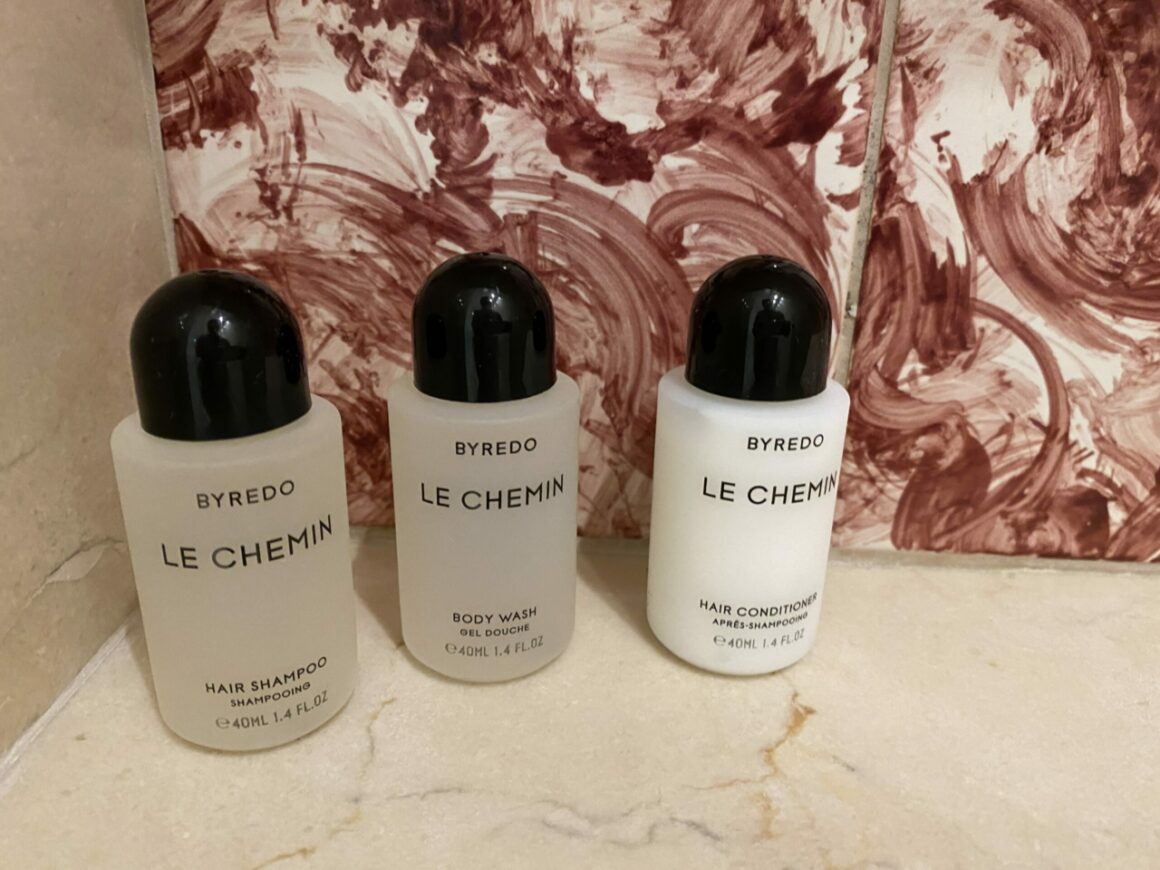 As well as the toiletries there was also a good selection of extras such as cotton wool and a mending kit. A final positive note was the large fluffy towels and bathrobes to envelope yourself in after a refreshing shower!
Pine Cliffs Resort Food and drink
One of the advantages of staying on a larger resort is the number of food and beverage outlets. As they were only just reopening, not all of them were open when I was there. There are eleven food and drink outlets across the complex:
Corda Café: The ideal spot to relax in the sunsun and enjoy drinks or a light meal while soaking up views of the pool, gardens and golf course. Open all year
Jardim Colonial: Overlooking a courtyard garden within Pine Cliffs Hotel, Jardim Colonial offers exquisite buffet dining in a relaxed, family-friendly setting. Open all year for buffet breakfast and seasonally for dinner
Maré at Pine Cliffs: In April 2019, Pine Cliffs Resort unveiled the revamped Maré at Pine Cliffs beach bar and restaurant. Set on the stunning Falésia Beach against a backdrop of azure waters and red ochre cliffs, the restaurant serves amenu focused on freshly-caught seafood, with dishes such as Algarvian gazpacho, octopus salad and grilled seabass. Open all year for lunch and dinner
Mirador Champagne Bar: With its stunning cliff top location and amazing views over the Atlantic coast, Mirador is the perfect place to take in the beauty of the Algarvean skyline and cliffs – and is unsurprisingly popular with couples during sunset. Open seasonally
O Grill: O Grill offers relaxed all-day dining beside the golf course and swimming pool, and show cooking in the evenings. Open seasonally for breakfast, lunch and dinner
O Pescador: One of the Algarve's finest seafood restaurants, combining al fresco poolside dining with traditional Portuguese flavours and a dash of contemporary flair. Signature dishes include the Frutas do Mar Platter and the famous Cataplana – a traditional Algarvean dish of clams, chorizo and tomatoes cooked in a copper pan. Open seasonally for lunch and dinner
Clubhouse: A place for golfers, the Clubhouse serves light meals and drinks complimented by the very best views of the golf course. Open all year for breakfast and lunch
Piri Piri Steakhouse: Located at the entrance of the Resort, Piri Piri Steakhouse has established itself as the Algarve's top hotspot for meat lovers showcasing a prime selection of gourmet cuts from all corners of the globe. Outdoor seating beneath the pines provides an intimate, romantic setting, while the spacious indoor dining area is ideal for larger group or family dinners. Open seasonally for dinner
Portulano Lobby Bar: A cosy lobby lounge offering a wide selection of cocktails; wines and Port by the glass; and local drinks such as Amarguinha, with a live singer on selected evenings. Open all year
Yakuza Algarve by Olivier: One of the finest Japanese restaurants in the Algarve, Yakuza Algarve by Olivier offers a menu of traditional Japanese specialities with a touch of Mediterranean flavours, served in an outdoor garden setting. Open seasonally for dinner
Zest – Mind, Body & Soul: A restaurant offering guests an array of healthy yet delicious drinks, snacks and meals. Open for breakfast and lunch
Breakfast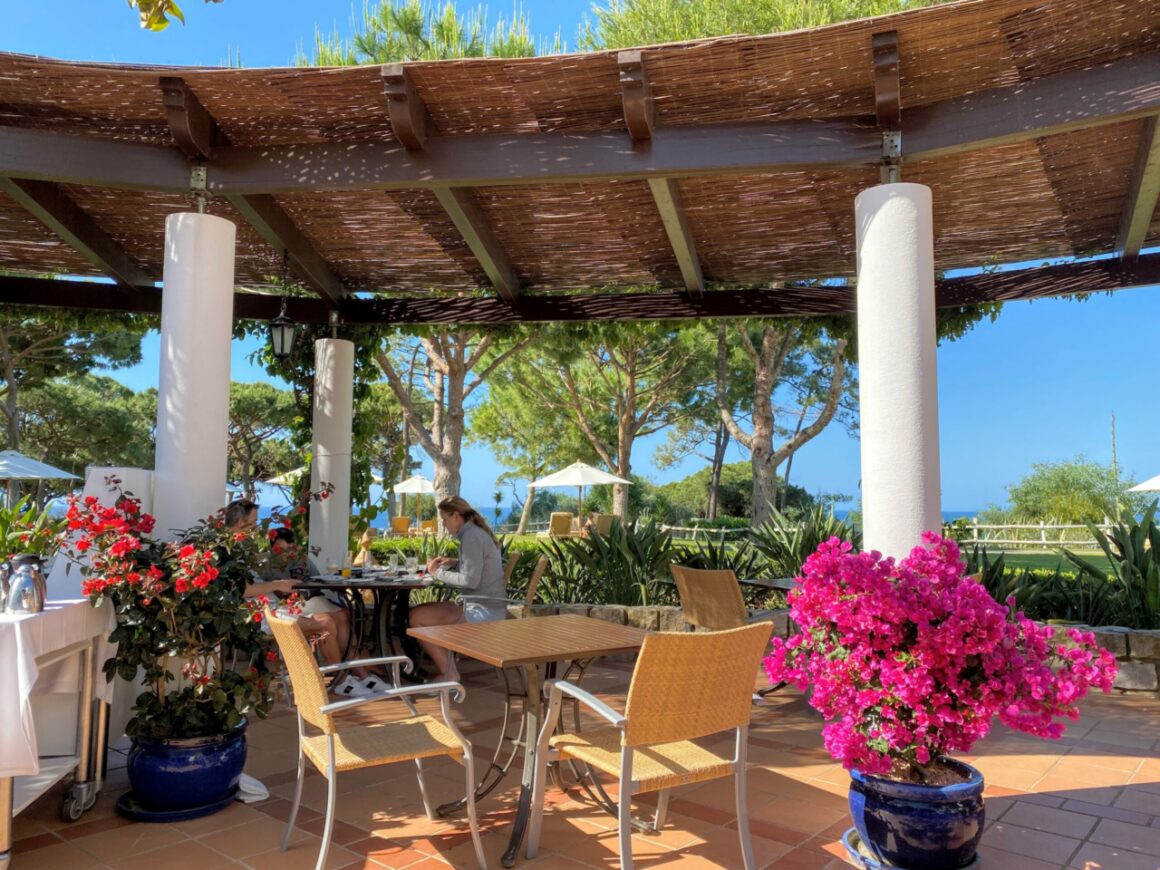 You could sit outside on a pretty courtyard at Jardim Colonial, or inside if it was a bit chilly. There was no issue getting a table outside each day. Coffee and freshly squeezed orange juice were brought to your table. Like the Anantara, at times the number of people seemed to make things a little slow, but overall they coped with it well. The buffet was well laid out with 2 identical stations for almost everything, so you did not have to queue.
Staff served you everything so you did not have to touch anything apart from your own plate. It was sometimes a little confusing where things like sauces with but otherwise well laid out. You could get most egg dishes ready-cooked or get them freshly made to order. I really liked the ready-made ham omelettes.
I thought the food selection was good and generally high quality. The enormous juicy ripe strawberries proved a hit with everyone!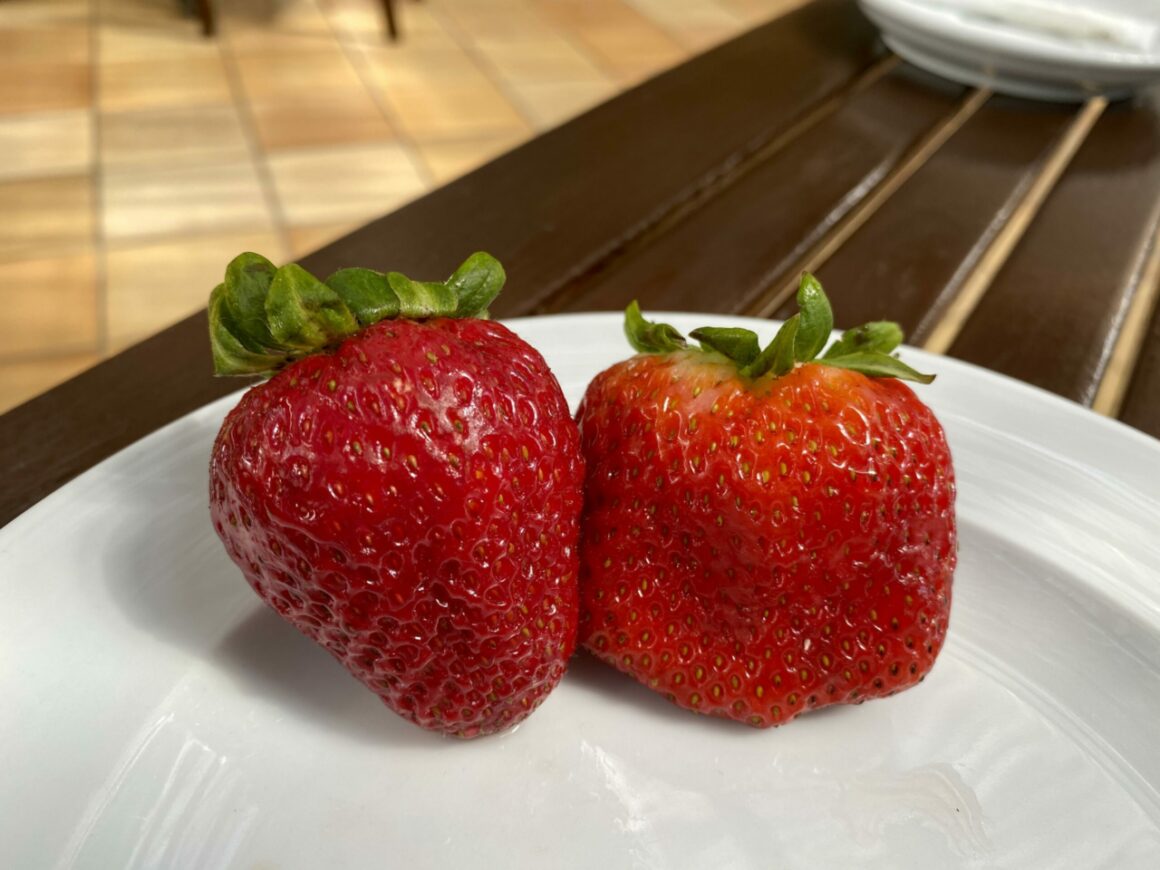 Mirador Champagne bar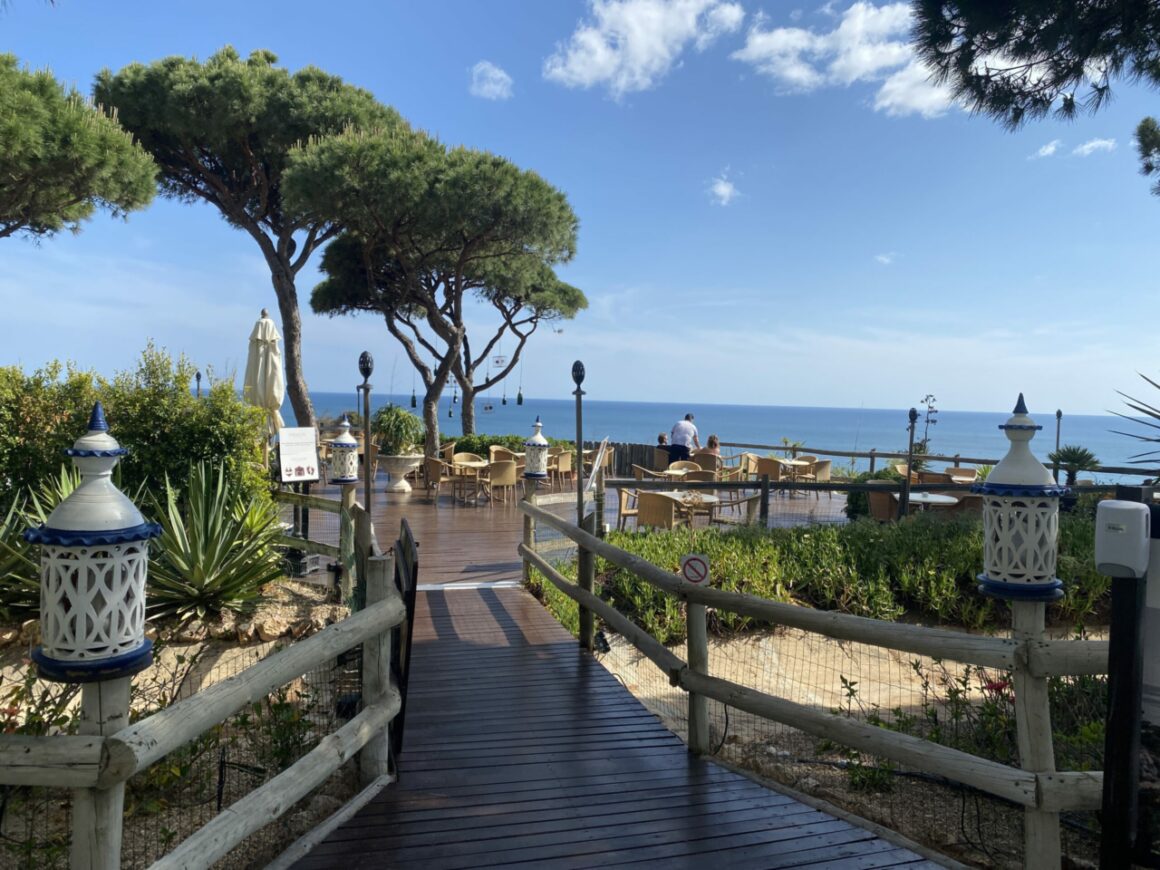 Well, obviously this was going to be a big win with me! It's not called "Champagne Travel on a Prosecco budget" for no reason. The drinks list is slightly limited with champagne, wine, G&T, and a few cocktails but it's well worth a visit for the spectacular location and the champagne tree (I need one of my own!). This was one of the highlights of my afternoon after I had finished at the pool, to sit and relax in the late afternoon sun with a good book and a glass of fizz! (I've been reading a book called "Upgrade" which fellow travellers may enjoy.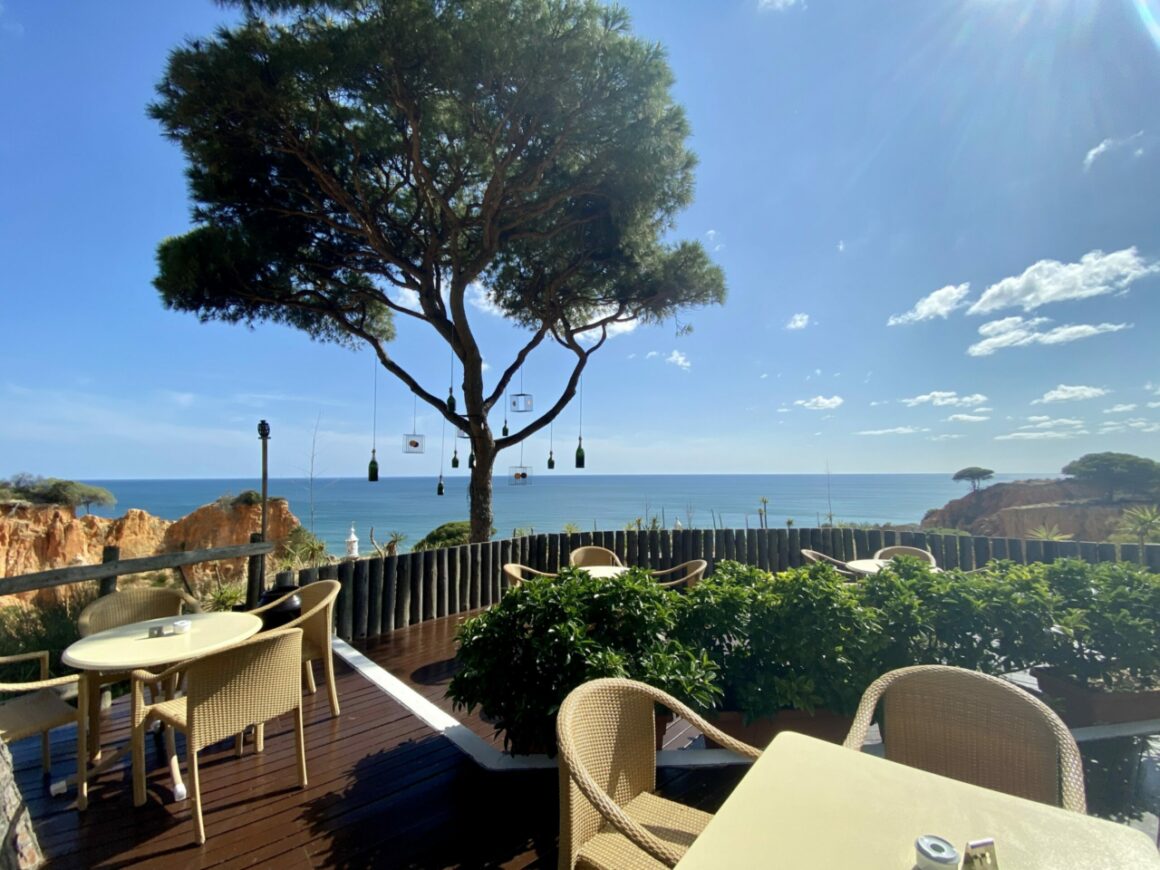 It's open in the late afternoon and evenings and I found the service excellent. You get a selection of snacks which are topped up as needed. When they noticed I hadn't touched one of the types, they brought back a selection of more of the others instead! Laurent Perrier is available by the glass including the rosé.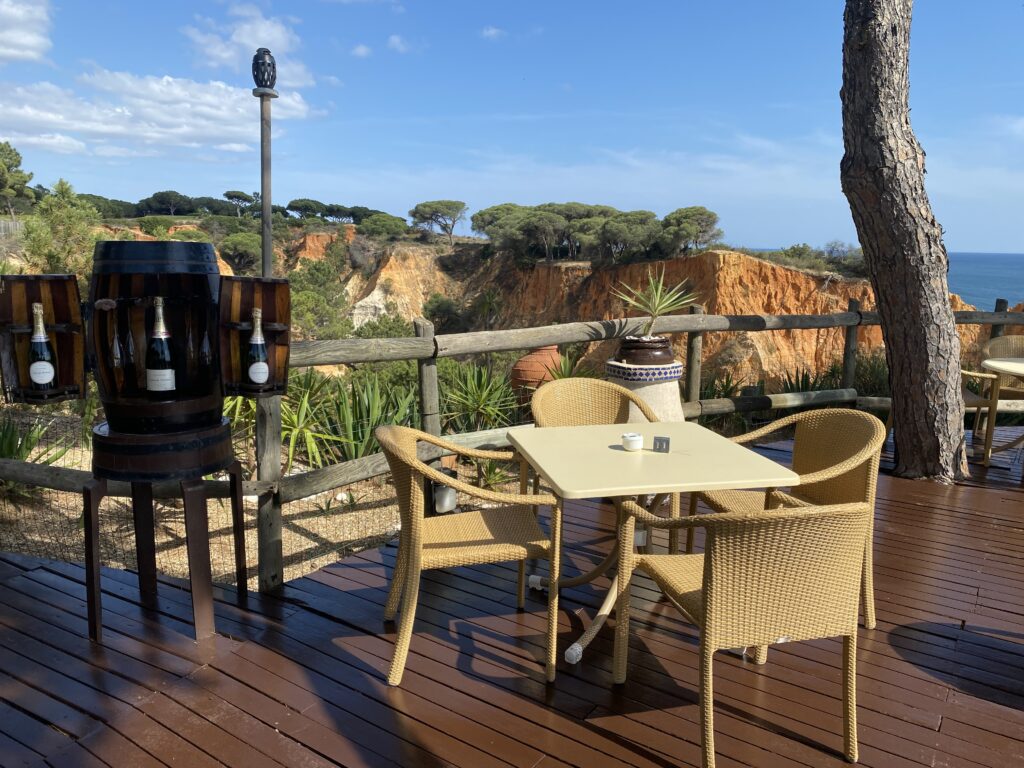 Café Corda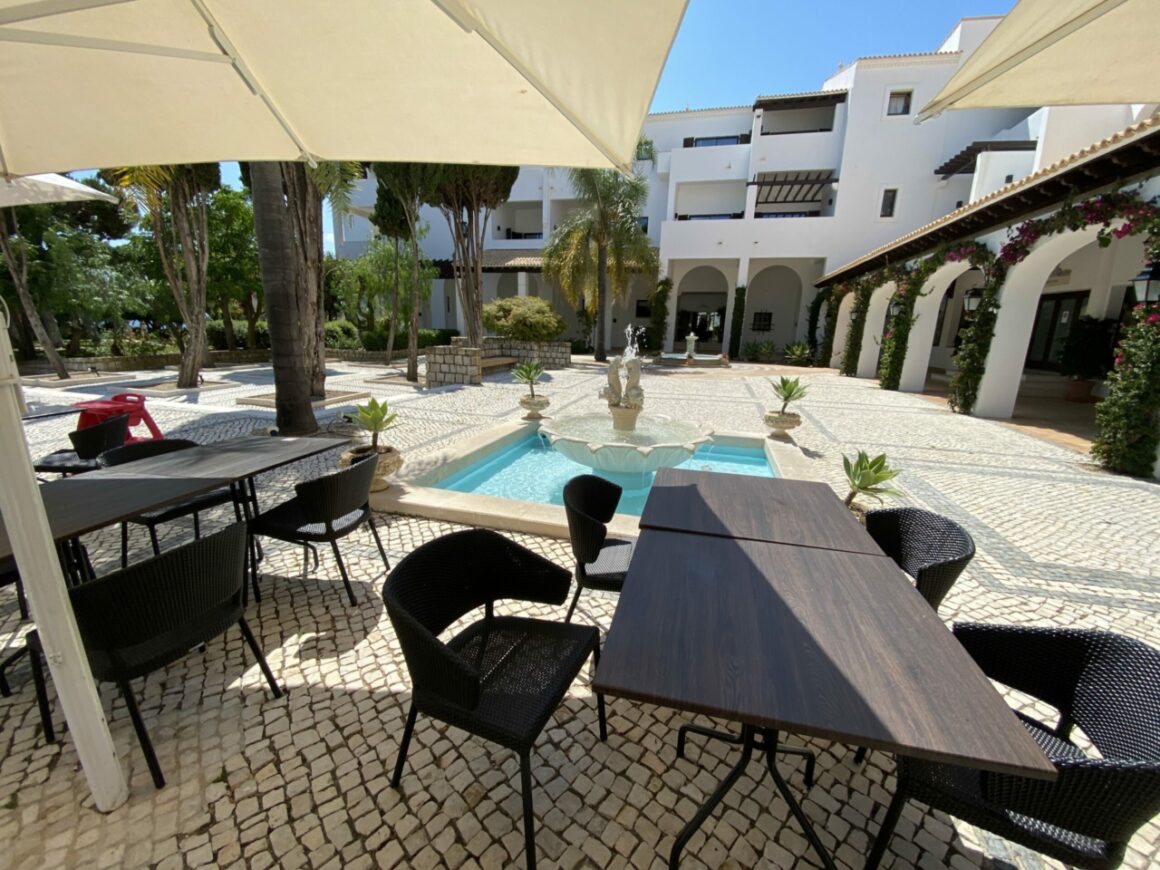 This is a casual restaurant that feels like one you may find in a village or town square. I popped in for a simple chicken sandwich one lunchtime and also it was a good place to relax with a drink after dinner. The service was a little hit and miss as again they were slightly overwhelmed. There was no complaint about the food or size of the drinks though!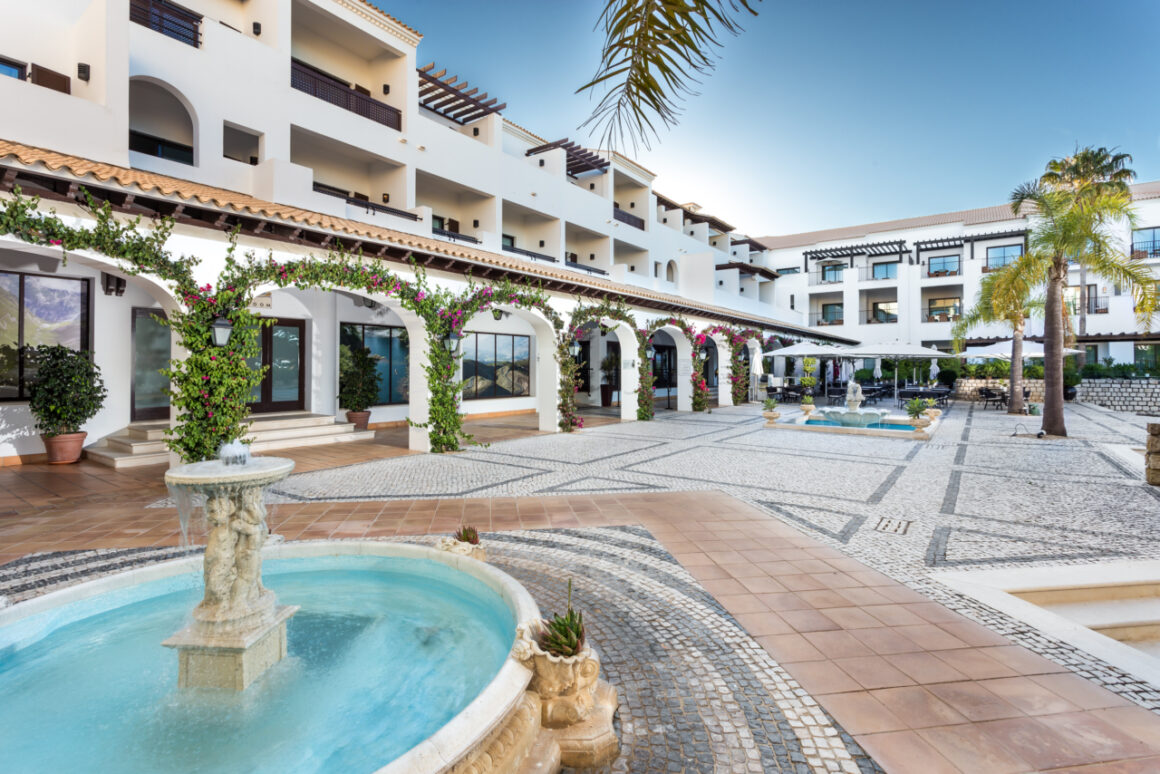 Maré at Pine Cliffs Resort

I was invited to dinner at Maré by the hotel. All other expenses at the hotel including my stay were paid for by myself. The restaurant has a stunning setting and I recommend getting there in time for sunset. The restaurant is simple and when I was there, there were quite a few families so maybe not exactly a romantic setting during school holidays!
The menus are done by QR code and the feel of the restaurant is fairly casual with simple fish, seafood, and meat on the grill.
I started with the Portuguese classic, clams. These were really delicious, large and plunp with a little sweetness and a lovely garlicky sauce. The garlic bread was also particularly good. It was probably the best clam dish I have had and I was left wanting more!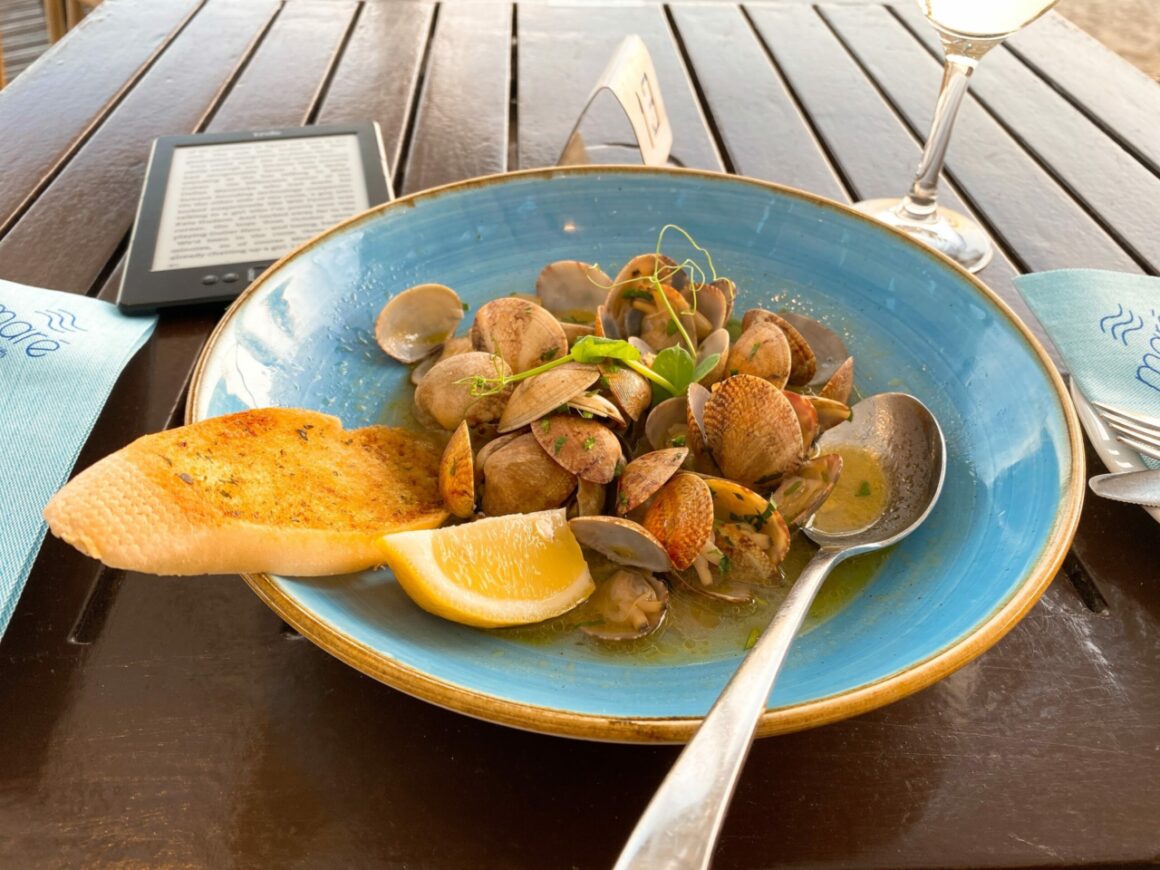 This was my last night and having eaten a lot of fish I decided to go for the steak which is probably akin to sacrilege for many at a beach restaurant!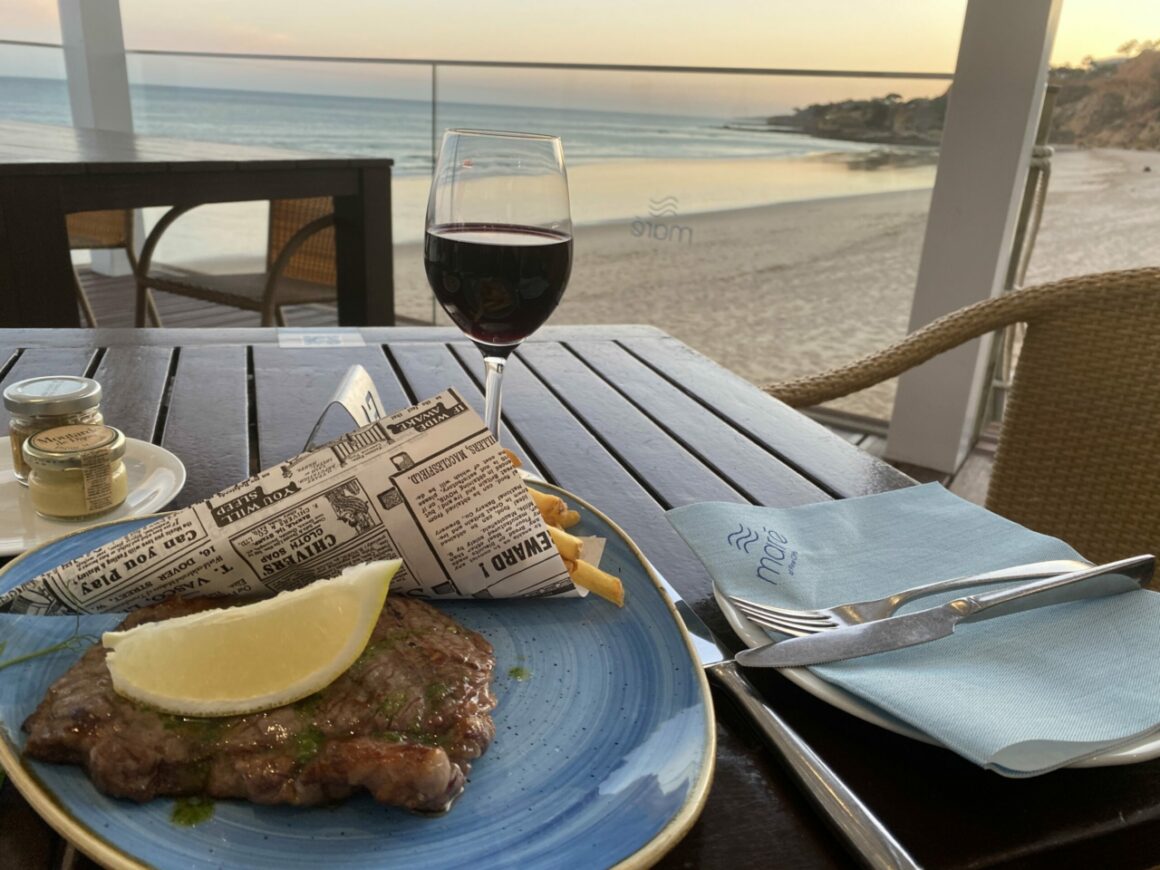 The steak was cooked to my request and had a good flavour with a drizzle of herb butter. I would have liked the outside to be a bit more charred with more of a crust, but that's a fairly minor issue. I loved the chips in the newspaper wrappers!
I ended the meal watching the sunset over the cliffs…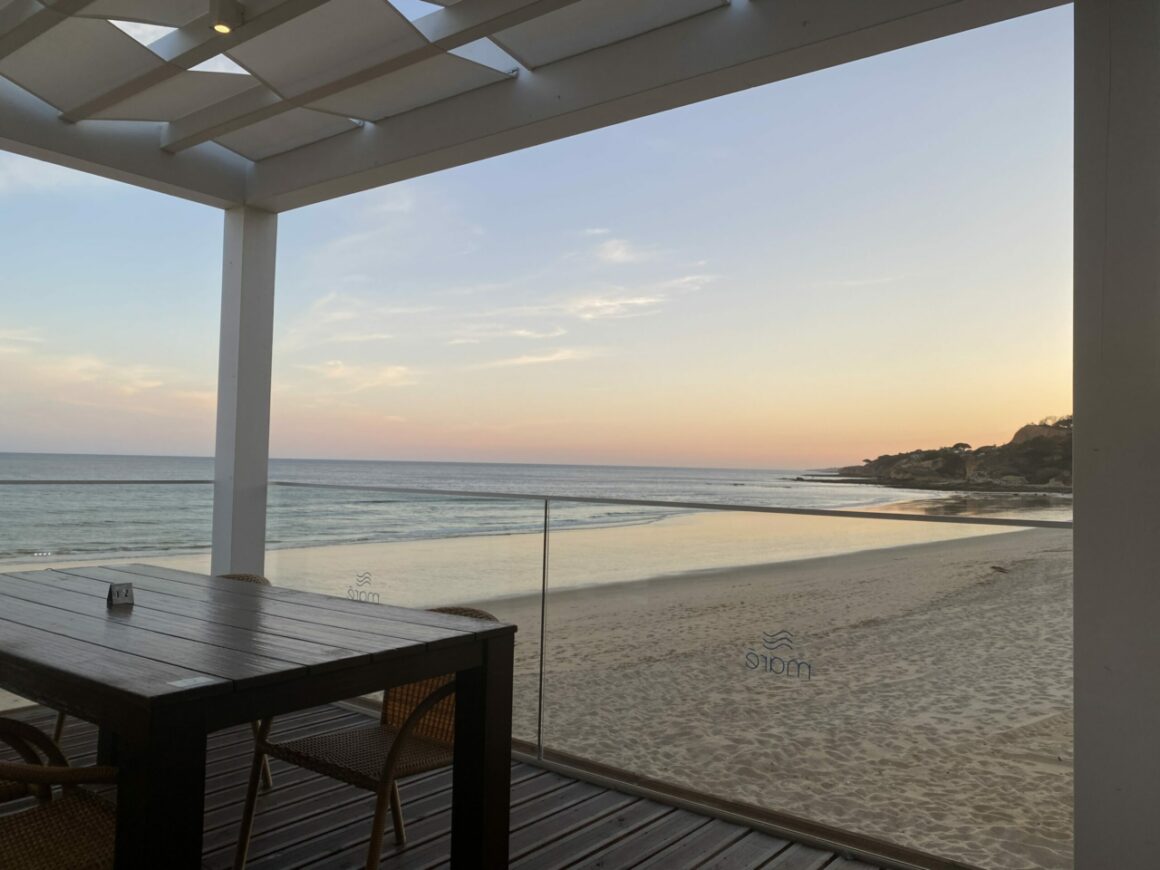 Beach, pool, and fitness at Pine Cliffs Resort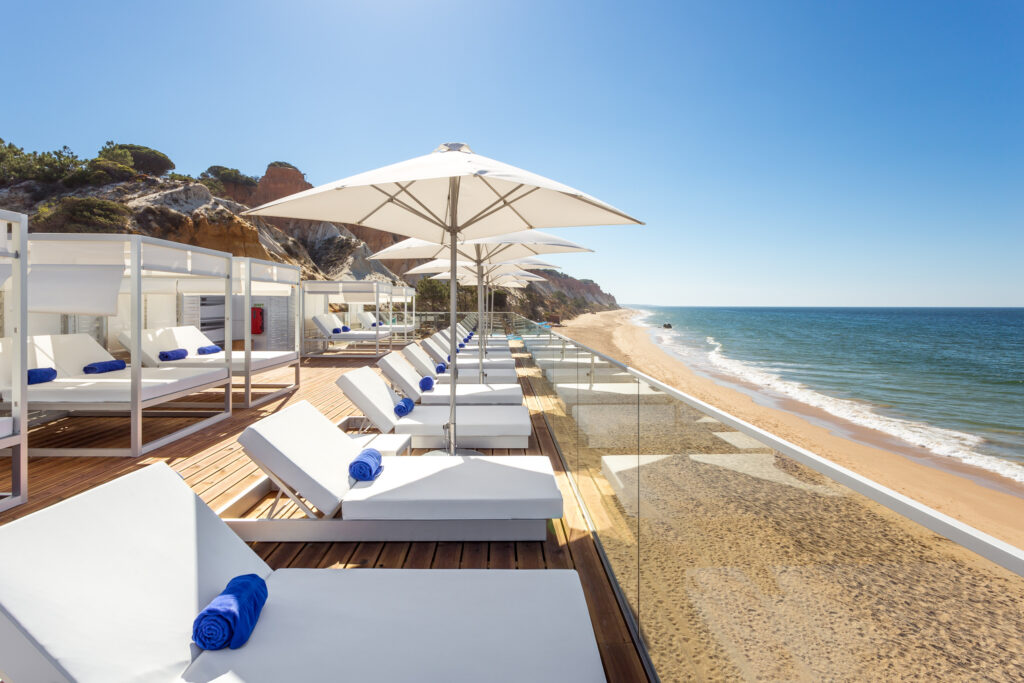 The beach here is lovely with a wide expanse of golden sand and plenty of sunbeds. There is a towel station so at least you don't have to carry them with you. Having the restaurant right by it is also very useful for when you get hungry.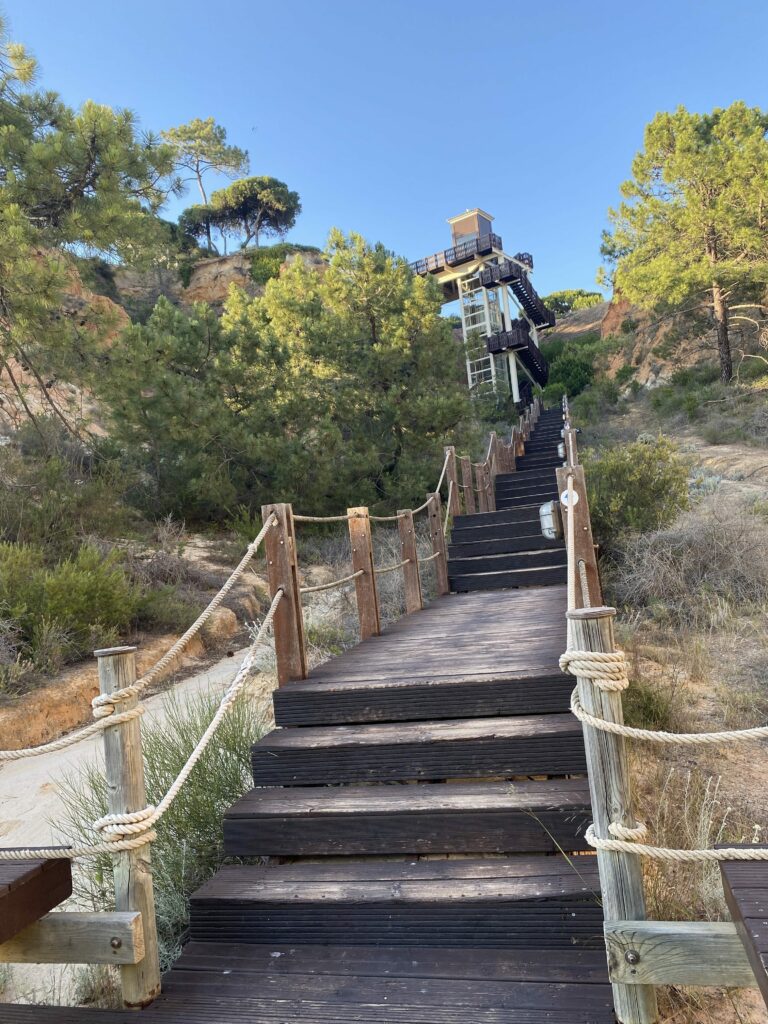 The issue for some may be getting to the beach. There is a lift but really that only brings a small part of the way. If you have small children and lots to carry or a pram it would not be easy.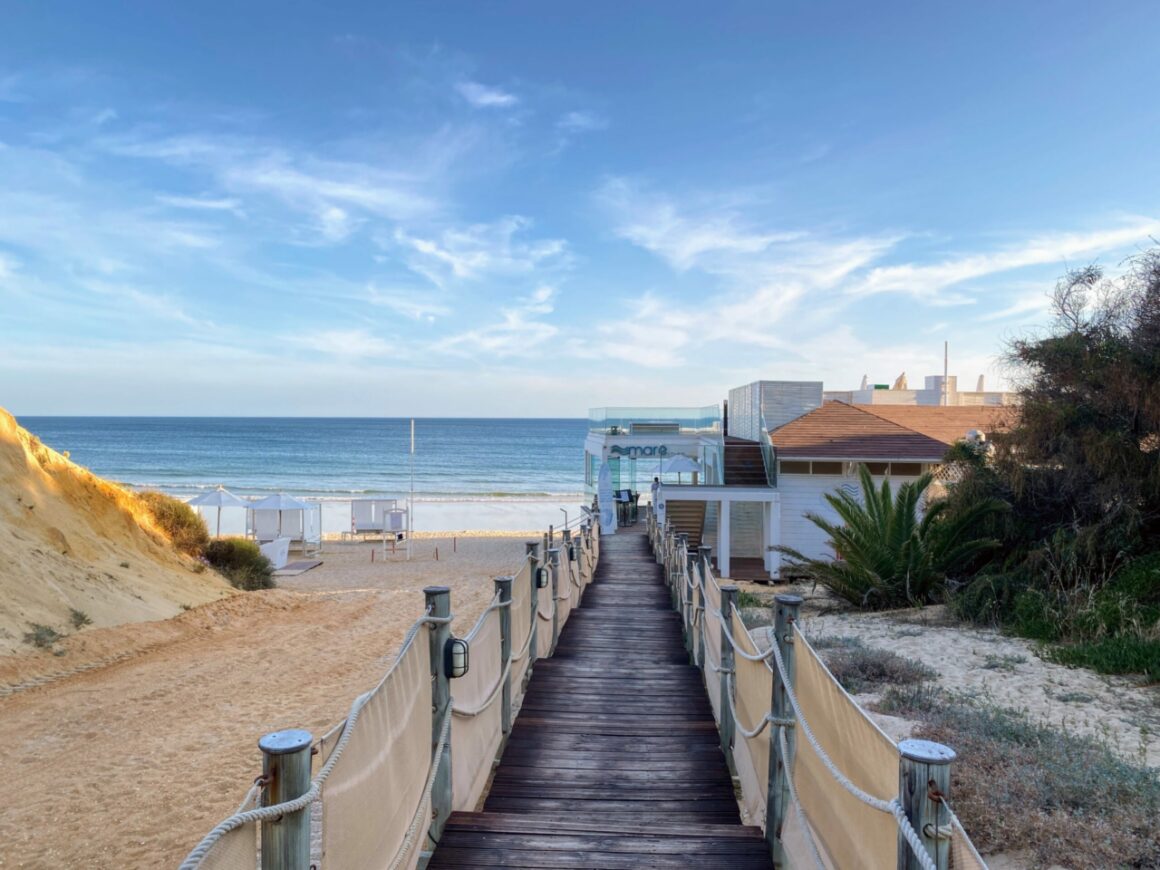 Being a large resort there are a number of pools (11) to chose from. Three are situated at the Pine Cliffs Resort hotel and another one is at the Ocean Suites right by it. Three of those four have more shallow areas for children.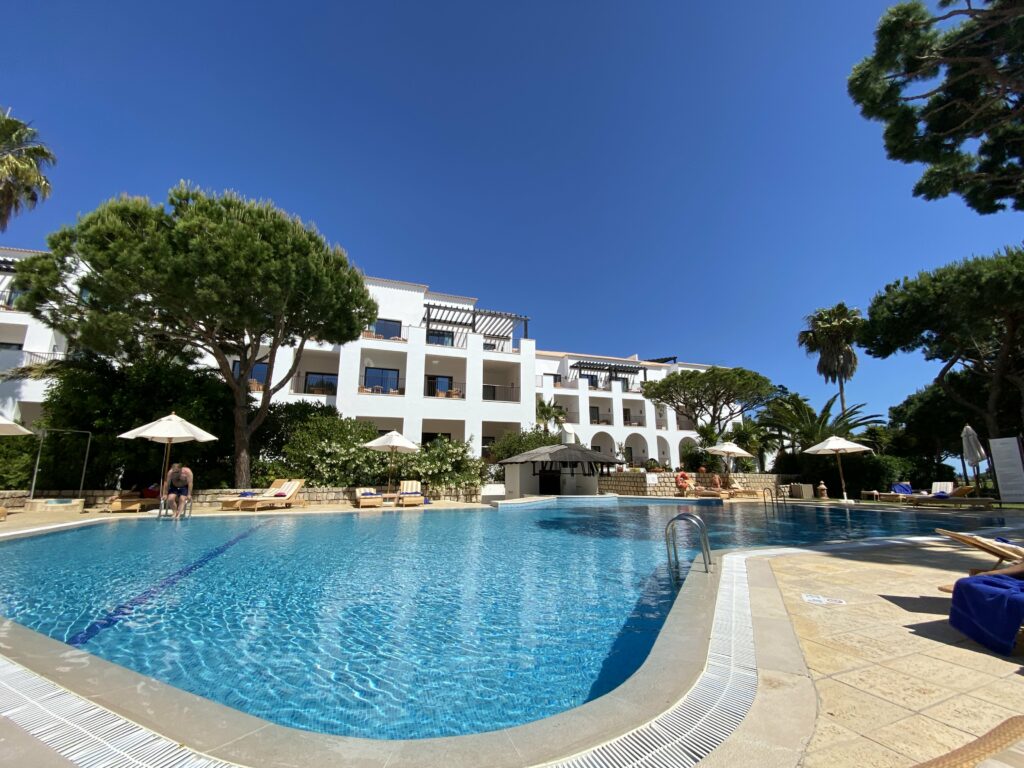 None of the pools were overly crowded but this was probably because they are not heated. They were so cold they took your breath away! In the summer months, it would be fine, but in shoulder season I found it very chilly. Getting a lounger was fairly simple as there were so many pools plus lots on the grass if you prefer more shade.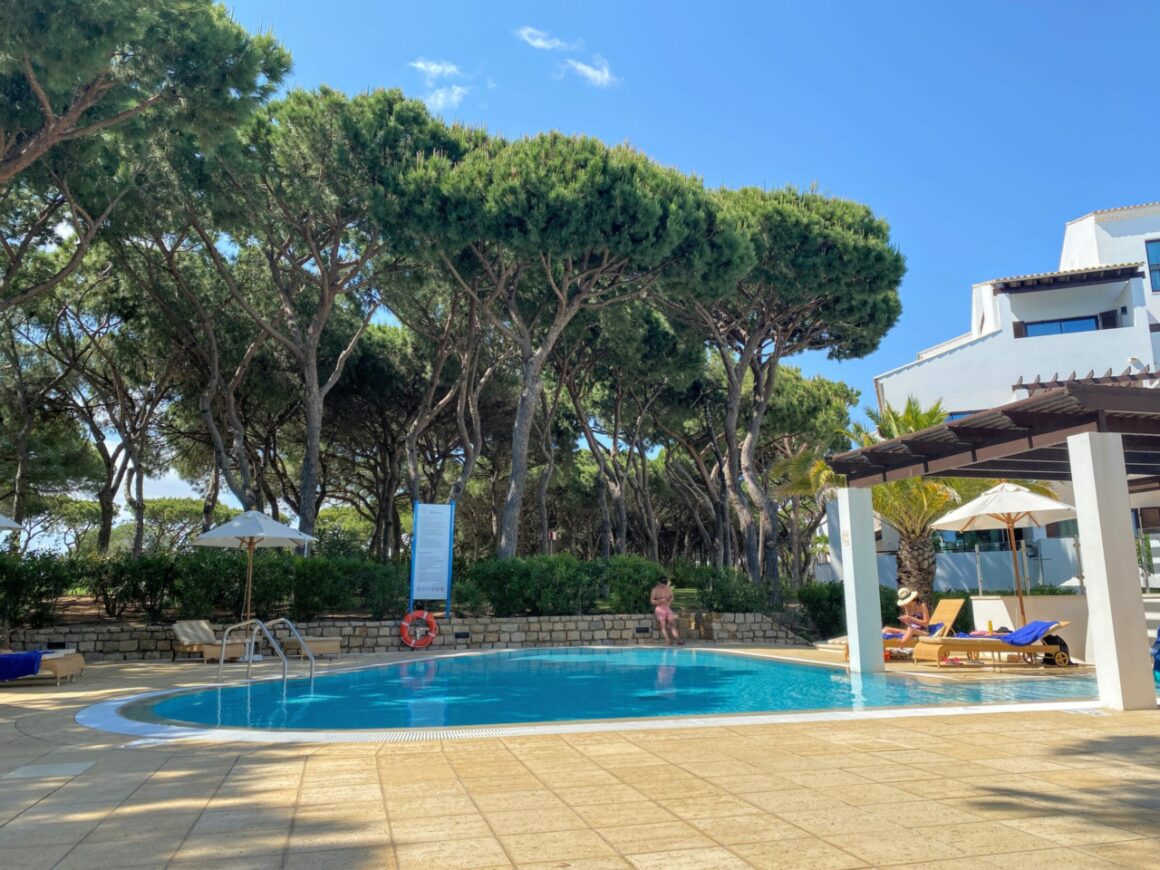 There is a heated pool at the Clubhouse but it's a bit of a trek from the hotel as it's across the other side of the golf course.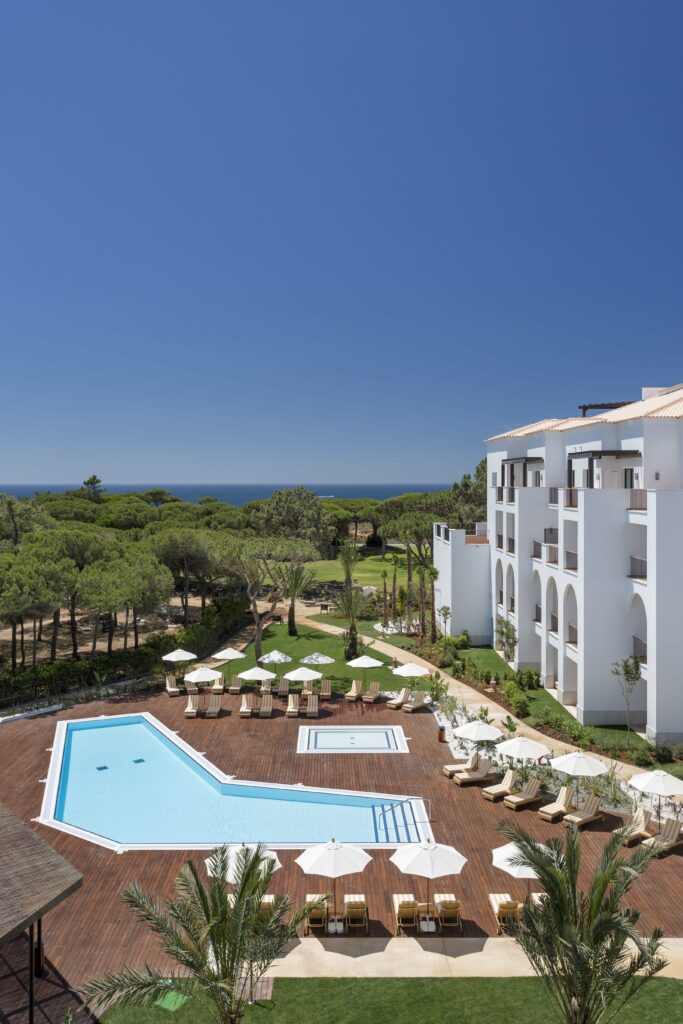 There was no service when I was sitting by either pool. I'm guessing this was because the restaurants by the pool were closed. If you came earlier in the year or want to do some serious swimming there is also an indoor pool by the fitness centre.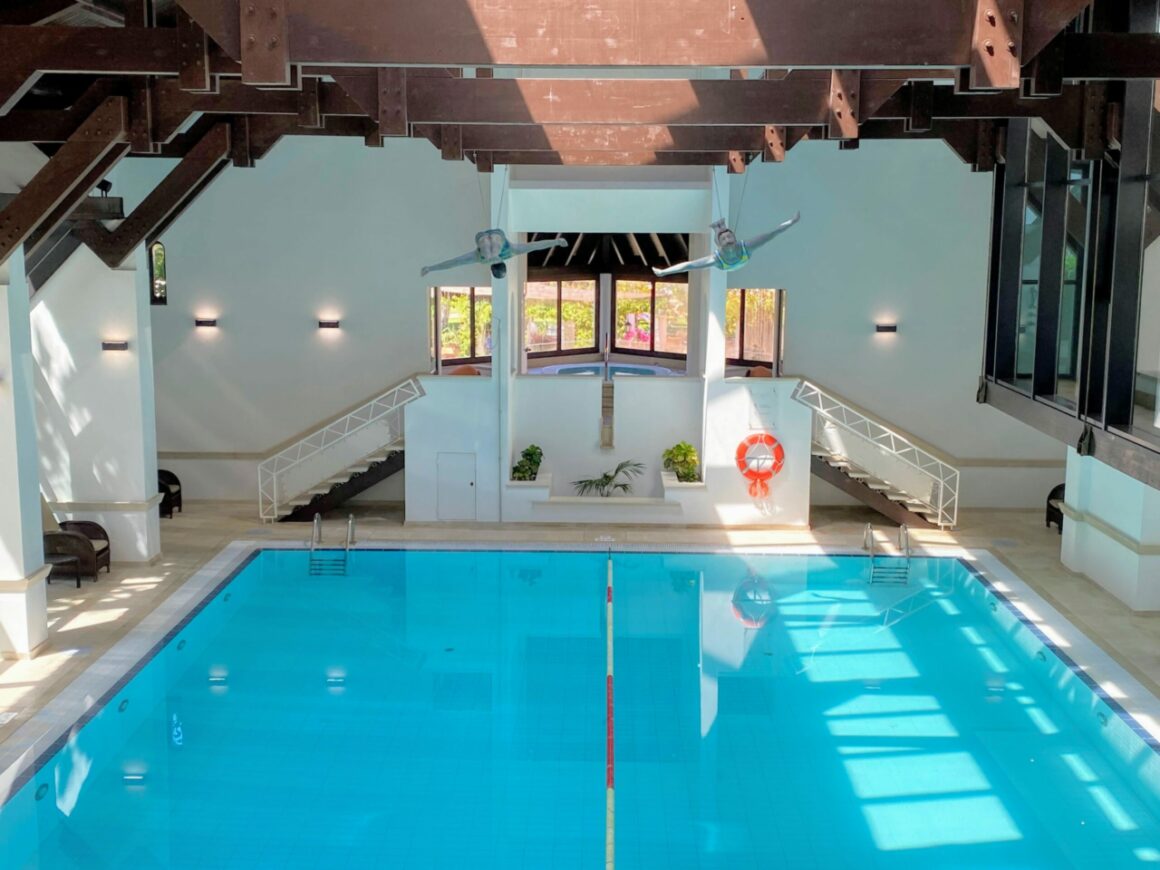 Now to the towels, I'll admit I have a thing about towel cards. It makes me think that the hotel doesn't trust its guests not to steal the towels! I don't mind quite as much giving a room number but certainly being given one card and told you can only have a single towel does not smack of luxury. Particularly when the pool is cold and you may want to warm up afterward. I'm guessing I could have asked at reception if I was allowed another card, but I generally expect a luxury hotel to have a towel station at each pool and to be able to have a least two towels. This has one by the beach and then one in between the two hotel pools in the gardens.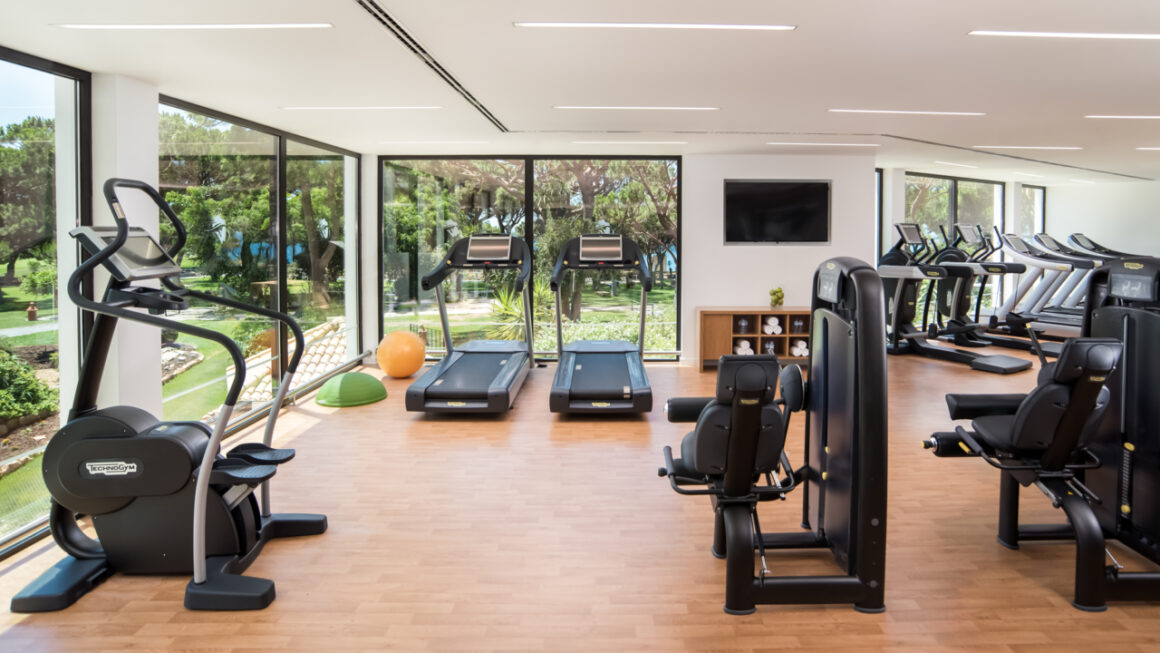 If you like to keep active there's a large gym, classes and you can do yoga in some beautiful locations around the grounds.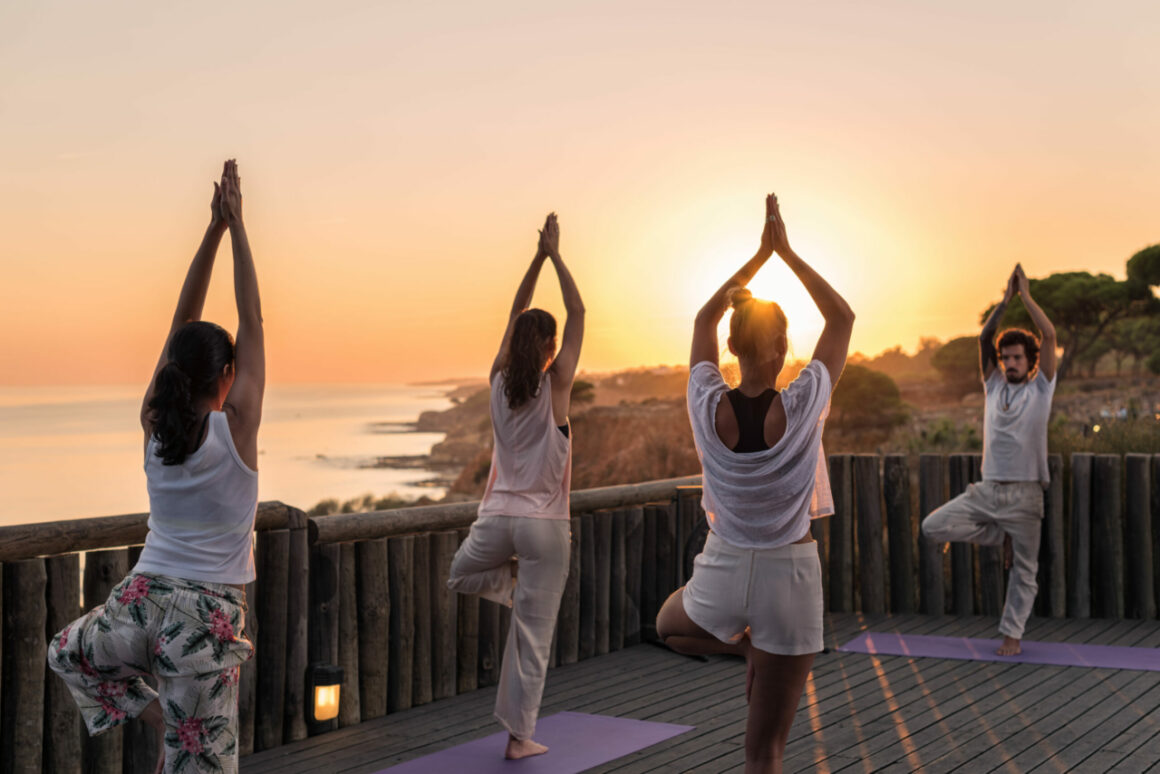 Pine Cliffs Resort Golf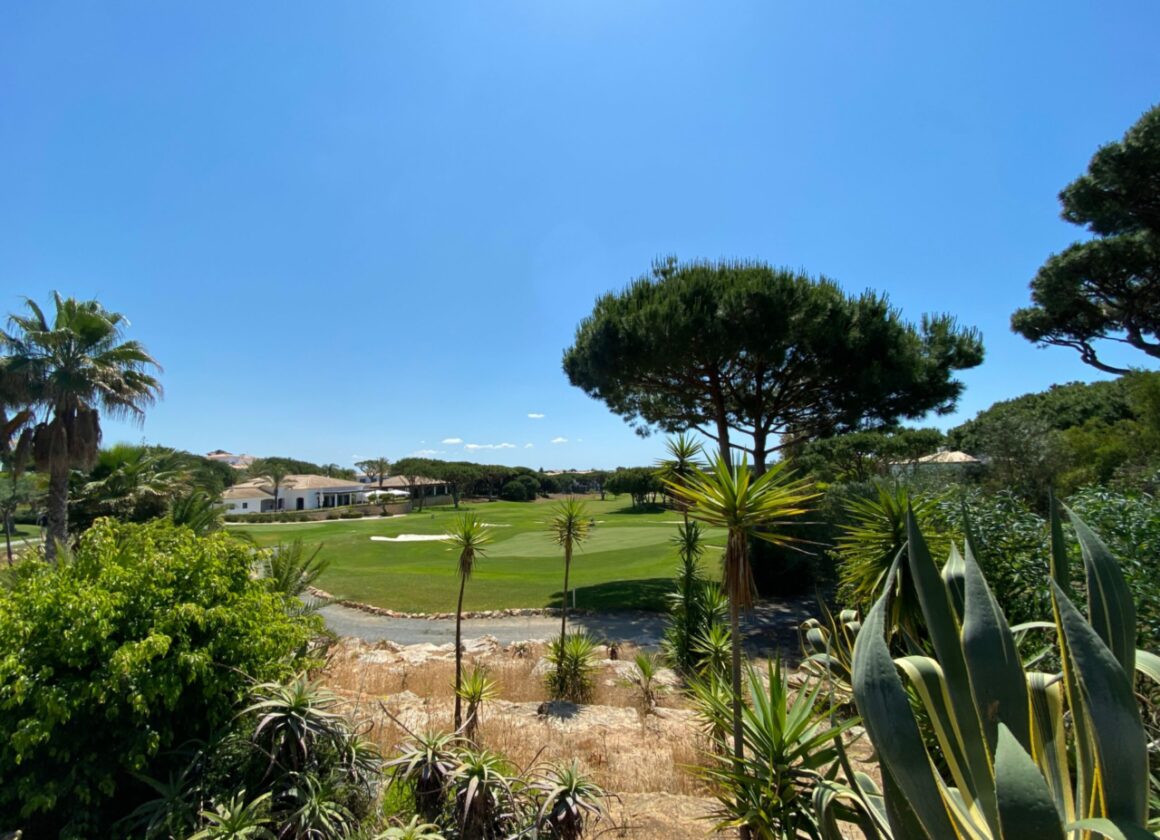 The cliff-top nine-hole Pine Cliffs Golf Course is surrounded by old pines and can be challenging, especially the famous "Devil's Parlour", a ravine-traversing par-3 with breathtaking views of the Atlantic coastline. The Golf Academy and Pro Shop offer a practice area with landscaped driving range offering nine flag positions; short game area; and a large putting green as well as equipment retail and rental.
There's also some serious action for tennis lovers with the Annabel Croft Tennis Academy which features five full-size ATP floodlit courts (two red clay and three acrylic), and a dedicated Academy team to help with everything from court hire and racquet rental to coaching courses and tournaments.
Serenity Spa at Pine Cliffs Resort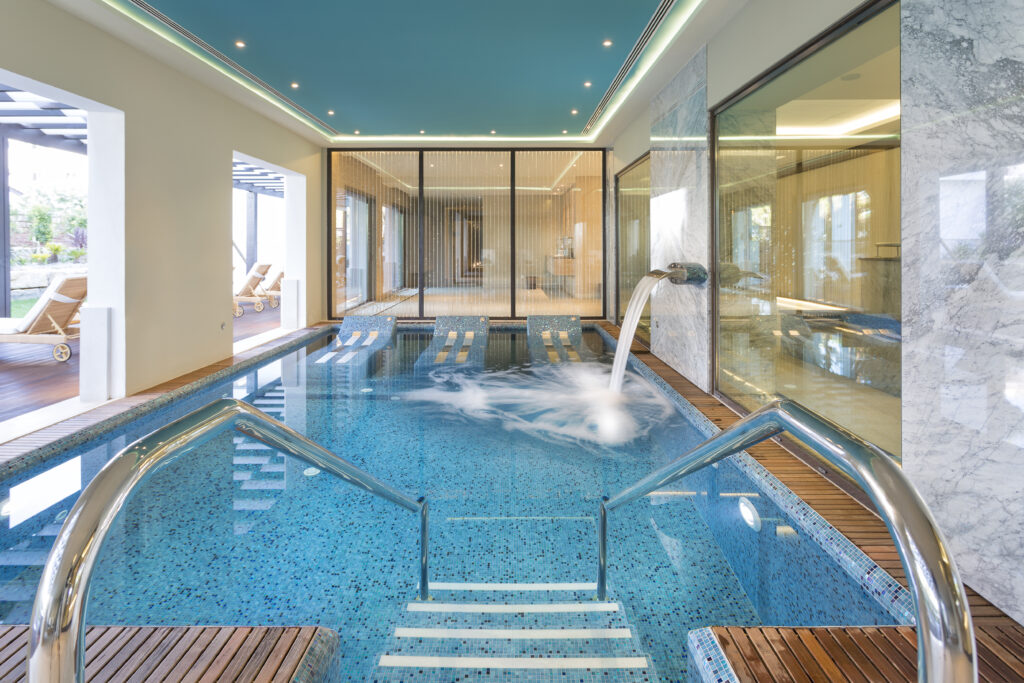 I visited the spa to try an Indian head massage and foot massage. The therapist was very good and tailored my treatment to my specific needs.
I like that each treatment room is specially designed according to the type of treatment such as an Asian-themed room for Thai massage. The spa has a great range of facilities that you can use such as a hydrotherapy pool, salt, and herbal saunas, experience showers, and a contrasting temperature foot bath. They offer a dry floatation room: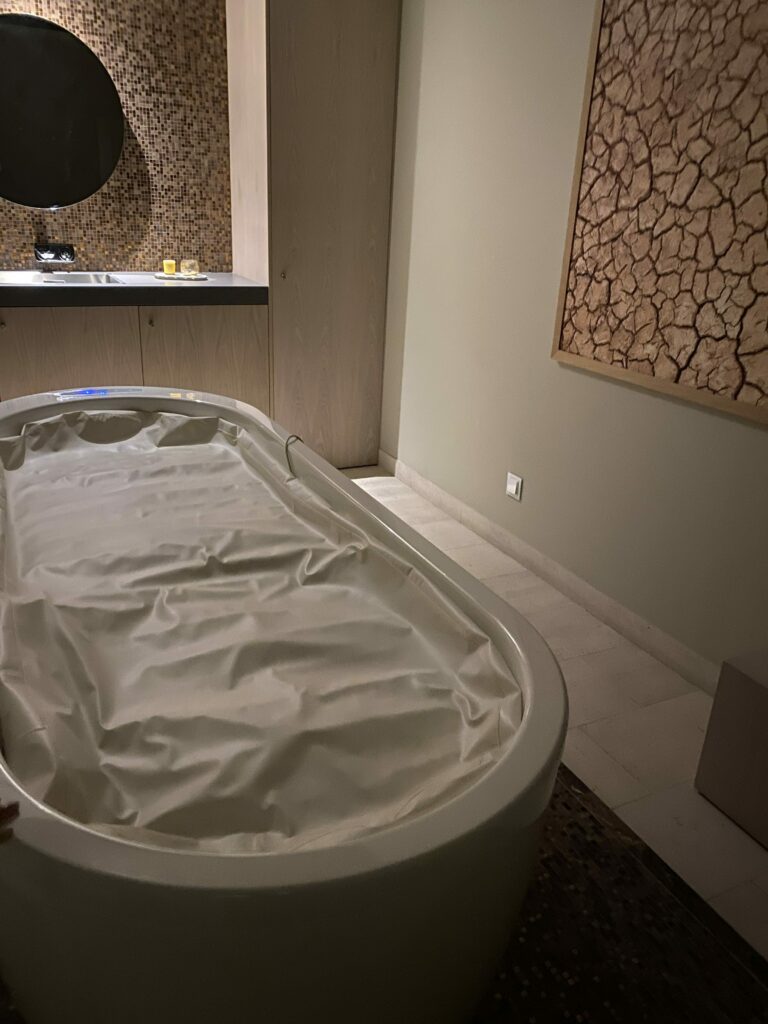 And a relaxation area inside: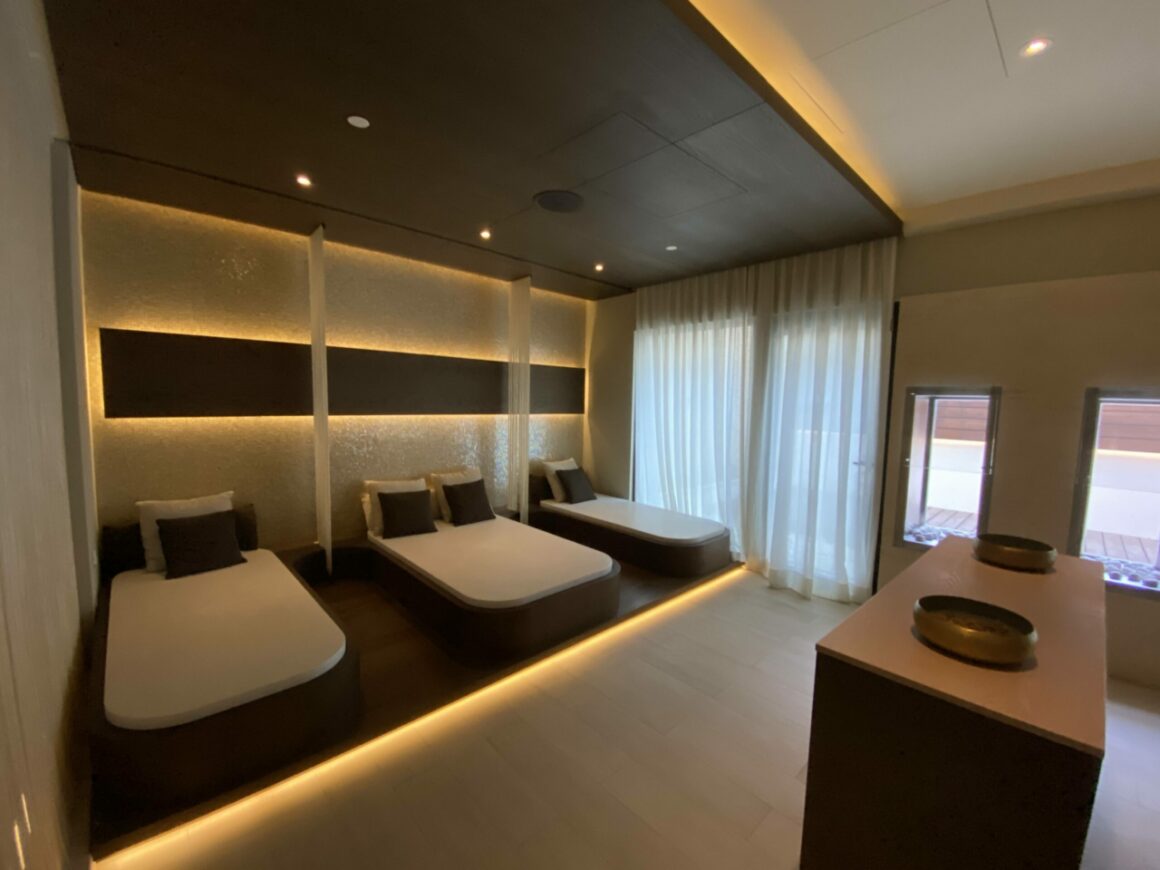 The highlight for me was the outdoor jacuzzi and terrace with loungers. It felt rather odd that the hydrotherapy pool indoors was cold but the outdoor one was warm!
The Aurum Suite is the ultimate spa suite with its own steam room, sauna, jacuzzi, experience shower, double treatment room, and lounge area. If you hire the area it comes with a bottle of champagne – perfect for a special occasion.
Kids Club and other activities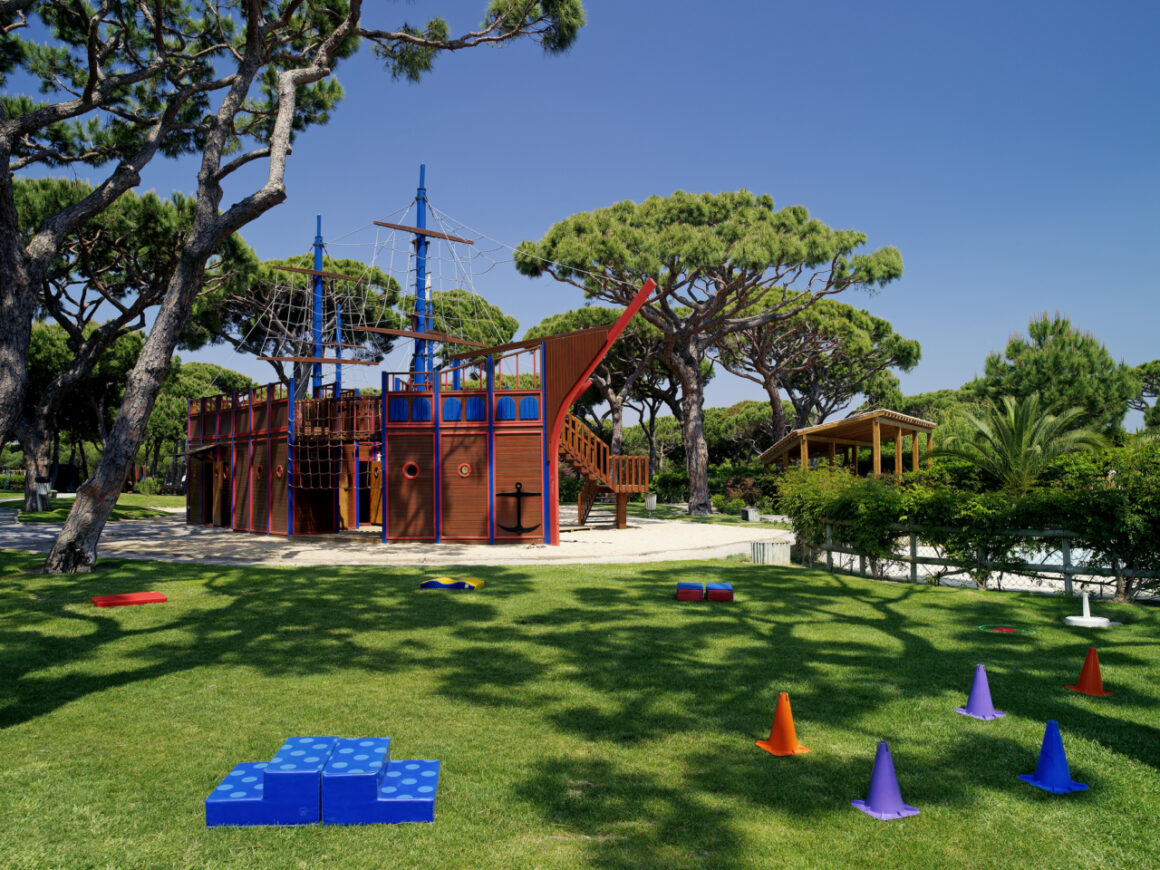 There are so many things to do just in the resort, never mind leaving to see some of the Algarve! There's Mimo Algarve – Cooking School, lots of boutiques and shops, and even a wine merchant that does regular tastings.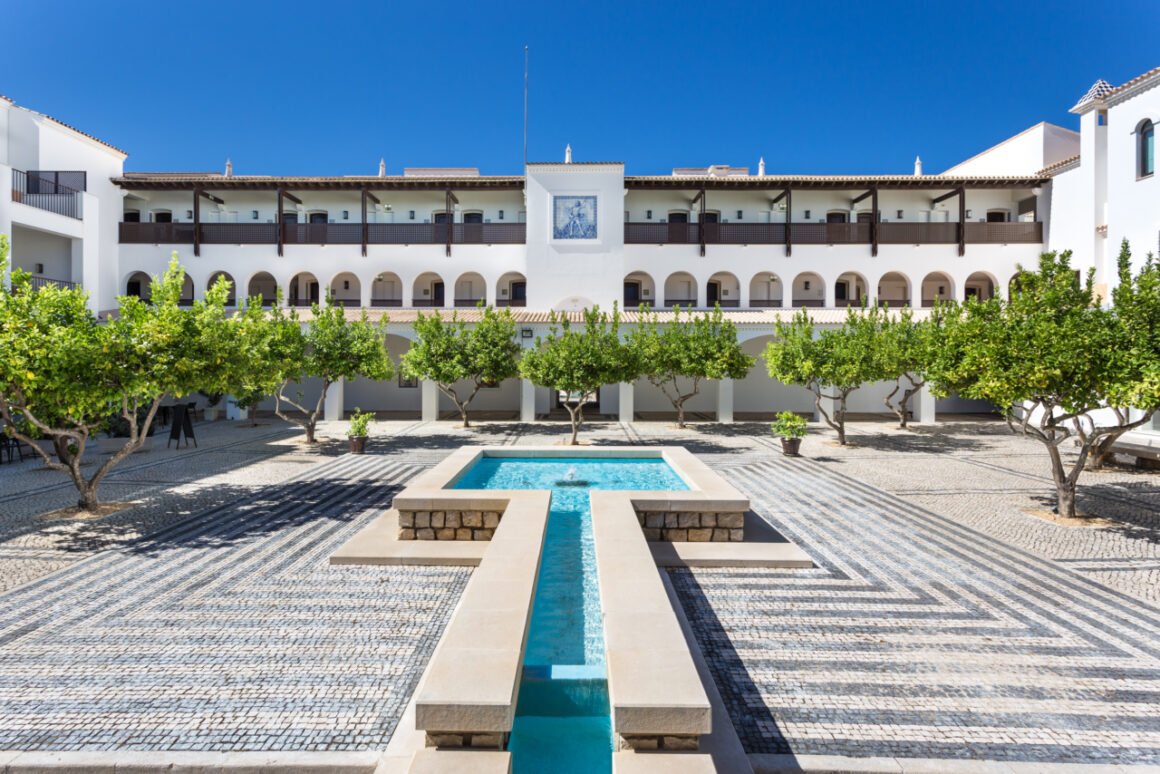 If you are travelling with children, the resort has the biggest kids club in the region, Porto Pirata which has its own pool.
Conclusion
Out of the three hotels I have stayed in, this is by far the most scenic with its position perched on the clifftops. You also get much more of a sense of Portugal staying there from the decor. The buildings and grounds are absolutely gorgeous. However, if you like a very modern look, this may not be your style.
The main draw of the resort is the sheer number of activities and restaurants on-site. If you want a holiday to just chill and not go anywhere this would be ideal. The resort is spread out over a large area and there are lots of steps and cobbles, so it may not be ideal for everyone. (There is a shuttle round at peak times). Also if you prefer a small resort, but at least the individual parts have their own separate areas making it seem less vast.
Like the Anantara, the hotel wasn't fully open so some places were busier than usual and showing a little bit of the strain in the restaurants. The food was all good quality and prices were similar to those at the other hotels I have visited. The reception staff were extremely helpful along with the porters and valet.
You could also book this hotel using Marriott Bonvoy points at 40-60,000 per night (category 6). With prices getting up towards £600 a night at peak season, it's definitely a great value points redemption.
You can find out more information about The Pine Cliffs Resort here or enquire with GTC to book with extra perks here.
Like our Pine Cliffs Resort review? You can read more hotel reviews here.