I recently flew with Thai Airways (Economy) to Phuket via Bangkok. I booked the Plaza Premium lounge last minute to relax before the long overnight journey ahead of us! Our experience in the Plaza Premium Lounge was fantastic, and we felt very relaxed and ready for the trip ahead. Here is everything you need to know about the Plaza Premium Lounge in Heathrow Terminal 2.
Introducing Plaza Premium Lounges
Plaza Premium has a huge network of lounges in 250+ locations, 70+ International Airports and 30 countries and regions. The brand also owns Aerotel.
Plaza Premium Lounges are at the following UK airports:
Edinburgh
Gatwick North Terminal
Heathrow Locations:
Departures, Terminal 2
Arrivals, Terminal 2
Departures, Terminal 4
Arrivals, Terminal 4
Arrivals, Terminal 3
Departures, Terminal 5
Blush Lounge by Plaza Premium Group – Departures, Terminal 4
Booking the Lounge and Eligibility
I booked the Plaza Premium Lounge through DragonPass Premier+.
I booked for three people for £18.50 each, plus an additional £5 for guaranteed availability. There was a considerable discount on the lounge price through Barclays Avios Rewards, which gives 1,500 Avios per month plus five lounge passes each year for £18.50 per pass.
The Plaza Premium Lounge at Heathrow Terminal 2 is also bookable via the website for £48 for a 2-hour slot. You can also book a shower for £16 for a 30-minute slot or 5 hours for £72. View the website here for more details.
There are several other ways to purchase a Plaza Premium Lounge Pass, including on HolidayExtras and Get Your Guide. I would have booked with Get Your Guide if I hadn't been able to get a discount elsewhere.
Eligibility with Cards and Credit Cards
Barclays Premier Avios Rewards: If you have a Barclays Premier Bank with the Avios Rewards addon, you can get five discounted lounge passes yearly. You can get five free passes each year with the credit card addon.
HSBC EveryMile Credit Card: 6 complimentary visits to Plaza Premium lounges annually.
American Express Platinum Card and Business Platinum Card: Unlimited access for you and two guests at all Plaza Premium lounges.
Capital One Spark Miles for Business: Two complimentary visits each year.
Capital One Venture Rewards Credit Card: 2 complimentary visits to Plaza Premium Lounges each year.
Capital One Venture X Rewards Credit Card: Unlimited access to some Plaza Premium lounges for you and two guests.
Passes to Enter Plaza Premium Lounges
DragonPass: There are 3 DragonPass plans available, starting from $99 for one lounge visit each year (as long as DragonPass covers it) and $35 for additional visits or guests. For $259 each year, you can visit eight times or for $429; you can visit as many times as you want.
A Plaza Premium Lounge Pass: You can buy a lounge pass directly from Plaza Premium. Passes cost $99 for two global lounge visits, plus several other benefits. You can also buy a pass for specific countries or continents. A 2-visit Europe pass is $71, or you could get ten visits for $303.
Note: If it's too busy, you may not be granted access even with one of the cards above. There is an option to book in advance to guarantee your booking with some options like DragonPass for an extra £5 per person.
How to Get to the Plaza Premium Lounge
After a very long luggage check-in and an ok security queue, we entered the main part of Heathrow Terminal 2. We found it very hard to find the lounge. We must have misread the signs and ended up going down a few floors in the lift and ending at a dead end.
A friendly staff member pointed out where we should have been going, and we finally found the lounge!
The lounge is located on the lower level of terminal 2A. Once you pass security, it's best to follow the signs to 'flight connections' Once you reach the flight connections area, you can spot the lounge.
Since visiting this lounge, I've been to the Air Canada Lounge and United Lounge in the same terminal, which was very easy to find in comparison.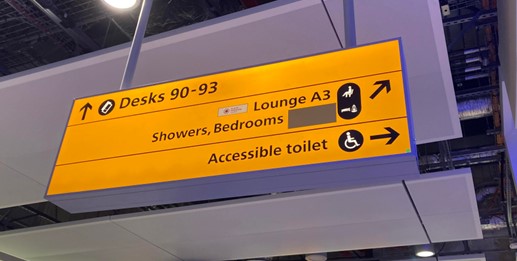 Plaza Premium Lounge Opening Times
The lounge is open from 5:30-21:30 every day.
The Plaza Premium Lounge: My Experience
On arrival, the lounge looked more welcoming inside than the main airport terminal. In my opinion, it was more welcoming than the lounges you enter via a lift.
I had a fantastic experience in the lounge, and since trying out some of the other lounges in the terminal, it's my favourite option.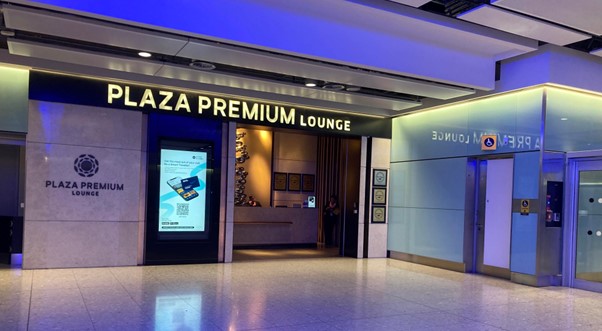 Checking In
The reception area wasn't busy, so we headed straight there. The staff took their time checking our bookings before allowing us in. I immediately noticed that the lounge had won the Skytrax award for the world's best independent airport lounge from 2019-2021.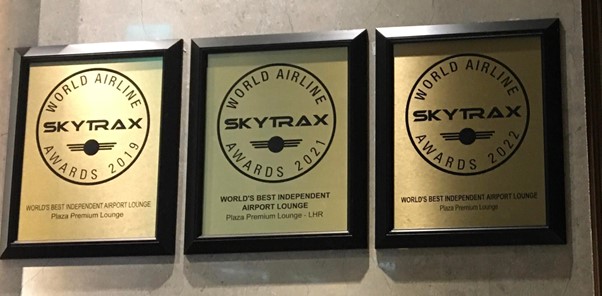 The design aesthetic is immediately eye-catching – an intersection of modern simplicity and elegant luxury. Rather than entering a buffet or eating area like other lounges, this one had a quiet ambience on arrival, with a bar on the left and some comfy seating.
When I entered the main part of the lounge, I was impressed with the size of the lounge overall. It's one of the biggest lounges I've visited, apart from huge ones like the Turkish Airlines Lounge in Istanbul.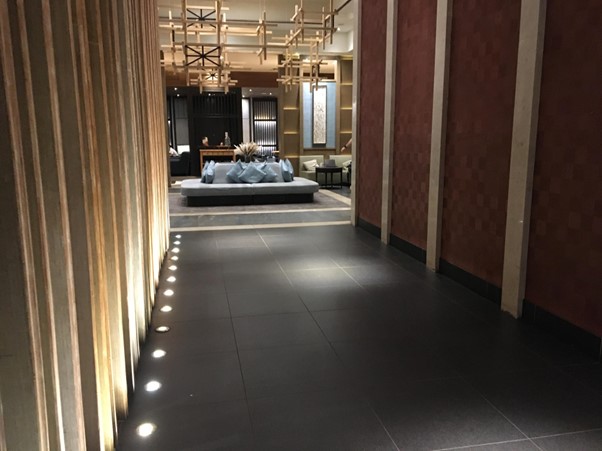 Seating
The central part of the lounge was a large buffet and self-serve soft drinks area with lots of seating. The eating area was very busy when we arrived, so I took these photos nearer our flight departure, which was near 21:00 when the lounge shut.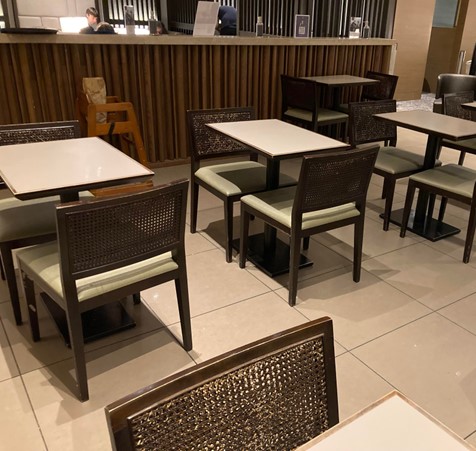 There was lots of other comfortable seating elsewhere in the lounge. The area below would be suitable for relaxing with a drink. I like the way the different seating areas are designed and located to fit the needs of different types of travellers.
There were also several work booths which were empty during my visit. They were in a nice quiet part of the lounge and would have been perfect if I had needed to work.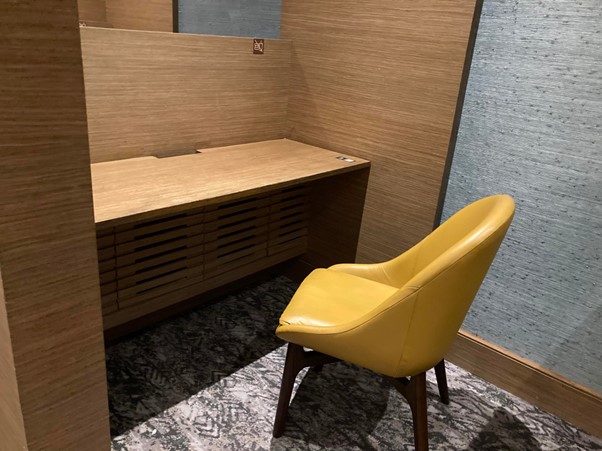 Lots of the seating areas also had plug sockets.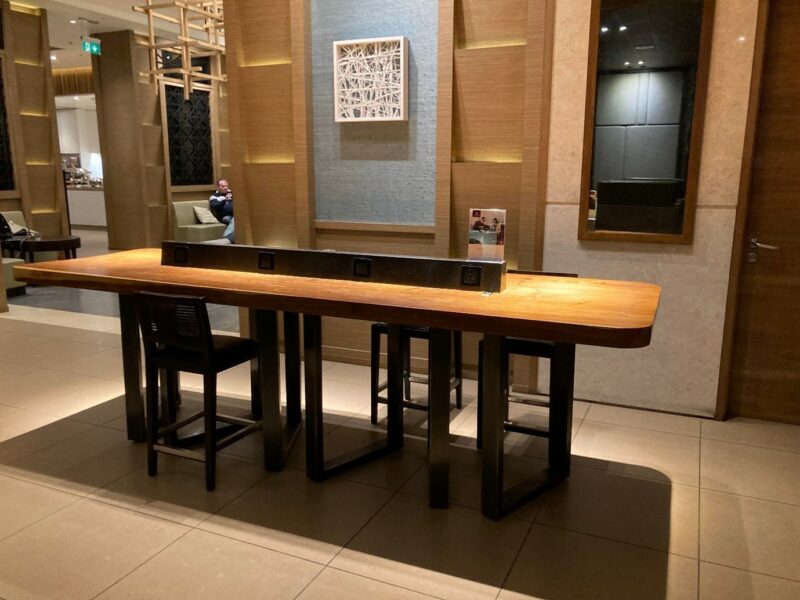 There were also some more private seating options. I would have probably chosen to sit here if I wasn't travelling in a group.
Food
An excellent selection of food was available, including a variety of hot dishes like chickpea curry and macaroni cheese with fresh salad and some delicious chocolate cake. The food was constantly being restocked, and the surfaces were very clean.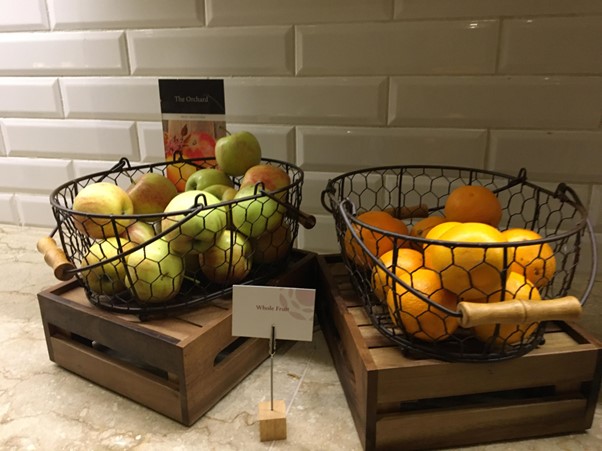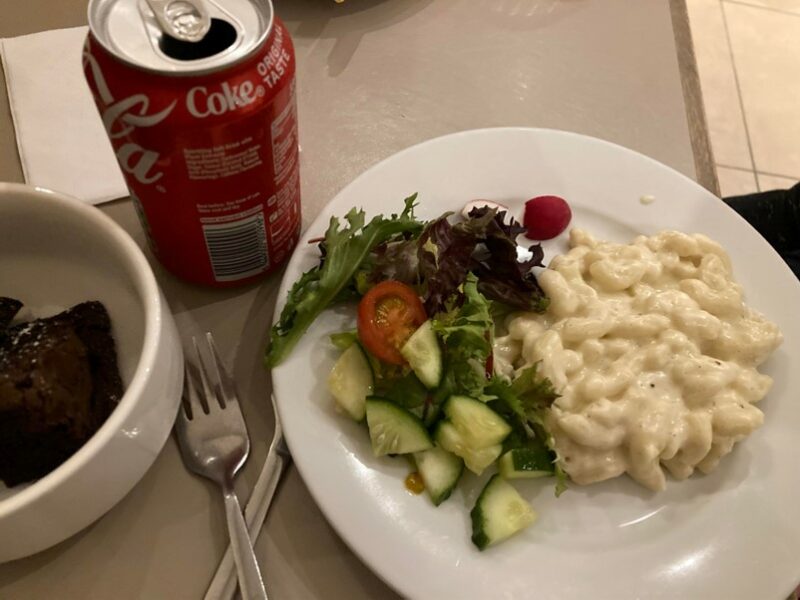 Drinks
Non-alcoholic drinks were alongside the buffet. There was a coffee machine that looked very nice, but I didn't get a chance to try it because my flight was overnight! A good selection of self-serve drinks and more options were available at the bar.
You could top up with water or orange juice at the seating on the other side of the lounge.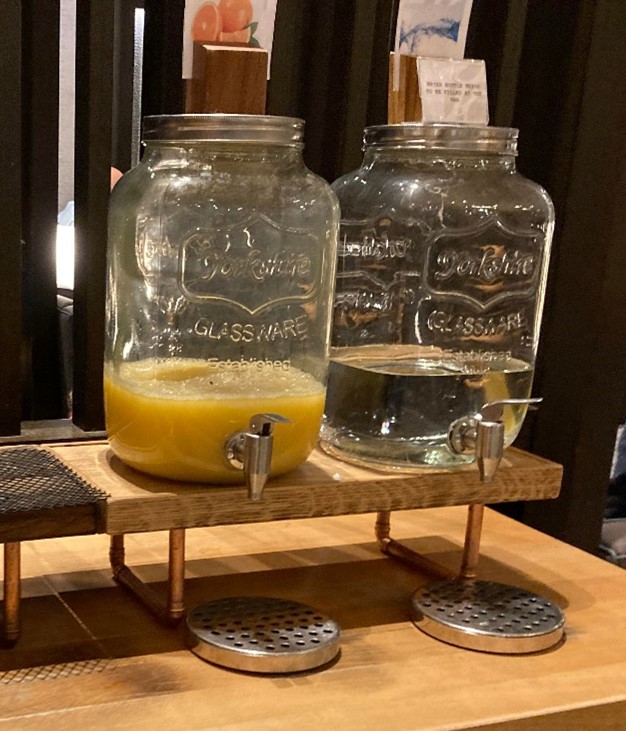 The Bar
The bar seemed quiet on our visit. The lady behind the bar was friendly and accommodating when my daughter asked for more apple juice. I was asked for ID, though 🙂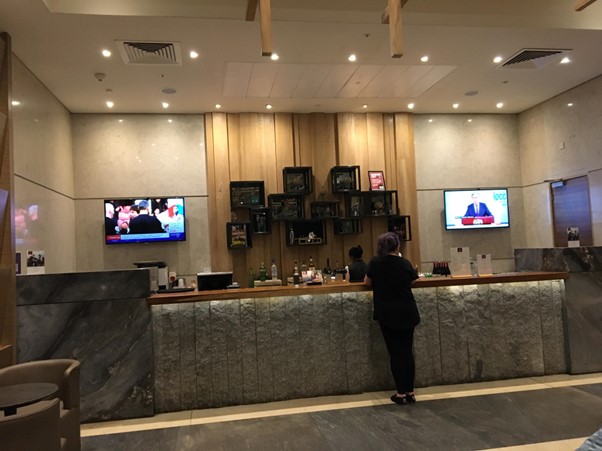 The wine menu was available to view. Most drinks were complimentary, and some drinks could be bought. Only a small selection of drinks were available, and there were no cocktails!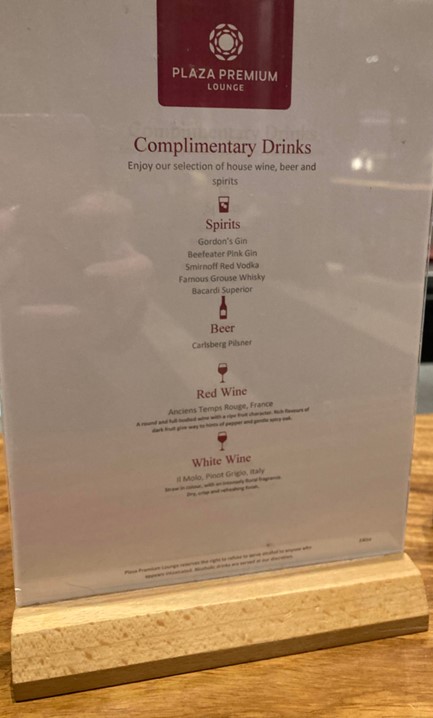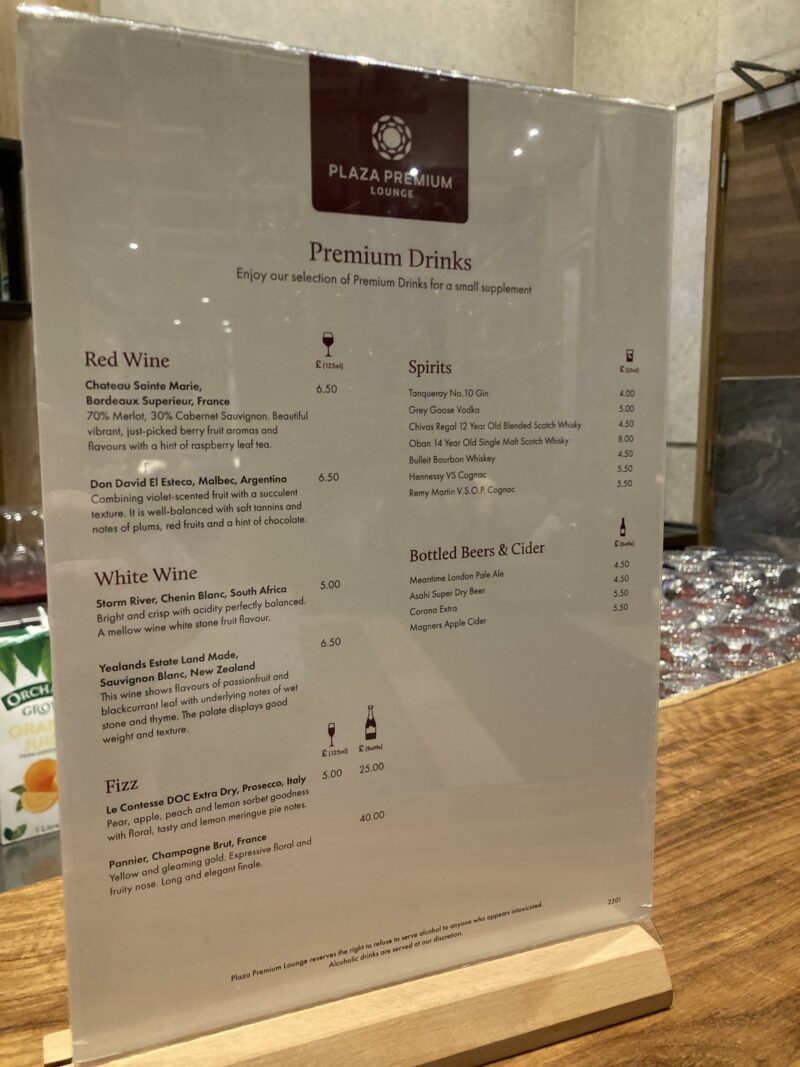 We opted for the Carlsberg option. It's not my favourite option, but it was just what I needed before the flight.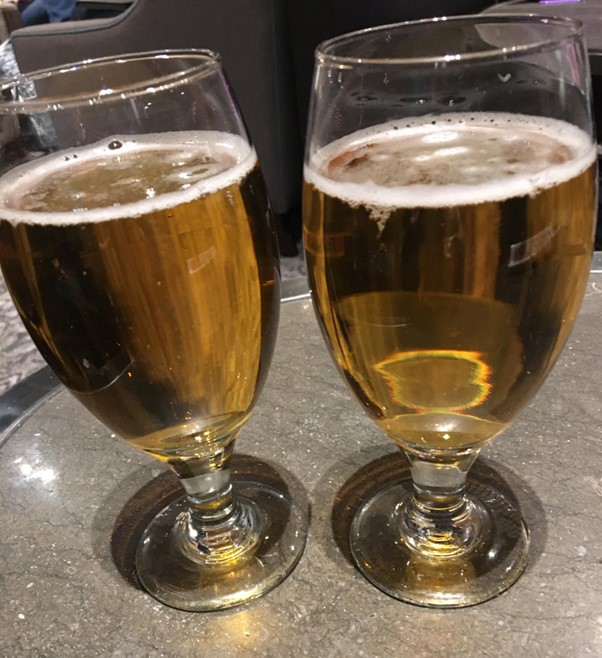 Toilets and Showers
The toilets were spotless, and there were also showers available to use with a key.
Leaving the Lounge
We left the lounge in good time to find our gate. We could have probably stayed longer, although it was very near to closing time. Our gate was easy to find, although it was along several walkways!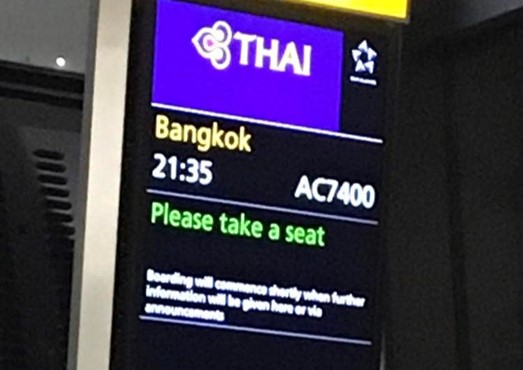 Other Lounges at Heathrow Terminal 2
There are five other lounges located at Heathrow Terminal 2:
Lufthansa Business Class Lounge
Aer Lingus Lounge
United Airlines United Club Lounge
If you are unsure which lounge to visit, read the TLFL comparison guide here.
Final Words
Plaza Premium stands out as my top choice amongst the lounges in Heathrow Terminal 2, though I have yet to explore the offerings of the Aer Lingus Lounge. There is a good selection of food and drinks as well as diverse seating which caters to different traveller types. The atmosphere was very tranquil and just what I needed before a long-haul flight. However, a broader range of options at the bar could enhance the overall experience, especially if cocktails were added to the menu.