This is a review of Residence Inn by Marriott New York JFK. JFK is a terrible place for airport hotels with most very dated and overpriced. There is the TWA hotel, which is a stunning restoration but the actual amenities in the rooms and the hotel are poor, with lots of extra charges. I think if you can find a date that is not too eye-wateringly expensive, it is worth staying once but you could just pop in for a visit instead.
Finally, some new hotels are beginning to open. I recently reviewed the Hyatt JFK Resorts World which I like, but there is no shuttle so the Uber rides add quite a bit of expense. Now there is also the Residence Inn that opened very recently and a Mariott which is due to open in October or November opposite the Residence Inn. Hopefully, the new editions will force the others to lower their prices or up their game! This hotel has had rave reviews since it opened, but what was it really like?
Location
The Residence Inn by Marriott New York JFK is right by most of the other hotels such as the Hilton and Courtyard. It is around a 10 minute drive from the airport. Most hotels make you get the AirTrain to Federal Circle to pick you up, but with me, when I called the Residence Inn, they picked me up right outside the terminal. I was able to admire the TWA buildings while I waited! I noticed other reviews for the hotel where they had to go to Federal Circle, so I am not sure whether it has to do with the time of day. The driver was lovely and could not do enough for us as well as being friendly.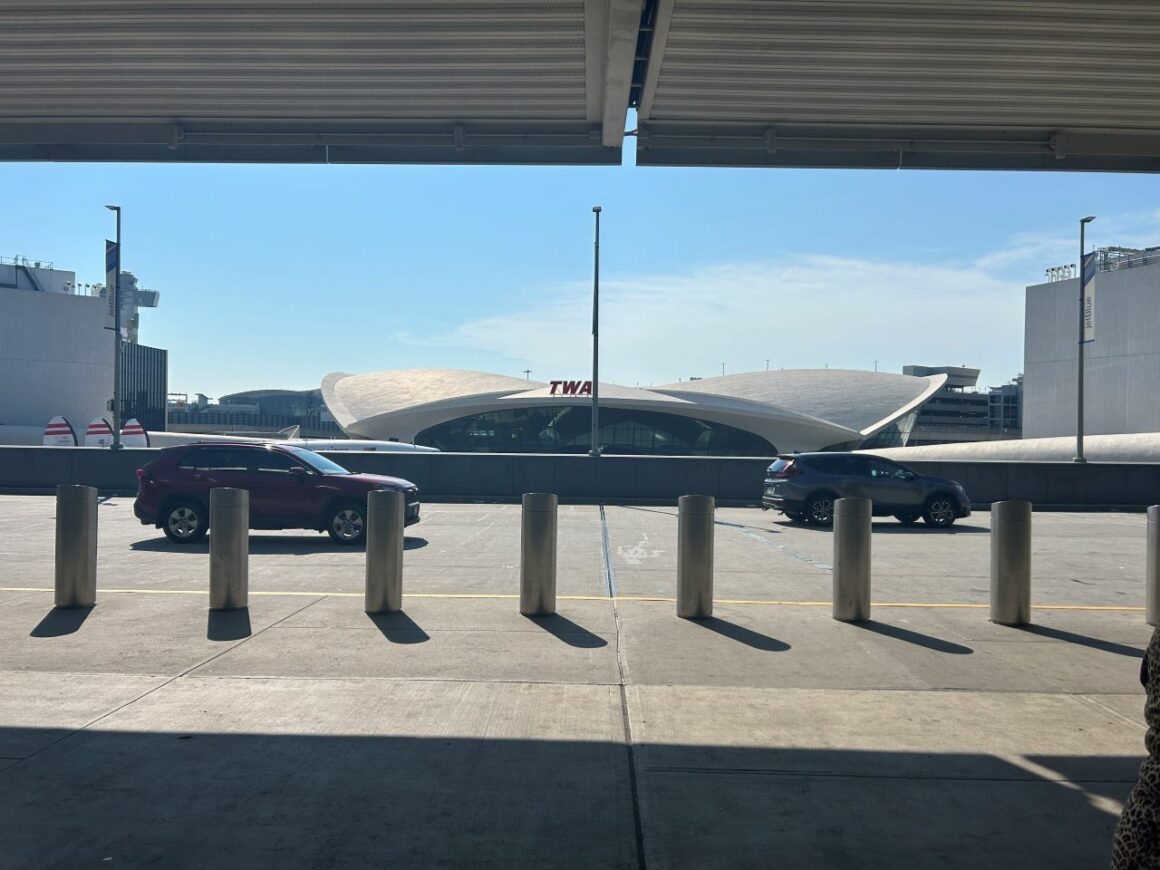 The shuttle service is free and goes every 30 minutes, 24 hours a day. However, you should arrive at least 10-15 minutes ahead of time for the ones back to the airport as they fill up very quickly. My 4.30am one was full, but luckily they had a second bus that went around 10 minutes later with the rest of us.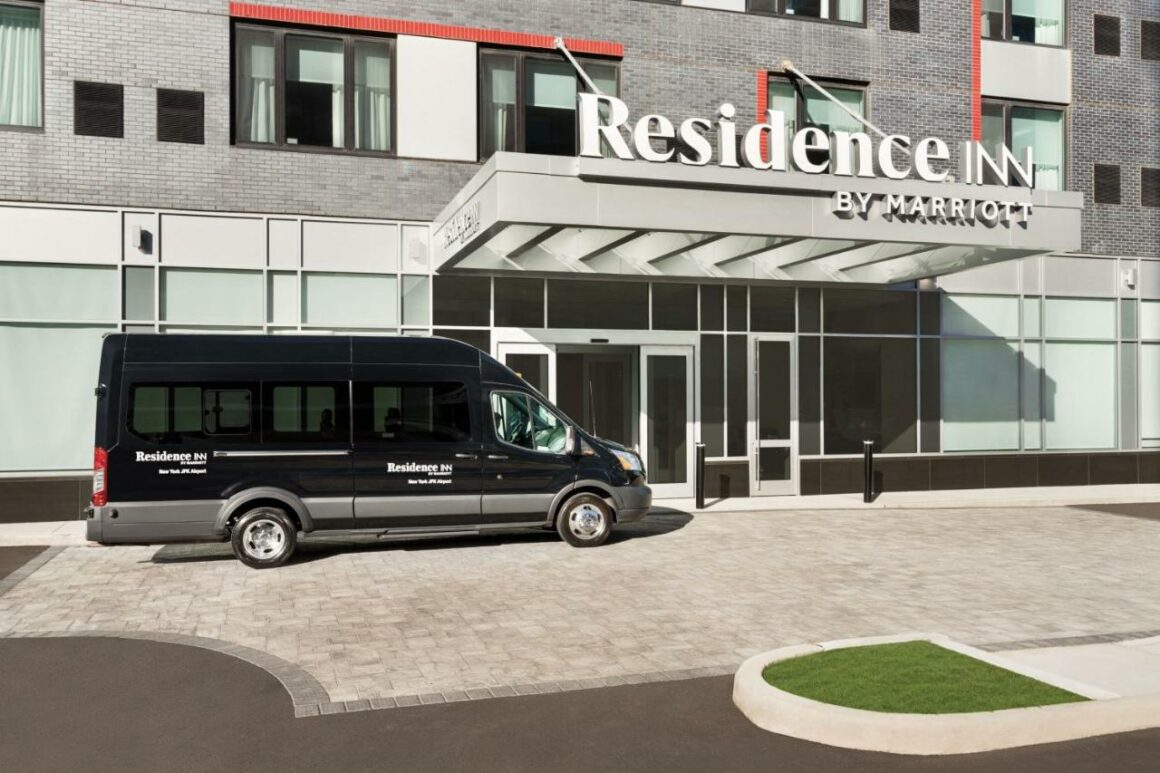 Check-in at Residence Inn by Marriott New York JFK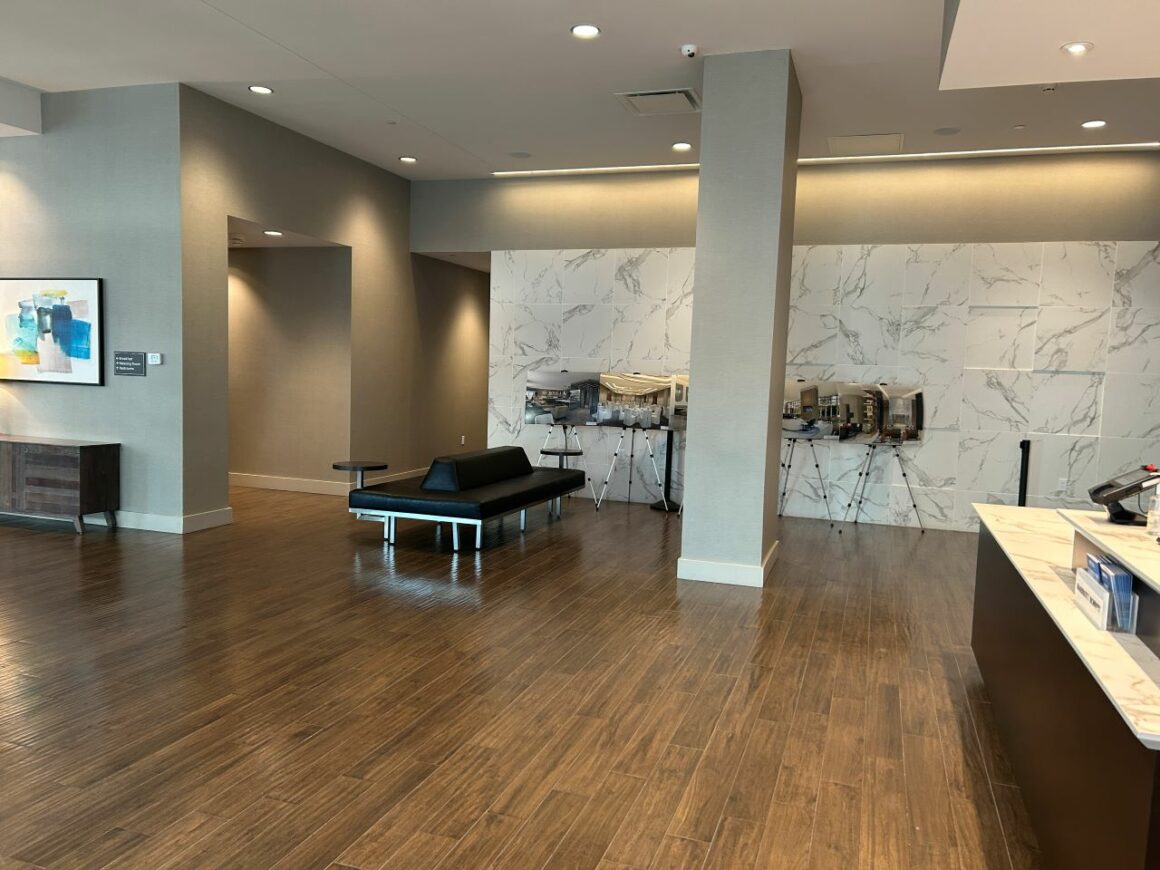 Check-in was a little slow as obviously, it is a new hotel, and they are still training people. My status was recognised (Platinum), and I got an upgrade from the studio to the 1 bedroom King suite. I found the staff very helpful and friendly throughout, for example, pointing out that I could get a grab bag for breakfast as I was leaving very early and telling me there would be coffee available at that time too. The ground floor feels modern and stylish.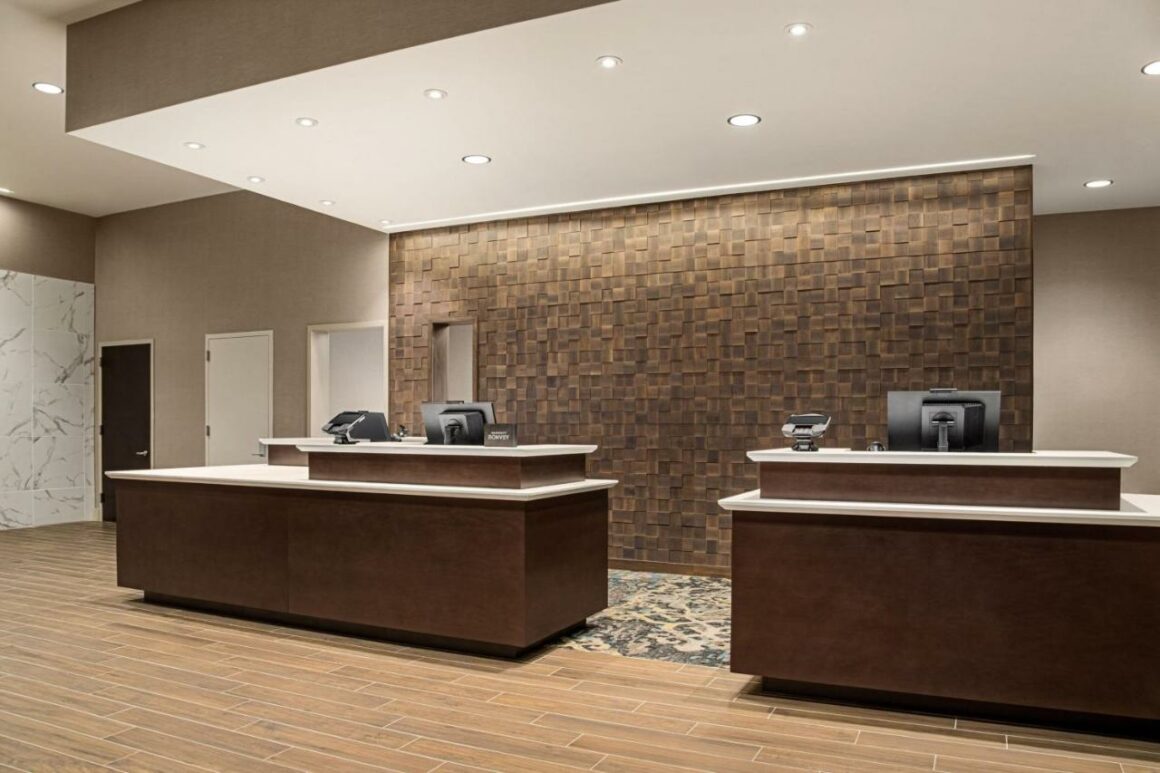 By reception, there is a large seating area if you want to meet up with friends or get out of your room for a bit.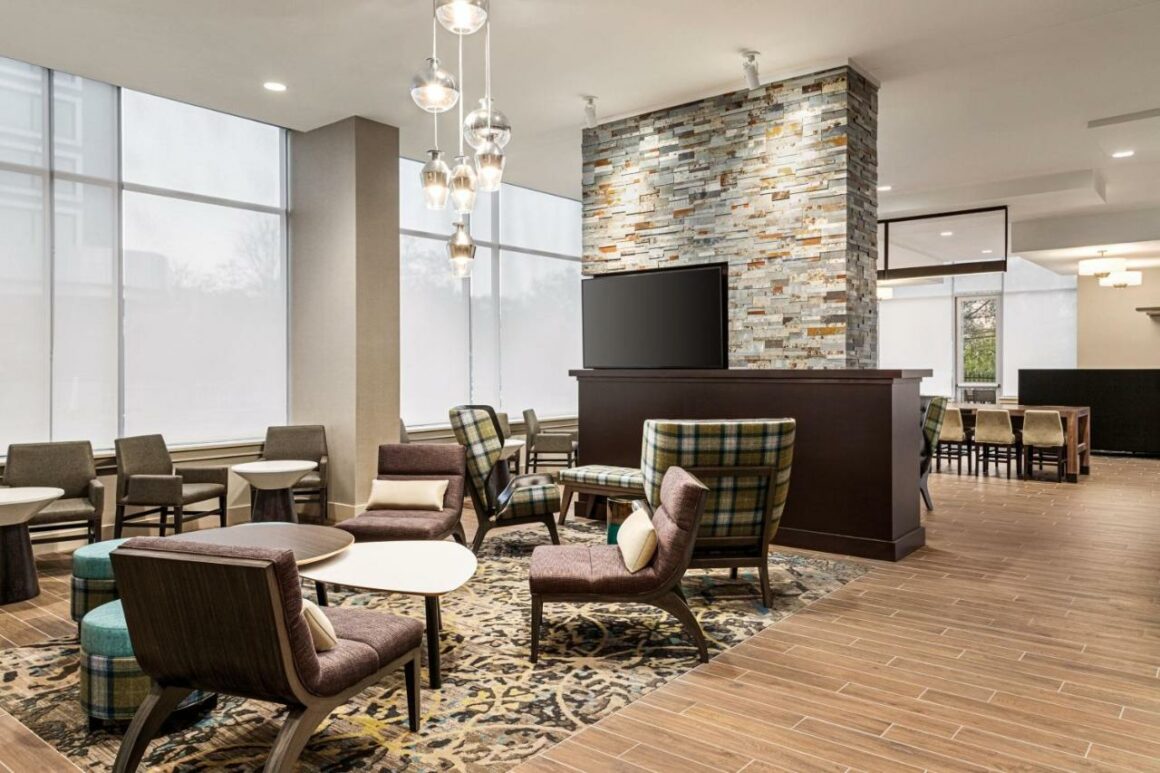 Behind this is a dining area for breakfast.
Residence Inn by Marriott New York JFK Room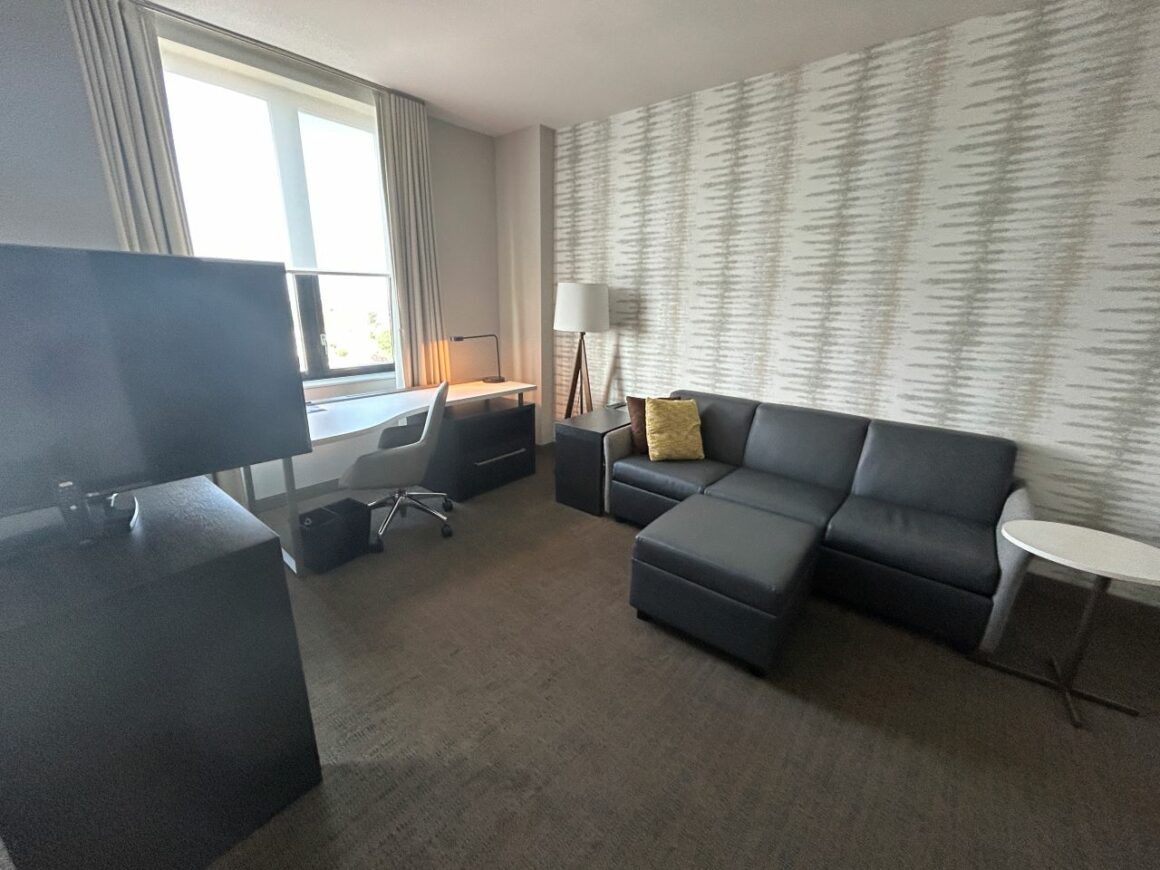 The rooms are designed for long stay so have more than most people would want for an overnight airport stay. I had a kitchen with microwave, small hob, a fridge and a dishwasher. There was also a breakfast bar and a basic coffee machine with supplies.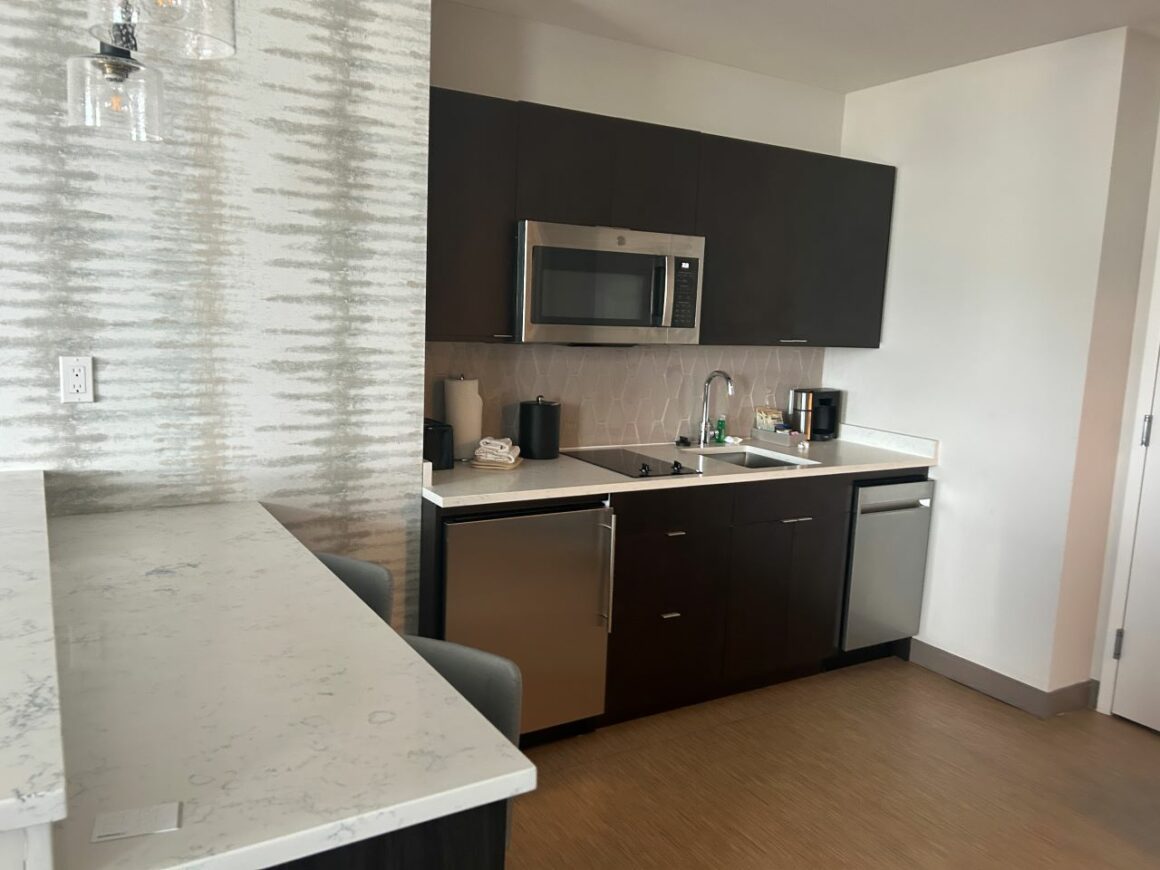 The decor was typical Residence Inn, a lot of dark brown and quite utilitarian. I liked the large work area with a very comfortable chair and plenty of sockets. In this area was a walk-in closet with luggage racks and a full-length mirror. There was an area I assume was for charging all your devices next to the sofa which I thought was a good idea.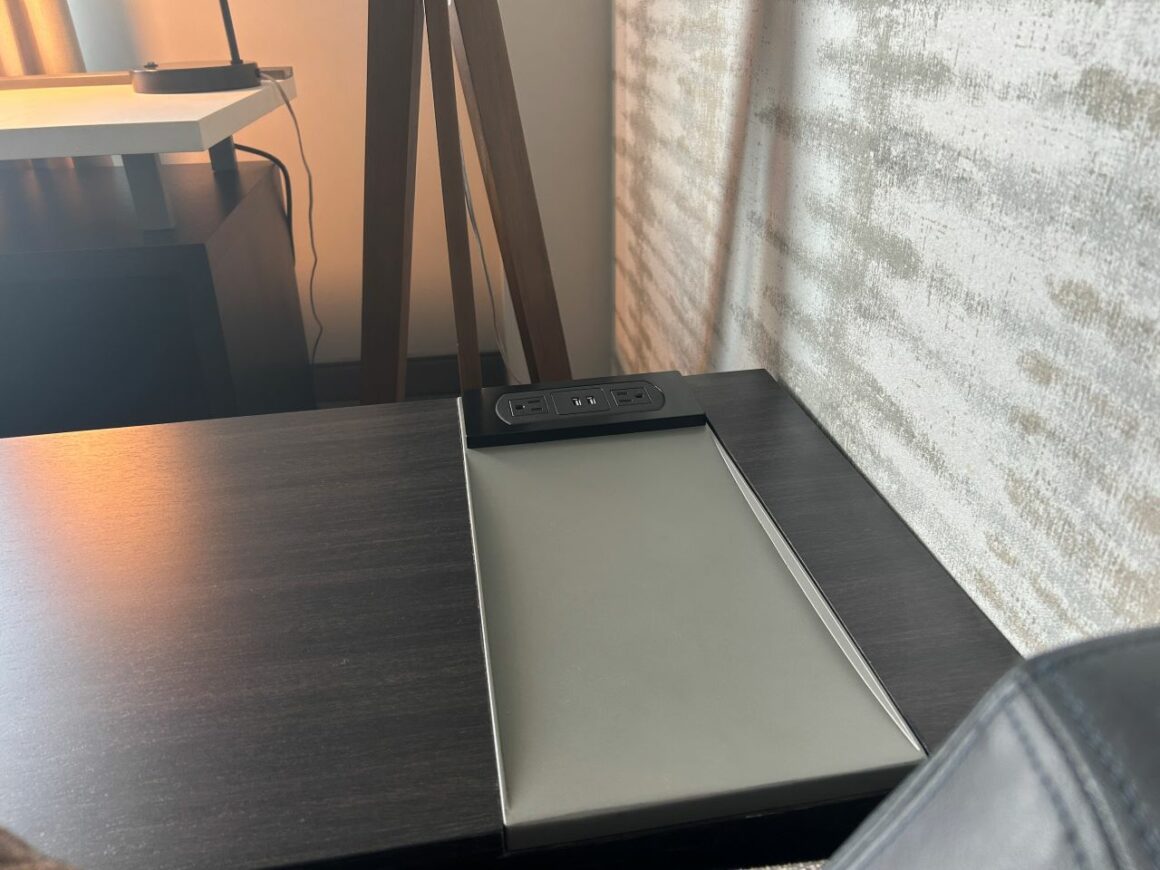 The bedroom did not have much in it apart from two bedside drawers and a clock. I liked that you could swivel the TV around to watch from bed or the living room and the screen was huge!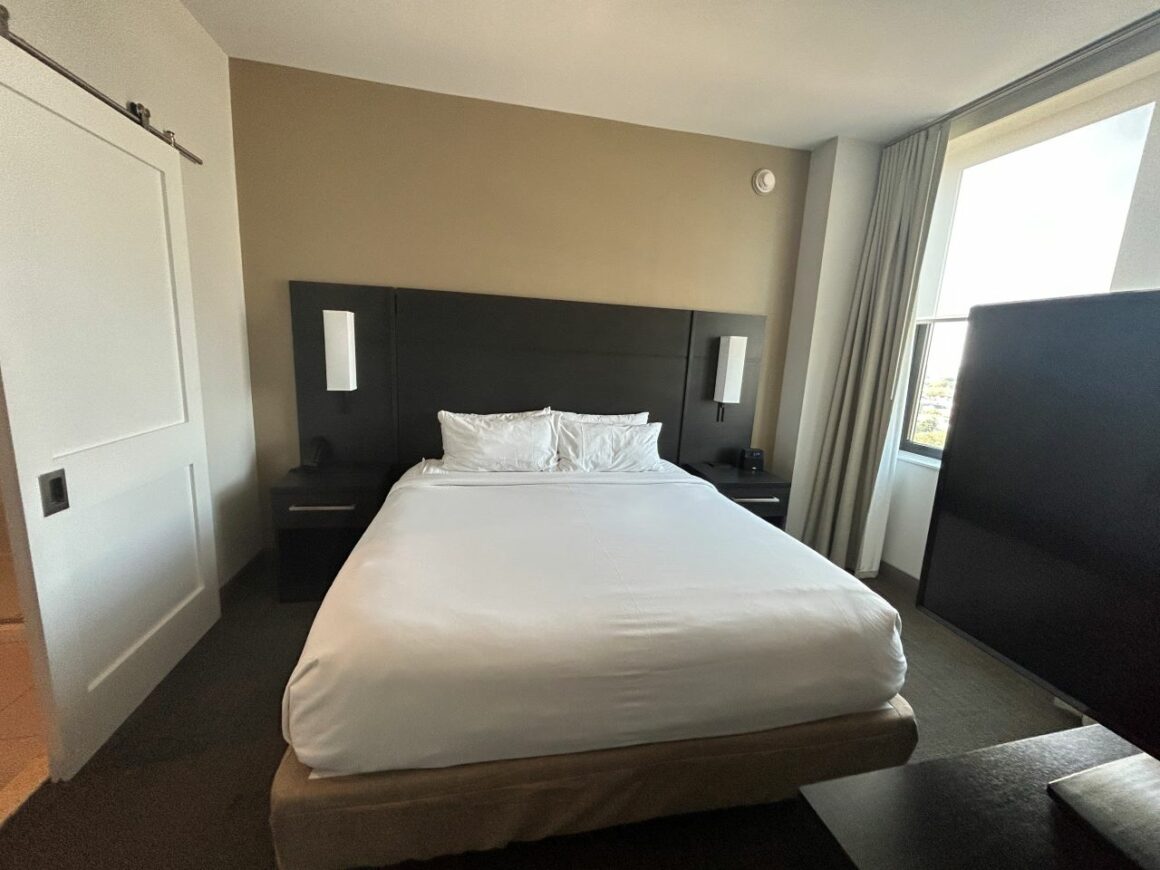 Naturally, there were sockets on both sides of the bed, as you would expect with a new hotel. The bed was very comfortable, and the general noise level of the room was very low. However, while the air conditioning was effective, it was also very noisy. I was very surprised to find this kind of cheap air conditioning in a new building. It was the typical US type that switches on and off automatically and comes through a grate in the side of the wall. It was also making a strange trickling water sound. I will be a bit more lenient in this case as it's a very new building, and maybe it needs a bit of attention!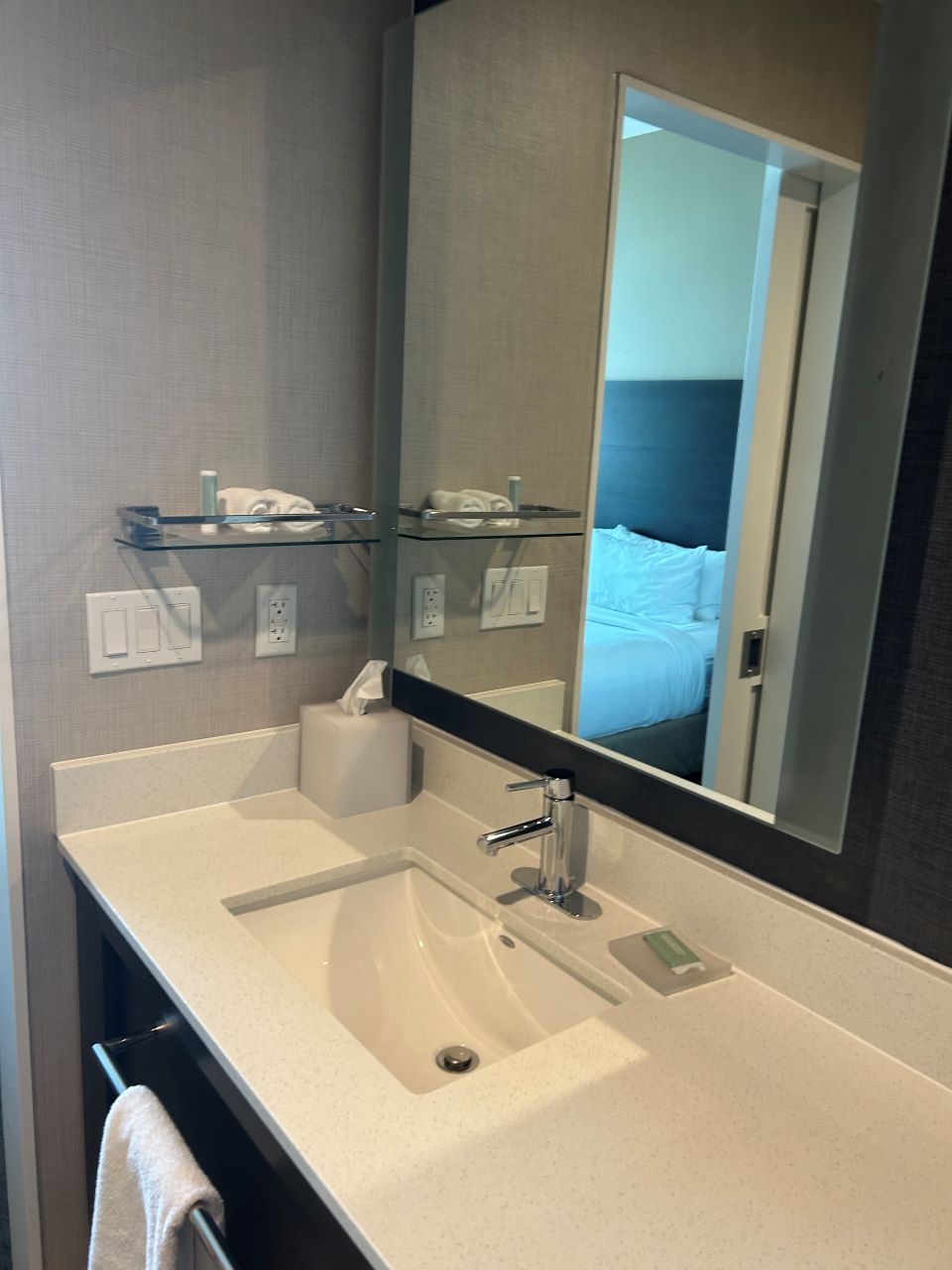 I liked the modern bathroom, which felt spacious and had loads of room on the vanity for your own products. I liked that they had a separate mini of the body lotion you could take to the bedroom if you wanted. There were also plenty of lovely fluffy white towels.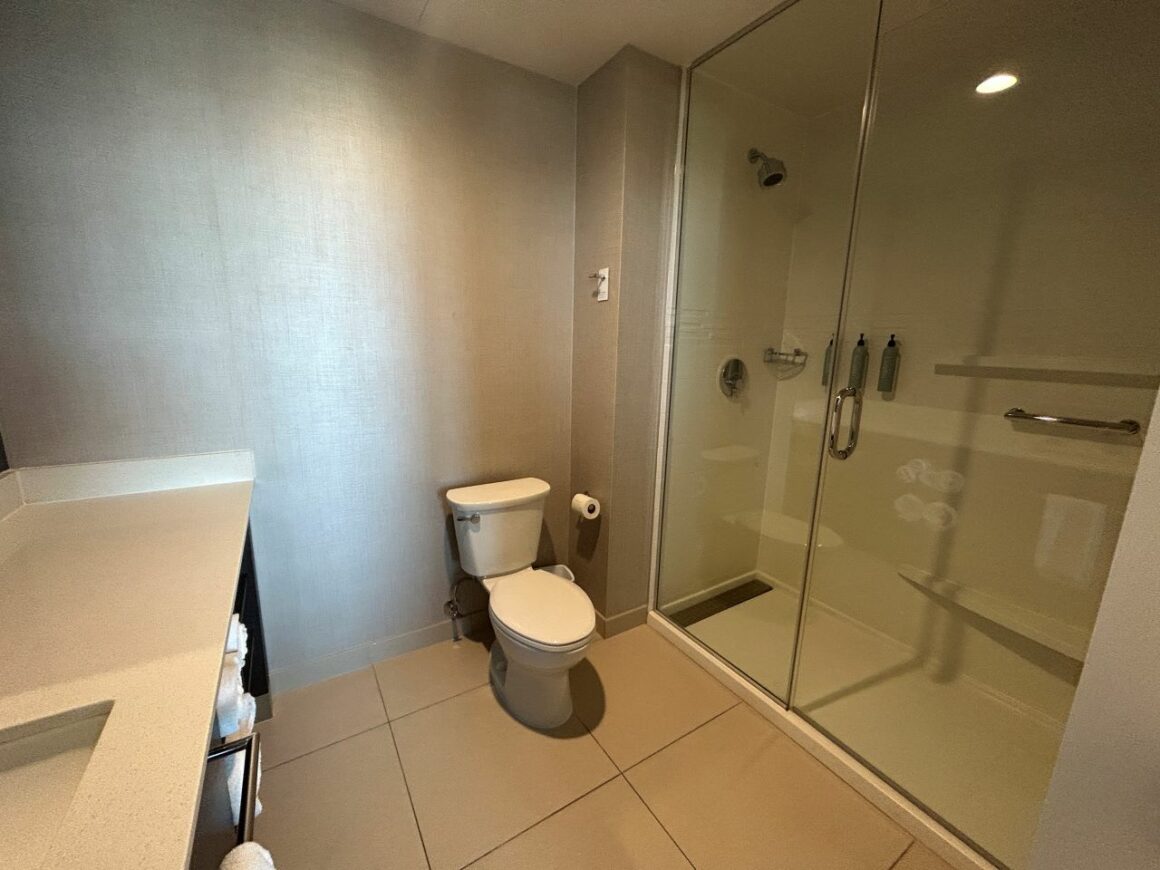 The shower had a typical US-type showerhead, which I don't mind as they are usually powerful like this one. It was also unusual to see a foot shelf, but I'm sure many ladies would find this very useful for shaving their legs.
I did have an issue with the toiletries, though, for a couple of reasons. Firstly, who can tell me what any of these products in the photo below are? Which is the shampoo? In the shower, it is virtually impossible to read the labels, which I found incredibly irritating as you couldn't tell the shampoo from the shower gel as they were both clear. There have been a lot of complaints on the Marriott Facebook groups about this, so I hope they will change them.
Then I tried the conditioner, and this gave me the ick factor. I have always dismissed the idea of people tampering with the dispensers, but I am not sure if this is what happened here. It could have been staff too lazy to top up the supplies as I did see if the bottles were easy to open, and I could not do it. When I tried the conditioner, the first pump was normal, then what came out next was almost like water with a tiny bit of conditioner in it. It was definitely not the normal product. There was no way I was going to use that, just in case.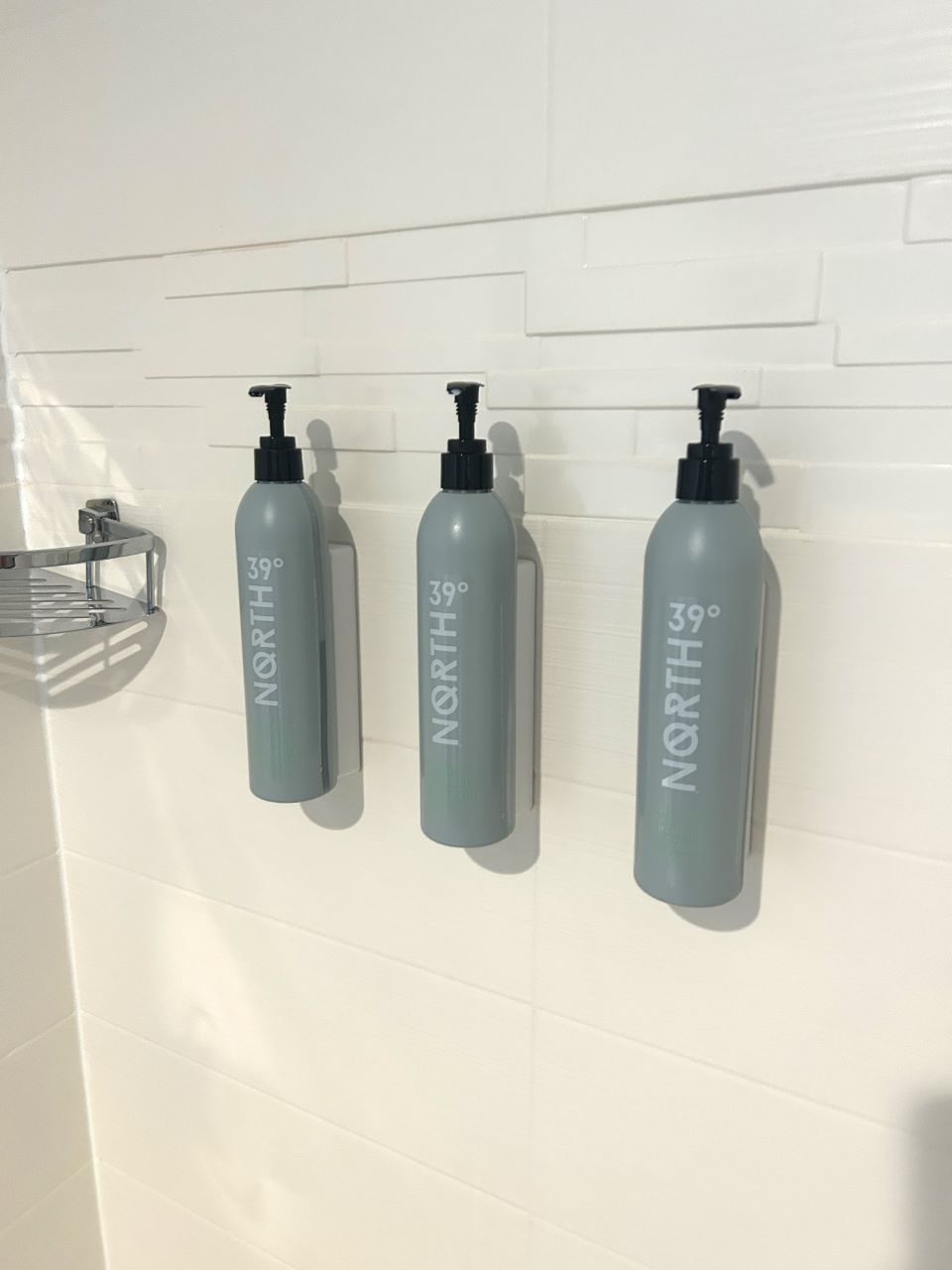 Other than that, the products seemed good quality and had a neutral fragrance.
Food and drink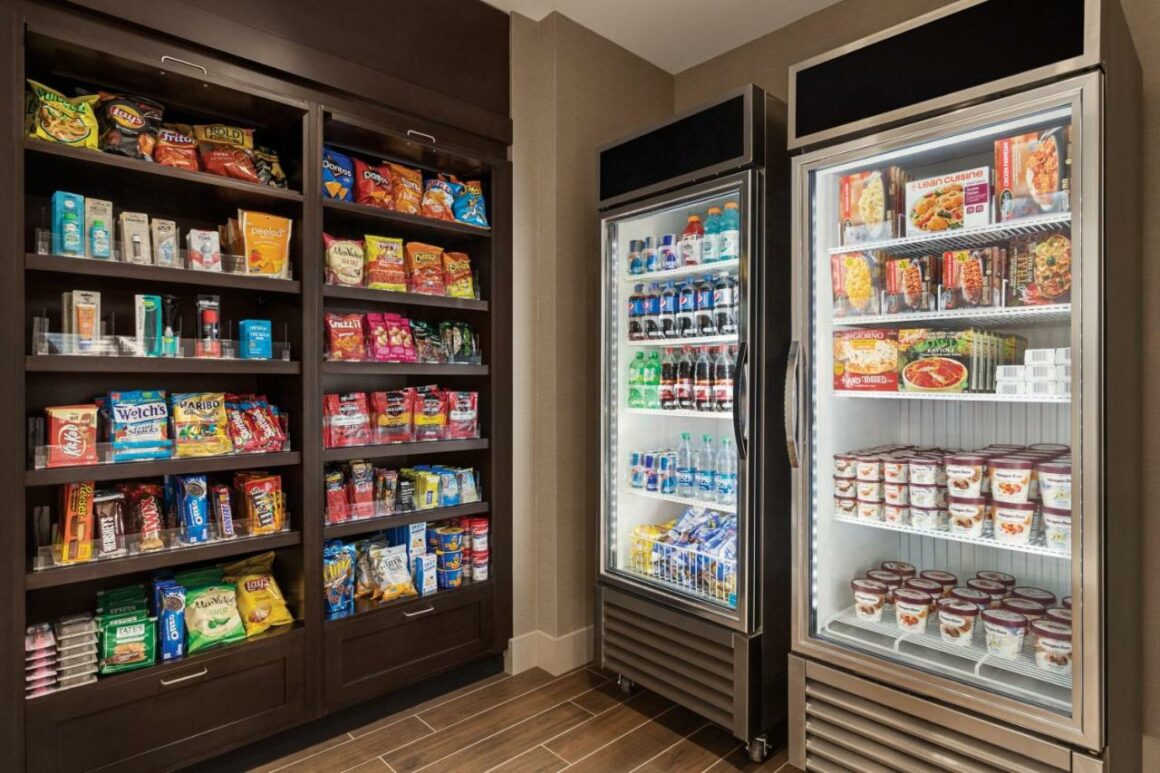 Being a Residence Inn, there is no restaurant or room service. They do have a shop in reception that sells, snacks, essentials and a few frozen ready meals. Currently, you could walk to the Hilton, which has a restaurant but that is due to close soon. However, once the Marriott opens right by it, it will give a lot more options.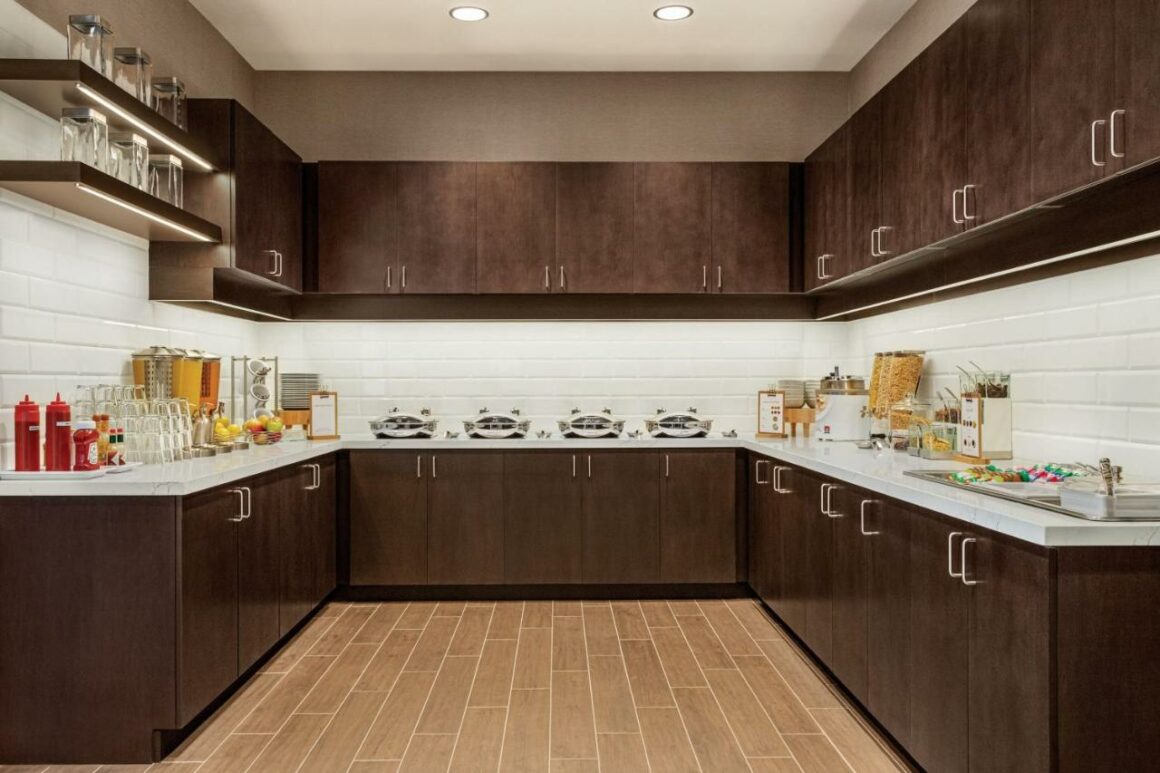 You do get a free breakfast, which is not bad considering you don't pay for it. It does include hot items like egg and sausage as well as some healthier options.
Residence Inn by Marriott New York JFK Facilities

There is a gym with weights, balance balls and cardio machines that is open 24/7. There is also a handy guest laundry room.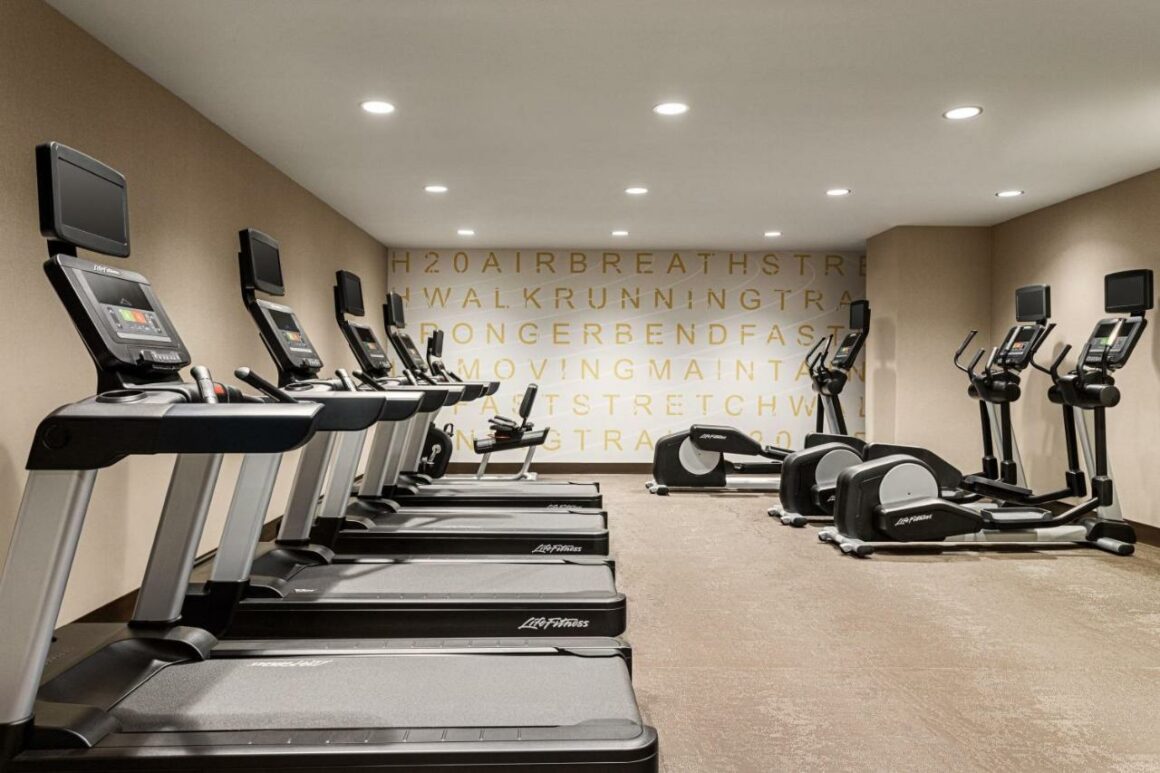 Residence Inn by Marriott New York JFK Prices
The prices for this hotel are very high. For most travellers, they don't need the kitchen or the extra space, but you are paying for it! I paid for mine on points at 35,000 as the cash rate was around $370. I think on points it is reasonable. The standard price seems to be £326, which is similar to the Hyatt. I think that's absolutely crazy for a basic airport hotel, but that's New York for you. (I will be writing about another option only 20 minutes from the airport soon).
Conclusion for Residence Inn by Marriott New York JFK
I felt like the hotel tried hard, and they had great customer service plus modern, comfortable rooms. However, I think it is very overpriced considering the facilities at the hotel, but this does seem to be the going rate.
I did of course also have a couple of issues. Usually, I would have either raised the issue of the aircon and conditioner there and then or at check out. But I was just going to bed after the shower incident, and then by the time I left the hotel at 4.30 am the next morning, I was half asleep and forgot!
It will be interesting to see what the new Marriott Hotel is priced at. I would certainly be inclined to try the Marriott next time instead.
You can find more information and check prices here.
Like our Residence Inn by Marriott New York JFK review? you can read other airport hotel reviews here.