With many of the Heathrow hotels being used for red list quarantine, there are fewer choices than usual. Most people's first choice for convenience, the Sofitel has only just reopened, and the Heathrow T5 Hilton is a quarantine hotel so what other choices are there? Personally, I usually find the Sofitel dated and overpriced. Although as they reopen there are some bargain deals at about £120 a night which I think makes it worth it.
It is worth noting that the free bus service to Heathrow has finished but given the cheap prices anyway and ease of use with a quick tap of your card, they are still worth considering for Bath Road hotels are they are much more frequent (every few minutes for T2, slightly longer for T5) than the Hoppa bus which is currently only hourly to most places.
Hilton Group
Hilton T4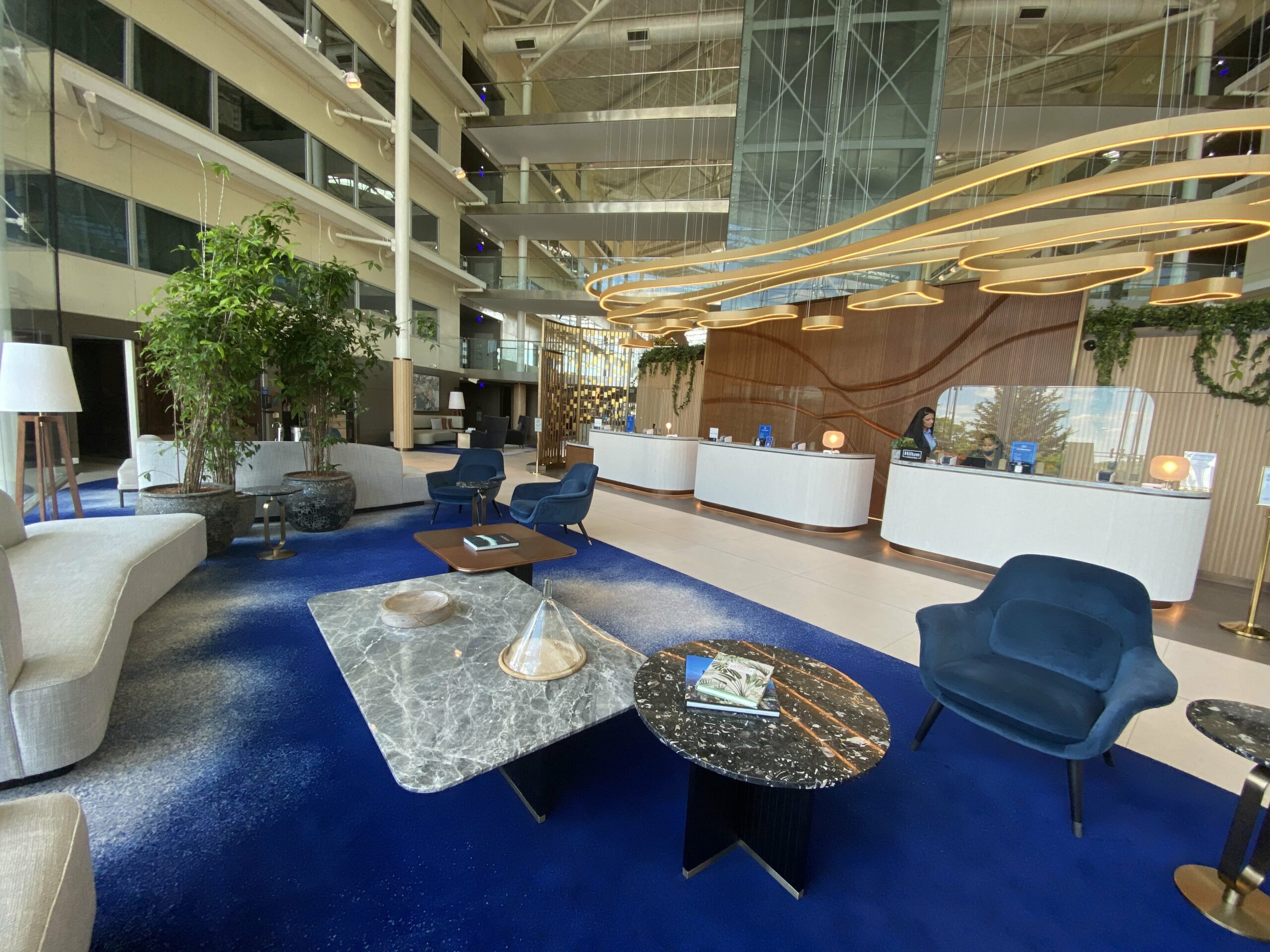 If you want a terminal 5 hotel, this is one of the best options with a recently redone public space, decent lounge replacement and modern bedrooms. The new restaurant and bar are also good if you want to have a good quality meal at the hotel. I would say it's probably the best hotel at Heathrow currently based on price versus quality. The Marriott has more facilities but costs a lot more.
The lounge is closed but they are providing drinks and snacks in the bar instead.
The downsides are is that it is slightly harder to get to than one at T2/3 but the Hoppa is free for hotel guests and you can get an Uber or taxi to T5 in around 10 minutes. There's also the local bus service.
Prices start from just £92.
You can read my full review here.
You can find more details and book here.
Hilton Garden Inn in T2/3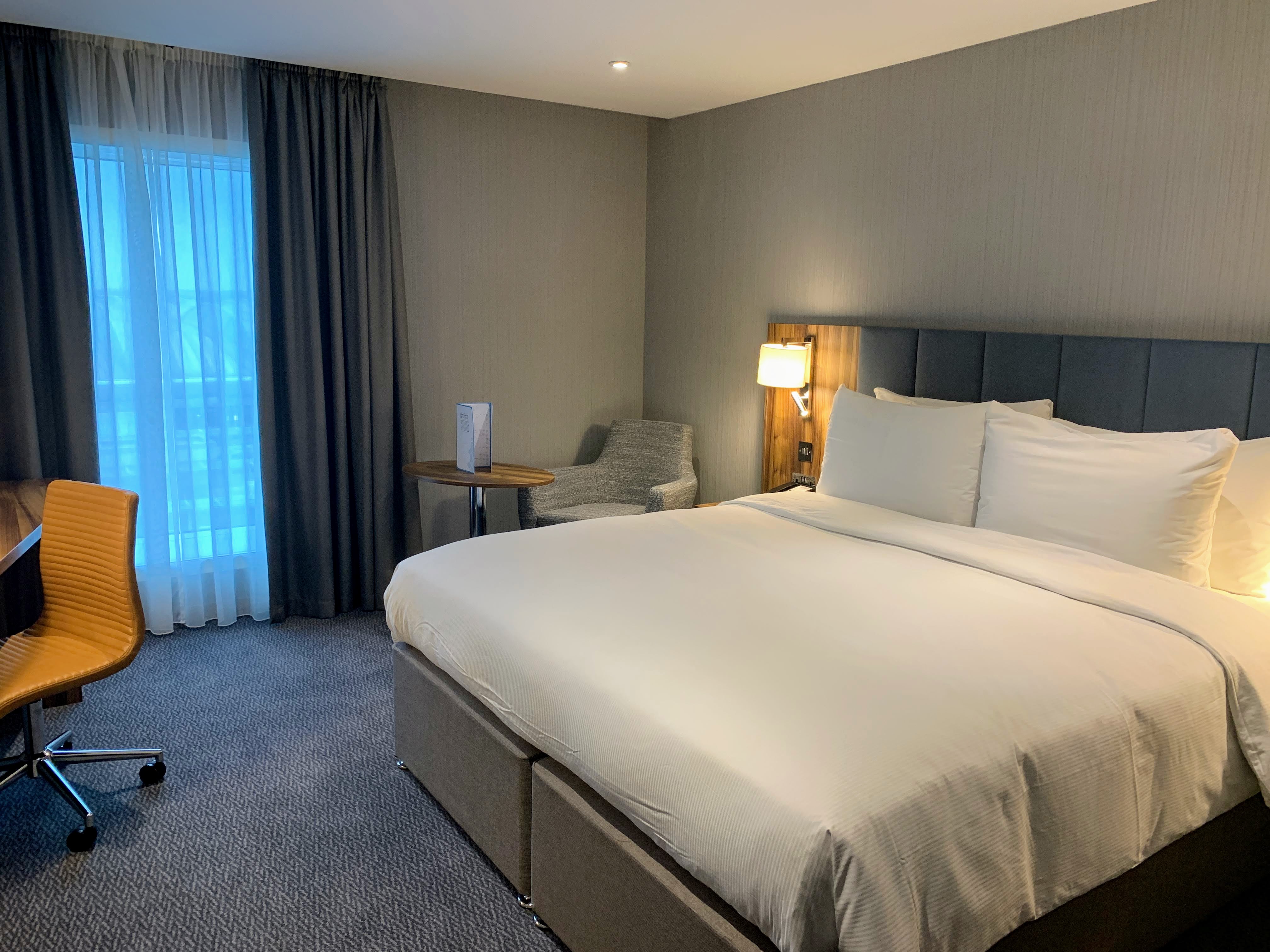 If you are flying out of T2, this is an excellent choice. It's situated right in the car park across from the terminal, so very convenient with a shorter walk than most other airport hotels. You could also use the Heathrow Express to T5 if you were departing from there. although it is quite a long walk from the hotel down a lot of moving walkways.
The rooftop bar there is worth staying for alone with a terrace overlooking the airport and the decor is very stylish for a Garden Inn. There is also a decent restaurant.
Rooms are modern and comfortable with a view of the runway from some of them. They also have suites if you want to treat yourself or are travelling with family.
Prices start from around £110.
You can find more details and book here.
Hilton Garden Inn London Heathrow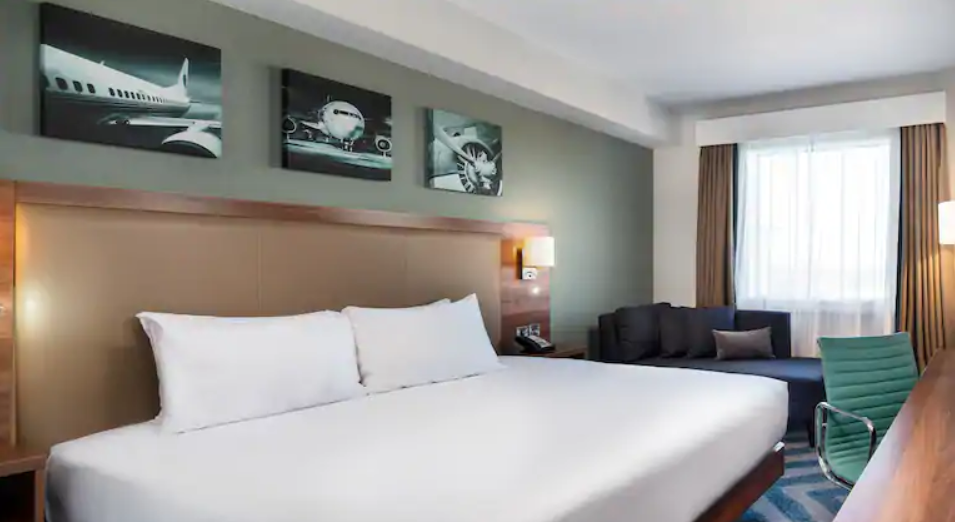 This recently has a makeover. The Hilton Garden Inn London Heathrow Airport Hotel completed a £4.2m in July 2020 in which all bedrooms have now been refurbished, with 205 undergoing a light refurbishment and 159 undergoing a full refurbishment and upgrade to deluxe king rooms. These Deluxe rooms offer a larger en-suite bathroom. All rooms have new headboards, lighting and soft furnishings. If I was staying I would book one of the Deluxe rooms as I found the lower category rooms a bit basic.
The reception, restaurant, bar, and gym have also been renovated. The reception area includes the addition of a new shop area that offers takeaway food, drinks travel essentials.
It's a few minutes walk from Hatton Cross Tube station making it very easy to get to Heathrow. Although if you have a lot of luggage it's not the easiest walk with a busy road to cross. There's a footbridge with steps or you can cross further along. Hatton Cross station also does not have a lift and quite a few steps.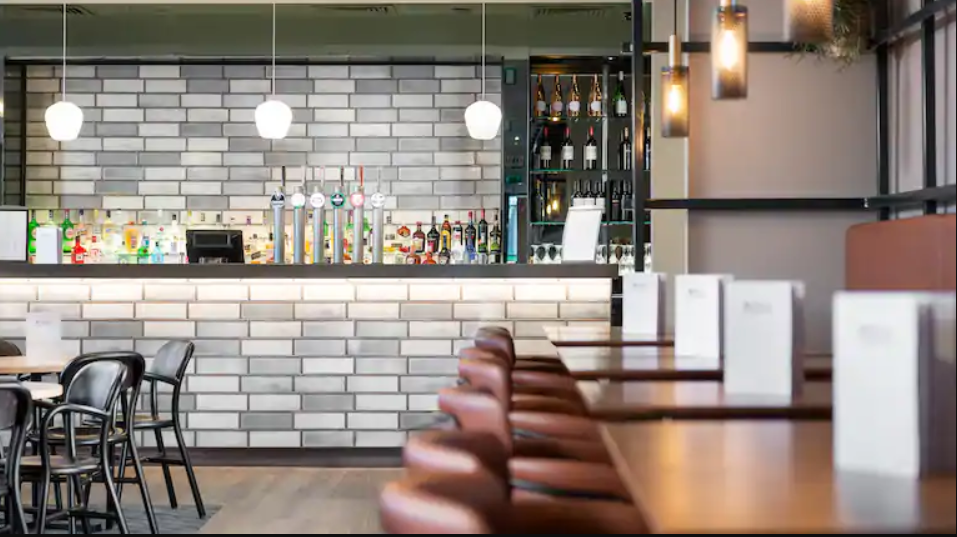 On the plus side if you are travelling light or planning to get an Uber, it's usually the cheapest Hilton property and a decent standard. However, it's not nearly as nice as the T2/3 one in my opinion. There is still a decent bar and I have always found the staff helpful.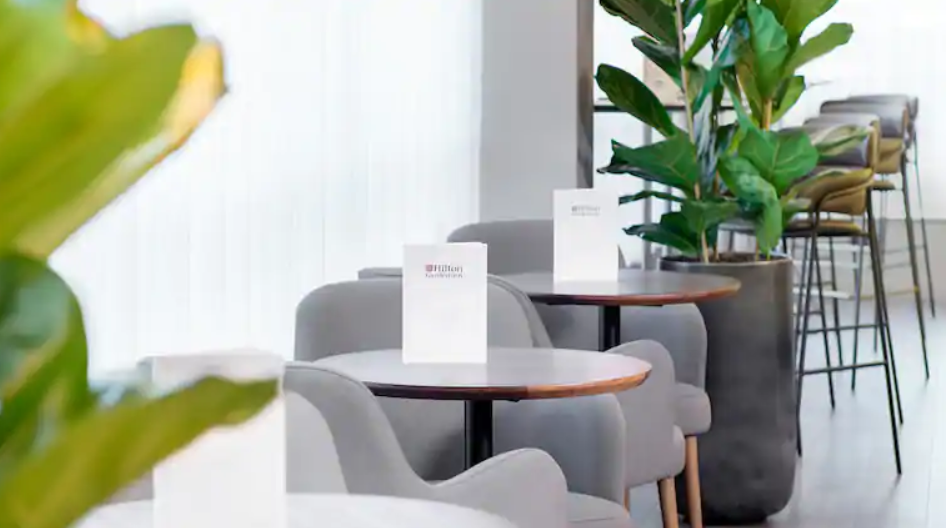 It's usually the cheapest Hilton at Heathrow with prices starting from £56.
You can find more details and book here.
Hyatt
Hyatt Place

I stayed here last year and was impressed with the hotel which is fairly new. Considering the price they charge, I think it's one of the best value properties on Bath Road.
It's at the end of Bath Road that's closest to T5, so would be a short drive to T5. It only takes around 5 minutes on the 423 bus to T5.You can order some very nice a la carte items at breakfast, such as my usual avocado toast, scrambled egg with smoked salmon, or a full English. The room was stylish and modern with a nice chaise longue for relaxing or packing your suitcase! I also found the bed very comfortable.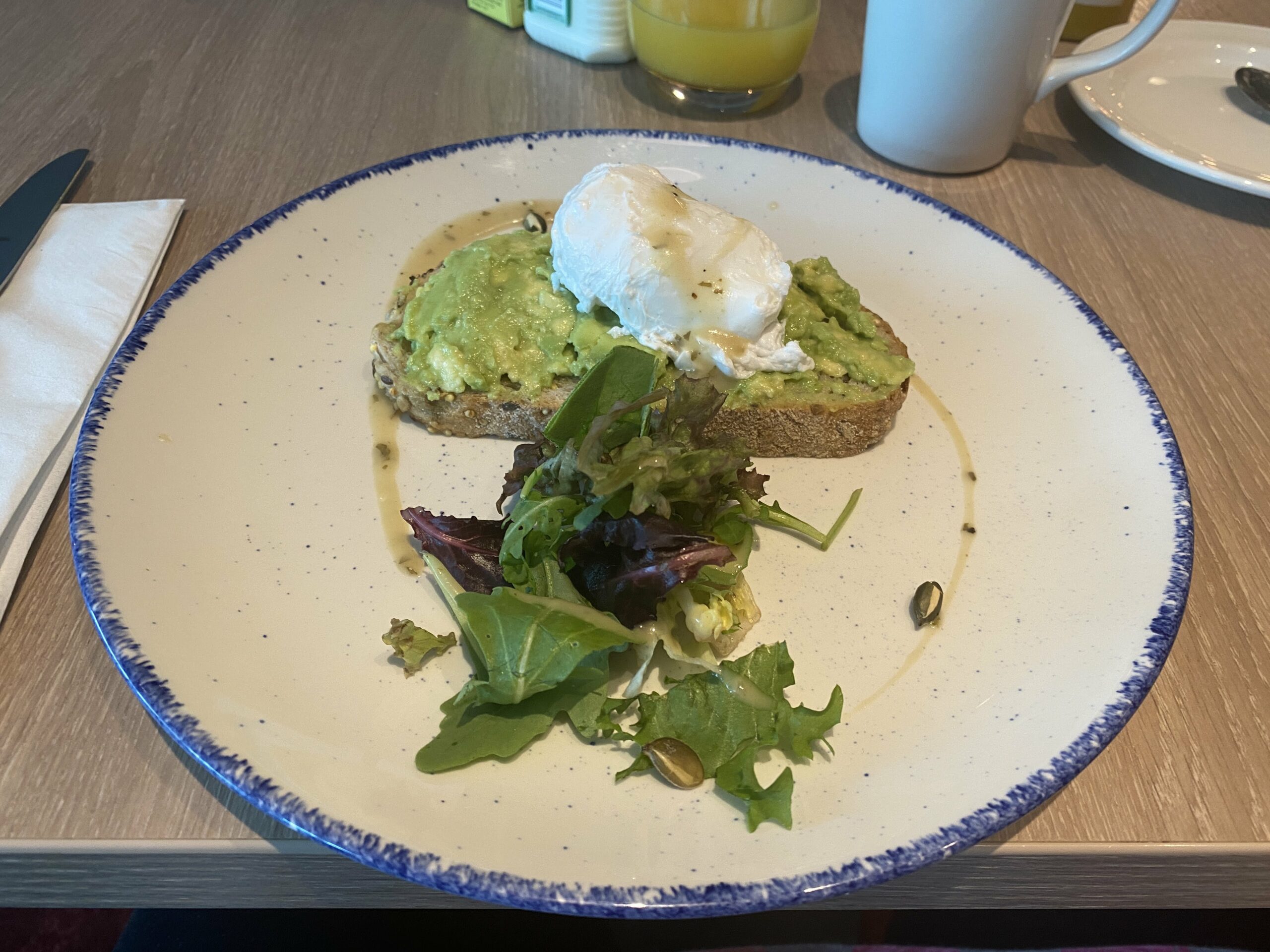 I found the staff exceptionally helpful. I did have a minor problem with housekeeping entering the room with do not disturb on, when I mentioned this to the manager on check out he immediately offered some Hyatt points as compensation without me asking for anything. I thought this was excellent service recovery as I hadn't expected anything.
Prices start from £76
You can find more details and book here.
There is also the Hyatt Place Hayes which I have not stayed in but Paul has. This tends to be even cheaper (sometimes from £30) but it is much further from the airport. An Uber/taxi is really the only practical way with luggage.
You can find part 2 here with Marriott, Premier Inn and Independent hotels.