With long haul off the agenda for most of us for a while (apart from the Caribbean or the Maldives if you don't mind quarantine), I decided to hold a tasting of some of the best champagnes served in First class. This was the closest Jersey Girl and I were going to get to First class for a while! I splashed out on some caviar to add to the experience and five of us spent a very pleasant afternoon tasting the best champagnes. Most of us had tasted them before, but not side by side. For those who take their wine seriously, I apologise for some of the frankly frivolous tasting notes from the team. I have had stern words with them, mainly about my resulting hangover. In their defense, they were very, very drunk, Hic!! (not really).
I also roped in my friend Owen from www.washingtonwineblog.com to give us the professional's view on what we were tasting. If you are into wine you should check out his fabulous blog and social media for some inspiration on what to drink next!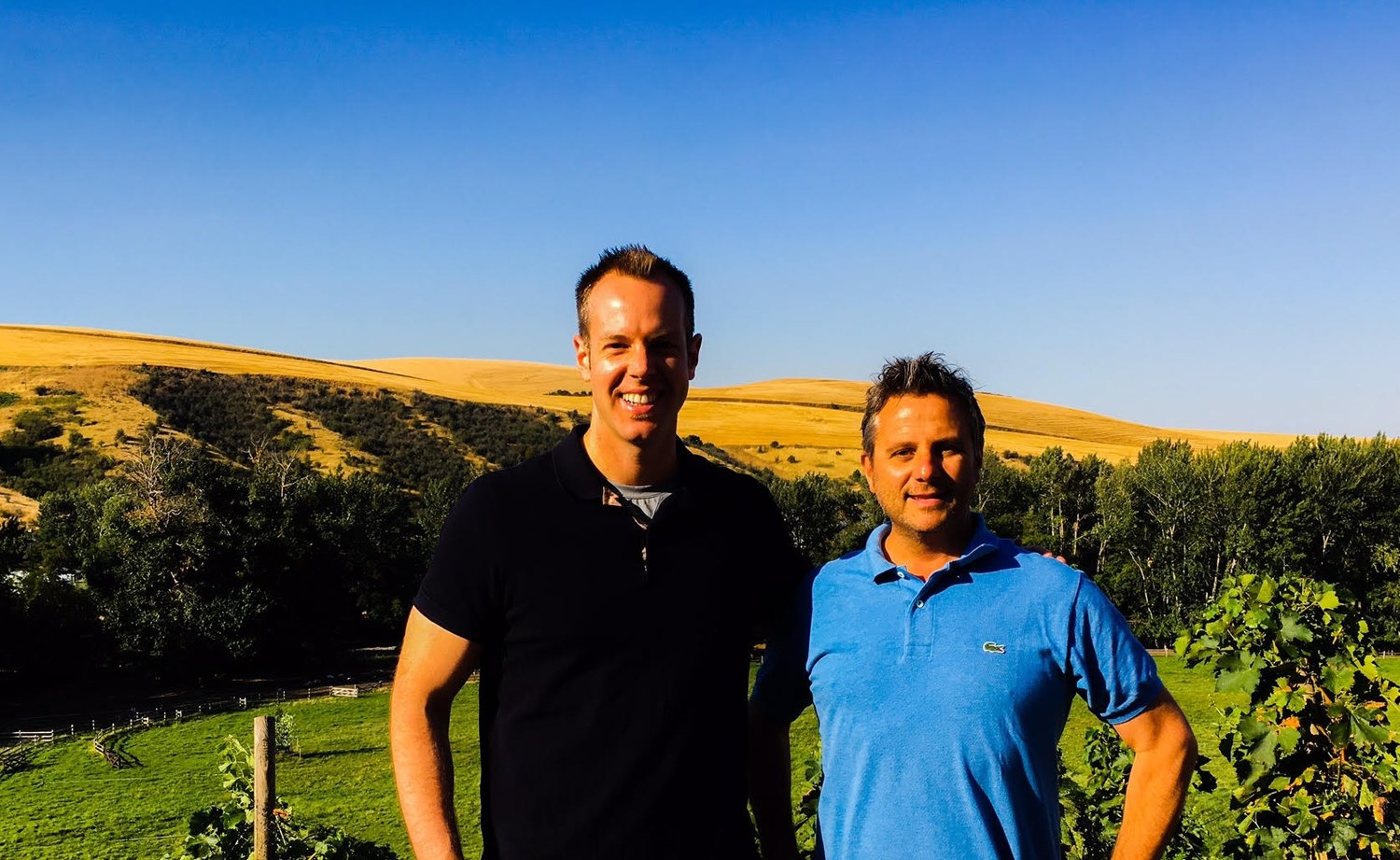 We tasted five champagnes, so which one did we rate the best?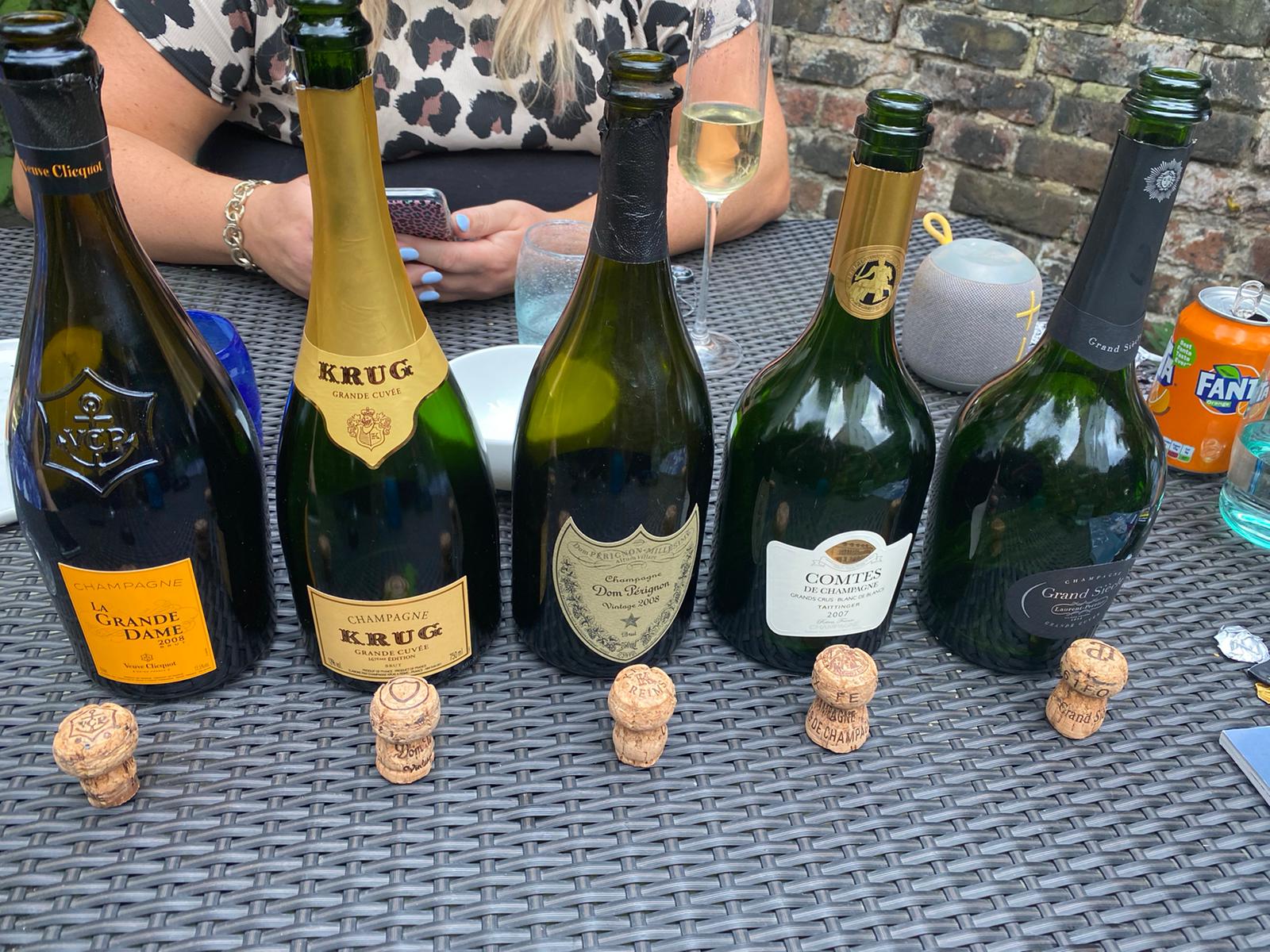 The contenders were:
Krug 167 edition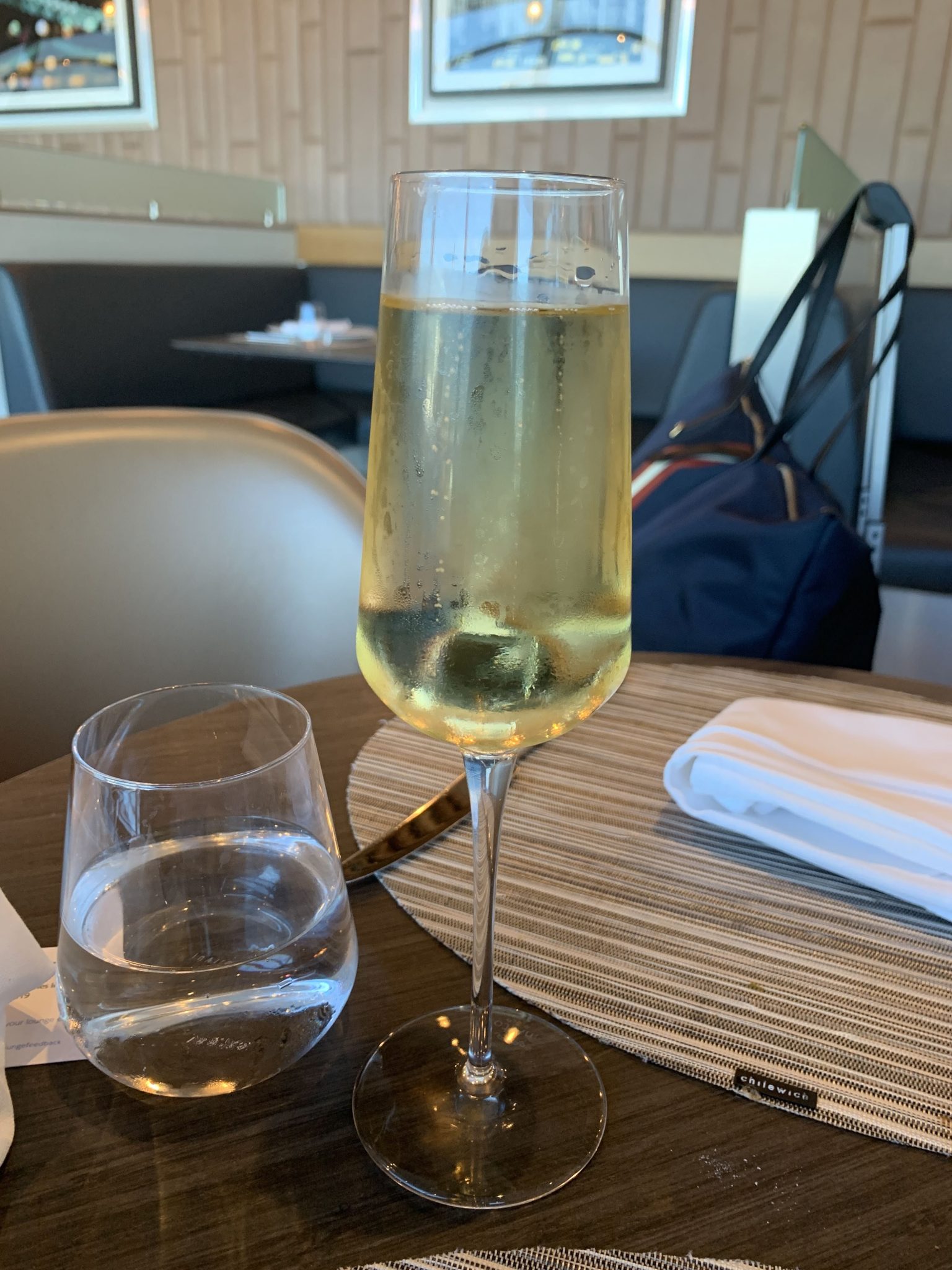 Served by: Qatar, Cathay Pacific, Singapore, American Airlines in some Flagship First dining
Read our review of Qatar First class here
The Professional view:
NV Krug '167 ed' Champagne – The 'Grande Cuvée' 167 ÈME Edition from Krug is a simply sensational effort that is drinking marvelously now, but is ultimately destined for an exceedingly long life in the cellar. This particular wine was disgorged in Spring 2017 and is a blend of 191 wines ranging from vintages 1995-2011. The aromatics show wonderful mustiness, white truffle, and peat moss with bright nectarine rind, toasted macadamia nut, kumquat, marzipan and a lovely nutty character all build in the glass. The brightness and intensity on the palate excites with wonderful weight, textural richness as well as a dazzling minerality. Mouth-watering acidity accompanies this beautiful Champagne with lemon zest, wild mushroom and ginger-infused sourdough bread flavors with diatomaceous earth undertones all impress. Am absolute stunner, this brilliant Champagne is glorious now and should go on to evolve and drink beautifully over the next two decades. Drink 2020-2035- 96.
In Business Traveller's Cellars in the Sky 2019, Singapore won a Silver Medal:
Silver: Singapore Airlines
Champagne Krug 2004, France
Judges said: Really impressive. Gentle and toasty. Very drinkable.
Score: 97
TLFL's comments:
Martin: One glass just wasn't enough. I love Krug's legendary honeycomb! Thank god we had this first.
David: Floral and yeasty in good measure with strong fruit, however slightly acidic. Mature powerful finish for a NV.
Jersey Girl: gentle vibrancy with citrus undertones. Oh who knows, I'm starting to get pissed already
Michele: Krug has been my favourite since the first time I took a sip with Roving Reporter in Japan and a huge smile spread across my face. I love the sophisticated intensity with nuttiness balanced with just the right level of acidity.
Dom Perignon 2008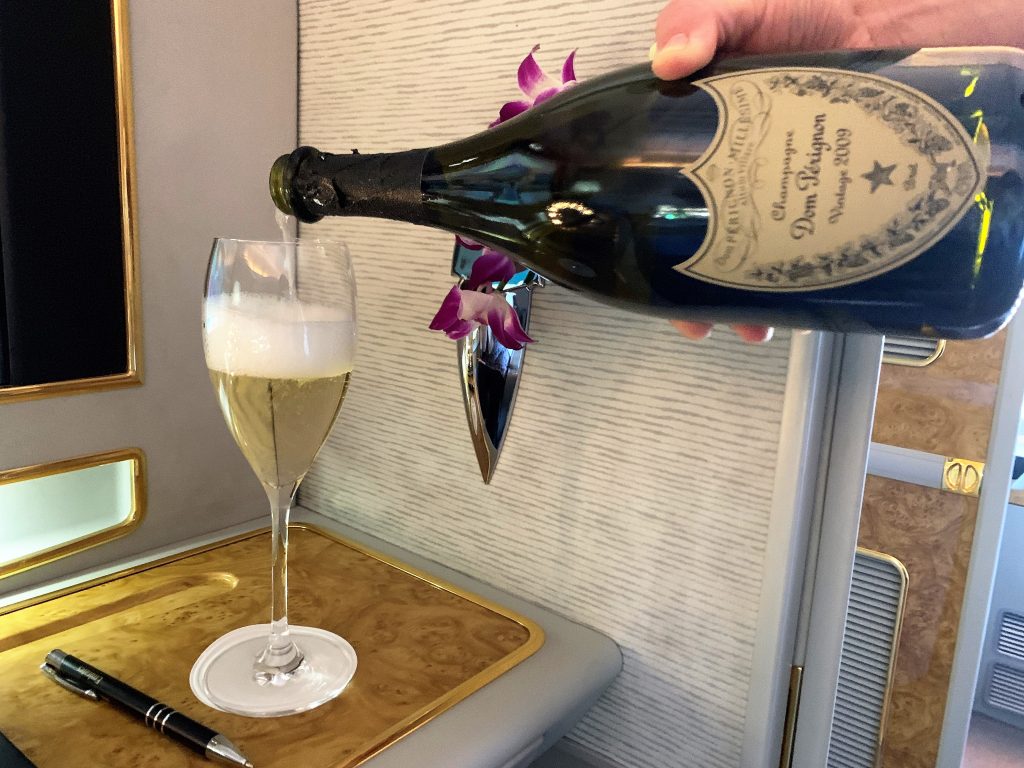 Served by: Emirates, Singapore
Read our Emirates first class reviews here.
The Professional view:
2008 Dom Perignon Champagne – The 2008 Dom Pérignon Champagne is a stunning wine that showcases this outstanding vintage. Released after the '09 edition, the 2008 is the last vintage released by cave de chef Vincent Chaperon before he retired at the end of 2018. What was a very cool vintage, 2008 saw perfect conditions at harvest which led to very ripe berries. At the present, the ripeness is quite evident on the nose with bright marigold flowers with kumquat and shades of nectarine rind alongside the lemon-infused brioche accents that all build in the glass. The palate is round, yet tightly wound, delivering a nice sense of decadence. Bright Pink Lady apple, lemon zest and Challah bread all combine brilliantly with a good sense of salinity on the palate. While remarkable in its youth, this really needs at least a year or two of bottle age to fully come together and show its full potential. That being said, this clearly has the potential to evolve an become an all-time classic vintage for Dom Pérignon. Drink 2020-2040- 97
In Business Traveller's, Cellars in the Sky 2019, Emirates won a Bronze Medal:
Champagne Dom Pérignon 2002 Plénitude 2, France
Judges said: Rich and creamy, with real depth on the nose.
Score: 96
TLFL's comments:
Martin: Flashy but really it's just average… Too gassy and oaky for me. Gets the birds to the table, though!
David: A pleasant Grand Cuvee. Almond & Brioche on the nose with a buttery finish. Elegant, however not as wow factor as Krug or LPGS.
Jersey Girl: Acidic with oaky notes. Missing the decadence of the other two
Michele: Not keen on the oakiness, feels a bit flat compared to the Krug in terms of complexity for me but still a nice richness to it.
Comtes de Tattinger 2007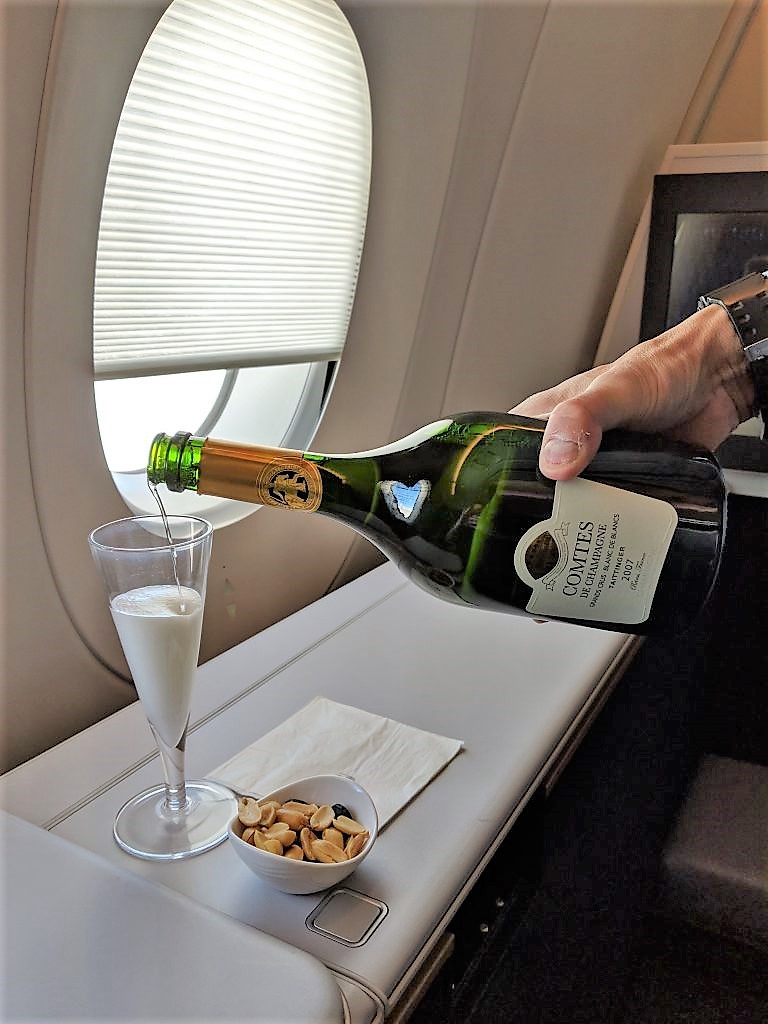 Served by: Malaysia Airlines, Qantas
Read our review of Malaysia First here.
The Professional view:
Taittinger Comtes de Champagne Blanc de Blancs is created in the Gallo-Roman chalk quarries under the former Saint-Nicaise Abbey in Reims. It is subject to a great deal of care and attention until it reaches full maturity. The cuvée, made solely from Chardonnays from the 5 villages classified Grands Crus in the Côte des Blancs region, is only produced when the harvest is of exceptional quality and worthy of becoming a great vintage. Only first press wine (the 'cuvée') is used as this is an absolute guarantee of quality. 5% of the wines which create the Comtes de Champagne are matured for 4 months in fresh oak barrels (one-third of which are renewed each year) to boost the intrinsic qualities of the final blend and its hint of a toasted flavour. The celebrated bottles only see daylight after a long and drawn-out maturing period 18 metres underground and lasting up to 10 years.
TLFL's comments:
Martin: Smooth with a subtle fizz. A light sweetness making it a very easy drinking champagne. Comtes bombs to follow?
David: Pale lemon in colour with exceptionally fine bubbles. Not flat, but not at all harsh – just right. Very mature taste with complex flavour and the oakiness of the Chardonnay coming through. Incredibly elegant finish. My favourite Grand Cuvee.
Jersey Girl: more of a tingle on the tongue than a fizz. Grapefruit notes with a silky finish
Michele: Brings back great memories of the Fat Duck and a visit to their wine cellar with Roving Reporter. Light and elegant with very subtle bubbles rather than full-on fizz.
Laurent Perrier 'Grand Siecle Champagne 23rd edition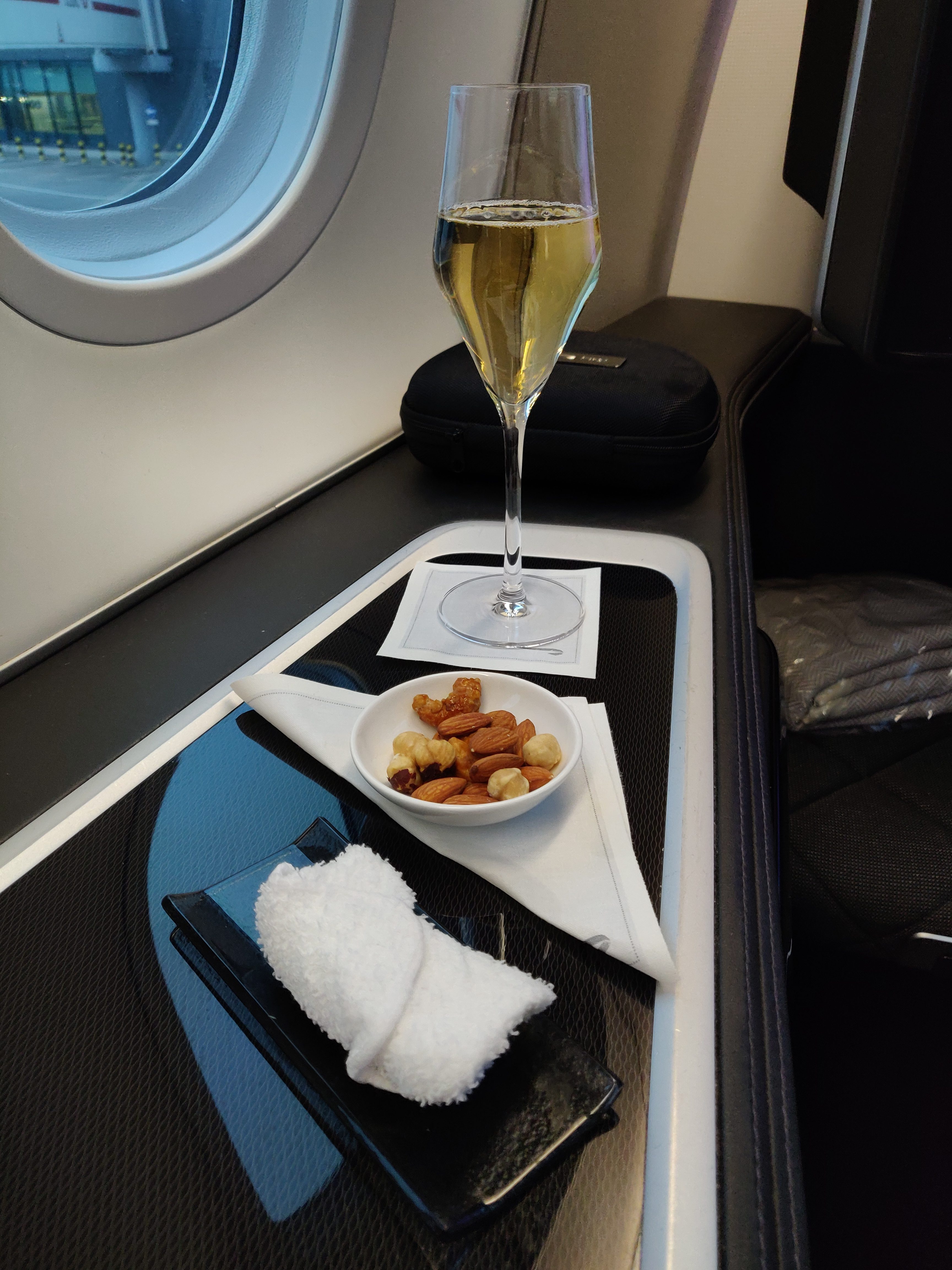 Served by: British Airways, Lufthansa
Read our British Airways First reviews here.
The Professional view:
NV Laurent Perrier 'Grand Siecle 24 ed.' Champagne – The latest release of the Grand Siècle from Laurent Perrier is a truly spectacular Champagne. Comprised of 55% chardonnay and 45% pinot noir, the wine is sourced from the 2004, 2002 and 1999 vintages. The bouquet is simply intoxicating with amazing range, from honeydew lemon to citrus rind, brioche, and Japanese pear. On the palate, this shows an excellent combination of viscosity and tension. Apricot, Challah bread, marzipan, and kumquat zest flavors all marvelously combine together. While this is a marvelous Champagne that is built to age, it is simply impossible to resist right now. Drink 2020-2035- 95.
TLFL's comments:
David: My favourite all-rounder. Beautiful light colour with a hint of smoke on the nose, gives way to a crisp taste with good bubbles on the palate. Notes of brioche and Apple shine through to a long beautiful finish.
Jersey Girl: smooth and creamy. The drink that brought us all together which I will forever be grateful for ❤️
Michele: Reminds me of happy times aboard a BA plane or two. Now I feel sad… It's still a great champagne with lovely citrus and apple notes.
Veuve Clicquot 'La Grand Dame' Champagne 2008
Served by: Lufthansa, Qantas, Qatar's Al Safwa lounge
Read our Qantas First class review here and our Qatar Al Safwa lounge review here.
The Professional view:
2008 Veuve Clicquot 'La Grand Dame' Champagne – The 2008 La Grande Dame is an absolute revelation. This is Cellar Master Dominique Demarville first vintage of La Grande Dame, and he has crafted a blend with 92% Pinot Noir – the highest percentage ever in Veuve Clicquot's history. As this spectacular Champagne slowly unwinds, it begins to display deep diatomaceous earth tones that marvelously mingle with lemon oil and hazelnut aromatics that all are woven together in the glass. At this stage, it is tightly wound, yet possesses a rich and highly satisfying mouthfeel that is beautifully defined and shows shades of roasted pineapple, Japanese pear, kumquat, salted praline with suggestions of freshly baked sourdough bread that persist throughout. This is a truly fantastic vintage for La Grande Dame, however, it seems as if it still going to require a few more years of bottle age before it reaches its optimal drinking window. Drink 2020-2040- 95
TLFL's comments:
David: fruity on the nose, quite heavy with the apple and quite dry to taste. An okay finish but very underwhelming for a Grand Cuvee.
Jersey Girl: Don't think we liked it but I don't remember why. Definitely drunk now.
Michele: I'm not sure if its because it's the last bottle out of five, but it's very disappointing.
Not tasted but of note….
Louis Roederer 'Cristal' Champagne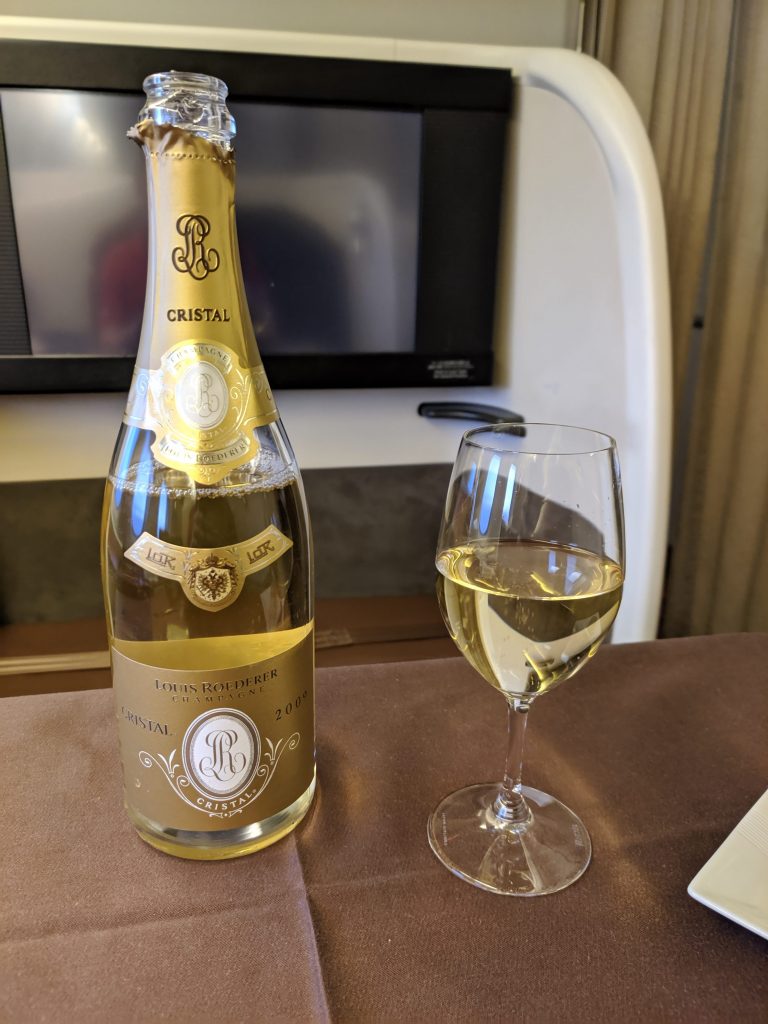 Served on: Japan Airlines
Read our Japan Airlines first class review here.
The Professional view:
2012 Louis Roederer 'Cristal' Champagne- The 2012 Louis Roederer 'Cristal' Chanpagne is a thrilling, dense new offering from this historic house. On the nose this takes on rich brioche and baked Pazzaz apple flavors that combine with lighter kumquat and marzipan tones that all meld in the glass. Fresh and vibrant, with a remarkably silky mousse, the weight and richness of this wine is impressive, while the bright character provides a wonderful foil. Rich layers of lemon zest dusted brioche with toasted hazelnut and Gravenstein apple with lighter vanilla cream and starfruit tones seamlessly combine on the palate. As several hours develop, the wine pieces itself together more magically with the intense citrus components melding with its weighty stature. Marvelous at this stage in its development, the 2012 Louis Roederer 'Cristal' Chanpagne will have an exceedingly long life ahead of it. Try to give this at least another year of bottle development before savoring. Drink 2021-2040- 97
2008 Louis Roederer 'Cristal' Champagne- The 2008 'Cristal' Champagne is an absolutely magical effort from cellar master Jean-Baptiste Lecaillon, who has crafted a simply dazzling wine from this sensational vintage. Composed of 60% Pinot Noir, 40% Chardonnay the 2008 was bottle-aged for 8 years before being left to rest for at least 8 months after disgorging. This beautiful Champagne begins with highly perfumed aromatics, offering a gorgeous combination of musty and earthy tones up front, followed by white truffle shavings, peat moss, brioche and bright pear nuances that complete the exotic nose. Streamlined throughout, this shows incredible precision and clarity, as well as an unmistakable a seamless quality that makes it nearly impossible to resist. It goes on to impress with its incredible verve and energy, as well as racy acidity, which is all underlined by a remarkable saline character that echos through the palate. This continues to deliver an outstanding combination of weight and effervescence as flavors of Asian pear, marzipan, Marcona almond and kumquat all come together to delight the senses. The 2008 is truly one of the most compelling releases that I've ever had the opportunity to taste from this house. Although it is already utterly scintillating in its youth, this will ultimately need some more time in bottle, nonetheless its pedigree and potential are extremely evident. Drink 2020-2045- 98
And the winner is…
In reverse order we ranked the champagnes:
Grand Dame

Dom Perignon

Grand Siecle

Comtes
Winner: Krug
What's your favourite champagne in the air? Let us know in the comments below or on our social media.