My friend Martin, who you may remember for his incisive comments on the best first class champagne (!), recently flew to Dubai. Although Dubai is not currently on the UK travel corridor or FCO list, it is still possible to get insurance to travel there. You can see articles on how to get insurance in this article.
If you fly Emirates they will also give you insurance against COVID medical expenses. It covers medical insurance up to €150,000 for COVID-related illnesses, as well as around 100 Euros a day if you needed to quarantine.
Getting into Dubai – pre-departure tests and requirements
In order to go to Dubai you need to fulfill a list of requirements:
Ensure you have medical travel insurance covering COVID-19 before travelling.
Tourists may either show their PCR test result (which is valid for 96 hours) upon their arrival to Dubai or carry out a test at the relevant Dubai airport
A declaration must be signed to bear all costs of quarantine and treatment and complete the Health Declaration Form before departure including ensuring the passenger has no COVID-19 symptoms. It's not mandatory to have insurance but you do need to sign a waiver saying you'll pay for your own quarantine at $50 a day.
Tourists are required to register all their details in the COVID-19 DXB app on arrival.
Before visitors fly to Dubai, they will also be required to complete a Health Declaration Form and a Quarantine Form. Both forms need to be printed, completed and handed over to Dubai Health Authority staff on arrival.
Here is the UK FCO page with more advice
All passengers travelling from Dubai to UK or Europe (and other mandated destinations) will be required to take a COVID-19 PCR test no more than 96 hours before departure and present the printed test result certificate at check-in. Children under the age of 12 and passengers who have a moderate or severe disability are exempt from this test.
One of the best sources of information is the Emirates page on flying to and from Dubai.
Previously when Martin was visiting, travellers were required to take a test in a UAE-recognised clinic overseas. Passengers flying into other airports in the Emirates must continue to do so.
Now Dubai have extended the list of recognised tests. Visitors from the UK can visit an NHS clinic for a nasal swab before their departure, which is much easier and cheaper. For the UK, any clinic or laboratory can be used but the PCR test has to be approved by the Public Health authority e.g. Public Health England, Wales or Scotland. Previously, just four clinics were available for a PCR test, two in London, one outside Manchester and another in Bristol. Boots are also offering COVID testing for Dubai in London.
The service can be booked easily through the web portal of Pure Health which has provided the list of the approved labs in each country. Incoming passengers to the UAE can register for the screening (after they have been informed to do so during the government application process) simply by entering their details, selecting their country, city and preferred laboratory on the portal. Their results are then shared with the Authorities through the shared portal. The applicants will then receive feedback from the FAIC regarding their application. Make sure you check the requirements carefully as to what you need to provide as evidence of the test.
New arrivals into the country may also be asked to take a second PCR test at the airport and must remain at a specified residence until results are known. Only then will tourists or returning residents be allowed to leave quarantine, if testing negative for the virus.
Martin used Eurofins Forensic Services-London and waited a very long time for his test to be done over 2 and a half hours!
On arrival, he simply handed in the paperwork at passport control and was waved through in a matter of minutes.
BA to Dubai in Club World
BA First lounge Heathrow T5
As a Gold Card Holder, Martin visited the first lounge at Heathrow T5. We have covered this a lot recently, so I won't go into too much detail. Martin was impressed with the lounge service. His exact quote was "Food is fresh. Really good. I'm shocked"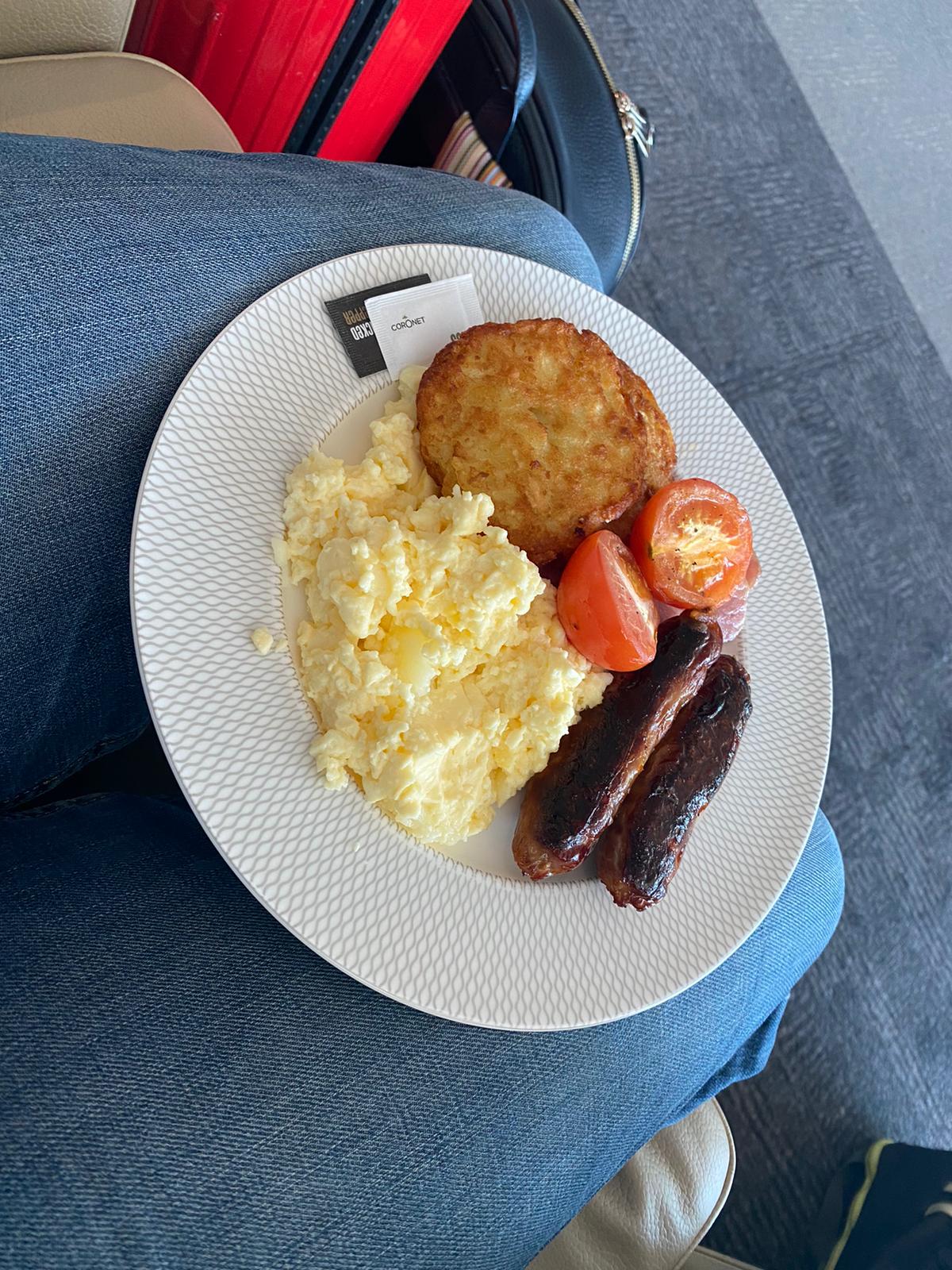 Boarding
As seems to often be the way, despite having a laid down protocol for boarding, it was different both ways. Instead of boarding by row from the back, they boarded Club World first and then the other cabins at Heathrow. On the return, they boarding by row number from the back to front. Martin was in 1A so was the very last person to board in Dubai.
Pre-departure drinks were served and it was the Nicholas Feuillatte champagne in a plastic cup. Martin was unimpressed with the plastic and paper cups. If a restaurant can manage to serve proper tableware, why can't airlines?
Washbags and bedding were handed out as normal. However, the White Company bedding only consisted of a blanket and pillow – no duvet or mattress topper.
The crew now seem to have rather snazzy branded BA masks.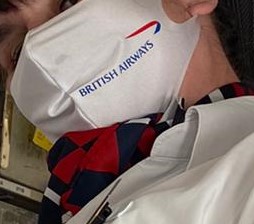 Club Suites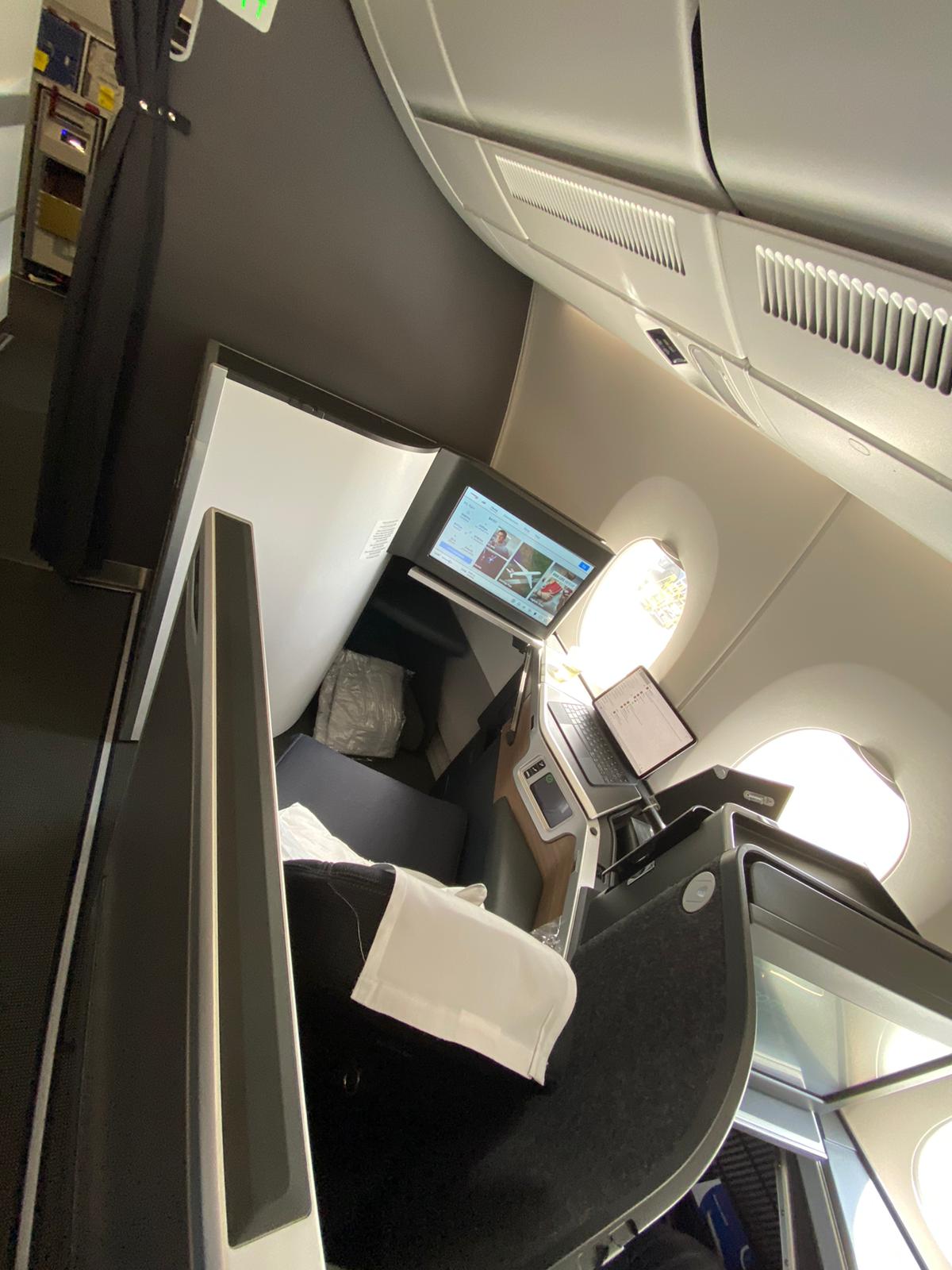 This was Martin's first time in a Club Suite on the A350. He usually flies First. Overall he was impressed and said that he would "happily fly Club World again, but obviously still prefer first". This is high praise from Martin, although he did comment it looked a bit plasticky. On the flight home there were already signs of wear and tear: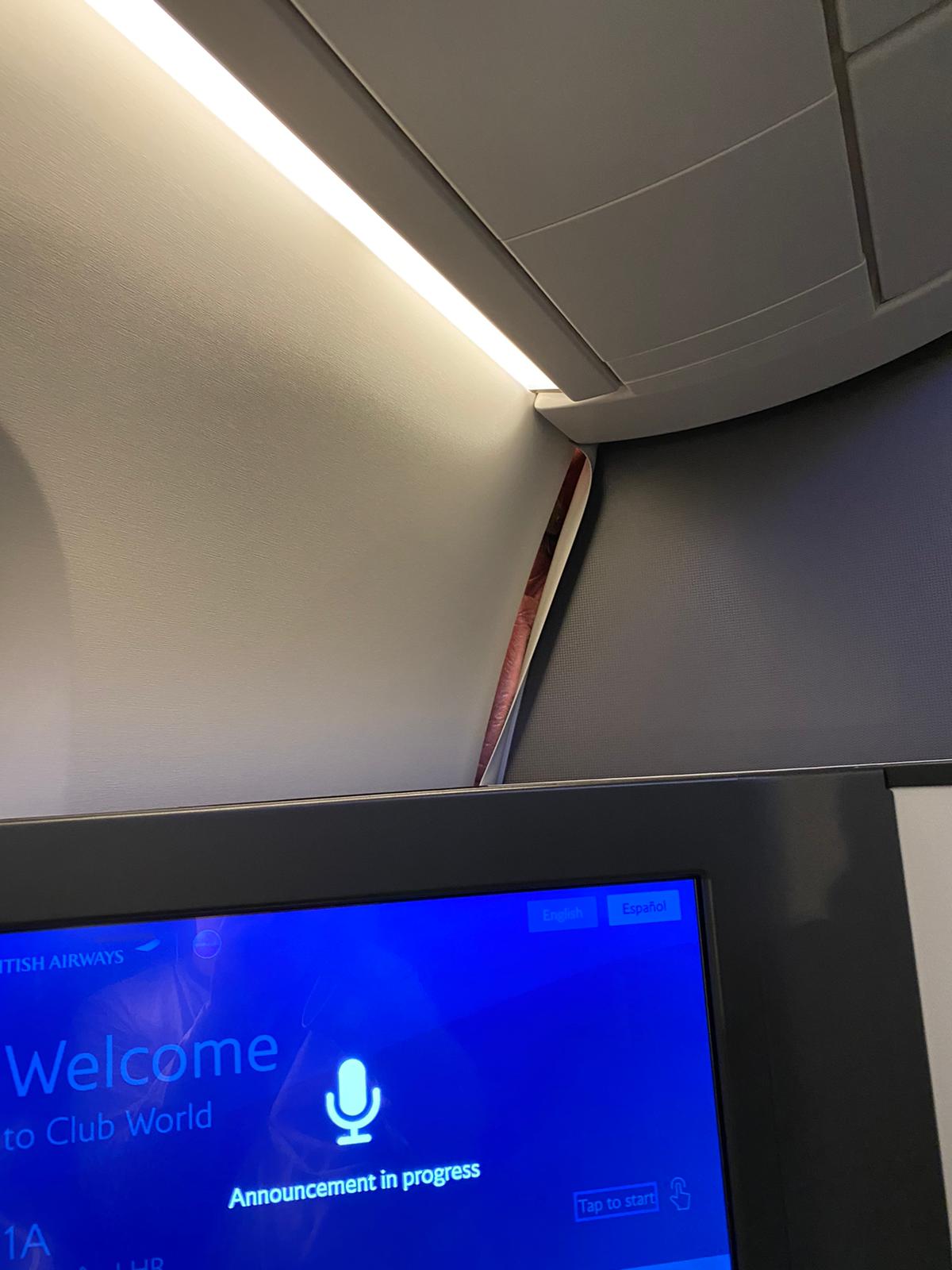 For the return, Martin nabbed 1A. The crew coming home were less friendly but probably due to the time of night.
Food and drink

Martin is still not entirely sure what the salad was but says it was tasty and filling although hardly long haul business class standard. You get a starter salad which is a decent size, sandwich, dessert, cheese, and a bottle of water. It's much better than was offered before but it is still way below what I would expect on a flight of this length in business class. Drinks are available with the same choice as short-haul i.e. miniatures of spirits, mixers, quarter bottles of wine, and Nicholas Feuillatte champagne.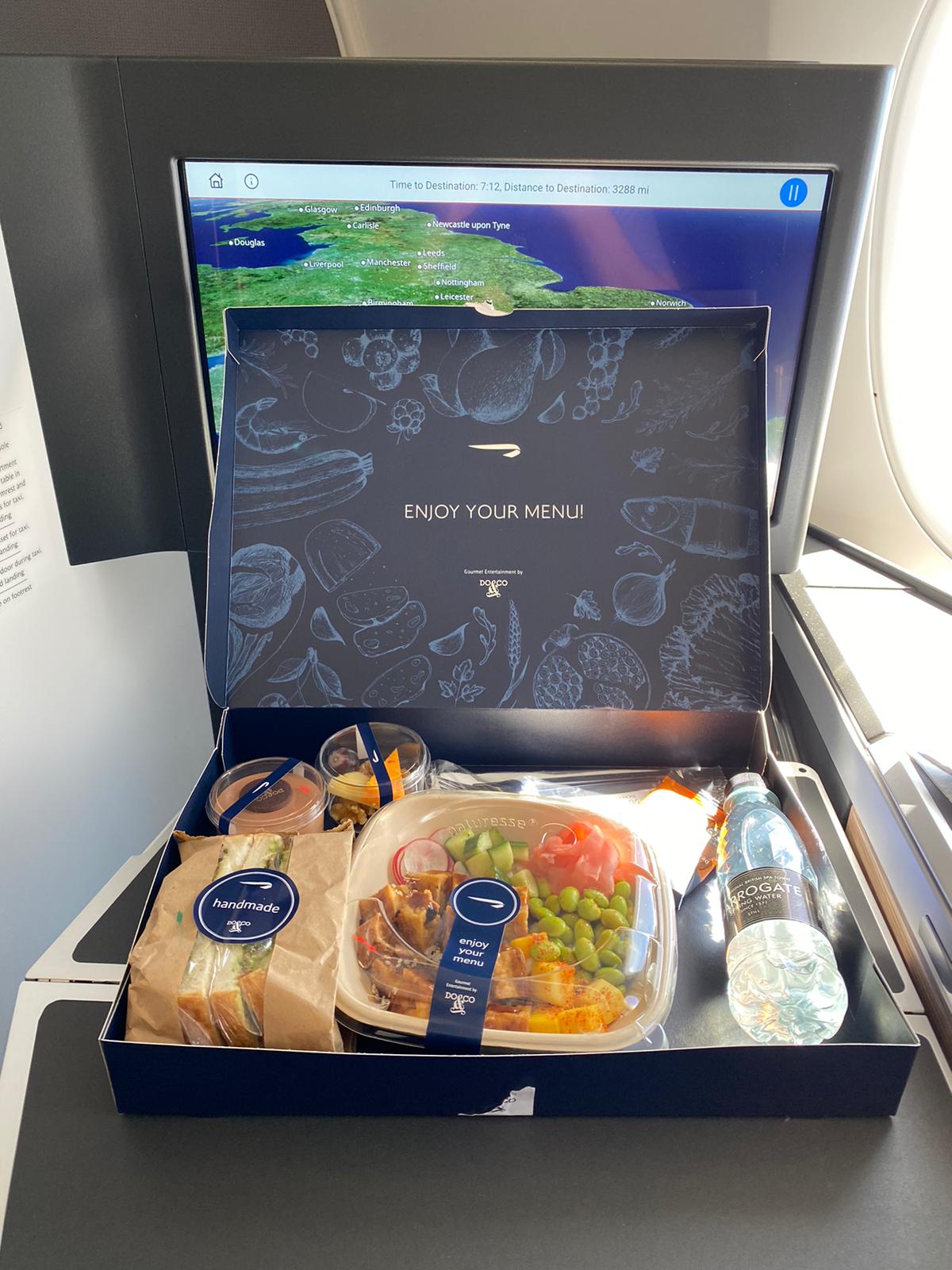 The second meal was afternoon tea and consisted of Halloumi and roast pepper panini with a Kit Kat and shortbread.
FIVE Palm Jumeirah hotel Dubai and being in Dubai
FIVE has one of the best locations on the Palm for those looking to access the mainland quickly. Many hotels are still closed, so make sure you research your options before booking any flights.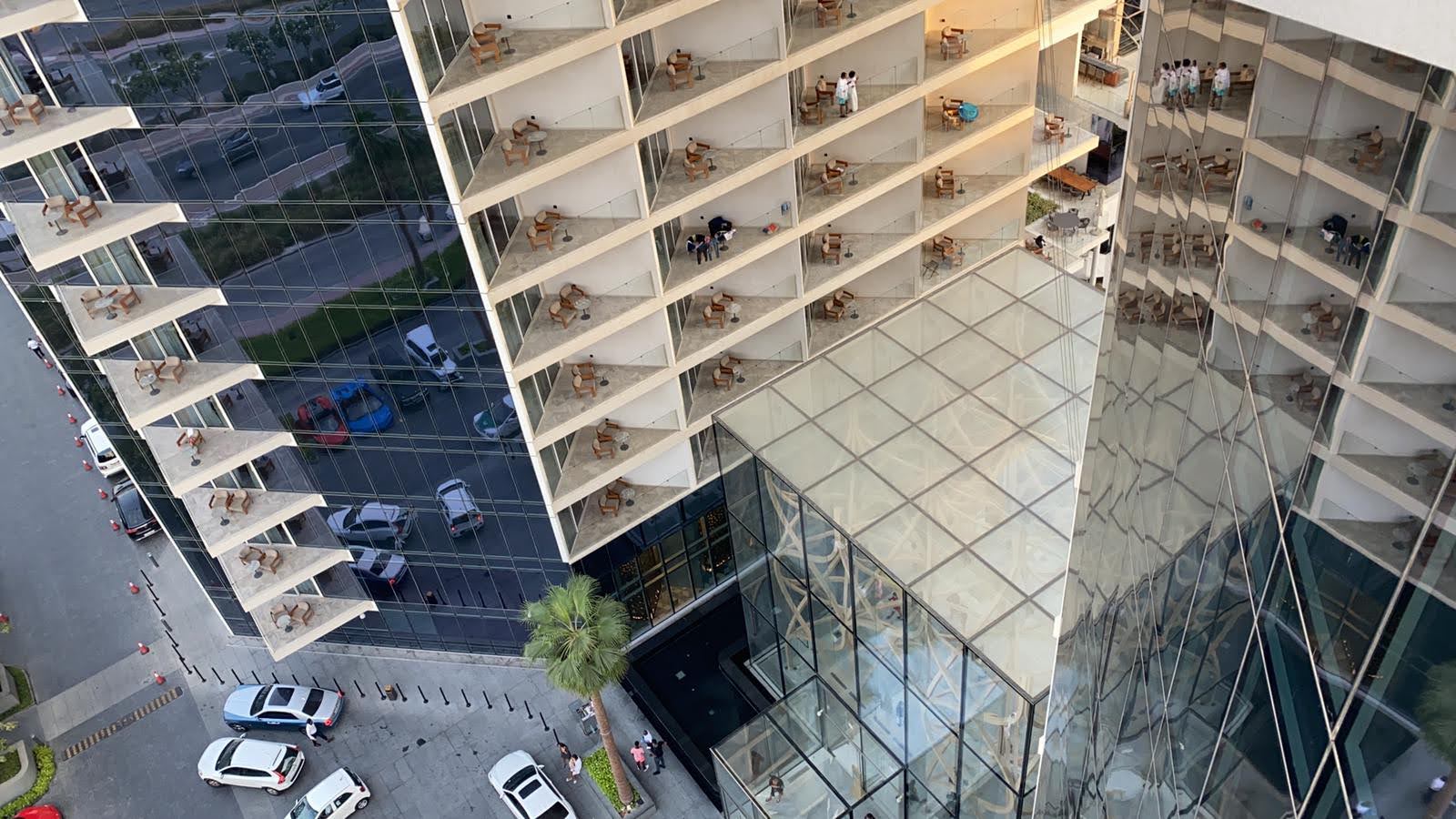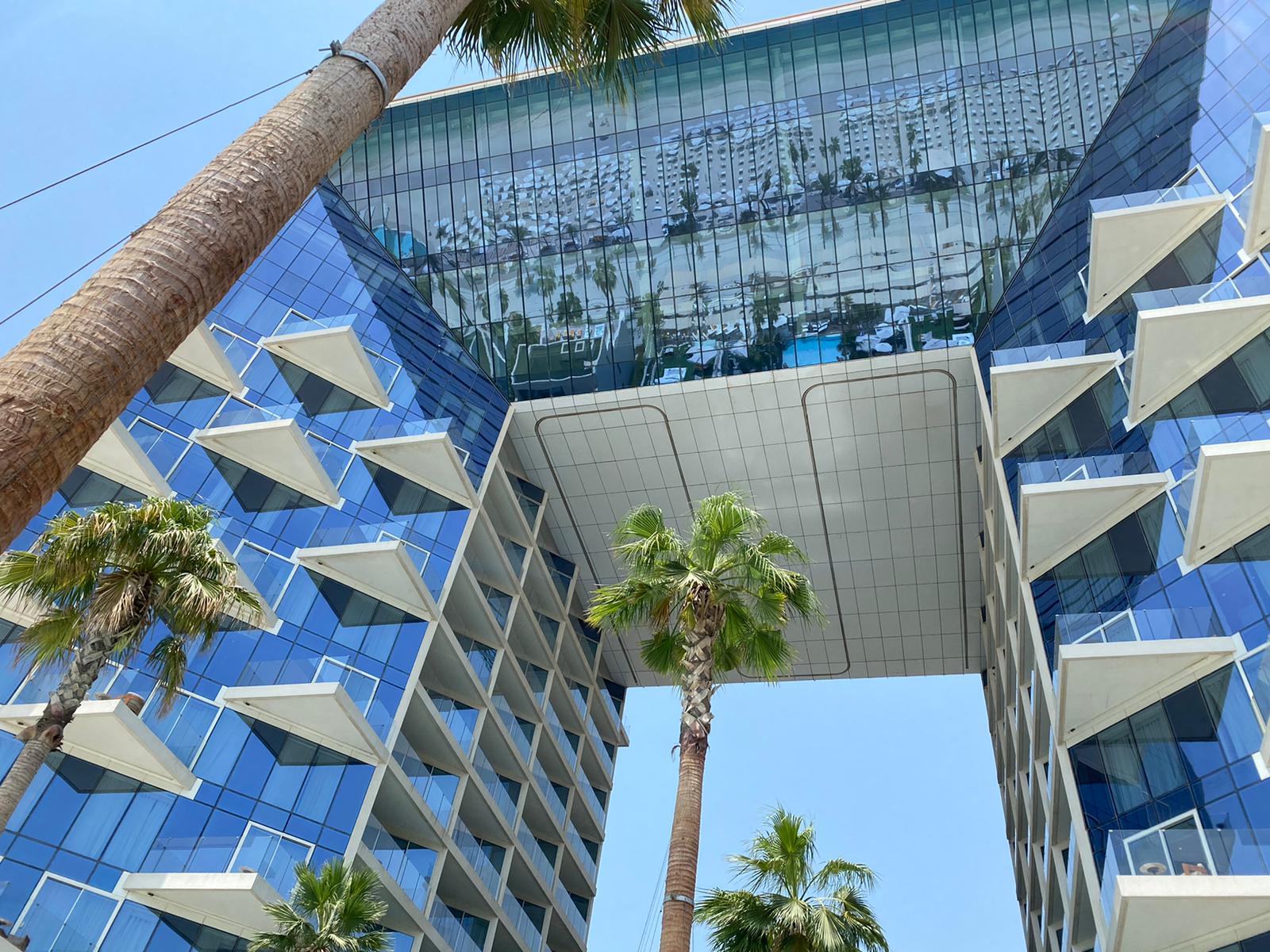 Martin stayed at FIVE on the Palm. He paid £900 for 4 nights in a junior suite.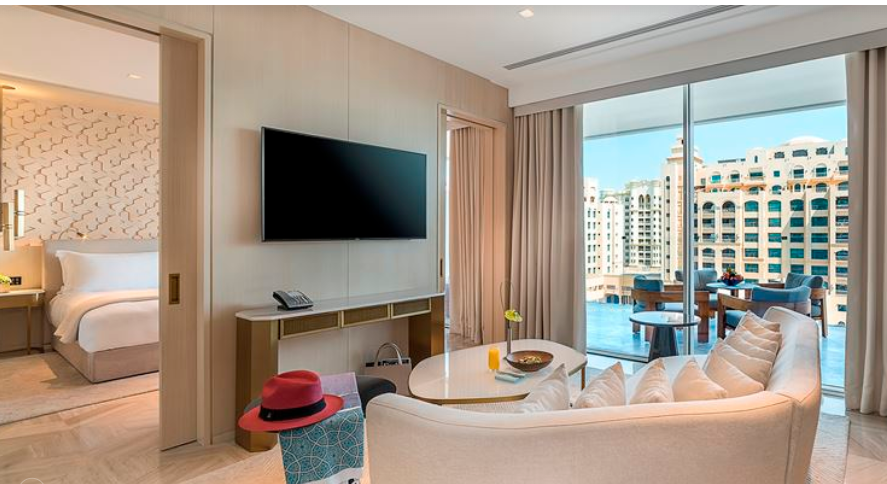 There were a number of issues with water leaks in both rooms and they had to move rooms.
FIVE is aimed generally at a younger clientele who are looking for more of a party scene. There are five pools including the social pool and a pool at the spa.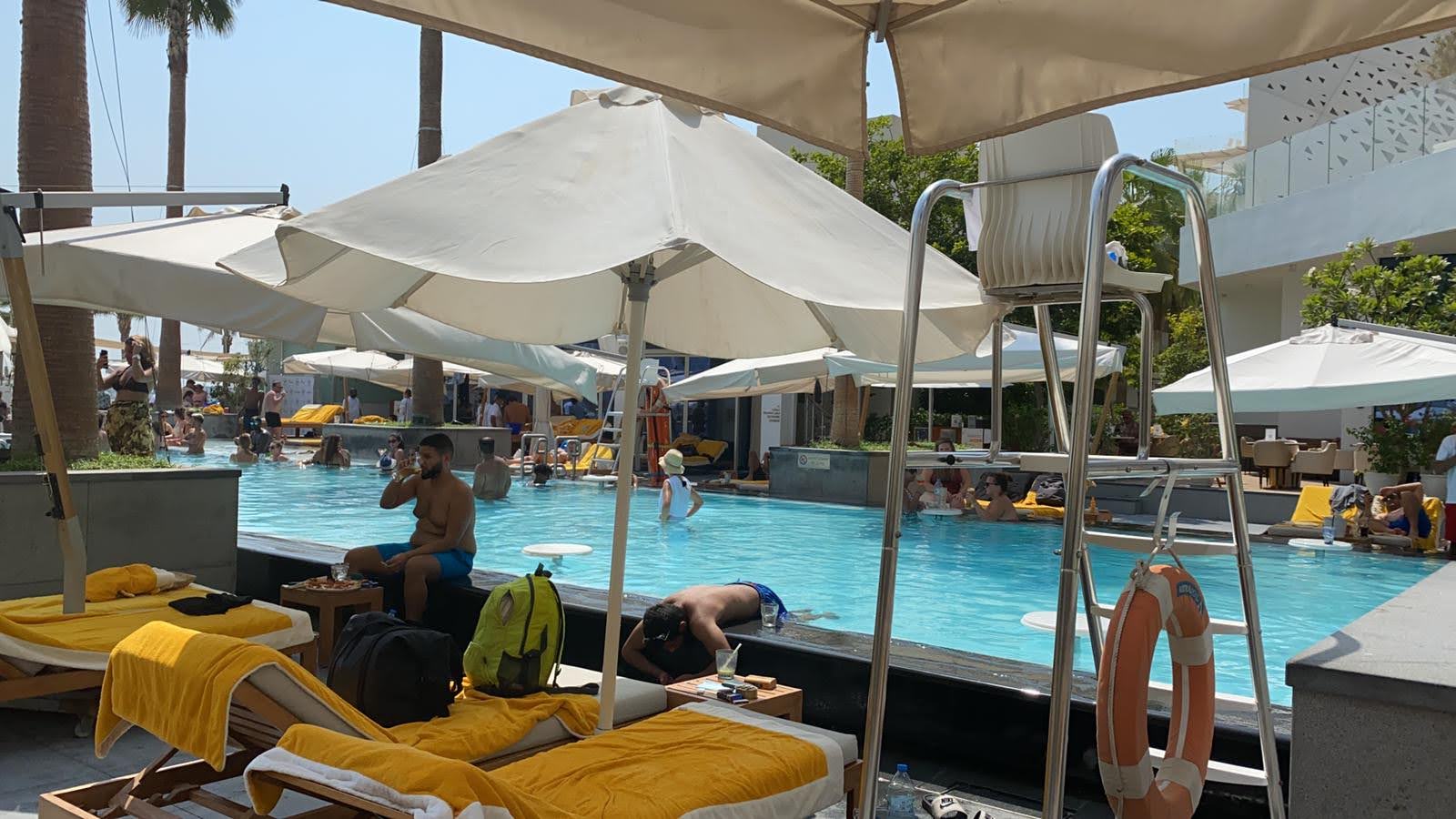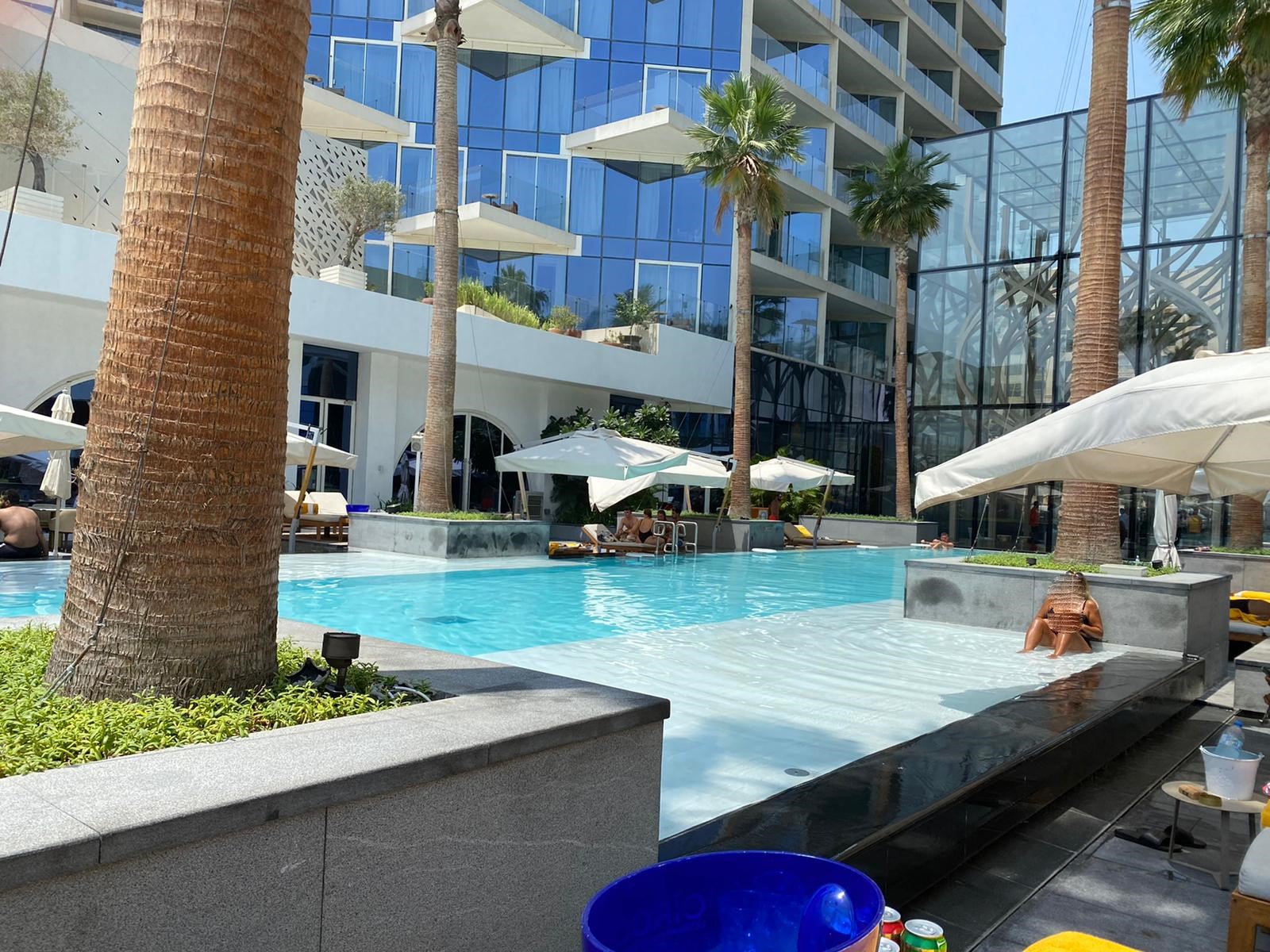 There are some great views back to the Dubai skyline from the rooftop bar.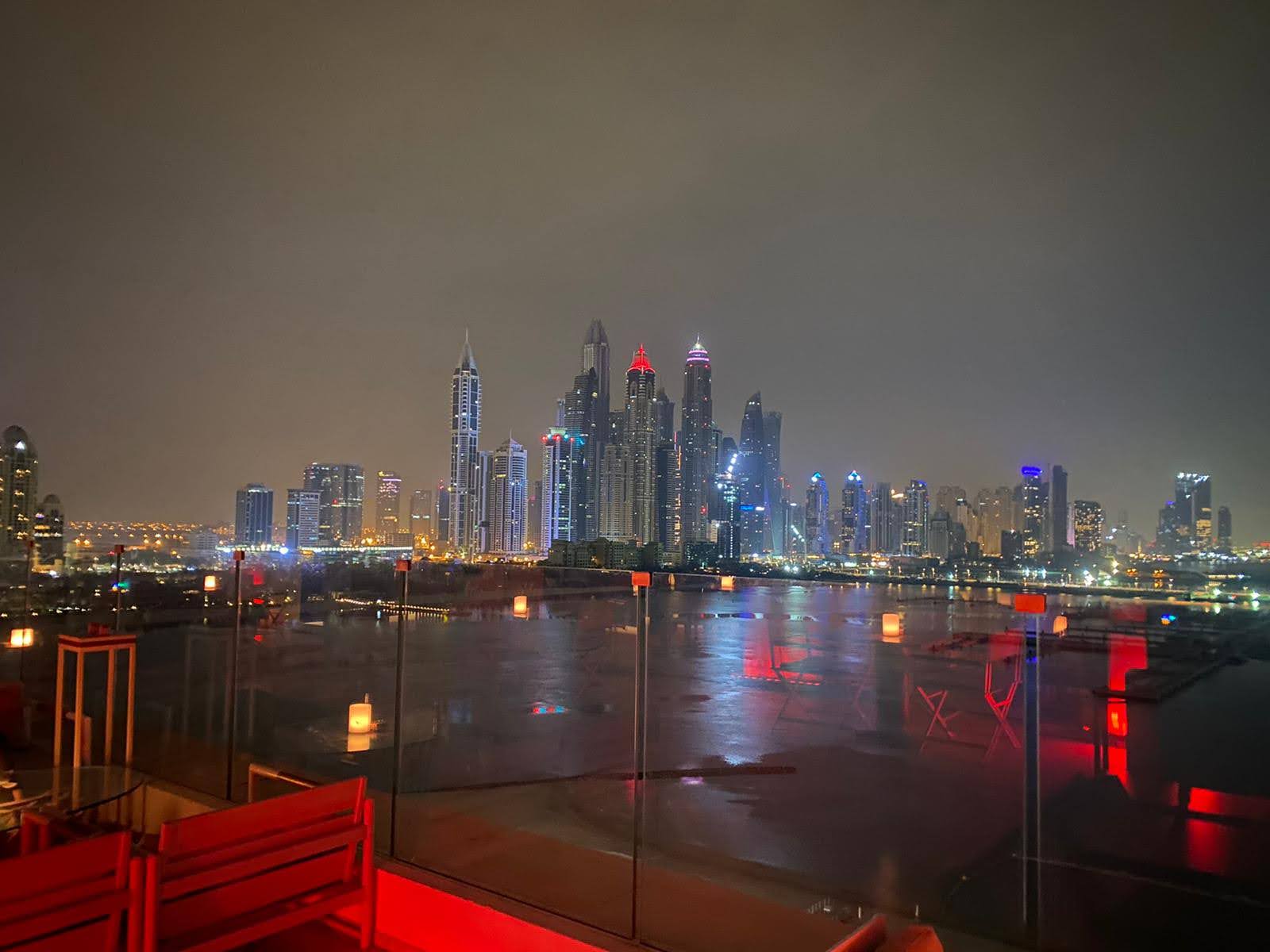 Martin was not impressed with his stay at FIVE. "I would never stay there again. Taps broken, leaking ceilings in 3 out of 4 rooms, limited power sockets in the rooms, shower was hot/cold – took 15mins to be stable in both rooms. Would much rather stay at the Waldorf and deal with the 25 min uber to get off the Palm."
You can read my review of the wonderful Waldorf Astoria the Palm here.
If you fancy staying at FIVE, there is currently an offer for Pay 3 Stay 4 with FIVE.
You can find prices and more information on FIVE here.
COVID measures in Dubai
The hotel had a number of "social distancing monitors" which mainly seemed to be women in tight t-shirts! The government is giving rigorous spot checks of hotels, sometimes as often as two to three times a day to check that protocols are being followed. Thermal scans are at the entrance to hotels, restaurants and even coffee shops. Nearly all ordering is by phone to be contactless. Alcohol is being served in bars and restaurants in hotels as usual.
Ubers are working as normal. Gloves and masks are mandatory at the airport. Taxi drivers have a sealed part of the car and wear a mask and gloves. Sanitizer is available. Cars are disinfected between each ride. Masks are mandatory on public transport. Staff in most public-facing roles have to wear masks. Lots of UAE locals were in the hotels. Therefore the restaurants are very busy at the moment as locals/expats are going there rather than anywhere else. Overall, it felt quieter than normal though.
The majority of attractions are now open. Martin commented that they are very, very, very strict on masks in public
Testing for the return flight
You will need to get a test before your return flight within 96 hours of departure. Martin got an Uber to the test centre. It costs about £77 and there was a 45-minute wait. He booked via the Dubai gov heath app. No one even checked his test result text message on return, he suspected they already had the information. The results came in 12 hours. At the test centre they were very accommodating when Martin told them it was for travel and said it would get tested first.
Dubai Airport

All airlines are using Terminal 3 (which looks so dated and a bit tired nowadays). BA used the Mahaba B lounge. Martin tried the other Priority Pass lounge as he wanted a shower. They don't have lounge showers but have an agreement with the airport terminal hotel so he had a shower there, pre-flight. Most shops are open in concourse B. Masks are strictly enforced.