On Thursday I reviewed the new Club World service outbound from Heathrow to New York JFK. I also came back from JFK to Heathrow a few days later overnight on a refurbished B747. This was the first time I had seen the new service on a night flight so I thought it was worth a quick review of what you can expect.
Previously on JFK flights, depending on the time, you either got a Goodnight Express (early evening flights with a one tray meal or hot sandwich) or Sleeper service (later flights with  2 courses and limited choice). This is still in place on East Coast routes with the old Club service. So what can you expect with the new Club World service?
Check-in
I used the new JFK First Wing for the first time. This is part of the refurbishment of the check-in areas and lounges at JFK which should complete in 2018. The area itself looks very smart and similar to the UK one but the advantages currently end there. The check-in staff were excellent though and very friendly.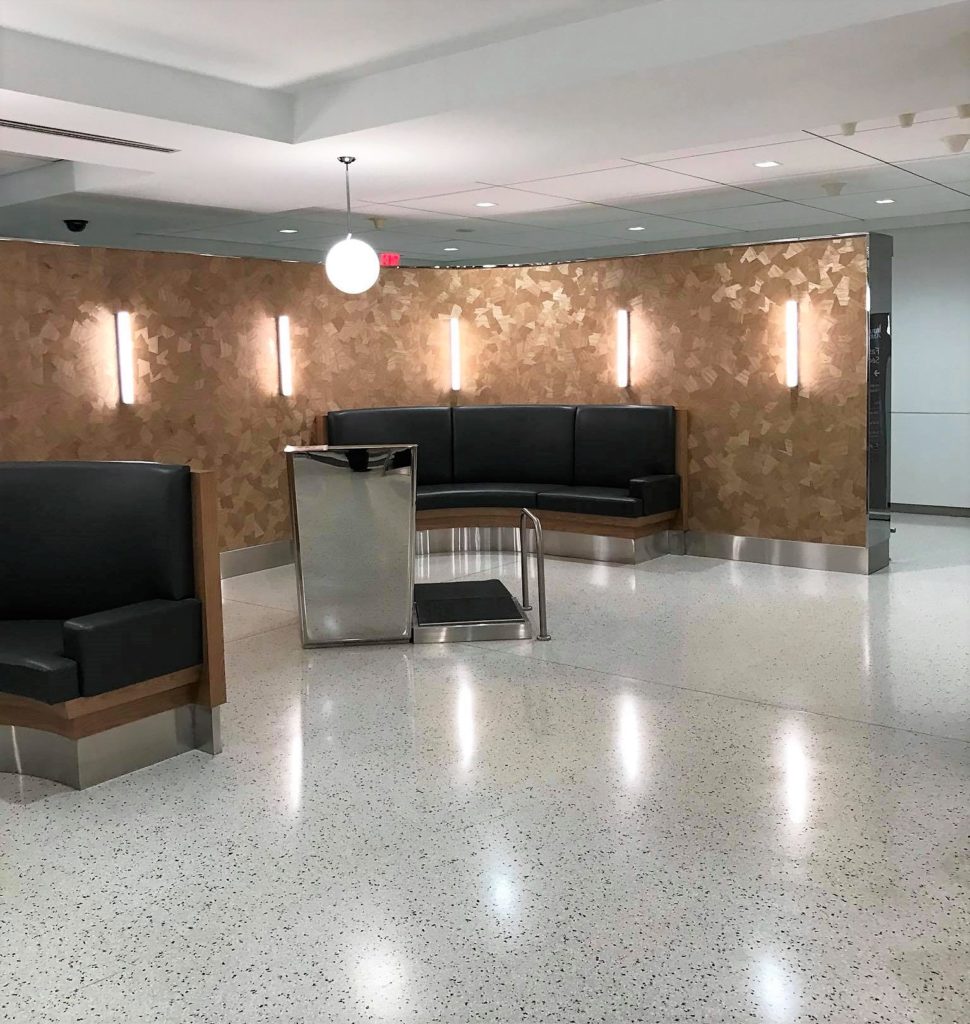 There is no separate security queue so when you have finished checking in you simply join the main premium queue from a side lane. This caused a lot of problems when I was there (and I have heard the same from other people). The main queue people thought that we were pushing in as there is no sign on the side lane. The BA rep just stood there as people from the main queue starting having a go at the First queue.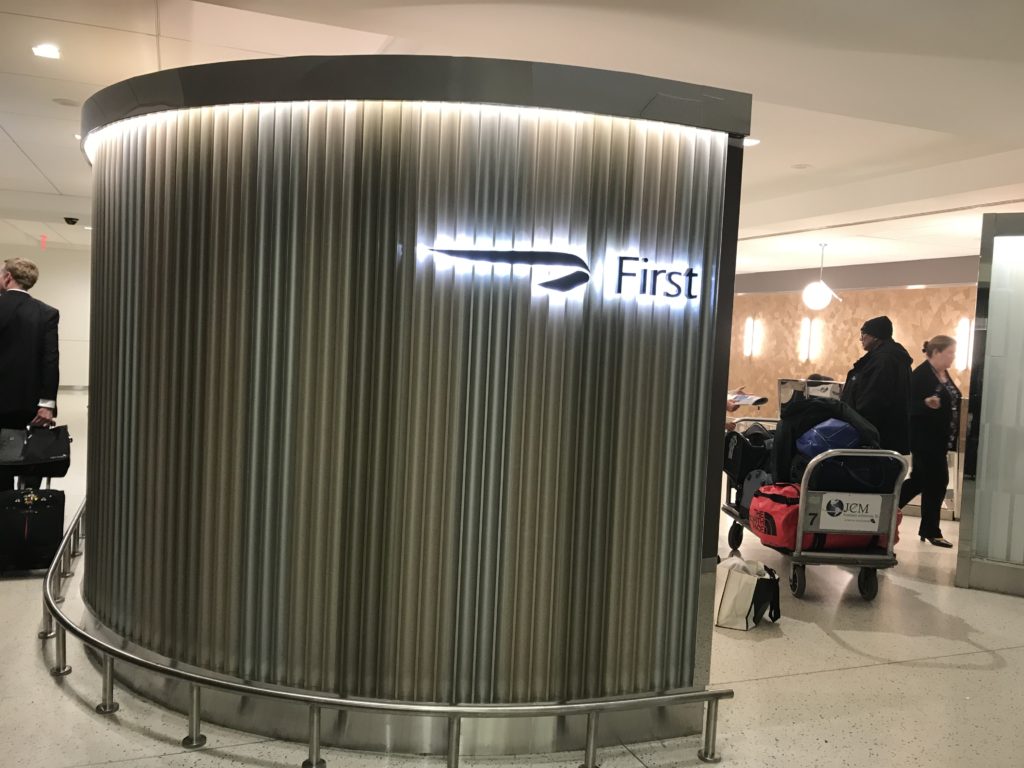 Lounge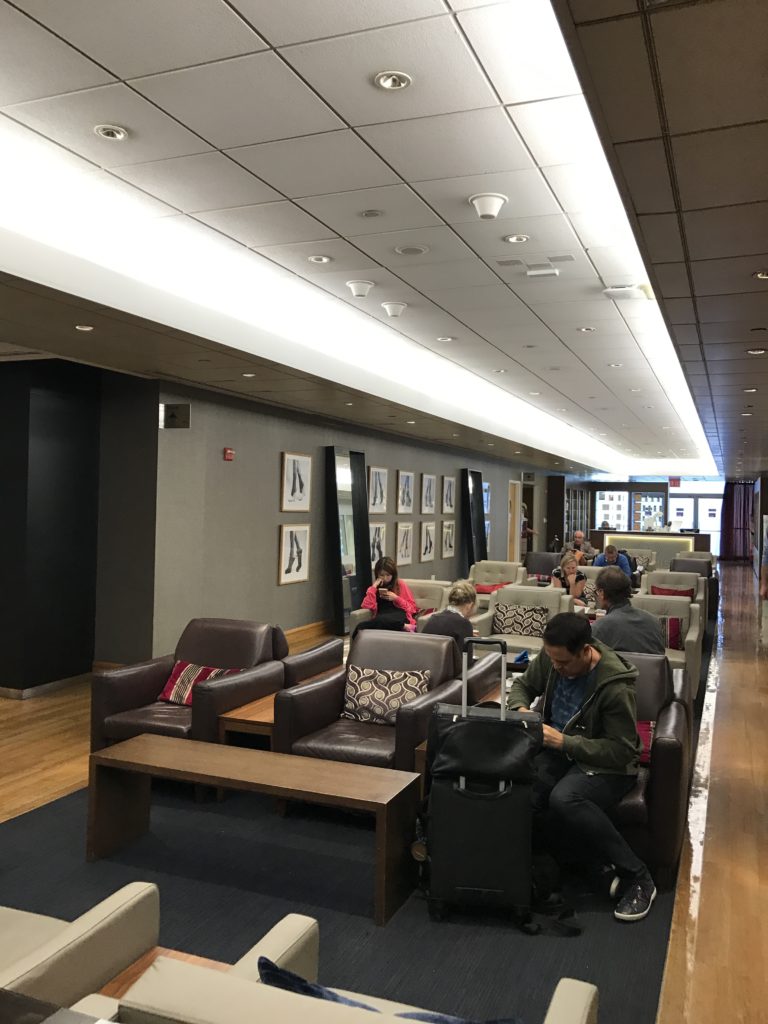 If you are flying on an evening flight from New York (and other US East Coast destinations) you can dine before you board if you are travelling in Club World or First. This is to help people make the most of the time available to sleep on board. At JFK if you are travelling in Club World you can use the pre-flight dining area in the Galleries Club Lounge (review here) and in First, you can dine in the Concorde Room. In the Club lounge, they do check your boarding pass to let you into the buffet so there is no sneaking in as a Gold or Silver Card holder who isn't in Club!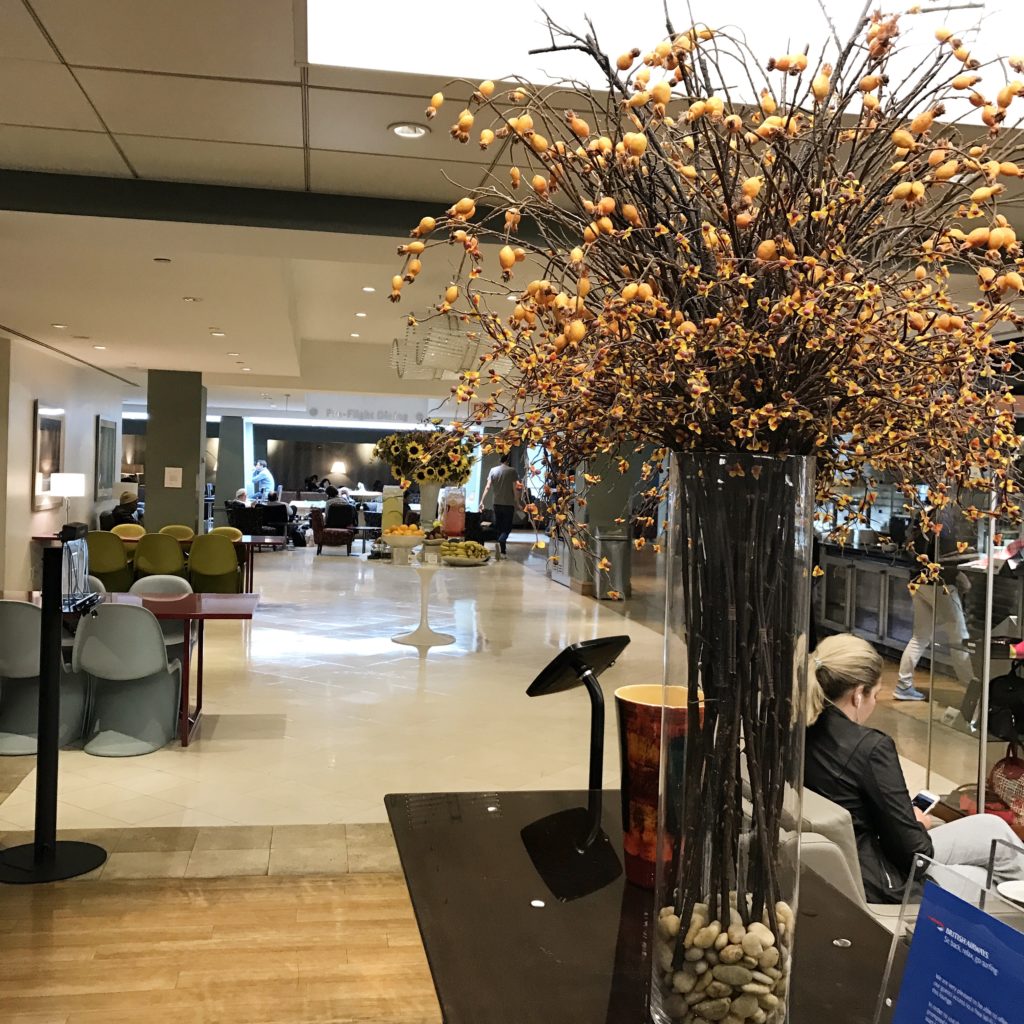 I didn't bother with pre-flight dining this time as I had a big lunch and needed to do some work before I got on the flight.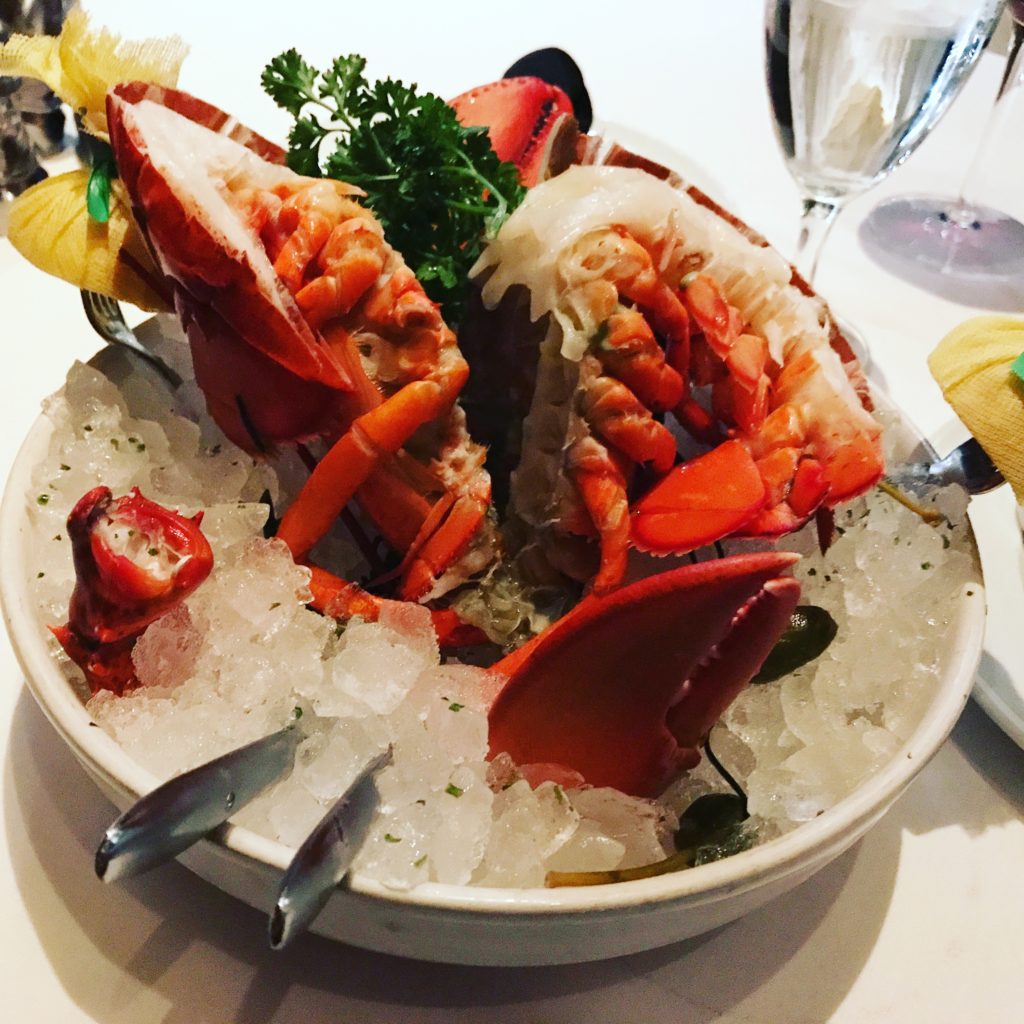 If you don't want to do the full dining there are a few sandwiches and snacks in the main part of the lounge too.
Boarding
Boarding was something of a disaster zone. I headed down from the lounge about 50 minutes before departure and was greeted with the sight of what I assumed was the Priority queue that appeared to be just a mass of people rather than an actual queue. Obviously, on a New York flight, there are a lot of status passengers and BA have delayed their new boarding process which may help the issue. Once they did finally call boarding there was a massive surge towards the front with people pushing in from the sides and it took a long time before I was able to actually get on board.
I won't review the seat on this occasion since it was a bog standard aisle seat on the B747 main deck due to me booking so late as I waited for a last-minute Avios seat for my upgrade voucher! There are plenty of reviews of BA's Club World seats in my Flight review section.
Food and drink
The menus for night flights have completely changed. They are now the same for all the night flights with a full offering available. If you want something quicker, the crew will make up a tray with one course and a drink for you instead which is the new 'Goodnight Express' service. Here is the menu from my flight: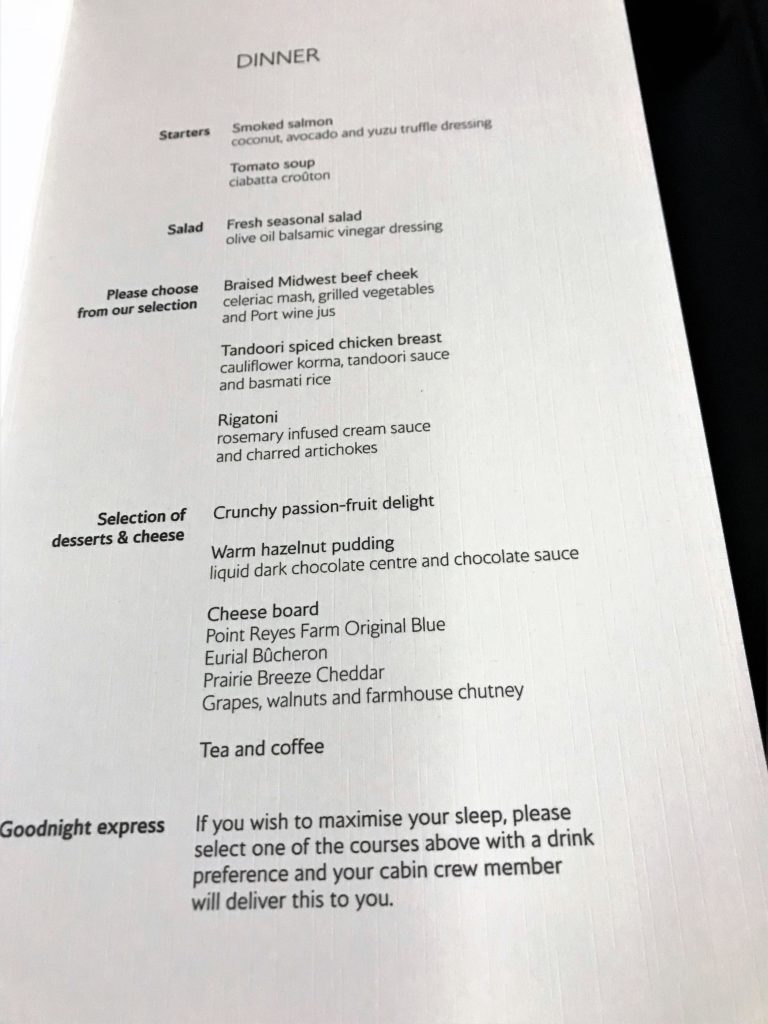 It has slightly less choice of starters and desserts but other than that it is the same you would receive on a daytime flight. I wasn't particularly hungry so I decided to go for the Goodnight Express option and have the starter only.
The difference with this meal service was that there was no display trolley for the food and it was all hand delivered. Unfortunately, as is often the case, the main deck appeared to be mainly people on leisure travel that wanted to eat everything (and had apparently never flown before) and chat loudly for most of the night. With the lack of the trolley, it meant that there was a constant stream of crew past my seat for about 90 minutes. As I was knocked several times and could also feel the floor moving as the less light on their feet thundered past, I gave up on sleeping until everyone had been fed. I do wonder if the trolley may have been an easier option.
I chose the salmon starter although I was slightly alarmed by the combination of yuzu and truffle which is not one I would have thought would work. The crew brought my tray very quickly as soon as they started serving which I was impressed by.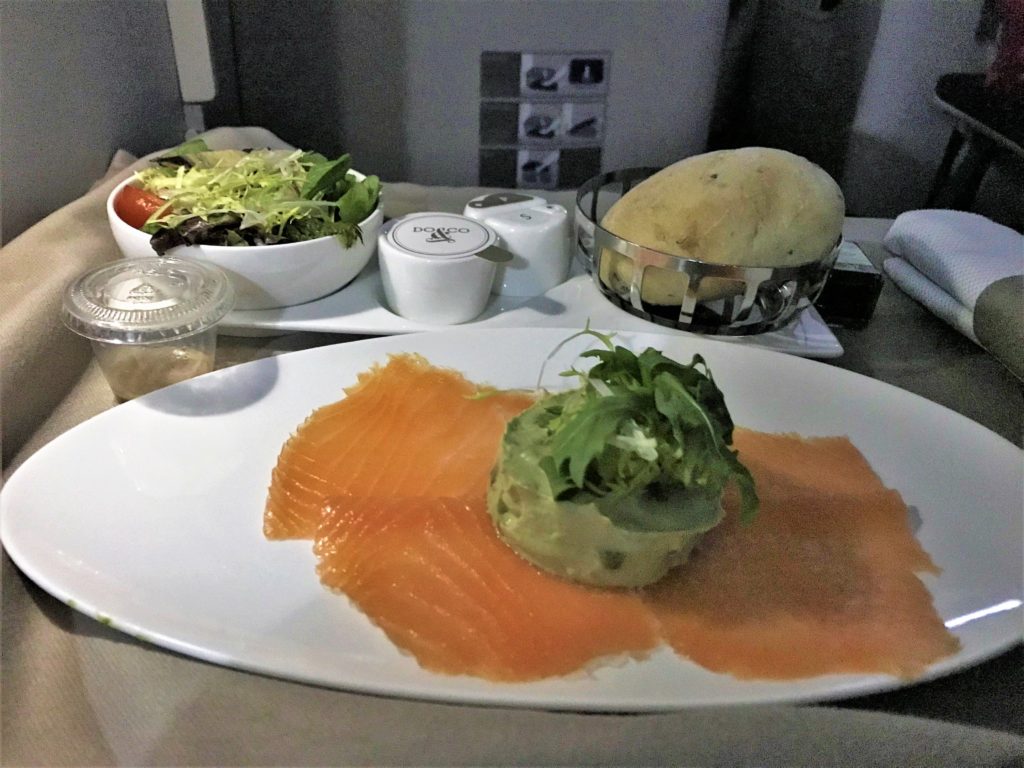 The tray set up was different from the outbound flight with a solitary bread roll in the little basket and no dipping saucer or olive oil. There was a small side salad instead with a bottle of balsamic dressing.
I actually enjoyed the salmon and like the other starters I have sampled in the new service, it was fairly substantial. I am still not convinced of the merits of yuzu and truffle together but in tiny amounts, they just about got away with it. I also thought it was presented to restaurant standard and looked very fresh with the salad on top.
The wine list was the same as the way out and this time I tried the Hahn Pinot Noir. I have had Hahn wines many times and they are usually pretty reliable if not overly exciting. This was no exception.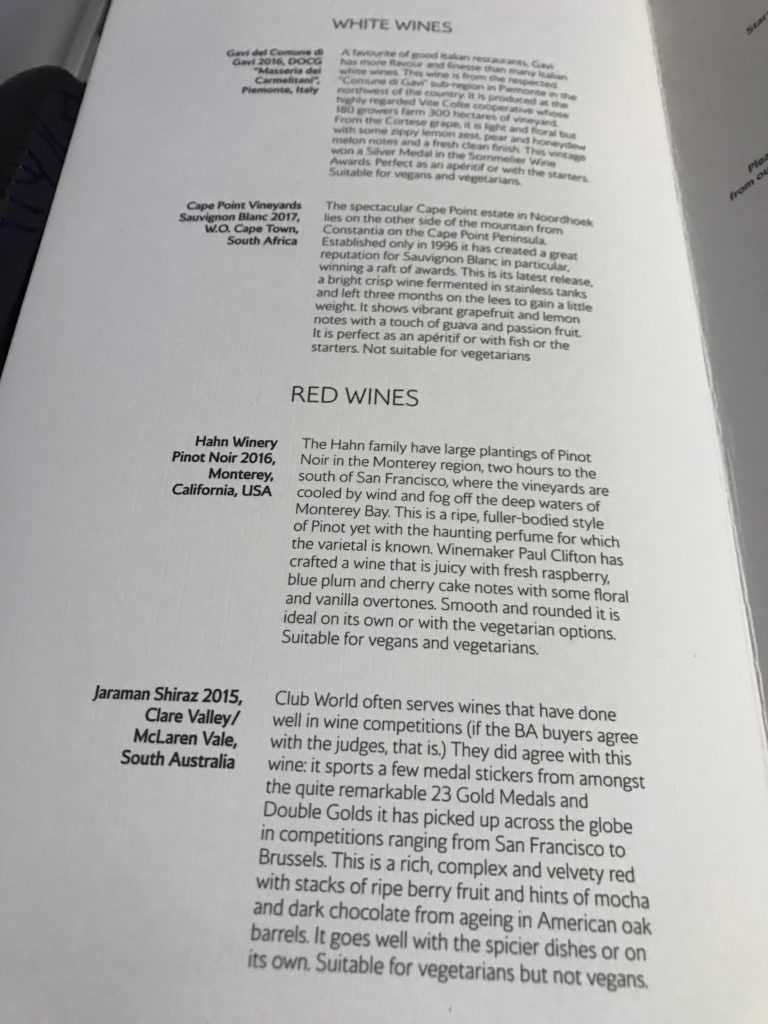 Breakfast was slightly different to usual as well. Prior to departure, we were given a breakfast card which now has several options. I thought this was a great idea in principle so you can really maximise your sleep, although in reality I was woken up by other people before my choice arrived. You can have a full breakfast at 1 hour 15 before landing, hot or cold drinks at 50 minutes or just be woken at 40 minutes and grab a drink from the Club Kitchen.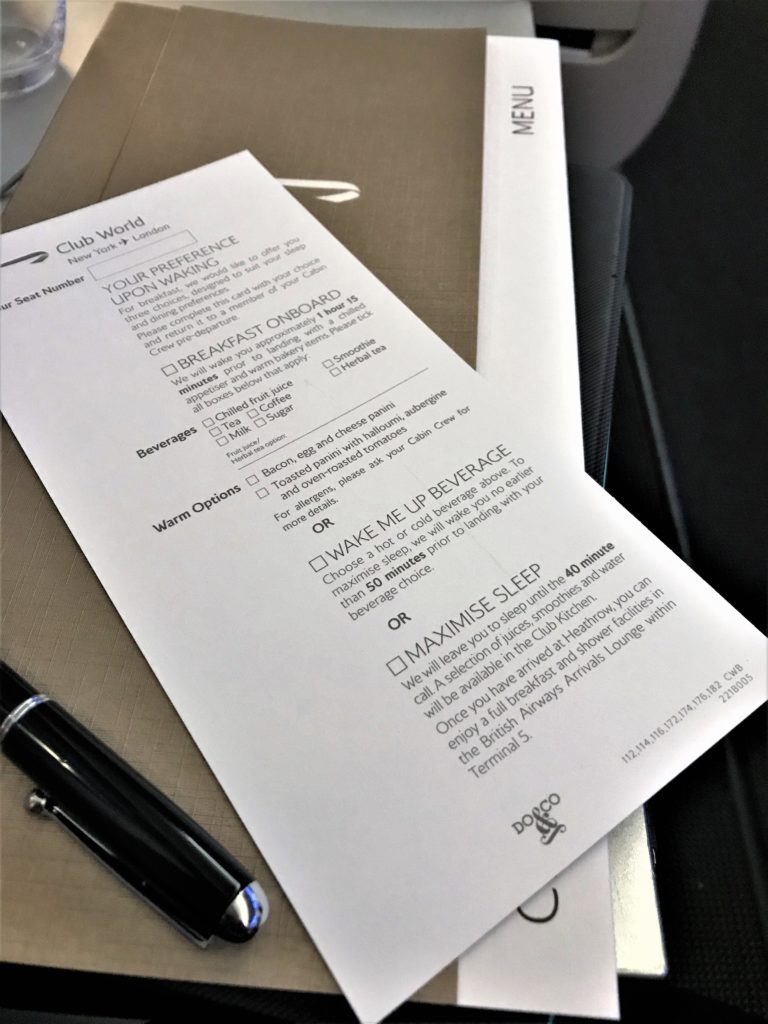 I opted to have the hot drink with a smoothie at 50 minutes before landing and sure enough, it arrived at bang on 50 minutes before landing. It came with a side order of the lemon melt biscuits which was a nice touch (they are delicious by the way). I hadn't seen the mugs before and thought they looked very smart with the rippled china and speedbird logo.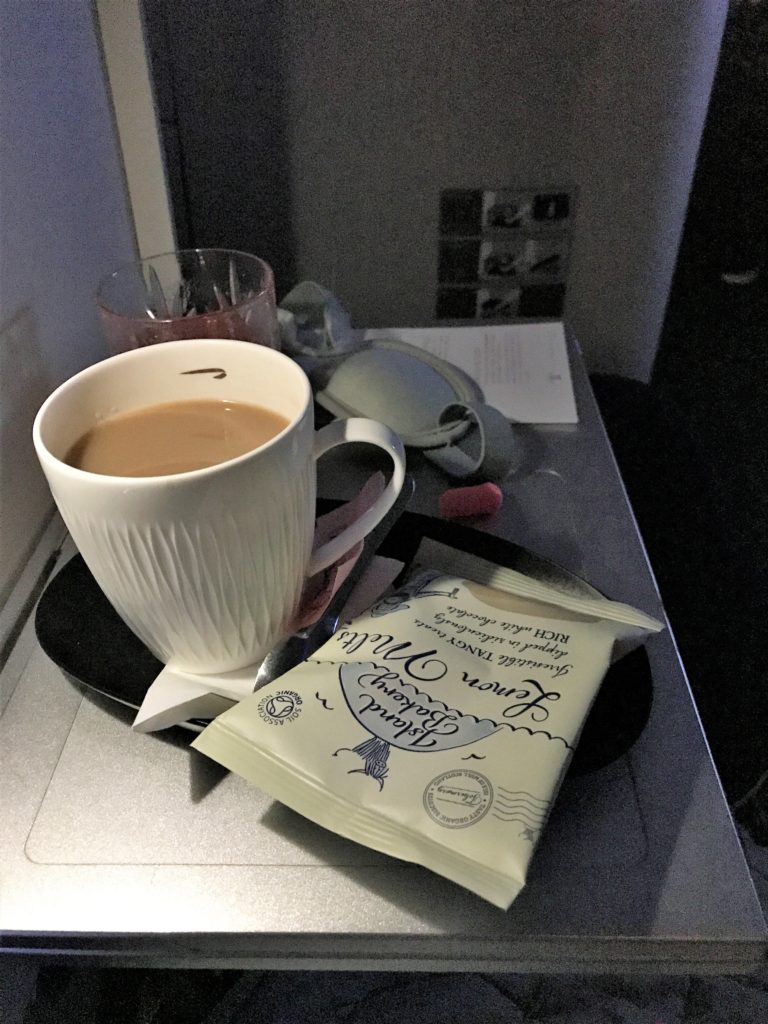 I have previously had the new bacon, cheese and egg panini and much prefer these over the bacon rolls. They are a bit like a posh McMuffin which is OK in my book!
Sleep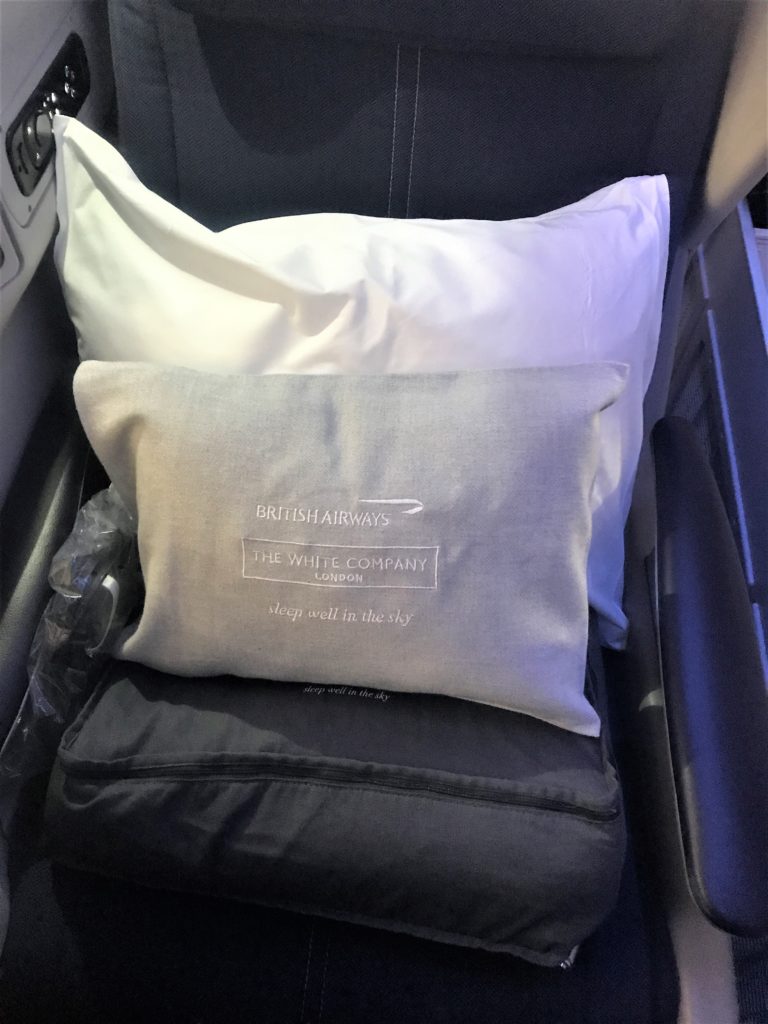 I had the same White Company bedding packs on the seat as before although this time there didn't seem to be a day blanket. I am not sure if this was because it was a night flight or it was just a mistake. Since I didn't plan on using it, it wasn't an issue. I made up the bed with the mattress, 2 pillows and duvet as before. Second time around it was just as impressive and once the people around me eventually were quiet I managed to get some sleep.
Conclusion
Short night flights are a tricky area when you have a mix of leisure and business travellers. Some people will want a full dining experience and others just want to sleep. Previously some leisure travellers felt a bit cheated by what was on offer on the night flights and British Airways have tried to respond to that by having a more expansive menu. I think the menu and the new breakfast service are actually an improvement but the delivery needs to be reconsidered. Having crew walk up and down the aisle continuously is very distracting for people trying to sleep and I do wonder if they would be better going back to the previous trolley service to speed things up.
Have you done a night flight with the new service? Did you think it was an improvement over the previous sleeper services? Let me know in the comments below or on social media.
You can find more about British Airways Club World here.
Like reading flight reviews? Why not check out our extensive list of reviews here?