This is a review of the Finnair A350 flight from Helsinki to London, which was part of my press trip with Finnair last week. You can read about the outbound economy flight here. Still to come is my review of the new Radisson Collection in Tallin and some thoughts on Tallin and Helsinki short breaks.
Check-in
We were transferring from the Tallin flight at Helsinki with hand baggage only. I had checked in online with the Finnair app, which I find very useful with all its extra information, such as where the lounge is and which one you can use. We did not have to go through any security, but Helsinki now has the new scanners where you do not need to remove liquids or electronics, which is such an improvement.
I was also impressed with Tallin security – they need to come and give a lesson to Heathrow on how to organise a security queue! Each section was partitioned off with room for two containers per person and staff directing people to all the stations. It was definitely one of the most organised and efficient security queues I have seen.
On arrival, we made our way to passport control to access the non-Schengen area. There was a short wait here as there was only one position open for non-EU. Otherwise, it was a painless transit. Everything at Helsinki is in one terminal, so connections are very easy, with around 35 minutes being the maximum time. Back in May, I only had less than an hour for my connection at Helsinki, but I still managed to spend some time in the lounge with a drink.
The Lounge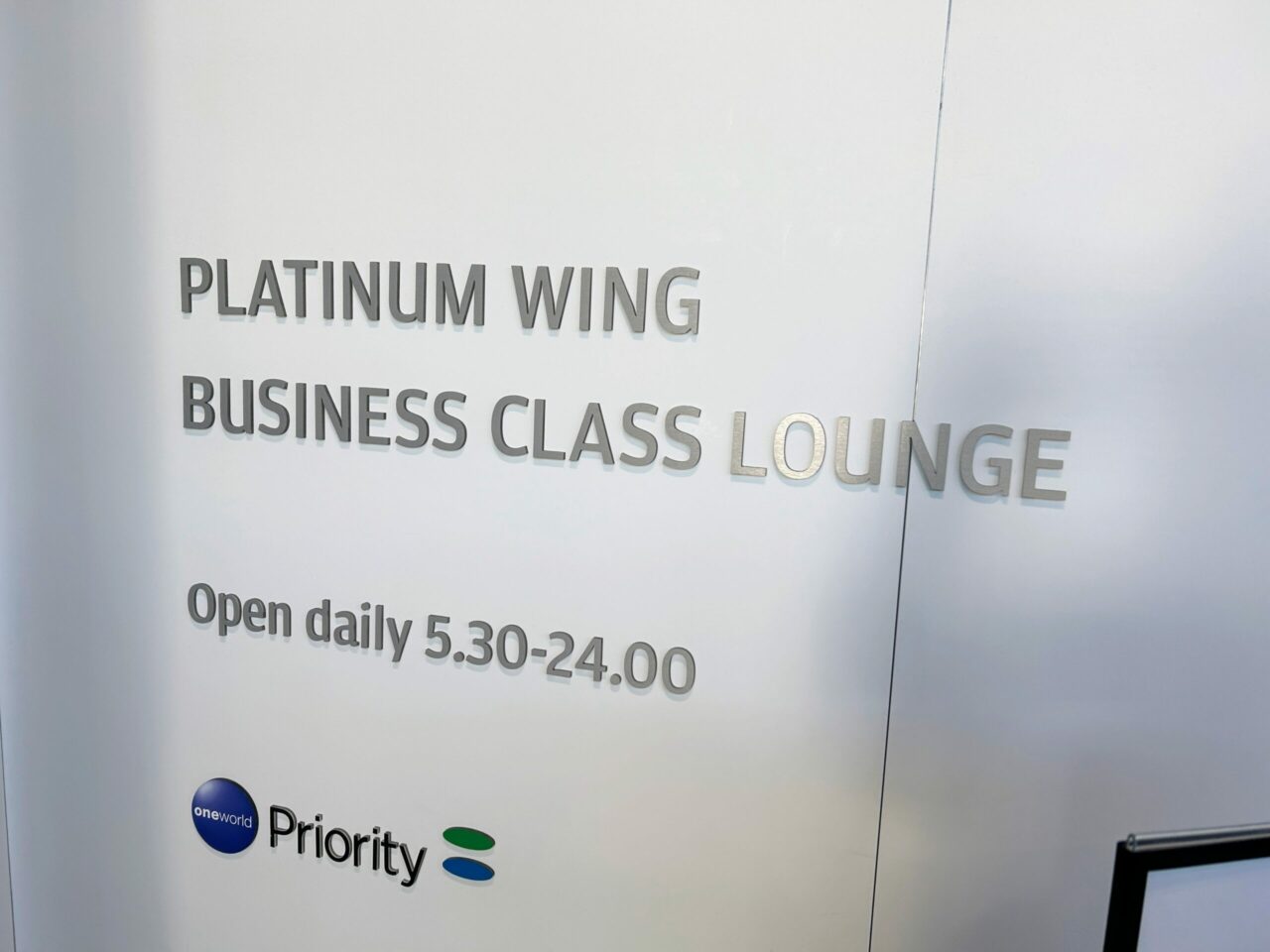 There are two recently refurbished lounges which are stylish and offer a decent champagne as well as cocktails. The business class lounge is available to business class and oneworld sapphire members as well as Finnair's equivalent status customers. The Platinum Wing lounge is for oneworld emerald and Finnair's top Platinum and Platinum Lumo members.
You can read my review of them here.
Boarding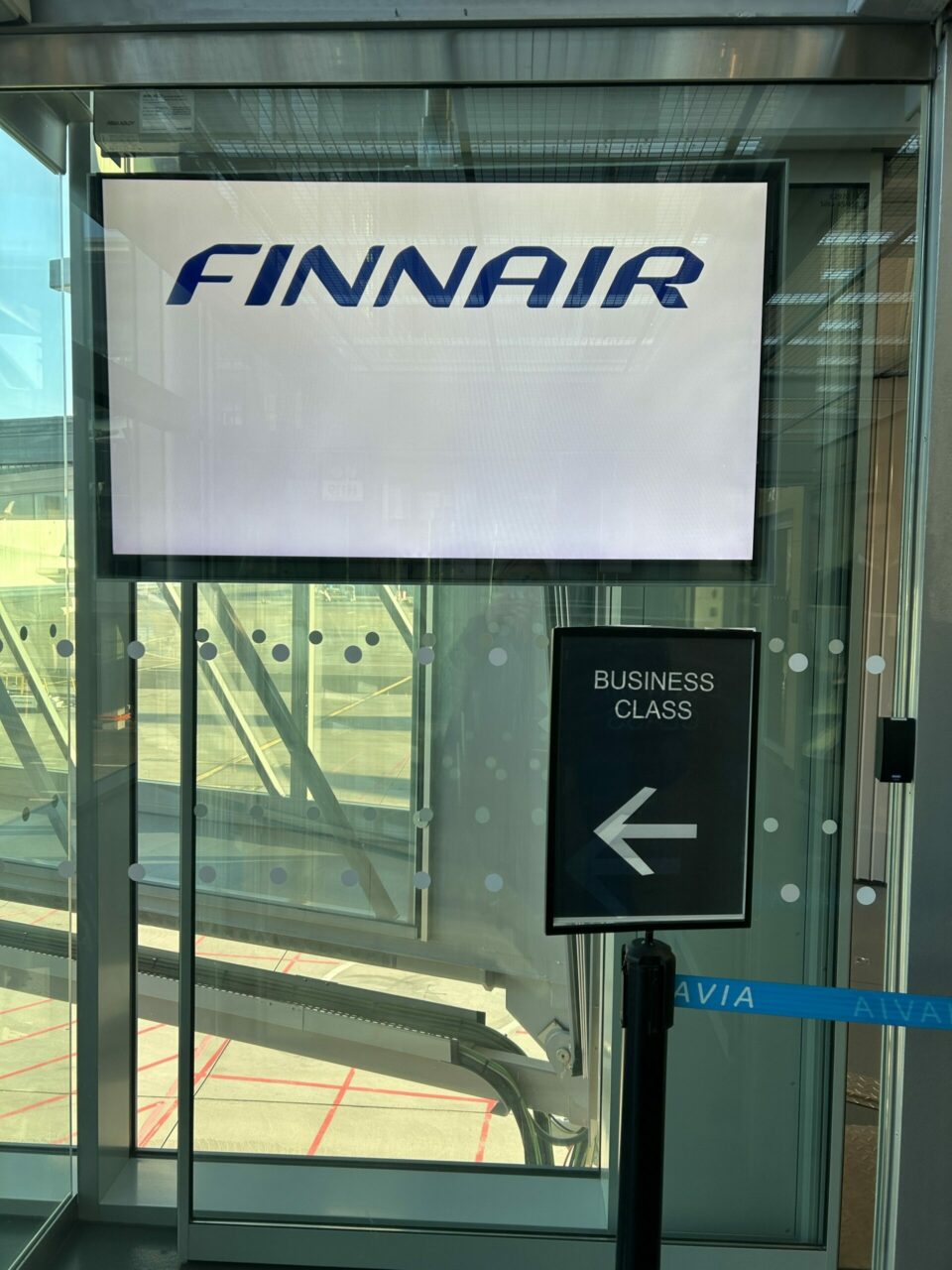 We were rather late to boarding, having been distracted by reindeer burgers and gin and tonics in the lounge! By the time we arrived, the gate was relatively empty, and we got straight onboard. Finnair A350 tend to board early, which is probably why every flight on this trip left bang on time (doesn't happen on most airlines in my experience at the moment).
There was a separate entrance for business class which you don't see that often, let alone on short-haul.
I was greeted by the crew who asked what my seat number was. When I gestured to where I was going with my seat number, they joked that I must have done this a few times before!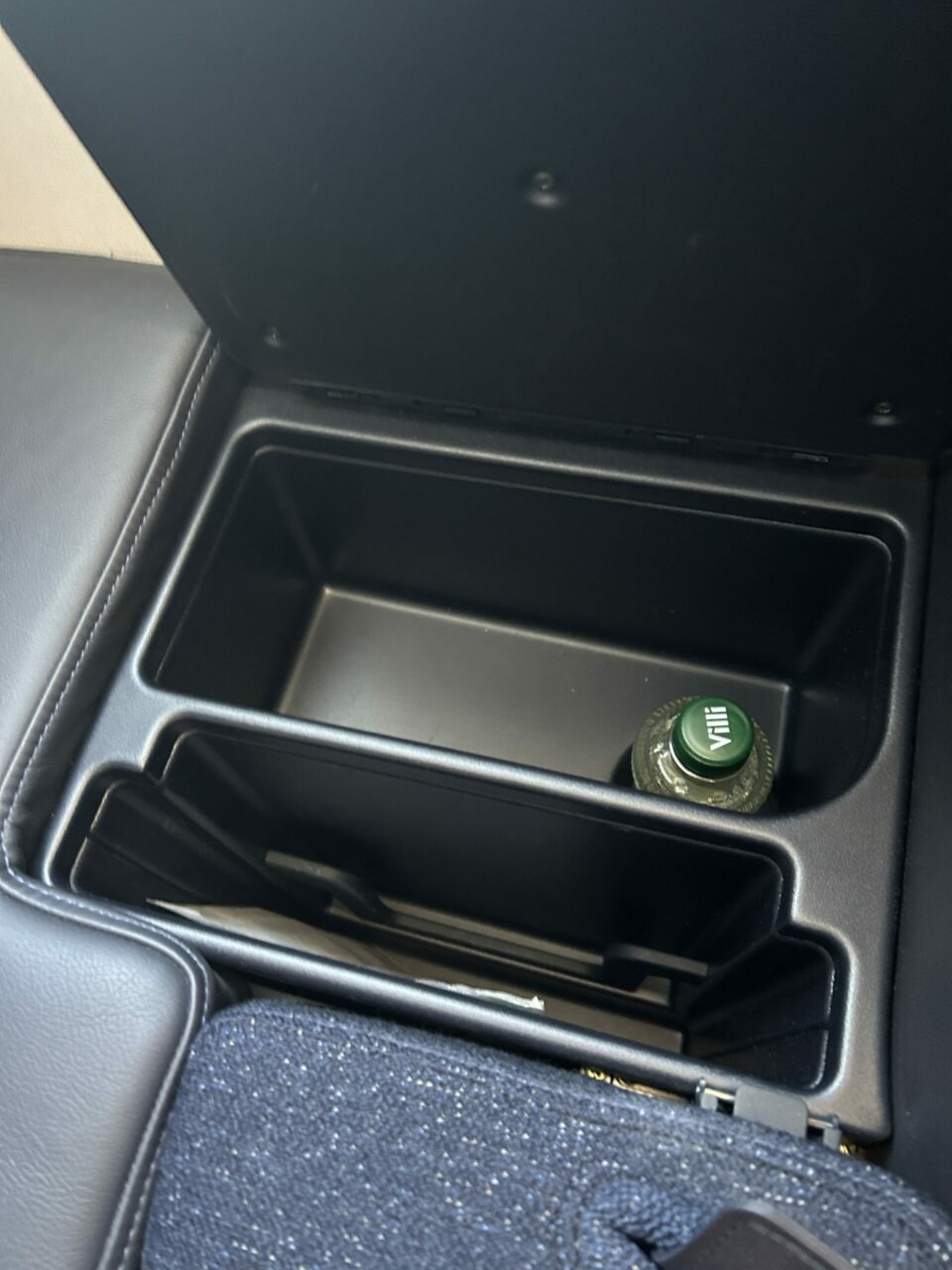 At the seat, there was a bottle of water already in the storage bin, which I really like. Last time I mentioned it, I got some abuse from someone on environmental grounds. However, Finnair A350 are passionate about sustainability, and the Villi water bottles are PET plastic made of 100% recycled material.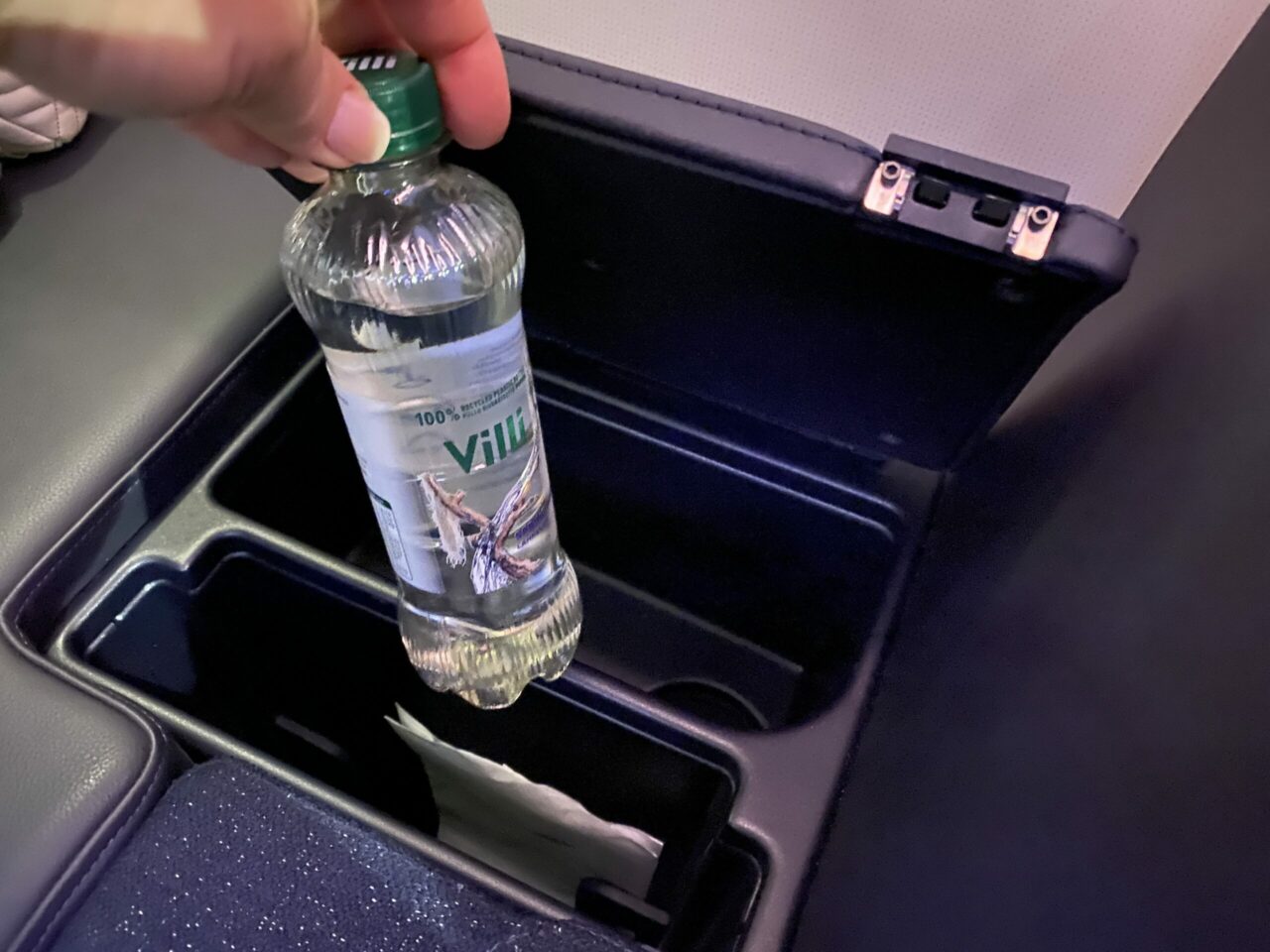 I am often rushing through the airport (as was the case this time) and for this flight arrived feeling hot and flustered in my winter coat. So a few sips of water when I sat down was very welcome!
The seat and cabin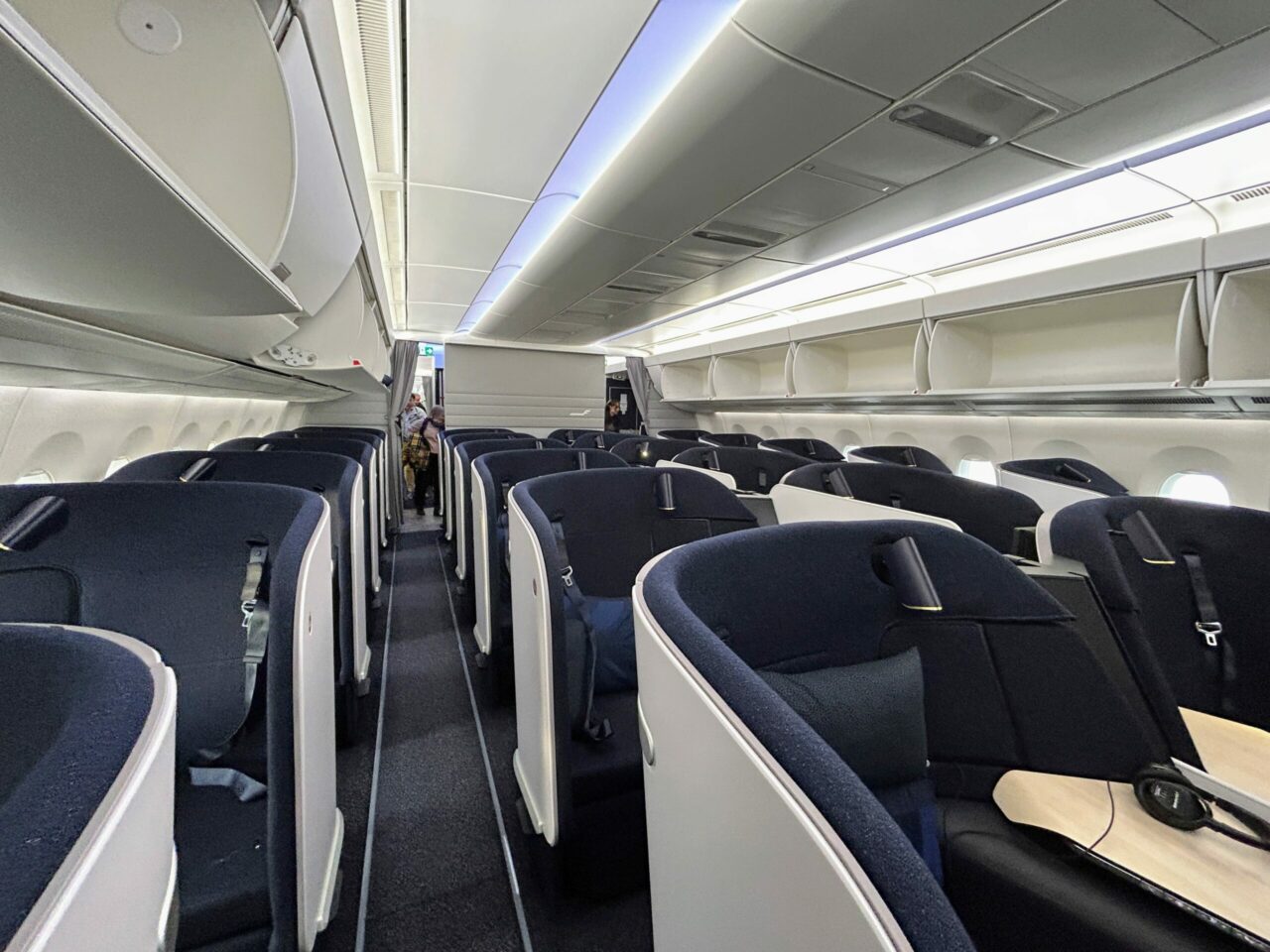 There are two configurations of the new Air Lounge seat cabin on the A350. The seats are laid out in a 1-2-1 configuration for both versions. The larger version has a large and small cabin. I have tried both cabins. I'd avoid the front row of the mini cabin on the L side on a night flight, or if you want to sleep, as although it's very private, it is right by the cabin crew storage cupboard, which can disturb you.
Here is the larger version seat map: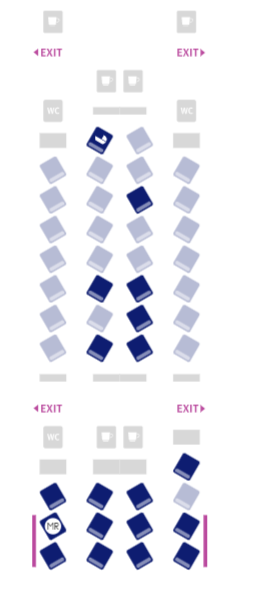 On my short haul flight, I had the smaller version, which has a single cabin and I was in seat 3L.
There are no lockers in the middle seats which makes it feel light and airy although it does mean if you are in a window seat, you will have people leaning over you to retrieve and store luggage.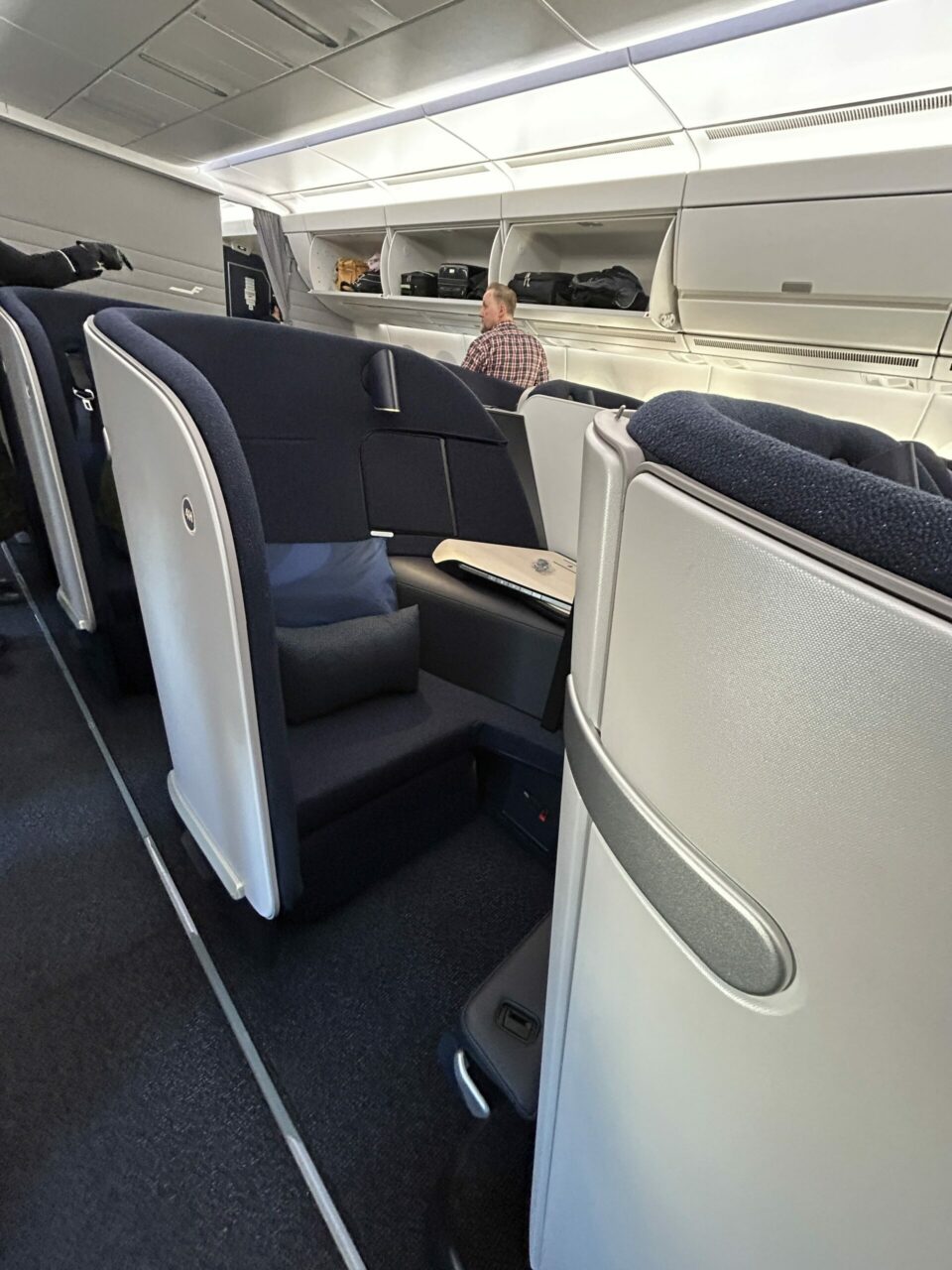 The new Air Lounge seat is extremely innovative, and there is nothing else like it on the market. Finnair A350 won an award recently at the APEX/IFSA Awards for Best Cabin Innovation with the new seat.
Many people are alarmed when they hear it doesn't recline, but it is not an issue at all for me. After all, most people's sofas don't recline, and we don't worry about that! The good thing about it not reclining is that the seats are far less likely to fail as there are fewer moving parts. Having recently spent a sleepless night on a first-class seat that would not recline, I think it's a great idea.
The seat is extremely wide, which is part of why it works. It's so wide you can almost sit sideways and can certainly sit with your knees up to the side on the chair or even cross legged.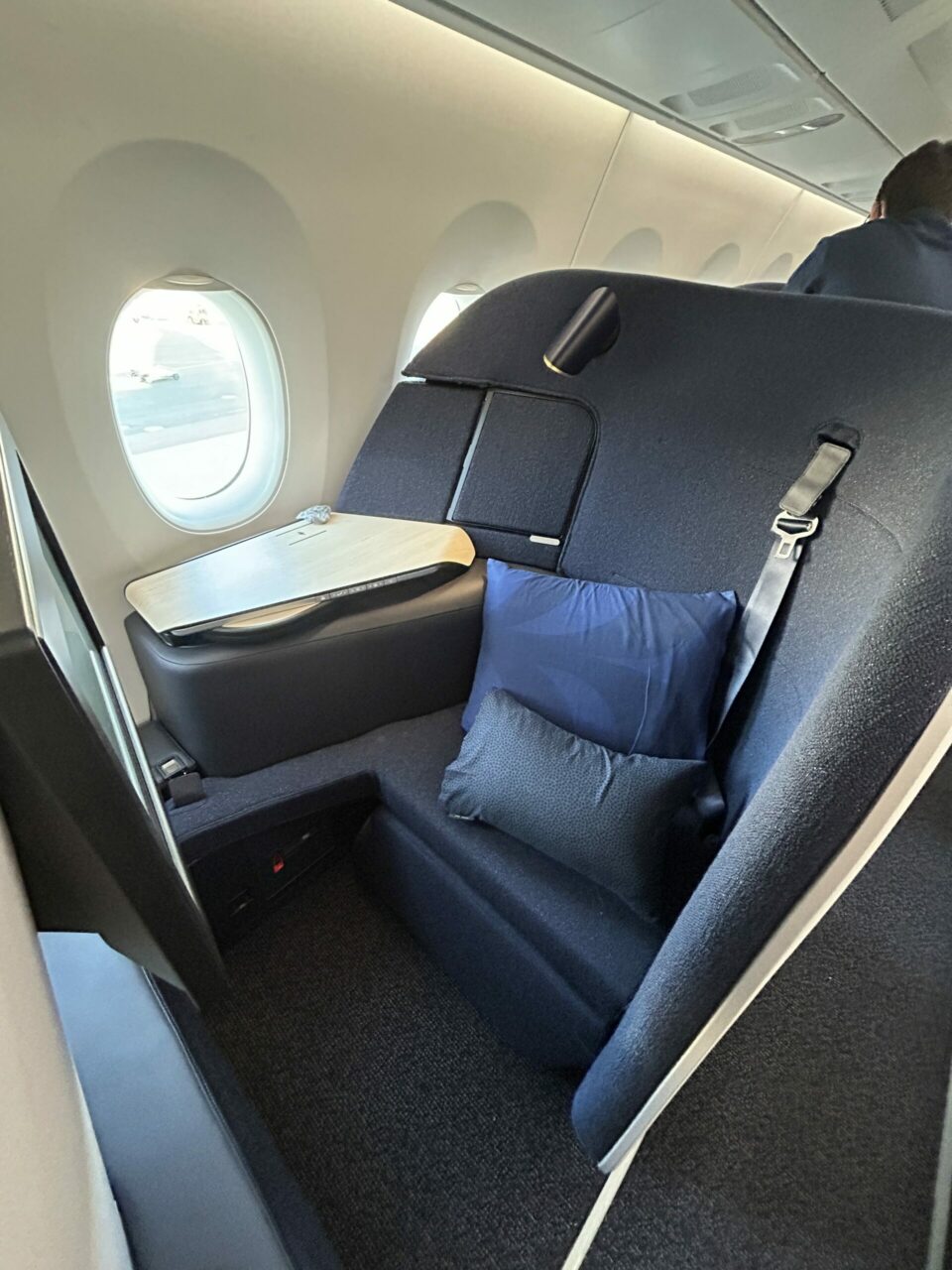 I also like that it has a leg rest that can be controlled separately. To get the seat into bed mode there is a small infill that comes up with a mechanical lever. When I first flew the seats everyone was finding it quite hard work to get the lever up as it was stiff. This seems to have been resolved now, and it came up easily with no issues at all.
The buttons to control the legrest, table and lights are well-positioned and simple to understand and use. There is also a do not disturb button.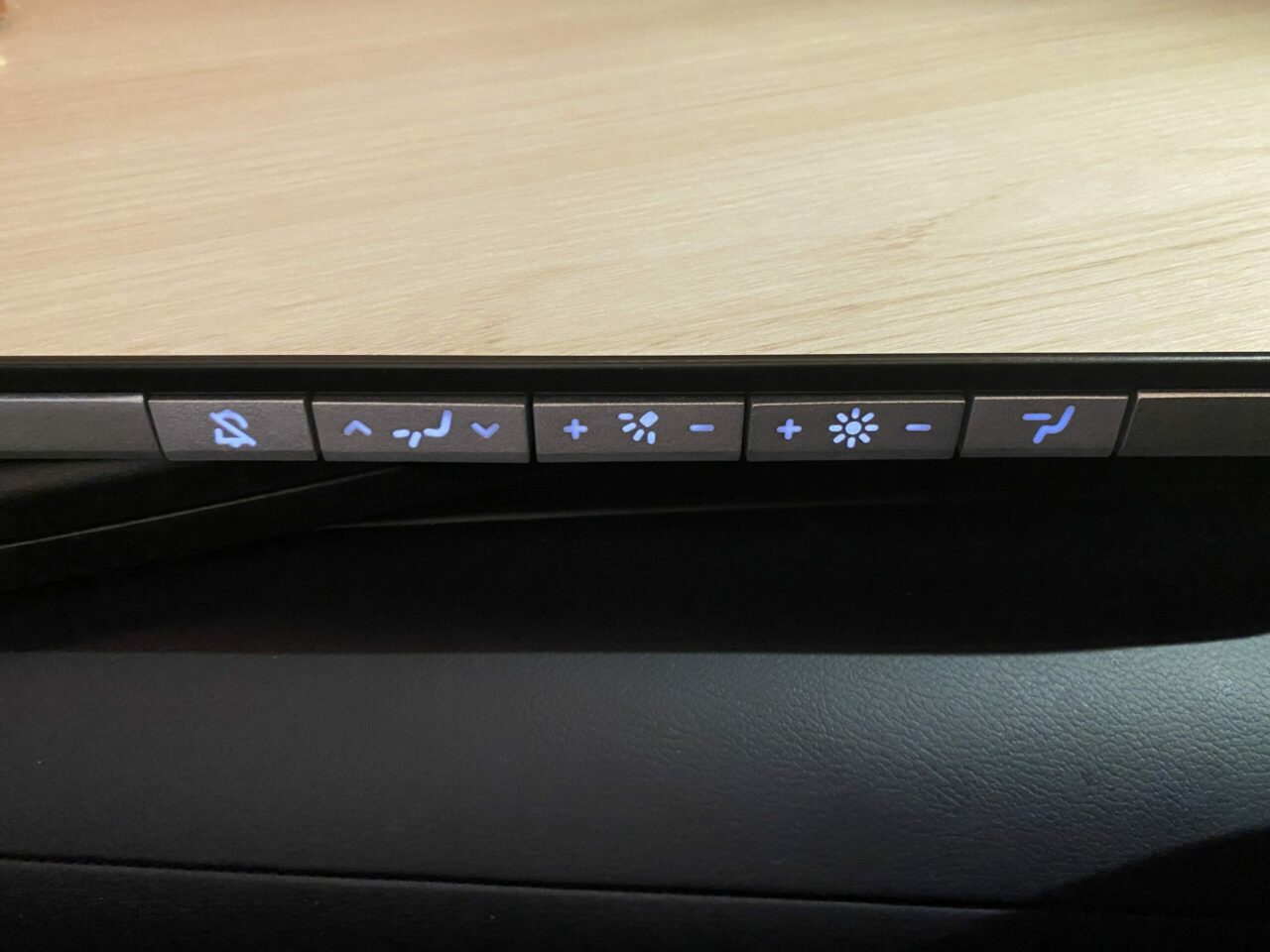 Some of the seats have a metal bar at the side as did 3L. On the larger cabin, the 9L did not. It definitely gives you that little bit of extra room without the bar.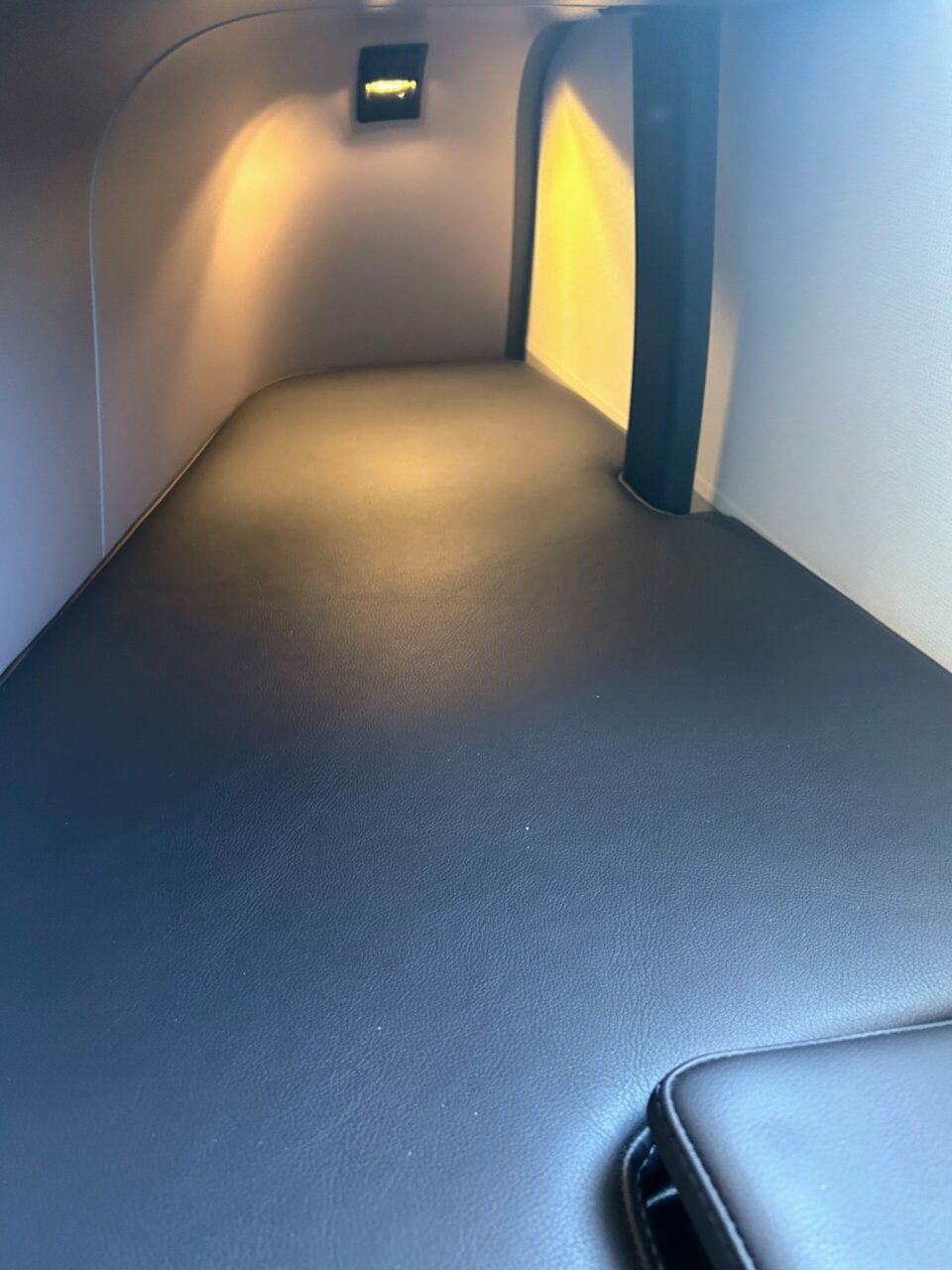 These seats also have the over-the-shoulder seat belt, but you only have to wear them for take-off and landing, not during turbulence.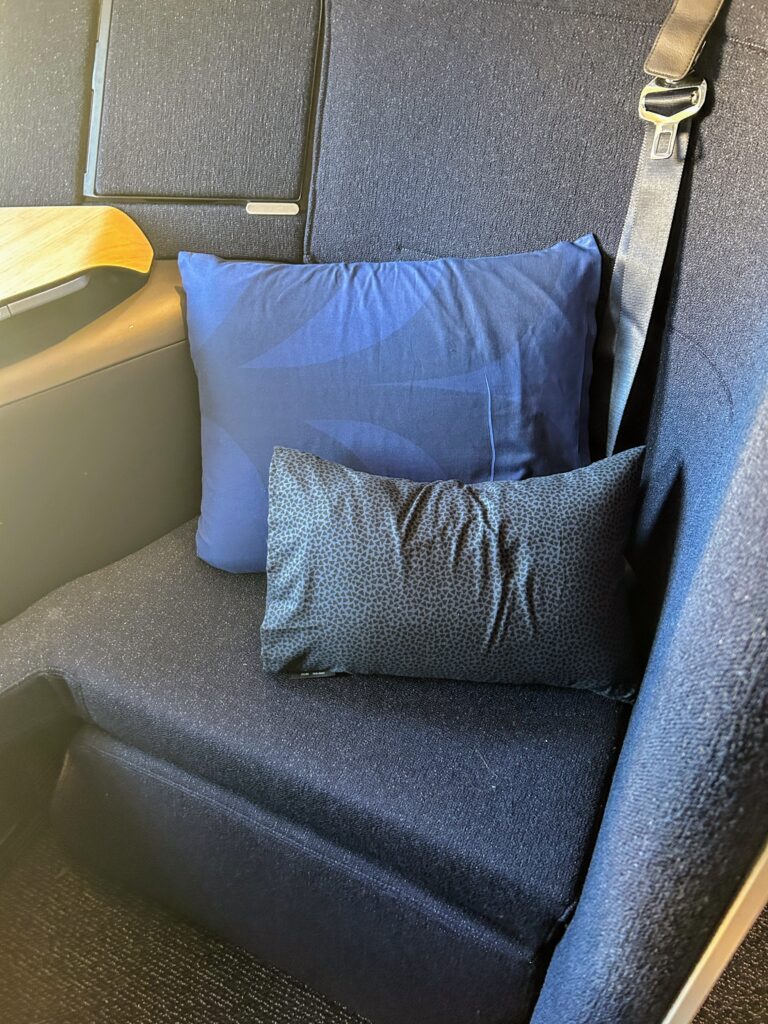 I liked the way that there were two pillows, even on a short flight. To recline, you basically position the pillows how you find comfortable and recline yourself against them like you would on the sofa! I also like the fact that although the seats don't have a door, they are very private as you can't see anyone else from your seat unless you are in a middle seat with the divider down.
There is plenty of storage at the seat, too with a deep storage bin by the window, which has room for small laptops, handbags etc.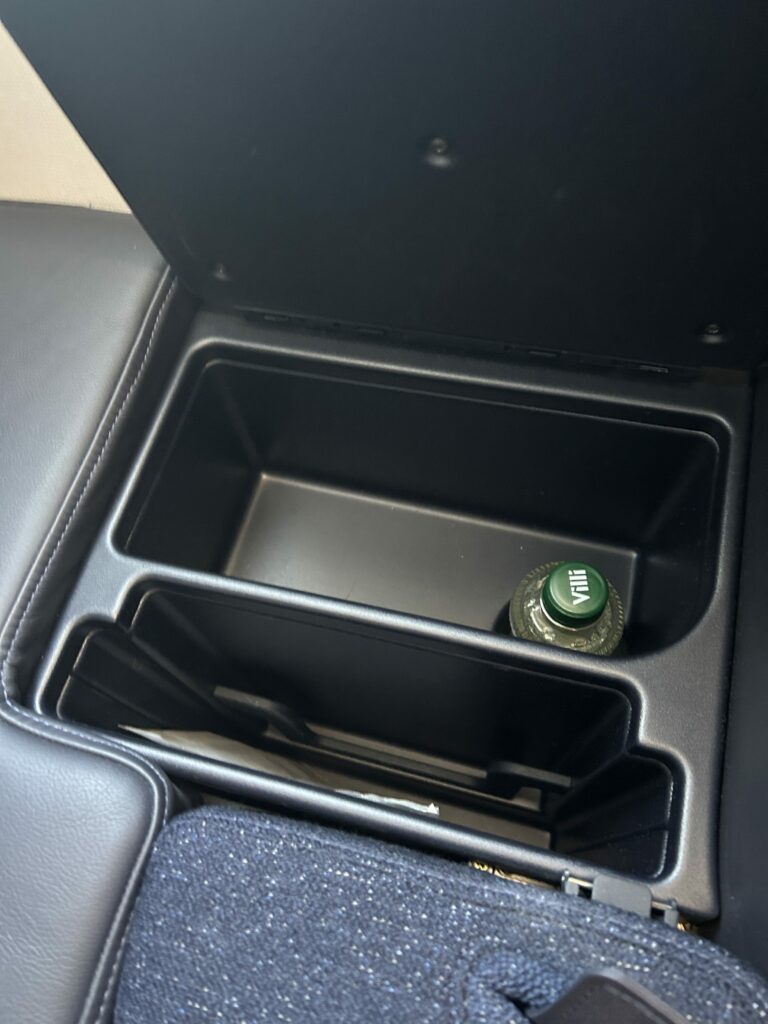 By your shoulder, there is a cabinet for storing headphones which houses the USB charging point, headphone socket and remote.
This is also where the light is positioned, which can be adjusted in strength.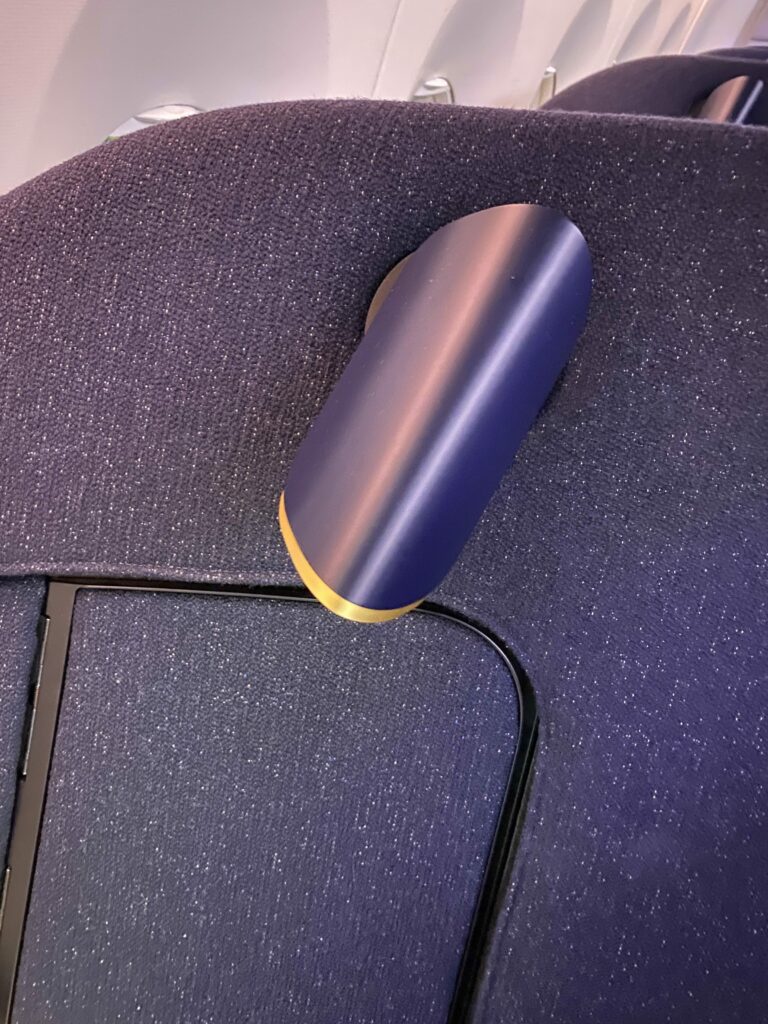 If you like to take your shoes off there is a ledge where you can either use it to stretch out a bit and u=out your feet there or pop your shoes and slippers there for safe keeping. You can also see the infill and lever in the photo below.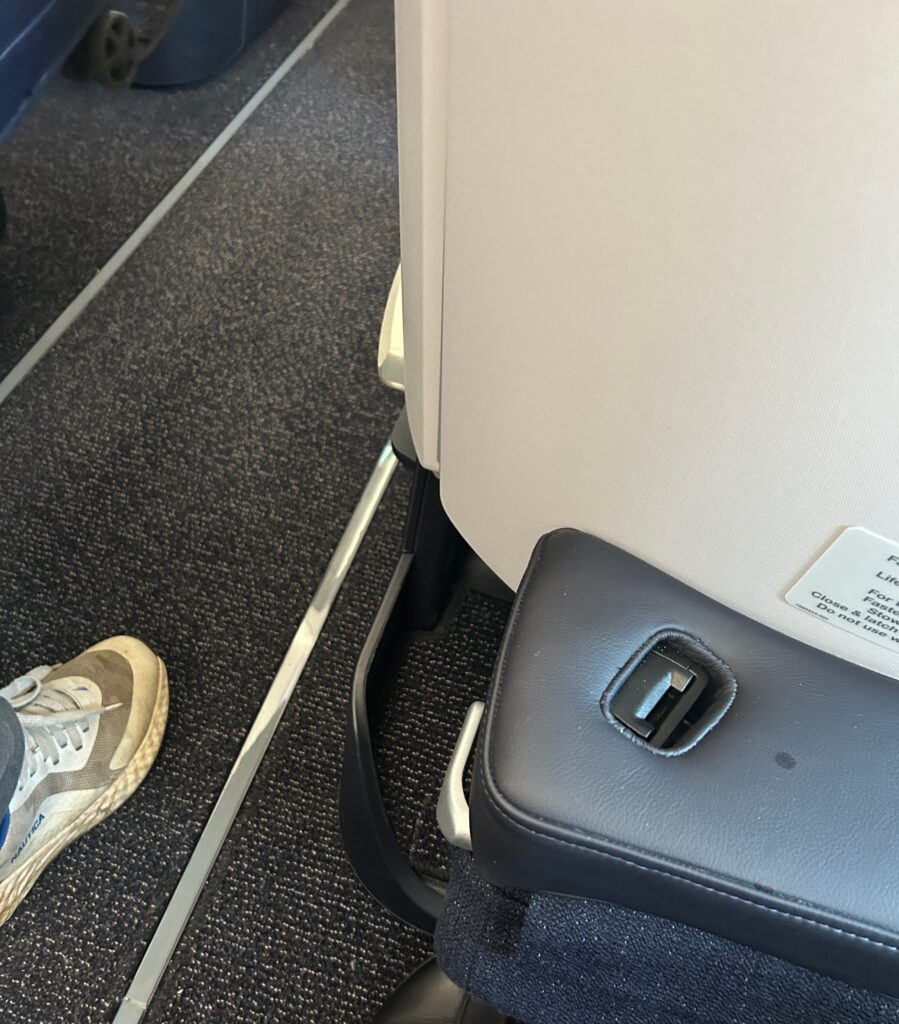 The tray table swivels out of the side console and can be swung to the side if you need to get out during a meal or while working. I found it a little bouncy when typing but I am quite heavy handed when typing (people always say I sound like I'm angry typing!).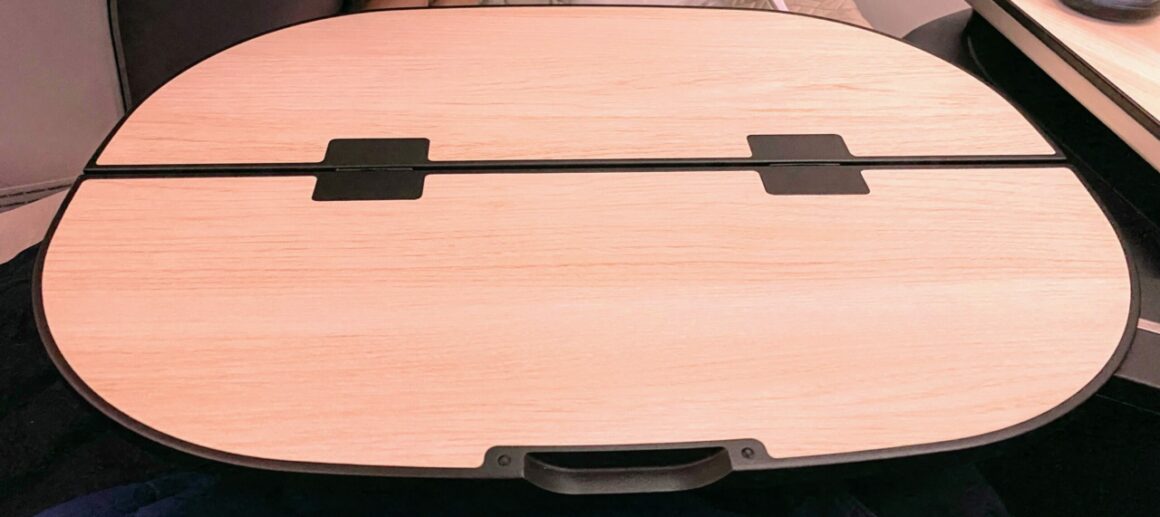 If you want to know what the seat is like on long-haul and for sleeping, you can read my outbound review here from Helsinki and the return from Singapore here.
Food and drink
Prior to the service starting, I was offered a hot towel.
I was then offered a drink before dinner, so I went for the champagne which was Joseph Perrier as I really enjoy it plus a glass of blueberry juice. Both were served in the gorgeous distinctive glasses. I actually tried mixing the two together, and it worked quite well. It was a little like a kir royale.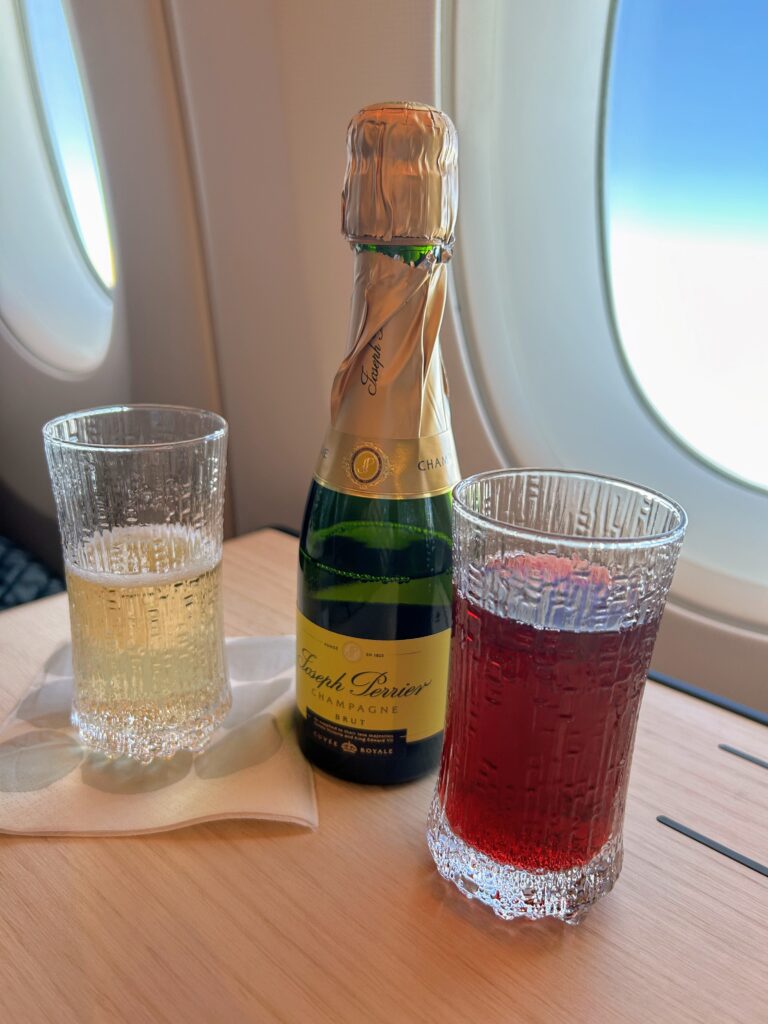 A top-up was offered when they came round to collect glasses. This is one area I find Finnair A350 very consistent in, the service is always excellent with multiple offers of a top-up.
Then lunch was offered. On short-haul there is no choice of meals, so if you have dietary requirements, you will need to pre-order. I was also offered water and wine to go with my meal. As I'd had a few in the lounge I declined. Having flown previously with Finnair, I have found the wine pretty decent on short haul.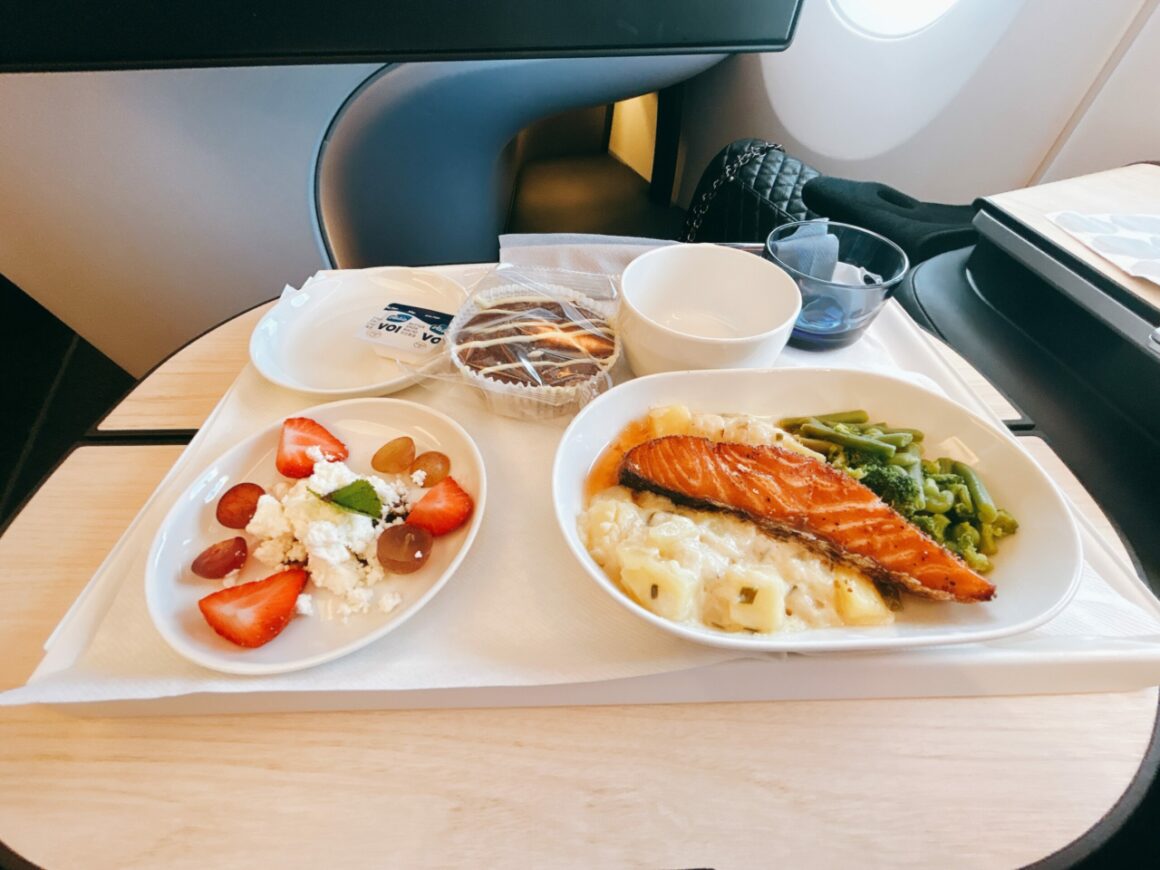 The starter was a feta-like cheese (maybe a little less strong) with strawberries and grapes and a balsamic dressing which went well with the salty cheese.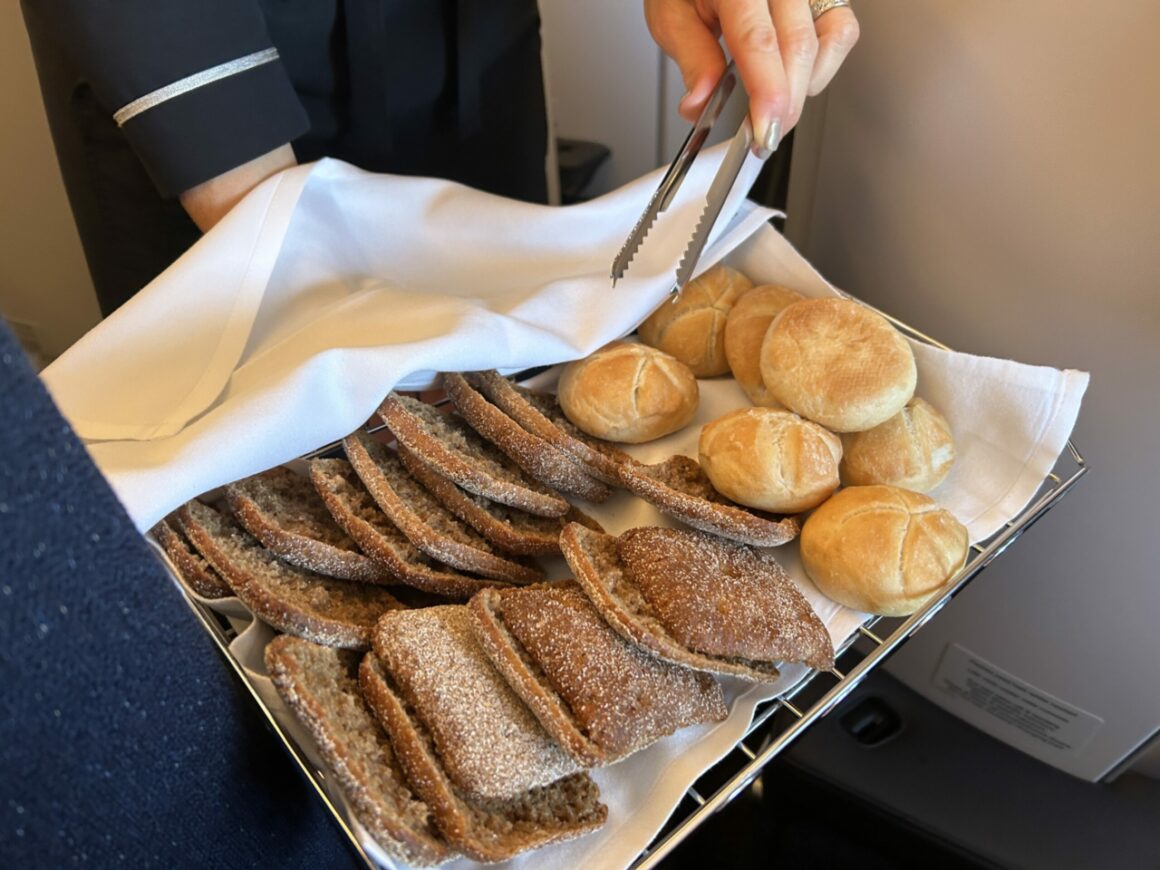 I was also offered bread from the basket.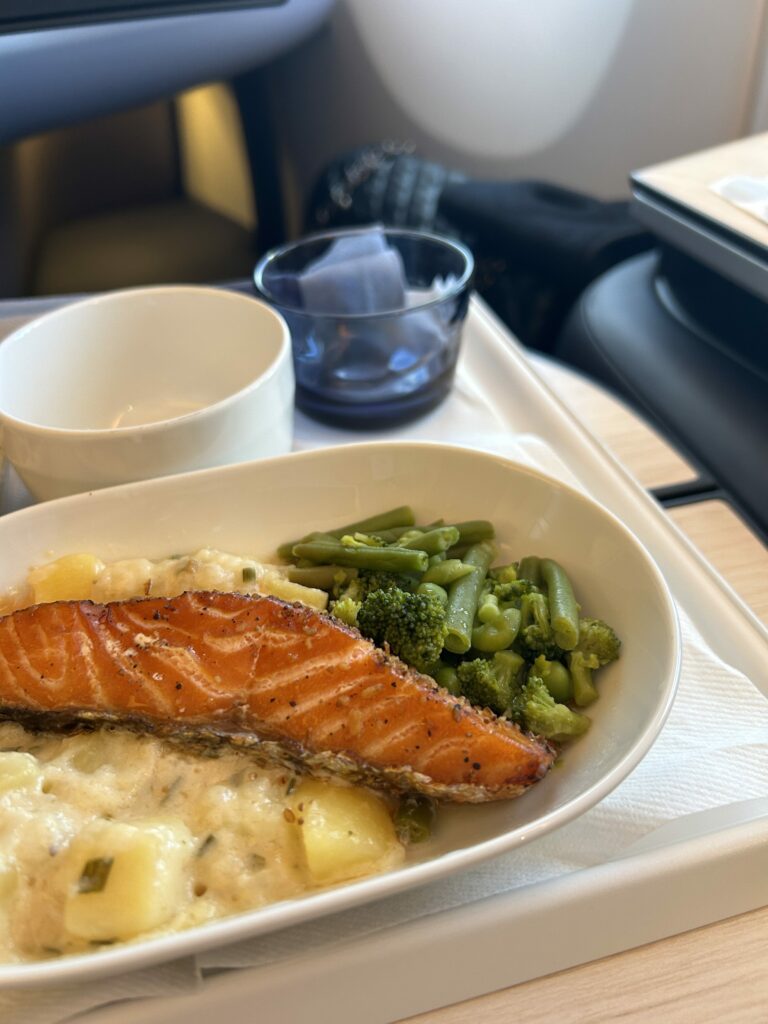 The main course was a hot smoked salmon on a bed of what was a bit like a warm potato salad. It was really delicious and went well having something with a bit of sauce to go with the salmon. It was accompanied with a selection of green vegetables, which unusually for an aircraft were not overcooked.
The dessert was a large chocolate muffin. Overall I enjoyed the meal and appreciated the attentive service. Coffee, tea and liqueurs were offered when they collected the tray.
Entertainment, wi-fi and charging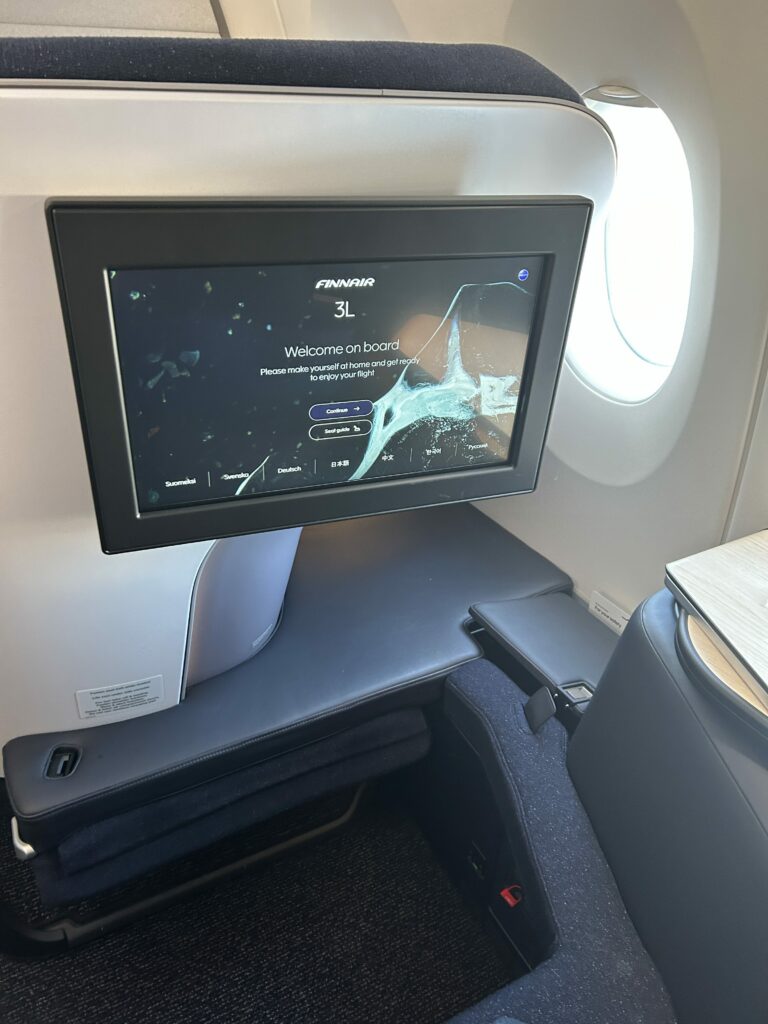 It's great having entertainment on this length of flight as it is long enough to watch a film. The best thing about Finnair's entertainment system is the outside cameras on the A350 if you are a bit of an aviation geek like me. The images are incredibly sharp and there is a choice of view points.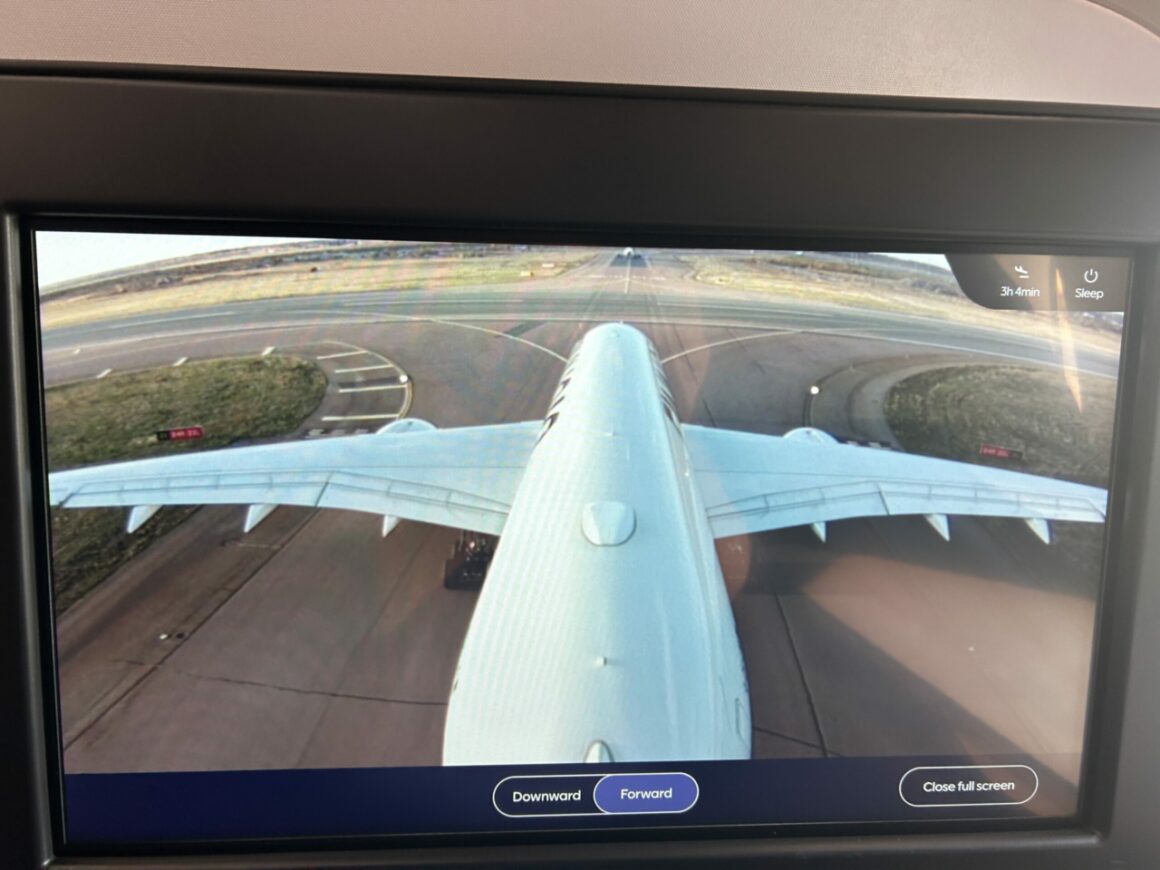 The screen itself is a great size and has really good definition. There was a good choice of recent films and TV series along with some classics too. On this short flight there were no headphones but instead some earphones were by the seat when I sat down.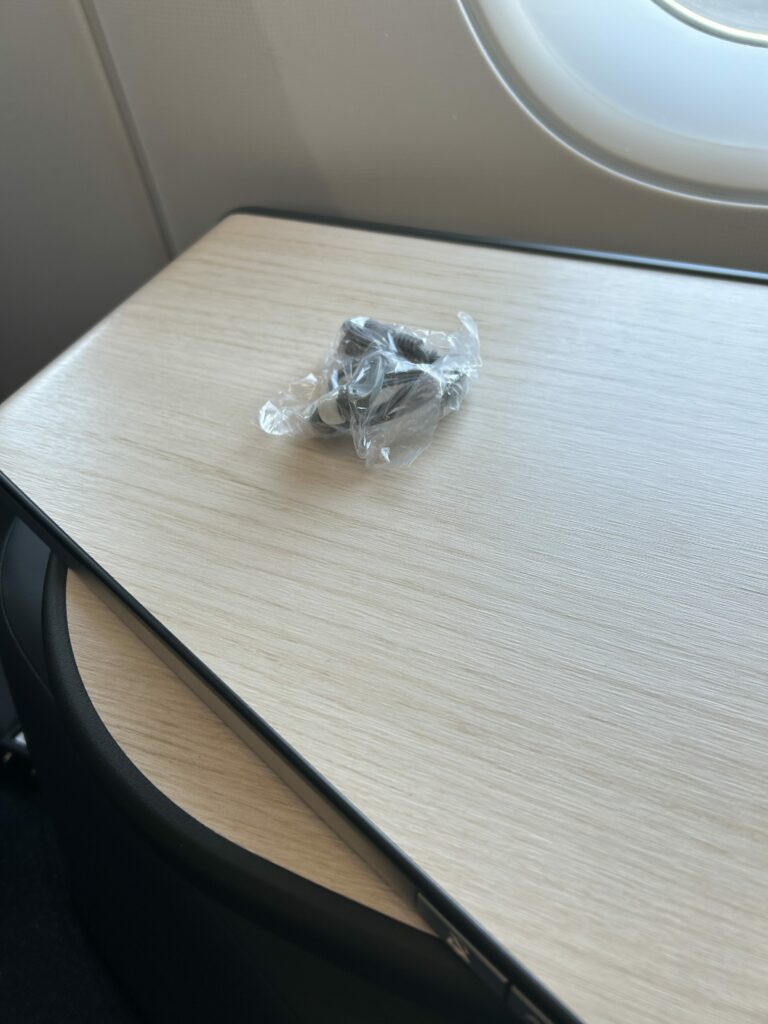 I was pleased to see that Finnair A350 had gone for a simple handset to control the TV and it worked very well. Often they have fancy touchscreens but are really slow and lag behind which makes me very frustrated. There were no such problems here and you could also control it with the touchscreen itself.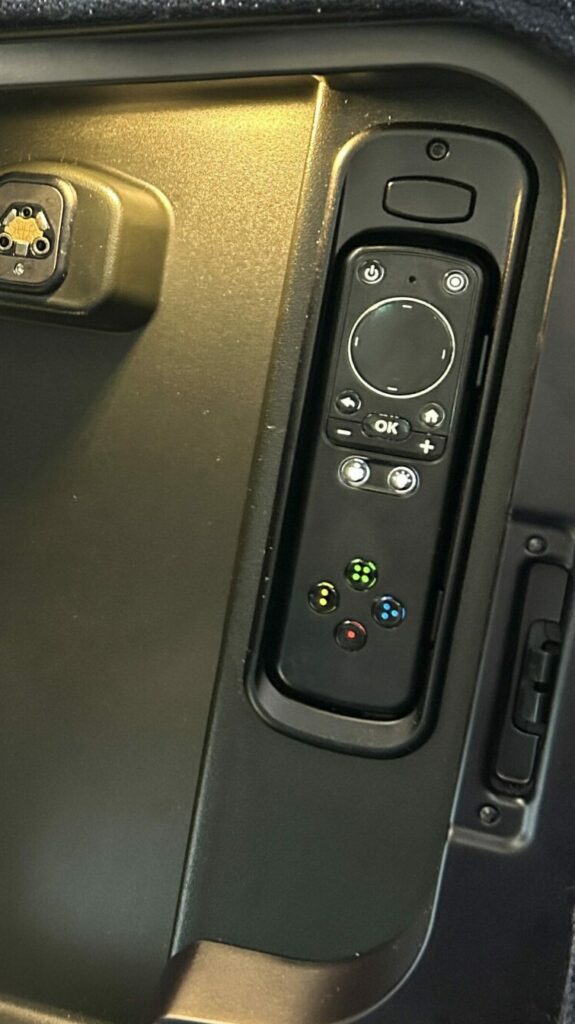 Wifi is a little tricky on this route as there is something of a black spot over the North Sea. As we were in business class we got free Wifi for an hour. Unlike BA's free Wifi, the wifi was very useable and I was able to get some work done quickly with the speed being pretty decent even for uploading photos. To get the free Wifi you just enter your name and seat number.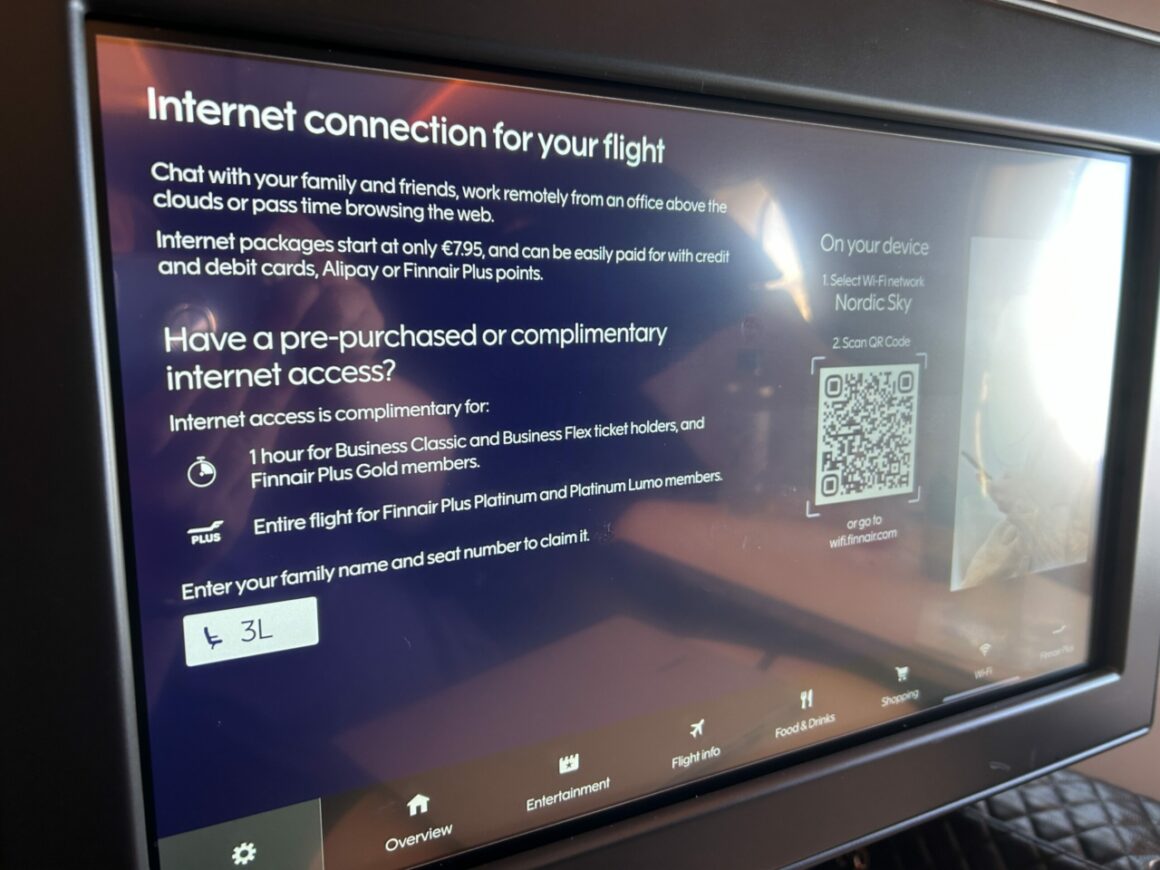 As well as the entertainment you could also look at the duty free options on board. I bought a pair of the Iitalla champagne glasses to complete my collection which cost €36. Finnair offer quite a few products from onboard and some branded items too which I like. You can also shop through the wifi website.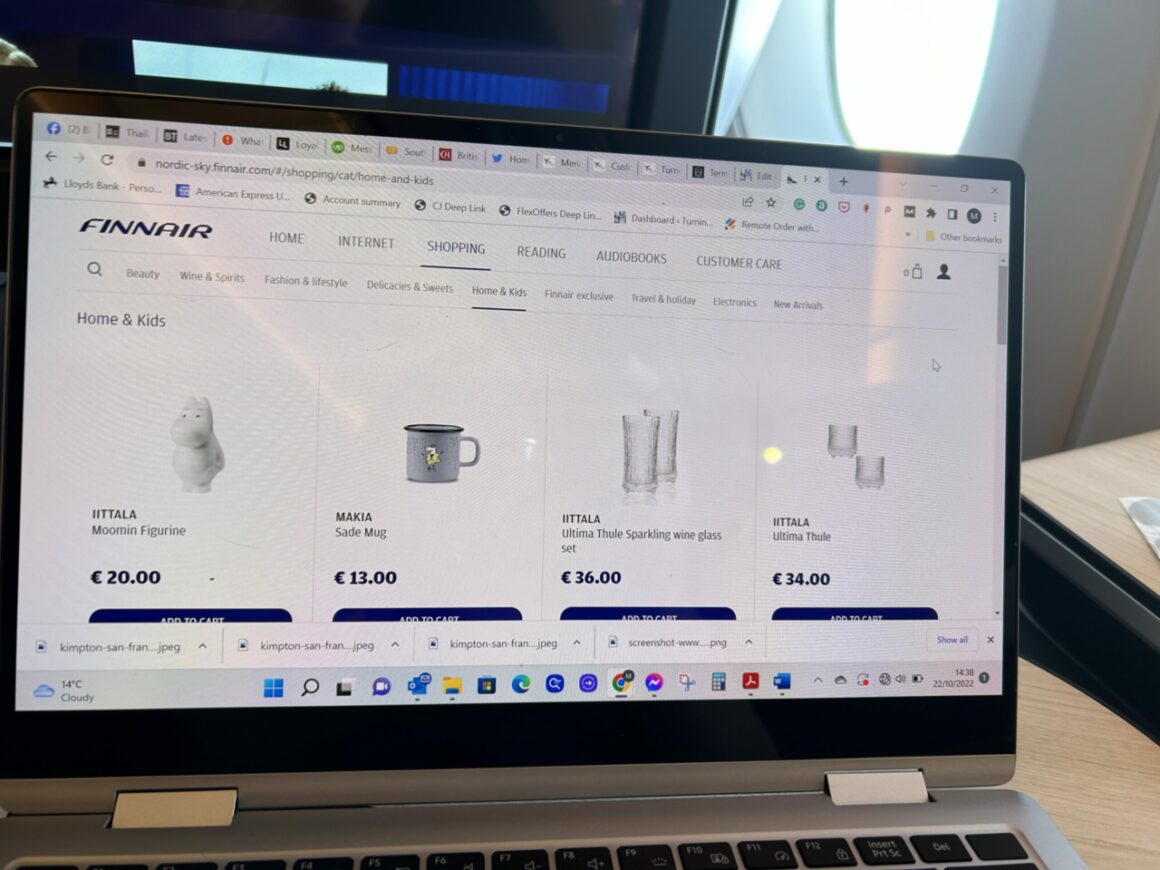 There are three options for charging. First there is a special wireless charging area on the side console which also has rubber lines to stop the phone moving around. This is a great option if like me you are always leaving your charger behind in hotel rooms! I suspect more airlines will start to do this now, but it is rare to see wireless charging onboard currently.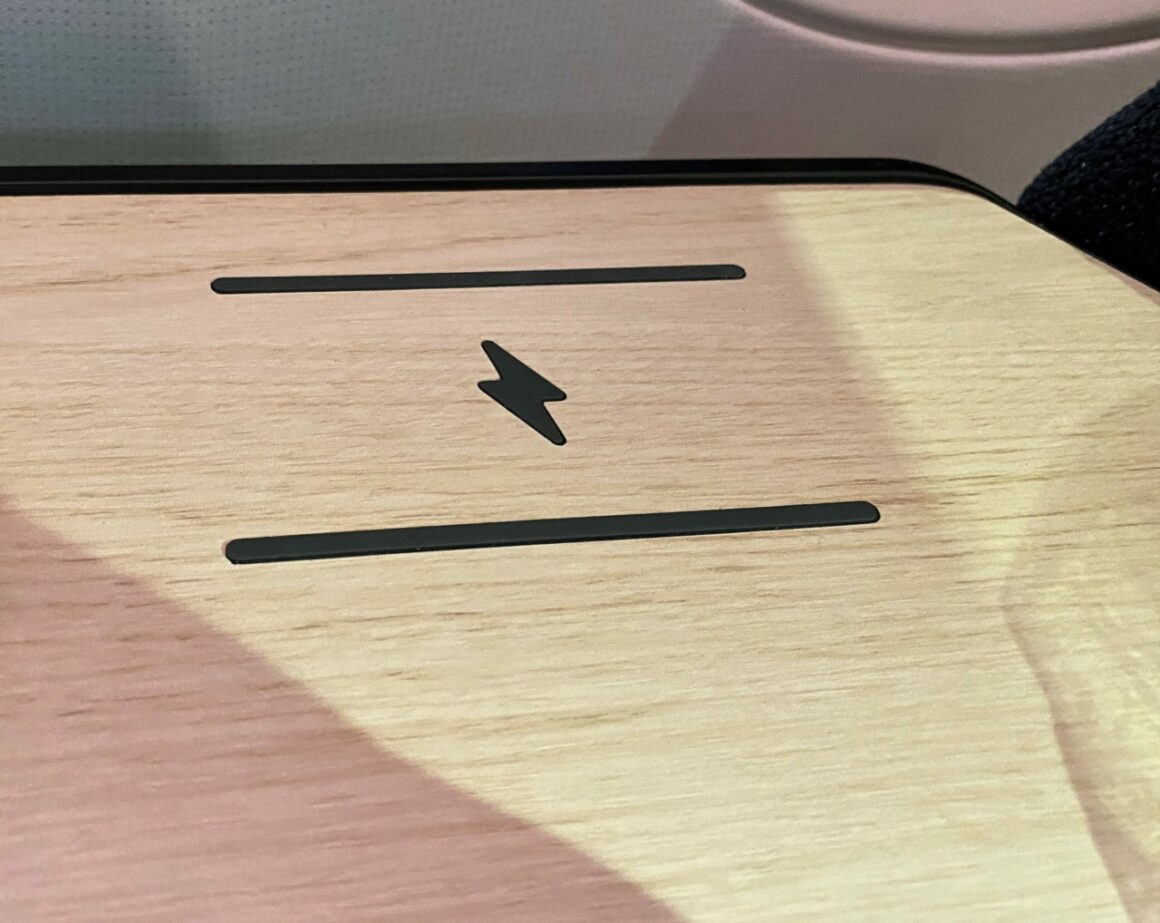 In the headphone cabinet there was a USB charging point and USB-C which is also uunusal but very welcome. At ground level there was a multi country socket as well by the window.
I definitely can't fault any aspect of Finnair entertainment, Wifi or charging other than the fact they fly over a black spot!
Which aircraft have the new seats and which flights from London are on long haul aircrft?
Finnair has six A350s refitted with the new cabin and four A330s. The plan is for all aircraft to be refitted by the end of 2023. You can tell whether the seats are fitted on the A350 by the seat map as the new cabin only has two seats in row 1 instead of 4.
Finnair have been flying twice a day from London with an A350 for summer schedules, but this reduces to one flight per day over the winter from this weekend.
Although it is not guaranteed to have the new seats, it will have long-haul seats and entertainment if it is an A350.
The AY1332 which departs Heathrow at 10.20am features the long haul aircraft. Occasionally on a Sunday this can be an A330.
The returning flight is at 7.50am on the AY1331. Obviously, if this didn't suit, you could come back on one of the short-haul aircraft as there are four departures a day during the week.
Booking
Flights to Helsinki are on the high side at the moment since BA withdrew from the route, but there are ways to make it more affordable if you fancy treating yourself to a special short-haul experience. Cash tickets cost from around £260 in economy and £581 in business class via Finnair.
You can also book on Avios through ba.com in the usual way.
Here are the prices to Helsinki on Finnair using Avios:
Economy – From 6000 Avios + £169.97 to 18,000 Avios + £69.97
Business class – From 17,600 + £222.97 to 33,000 Avios + £82.97
Alternatively could transfer American Express Membership Reward points to Finnair Plus to buy the flight as a reward flight or upgrade an economy booking.
You can check prices on Finnair here.
Conclusion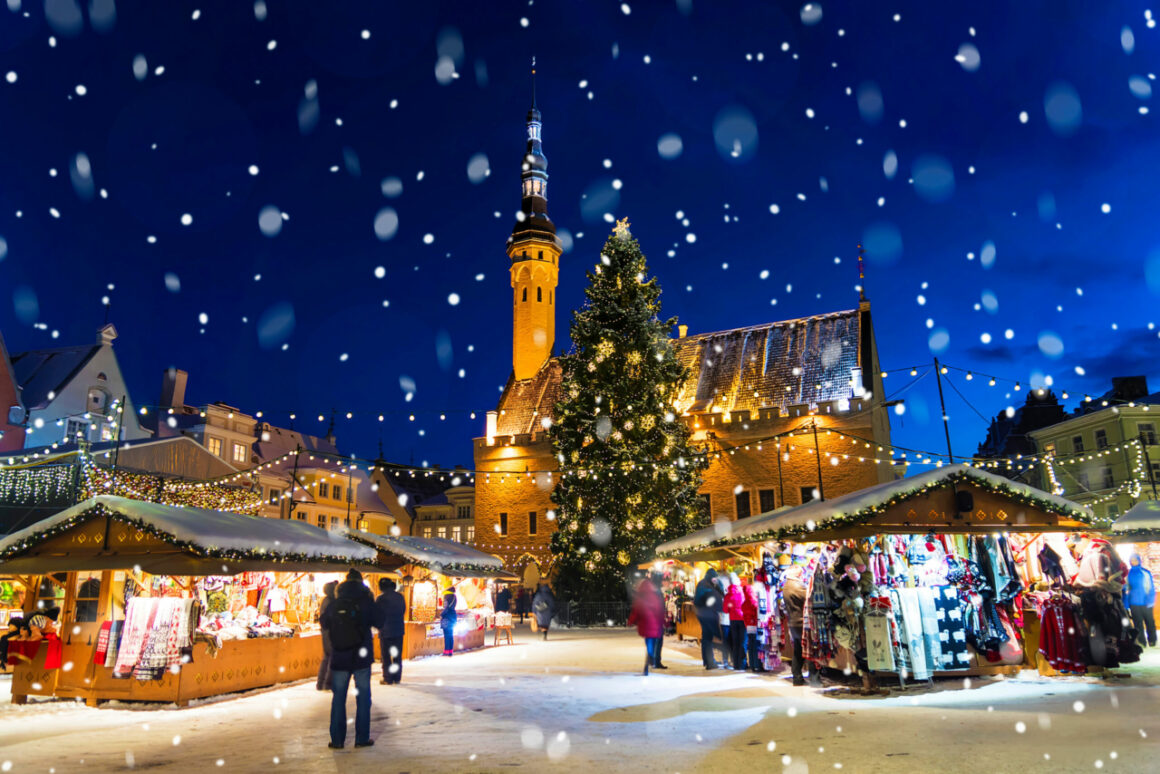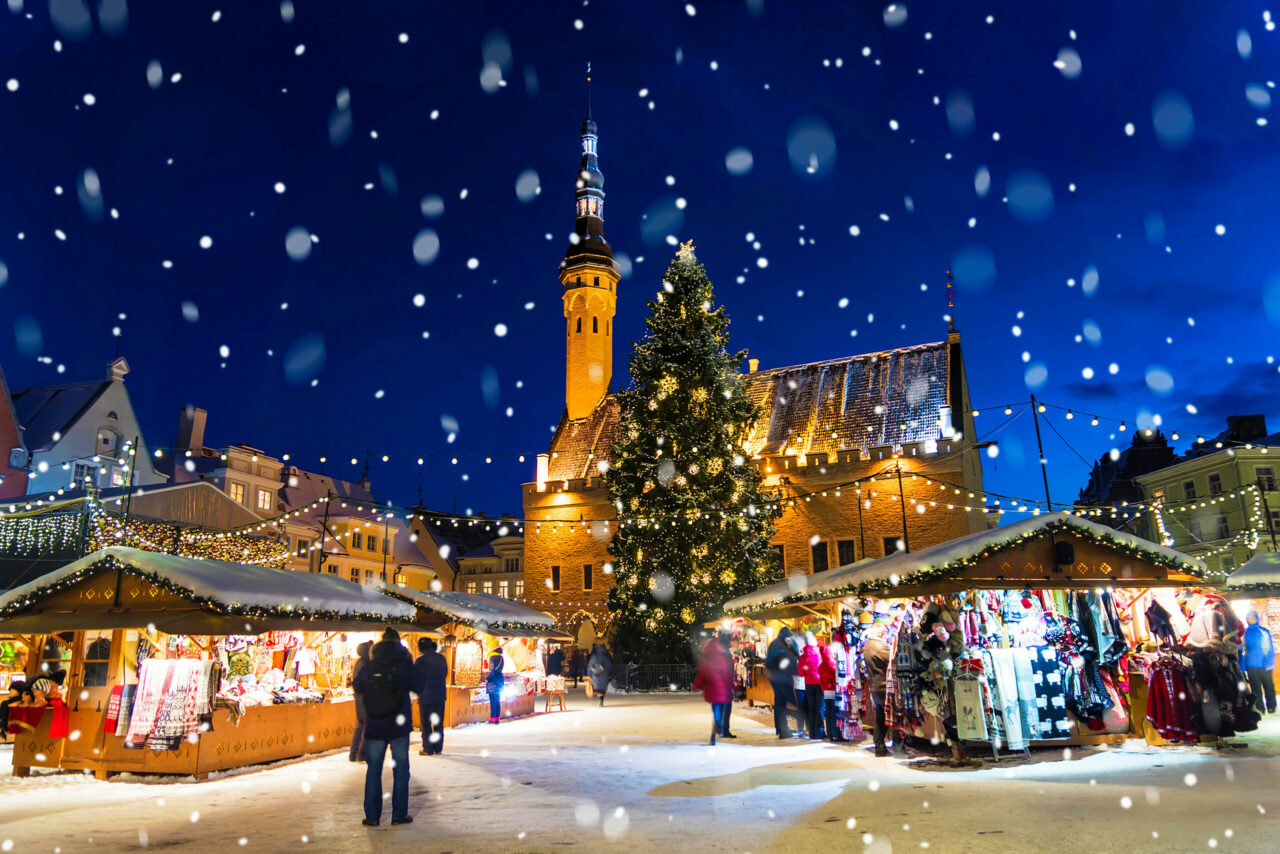 I really enjoy flying with Finnair A350 new on short haul due to the attentive service, but this was such a treat to have such a huge seat and proper entertainment for a three-hour flight. The new seat is huge and great for lounging in whatever position you find comfortable. The food was tasty and the drinks free-flowing with a really good champagne.
Both Helsinki and Tallinn make great short breaks, and with Christmas coming up it's worth considering Tallinn with Finnair if you fancy an authentic Christmas market with a fairytale setting.
You can see my videos of the seat on our Instagram page here.