Hello, my name is Michele, and I have an overpacking problem. I'm ashamed to say I once took a 20kg large suitcase for three days in the Bahamas. However, even this suitcase stuffer has been to rehab and now travels hand baggage only when I can. Hopefully, things will continue to improve, and we can go back to our old habits soon. In the meantime, here are my tips:
Luggage
Firstly before deciding to go hand baggage only, check the airline's website as what you can take on board varies even with legacy airlines. For example, when I flew Swiss, there is a strict weight limit on hand luggage, whereas on others you can take the full 23kg as hand luggage. Except on low cost airlines, you usually get a normal-size cabin wheelie bag and a "personal item". On BA this item can weigh 23kg and be up to 40 x 30 x 15cm / 16 x 12 x 6in.
So make sure you maximise this second piece of luggage with something like a backpack. If you want something simple and cheap for an occasional trip, a 10L rucksack is likely to do the job.
A large laptop case or large handbag could also work.
It's also worth considering your wheelie bag choice to maximise your available space to the maximum allowed dimensions. The Road Runner from Level 8 is one of the perfect choices for maximising the size, and I love that it has the front pocket for a lap top to allow easy access. This is one of the hand luggage cases I am currently using. You can read the full review here.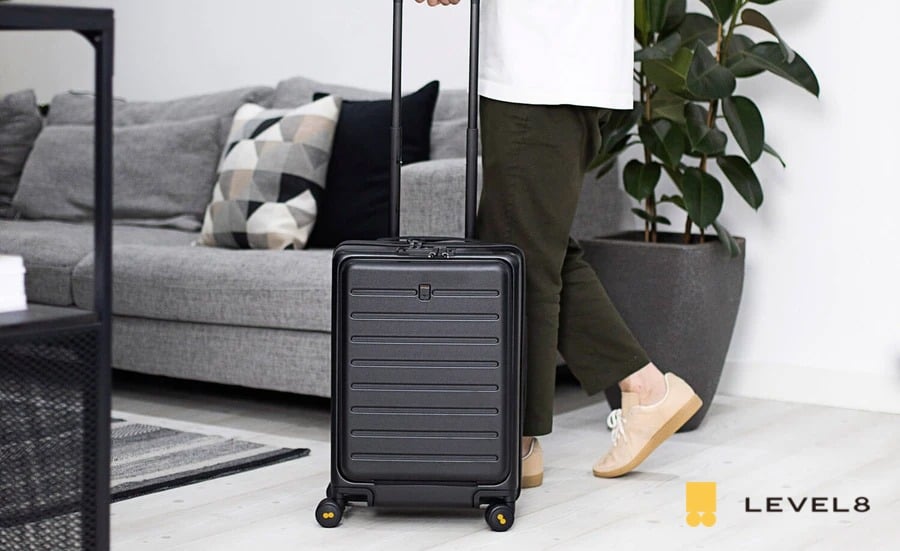 Away and Samsonite also have some good choices which you can read about in this article.
Organisation and compression
If you are trying to cram as much as much as possible into a carry-on, packing cubes or compression bags are essential.
Personally, I much prefer packing cubes, but if you want to perform miracles, then a vacuum bag is probably better. I recommend the roll-up vacuum bags as although they are more hard work, you don't have to then take a pump with you. You can also get some that are more like a packing cube but with higher compression by having an extra set of zips to help reduce the size of the bag.
Packing cubes are also better for organisation and moving around as you can just unload the packing cubes straight into a draw or cupboard shelf. I tend to categorise things into different cubes, such as underwear, swimwear, tops, trousers/skirts etc or by occasion such as day or night wear. I also roll them which makes it easier to see at a glance what is there and creases less. I also have a bag for my electronics so I can find them easily, although some airlines amenity kits can work well for this.
Despite owning enough packing cubes to start my own shop, I just invested in this comprehensive set by Amazon in the gorgeous Flamingo design, but they have lots of different colours and plain or designs (the candy stripe is also lovely). I chose these as they have a very see-through lid which is great for working out what's inside without unzipping them.
Toiletries
It is definitely worth buying a security approved bag for your liquids so that it is robust enough to be completely full and so that you can take your time to play tetris getting everything in! I have found it best to try different arrangements to maximise the space in the bag rather than just throwing things in.
Don't put anything in there that is not a liquid, such as a toothbrush or hair brush as it wastes valuable space.
It's worth considering if there are any liquids you could use a solid alternative of or find a travel version. For example, you can get solid versions of cleanser, shampoo, toothpaste and conditioner now. Don't forget a case or ziplock bag to keep them in when travelling back. Face wipes also don't count and you could try some of the capsule versions of products such as Elemis bliss capsules for a moisturiser that take up no room at all or the Eve Lom cleansing capsules.
For other essentials, I decant most of my products into smaller containers as it's more eco-friendly, cheaper, and you can use your normal products. Muji are fantastic for travel containers of all different shapes and sizes. I have also started using these flat pouches instead of bottles when space is at a premium as they pack much better into a zip bag.
For things like sunscreen there is less room for substitution. I use a solid stick sunscreen such as this Neutrogena one for my face and then purchase the rest at the airport or destination. If I am flying to the US I always buy it there. They have some amazing continuous mist sprays of 360°, which means you can spray yourself including your back without needing help. They are also waterproof for 80 minutes, and I have virtually never been burnt using these. They cost around $10 from any drug store, and there is a big range of brands to choose from. You can get some here, but most aren't as good, although this Hawaiin Tropic one is decent, and you can find a few on Amazon.
Another alternative for essentials that are too big for hand luggage is to do click and collect from a Boots at the airport. If you are concerned about not getting something specific that you need, do a click-and-collect order a few days before and collect it airside from Boots.
You could also consider checking in luggage on the way home when it's less of an issue if it gets loss. Then at the airport anything you are due to need more of soon you can just buy a new one at the airport and bring it home with you.
If you have to check luggage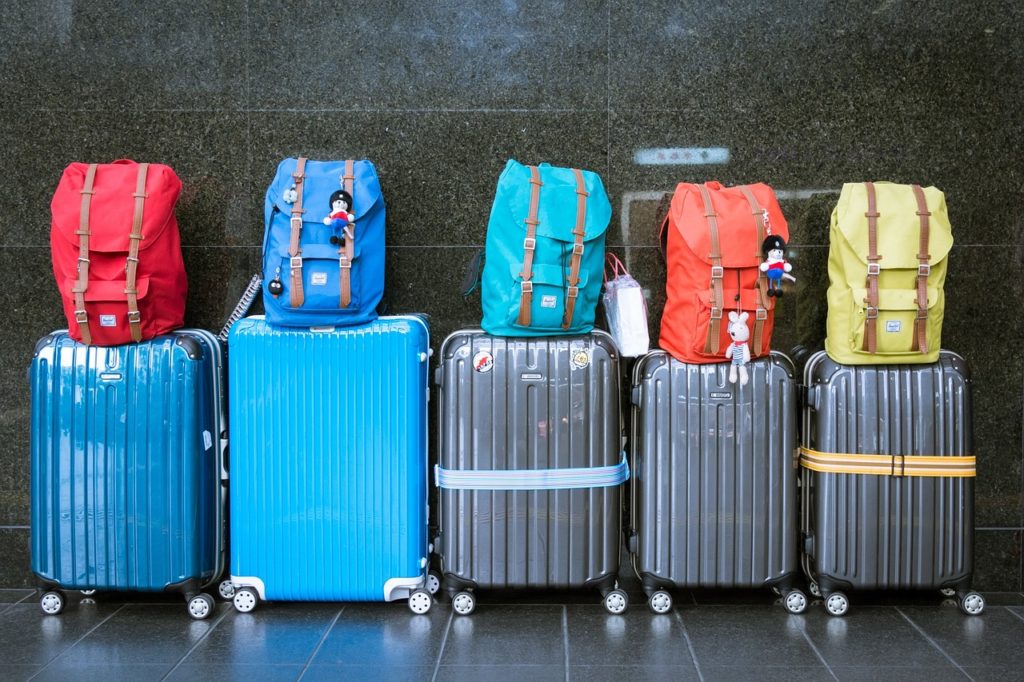 There are times when hand baggage only is not feasible. You could consider shipping your luggage ahead which can cost from around £100 for 30kg to the USA in 2-3 days. That means you can take hand baggage only on the day.
If you are travelling with more than one piece of checked luggage or with other people try to mix up your possession amongst the cases so in each one you have some underwear, shoes, clothes, toiletries, swimwear etc for each person as the chances are they may not all get lost. This once saved my bacon on a 10-day trip to Spain when my luggage turned up on the day I was leaving!
Luggage trackers
I also highly recommend using a tracking device such as Apple Air Tags, Tile, or similar to locate your luggage if it goes missing. Air tags start at around £25 so they are very affordable. I also add one to my hand luggage in case I should leave it behind somewhere or someone takes it. You can read about how I used my Airtag when BA lost my bag here. Trackers are also great if someone takes your luggage by mistake. You can read a review of Tile here.
I would also advise adding something to your suitcase to make it distinctive such as a bright luggage strap or a ribbon on the handle. Make sure you add a label with your name and phone number (don't put your address) on the outside and inside on top of the case add a piece of paper/card with your name and contact details also in case the label falls off.
What are your best packing hacks for hand luggage only? Let us know in the comments below.