Most Luxurious Hotels in Dubai
One of the most luxurious cities in the world is bound to have some of the most expensive and opulent hotels on the planet. When you arrive to Dubai you can arrive in style with a variety of luxury hotels in Dubai for all types of travellers. Currently, prices in Dubai are the lowest for years for luxury hotels and with it being on the travel corridor list currently, it's a great choice for some winter sun.
Here are the best of the best and a list of hotels you need to check out for your holiday in Dubai.
Burj Al Arab

While the Burj Khalifa maybe the tallest building in the world, there is one other building that is an iconic of Dubai, and that is the Burj Al Arab. Some rate the Burj Al Arab 7 stars, so this is the epitome of luxury hotels in Dubai. This hotel is an architectural wonder and is shaped like a sailboat. It is the fourth tallest hotel in the world. There are so many things to do including helicopter service, dream car rentals, watersports, a gym, and has 9 restaurants and bars.
Burj Khalifa offers some of the most decadent rooms in Dubai with presidential and royal sweets in addition to one of the largest grand atriums in the world that is 180 meters high. A special pop up restaurant Sal recently opened allowing diners to experience the extravagant menu while enjoying the views and breeze of the Arabian Sea. This is the place where if you dream it, the Burj will deliver. Or they will literally bring you anywhere you want with their fleet of Rolls Royces.
Fairmont the Palm Dubai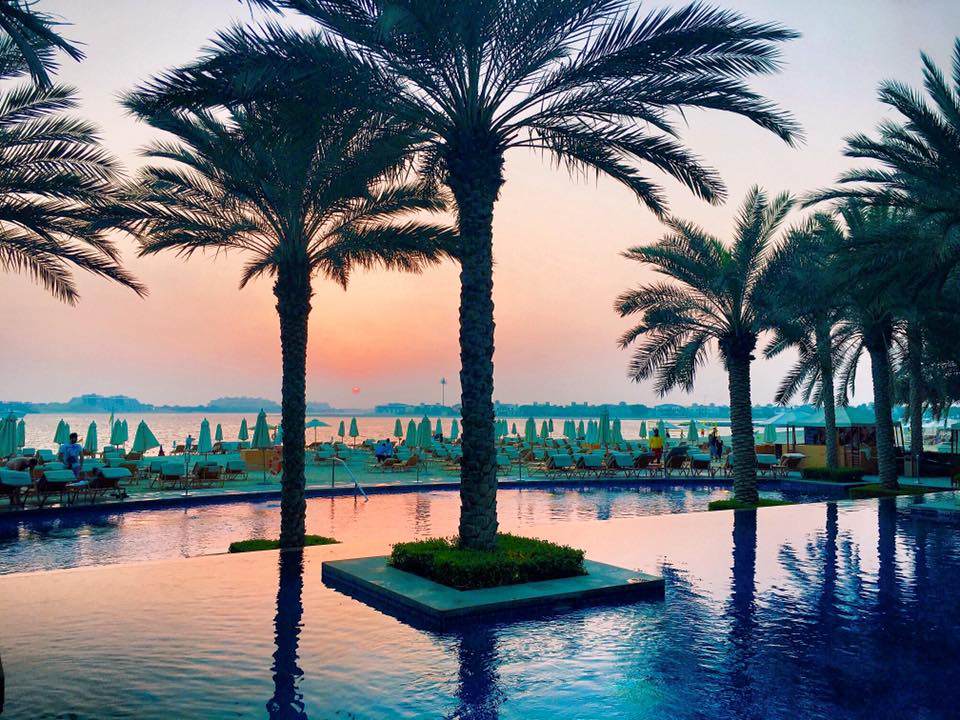 Some of the most sought-after accommodations can be found on Palm Jumeirah, and the Fairmont definitely stacks up to the standards of Dubai. A luxury beachfront resort that offers some stunning views of the Dubai skyline, and the Arabian Gulf. With 6 pools, and 11 restaurants and lounges representing cuisine from around the world you will not go hungry at this hotel, and the Willow Steam Spa that has received the highest accolades.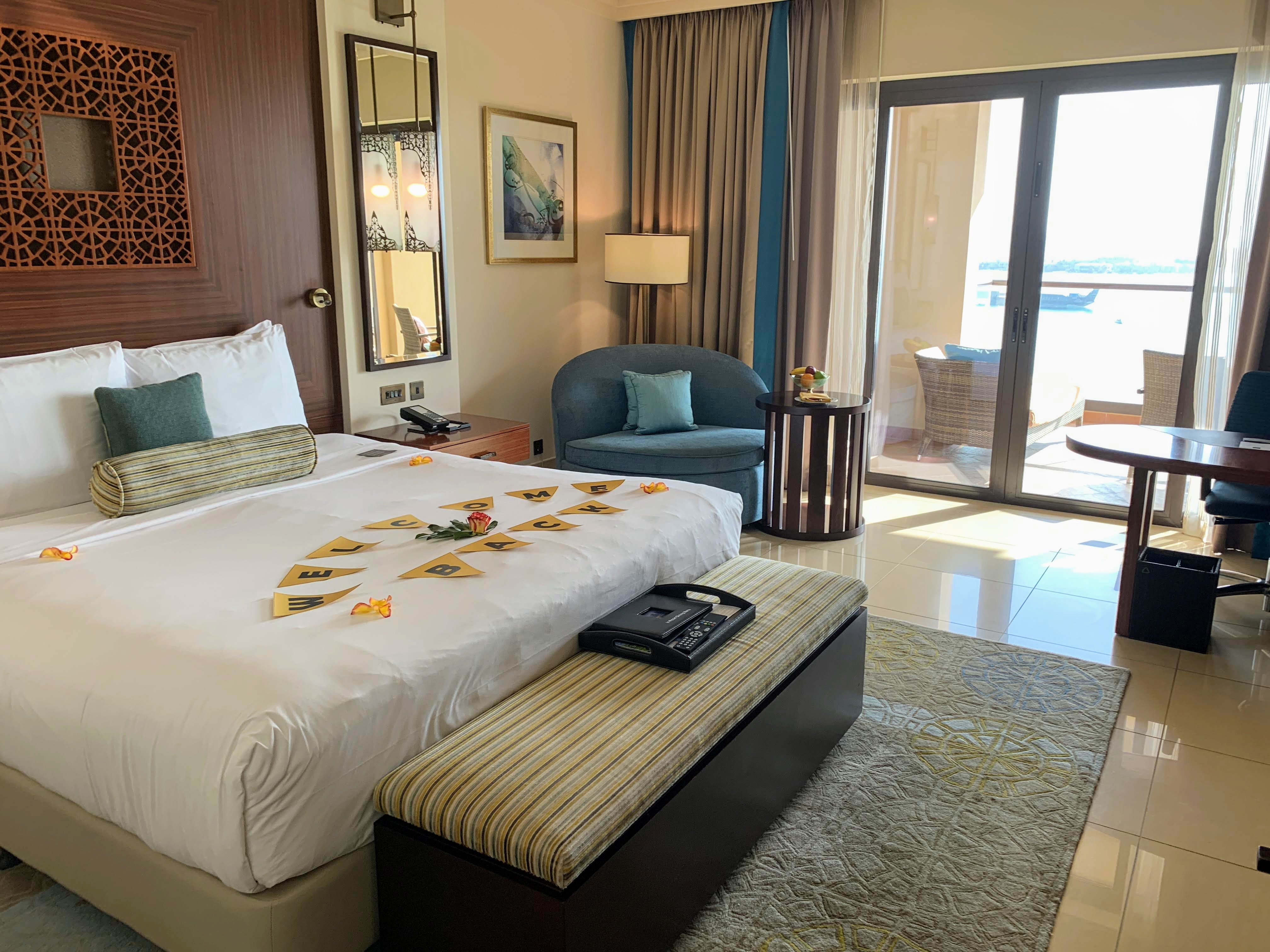 The Gold rooms are the best option as these include lounge access with evening drinks and canapes as well as breakfast and afternoon tea service.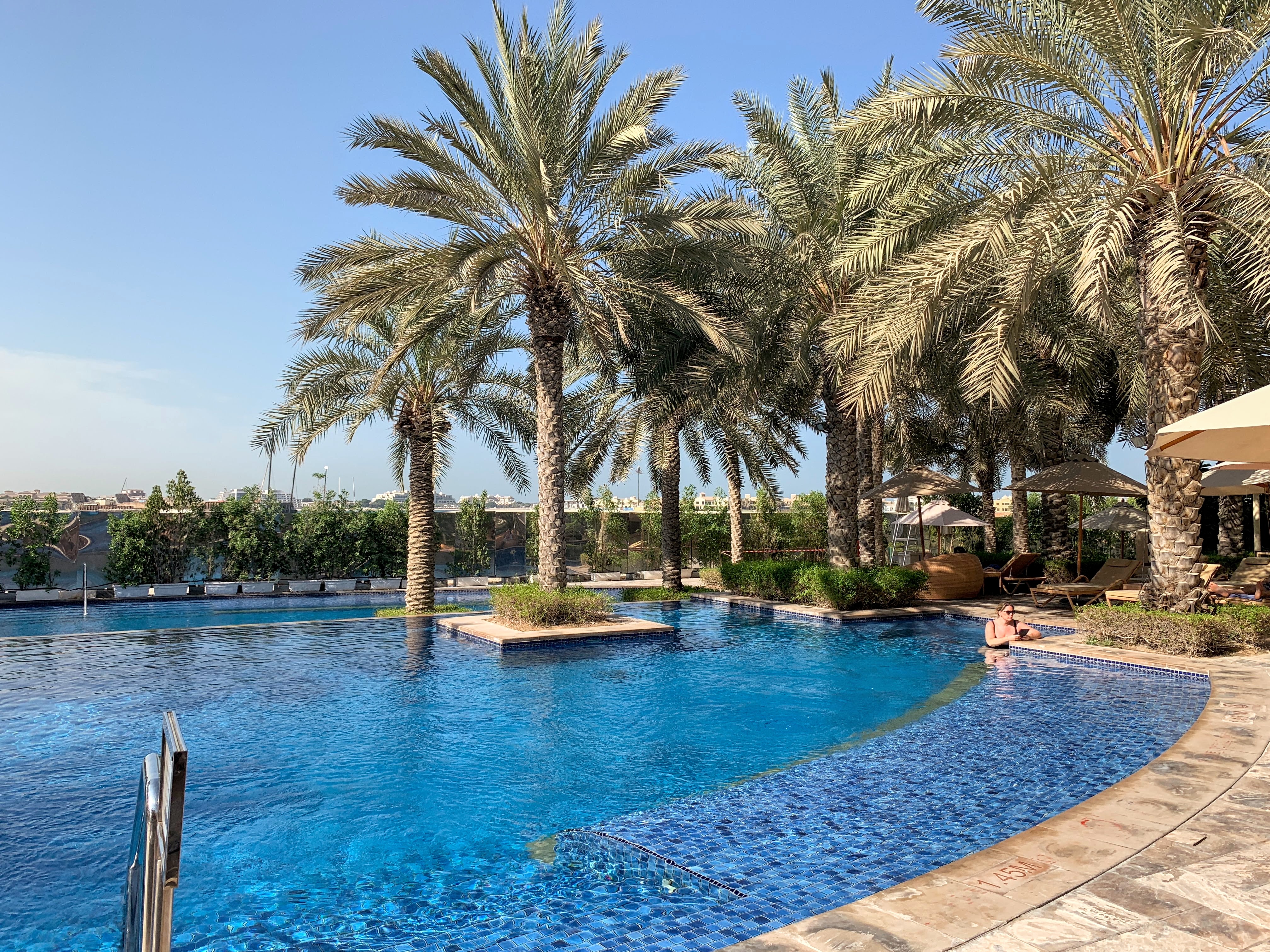 If you want to explore Dubai, the Fairmont is perfectly situated a 10 and 20 minute ride respectively from the Mall of the Emirates and Dubai Mall alongside the Burj Khalifa, with a free daily shuttle bus for all guests. For guests looking to maintain their health on the road some cool yoga classes and aquaspin are available. Want to check out what one of the 391 rooms and suites look like at the Fairmont the Palm? Michele went there and shared her experience at the Fairmont the Palm on Turning Left for Less.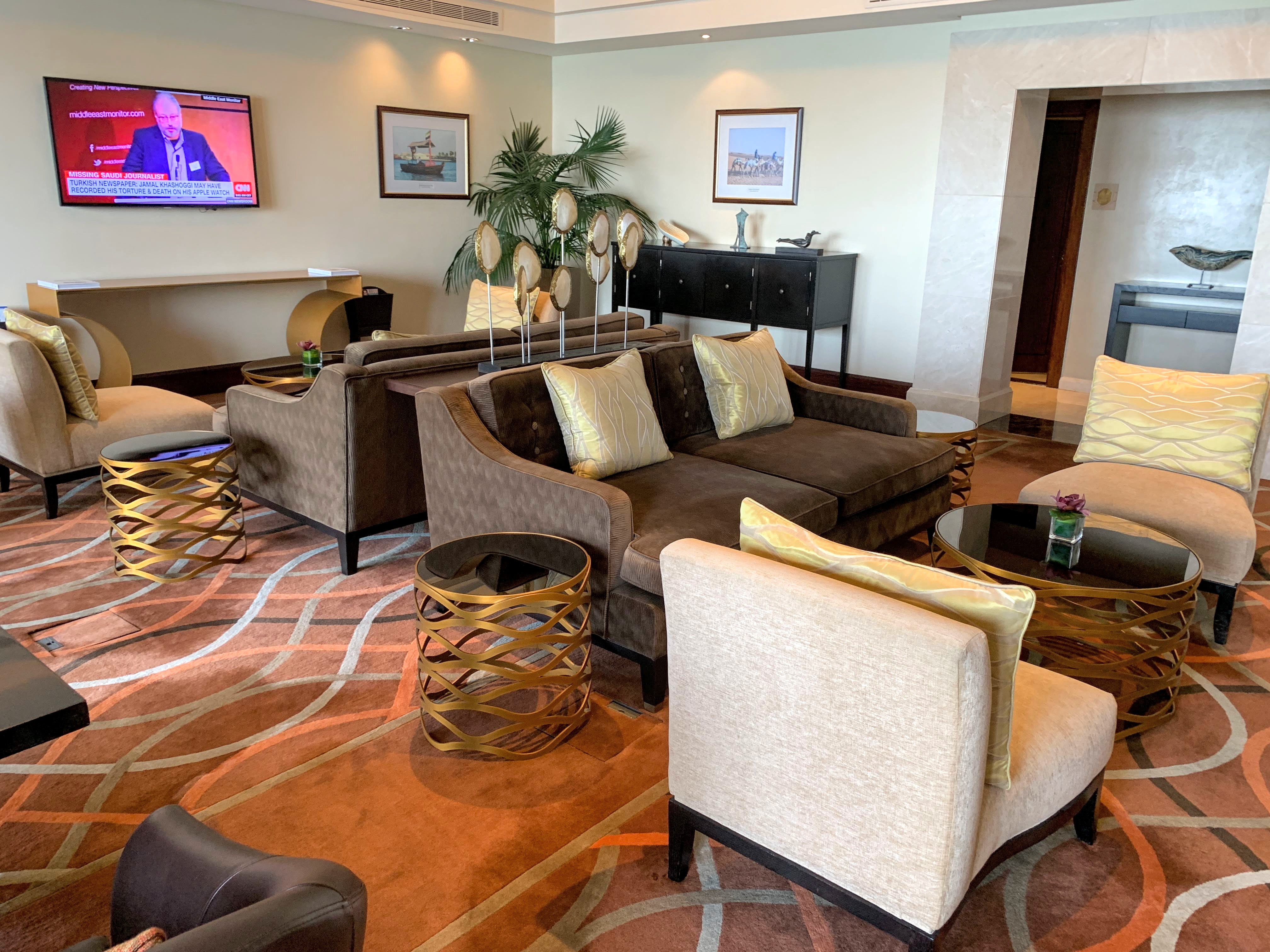 Points:
With Fairmont being part of Accor, you can earn and redeem points there with your ALL Accor account.
Park Hyatt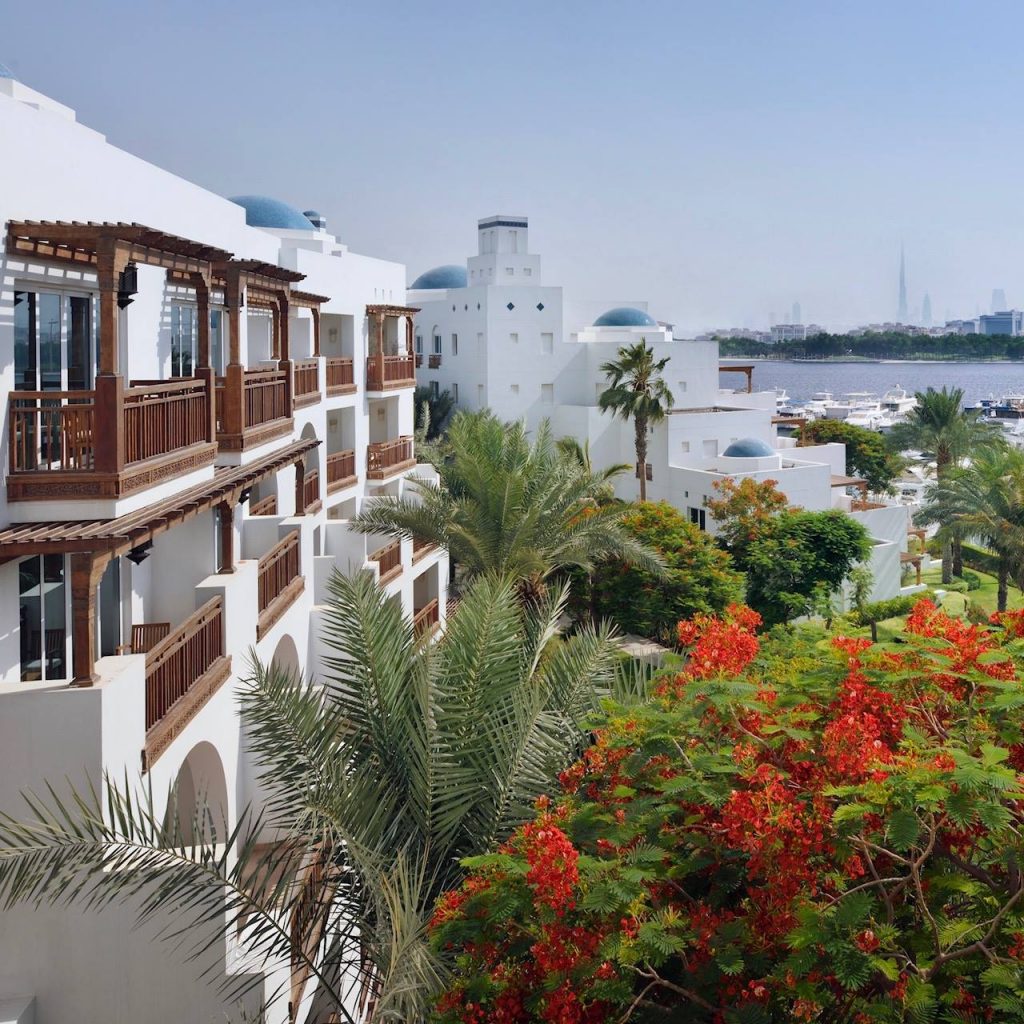 Park Hyatt is a beautifully styled hotel in Dubai Creek area and close to the Dubai Creek Golf Course. If you are a golfer you would love the location of this hotel! The Park Hyatt also has a decent pool with inset palm trees surrounding the pool. A 5 star hotel offering 223 rooms with 34 suites, each offering a private balcony/terrace with views of Dubai Creek and skyline or the lagoon. It is hard to go wrong with a room here. While it is relaxing to hang poolside, it would be a shame to miss the award-winning luxury spa Amara Spa located on the property. A new feature at the Park Hyatt is the lagoon infinity pool with white sand beaches. This is the perfect retreat for a tranquil stay in Dubai.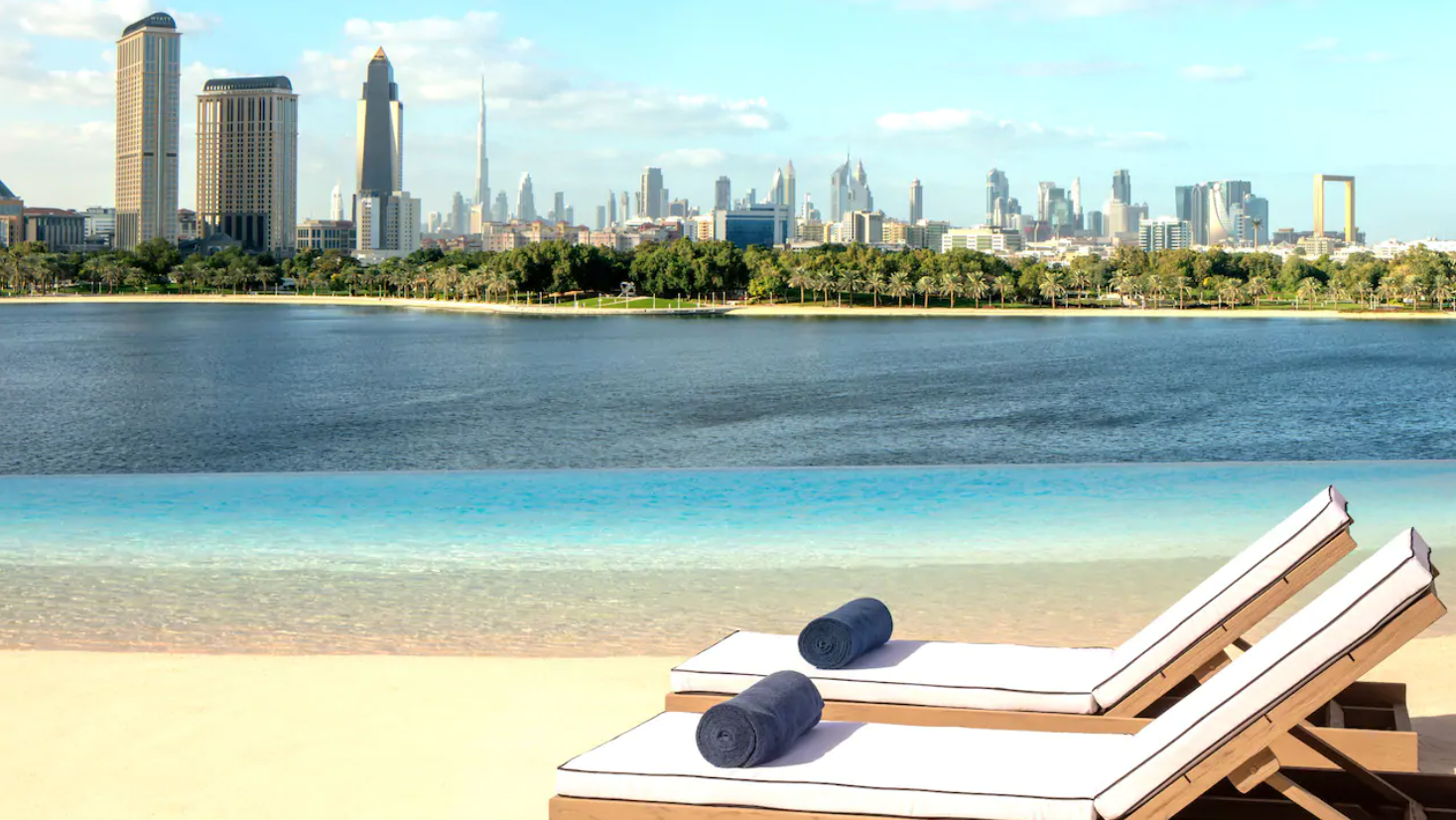 There are some great deals currently for the Park Hyatt starting from £149 per night plus tax. Also great value is the Hyatt Prive rate which includes a buy 2 nights get one free discount, $100 hotel credit and an upgrade. This is available through Private Upgrades and 0ther Hyatt Prive agents.
Want to hear more about the experience staying with Park Hyatt? Check out Michele's review on the Park Hyatt Dubai.
Points:
Park Hyatt is a category 5 Hyatt hotel and costs from 20,000 World Of Hyatt points per night. This is definitely a great deal in terms of redeeming World of Hyatt points.
Waldorf Astoria Dubai Palm Jumeirah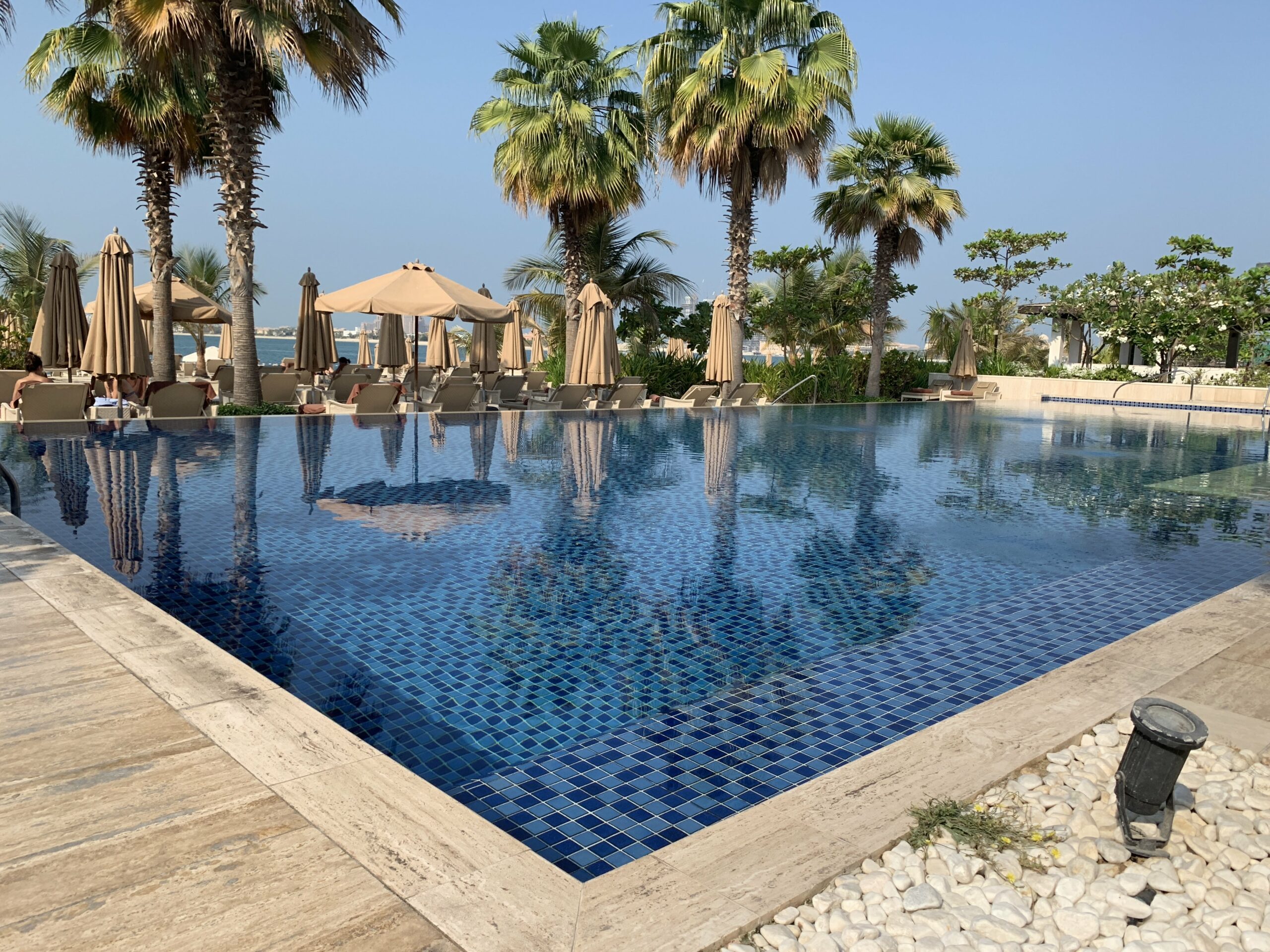 A top 25 hotel on TripAdvisor in the Middle East, and located on Palm Jumeirah this resort is perfect for people looking for a relaxing and restful vacation. Since the Waldorf Astoria is one of the furthest out from the city center of Dubai on the Palm it is definitely quieter. However, the hotel a vibrant haven of amenities, such as the adult-only infinity pool overlooking the water, 6 restaurants and lounges, and a personal concierge to organize your amazing experiences throughout Dubai. One of the coolest features is you can arrive by helicopter and land on their helipad with Uber Chopper. This resort is perfect for those wanting to relax on the beach with over 200 meters of private beaches. Want a first-hand account of a stay at the Waldorf Astoria Dubai Palm?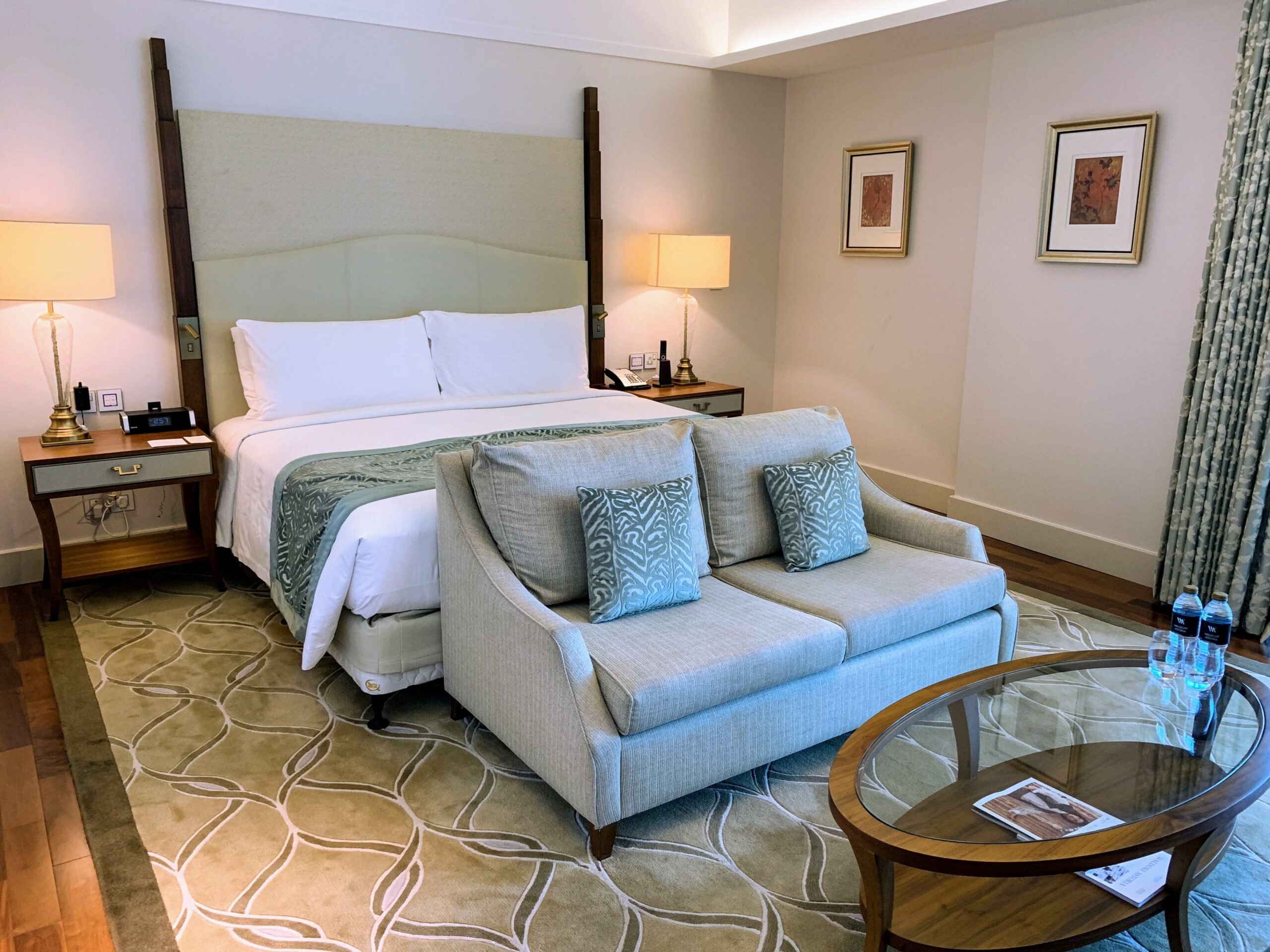 Check out the review by Michele from her recent stay at Waldorf Astoria Dubai Palm .
Points:
Rooms start at around 74,000 points per night in the winter months.
Waldorf Astoria Dubai International Financial Centre
Want to stay in the centre of the city? The Waldorf Astoria in Dubai's International Financial Centre spans the 18-55 floor of the Burj Daman and is an urban retreat. The location is supurb for those looking to explore only 10 minutes from the Burj Khalifa, Dubai Mall, and The Dubai Fountain. Spanning floors 18 – 55 of the Burj Daman, our urban retreat is within 10 minutes of the Burj Khalifa, Dubai Mall, and The Dubai Fountain. There is even an outdoor rooftop pool to cool off from the hot temperatures and a bar. Want to relax and get pampered? Then you don't have to go far with a great spa on-site and gym. This location also provides a personal concierge, free parking, and Bull and Bear the signature Waldorf Astoria restaurant inspired by the original in New York.
@daimarr stayed recently and was very impressed. He got a great deal using the Hilton Impressario deal which is similar to the Hyatt deal. You get stay 4 pay 3 – plus the Impresario benefits, $100 credit, breakfast, upgrade and double HH points in addition to the normal promotions. This Waldorf is normally cheaper than the Waldorf at the Palm. He booked with QX travel.
Points:
In terms of points, this hotel costs from around 77,000 Hilton Honors points a night.
Atlantis the Palm Dubai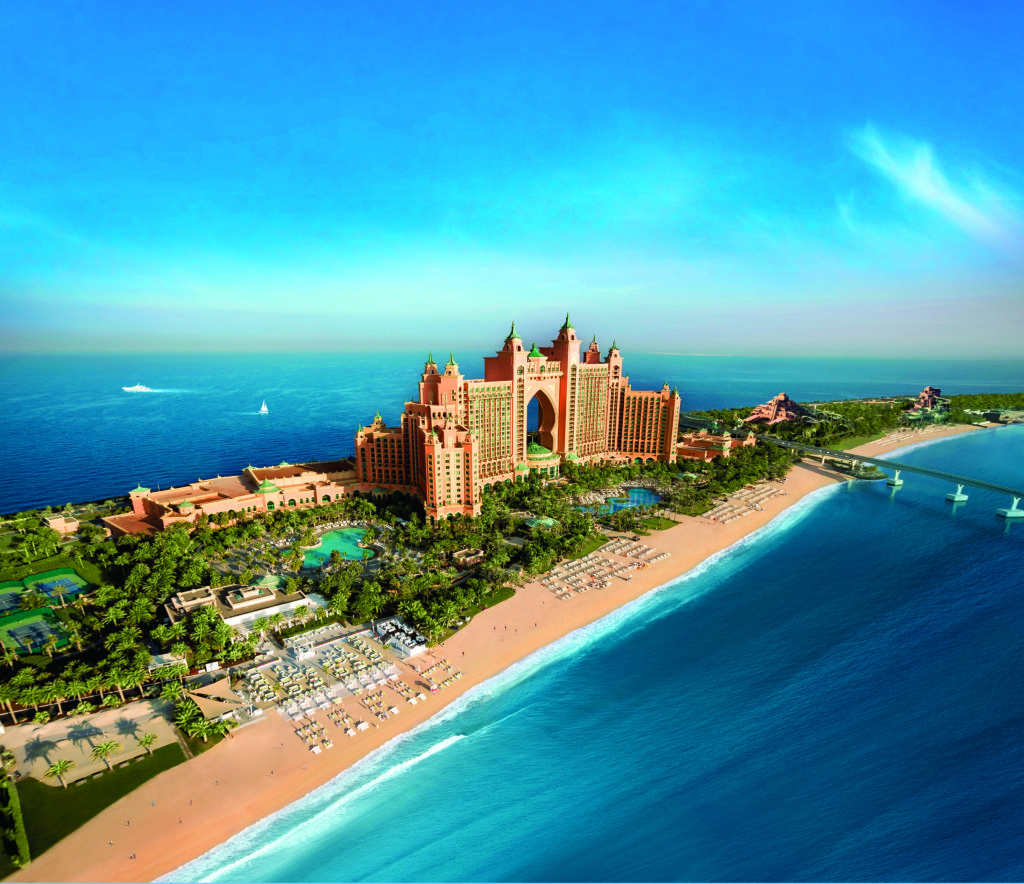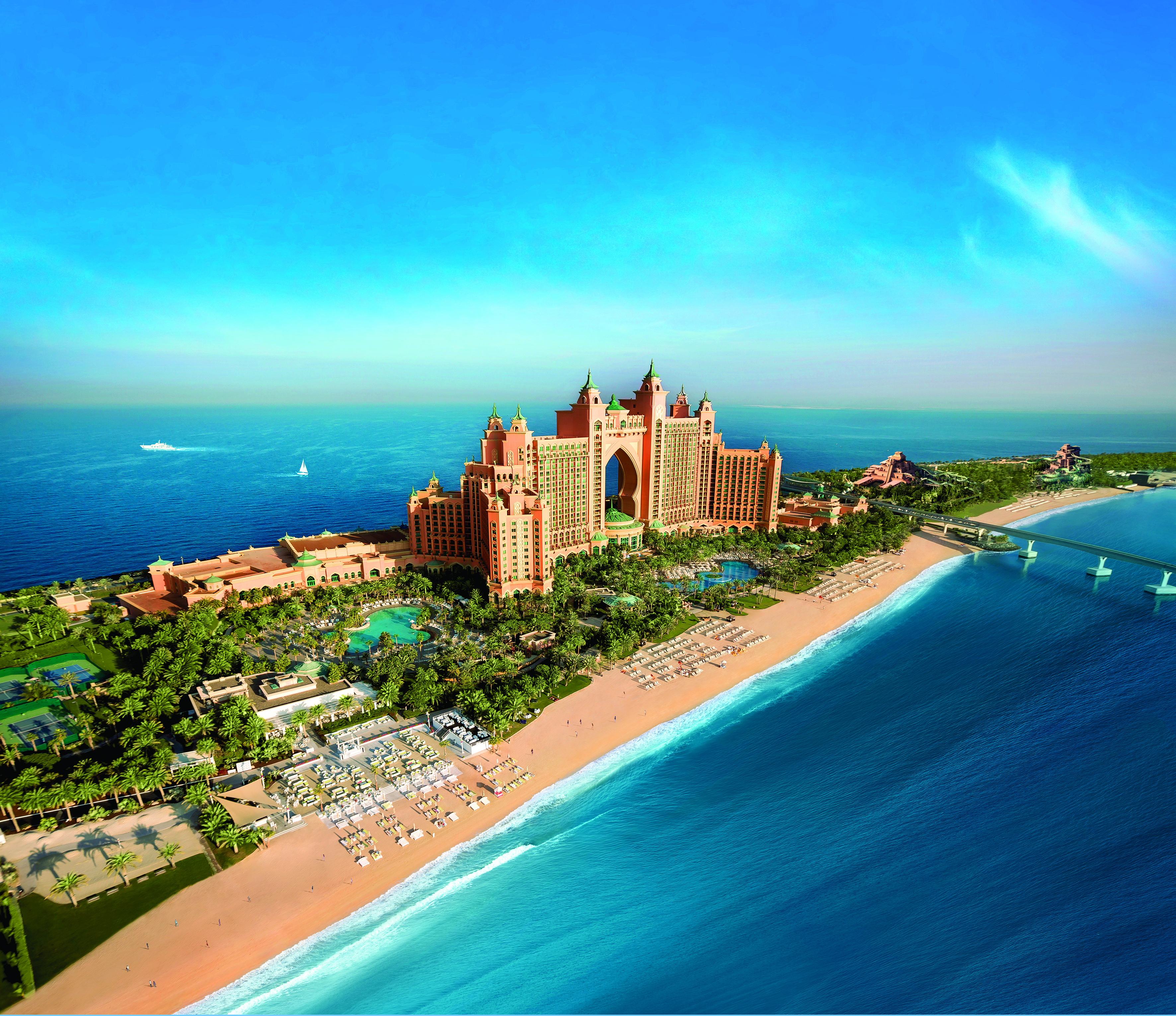 The Atlantis on the Palm in Dubai doesn't disappoint and continues to deliver an air of opulence that makes you feel like royalty. This resort offers not only some of the most expensive rooms in Dubai, but it also offers suites with windows that open up to the aquarium tank where you can see marine life pass by as you lay in bed! ShuiQui Spa is amazing and also makes all the toiletries for the rooms so you can do some pampering in your suite. The pool area also includes a waterpark, which is one of the main attractions. However, one of the most unique experiences in all of Dubai can be found at the Atlantis. That would be diving into the giant tank to swim with sharks, fish, and more marine life. Also, there are ample dining options from casual to fine dining to choose from, and even Ossiano an "underwater restaurant".
Check out a first-hand account of a stay by Michele on a recent visit to Dubai's Atlantis the Palm Hotel.
One and Only Royal Mirage

On a romantic getaway to Dubai? Then a stay at One and Only Royal Mirage is probably just the place for you. A stylish luxury hotel in Dubai that makes you feel like you are staying in a castle in Dubai. This is definitely one of the most romantic and luxurious hotels in Dubai. The arabesque architecture and design of this hotel really makes it feel like a mirage. At One and Only guests can enjoy 1km of beaches, four swimming pools, and 8 restaurants. The hotel is located on Jumeirah Beach. There are beachfront rooms, villas, and suites to choose from all enveloped by the beauty of the Arabian Gulf. One and Only is also known for award winning cuisine from the best celebrity chefs from around the globe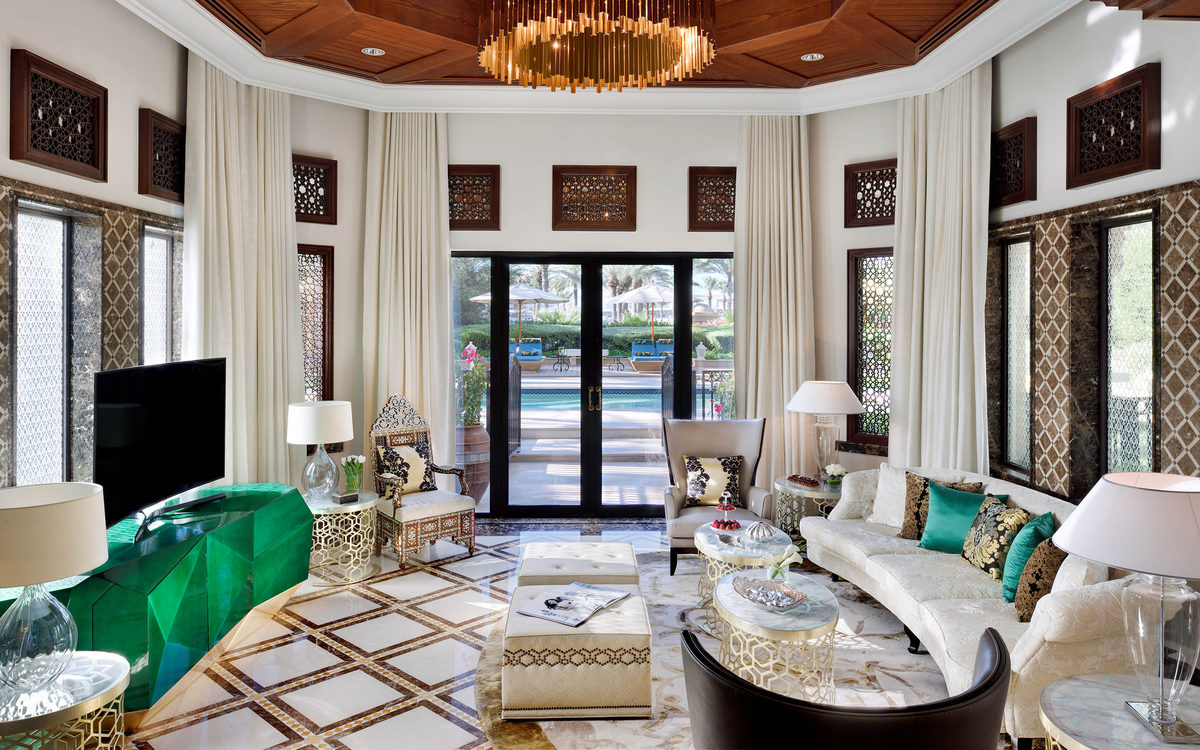 The rooftop terrace bar is stunning at night with a real Arabian feel.
Bulgari Resort Dubai
Bulgari Resort is a beautiful jewel set on a seahorse shaped island in Jumeirah Bay minutes away from the mainland. It is home to the first Bvlgari Yacht Club & Marina and inspires a nautical vibe throughout much of the resort. During these times the Bulgari's attention to detail and pride in delivering tailored services for each guest has allowed them to create a private and safe stay for guests.
The resort offers in-room check-in and unpacking as well as some decadent amenities like the indoor golden tiled pool. Want to go shopping, but cannot be bother leaving your room. Bulgari Resort can bring in-room jewelry viewing and shopping to your room. Guests who love to maintain their wellness on the road will love the personalized training program at the gym on-site pairs you with a personal trainer who will create a custom workout.
What luxury hotels in Dubai have you stayed at? Share them in the comments.
Finally, there are many amazing options when it comes to staying in a luxury hotel in Dubai, but some hotels just go above and beyond to create a unique stay for their guests. These are just a few of the hotels in Dubai that stood out to Turning Left For Less, however, there are more hotels in Dubai that are mentioned in "What's travel is like now? Dubai" post.