Well, it has been quite a year for TLFL. We hit our 2nd anniversary, the millionth view and took on Claudio and Paul as part of the team. Paul swiftly became Deputy Editor to help out whilst Claudio and I launched a new site – Turning Left for Less Brasil which will shortly be featured on the travel blog collection, Boarding Area. We also did our first team tier point run when Claudio, Paul and I did the Bucharest to Phoenix run.
Today we will be looking at the teams travels in 2018 and then tomorrow we will look at what we have planned for next year including an interesting couple of challenges for me! I will also look ahead to what we can expect for the airlines in 2019.
Michele
In 2019 I flew 144,000 miles on 85 flights and visited 18 countries. I renewed my BA Gold membership and am on my way to getting a Gold upgrade voucher before the end of my Tier point year. I flew on BA, American, Iberia, Flybe, Aer Lingus, Qatar, Singapore, Air New Zealand, Vietnam Airlines and Oman Air.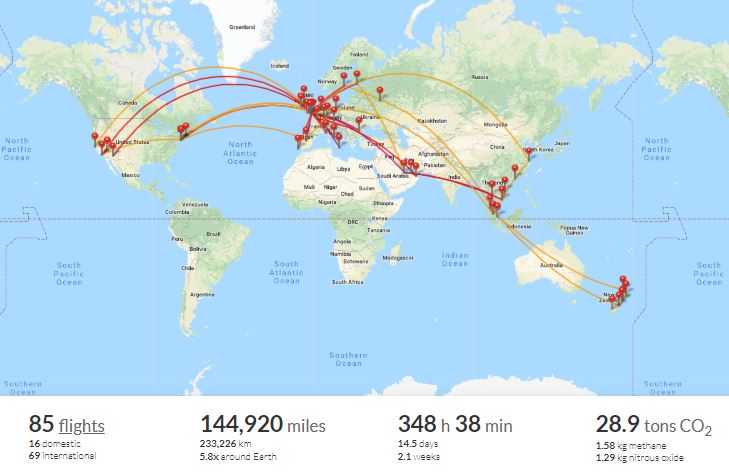 So what were my highlights of the year?
In terms of flights, it is tricky to choose between Oman Air business class and the QSuites. Oman Air was slightly inconsistent with the crew with one outstanding flight and one average one. However, overall it was a highly impressive product for business and pretty close to a first class product in many respects. With beautiful amenities kits, well presented tasty food, premium champagne and wines in lovely glasses, the soft product was great. The seats were impressive too with all aisle access seats and lots of privacy for the window seats. You can read my review here.
Qatar QSuites were also close to a First product although I did have one of the worst dishes (think dry eggy bath sponge!) aboard a flight on the trip which you can read about here.
I loved the attention to details with the QSuites such as the flickering candle on the table at dinner and the day cushion which said 'the sky is a wonderful place'. The seat itself felt roomy and very private with the door shut – I did not feel claustrophobic. My only complaint was that the bed was not as comfortable as some of Qatar's other seats as it is a bit harder but it is still an amazing business class seat!
For hotels, there were two definite highlights for me. The first was returning to my favourite hotel in the world The Sanchaya on Bintan and taking Roving Reporter there for the first time. Conversely, Roving Reporter got to take me to his favourtei hotel, The Datai on Langkawi which had just reopened afte an extensive refusbishment. I too fell in love with The Datai and the local wildlife and setting but I'm afraid The Sanchaya is holding firm at No 1.
I also got to visit Vietnam for the first time which was a huge highlight for me. From the friendly, warm people to the vibrant fresh food it is a truly wonderful country that I will be visiting again in 2019. I stayed at the Naman Retreat which you can read about here.
New Zealand was also wonderful even though I have been a few times before. The highlight as always was Queenstown and the drive down from Christchurch. Blanket Bay was spectacular there and the helicopter trip out to Milford Sound followed by a glacier landing will be a memory I will cherish.
Paul
I flew a total of 91 flights covering 125,000 miles and retained my BA Gold Guest list status. I flew on BA, Iberia, American, Finnair, Malaysia Airlines and Sri Lankan.
My highlights for 2018 –
Flying to Hawaii in First Class for a quick 3 day trip with friends – great laughs and flights….oh and plenty of tier points!
The PHX do was also a great trip for all concerned!
Malaysia First Class was also a great experience to have….
I had a few not so great flights too such as one of my Qatar flights and the recent Club Europe flight to Helsinki that had 46 people in Club!
Roving Reporter
My year started off on a high when in January I went to New Zealand. Michele and I had a lovely stay in Bintan at Michele's favourite hotel, The Sanchaya, en route. The highlight of New Zealand was a wonderful stay at Blanket Bay with the helicopter trip to Milford Sound (though to be fair I adored all of NZ!).
The miles from travelling with Singapore Airlines have me a great head start on my Virgin Flying Club balance too. February included a quick trip to Madrid (my first time) and I had a lovely time at The Gleneagles in March.
April was consumed with various trips to Scotland. I was back on track with a weekend in Singapore in May. I enjoyed a trip to Tel Aviv in June and then had the summer off travelling as my actual job gets in the way! September took in Singapore and Langkawi and a weekend in Alicante Old Town.
My trip to Abu Dhabi in October was shelved when BA cancelled my flight. I went to Catania instead but it wasn't really my thing which is odd because I love Italy (having been to Venice 32 times). November was another Far East jaunt to Shanghai, Hong Kong and Langkawi, staying at my 'still favourite' place in the world; The Datai. Another quick trip to Gleneagles last month and a weekend in Barcelona in December to end the year.
Claudio
2018 was a busy year for me. I took 37 flights travelled the equivalent of 129,539km or 80,492 miles, enough to keep me in the air for 7.5 days! I had the chance to get to know a little of Ukraine and Malta, bringing the total number of countries I have visited to 45.
In addition to visiting two new countries, I revisited both Amsterdam and Lisbon which I love and come back to whenever possible. I also spent a weekend in Catania in Sicily, which I recommend, unlike Roving Reporter! Friendly people, tasty food and nothing expensive. What else does you need?
My favourite destination was a little hard to choose. I was torn between Amsterdam, Catania and Rio de Janeiro, but in the end, I think Rio de Janeiro was the best destination of 2018.
In Brazil, I went to Rio de Janeiro and Iguaçu Falls, two destinations that should be on the list of anyone who is passionate about travel.
There was still a quick pass through Phoenix when Michele and I travelled together on the tier point run. Other than that, my time was split between London, Sao Paulo and the countryside. Oh … of course, I had to work to earn some money too!
I had several excellent flights this year and it was difficult to choose just two, but in the end, I stuck with my first class flight between New York and London.
It was undoubtedly a great experience flying first class between New York and London on British Airways' iconic Boeing 747. What also counted to make this flight memorable was the service I received on board. It was impeccable and the crew super efficient. If only every flight were like this!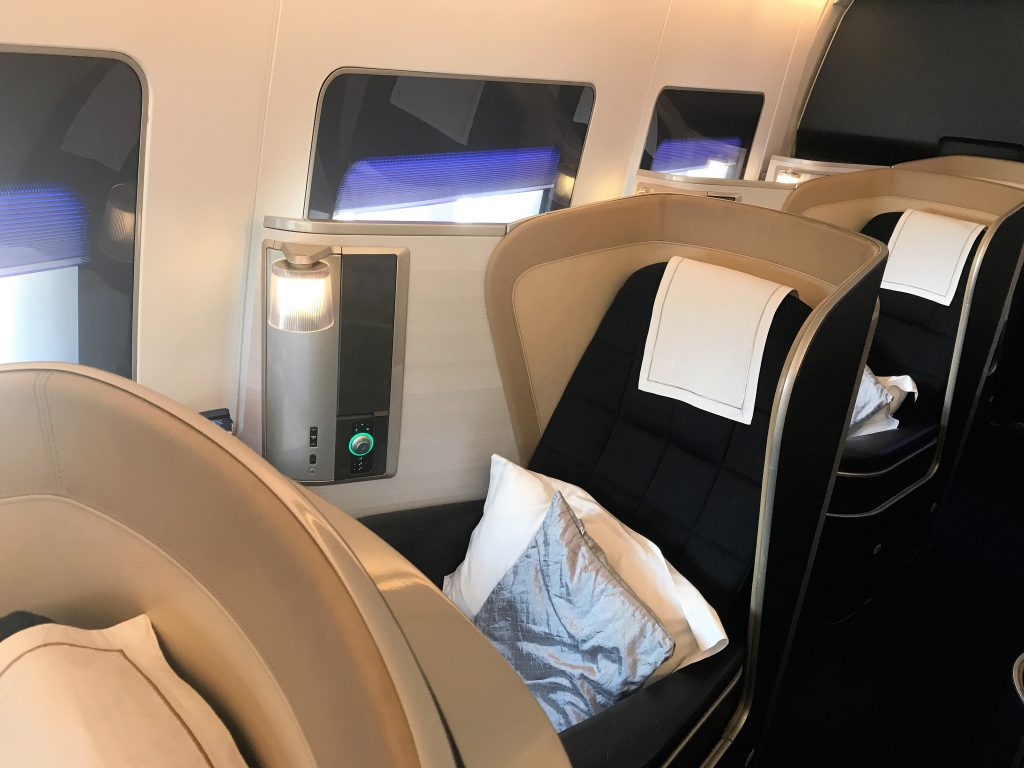 Another great flight I made this year coincidentally was also with British Airways when I was returning from Malta to Gatwick airport. It was an approximately three-hour flight in business class on an A320. The big difference was the crew who did an excellent job. Club Europe was full and the two cabin crew worked endlessly but yet they never stopped being friendly and interacting with the passengers. As you can see, the two flights above have in common the service. Good service on board is already halfway to ensuring passenger satisfaction. Do not you agree?
Best Hotels
The two hotels that most marked my travels in 2018 were the Kimpton De Witt in Amsterdam and the Belmond Falls. Both impressed me with the quality of the service and the attention to detail. This was the first time I had stayed in a Kimpton De Witt and although I had heard of the Kimpton, I still was not sure what to expect. I already knew the hotel when it still operated as Crowne Plaza and was curious to see what had changed. The experience was very good and when I next return to Amsterdam I already know exactly where I will stay. The friendliness of the staff, incidentally something common to the Dutch, and the hotel itself were the highlights.
The Belmond Falls by Iguacu Falls was a great surprise – see my review here. Sit in the hotel bar at the end of the day to enjoy the sunset with the falls in the background and with luck, seeing some toucans flying near the hotel is a unique experience.
I've visited a couple of new places this year as well as revisiting several old favourites. The highlight has been my trip to St Lucia for my 'special ' birthday. We stayed at the newly opened 'Serenity at Coconut Bay'. All I can say is WOW. I've previously written a review which shares proper details! This trip unfortunately also included my only 'low light' of the year. As it was a special occasion we decided to fly BA First Class to St Lucia. I have never travelled on such a filthy aircraft which didn't get things off to a great start but my week at Serenity made up for it. Other trips were to the Dominican Republic and Jamaica staying in probably the best Caribbean all inclusive resorts I have ever visited – I'll review these in the New Year. We've recently returned from Mauritius where we were able to 'walk with lions' which despite being terrifying was amazing.
So that is the TLFL teams' travels for 2018. What were your most memorable travels of 2018? Let us know in the comments below or on social media! Have a great New Years Eve and see you in 2019 with a new look for TLFL from midnight tonight.