Now that the Stay at home order has lifted, if you are interested in hotel status and finding it hard working from home, this next article could be of interest. Hotels are currently closed to leisure travel until 17 May (if they have a shared lift/stairs but a shared bathroom on a campsite, or reception area for self-contained accommodation is fine!!). However, hotels are open for business customers and that includes hotel day rooms for use as offices. Quite a few of the hotel chains are offering status and points on these cheaper stays, so this could be a good way to get piece and quiet for work, as well as gaining some points towards getting status.
It's unlikely that hotel status will be extended again as hotels are open in the major markets like the US and Asia. The U.K. is a bit of an anomaly. But 2021 is actually a good year to earn status with a hotel as most have cut their requirement by around half and/or carried over nights from 2020.
It's always worth comparing how much the room overnight would cost versus the hourly or daily rate. The only issue with this is what time you would be able to access the room.
If you just want a room for working in rather than caring about status, you can read this article.
Hilton
The status offer
Hilton has reduced status qualification requirements by 50% across all tiers, including stays, nights and Base Points in 2021, to allow members to achieve status in half the time. For example, this means to earn Gold status, a member must complete 20 nights, 10 stays or 37,500 Points instead of 40 nights, 20 stays or 75,000 points. And, all 2020 nights will automatically roll over to the 2021 calendar year to help Hilton Honors members upgrade their tier status even faster.
Work from hotel and day rooms
Hilton hotels have a work from hotels scheme called "Workspaces," which is currently only available in U.S. and U.K. hotels. Rates start from around £30-40 for a day room, so this can be a super cheap way to gain status as well as potentially increasing your productivity (I find I work much harder when away from home, particularly if I am paying for office space).
The specially adapted rooms include a bathroom, free standard Wi-Fi, and a comfortable desk and ergonomic chair with a well-lit workplace.
As a Hilton Honors member, you still get your usual perks even with a Workspace booking depending on the exact hotel and what's open:
Hilton Honors Points towards free nights
Hilton Honors Stay Credit
Free WiFi
Free Bottled Water
Executive Lounge Access
In most hotels you would also get access to the pool and gym when they reopen from 12 April.
Before lockdown, I visited a couple of options in central London to get a feel for what you could get if you booked a hotel office at the luxury end of the market. Obviously if you just want a cheap way to earn status, these may not be the most effective options, but they were definitely a lovely way to work for the day!
First I visited the Conrad London St James. This was during my bargain stay in a suite there which you can read my review of here.
Flooded with natural daylight, the hotel's new office spaces feature state-of-the-art technology, including Chromecast with a 42-inch satellite HDTV, international media hub, Bose Sound System, and two desk phones. Keep your energy up with a Nespresso Machine inside the office and take advantage of the lounge area for a break. You can also head to the hotel's private gym for a quick workout during your break.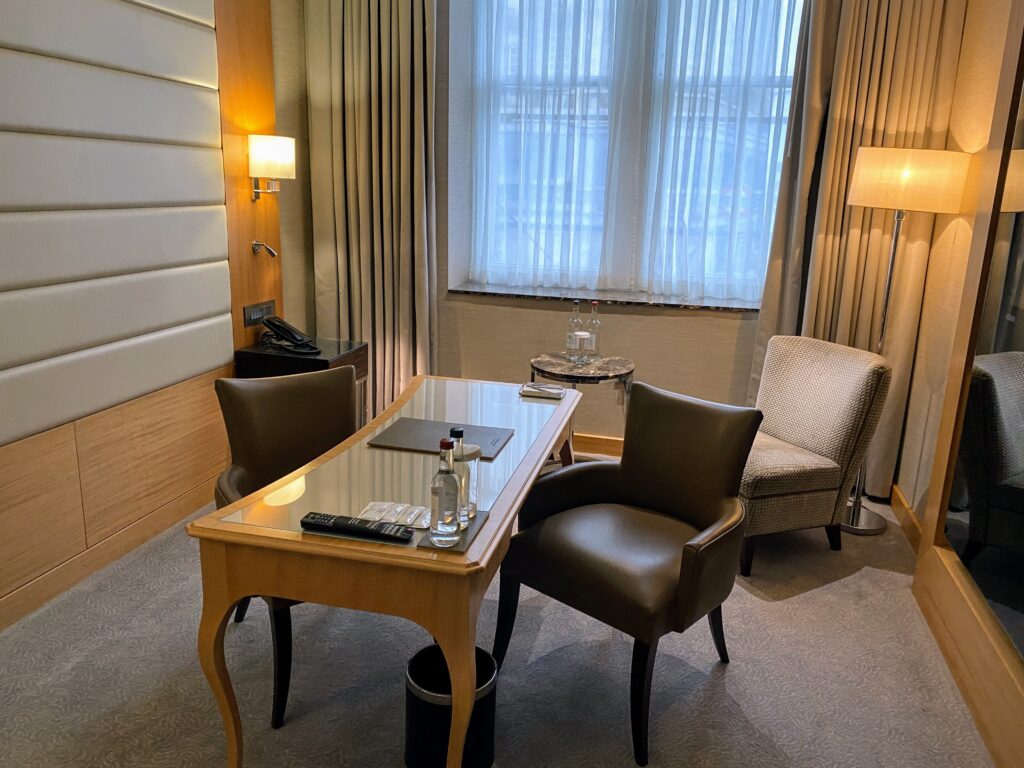 The hotel was very choosy about which rooms they selected for this, making sure only quiet rooms were being offered as workspaces. The room actually had one main desk and then a slightly less user-friendly glass desk, so you could share the room with someone else from your household/bubble. There is a multi media hub so you could hook up a video call to the larger TV screen for example.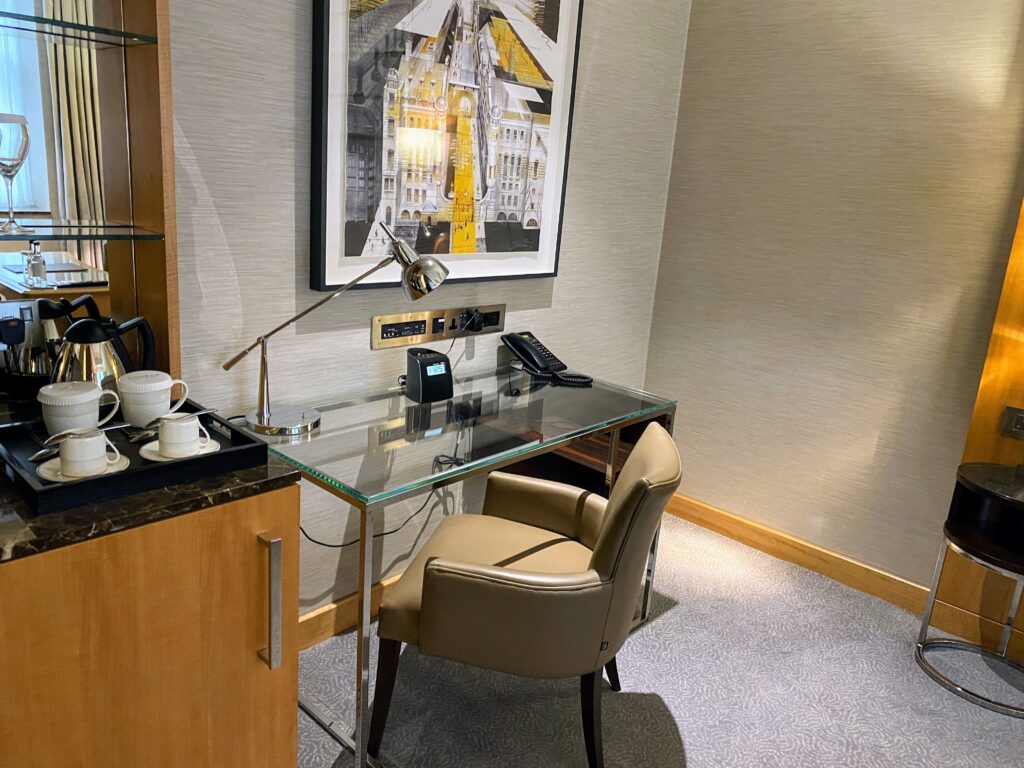 Rooms from £75 per hour or £150 per day versus the night rate of around £230.
I also visited the Hilton Waldorf hotel. Here they have a lovely long stay suite option for 7 days or more, but if you just want to work for a day, here's the type of room you would get.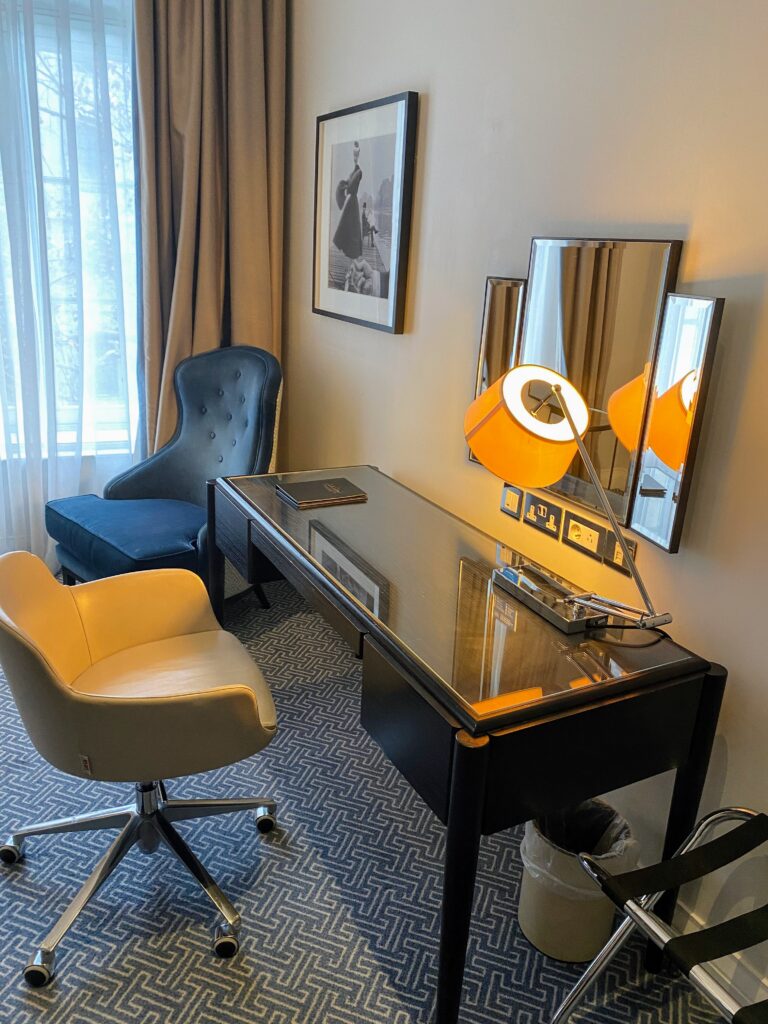 To book, you can look at participating hotels at workspacesbyhilton.com and then call the hotel directly to book a room. If you just want a day room and don't so much about the setup, you can book as usual on the Hilton website by selecting the same check-in and check-out date.
Hyatt
The status offer
For 2021 calendar year, World of Hyatt is reducing its elite status qualifications by 50 percent so members can achieve or requalify for status either by staying half the number of nights or earning half the number of Base Points required in a calendar year.
For example, a member can earn top-tier Globalist status in record time by staying 30 Tier-Qualifying Nights or earning 50,000 Base Points in 2021 and start enjoying exclusive benefits including 30% Bonus on eligible purchases, waived resort fees on eligible rates and free night awards, room upgrades including standard suites available at check-in, Club access or breakfast, Guest of Honor benefits and more.
Reduced 2021 World of Hyatt elite status qualifications include:
Discoverist – Stay five Tier-Qualifying Nights or earn 12,500 Base Points
Explorist – Stay 15 Tier-Qualifying Nights or earn 25,000 Base Points
Globalist – Stay 30 Tier-Qualifying Nights or earn 50,000 Base Points
Work from hotel and day rooms
Here's what you'll get with Hyatt as part of their Office for the Day package:
Standard guestroom from 7 a.m. to 7 p.m. with a workspace and high-floor rooms with a view upon availability plus the option to upgrade
Complimentary high-speed Wi-Fi internet access
50% discount on self- or valet parking
15% food and beverage discount and complimentary bottled water and a selection of coffee and tea in-room
Various in-room wellbeing offerings such as Headspace meditations via the World of Hyatt app, Exhale on Demand on guestroom TVs at participating Hyatt House and Hyatt Place hotels in the U.S. and Headspace meditation and mindfulness exercises on guestroom TVs at more than 200 participating Hyatt hotels
Access to hotel amenities such as the gym and pool, where available
Access to businesses facilities such as printer, scanner and fax machine, where available
Standard World of Hyatt in-hotel benefits including earning points and having Office for the Day stays count toward elite-tier status. The World of Hyatt programme gives members 5 points per dollar spent at most properties and bonus promotions are also eligible.
Ability to use World of Hyatt points to redeem for an Office for the Day package
Flexible cancellation at no charge up to 24 hours before the scheduled arrival
In London, Hyatt's two most luxurious properties for working would be the conveniently situated Hyatt Regency London – The Churchill
(read my review here
) or the new
Great Scotland Yard
(review coming soon).
To book visit hyatt.com and use Special Offer Code OFFICE or use this special Hyatt Office For The Day webpage.
Marriott
The status offer
Marriott gave all elite members half the needed stays to requalify which were posted to their account in February. For those trying to gain status, there is a promotion that gives you double elite night credits or points but you need to stay two nights which doesn't really help with a work from hotel day package:
Register now, then earn on stays from February 16 through April 27, 2021. Registration ends April 13, 2021.
Earn double points and double Elite Night Credits on each stay of two or more nights — with no earning limits.
Work from hotel and day rooms
Marriott run a day pass scheme called "Work Anywhere" designed for work as well as a stay pass if you wanted to stay the night in the hotel as well as have an office for the day.
Day Pass Benefits:
6am check-in / 6pm check-out (12 hours inclusive)
Guest room including functional desk, private bathroom and exposure to natural light
Enhanced connectivity with premium Wi-Fi and ample power outlets
Complimentary bottled water
Full use of on-property business facilities such as printing, fax and scanning equipment*
You'll earn 10 points per US$1 spent on eligible hotel charges, except at Element®, Residence Inn® and TownePlace Suites® hotels, where you'll earn five points per eligible US$1.
*Where available. Property amenities vary by hotel brand and location. Please confirm with property staff all available facilities at your chosen location. Find out more here.
You can choose from an Individual Room, an Individual Suite which features extra space to stretch your legs, or a Team Suite where you and your colleagues can collaborate and work safely together. Each workspace has reliable Wi-Fi and easy to access power outlets that allow you to maximize your productivity and make the most out of your workday.
In London, you have the Sheraton Grand London Park Lane at the luxury end from £139 per day (review here) to the more reasonably priced Aloft London Excel from £59 per day.
Here is the page for London hotels offering the day pass.