As well as redeeming Avios for flights and upgrades, it's also possible to use your Avios to redeem for a range of other travel-related items. These include spending BA Avios miles on hotels, car hire, and experiences such as tours. You can also spend Avios on alcohol, including the opportunity to spend Avios on wine from 9,900 Avios for six bottles or 6,200 Avios for a bottle of Old Harry Whisky.
I would not generally recommend these unless you are Avios rich, as they generally offer poorer value for Avios. However, my view is that it is OK to redeem for anything that you really want as long as you are aware there are better value redemptions.
Some options to consider may be lounge access or onboard food and drink in the short-haul economy. You can find all the ways to BA spend Avios other than flights on this BA page.
Whether you're not planning to fly or you've already paid in cash, you may be wondering, 'Where can I spend Avios Points on things other than flights?' You can spend Avios on holidays and even wine. Here's everything you need to know.
Using Avios to Buy Food on Board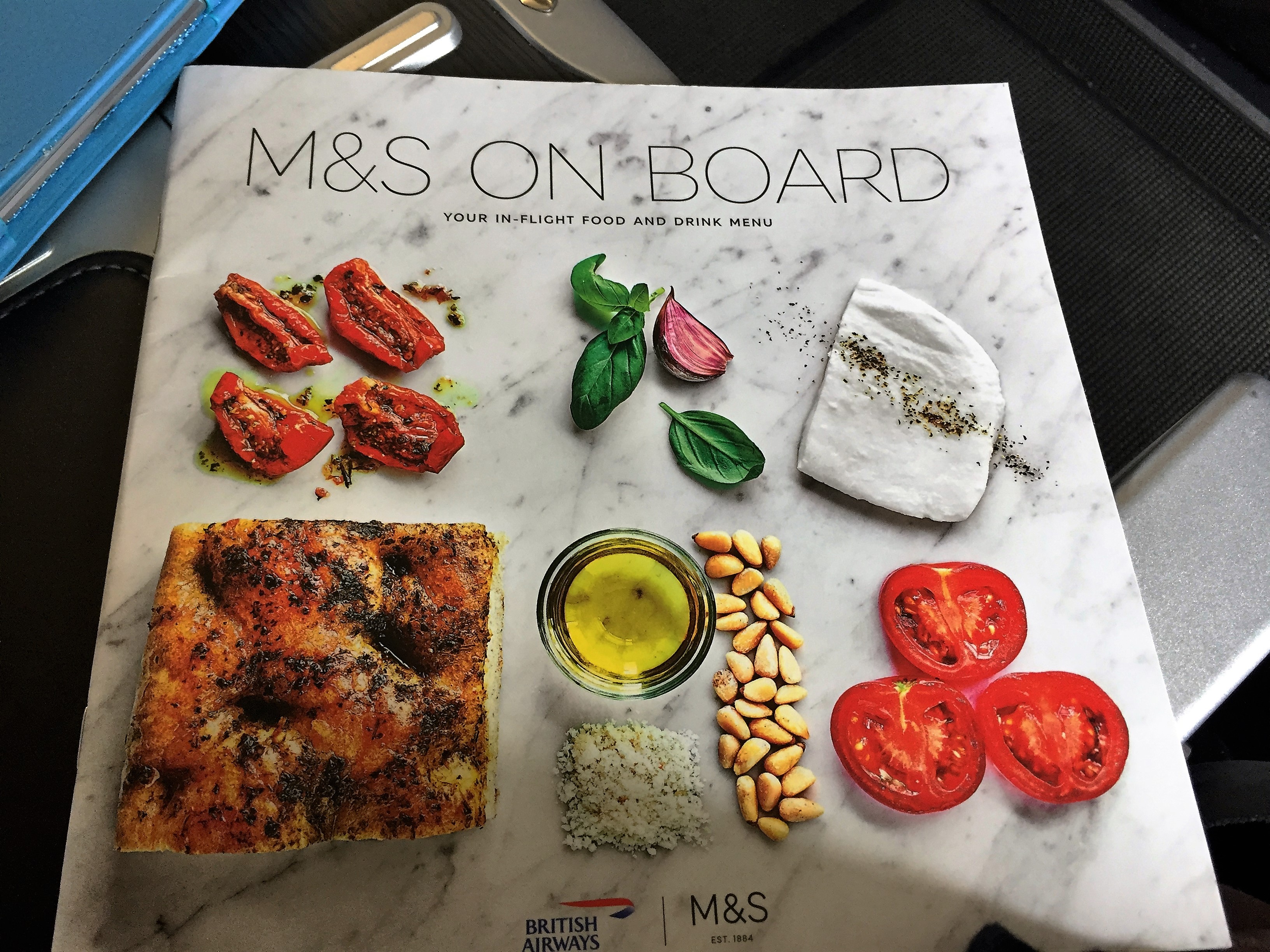 If you are an Executive Club Member, you can pay for buy on board using Avios via the British Airways app. You can also pay with your Executive Club card if you are a Bronze, Silver or Gold Member.
Make sure you update your British Airways app before travelling and log into the app before putting your phone on flight-safe mode so your Avios balance can be displayed.
Here are some example prices for spending Avios on food and drink at the Speedbird Cafe:
Tom Kerridge – Ham Hock and Smoked Cheddar Sandwich – £4.20 (600 Avios)
Tom Kerridge Mediterranean Chickpea Flatbread – £4.20 (630 Avios)
Tom Kerridge West Country Cheddar Ploughman's Sandwich – £4.20 (600 Avios)
Tom Kerridge Chicken, Bacon, Celery Brioche Sandwich – £4.50 (645 Avios)
Tom Kerridge Steak & Ale Pie – £4.50 (645 Avios) (read review here)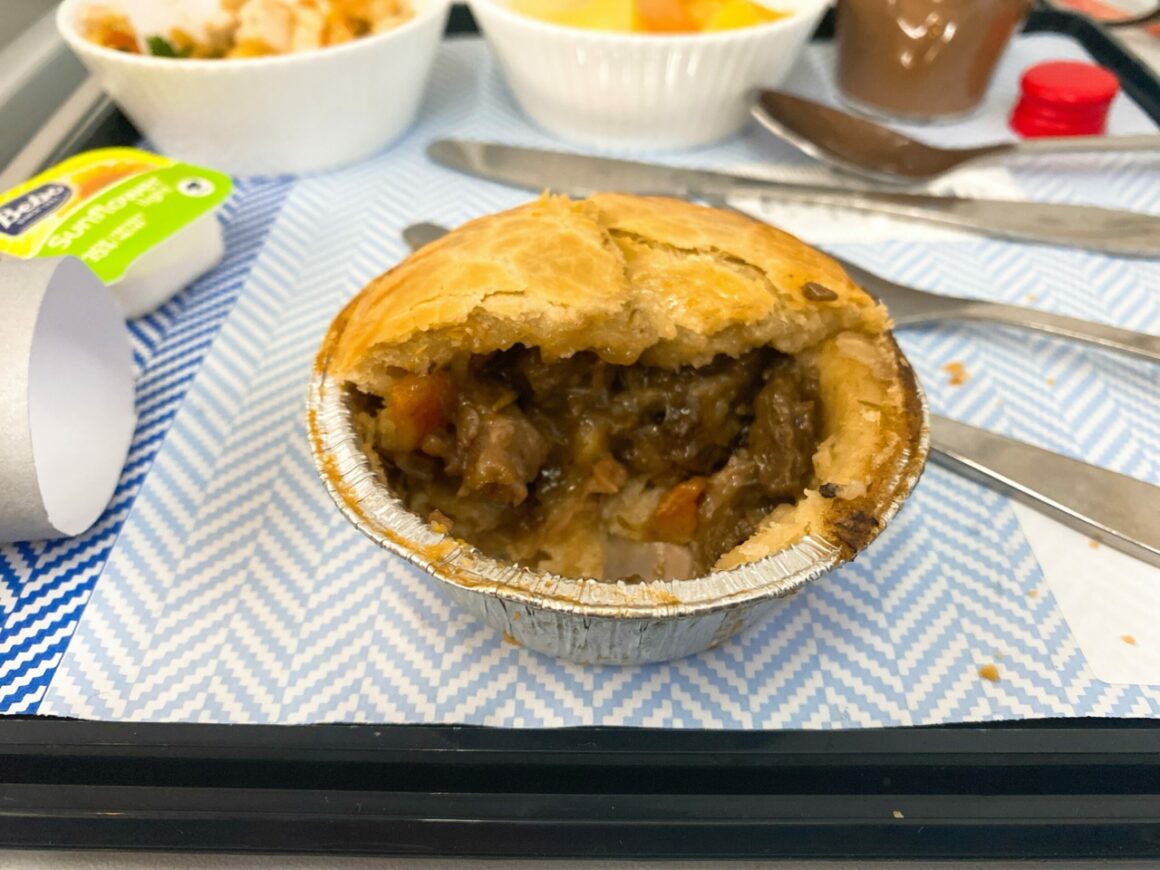 Afternoon Tea Box Sultana Scone, Clotted Cream and Strawberry Preserve – £4.95 (710 Avios)
Pullin's No.13 Shortbread – £2.60 (230 Avios)
Haribo Starmix 250g – £3.25 (465 Avios)
CRU Kafe Fresh Roasted Organic Coffee – £2.80 (400 Avios)
Cadbury Hot Chocolate – 280 (400 Avios)
Twinings English Breakfast – 280 (400 Avios)
Harrogate Still Spring Water 500ml – £2 (290 Avios)
Coca-Cola Classic 330ml – £2.30 (330 Avios)
The Uncommon Wine of England `Gerald` Bubbly White Wine 250ml – £8 (1145 Avios)
Freixenet Italian Prosecco DOC 200ml – £6.50 (930 Avios)
Pannier Brut NV Champagne 375ml – £17 (2430 Avios)
Kloof en Berg Sauvignon Blanc 187ml – £6 (830 Avios)
Viña San Juan Spanish Merlot-Syrah-Tempranillo Wine 187ml – £6 (860 Avios)
Grey Goose L'Original Vodka 50ml – £6 (860 Avios)
Johnnie Walker Red Whisky 50ml – £5 (715 Avios)
St. Remy Xo Brandy 50ml – £4.50 (645 Avios)
Spend Avios Points on Hotels
Avios can be redeemed for thousands of hotels worldwide, saving you money on your trip even if you already have your flights. There are always plenty of Avios Hotel deals, so take a look and grab a bargain!
Here's what I found when looking for a one-night stay on 17th October 2022: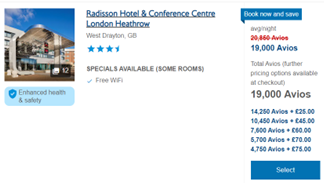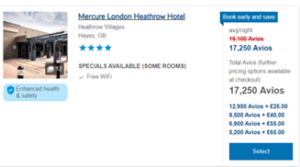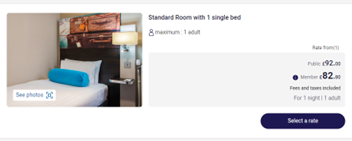 Spend Avios Points on Car Rental
Use Avios with Avis and Budget car rental available at thousands of airports worldwide. A vast range of pick-up and drop-off locations and executive club members benefit from a free additional driver with Avis.
Please note that you must be at least 23 to redeem Avios on car rental, and the service isn't available to members from certain countries.
Here's what I found when searching for a car rental on 17th-22nd October 2022: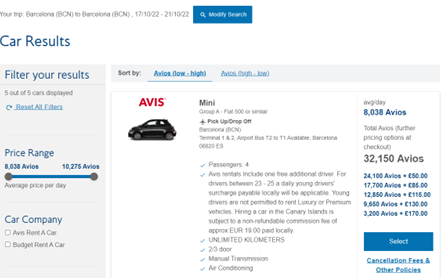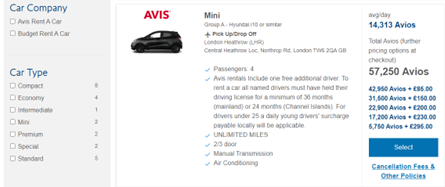 You can redeem points with a mixture of cash and Avios points, just like flights.
Spend British Airways Avios Points on Activities and Experiences
BA offers the chance to buy with Avios on experiences around the UK, including attractions, spa days, theme park tickets, and Disneyland Paris tickets. Find out whether BA experiences are of good value in this post.
A quick search revealed the option to book a Colosseum tour in Rome for 4,950 Avios and a Park Guell and La Sagrada Familia Guided Tour for 14,500 Avios.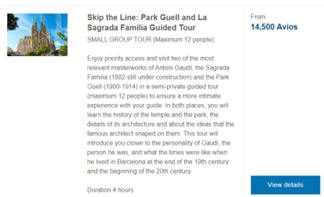 Nectar Points
In 2021, Nectar partnered with Avios, allowing Executive Club members to transfer Avios Points into Nectar points and vice versa.
Each Avios point is worth 0.08p when transferred into Nectar points. That means that if you have 1000 Avios points, you're sitting on 1,600 Nectar points, and if you have 10,000 Avios, you're sitting on 16,000 Nectar points. The points can be spent at Sainsbury's, Argos, eBay UK, and more!
Spending Avios on Gift Vouchers
To spend Avios points on gift vouchers, you'll need to transfer your points into Nectar Points, where your points can be redeemed for gift cards. Gift cards are available for things such as The Eurostar, The Daily Mail, Cafe Nero, eBay, Argos and Sainsbury's.
Donation Campaigns
Whether you have many Avios you don't know what to do with or want to use your balance (or some of it) to make a charitable donation, now you can.
BA runs regular appeals where members can donate to Avios. A recent example is the NHS appeal which has now finished.
However, you can also donate Avios to charity by transferring your points into Nectar Points. The charities you can donate to depend on the time of year, but currently, you can donate to Comic Relief.
Customers can also donate a minimum of 125 Avios points to any charity in the BA Better World programme. You can donate here: https://bacommunityfund.co.uk/avios BA are also matching donations currently.
Transferring Avios to Someone Else
Whether you want to gift some of your balance or you know someone that needs some extra Avios to have the trip of a lifetime, you can transfer Avios to someone else. You can donate a minimum of 1,000 Avios and a maximum of 200,000 Avios every calendar year. To gift Avios, you must have collected or redeemed Avios in the past 36 months.
How to Transfer Avios
Log in to your Executive Club account and enter the details of the person you wish to send to. You can also leave a personal message for the person.
Cost
You have to pay to transfer Avios to someone unless you are a Gold or GGL cardholder. The transfers now cost a flat fee of £15 or $20/€20. This is a huge improvement even on transferring small amounts versus the variable fees previously that started at £25.
Spend Avios on Wine and Champagne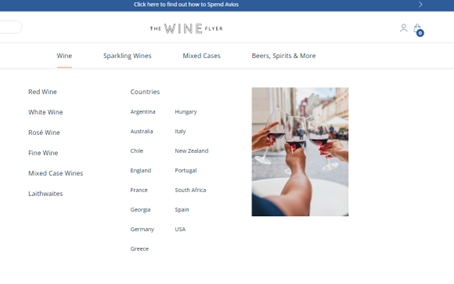 You can also spend some of your Avios points through the BA executive club on wine, champagne, and spirits via 'The Wine Flyer'.
If you order through BA.com, you can get free wine from the world's best wine producers delivered straight to your home or office. However, from 30th September 2022, you can no longer use Avios to buy Laithwaites wines.
The minimum amount of Avios needed to buy alcohol through the BA executive club is 6,500, but you can also make a part payment which starts at 1,000 Avios. To order alcohol from the Avios store, you must live in the UK and be over 18.
Current Prices Include:
The Explorer Selection Twelve (6 wines from Georgia, Hungary, Patagonia, California, Portugal and Australia) – £179.98 or £10.98 +17,100 Avios.
Old World Classics Selection Six (the best of Italy, France and Spain) – £94.99 or £6.49 +15,185 Avios.
Prosecco Selection Twelve (Veneto, Italy) – £169.98 or £8.48 +20,190 Avios.
Altitude Alpine Strawberry Pink Gin – £35 or 5,125 Avios
How to Spend Avios Points on Wines
Login to your BA Executive Club account and check your Avios balance.
Choose your wines
Use the spend Avios slider to determine how many Avios you'd like to spend vs cash.
Final Words
Aside from reward flights, there are many ways to spend your Avios balance, though generally, they are worse value than using them for flights with the current high price of flights.
Let us know in the comments below what you'll spend your balance on.