This is part of my Jersey trip series, British Airways Club Europe with afternoon tea. You can find the other articles here:
Heathrow to Jersey in Club Europe plus Jersey arrival experience
Testing times in Jersey – issues with testing requirements
Check-in and lounge
Jersey airport is pretty small and fairly basic. However, it is normally a pleasant experience flying through for exactly those reasons. When I arrived at check-in around one hour prior to departure it was pretty much deserted. As I was flying back as a domestic passenger, there was no requirement for any tests thankfully.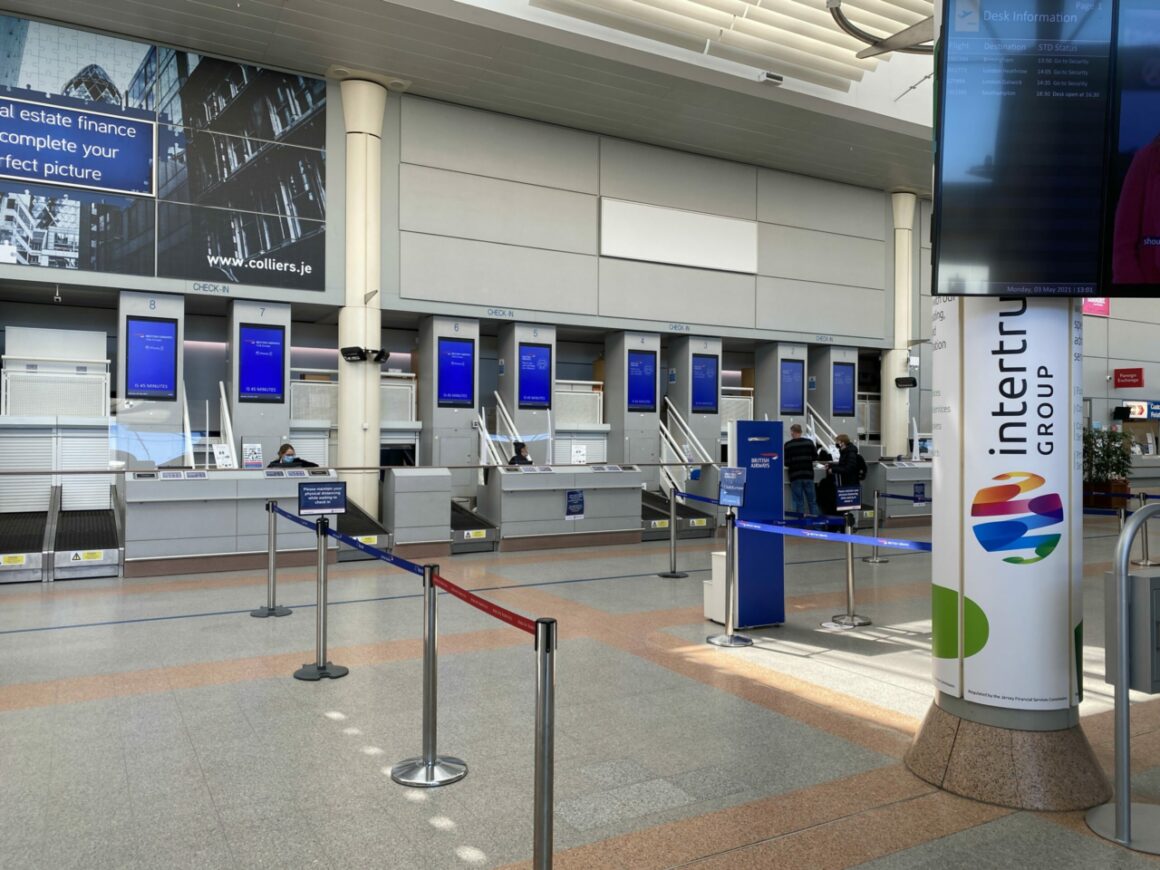 The check-in staff were helpful although they appeared not to know about the free lounge visit that BA had arranged for me as a form of service recovery (nothing to do with TLFL). She did eventually find the invite so I headed off to security. There was little queue there (there's no fast track) and the staff were friendly and helpful.
Once through security, there is a bar/cafe and duty-free with a reasonable selection of local products plus a couple of shops. Only WH Smith was open. I headed to the Executive lounge which was previously free to BA Club Europe passengers and those with status. The Executive Lounge is located next to Gate 2 in the airside passenger pier.
This lounge now requires you to pay £15 to enter as a BA passenger. Hopefully, this is just temporary. If the lounge was closed or it was a BA only lounge with very few visitors, maybe I could understand it. But the lounge is open to Priority Pass, Dragon Pass; Lounge Buddy, and a 'pay on the door' option of £15 per person. So it is simply that BA has decided to stop paying which I think is naughty, since it is an advertised benefit of Club Europe.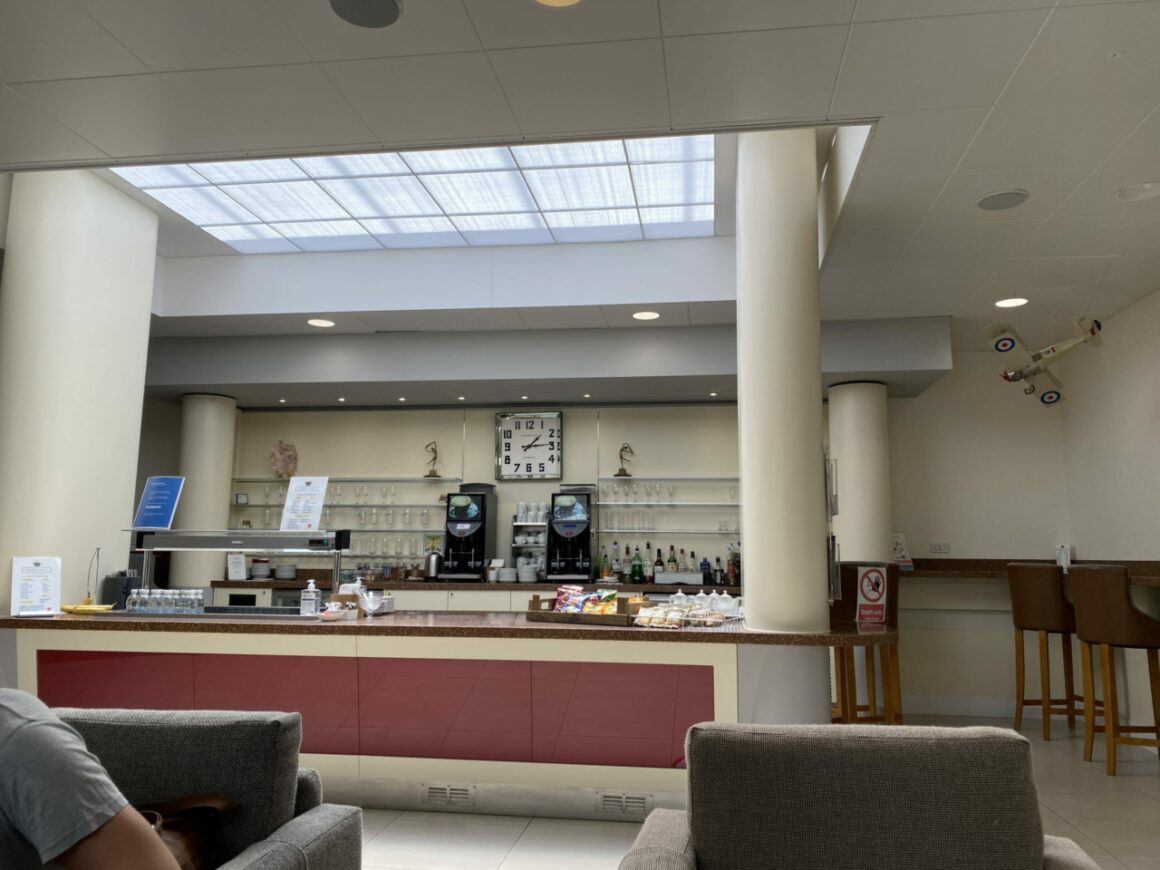 The lounge staff were lovely and apologised for the poor selection of food. To be honest, she wasn't kidding when they said that!
Here is the sum total of the "food" that they had. I know there is Covid, but for £15, is it too much to expect a pre-packed roll or sandwich?
There was however a good selection of drinks but I would not pay for the lounge unless you were going to be there for a long time and could drink your money's worth. As well as the list below, they had a selection of wines and spirits. I went for a Bloody Mary while most of my group went for the Sierra Nevada.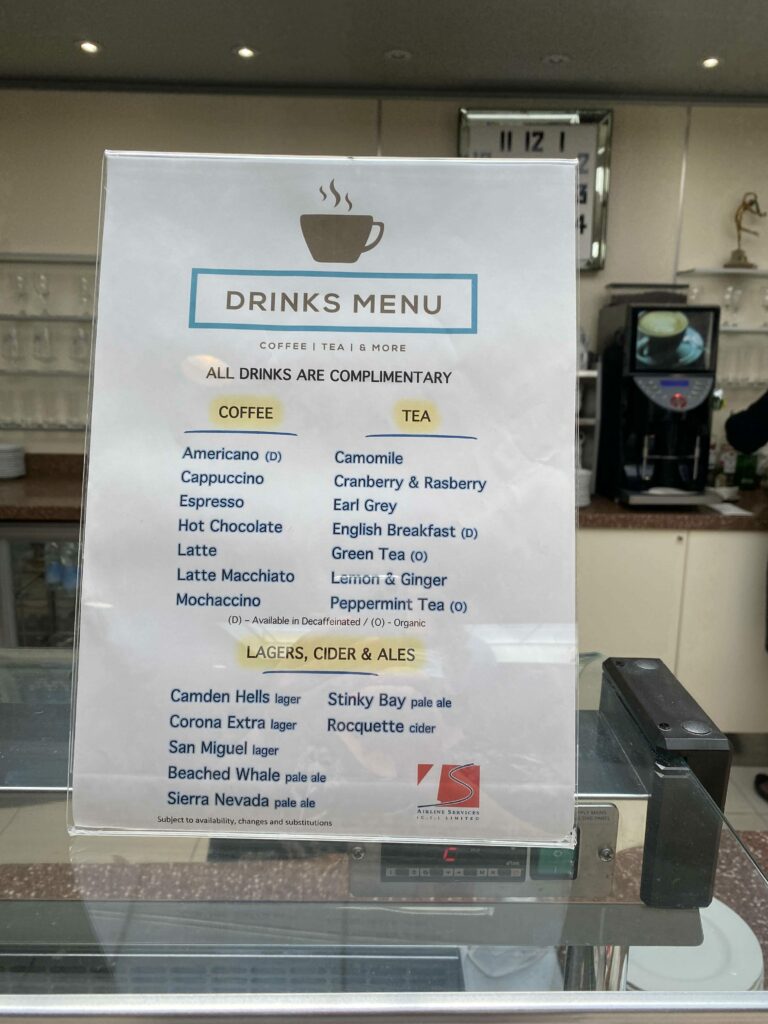 The flight

Boarding was slightly late, but they had the ramp again which I wish all airports would do instead of steps. So much easier with a wheelie case! Boarding was done in row order starting from the back.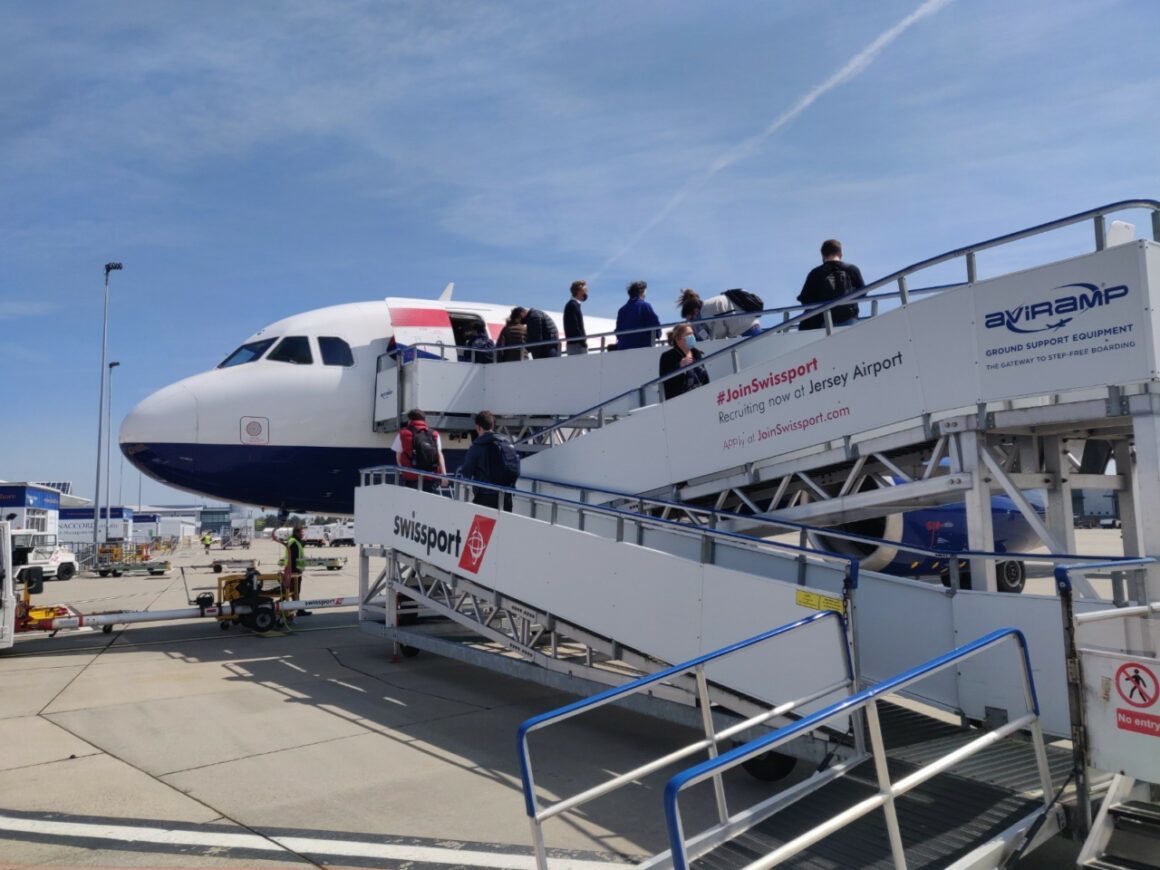 The flight out was OK but nothing special but this time, I had a wonderful flight. It probably helped that I was sitting next to Marek, my friend, and TLFL's sometimes photographer. The cabin crew member serving us, Emma, was also a delight and looked after us extremely well. We were welcomed back on board and the drinks were certainly kept flowing during the short flight!
Unlike the way out, I was given the hygiene pack so I'm not sure if it was just a mistake on the way out. I don't really care about hand gel as I carry my own Aesop one but I do like having a wipe since I used to wipe everything down pre-covid as well! They are supposed to be switching to Detto, branded wipes which may be the issue. It is interesting to note that on both flights, the aircraft appeared very clean.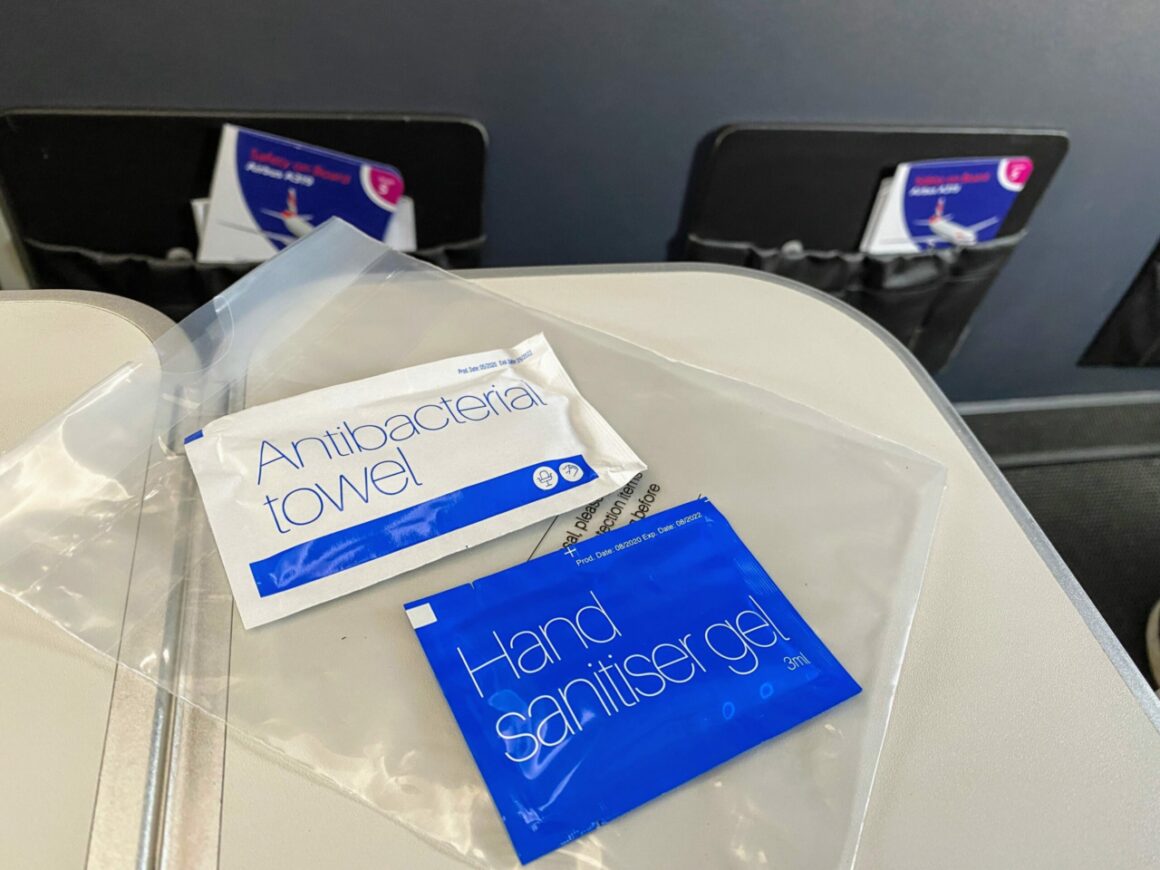 This time we were on a A319 so we had the middle table but no wi-fi or charging points, unlike the A320 neos which all have both. We were in row 1 which has plenty of legroom but not as much locker space.
The service was afternoon tea with a choice of sandwiches. Unlike the previous crew, Emma gave a full rundown of the options rather than just calling them "vegetarian" or meat.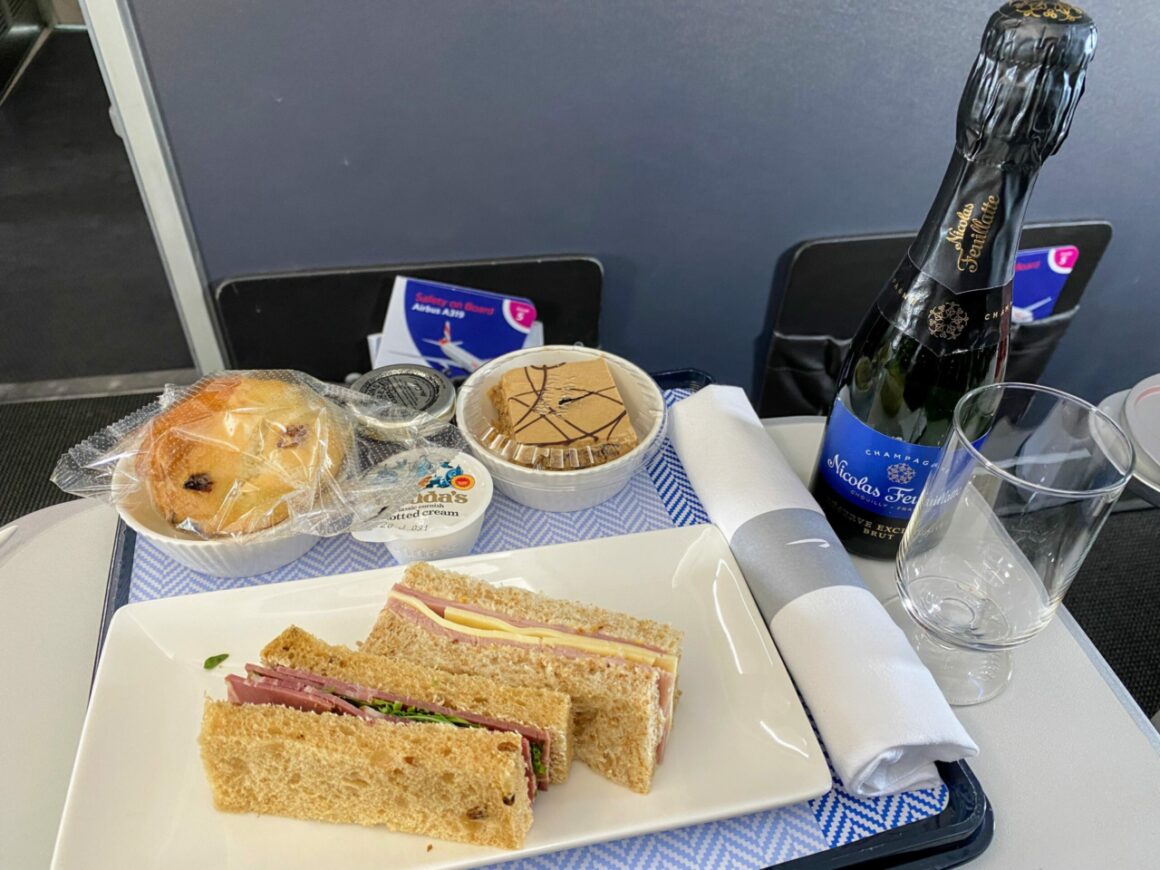 The portions are a little stingy since they took away the third finger sandwich but I don't think I can complain on such a short flight. A choice of drinks were offered. Marek went for his usual G&T but I think the only acceptable drink with afternoon tea, other than tea is of course champagne!
The sandwiches were pastrami and rocket plus cheese and ham. A warm scone on board an aircraft with cream and jam is definitely in my happy zone and this did not disappoint. Appearances can be deceiving and although the scone looked a bit unappealing in its plastic wrapper it was just as good as before. It was a fruit scone and had been warmed. As usual, it was light and fluffy and also appeared a little bigger than before. In case I was still hungry I was offered a second scone if I wanted. I am not normally a fan of the cakes served as I don't have a particularly sweet tooth. However, having tried a bite of the coffee cake for the review, I ended up finishing it as it was very good. It was light and not overly sweet either with a good coffee flavour.
Top-ups of drinks were brought without having to ask, including a plastic glass for landing so it was safe to finish our drinks. All this was the sign of an outstanding crew and led Marek to give Emma a Golden Ticket since he had remembered his. Everyone seemed to be wearing their mask properly and there were no issues on board with this.
We were asked to leave strictly by row number and remain seated until then. Being in row 1, we were off quickly.
Arrival
As Jersey is a domestic destination, I didn't need to worry about immigration queues. However, the luggage was a bit of a disaster. As usual, the fact that it had a priority tag on was completely pointless. Nearly all the luggage had come out and there were three of us left standing dejectedly by the belt which stopped completely. I normally use a luggage tracker Apple airtag review coming for my next trip) but hadn't bothered for Jersey. I was at the point where I was about to give up and go to the customer service desk as we had been waiting for around 20 minutes at this point with the belt having stopped for around 5 minutes. Fortunately, the sound of the belt warning gave me fresh hope and a few minutes later my case finally appeared!
So what is it like travelling again?
I was lucky enough to have travelled last autumn so I knew pretty much what to expect. I did not feel unsafe at any point and people generally respected social distancing. The aircraft was clean and everything well organised at both ends apart from the luggage. I have had both vaccinations so I am probably less worried than some people may be. I have a good mask- u-mask which comes with a 5 layer virus and bacteria-killing fabric which makes me feel protected. This is very comfortable although it does need some adjusting if you raise it to take a sip of drink.
This was only a short flight but it was no more hassle than flying pre-Covid days other than having to wear the mask when not eating or drinking.
Like our British Airways Club Europe with afternoon tea – Jersey to Heathrow review – My Jersey trip part 4 review? You can read more flight reviews here.