I had the pleasure of flying with Finnair in business class on a recent trip from Heathrow Terminal 3 to Helsinki. As part of the luxurious experience, I had access to the Cathay Pacific Business Class Lounge, and I have to say, it was one of the best lounges I have ever visited. While there is another lounge reserved for first-class passengers or OneWorld Emerald members, I was happy with the standard of the Cathay Pacific lounge. Here is everything you need to know. You can read about the Cathay Pacific First class lounge in this review.
How to Get to the Cathay Pacific Business Lounge
The Cathay Pacific business lounge is located at Heathrow Terminal 3 near gate 11. It was very easy to find compared to some other lounges I have been to. After security, walk through the shopping plaza, following signs to lounge C. There are lots of signs, so it's hard to get lost. Once you reach lounge C, go up in the lift, and you will be in the lounge reception area.
Cathay Pacific Business Lounge Opening Times
The Cathay Pacific business lounge is open from 5:30 until 21:00 OR the last Cathay Pacific service departure on that day.
Who Can Access the Cathay Pacific Lounge?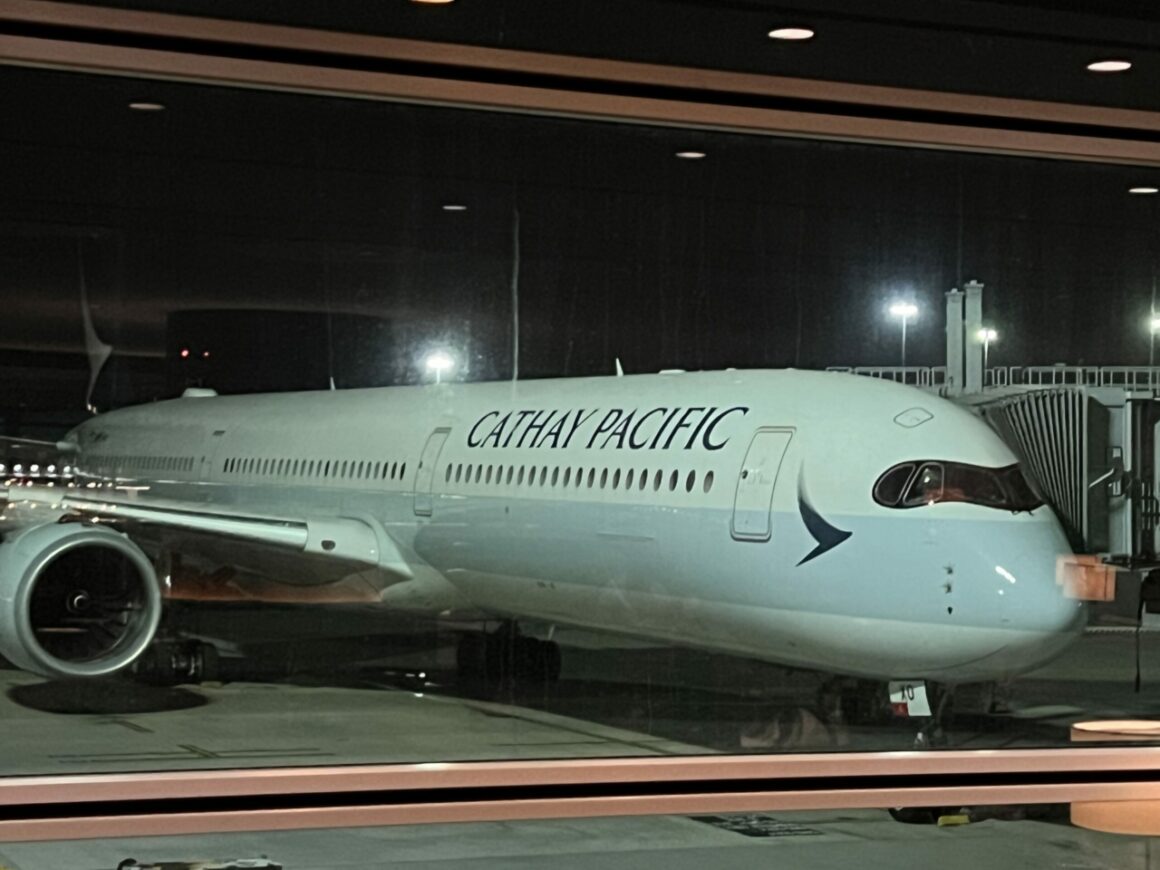 British Airways Executive Club Members with Silver Status or Higher.
Marco Polo Silver status holders are flying with Cathay Pacific.
First Class and Business Class passengers that are flying on Cathay Pacific or OneWorld Airlines. OneWorld airlines frequently flying from Heathrow Terminal 3 include American Airlines, British Airways, Finnair, JAL, LATAM, Qantas, Royal Jordanian & Sri Lankan Airlines.
Cathay Pacific silver, gold and platinum members (the more status you have, the more guests you are allowed).
Green Cathay Pacific members who have purchased a lounge pass. Lounge passes can also be purchased using Asia miles and can be purchased for travel companions too.
Cargo Clan elite members.
The Cathay Pacific Lounge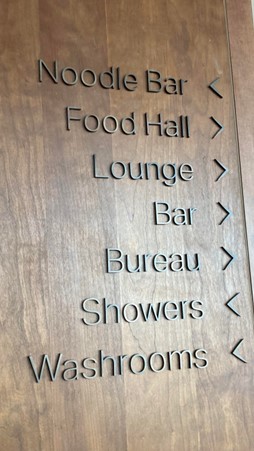 From the moment I set foot in the lounge, I knew I was in for a treat. My eyes were immediately drawn to the floor-to-ceiling views, which were visible from rows of plush, comfortable seats. Despite the early morning hour of 7:00 am, the lounge was incredibly serene, making it the perfect place to relax before my flight. As I made my way towards the entrance, there was a mouth-watering scent of c breakfast.
I was impressed by the layout of the lounge, with the buffet area conveniently located near the entrance and rows of cosy seating overlooking the runway. Additionally, there were group seating options further back. The work area, located in a separate quiet space at the back of the lounge, was ideal for those looking to get some work done before takeoff.
My initial impressions of the lounge are that it looked very comfortable and had great runway views. At 7:00 am, the lounge was very quiet. Despite this, there was an excellent spread of breakfast choices.
Seating
Step into the Cathay Pacific business lounge, and you will be greeted by an abundance of seating options, each more enticing than the last.
Private high-sided booths provide the perfect space for relaxation. If you can't resist the allure of a stunning view, comfortable chairs with floor-to-ceiling windows overlooking the runway are a must-try. If you are travelling with a group, there are spacious seating areas further back.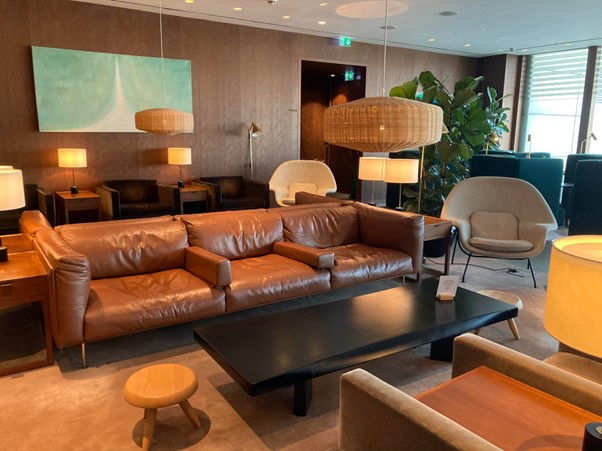 Some seating had useful plug sockets that were easy to reach, and there was wifi information throughout the lounge.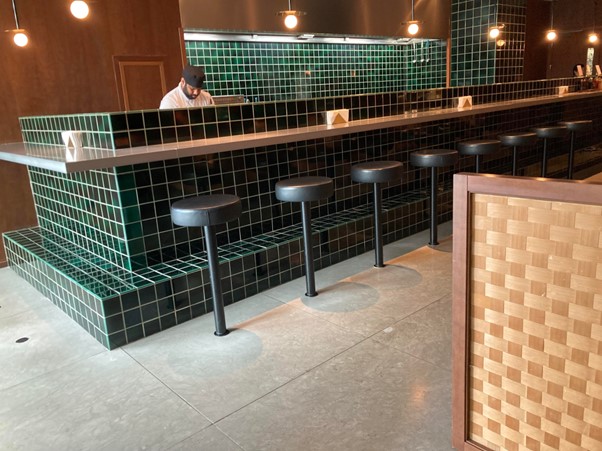 The noodle bar was empty. I am not sure if was open during my visit. There are various Asian and Western dishes which are all cooked to order.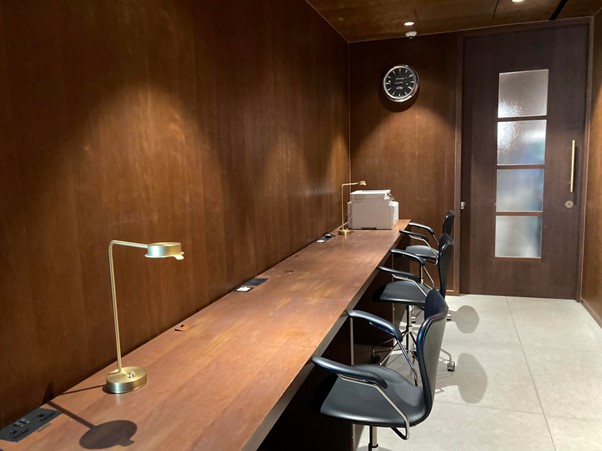 Food
I was very hungry when I arrived at the lounge after an early wakeup, a shuttle from the Renaissance hotel and check-in.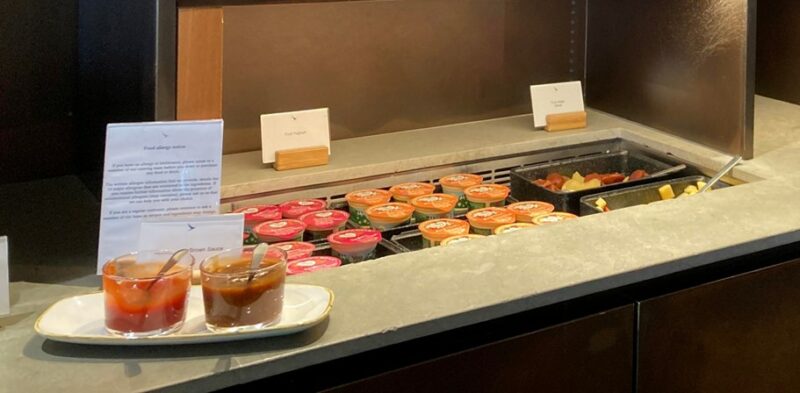 Although the lounge was very quiet, the staff had still gone to great effort to ensure a good selection of food and drinks were offered. Everything available looked very appetising. I opted for a coffee and some of the hot breakfast options. The hash browns were especially delicious. Hot food included full English breakfast options. There were also several salads. There was also a fridge with a good selection of ham and cheese.
Drinks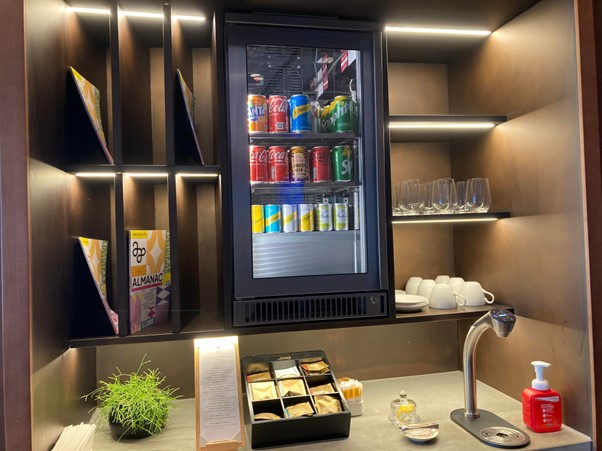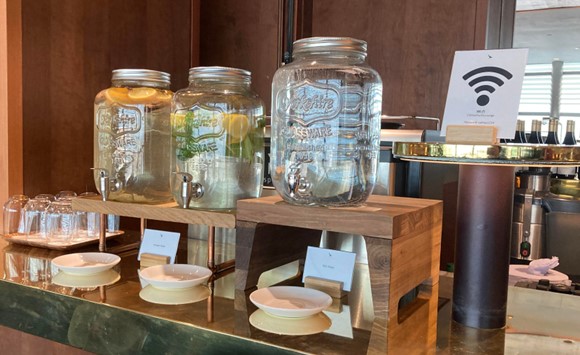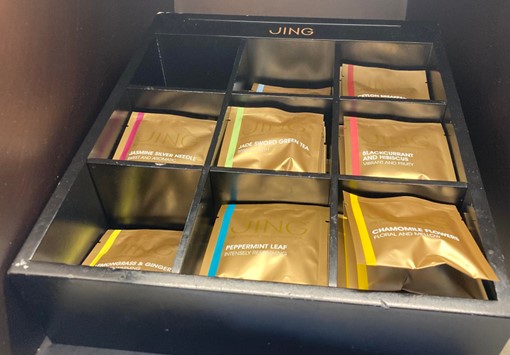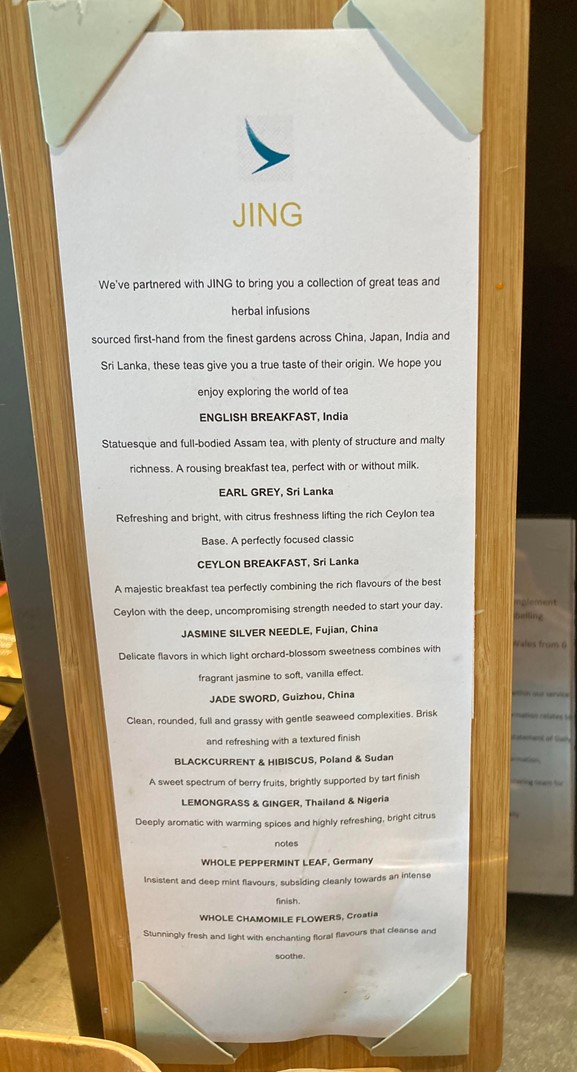 The coffee was also delicious!
Food and Drink at Other Times of Day
Several cocktails are available, including:
Aperol Spritz
Amaretto Sour
Bloody Mary
Martini Cosmopolitan
Daiquiri
Expresso Martini
Margarita
Old-fashioned whisky sour
Mojito
Negroni
Manhattan
Other mocktails, soft drinks and spirits included: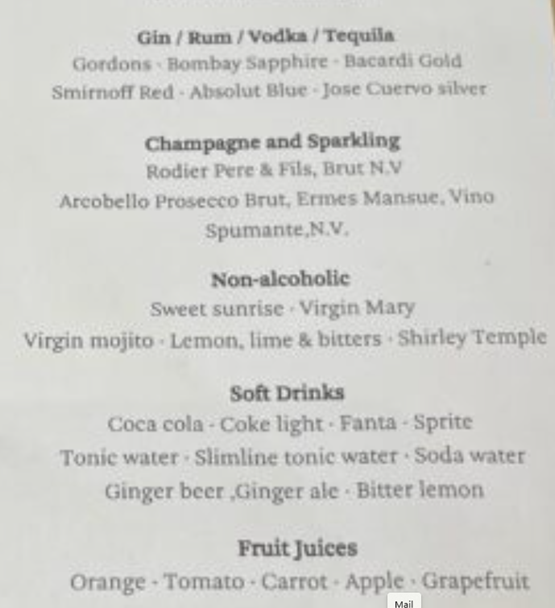 Toilets and Showers
The toilets were very luxurious. Showers are also available. A member of staff was in there cleaning and giving out towels etc. You can enter the shower area by showing your boarding pass to the staff. There were Aesop toiletries available, and the toilets were at a much higher standard than others available outside the lounge.
Other Lounges at Heathrow Terminal 3
Final Words
The Cathay Pacific is one of the best lounges available at Heathrow Terminal 3 and has everything I need to relax and refuel before a flight. Although the lounge was very quiet, a good selection of food was on offer, and it looked like it could cope with being busy without getting overrun. The variety of seating options is suited to all traveller types, whether you are travelling solo, in a group or on a work trip.