With prices for air travel sky high and poor punctuality at Heathrow with BA, is it time to revisit EasyJet?
After travelling by train from London to Switzerland and spending a few days exploring Zurich, Lucerne and the surrounding areas, I flew back to Bristol from Geneva with Easyjet.
Booking with EasyJet
I always find it easy to book flights with Easyjet on the app. This process is even faster if you save your account details on the app and have Apple Pay!
I booked the ticket in June 2022 and paid £37.99 for the flight with no extras. I travelled with hand luggage only on this flight and did not choose my seat. All EasyJet passengers can bring 45 x 36 x 20 cm hand luggage that must fit into the designated EasyJet boxes at check-in and boarding. I have a special bag that maximises what I can bring with me.
If you travel with EasyJet frequently, consider enrolling in EasyJet Plus for an annual fee of £215. By doing so, you will receive front-row seats with extra legroom, fast-track security clearance, dedicated baggage drop-off points, priority boarding, and an additional cabin bag.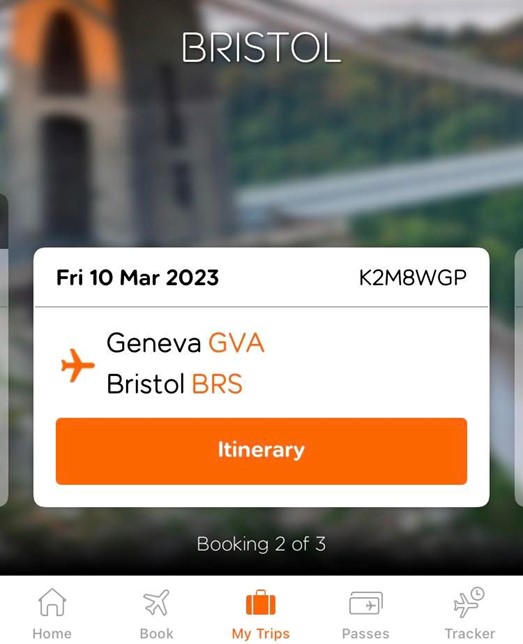 Geneva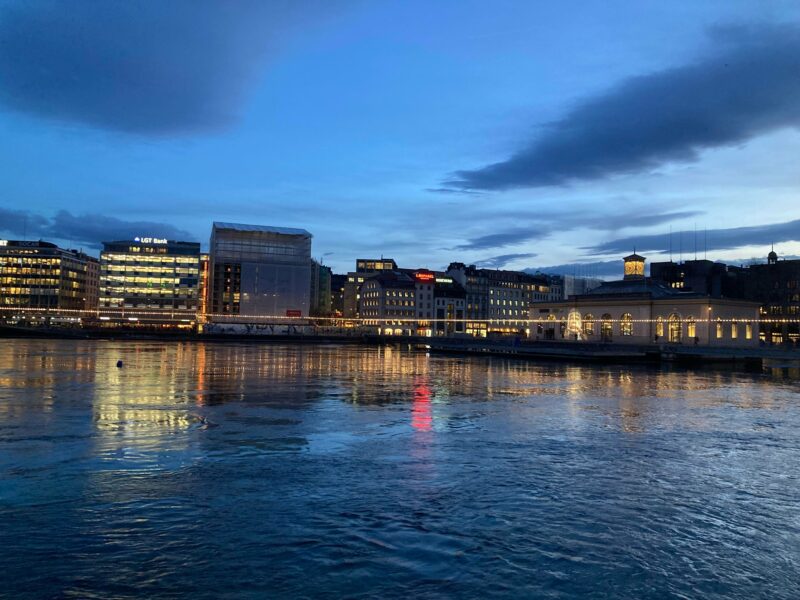 I arrived in Geneva the day before my flight. I had just enough time for a whistlestop tour of the city via the hop-on hop-off bus, where I saw all the major sights. I also went on a lovely evening walk with views of the French Alps. If you're wondering what else you could do in Geneva, you may find this guide on a summer break in Geneva helpful.
If you're considering spending time in Geneva, you may find Michele's review of luxury hotels in Geneva useful. If you're a fan of Hilton Hotels, the Hilton Geneva and Conference Center may be for you.
Geneva City to Geneva Airport
I realised there wasn't much need to stay the night before because many regional trains stopped at Geneva Airport shortly after the city centre. Bus number 10 travels frequently from Geneva city centre to the airport.
Many trains also make this journey, and a train station is right on-site at Geneva Airport. The train I travelled on from Lucerne was also travelling to Geneva Airport. However, many Geneva hotels offer free transport cards, making staying in Geneva even more affordable.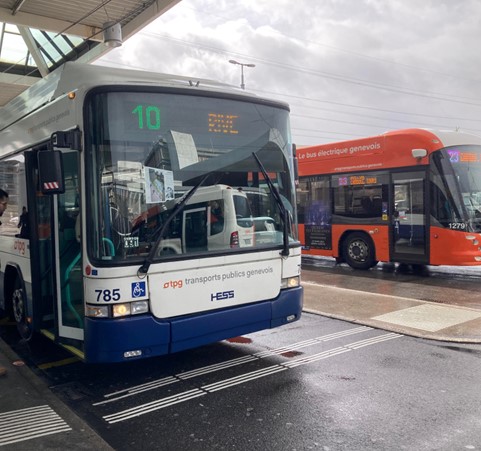 Check-In and Security
On arrival, I headed straight up to security. I had already checked in via the EasyJet app. The security queue was around 15 minutes. My bag was stopped, and I had an additional 15-minute delay due to some nail clippers! This often happens when I travel with just hand luggage.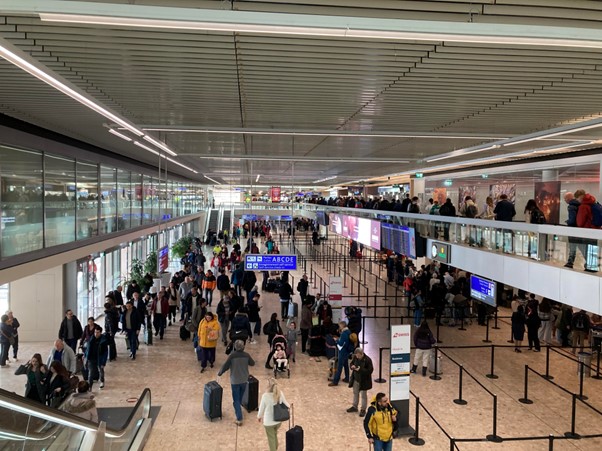 The Delay!
The flight was due to depart Geneva at 14:25 and arrive in Bristol at 15:10. At 14:00. I was looking at the departure board to see what gate the flight had been allocated. The gate allocation was delayed to 15:00, so I looked at the Easyjet app, which said the flight would be delayed until 16:00.
As time passed, this ended up being 18:10 making the delay nearly 4 hours! There was no reason stated for the delay, but upon looking at the apps flight tracker, I could see the flight was still travelling from Paris to Bristol and hadn't even picked up the passengers in Bristol to start flying to Geneva. The app has a handy update system where the airline sends updates, and in my case, apologies.
Spending Time at Geneva Airport
It's actually relatively easy to spend time at Geneva Airport. There are a variety of shops and souvenir shops, ample lounge choices and lots of variety of restaurants, bars and cafes. I ended up spending nearly 7 hours.
Geneva Airport Lounges
My plan had initially been to book a lounge at Geneva Airport. However, with the pace of the trip, I forgot to reserve a lounge 24 hours in advance. I asked at the lounges, and they were either full (even for DragonPass and PriorityPass members), or booking was unavailable.
Here are the lounges available at Geneva Airport:
British Airways Galleries Lounge
Open: 5:45-21:30
Eligibility
People travelling on BA, Iberia or an eligible OneWorld airline who are travelling in Business or First.

Silver and Gold Executive Club Members on scheduled flights operated by British Airways or a Oneworld partner.

Those with Oneworld Sapphire or Emerald Tier status.
Air France KLM Lounge
Open: Varies by day. Click here for updated times.
Eligibility
Those who have purchased an access pass (from £28)

Air France Hippocampe or La Premiere passengers.

KLM business class passengers

Air France Flying Blue Gold, Platinum, and Club 2000 members

Air France Flying Blue Silver and Explorer

International First and Business Class passengers operated by a SkyTeam member airline.

SkyTeam Elite Plus members

Priority Pass members

American Express Platinum Card Holders

DragonPass members
Crystal Lounge by Aspire
Open: 07:00 – 18:00
Eligibility:
Priority Pass Members

DragonPass members

American Express Platinum Card Holders

Those who have purchased entry.

Those who have paid for access (starts at £25 for 3 hours)

Those who have an Aspire and Swissport Lounge Annual Membership (£259)

New Aspire Plus Platinum Annual Membership Card (£399.99)

Certain Elite Credit Cards
SWISS Business Lounge
Open: 6:00-20:30
Eligibility
Business or First class passengers flying with SWISS or a Star Alliance member airline.

SWISS Economy Passengers (39 euros)

Miles & More HON Circle members travelling with SWISS or a Star Alliance Member Airline.

Miles & More Senator members travelling with SWISS or Star Alliance

Miles & More Frequent Traveller members

Star Alliance Members with Gold Status or United Club members flying with Swiss or a Star Alliance Airline

Air Canada Maple Leaf Members travelling with SWISS or a Star Alliance Airline
SWISS First Lounge
Currently Closed
Availability
SWISS First

First Class Lufthansa

HON Circle.
SWISS Senator Lounge
Opening Times: 06:00 – 20:30
First Class SWISS, Lufthansa and Star Alliance

HON Circle

Miles & More Senator

Star Alliance Gold passengers
Swissport Horizon Lounge:
Open: 06:00 – 22:00
Eligibility:
People travelling on Royal Jordanian or Air Maroc, or an eligible OneWorld airline who are travelling in Business or First

Those with OneWorld Sapphire or Emerald

American Express Platinum Card Holders

DragonPass members

Those who have purchased entry (from £30)
Swissport Horizon Business Lounge:
Open: 6:00-21:30
Eligibility:
Business class passengers travelling with Finnair or an eligible OneWorld airline.

Those who hold Sapphire or Emerald Status with OneWorld.
Marhaba Lounge:
Open: 06:00 – 21:00
Eligibility
People travelling on BA, Qatar or Iberia in first or business or an eligible OneWorld airline.

American Express Platinum Card Holders

Those that hold sapphire or Emerald tier.

Priority Pass and DragonPass members

Those who have paid for access

Elite credit card holders
Where to Eat at Geneva Airport
Geneva Airport has many options, but all were relatively crowded during my visit. I opted for the Montreux Jazz cafe in a sectioned-off area.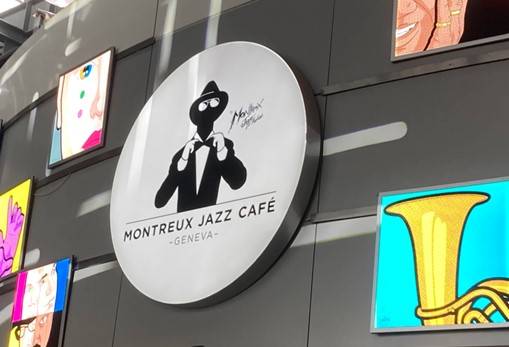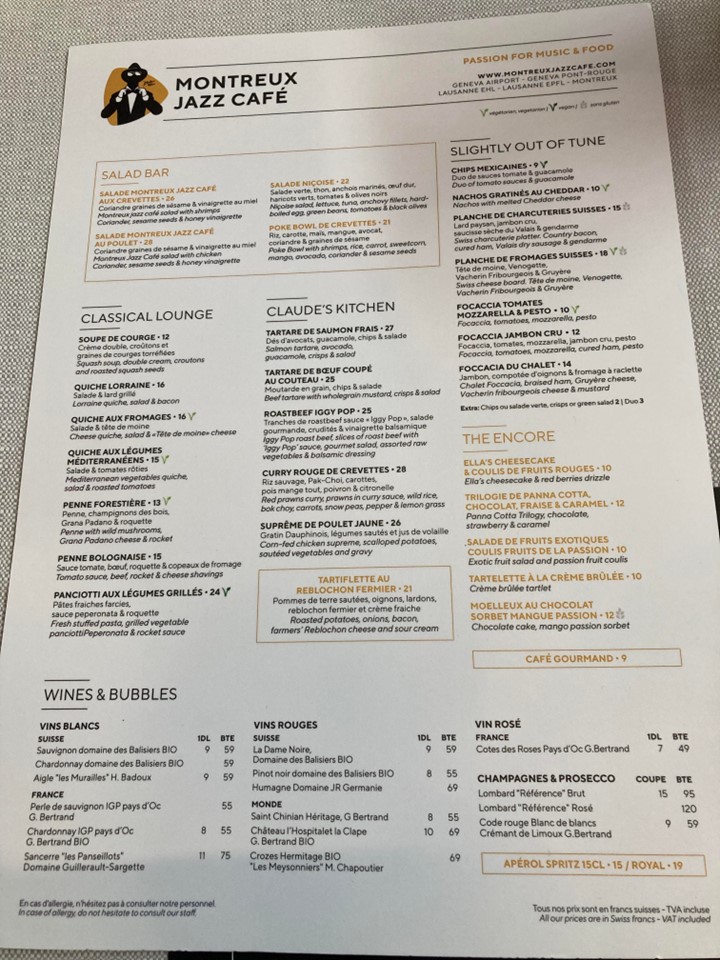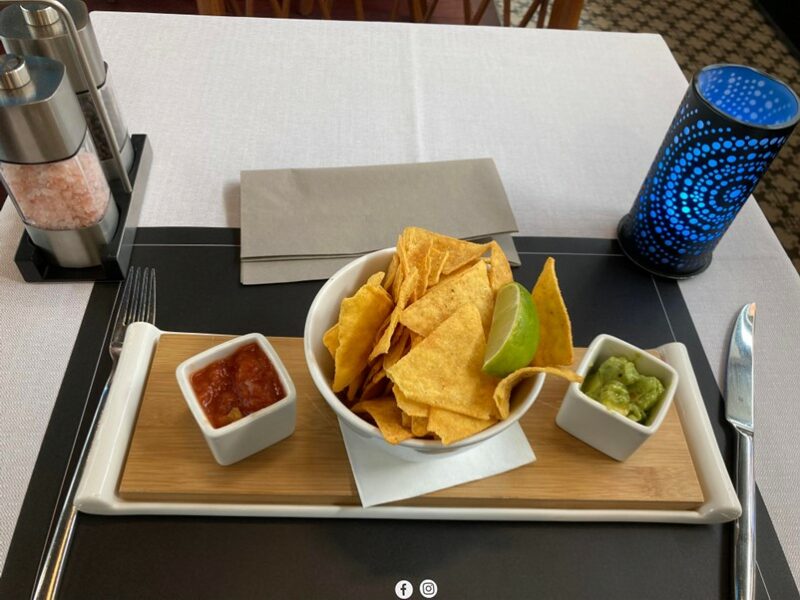 I opted for the chips Mexicaines with dips.

The dessert was wonderfully presented with a range of tropical fruit.

Other Places to Eat at Geneva Airport
After my flight was 2 hours delayed, I read that I was entitled to a food and drink voucher. I headed to the information desk, where there was a large queue of mainly EasyJet passengers from my flight and many other delayed Easyjet flights that day, including one to Birmingham, which was due to leave at 11:30 and still had not left by the time we departed after 6!
I purchased a mozzarella and tomato panini with a lemon drink of 16 Francs. The voucher was for 10 Franc, equivalent to around £8.95. This is more than vouchers given at other airports, but Switzerland's prices are pretty high.

The Flight

When the gate was finally announced, we headed to the departure gate. This was set out nicely, with comfy seating and plenty of charging stations with USB plugs.
I will say that the crew were very understanding. Instead of making the welcome announcement from the flight deck, the captain came out to the front of the aircraft and apologised for the delay, explaining in detail that the delay was due to the ongoing strikes in Paris. The pilot had come in on his day off to ensure we got home.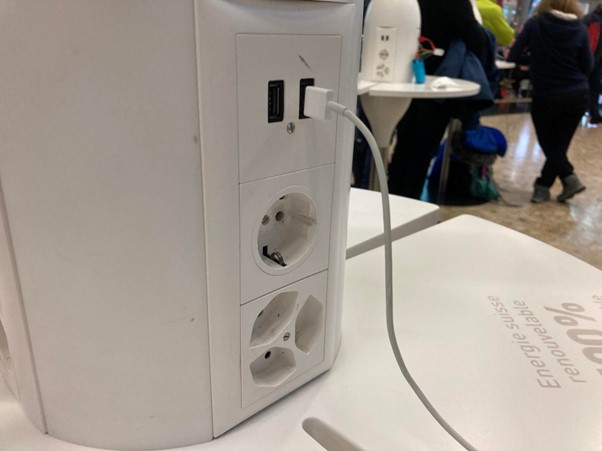 I ended up sitting on an aisle seat with one other person sitting by the window. The middle seat remained free, which was surprising because the flight was very full.
Food and Drink
Two food and drink services were run on a relatively short flight. There was lots of turbulence expected, so the seatbelt sign was on for the duration of the flight. No hot food or drinks were available, but plenty of drink and snack options were available.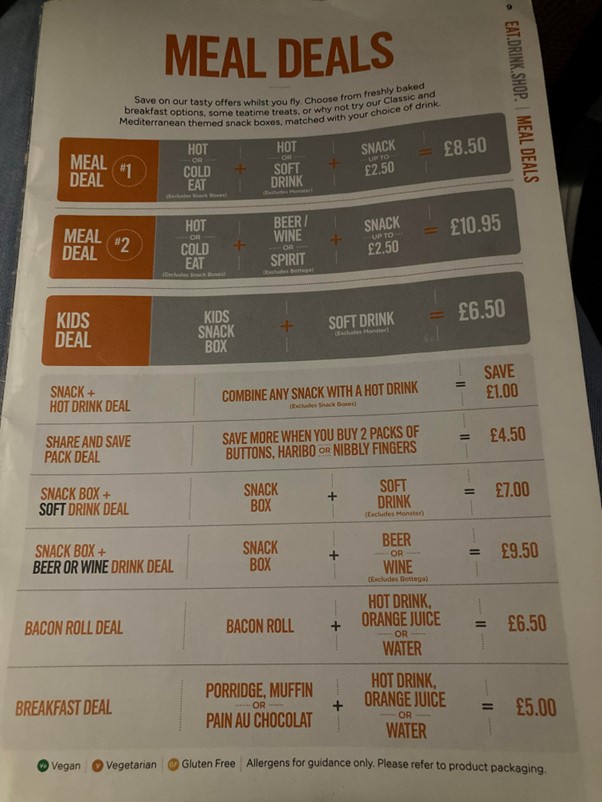 Shopping On-Board

Arrival at Bristol Airport
In previous reviews over the summer, I have had issues with bus availability to take us from the plane to the terminal and luggage delays. However, we were swiftly let off the plane after landing on this flight, and three buses were waiting for us.
After the long walk to baggage claim, I did not have any baggage to pick up, but it hadn't started to come out yet when I left the airport. There has also been a shortage of Bristol Flyer Buses on the other journies.
This also improved, and there was a bus waiting (and not a huge queue) as soon as I left the airport.
Implications of the Delay
On the flight day, I booked an open train ticket for the 4+ hour journey back to Cornwall. I imagined getting a train around 17:00. However, the last train that travelled all the way back to Cornwall was 19:46. When this train left, we were still on the runway!
The open ticket cost £36, but because it was a flexible ticket, I got £26 back by cancelling the ticket. I then found a £31 first-class ticket with GWR for the next day (early Sunday morning).
I stayed at a friend's house and arrived home at 12:30 the next day. This was an odd ticket find as only first class was available despite plenty of seats throughout the train. The price was also lower than other standard-class trains leaving that day.
Final Words
Although the flight was VERY delayed, this was due to the strikes in Paris and not EasyJet. Although, I wonder why so many other EasyJet flights were also delayed! The flight got me from A to B in the end, even though I could not travel home in a day like planned. However, this experience was made much better by the range of things to do at Geneva Airport.
More EasyJet Flight Reviews
Other Flight Options from Geneva