Many people don't realise that if you have status or are flying on a oneworld airline in business or first class, that you can use almost any oneworld lounge, not just that of the airline you are flying on. I thought it would be useful to show some of the lounges available for you to use around the world. The lounges featured are based on ones that we have personally used or been recommended by friends that have used them. They may not all be world-class, but they are the ones I consider the best in the particular airport for oneworld. In part one I will look at Europe and the Middle East.
Do you have a favourite lounge that isn't featured? Add it in the comments below or on social media.
Europe
London Heathrow BA Galleries Club T5 B Gates
I'll be honest and say I am not really a fan of the British Airways Galleries Club lounges at T5 as they are often very busy, but I do like the B gates lounge. It is much quieter, lighter and it has its own spa which is usually easier to get an appointment at. BA would say you need to be flying from B or C gates to use it which is usually all long haul flights. This is because it takes a while to get back from the B gates via the walkway to the A gates.
You can read about all the Club lounges at T5 in this guide:
I had some time to kill on a recent visit to Heathrow, so I attempted to visit the 2 Club lounges and the First lounge in the A gates area. The First lounge review will follow shortly.
London Heathrow British Airways Concorde Room T5
This lounge is only available if you are flying in First on BA or hold a Concorde Room card, which you get after earning 5000 TPs per year. Some people may query this choice as people are sometimes divided by the Concorde Room. While there are a couple of areas that need some serious improvement – the cabanas and toilets – the rest is very good.
Many first class lounges often have mediocre champagne, but BA serve the same as on the aircraft – Laurent Perrier Grand Siecle which retails at over £100 a bottle and is very good. The bar also features some fine wines and a good choice of cocktails. Recently they have added a lot of extras which I have yet to see elsewhere in a First lounge. These include hand-delivered canapes and a sumptuous afternoon tea buffet.
You can read my recent mini-review here and the main review:
As I wrote about previously in this article, British Airways recently unveiled their refurbished Concorde Room at Heathrow's T5. I had seen the pictures but what was it like in the flesh (and did I fit a duck feet lamp into my hand luggage….?)
London Heathrow Cathay Pacific T3 business and first class
The Cathay Pacific first class lounge is probably my favourite lounge at Heathrow apart from the Virgin Atlantic Clubhouse. In the first class area, the dining room has some great choices of both western and Chinese food with table service and an elegant atmosphere.
As the lounge is fairly small, I actually prefer it to the mega lounges in Hong Kong. I find the service is normally very good too. As well as the restaurant there is a small self-service selection of snacks as well.
There is usually a choice of two champagnes, one usually Moet, and some good quality wines and spirits. The bathrooms are luxurious and immaculate, plus they have my favourite Aesop toiletries which smell delicious!
You can read my full review here:
As I mentioned earlier this week, if you are flying on a oneworld airline such a BA from Heathrow's Terminal 3, you have a choice of 3 lounges. The best of these in my opinion is the Cathay Pacific lounge which was refurbished late in 2016.
In the business class side, they have a great bar that features a cocktail of the day along with all the classics.
Champagne is available here too and it also has the famous Noodle Bar. You can order from a range of dishes to be cooked to order – we recommend the Dan-Dan noodles and dim sum selection!
You can read our full review of the business class lounge here:
I recently flew on Finnair's A350 (review here), in business class from Heathrow, which allowed me to use the Cathay Pacific lounge. Last week I reviewed the First Class Cathay Pacific Lounge. Today I will look at the Business class section.
London Heathrow Qantas T3 – business and first class
Qantas is the newest lounge at Heathrow's T3 and it is best visited in the evening for food and drink. During the day it is very quiet so good for working, but the food and drink offerings are not as good. If you are gin lover, then the famous gin bar is open in the evening, although often they will fetch you a specific gin if only the upstairs bar is open. The food in the evening includes food made to order as well as a snack selection downstairs and the small buffet upstairs. Food tends to be fresh and modern – very much like the decor. The showers are also good here as an alternative to the Cathay lounge.
Read the full review here:
Firstly an update, the more keen-eyed and tech minded people may have noticed that the site did not transition to a secure site on Friday as originally planned. It is currently scheduled for Tuesday but I will confirm on Monday whether there will any new posts on Tuesday.
London Heathrow Qatar London lounge T4 – business and first class
From the classy decor to the beautiful restaurant, a visit here is always a pleasure. Sadly you can only use it if you are actually flying with Qatar. Pretty much everything is table service and generally, it is pretty good although on my last visit it was a bit slow.
As well as the restaurant there is a deli section where you can choose from the colourful display of food or order a cocktail from the bar. The food in the restaurant is excellent if a little small on portion size. I really like the classy individual bathrooms with toilets here.
Read the full review here:
I was flying with Qatar from Heathrow for the first time using their own lounge. The last time I flew Qatar it was on an ex EU so I hadn't had a chance to experience their Heathrow lounge before. Having thought highly of the Etihad lounge in November, would the Qatar lounge live up to my high expectations?
Rome British Airways Lounge – business class
This was the first BA lounge to be refurbished in the new more modern style that you can now see at several other airport including New York's JFK. The centrepiece is a marble bar with a barman that will knock you up a mean Aperol Spritz or one of their other cocktails. The food is a buffet of hot and cold choices depending on the time of day. I loved that there were so many sockets around plus the elegant modern feel of the lounge.
You can read my full review here:
BA will soon be retiring the B767s in November this year but I thought for those that have never experienced it or want to reminisce I would include it in this article about the Rome Airport lounge.
Madrid Iberia Velazquez and Dali lounges T4S/T4 – business class
A lot of people aren't that impressed with the Iberia lounge due to the food. The problem with the lounge is that it sticks rigidly to Spanish meal times which I think is not the right idea with lots of international travellers coming from different time zones. Outside the very late mealtimes, there is not much food to choose from. However, I like the choice of drinks and the proper food when it is available tends to be tasty and good quality. They also have a proper restaurant which is open in the evening from 9pm.
The lounges are light and airy with plenty of seating areas – most well equipped with sockets. I also like the great runway and airport views.
You can read my review of the two lounges here:
I have flown Iberia short haul a couple of times, but only ever on their long haul aircraft. Madrid is a good place if you want to try out a long haul seat as both BA and Iberia often use long haul aircraft on the route from London.
There are a number of routes where you can get a much more premium experience on short haul when they are flown on long-haul aircraft. BA consistently use a long haul aircraft for one flight a day from Madrid and this summer they are operating it with a B777.
Paris Charles de Gaulle Cathay Pacific lounge – business class

I think if anything I prefer this to the Heathrow lounge, as it feels a little more modern and light.I particularly love the entrance (see above photo). Like all the other lounges, you can order Noodles and Pho to order plus there is a good selection on the buffet. Champagne and a decent range of wines and spirits are available. I like the seats by the window to sip a glass of bubbles whilst watching the sunset over the airfield.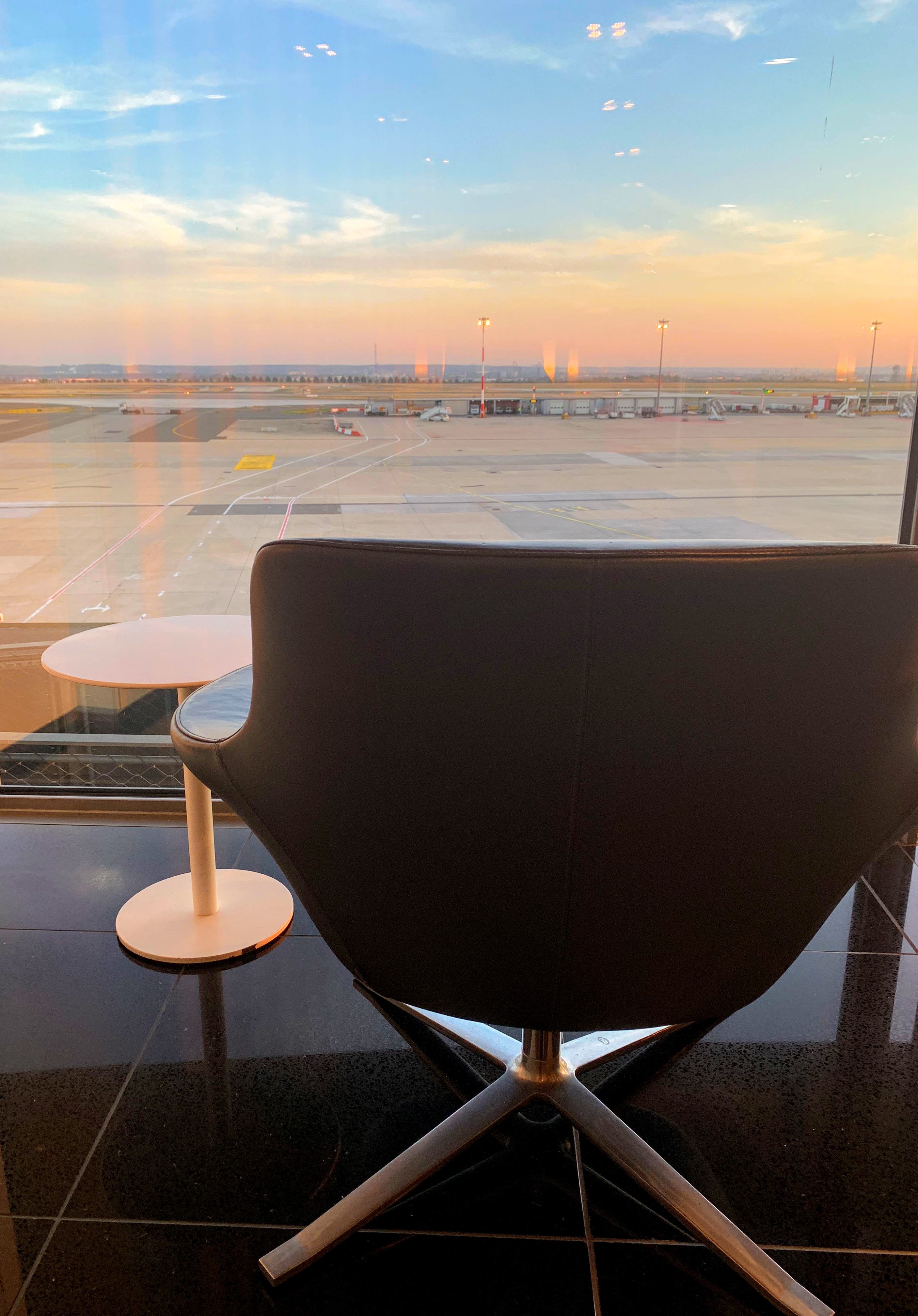 Here is the rest of the lounge:
Helsinki Finnair Platinum wing lounge – oneworld Emerald (BA Gold) status passengers

The Finnair lounges were already very good before they were renovated this year. With a sauna, showers and modern Finnish design at it's best the new one is sure to be a winner too.
So what can you expect from the new Platinum Wing?
Facilities and services
Seats for 155 guests
Different spaces for working, relaxing and dining
Private phone booth
Living room area for even more comfortable lounging
Private shower suites and a Finnish sauna
Bar area
Printing facilities
Free internet access
Newspapers and magazines available
Food and drinks offering
Hot breakfast from 5.30 a.m. to 10.30 a.m.
A high-quality food selection: à la carte dining, salad bar, desserts and snacks from 10.30 a.m. to 12 midnight
Upgraded beverage selection
Barista coffee, tea
Access
Available exclusively for Finnair Plus Platinum Lumo members (+ four guests) and Platinum members (+ one guest), and oneworld Emerald members (+ one guest), when the departure flight leaves from the non-Schengen area and is operated and marketed by a oneworld airline. When open, Finnair Platinum Wing will also be available for Finnair Plus Gold members (+ one guest) until the renovation in the Finnair Business Lounge is completed in the autumn. Access may be limited during peak hours.
Under 18-year-old passengers can only visit the lounge accompanied by an adult.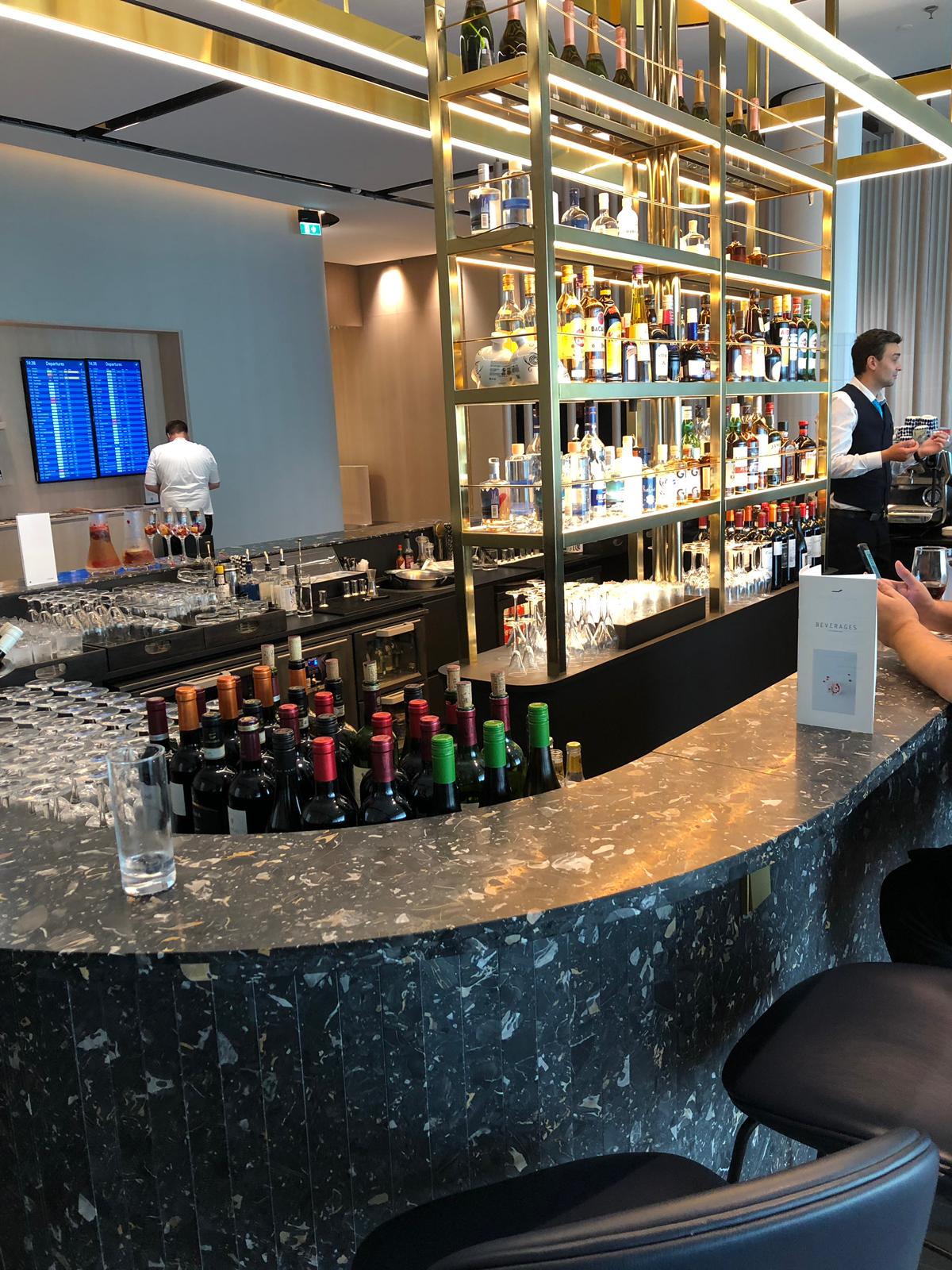 Middle East
Qatar Al Mourjan Doha – business class

Qatar is one of the exceptions for access to the lounge for oneworld status passengers. The main Al Mourjan lounge is only available for people actually travelling in business class on Qatar Airways or BA. There is a separate business and first class lounge for status holders in economy.
The lounge gets very busy at peak times, but outside these times it can be an oasis of peace and quiet. There are plenty of facilities such as showers, rest area, playrooms, business centre etc. If you want to eat, there is the restaurant upstairs with its buffet of Middle East, Indian and Western classics. This has table service for drinks plus the main bar. Downstairs has the sandwich bar which does some great sandwiches made to order and has full table service. I find the service outside the main eating areas sporadic at best, even when it is quiet. I still look forward to visiting the lounge though for some champagne and mezze!
You can read my full review here:
I have visited the Al Mourjan many times before but usually, I was on a time constraint or there was Krug to drink, so I have never really explored it that much. On my recent trip to review the QSuites on the A350-900 I had two long stopovers so I had a good nose around.
Qatar Doha Al Safwa – first class

Opinions are also mixed on this lounge. Personally I think it has a great selection of very high-end drinks, a great spa and a super quiet ambience. The food was pretty good for lounge food too. They have proper bedrooms which they refer to as rest areas and are great for an overnight transfer.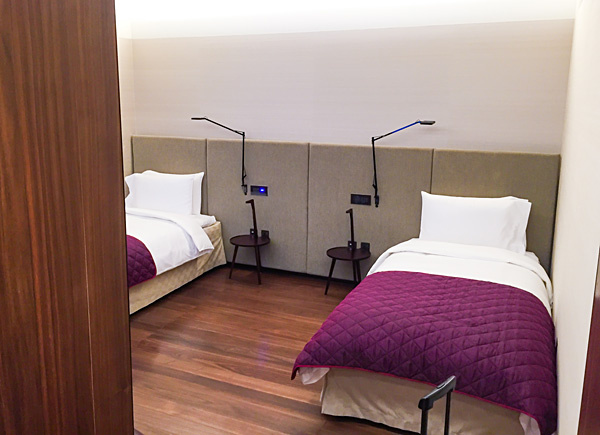 Again service is a big issue here which I would not expect to find with Qatar given their onboard service.
You can read my full review and find out how to get access if you are travelling in business class here:
I had heard a lot about the famed Al Safwa lounge in Doha but had not got round to trying it. I have only flown first class into Doha and not out of it. So when the opportunity arose for us to try in on a recent 9-hour layover in Doha, Claudio and I jumped at the chance.
You can find out which oneworld lounges are available to you at any airport here.