As we start the new year, we have been looking back on our highlights for 2019. Join in reminiscing some of our most memorable moments and find out which products we enjoyed the most. Not all have been featured on TLFL yet so you may find a few gems!
Michele
2019 has been probably my busiest year for flights yet, where I have travelled further and taken more flights than any other year. As a result, I will shortly gain my BA Gold Guest List status. My plan to try and fly every oneworld airline went firmly out of the window due to personal circumstances, but I have now managed almost every oneworld First class, with the final one in 2020. Last year I did Qantas, JAL, Cathay Pacific and BA First class. Previously I have done Qatar as well.
Some of those flights were in fact my highlights of the year. The top flying highlight for me was the private jet flight we took with Hahn Air. Being something of an aviation geek, this was a truly memorable trip for Paul, Marek and myself. It was also an incredible bargain at £250 and can be easily booked via Expedia.
This also resulted in some great press coverage for us with a couple of the national newspapers covering it which was a proud moment for us all.
Out of my oneworld first class flights I was impressed with Cathay Pacific First probably the most. Especially when it was only around £600 on a mistake fare! This was definitely my best bargain of the year even if I did have to get to Vietnam to take the flight!
Like Roving Reporter, I loved the new Emirates business class even if it is quite over the top! The quality of the drinks were stunning with my favourite cognac, Hennessy Paradis on board.
In terms of aircraft, I was so happy to be able to finally try out British Airways and Virgin's new A350 complete with business class suites. I went on my first ever inaugural flight on BA's A350 which was such a fun experience and we got to see the A350 before it even went into service too! You can read my review of BA's A350 here and of Virgin's Upper Class suite here.
BA was the clear winner for both Paul and I.
As well as those two flights I also did QRs entire fleet almost with the A350, B787, A330 and the QSuites on the B777. The return flight from Penang was a first for me as we were the only business class passengers on the flight! This made for a fun and memorable flight!
I tried a lot of new airlines in 2020 for me, Qantas, Air Asia, Vietjet and La Compagnie. I enjoyed La Compagnie's all business class product and thought it great value for money. I enjoyed trying out Vietnam Airlines A320NEO business class too.
In terms of hotels, I visited a lot of new hotels and now have far too many reviews to write. In London, I recently tried the new Biltmore in Groversnor Square, part of the Hilton LXR brand. This is definitely the jewel in the crown for Hilton in the UK for me with some of the best service I have ever had!
In New York, I tried the new Conrad Midtown which whilst there are some service teething troubles, offers some amazing suites in a great location.
My two favourite resort hotels for 2019 had to be the Conrad Koh Samui which was a good value redemption and the InterContinental Da Nang which had a stunning design and a beautiful location. Plus I love Vietnam and have been four times already! The design geek in me did also love the TWA hotel although as a hotel, strangely, it's not that great but it looks fantastic!
In terms of destinations, I visited some new destinations including Bosnia, Costa Rica and Buenos Aires. Like Roving Reporter I loved Buenos Aires and never felt unsafe there despite recent events. Costa Rica was a big highlight for me as I love wildlife and you were surrounded with it in Costa Rica along with wonderfully friendly people.
I returned to Japan and enjoyed a visit to my favourite restaurant in the world, Mandarin Oriental Tokyo's Molecular Tapas with Paul.
I also tried the Al Safwa Qatar First class lounge which despite a few service issues, I still enjoyed as an experience, especially the spa.
We also held our first TLFL party which was a huge success, in no small part down our very generous sponsors who gave us some amazing prizes. British Airways business class tickets to Antalya, Vietnam Airlines Premium economy to Vietnam, a cookery class from Sauce, The Langham's new cookery school and a pair of wireless earphones from RHA.
It was fantastic to meet som many readers who are passionate about travel!
Paul
I had a number of new experiences this year, not least trying out a couple of non-oneworld airlines! I tried Philippine Airlines on a bargain mistake fare to Hong Kong for £450 business class return. It was actually pretty good although the food wasn't great. I also flew on the press trip with Virgin Atlantic on their new A350 to try the Upper Class Suites. Let's just say I am firmly off their Christmas card list after that review!
Although when asked what my best airline food was this year in business class, it would definitely be Virgin! And of course, like Michele, I got to try BA's A350 Club Suites on both long haul and short haul.
Michele and I also got to meet one of our vlogging heroes, Sam Chui at the BA A350 unveiling.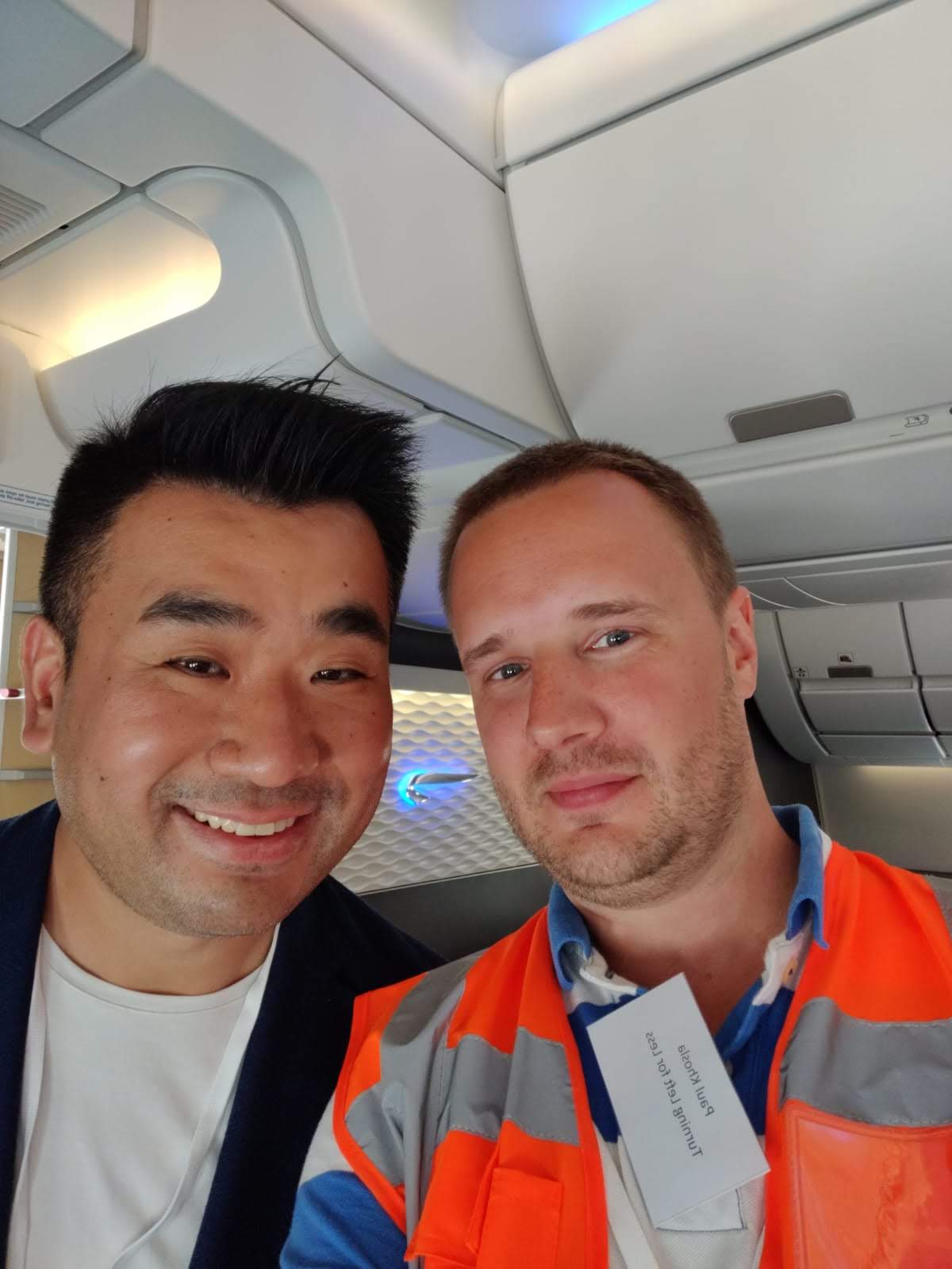 In terms of best flights, that award goes to Qantas First class which Michele and I managed to get on thanks to the BA strike. This was also the first time I had flown with Qantas but I suspect I will back after this flight!
Although the JAL First flight was also pretty special with Cristal champagne. The food was so beautifully presented – especially Larry!
Although we enjoyed the service in the Qantas lounge at Singapore, sadly the First lounge was not yet open when we visited. My favourite lounge remains the BA Concorde Room at Heathrow. It helps that I am a regular, but they have made a lot of improvements this year including afternoon tea and canapes.
I managed to tick off three new countries. I finally managed to leave the airport in Singapore with Michele and enjoyed my brief stop.
Michele and I also went to Japan, one of her favourite countries. She introduced me to her favourite Molecular Tapas restaurant, as well as a rather weird and wonderful Ninja cafe!
For my birthday I headed over to another new country, Morocco, where I hired a huge villa that was great value.
In terms of hotels, I switched my loyalty to Hyatt's World of Hyatt program which is already paying dividends. Although I enjoyed the Conrad Bali and Conrad Tokyo with Michele, by far the best stay was the Grand Hyatt Doha where I spent Christmas. We scored the mother of all upgrades to an amazing suite there and were treated like royalty throughout!
Claudio
It was a very exciting year in terms of travelling as I had a chance to see a number of places that were in my list for a while. In terms of countries, I managed to visit for the first time Qatar, Malaysia, Costa Rica, Vietnam and Bulgaria. The best trip of the year by far was Vietnam where I spent 15 days travelling from Ho Chi Minh City all the way to Hanoi. I loved every place that I visited and will return as soon as an opportunity appears.
Closer to home I had a long weekend in Luxemburg, a place that I had been before many times, but always for work. Being there as a tourist and having a chance to explore the old town and its surroundings was lovely and I do recommend it for those in need of a suggestion for a place to go.
In terms of flying the highlight was my first Qatar Airways QSuite flight from London to Doha. The service was outstanding and the seat is indeed what everyone says about it. Another lovely flight was Madrid – Rio de Janeiro on an Iberia A330-200 where there were only 4 of us in business class on a day flight. My parents just loved it, mainly because two of the cabin crew were fluent in Portuguese and gave full attention to them.
Roving Reporter
Though I did a fair amount of travelling in 2019, most of it was actually pretty unremarkable. Qatar, Cathay, Virgin and BA were all as expected. No complaints, but not wowed either.
Flight wise it was definitely the Emirates First Experience from Dubai to London. What a wonderful treat it was. Everything was outstanding. I did not want to leave it was so decadent! This was closely followed by my ANA 'Suite' Experience (review to follow) onboard a brand new B777W where I drunk my body weight in Krug! This was made sweeter by the £403 and 120,000 Virgin miles I used to get it.
City-wise I enjoyed my trip to Buenos Aires last April (even if I had to endure Iberia to get there) and this has made me think more about South America so I am going to Sao Paulo and Rio in May next year thanks to a Virgin upgrade voucher. I also enjoyed 60 hours in Seoul and another 64 in Brisbane. I was left underwhelmed by my Vietnam experience (I am aware I am absolutely in the minority on that one!).
My favourite hotel experience was probably the wonderful boutique Maison Cabriere, in Franschhoek (so good that I will be back there in January). Of course, the Datai should still be my number one but after my stay in June, I was left slightly underwhelmed (this was my 10th visit but this time it felt different). I think I will wait a few years before returning.
The Waldorf Astoria in Bangkok was beautiful and served perhaps the best breakfast I've had at a hotel but the staff let it down massively. It is a pity when the hardware is let down by the software.
I did eat well too; highlights were Tapas Molecular at the Mandarin Oriental Tokyo, Restaurant Dan Arnold in Brisbane, Le Petite Colombe and Reubens in Franschhoek.
My best deal was the Virgin Mileage Booster promotion where for a little over £1,000 I will have 150,000 miles credited to my account. After all, I may as well go back to Tokyo in style (which I may, or may not be doing next August!).
Mrs B
We travelled to some new places and revisited some old favourites. The start of the year saw us travel to Phoenix to visit our son and whilst there we took the opportunity to go to the Grand Canyon which was spectacular.
My husband retired at the end of March giving us a perfect excuse to revisit OZEN by Atmosphere in the Maldives. I was delighted that OZEN had not only maintained it's amazing customer focus but had in fact improved…who knew it was possible to improve on perfection! Using a tip I've learnt from Michele I actually booked Qatar flights from Rome via Doha to Male at a much cheaper cost than starting in London, so much so that we were able to buy our flights to Rome and stay there for 4 days in a central hotel before travelling on to the Maldives and still be well below the cost of flights from London.
In May we travelled to Cuba staying in Havana first before travelling to Cayo Coco for a week relaxing in the sun. I found Havana fascinating but would suggest no more than a couple of days are needed there.
We decided to take a short break to Alicante in July having previously read Michele's review. It definitely is an excellent location for a lazy couple of days. On that trip, we bought an apartment in Murcia thus giving us an excellent excuse to make several more trips to Spain!
August saw us embark on a driving trip along the Wild Atlantic Way in Ireland – beautiful scenery but not much sun so a trip to Oman at the end of September was needed! We've been to Oman several times now so for a change we decided to stay at Anantara Al Jabal Akhdar hotel which is high in the mountains about 90 minutes from Muscat Airport. The hotel opened 3 years ago and provides a lovely alternative to the beach resorts with temperatures around 10 degrees cooler on the mountain in the hot summer months.
Our final trip of 2019 was to South Africa where we based ourselves in Cape Town. I was very impressed with the V&A Waterfront in Cape Town. Wonderful place to eat, drink and people watch and relatively inexpensive. There is loads to do and see within a short drive from Cape Town and we plan to visit again. I used Michele's tip to fly ex-EU for a much-reduced airfare. This time we started in Amsterdam flying British Airways to Cape Town via London Heathrow……how is it possible to save a considerable amount by starting in Amsterdam to fly to Heathrow then Cape Town than if we just started from Heathrow??? I'm so glad I learnt this gem from Michele! So, 2020 sees us with a couple of trips already booked – Hong Kong, Cambodia and Vietnam with another trip to Bali which, so long as the volcano behaves itself this time, we might actually get to see!